Slow Cooker Mexican Chicken Soup
This post may include affiliate links that earn us a small commission.
This Creamy Mexican Chicken Soup is so relishing and loaded with Mexican flavors. Set on the slow cooker and return home to a hearty, comforting soup on cold winter nights. This soup is also low-carb and Keto friendly. I have also included instructions for Instant Pot.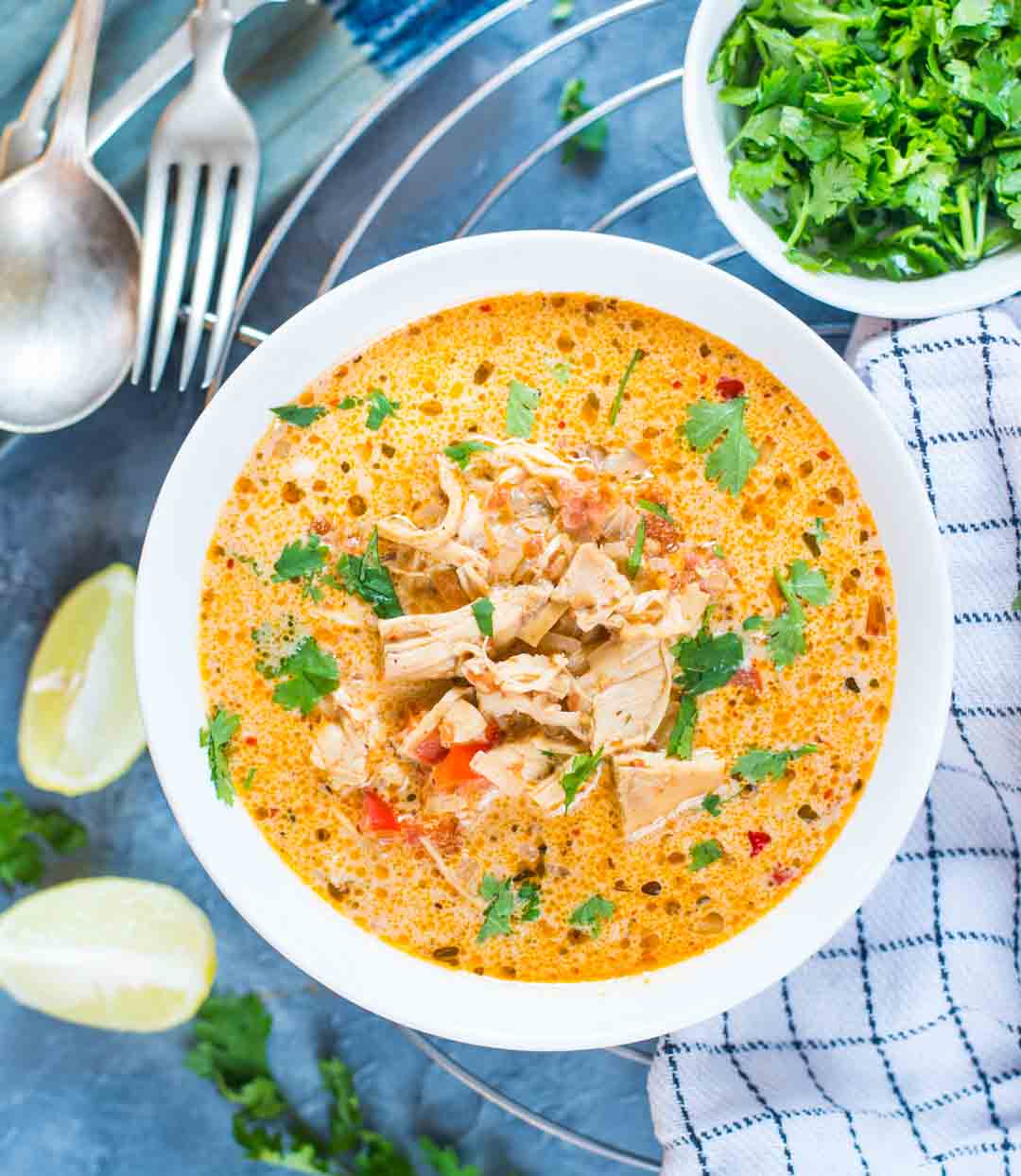 I am so happy with how this Mexican Chicken Soup has turned out. It is low in carbs and Keto. Roasted tomatoes and Chipotle Chilli powder add a hint of smokiness to it.
With minimal chopping, this Chicken Soup is perfect on busy days when you return home and want dinner ready.
For more fulfilling soup recipes, you can check out my Healthy Spinach Soup Recipe, Tomato White Beans Soup, Creamy Chicken Tortellini Soup, and Creamy Pumpkin Soup.
It differs from other Mexican Chicken Soups, but the flavors are spot on. It's creamy with some tang from the tomatoes, and the chicken is so juicy and tender.
So until you try it, you will never understand why I am raving so much about this soup.
Are you a fan of Mexican flavors? You can try my new recipe Homemade Chicken Tacos with a filling of succulent chicken, Mexican Fajita Stuffed Chicken Breast, or Mexican Egg Muffin.
For the quintessential salsa, I have three recipes with variations in flavors and tastes – try my Roasted Tomato Salsa, Pineapple Mango Salsa, or Bruschetta with Ricotta and Strawberry Salsa. You can even use salsa flavors baking a chicken, like in Baked Salsa Chicken.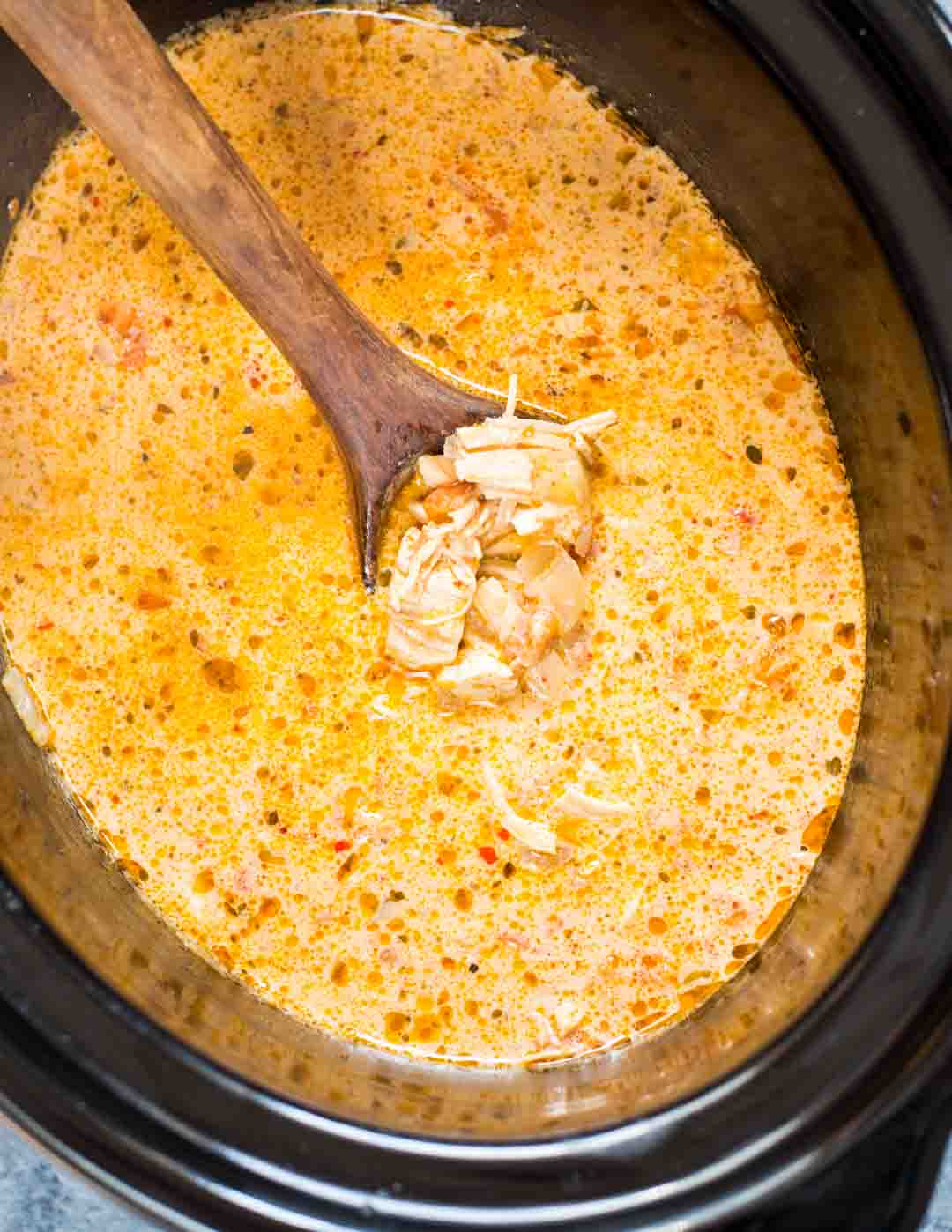 Ingredients For Mexican Chicken Soup
This Mexican soup is rich and creamy. Boneless chicken breast is simmered with onion, garlic, herbs, roasted cumin powder, and chipotle chili powder in a crockpot. Because of slow cooking, the chicken breast is juicy and absorbs all the flavors.
You can also use boneless chicken thighs instead of breasts.
The spice blend, fire-roasted tomato, and chipotle chili powder give this soup the real flavor. Soups made from scratch are always healthier with better taste.
To make it rich and creamy, there is 'Half and half,' cream cheese, and lots of cheddar cheese. I know it sounds like a lot, but I bet you would crave a loaded, creamy soup when it is cold outside, and you are snuggling on your couch.
Tips To Make Crockpot Chicken Soup
Making soup in a slow cooker is easy, and the outcome is outstanding. You need to spend only 10 minutes of your time, and the rest will be done in the slow cooker.
While you can dump chicken and the rest of the ingredients into the slow cooker and cook it, I would prefer first to saute the aromatics in a pan. Frying onion and garlic in the oil gives a deep flavor.
Another important step while making this recipe is adding dairy products at the end of the cooking. So that dairy is not overcooked with other spices and curdles or gives a weird taste.
Is This Soup Low Carb/ Keto?
This soup is low-carb. If you follow Keto, you can easily adjust the recipe as per your macro.
I am going to add some crunchy tortilla chips on my cheat day.
Make a big batch of it and freeze it for later. Another favorite soup this season is this Low Carb Cabbage Chicken Taco Soup. Another Mexican soup with mindblowing flavors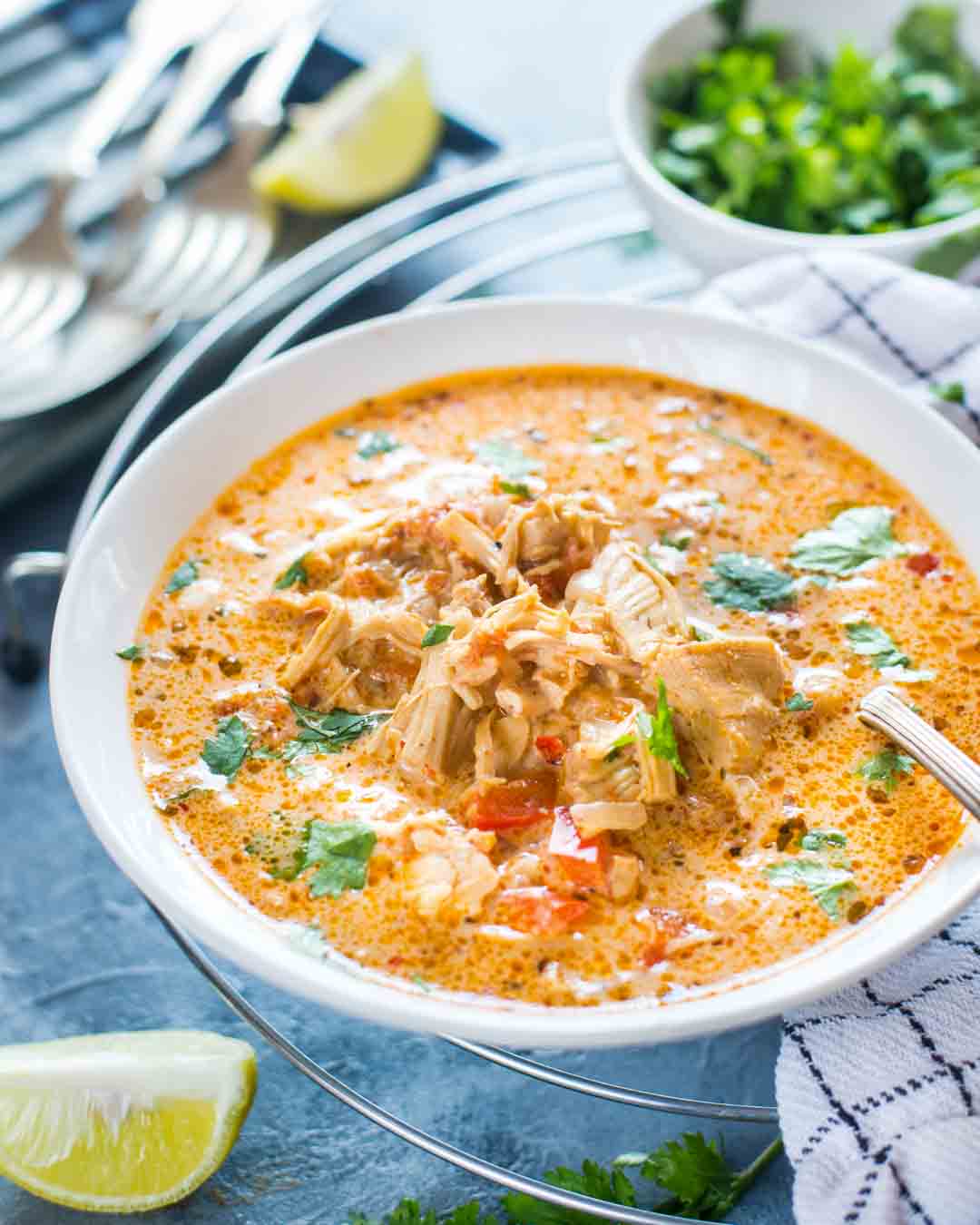 Can It Be Made In An Instant Pot?
For most of us, winter is about slow-cooked soup in a crockpot and a house filled with that cozy smell of the soup. Nothing can beat Chicken soup made in a crockpot.
But you know what? I love my Instant Pot equally. It is such a time savior. This soup is a favorite at home, and readers have even made it in Instant Pot.
The soup is as good as the slow cooker version, and it takes only 15 minutes from start to end; the best part is you can also throw in the frozen chicken breast if you haven't planned to thaw it earlier.
The recipe below includes detailed instructions and a video to make this soup in an Instant Pot.
Storage
You can refrigerate this soup for up to 3 days. Since it has onion, garlic, and everything, it would not stay fresh beyond this.
Flavours In Your Inbox
Subscribe for recipes straight to your inbox
The good news is you can safely freeze in an air-tight container for up to 2 months.
When it is time to take this out from the freezer/fridge, just let it thaw so that you can see liquid forming again while it comes closer to room temperature Microwave it in a safe container before serving.
Serve With
This hearty and flavorful soup can be served with a variety of accompaniments.
Sour cream – To increase the creaminess, add a dollop of sour cream to make it more luxurious.
Tortilla – You can also serve it with some Tortilla chips or warm tortillas, which you can have as a crunchy accompaniment or dip into the soup.
Mexican rice – This is packed with tomato flavor and is a perfect side dish to other Mexican dishes.
Avocado – Slice or dice some ripe avocados and serve them as a garnish or on the side. The creamy, buttery texture of avocados adds richness to the soup while providing a cool and refreshing element.
Other Comforting soup recipes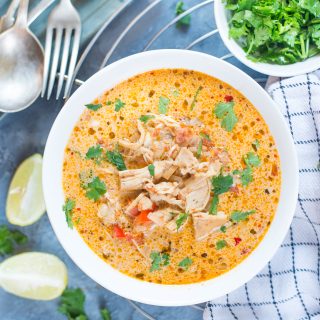 SLOW COOKER MEXICAN CHICKEN SOUP
This Mexican Chicken Soup made in crockpot is low carb and full of Mexican flavours. Tender Chicken, flavourful creamy broth, ultimate chicken soup for the winter.
Ingredients
400 grams boneless skinless chicken breast
1 14 oz can Fire-roasted plum tomato (ref note 1)
2 tspn oil
1 medium onion Finely Chopped
1 tbsp Minced garlic
1 red bell pepper Chopped
1.5 tsp Roasted Cumin powder
1 tsp Dried Oregano
1.5 tsp Chipotle chilli powder (ref note 2)
1 tsp paprika (Optional)
1.5 cups chicken stock
1 cup half and half
½ Cup Cream Cheese (room temperature)
1 cup cheddar cheese (or Mexican blend)
Salt to taste
Fresh Cilantro leaves for garnishing
Instructions
TO MAKE IN SLOW COOKER
Take oil in a pan. Once hot, put minced garlic, followed by onion. Fry till Onion starts to soften a little bit and it is aromatic.

To a pre-heated Slow cooker, add chicken breast, crushed tomatoes, cooked Onion and garlic mixture, all the spices, warm Chicken Stock and salt.

Cover and let it cook on high 3 hours.

To the Crock-Pot, stir in chopped bell peppers, Cream, cream cheese, Shredded cheese. Further, cook on high for 20-30 minutes until all the cheese has melted.

At the end of cooking using two forks shred the chicken breast.

While serving, top it with fresh cilantro, Sour cream, Avocados.
TO MAKE IN AN INSTANT POT
Set the Instant Pot to Saute mode. Once hot add oil.

Add minced garlic and chopped Onion to the pot. Saute until onion has softened and it is aromatic.

Add Cumin powder, Chipotle Chilli Powder, Oregano, Paprika. Saute for 30 seconds. ( By sauteing the spices in oil, it develops flavour. This step can be skipped)

Stir in Roasted Tomatoes, Chicken Stock. Scarp the bottom of the pot to release any stuck brown bits. Add salt.

Add Chicken Breast to the pot. Cover the lid and cook on Manual /High-Pressure mode for 8 minutes.

Let the pressure release naturally for 10 minutes followed by Manually releasing the rest of the pressure.

Carefully remove Chicken breast in a plate and shred the chicken breast using forks.

To the pot, add chopped bell pepper, Softened Cream Cheese, Cheddar Cheese and half & half. Stir well until all the cheese has melted.

Add back the shredded chicken to the pot. Stir well.

While serving garnish with fresh coriander leaves.
Notes
In case Roasted Tomatoe is not available, Use regular Canned Tomatoes.
Chipotle Powder can be substituted by Smoked paprika. 
Sauteing onion and garlic in oil is to caramelize and develope flavours. You can certainly skip it and dump all the ingridents to the slow cooker/Instant pot and cook , followed by adding rest of the ingredients.
I don't like to cook Cheese or cream for a longer time as it kills the delicate flavour. So I always prefer to add dairy towards the end. 
You can also use Frozen Chicken Breast if you are making the Soup in an Instant Pot(That's the beauty of Instant Pot). Just reduce the amount of stock to 1 cup. Cook on high for 12 minutes, followed by 10 minutes of Natural pressure release.
Nutrition
Serving: 100g | Calories: 377kcal | Carbohydrates: 11g | Protein: 28g | Fat: 25g | Saturated Fat: 13g | Cholesterol: 120mg | Sodium: 446mg | Potassium: 607mg | Fiber: 1g | Sugar: 4g | Vitamin A: 1939IU | Vitamin C: 34mg | Calcium: 262mg | Iron: 2mg