This post may include affiliate links that earn us a small commission.
Here is a chicken taco recipe with juicy, flavor-packed chicken filling and Mexican cheese. Pair these tacos with your favorite toppings and sides on your next Taco night.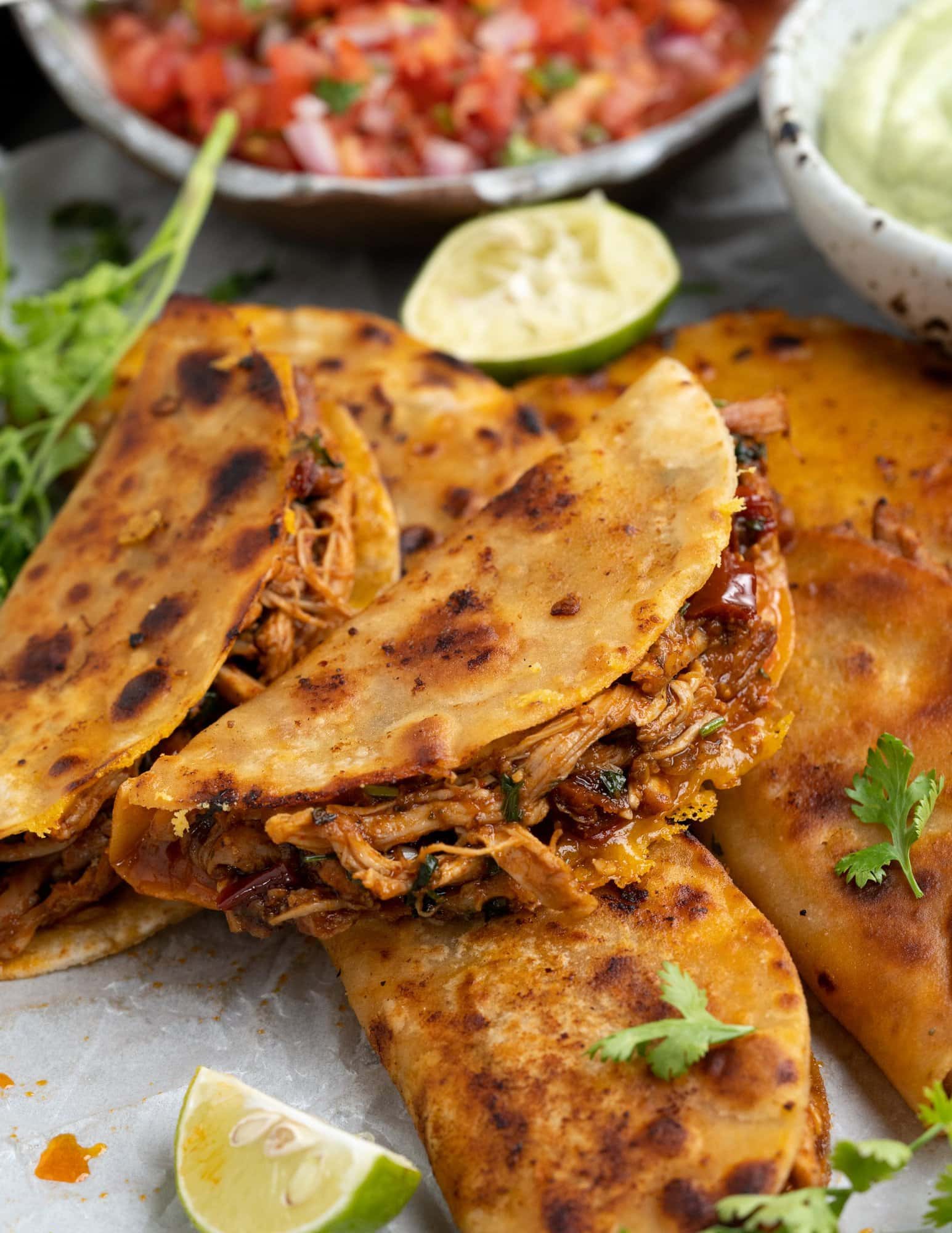 This is an easy Chicken Taco recipe made with the most flavorful shredded chicken thighs and Mexican cheese as the base. We love crispy chicken tacos, but the taco filling can be served on soft corn or flour tortillas too. No matter how you serve the tacos, these are incredibly delicious and full of flavor.
Flavours In Your Inbox
Subscribe for recipes straight to your inbox
What I love about tacos is they are pretty customizable. While simple salsa will add a pop of freshness, you can add as many toppings/sides as possible. With some planning and effort, you can serve dinner for the family in under 30 minutes.
Are you a fan of Mexican flavors? You can try my reader's all-time favorite Slow Cooker Mexican Chicken Soup (a low-carb, keto, and creamy chicken soup), Mexican Fajita Stuffed Chicken Breast, or Mexican Egg Muffin.
For the quintessential salsa, I have three recipes with variations in flavors and tastes: – try out my Roasted Tomato Salsa, Pineapple Mango Salsa, or bruschetta with Ricotta and Strawberry Salsa. You can even use salsa flavors to bake a chicken, like in Baked Salsa Chicken.
What's there in a Chicken Taco?
Traditional Mexican tacos have warm corn tortillas, shredded or chopped grilled meat topped with chopped onion, tomatoes, cilantro, and a squeeze of lime. Saying that the variations are endless. Here is a breakdown of chicken tacos and their favorite topping.
Tortillas – Corn/ flour/ Hardshell tortillas.
Chicken – Shredded spicy chicken filling or diced grilled meat.
Aromatics & herbs – Freshly chopped onion, cilantro, and lime juice.
Sour cream – Used more in Tex-Mex cuisine, sour cream adds some tanginess
Pico de Gallo – A common salsa topping that you can serve on the side or use Salsa.
Avocado – You can get fresh avocado (instead, top it with Creamy avocado dip)
Lettuce – For the green leafy crunch.
While cheese is not traditional, our chicken taco has some shredded Mexican cheese.
Chicken thighs for Taco filling
For these Chicken Tacos, I prefer boneless chicken thighs. Dark thigh meat has more flavor and thus contributes to the dish's flavor. Chicken thighs are an overdone-proof option when cooking quickly without marinating it for hours. They don't dry out quickly and stay moist. You can get that perfect charred mark without drying out the meat.
You can certainly use chicken breast. In that case, I would marinate the chicken for at least a couple of hours for the chicken breast to stay juicy. And also the cooking time needs to be adjusted.
Ingredients
Chicken thighs – Thighs have more flavor than chicken breast, are my go-to cut for more flavorful dishes, and are more forgiving to overcooking.
Corn/ flour tortillas – Roll your own or get it from nearby stores.
Taco seasoning mix – A regional mix of garlic powder, onion powder, dried oregano, cumin powder, paprika, cayenne pepper, salt, black pepper, and brown sugar.
Minced Garlic – The aromatic I can't do without in savory dishes.
Oil – Normal cooking oil or vegetable oil will do here.
Onion – The caramelization of onions, when sauteed, produces a sweetness that compliments the savory chicken filling.
Tomato paste – For some tanginess, add to the filling.
Chipotle peppers in adobo sauce – You can get a can in nearby stores. Gives a heat characteristic of Mexican flavors.
Chicken Stock – This adds a depth of flavor.
Cheddar Cheese – A non-traditional experiment to elevate the dish with some cheesiness.
Fresh Cilantro – For its herby texture and flavor complimenting the savory dish.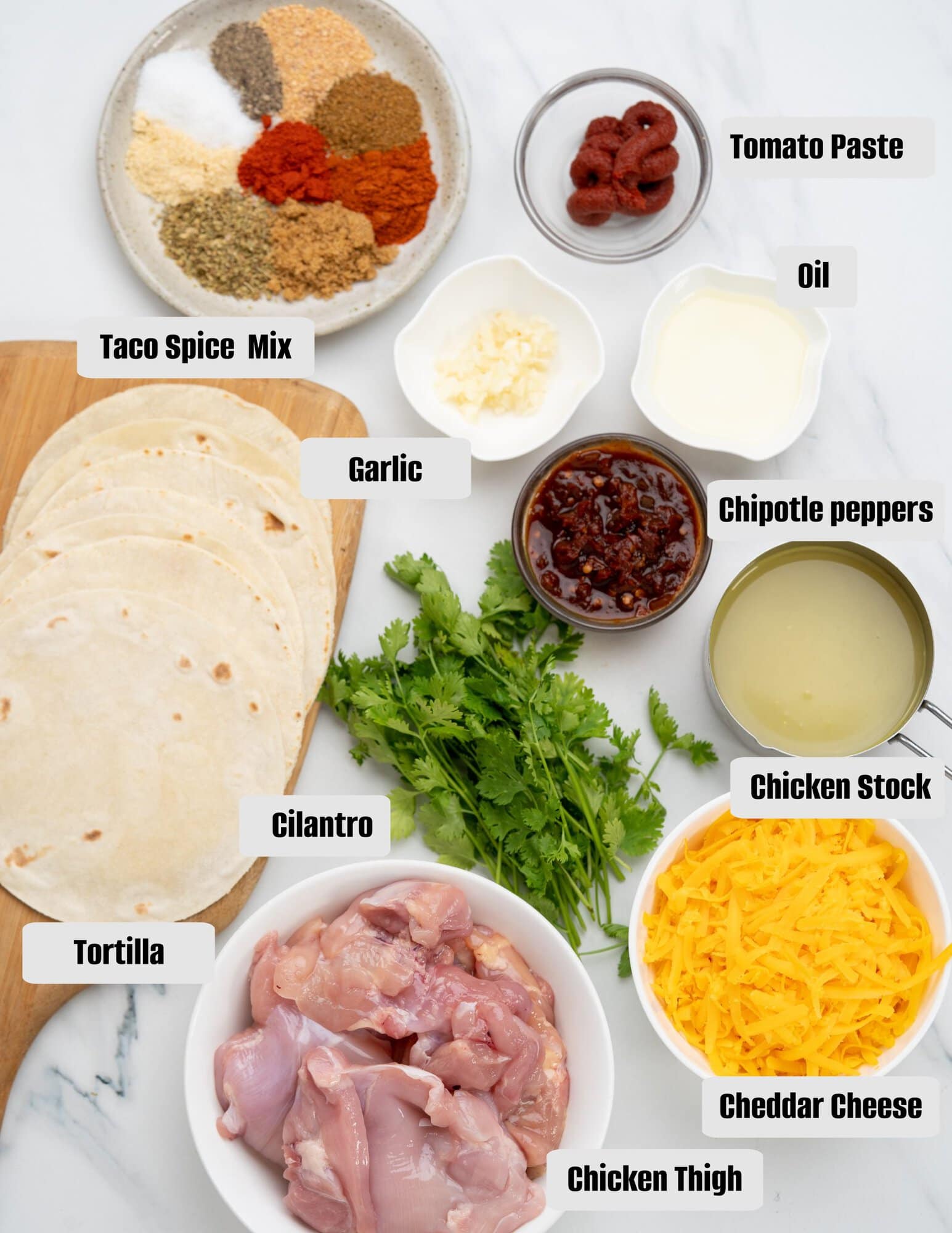 How to make Chicken Taco
Make Taco seasoning
Bottled seasoning is good but nothing like homemade seasoning. You control what goes in the mix, how much salt, and how spicy you need. Moreover, homemade seasoning is much more flavourful. You can easily store the blend and use it in other recipes.
Marinate Chicken
Marinate the chicken thighs with the blend once the taco seasoning is done. Well, we are not exactly marinating the chicken here. Just mix and let it rest while you prepare the taco toppings. 10 minutes will be enough if you are short on time.
Cook Chicken
You have a few options here when cooking the chicken. You can cook the chicken on an open grill for that perfect charred, smoky flavor. Or you can cook it on stove top on a skillet in olive oil. Alternatively, you can also bake/air fry it. Make sure the internal temperature in the thickest part reaches 165°F.
Once the chicken thighs are cooked, the next step is shredding or chopping the chicken.
Cook the filling
In a hot skillet, cook onion, tomato paste, and chipotle peppers in Adobo sauce. Add back shredded/chopped chicken back to the skillet. You have the most incredible Chicken Taco filling ready.
Assemble Tacos
We like our chicken tacos Birira Style 'crispy.' You can also serve the chicken taco on soft corn/ flour tortilla or hard shell tacos.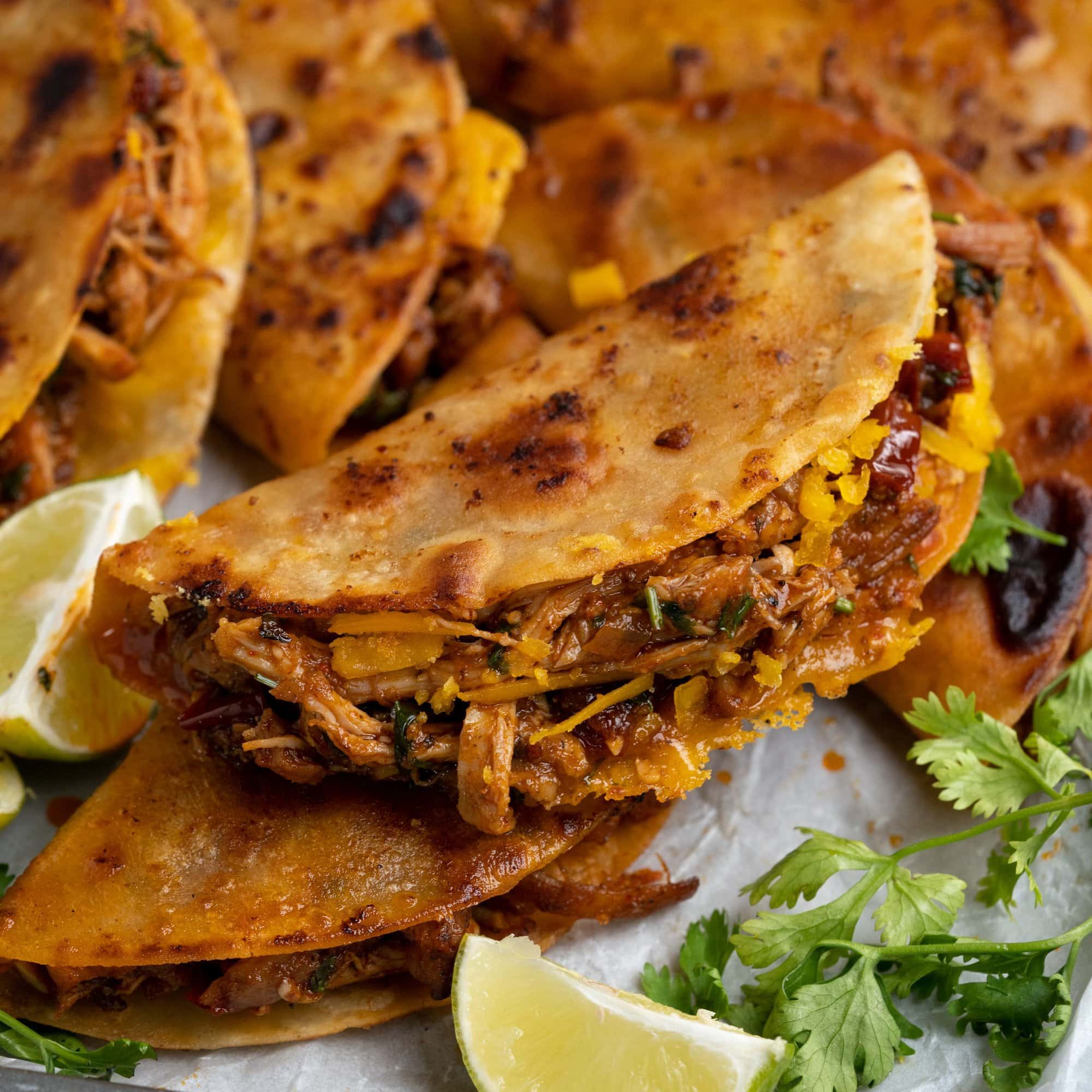 Tips to store chicken tacos
If you have made ahead plenty, follow these tips to ensure the tacos remain fresh for consumption later.
Eat already assembled tacos immediately. They tend to become soggy in time. If you want to have them later in the day, wrap them with aluminium foil and keep in an air-tight container.
Once the chicken is cooked, let it cool down. Storing hot stuff in a container builds up steam and moisture and makes the food soggy.
It is best to store the different components of the tacos separately. Assemble them when it is time to serve, for the best taco experience.
The cooked chicken filling, once cooled down, can be refrigerated in a container for up to 4 days or frozen for 3 months.
Tortillas can be preserved in their original packaging or wrapped in foil to prevent drying out and consumed within a week.
Chopped and diced vegetables and toppings like salsa or cream can be refrigerated for up to 4 days.
Reheat in a microwave or on a pan. To assemble stored components, first warm the tortillas in microwave or a pan for a few moments. Add fillings and heat in the microwave again before serving. Add toppings and accompaniments as desired.
How do I serve chicken tacos?
What I do is add one or two toppings for everyone in the family so that all stay happy. A few fresh toppings like chopped onion, tomatoes, cilantro is a must. Sliced avocado, salsa, avocado cream, sour cream, and pickled or fresh Jalapeno slices are also great.
Mexican rice, Loaded Mexican French Fries, Corn chips, and Cilantro Lime rice are a few options for side dishes.
If you want to try chicken Tacos with different fillings, try Cilantro lime or Instant Pot Mexican Shredded chicken.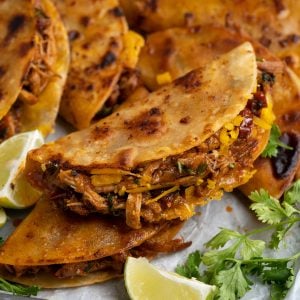 Homemade chicken tacos
Here is a chicken taco recipe with juicy Mexican flavor-packed Chicken filling. Pair these tacos with your favorite topping and sides on your next Taco night.
Ingredients
500 grams chicken thighs
2 tablespoon oil
½ onion, diced
1 tablespoon tomato paste
2 tablespoon chipotle in adobo sauce
½ cup chicken broth
1.5 – 2 cups cheddar/ Mexican cheese blend
10-12 small corn tortillas
⅓ cup cilantro
Taco seasoning marinade
½ tablespoon garlic cloves minced
1 teaspoon garlic powder
½ teaspoon onion powder
1 teaspoon dried oregano
½ teaspoon cumin powder
1 teaspoon paprika
½ teaspoon cayenne pepper adjust spiciness to taste, can skip
½ teaspoon salt
black pepper to taste
1 teaspoon brown sugar
Instructions
Marinate chicken thighs with ingredients mentioned under Taco marinade. Let it rest for 30 minutes.

Heat oil in a cast iron pan, sear chicken upside down for 4-5 minutes on medium heat. Flip and cook for another 4-5 minutes until you see clear juice running down the chicken and it is cooked through.

Cover and rest the chicken for 10 minutes. Let it cool down. Shred or cut chicken thighs into bite-sized pieces.

To the same cast iron pan, add chopped onion, tomato paste, and chipotle in adobo sauce. Saute for a minute.

Add chicken stock to the pan and mix.

To the skillet add chicken thigh and mix everything well. Let it simmer for a minute for the sauce to come together. (ref note -2)

Heat another skillet. Lightly grease with oil. Place a tortilla. Sprinkle about 1-2 tablespoons of cheese and top it with about 2 tablespoons of chicken taco filling.

Fold the taco over and press down with a spatula. Continue cooking until the taco is crisp and golden on the bottom, about 2-3 minutes. Then flip and continue cooking the other side. (ref note 3)

Repeat the above step for the rest of the tortillas.

Serve chicken taco with pico de gallo, guacamole, and other accompaniments.
Notes
Use a cast iron pan to sear chicken for characteristics of charred flavor. 
The sauce should be just thick enough to hold the stuffing together. Too saucy and it will make the taco soggy and difficult to eat. 
 Instead of frying the tacos, serve these on crispy taco shells or toasted warm tortillas.
Nutrition
Serving: 1servings | Calories: 225kcal | Carbohydrates: 12g | Protein: 12g | Fat: 15g | Saturated Fat: 5g | Polyunsaturated Fat: 3g | Monounsaturated Fat: 6g | Trans Fat: 0.04g | Cholesterol: 55mg | Sodium: 279mg | Potassium: 169mg | Fiber: 2g | Sugar: 1g | Vitamin A: 346IU | Vitamin C: 1mg | Calcium: 127mg | Iron: 1mg