This post may include affiliate links that earn us a small commission.
Creamy Avocado Dip made with Avocado, Sour cream, garlic, Lemon Juice is a perfect dip for Nachos, Pita, and veggies. Make this for a quick snack at your next party to impress your guests.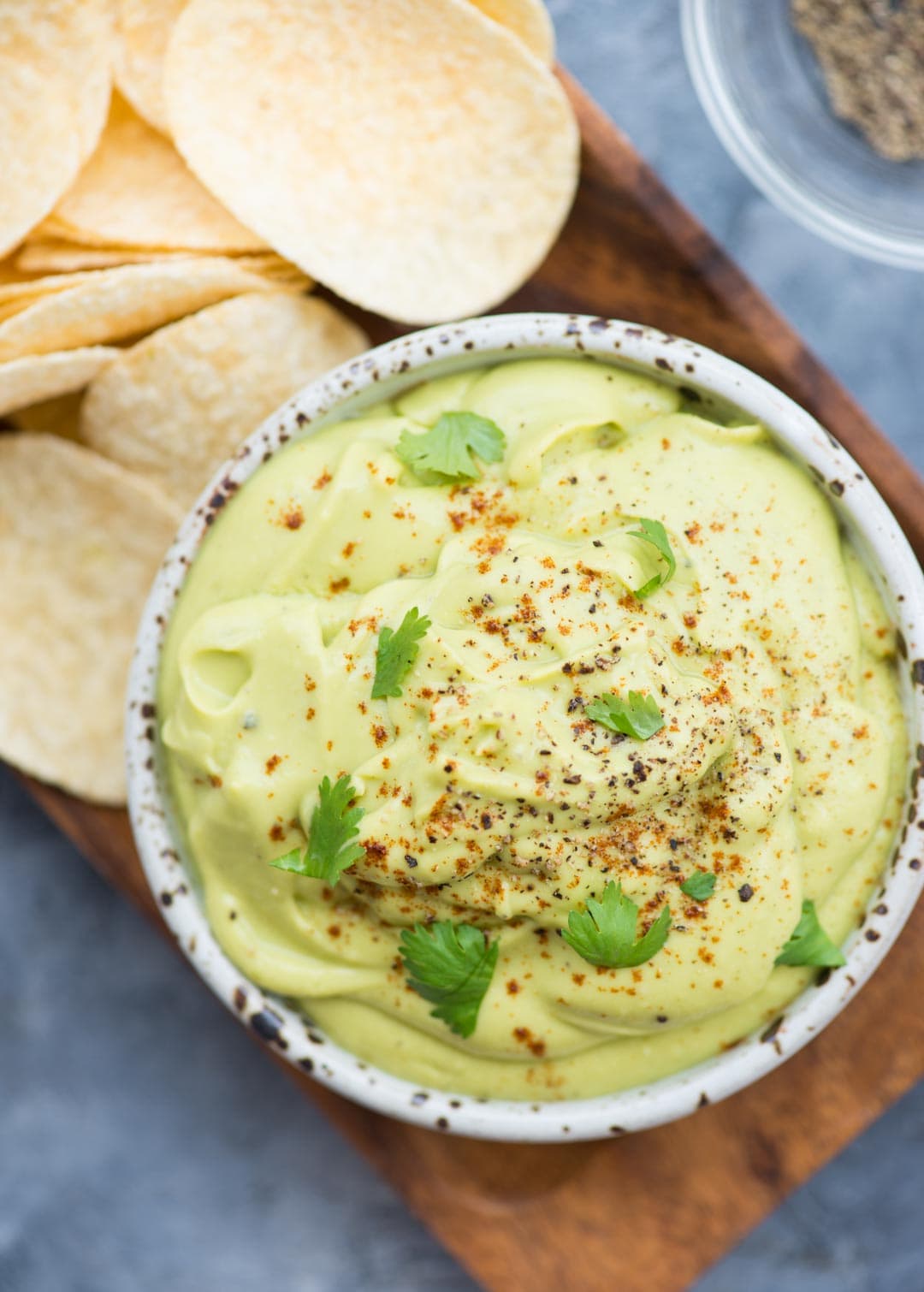 Let's just step away from our all-time favorite guacamole and admire how creamy this Avocado Dip looks. Perfect to dip toasted pita, nachos, chips, veggies, etc. All you need is six ingredients (which includes salt and pepper) to make this amazing dip.
Flavours In Your Inbox
Subscribe for recipes straight to your inbox
I love to make this dip when I crave Avacado but am not in a mood to clean and chop. Just throw in all the ingredients to the food processor and it's ready.
This avocado dip is slightly different from guacamole because of a few different ingredients. This does not have onions and also this dip has a very smooth and creamy texture unlike the chunky bits in guacamole.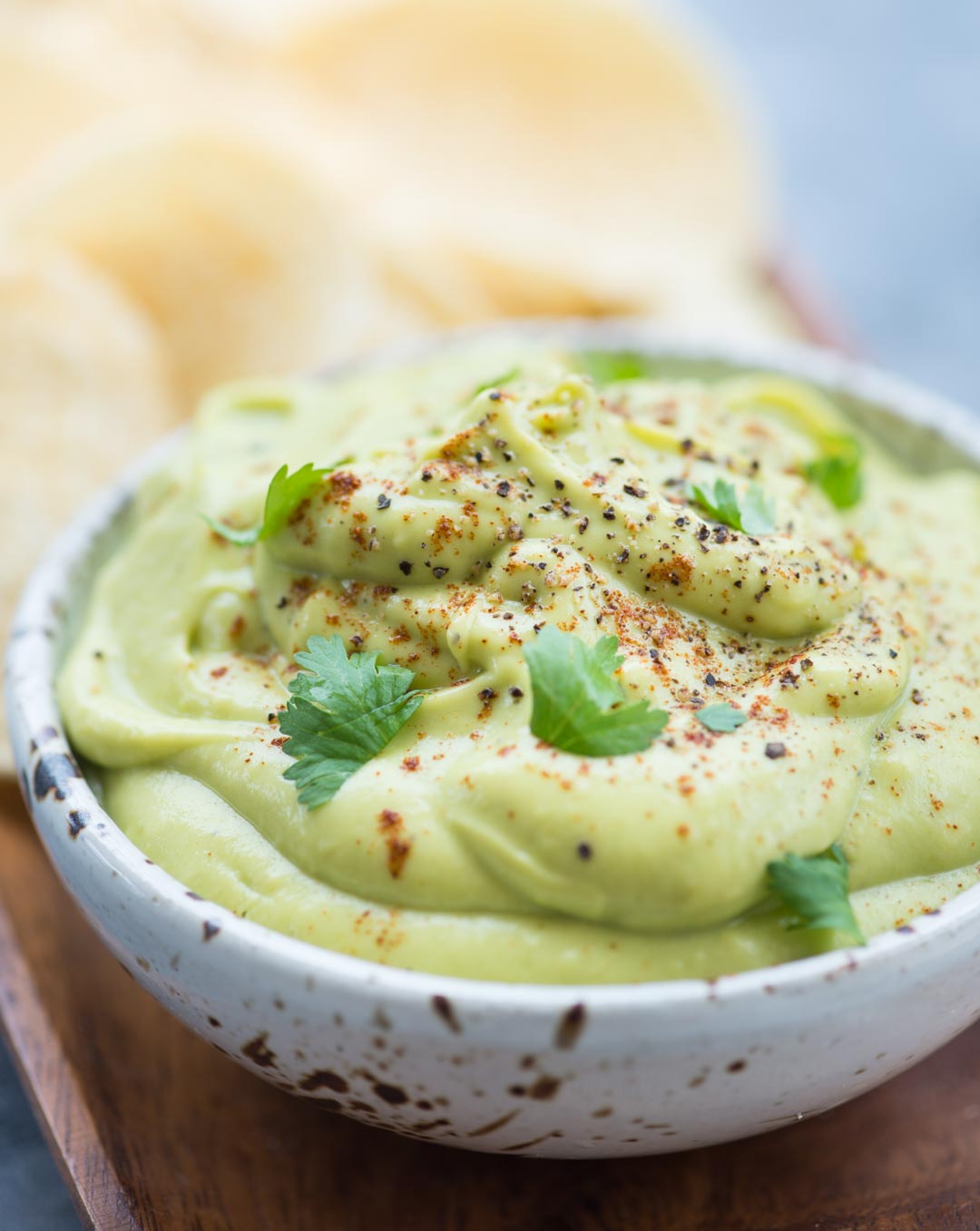 INGREDIENTS YOU WOULD NEED
The list of ingredients can't be simpler than this for any recipe. Six ingredients are all you need for this Avocado Dip. Except for Avocado, the rest of the ingredients are more like pantry staples.
Avocado ( good ripe one, not overripe mushy one)
Sour cream – I prefer full-fat sour cream but you can also substitute it with a skimmed variant. You can also use greek yoghurt for less rich variation.
Garlic – Use minced garlic. You can substitute this with garlick powder too. Use ¼ powder for every garlic clove.
Fresh Lemon Juice – This provides the necessary acidity to make the dip creamy and flavorful.
Salt and pepper – Add pepper for heat as per taste.
Fresh coriander leaves – This dip has real avocado flavour as there is nothing else to mask it. So I like to add chopped coriander for little freshness.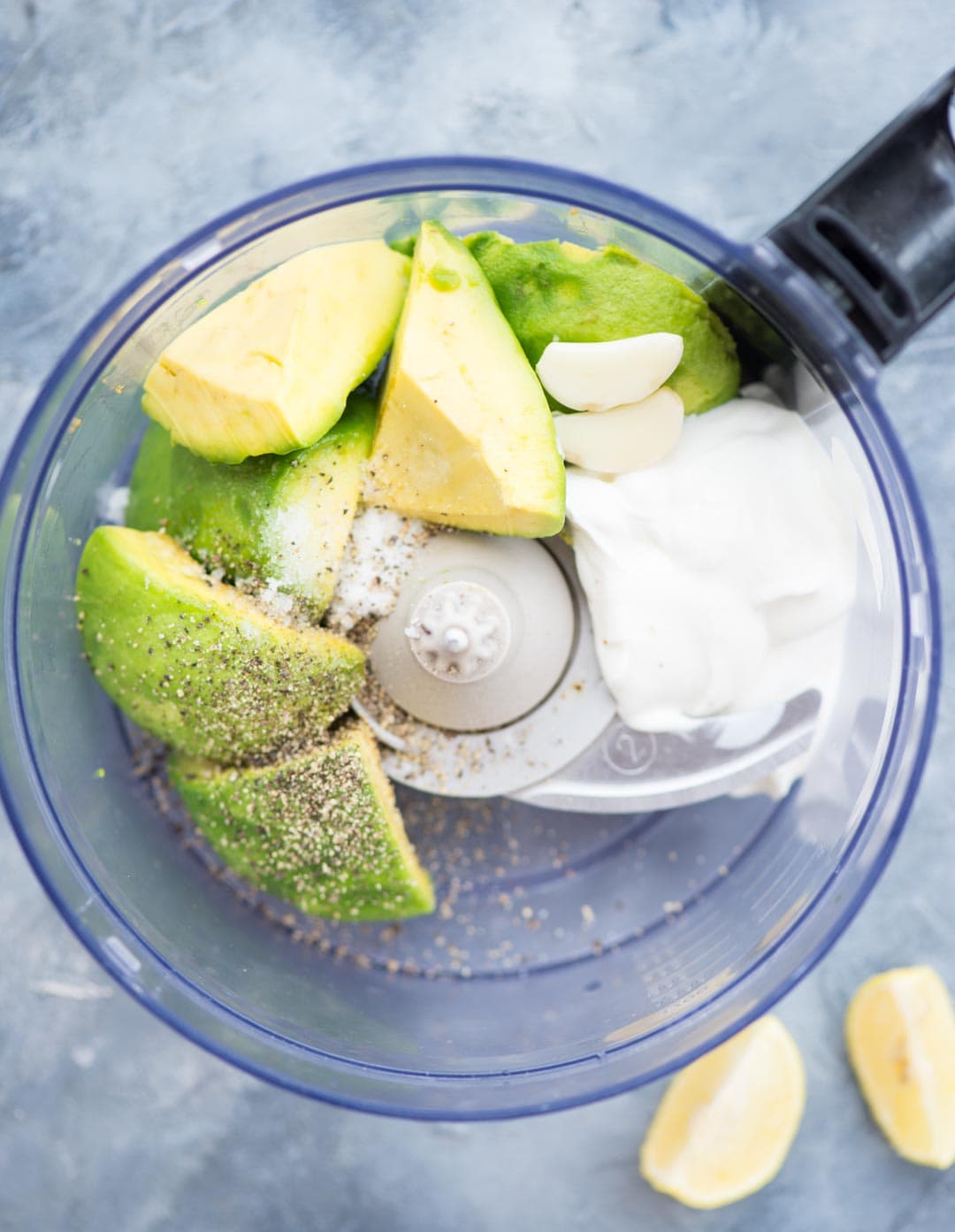 How To Make Avocado Dip?
Use a food processor to make a smooth creamy Avocado dip like the one in the picture.
Instead of a food processor, place the avocado in a bowl for a little chunky version. Using a fork, mash them until it looks grainy. Then add finely minced garlic and other ingredients.
Seasoning is the key here. The right balance of Avocado-salt-lemon is important here. So adjust the quantity of salt and lemon juice accordingly.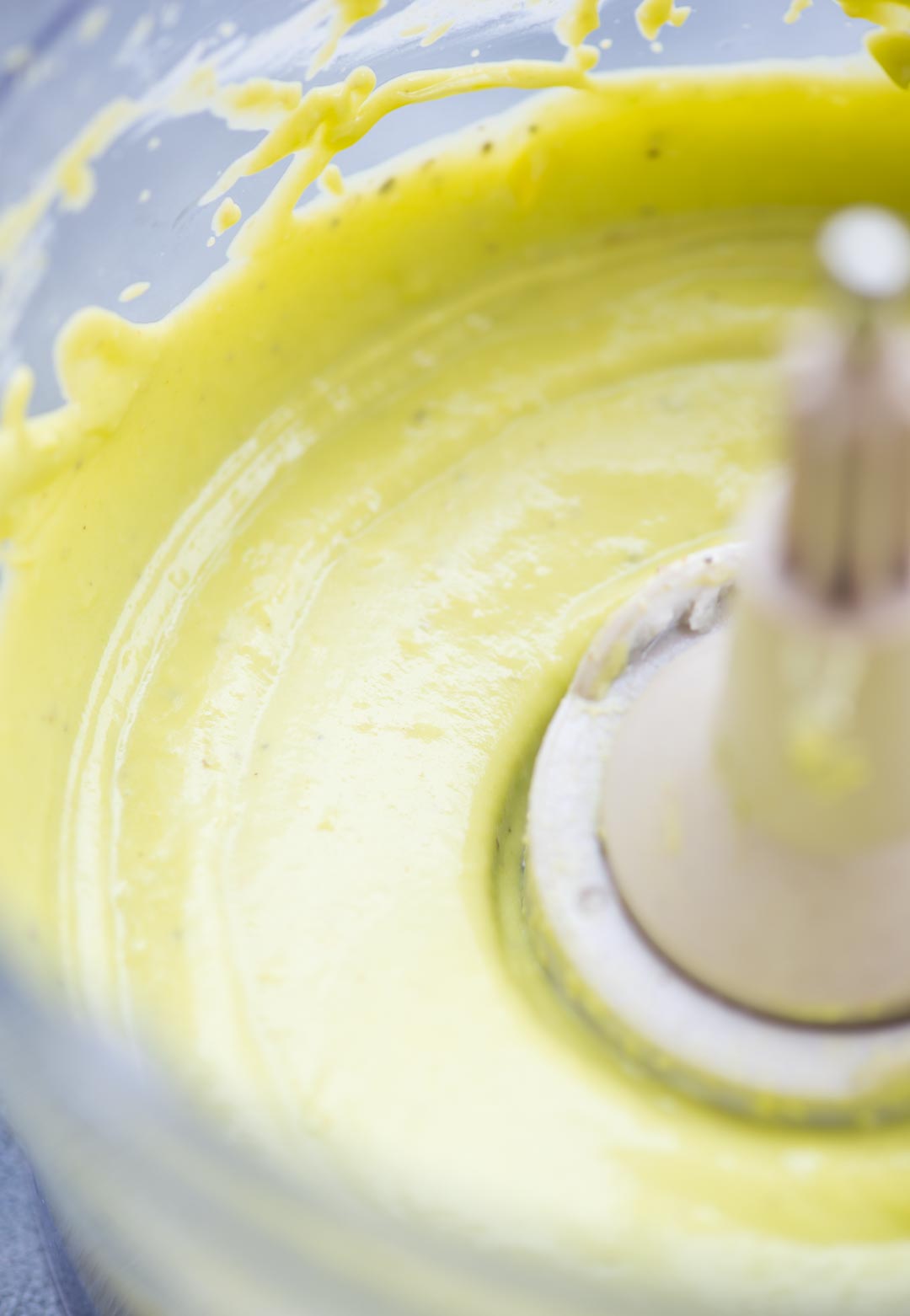 Store
Any dish with avocado is tricky to store. This is because avocado oxidized when it is exposed to air. This makes the outside brown and mushy.
A simple trick that helps store avocado dip longer and avoids the typical browning and oxidation of avocado dip is to put a layer of sour cream or lemon juice on top. The acid in lemon juice or sour cream shields the dip from oxygen in the air.
Put the dip in an air-tight container and use a spoon to press it down. This helps remove any air pockets in between. Put a layer of lemon juice on top and then close the lid tightly. Store it in the refrigerator or freezer for up to 5 days.
Thaw it when you remove it from the refrigerator and scoop out the juice or cream on top.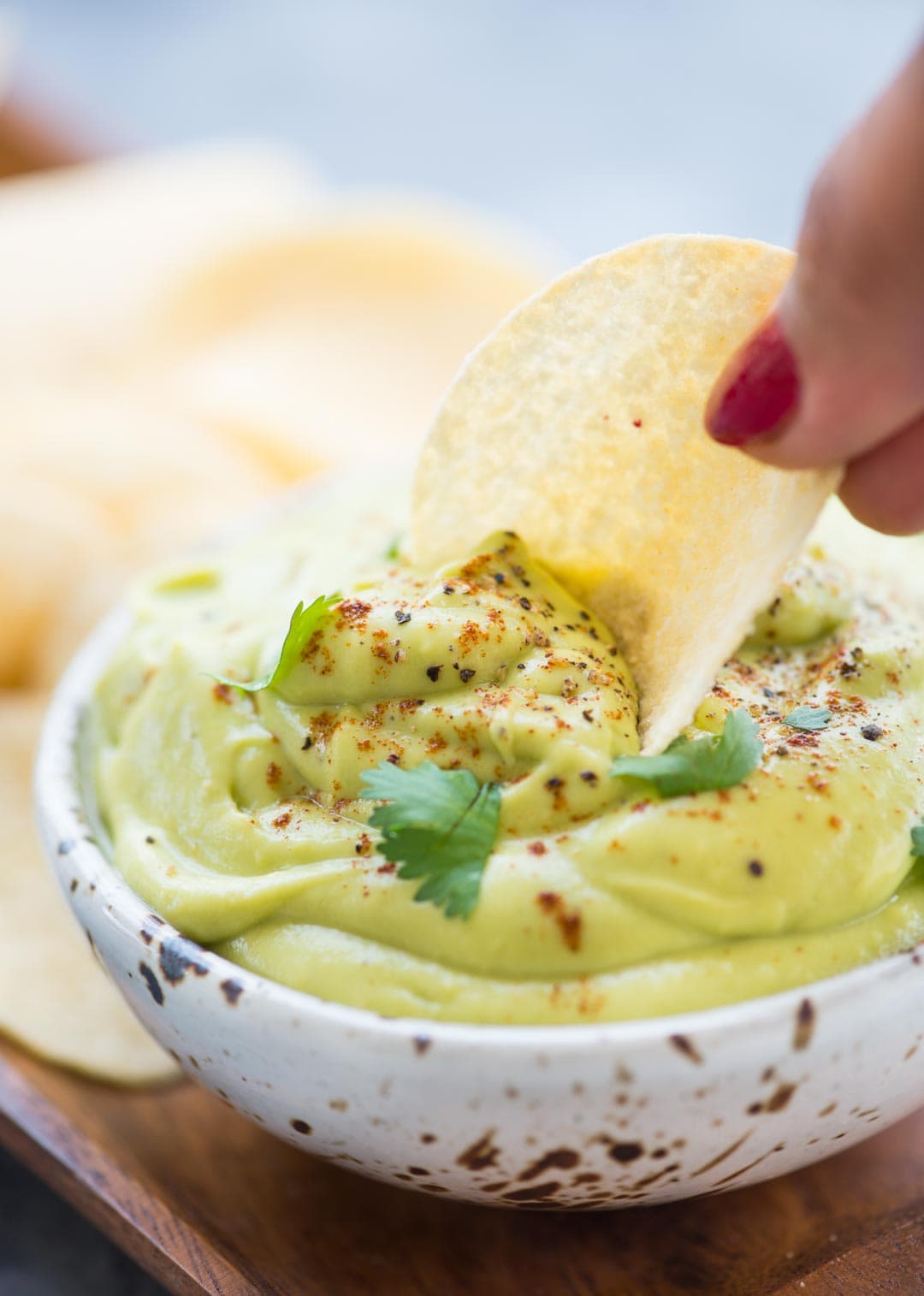 Serve With
Avocado dip can be had with a variety of things. It is commonly used as a dip with crispy chips, crackers, biscuits, etc.
Some may prefer fruits or cut veggies like carrots or cucumber and eat with this dip. You may use hummus as a spread in sandwiches or salad dressings.
Other Dips recipes you might like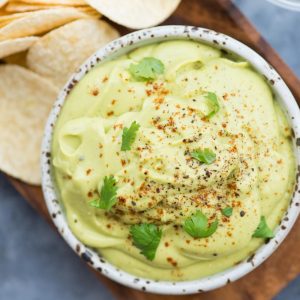 Avocado Dip
Creamy Avocado Dip made with Avocado, Sour cream, garlic, Lemon Juice is a perfect dip for Nachos, Pita and veggies. Make this for a quick snack or at your next party to impress your guests.
Ingredients
2 medium Avocado ripe
½ cup Sour Cream
2 Garlic cloves Use 1 if it is a large clove
1 tablespoon Fresh lemon juice
½ teaspoon fresh black pepper
Salt to taste I used 3/4 teaspoon
¼ cup fresh chopped Cilantro
Instructions
Place all the ingredients except Cilantro in a food processor. Pulse until everything is mixed and the mixture looks smooth and creamy.

While serving sprinkle chopped cilantro on top.
Nutrition
Serving: 100g | Calories: 439kcal | Carbohydrates: 20g | Protein: 5g | Fat: 41g | Saturated Fat: 11g | Cholesterol: 30mg | Sodium: 61mg | Potassium: 1056mg | Fiber: 13g | Sugar: 3g | Vitamin A: 650IU | Vitamin C: 24.4mg | Calcium: 93mg | Iron: 1.2mg