This post may include affiliate links that earn us a small commission.
Roasted Tomato salsa is spicy, fresh, and is quite flavourful because of charred tomatoes. It is easy to make with simple ingredients and is as good as you get in your favorite Mexican Restaurant.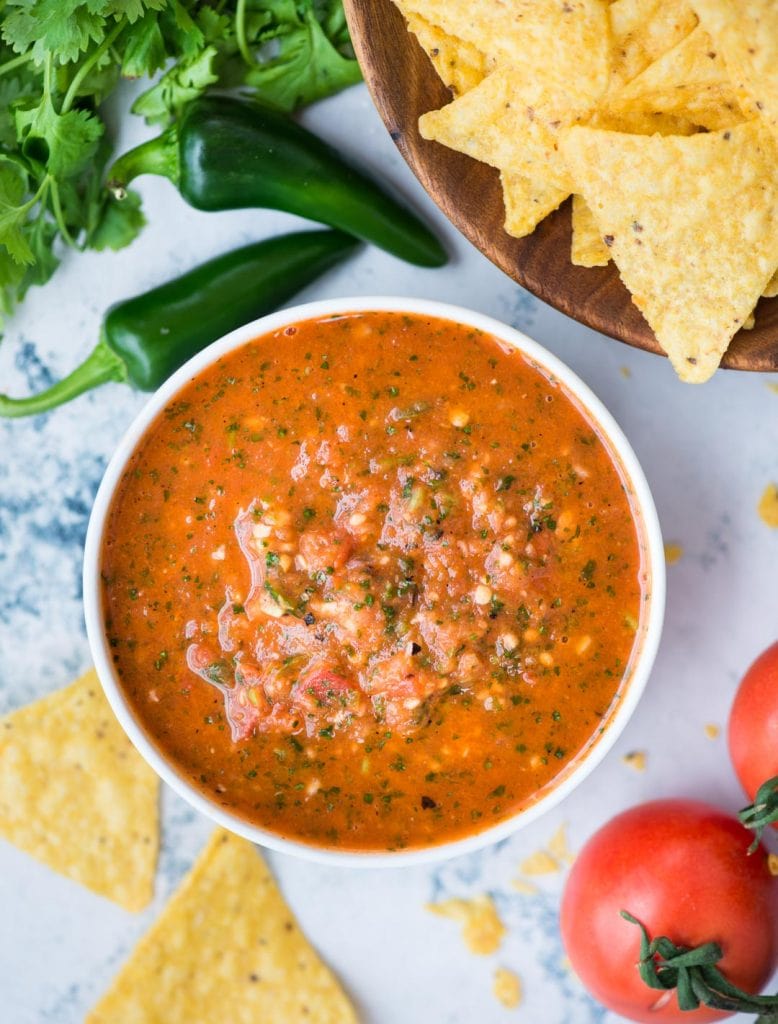 Grab all those fresh seasonal tomatoes and make a big batch of this Roasted tomato salsa. It is spicy, fresh, and has a depth of flavor because of the roasted, charred tomatoes. This is seriously addictive stuff, and I am sure you would always want to go back for more.
Flavours In Your Inbox
Subscribe for recipes straight to your inbox
My idea of a perfect weekend is a big bowl of dip, loads of chips to dip, and Netflix. And making this restaurant-style salsa doesn't take a lot of time, and that's why I make it quite often. It is a big hit among our friends at parties.
You may also check out another fruity flavor salsa recipe – Pineapple Mango Salsa.
Ingredients you need for making the fresh tomato salsa
Use fresh ingredients for maximum flavor and freshness.
Plum red tomatoes which are ripe and red are best for this recipe. Using a can of roasted tomatoes does work but there is nothing like roasting fresh in-season tomatoes. It is worth all the effort.
Jalapeno peppers
Garlic – I have used 2 big cloves of garlic. Use more or less depending on how garlicky you want.
Onion
Fresh Cilantro along with the stem. Don't discard the stem because they are dense in flavour.
Roasted Cumin powder for little earthiness.
Sugar is to balance the tartness of the tomatoes. You can skip or adjust the quantity depending on the tartness of tomatoes.
Olive Oil – Use extra-virgin olive oil.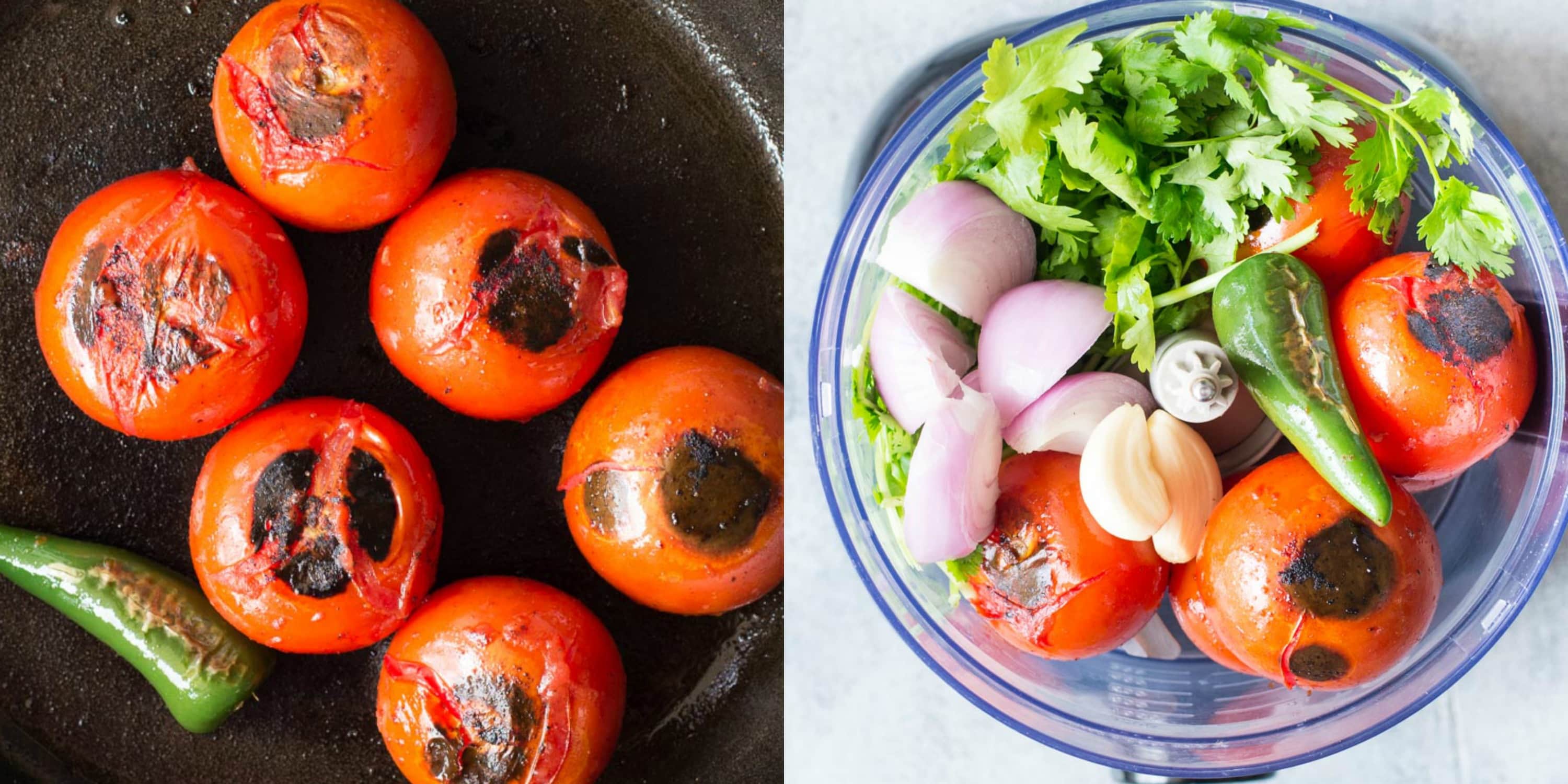 How to roast tomatoes for salsa?
What sets this fresh tomato salsa apart is roasting them before blending. Charred blistered tomatoes add smokiness to the dish. There are different ways to roast tomatoes.
If it is summer and you are firing up the grill, then there is nothing better than fire-roasted tomatoes. Roast tomatoes and jalapenos on direct heat until they there are blisters and charred.
You don't always have to fire up a grill for roasting tomatoes. You can also roast tomatoes in the oven or on the stovetop in a cast-iron skillet.
To roast in oven pre-heat oven to 400º F . Cut tomatoes, Jalapeno into half and place skin side up. Bake for 30-35 mins. Towards the end of baking time, broil for 5-6 minutes until small charred bits on tomatoes.
Alternatively, use a cast iron pan and char the tomatoes and Jalapeno. Sear the tomatoes on high heat until charred.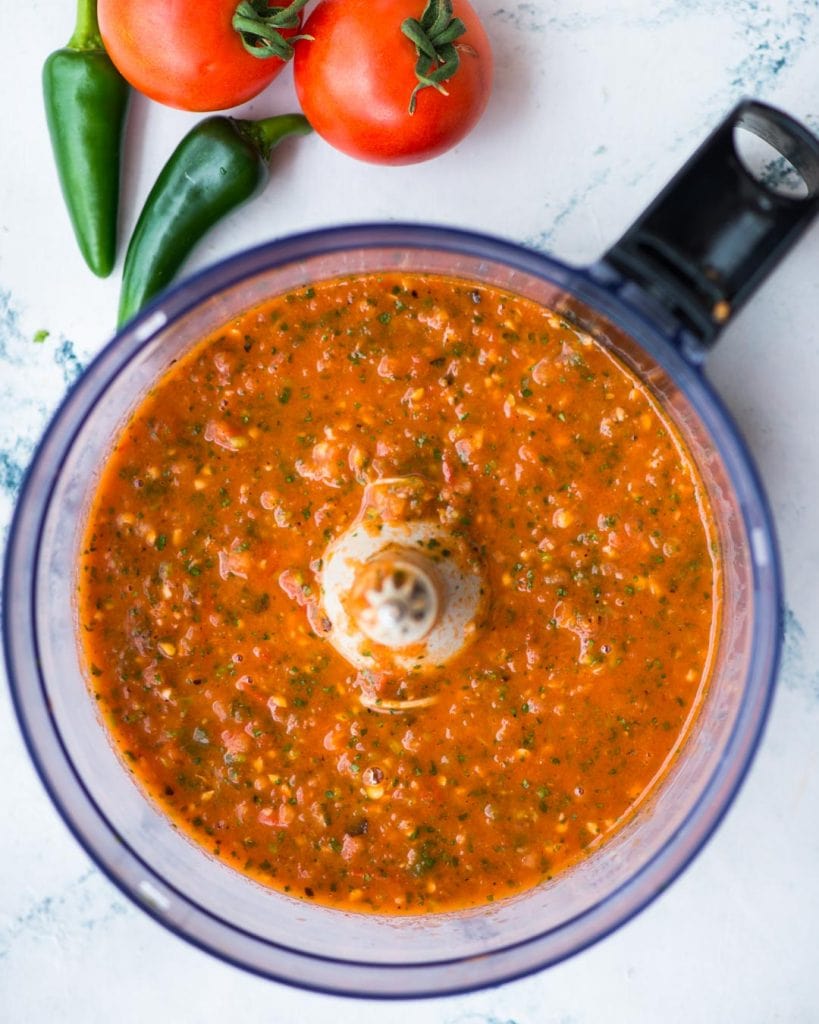 A few quick tips for making delicious Tomato Salsa…
Use fresh ripe plum tomatoes, fresh coriander leaves.
Once the tomatoes and jalapenos are charred let them cool before putting it to the food processor. The heat from tomatoes might take the freshness out of the rest of the ingredients.
The charred burnt bits are really important for that extra flavour, so don't worry about it.
Season well to bring the balance. Adjust the amount of sugar and salt. If the tomatoes are not tart enough, add some lemon juice to it.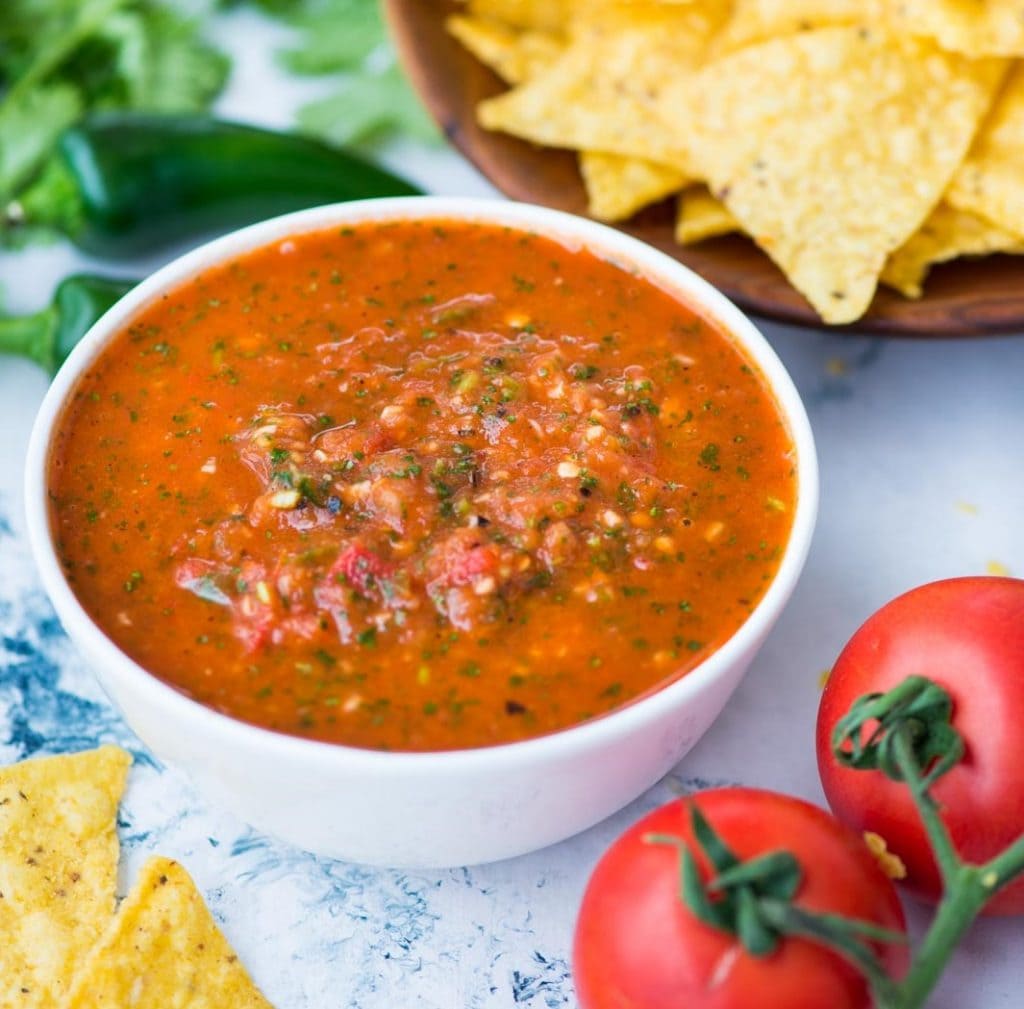 Store
Place the tomato salsa in an air-tight container. I have put it in a glass container and it stays good for a week in the refrigerator. Make sure that the container is sealed and the content do not get exposed to air.
You should be able to freeze the salsa in the freezer too. It should stay good for a very long time but two months is my recommendation.
Serve With
You can have tomato salsa with a variety of things. It is commonly used with crispy chips like nachos, pita crackers, biscuits, etc.
You can also use it as a sauce in other recipes like this Baked Salsa Chicken.
More Party Dips…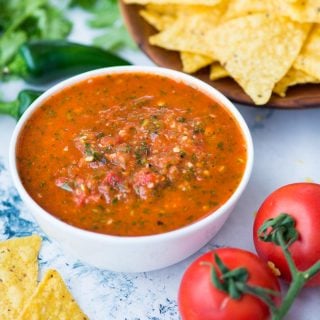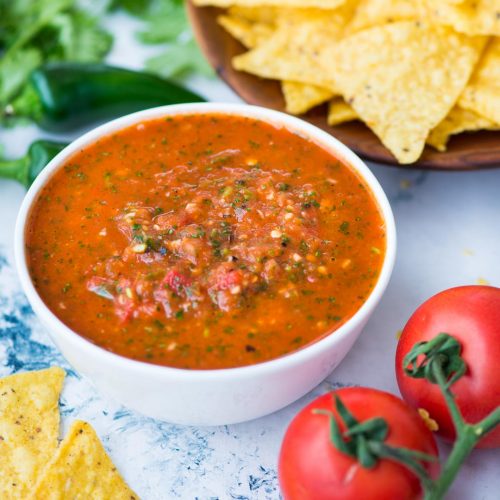 Roasted Tomato Salsa
Fresh tomato salsa which has a depth of flavour from roasted tomatoes, jalapeno, fresh cilantro. It is spicy, tangy and perfect to dip your favourite tortilla chips into it.
Ingredients
6 large Red plum Tomatoes
1 Jalapeno peppers (See notes 1)
1 medium Onion Quartered
2 Garlic clove
1 big handful Fresh Coriander along with stem
½ teaspoon Roasted Cumin powder
1 teaspoon Sugar
Salt to taste
2 tablespoon Olive oil
Instructions
Heat a cast-iron pan, drizzle little oil.

Place tomatoes and jalapeno. Sear on medium-high heat until the tomatoes are nicely charred and black bits start to appear. (Watch the video to see how charred the tomatoes need to be)

Let the tomatoes and jalapeno cooled down.

Add Charred tomatoes, Jalapeno and rest of the ingredients (except Olive oil) to a food processor.

Process it and when it is blending slowly add olive oil.

Keep the salsa little chunky for some texture.
Notes
Deseed Jalapenos if you reduce the heat. 
Add 1-2 teaspoons of fresh lemon juice if the tomatoes are not tart enough. 
Adjust the amount of sugar and salt to balance the tartness of tomatoes. 
Recipe Video with detailed steps at the top of the recipe.
Nutrition
Serving: 100g | Calories: 130kcal | Carbohydrates: 11g | Protein: 2g | Fat: 10g | Saturated Fat: 1g | Sodium: 9mg | Potassium: 347mg | Fiber: 2g | Sugar: 6g | Vitamin A: 1106IU | Vitamin C: 26mg | Calcium: 24mg | Iron: 1mg