Roasted Sweet Potato Hummus
This post may include affiliate links that earn us a small commission.
This easy roasted sweet potato hummus is creamy, delicious, and has a hint of sweetness from the sweet potato. This homemade hummus is great as a dip or as a healthy spread on wraps and sandwiches.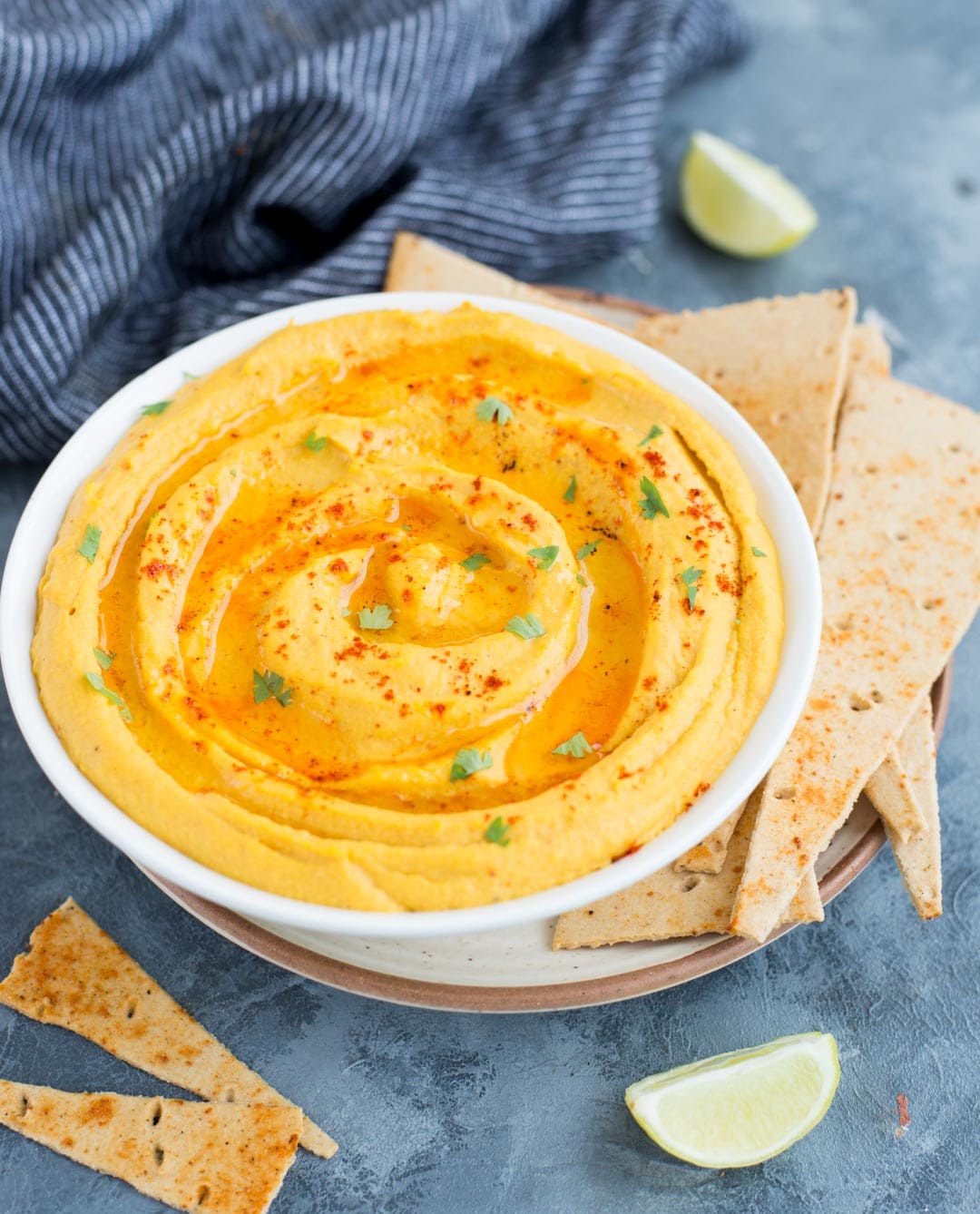 I absolutely love hummus. One of the best party dips is healthy and perfect for guilt-free indulgence. This roasted sweet potato hummus is a healthy twist on classic hummus. The sweetness and earthiness of roasted potatoes make this hummus even more irresistible. You will be amazed by how good this sweet potato hummus tastes.
Flavours In Your Inbox
Subscribe for recipes straight to your inbox
This creamy hummus is great on anything, be it sandwiches, wraps, or veggies and chips. All I can say is that this is one versatile dip. This easy hummus is another easy way to use all those seasonal sweet potatoes. With the holiday season coming, you definitely need a good, easy hummus recipe in your back pocket.
There are a couple of ingredients that I would not skip for hummus: tahini and roasted cumin powder. Tahini is nothing but grounded sesame seed paste. It adds a nutty flavor to the hummus. I also love the earthy cumin, and the roasted cumin powder adds a lot of flavor to the hummus.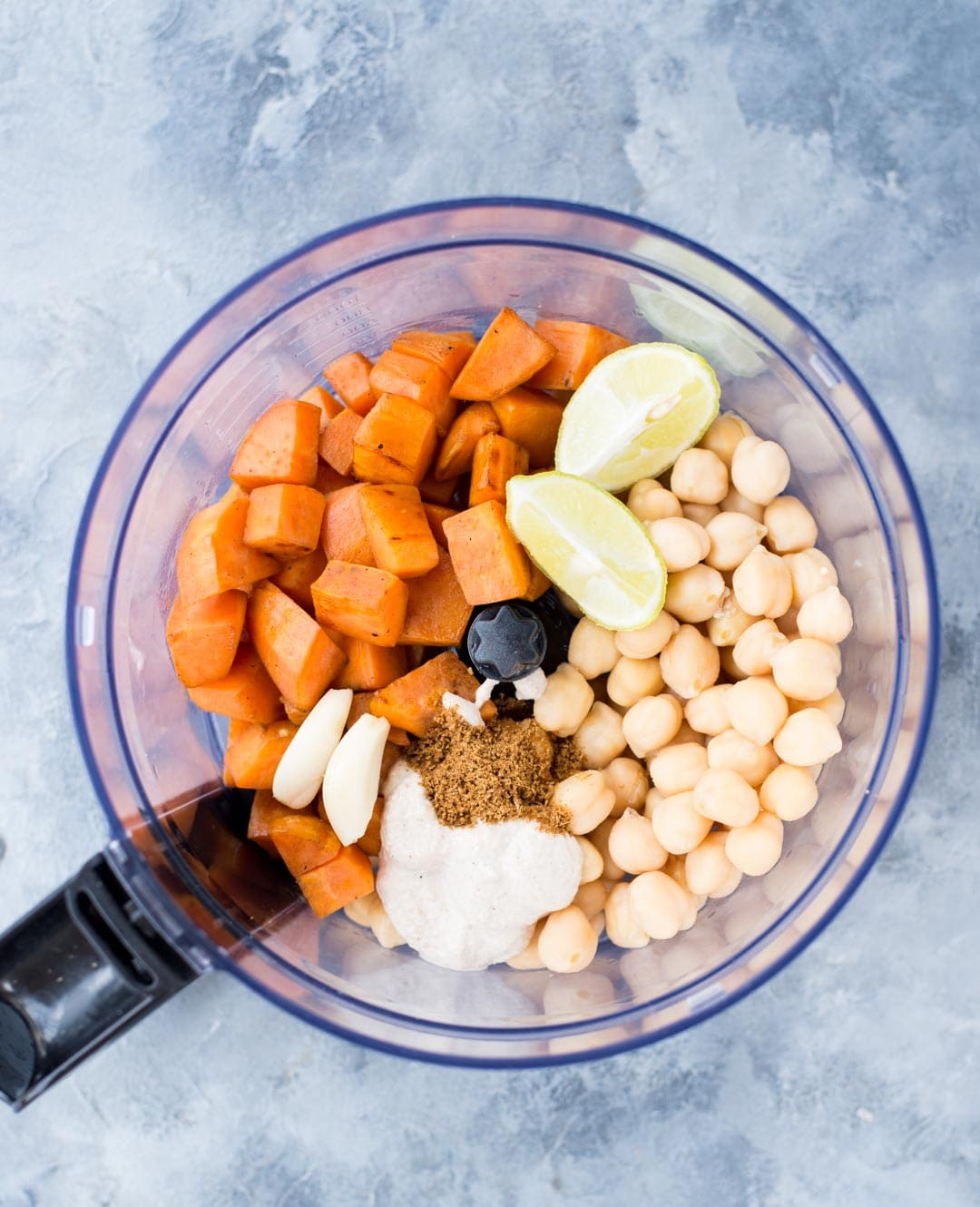 Ingredients
Chickpeas: are better soaked overnight and then pressure-cooked till tender.
Roasted sweet potatoes: The sweetness of the potatoes adds a smoky depth to the flavor and taste when roasted.
Tahini: Invest in a good brand. The nutty taste makes a difference in the hummus.
Garlic: I use this aromatic powerhouse as much as I can. Gives that savory flavor to the hummus.
Lemon juice: The acidity of the lemon balances the sweetness of the sweet potatoes.
Roasted cumin powder: is the key ingredient in hummus. The warmth and smokiness you get from roasted cumin add a lot of flavor to hummus. Use normal cumin powder if you cannot find or roast cumin.
Olive oil: Use extra-virgin olive oil if you can. The taste of good olive oil shines through this dip.
Red paprika powder: is commonly used outside the Middle East, where it is mostly sumac, another red-colored spice powder made from dried berries.
How to make this
Making roasted sweet potato hummus is really easy. All you need is a skillet and a good food processor. A good cast-iron skillet is great for roasting the sweet potatoes. All those caramelized bits of roasted sweet potato add a lot of flavor to the hummus.
Slowly roast sweet potatoes in a dash of olive oil until you get small, golden brown spots.
Then add the rest of the ingredients to a powerful food processor along with the sweet potato. A food processor is required to get creamy and velvety-smooth hummus.
There are a few recipes on the internet that say to peel the chickpeas for a smooth hummus. But I never felt the need for it. Using a good food processor does the job for me.  Also, by peeling the skin, you would lose some additional fiber from chickpeas.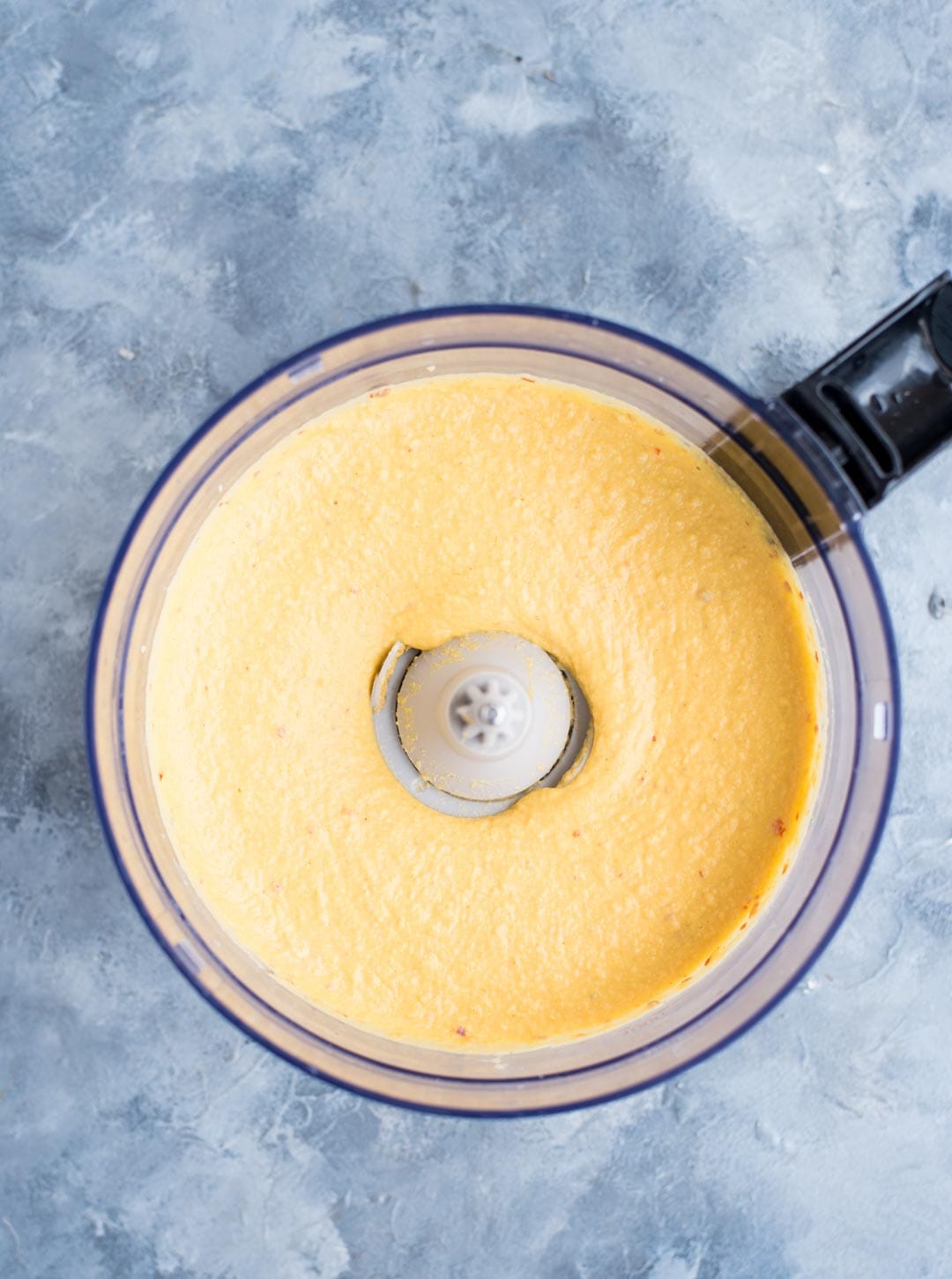 Canned vs dried chickpeas
In India, we commonly use dried chickpeas. Soak chickpeas overnight and then pressure cook them until tender. While soaking them is not mandatory, it makes them much softer and creamier. Soaking also makes chickpeas easier to digest by breaking down complex sugars, which otherwise cause digestive discomfort for some. And soaked chickpeas need less cooking time.
If you forgot to soak them overnight, you can still do a quick soak: boil them for 3 minutes and let them soak in the liquid for an hour.
Without a pressure cooker, you can use a pot and submerge the chickpeas in boiling water. The volume of water can be three times that of chickpeas.
You can certainly substitute canned chickpeas instead. Drain the chickpeas well and reserve some liquid to add later to the hummus.

What to serve with
While serving hummus, make a swirl with the back of a spoon and add a spoonful of olive oil to those swirls. Sprinkle red paprika or sumac powder over them; it makes a great presentation.
Hummus is one of the healthiest appetizers you can add to your menu. Rich in protein and high in fiber, hummus is really healthy and nutritious. The best part is that you can serve this in many possible ways.
Pita bread: Warm pita bread comes to mind when you think of hummus. Like classic hummus, this sweet, smoky, and savory variant goes best with pita bread or crispy pita chips.
Veggie sticks: Hummus is a great way to have loads of veggies in the form of slices or sticks. I like to serve it with veggie sticks like cucumber, carrots, celery, etc.
Chips and crackers: Chips and crackers are great to scoop away hummus. The crispiness of chips, the seeds, and the spices in crackers pair well with sweet potato hummus.
Shawarma: In my Shawarma recipe, you can substitute garlic sauce with this slightly sweet, savory, and smoky hummus.
Wraps and sandwiches: Hummus is an excellent substitute for fat-loaded spreads used in wraps and sandwiches.
Dips you might like
Cheesy Corn Dip – Bubbling cheese and corn beneath a baked golden layer on top makes this a party hit.
Cheesy Bacon Shrimp Dip – Loaded with flavors from shrimp, bacon, and three types of cheese
Creamy Avocado Dip – Avocado made smooth with the creaminess of sour cream and infused with flavors of garlic and tanginess from lemon juice.
Buttermilk crackers with cheesy tomato dip – A great tomato dip to pair with savory, crunchy buttermilk crackers that have nutty flavors from sesame seeds and spices
How To Make Mayonnaise – Learn to make creamy homemade mayonnaise in minutes with whole eggs and a stick blender.
Roasted Tomato Salsa – This simple and spicy tomato salsa has flavors from charred tomatoes.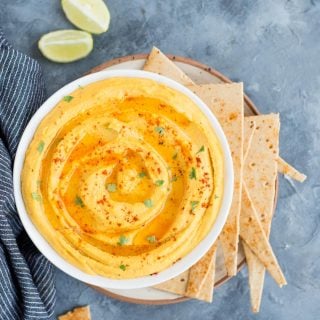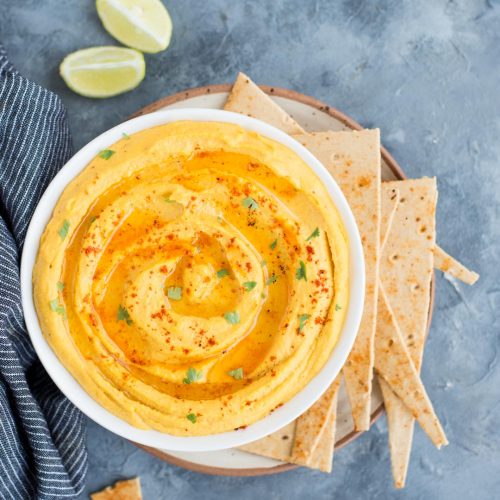 Roasted Sweet Potato Hummus
This Sweet Potato Hummus is creamy, delicious and has a hint of sweetness from the roasted Sweet potato. This homemade hummus is great as a dip or as a healthy spread on wraps and sandwiches.
Ingredients
1.5 cup Cooked Chickpeas
1 medium Sweet Potato
1 tspn Olive oil
3 tablespoon tahini
3 pods garlic
1.5 tablespoon fresh lemon juice
1 tspn cumin powder
¼ cup extra virgin olive oil (more for serving)
salt and pepper to taste
paprika a large princh
¼ cup reserved Chickpea liquid
Instructions
Take a heavy cast Iron skillet, add 1 teaspoon oil. Roast Sweet potato cubes on low heat, until almost cooked and small golden patches, start to appear.

Let the sweet potatoes cool down.

In a food processor add all the ingredients except Extra Virgine Olive oil. Blend until smooth. Add reserved Chickpea liquid to in small portions until desired consistency is reached.

Scarp the sides and bottom of the blender in intervals. Towards the end slowly add the olive oil and blend further until everything is mixed.

While serving sprinkle more Olive oil and paprika on the top.

Serve along with veggies, pita, crackers.
Nutrition
Serving: 100g | Calories: 163kcal | Carbohydrates: 7g | Protein: 3g | Fat: 13g | Saturated Fat: 1g | Sodium: 117mg | Potassium: 93mg | Fiber: 2g | Vitamin A: 25IU | Vitamin C: 1.9mg | Calcium: 25mg | Iron: 1mg