This post may include affiliate links that earn us a small commission.
Cucumber sandwiches are a classic tea party fair. These sandwiches are light, airy, and made with thinly sliced cucumber, herby cream cheese spread, and crustless bread.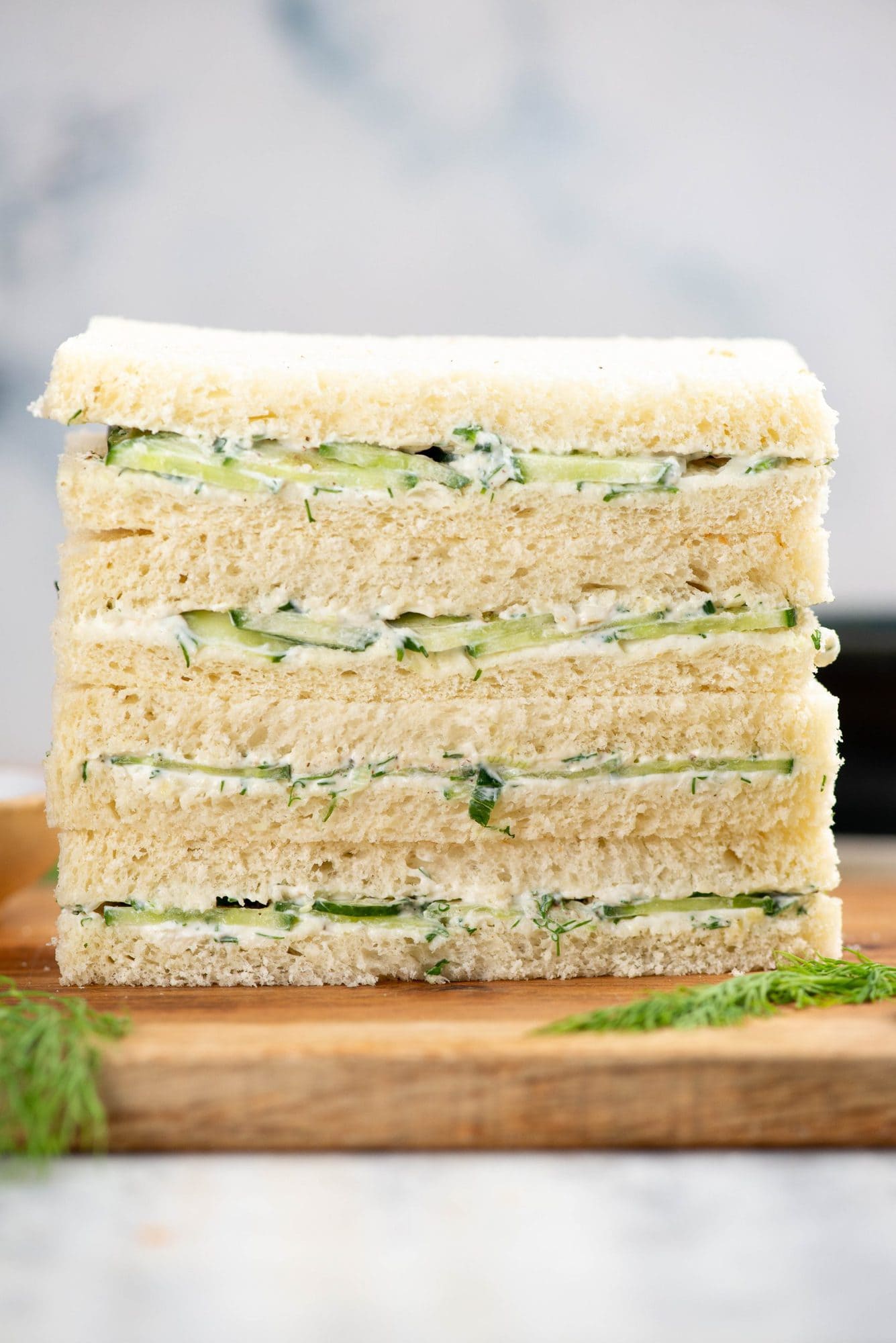 Looking for sandwich recipes? Check out my Spinach Corn Sandwich and Chipotle Egg Salad Sandwich recipes.
Cucumber Sandwich
A dish that originates as a light snack at high tea and is part of a long-standing tradition in English tea culture, the simple cucumber salad has become bold with flavor and versatile ingredients.
While the classic sandwich was served with just cucumber slices, modern versions played with cream cheese, mayonnaise, and spices.
This cucumber sandwich recipe takes on the modern all-popular cucumber salad with its cheesiness from cream cheese, creaminess from mayo, and savor from garlic and herbs. All this speaks of a spectacular snack.
The rich, creamy, and cheesy herbaceous spread pairs very well with the natural freshness of cucumbers, creating a balance of flavors.
You do not have to buy mayonnaise from the store. Make rich, creamy, and fresh mayo at home by checking out my How To Make Mayonnaise recipe.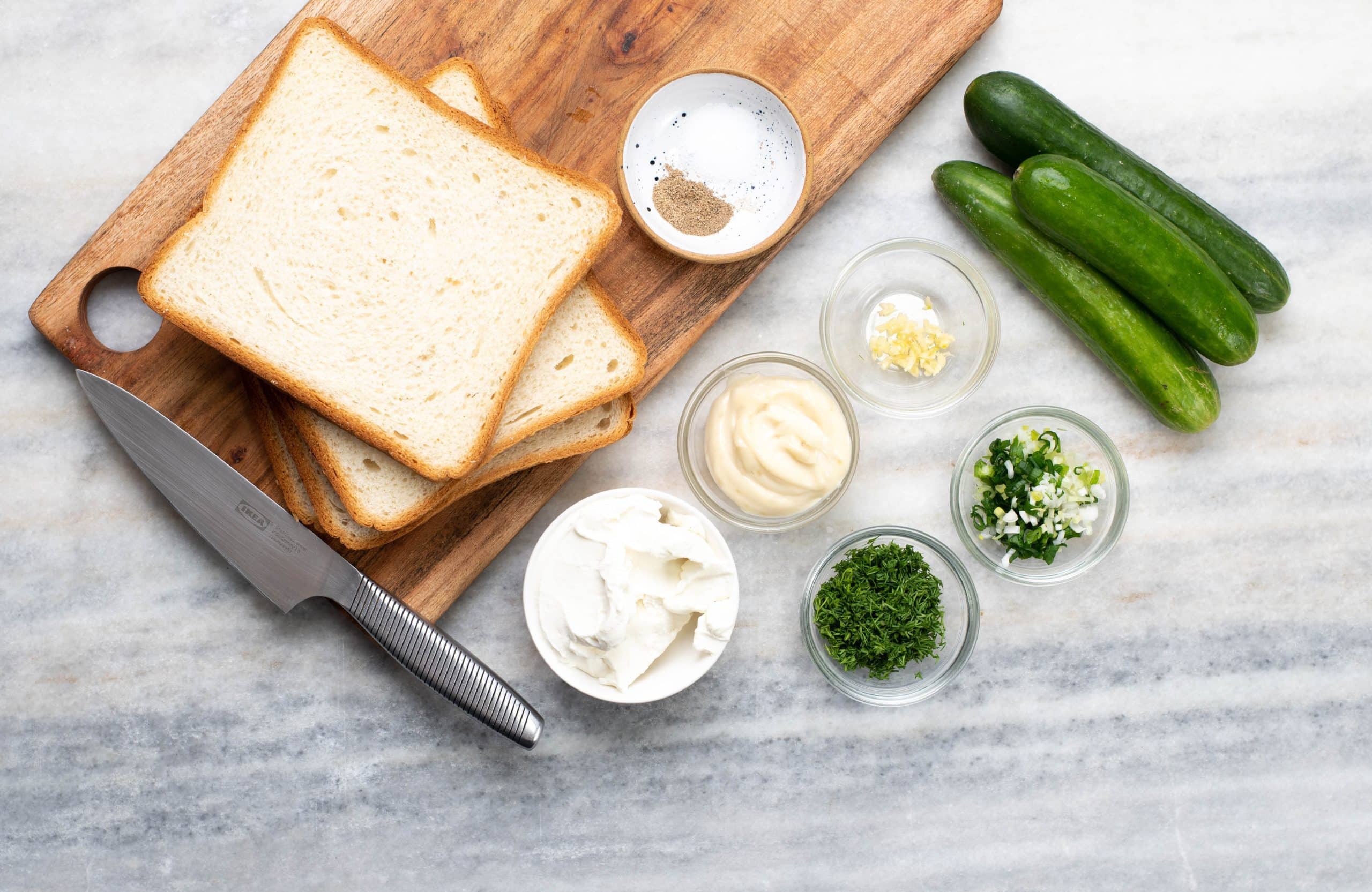 Ingredients
Sandwich bread – Your regular white bread. A bit sweet, without any crust, and should be soft.
Cucumber – Round slices of cucumber to serve in the middle. Forms the base of the sandwich.
Cream cheese – this soft and smooth cheese is an excellent spread.
Mayonnaise – gives that creaminess to the fillings.
Garlic – grated and to be mixed with cheese and mayo. A flavor bomb.
Dill leaves – provides that herby flavor and aroma. It pairs very well with cream cheese.
Green onion – Chopped and added as a garnish on the fillings.
Salt & Pepper – as per taste and for flavor.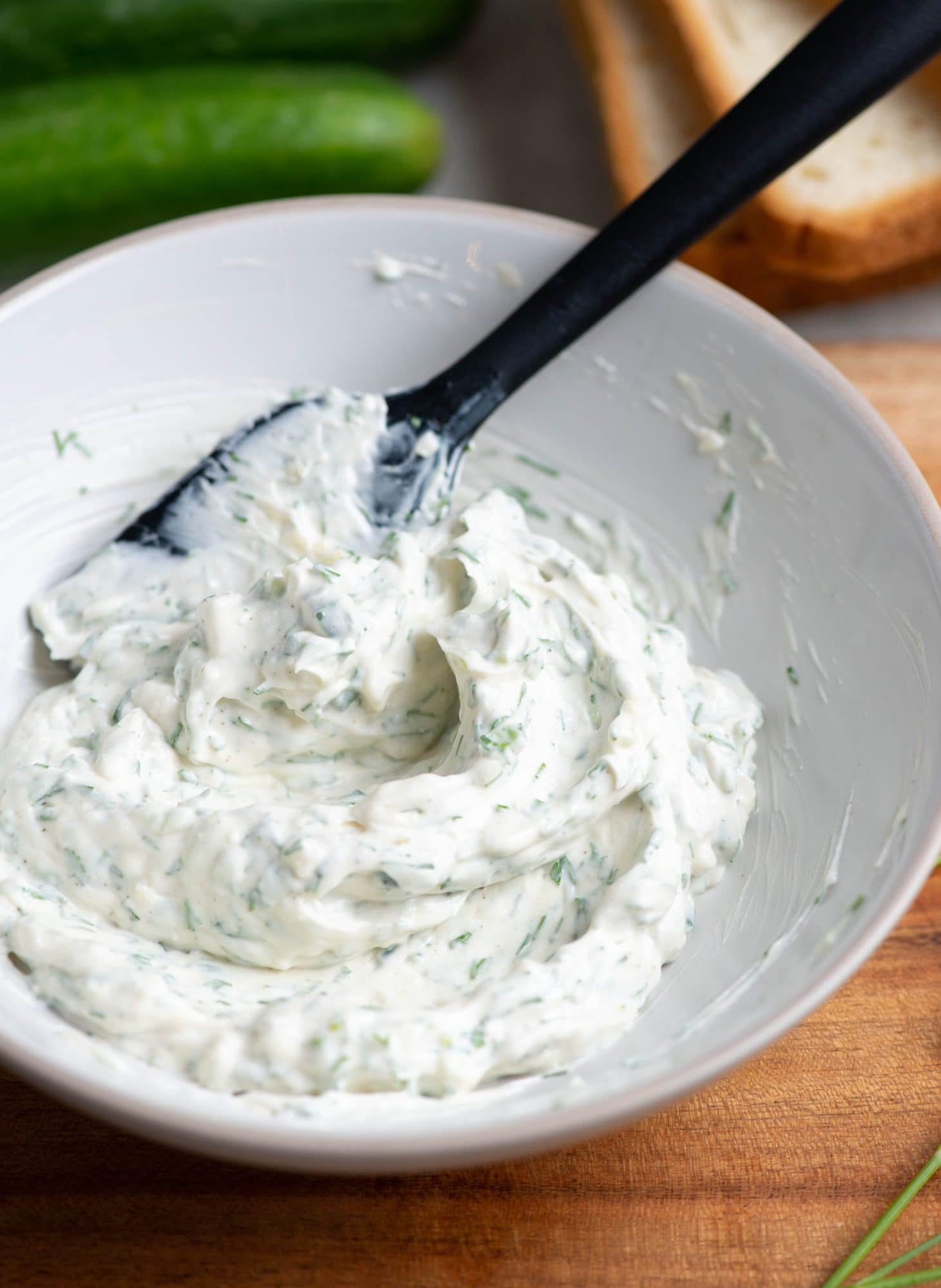 How to make
Cucumber Sandwich is a straightforward and quick dish to make. Prepare bread slices by stripping them of the brown edges with a knife.
Mix the cream cheese, mayo, grated garlic, chopped dill leaves, green onion, and salt and pepper to prepare the spread. Spread it over one side of the two slices of white bread with a butter knife.
Flavours In Your Inbox
Subscribe for recipes straight to your inbox
Lay a bed of sliced cucumbers on top of one bread slice having the spread. Sprinkle pepper for taste.
Lay the other slice of bread with spread on top of this one. Press the slices together so they tighten and hold the filling well.

Tips for the perfect cucumber sandwiches
Use English cucumber – The choice of cucumbers plays an important role. Use English cucumbers or similar, which have thin skins and minimal seeds. Thin skins give a mild flavor and are crisp, while fewer seeds make them less bitter.
Slice the cucumbers thin – Use a kitchen knife or mandoline slicer to slice those cucumbers very thin. It is a good opportunity to use your chopping skills. Thin slices are easy to bite into and are perfect for layering in sandwiches.
Make the spread herby – Do not skimp on fresh herbs, which give freshness and flavor to the spread. Along with dill, you may also use parsley or chives. Add a bit of salt and pepper to spice up the spread.
Generous spread – the herby cream cheese spread gives flavor to the sandwich, and be generous while using the spread. Apply the spread on one side of both bread slices and layer the cucumber slices in between.
Store
You can prepare and store the spread for up to a week in the refrigerator. Take it out, and you can use it as a cold spread on fresh sandwich bread.
Do not store if you have already prepared the sandwiches, as the bread will become soggy after some time. They are best consumed within a few hours after assembly.
Serve With
Serve with warm tea for a classic afternoon tea or early evening snack. It is versatile enough to be taken to picnics and potlucks with other finger foods or appetizers like Baked Crispy Chicken Nuggets, Loaded Mexican French Fries or Crispy Polenta Fries.
Cucumber sandwiches pair very well with light salads like White bean salad with lemon vinaigrette, Lemon Dill Potato Salad( No Mayo), Apple Kale Salad With Apple Cider Vinaigrette, or Easy and Zesty Quinoa Salad.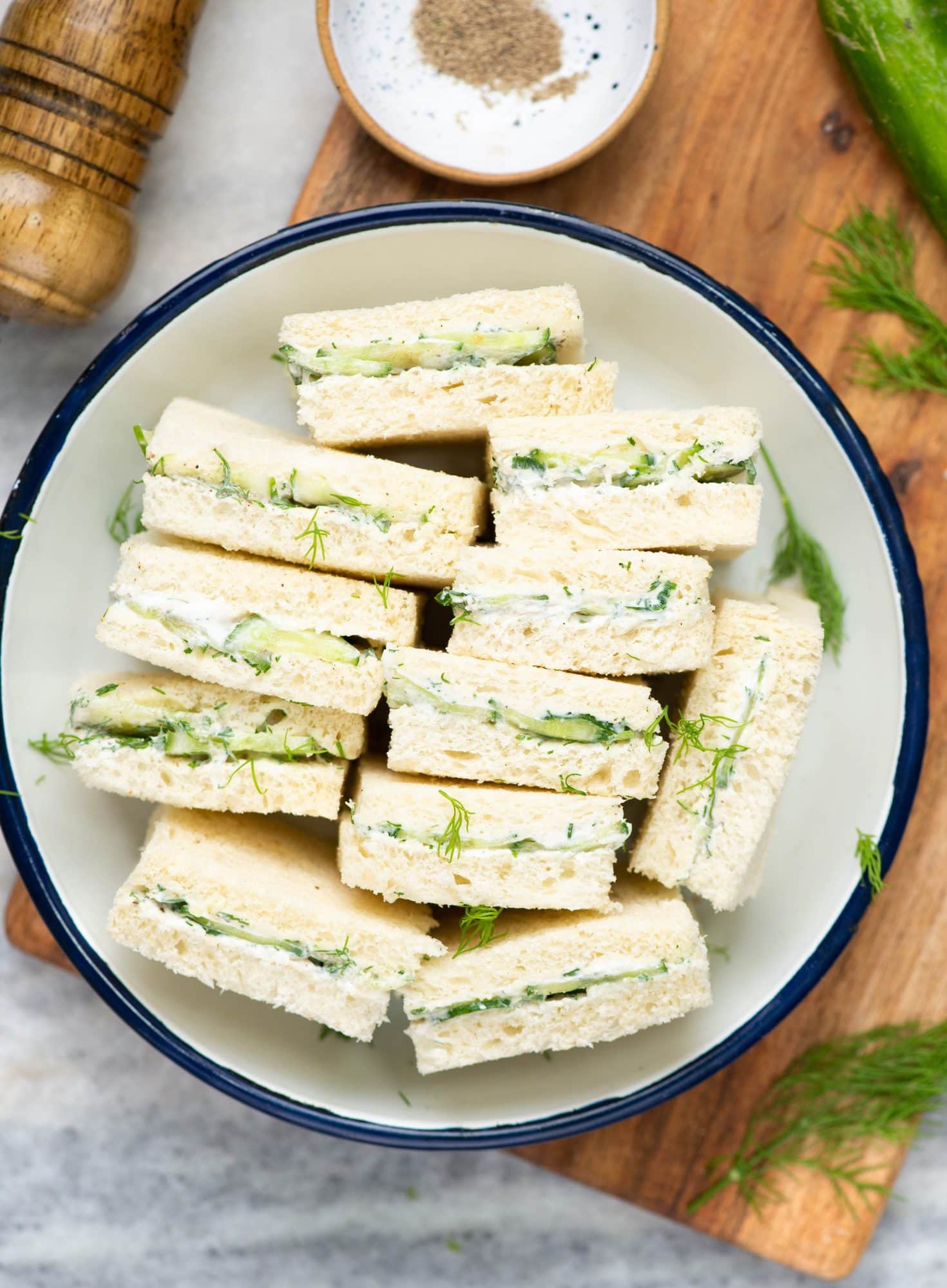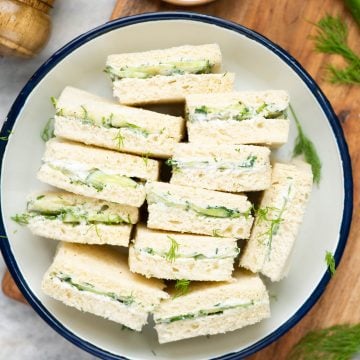 Cucumber Sandwich
Cucumber sandwich is a classic tea party fair. Made with thinly sliced cucumber, herby cream cheese spread, and crustless bread, these sandwiches are light, airy.
Ingredients
8 slices sandwich bread
2 cucumber
200 grams cream cheese
4 tablespoon Mayonnaise
2-3 tablespoon Dill leaves finely chopped
2 tablespoon Chopped Green onion
1 Garlic Clove grated
salt and pepper as per taste
Instructions
Mix together cream cheese, mayo, grated garlic, chopped dill leaves, chopped green onion, pepper, and salt to taste.

Slice cucumber into thin slices using a sharp knife or a mandoline slicer.

Cut the brown edges of bread using a knife.

Spread 2 tablespoons of cream chees mixture on a slice of bread. Top it with a layer of sliced cucumber. Sprinkle some dill leaves and a dash of pepper.

On another slice of bread spread another tablespoon of cream cheese mixture. Place it on top of the first slice, cream cheese side down.

Repeat the above steps for the rest of the breads.
Nutrition
Serving: 1serving | Calories: 424kcal | Carbohydrates: 31g | Protein: 9g | Fat: 30g | Saturated Fat: 12g | Polyunsaturated Fat: 8g | Monounsaturated Fat: 7g | Trans Fat: 1g | Cholesterol: 56mg | Sodium: 488mg | Potassium: 334mg | Fiber: 2g | Sugar: 7g | Vitamin A: 789IU | Vitamin C: 5mg | Calcium: 177mg | Iron: 2mg