This post may include affiliate links that earn us a small commission.
French toast is what you feel like indulging in on lazy weekend mornings. It is crispy brown toast with melting bread, soaked in egg and milk, and topped with fresh fruits like berries and maple syrup.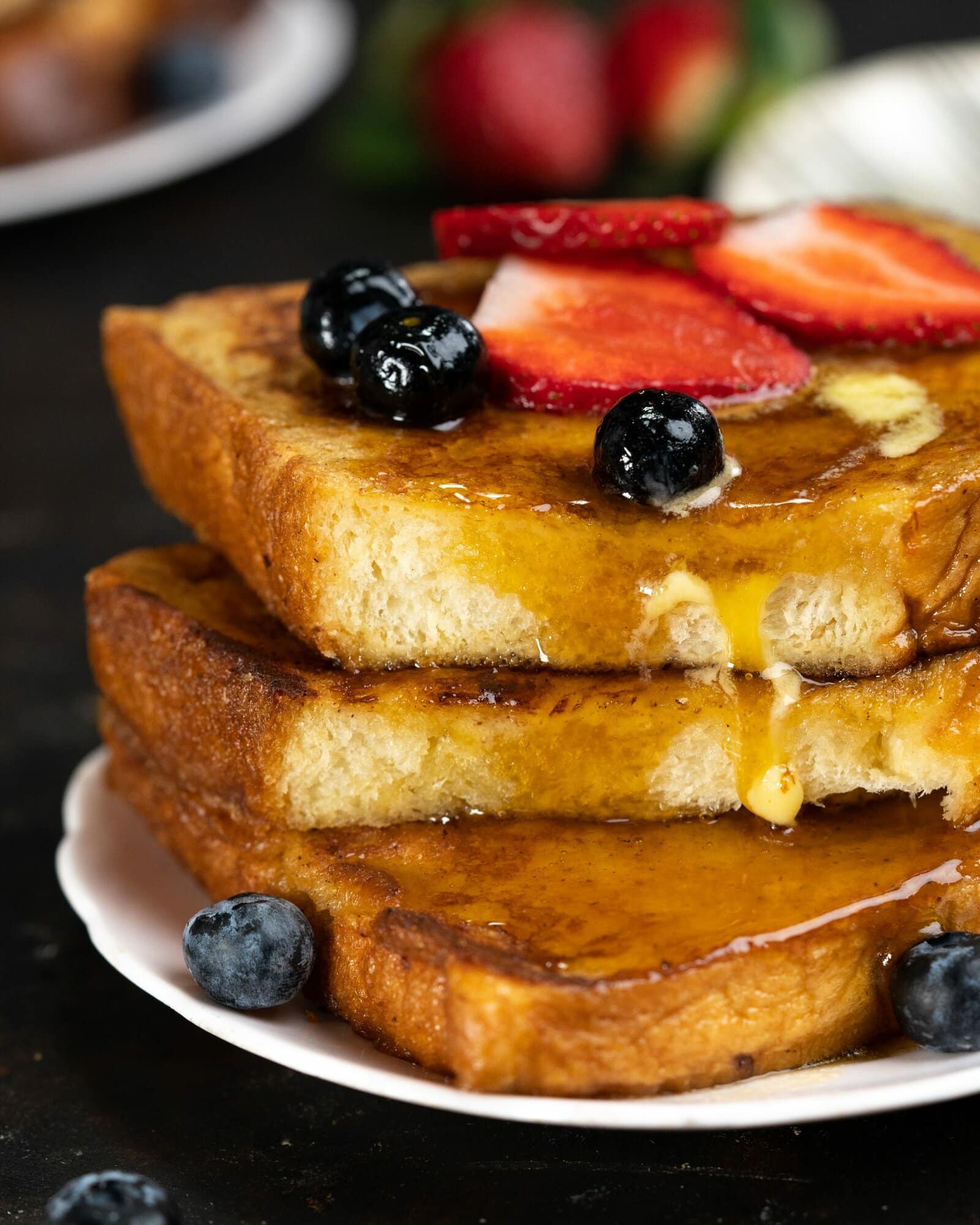 French toasts are pure indulgences. That golden brown crisp on the outside and soft bread inside, soaked in egg and milk, makes me want this every weekend. Drizzle maple syrup and a dollop of butter, and throw in fresh berries, like some blueberries and a few sliced strawberries, for a luxurious breakfast treat. 
Flavours In Your Inbox
Subscribe for recipes straight to your inbox
I like a bit of spice to complement all that sweetness in the toast, and I prefer cinnamon and a pinch of nutmeg. Cinnamon, combined with nutmeg, tastes warm and comforting and reminds you of fall. A pinch of nutmeg is enough not to make it too spicy and works very well with hot cinnamon.
French toasts are a popular breakfast dish, but you can treat yourself to these comforting tastes in the afternoon or evening.
But this easy brioche French toast recipe is not a very strict definition of such a versatile dish. The toppings can be any combination, and you can go crazy.
If you love bread and want to make a popular savory bread breakfast dish, check out this Easy Breakfast Casserole With Bread – Easy breakfast casserole with eggs, bread, and vegetables topped with cheese.
The best bread for French toast
Brioche is my first choice for the best French toast recipe. It is a soft and cakey bread with a buttery feel and taste. It tastes so good; I can munch on it as a snack. Brioche has weight and is spongy in texture, soaking up the egg and milk mixture without falling apart and dissolving in it.
Brioche is a loaf made from a dough enriched with eggs and loads of butter, giving it a slightly sweet yet rich taste and a cakey texture.
Other than brioche, Jewish challah bread is a good alternative. Similar to brioche, it is made with eggs but without dairy.
Leftover bread would be a great choice. For one, you get stale bread, which has dried up with time. In addition, what better way to use leftover bread?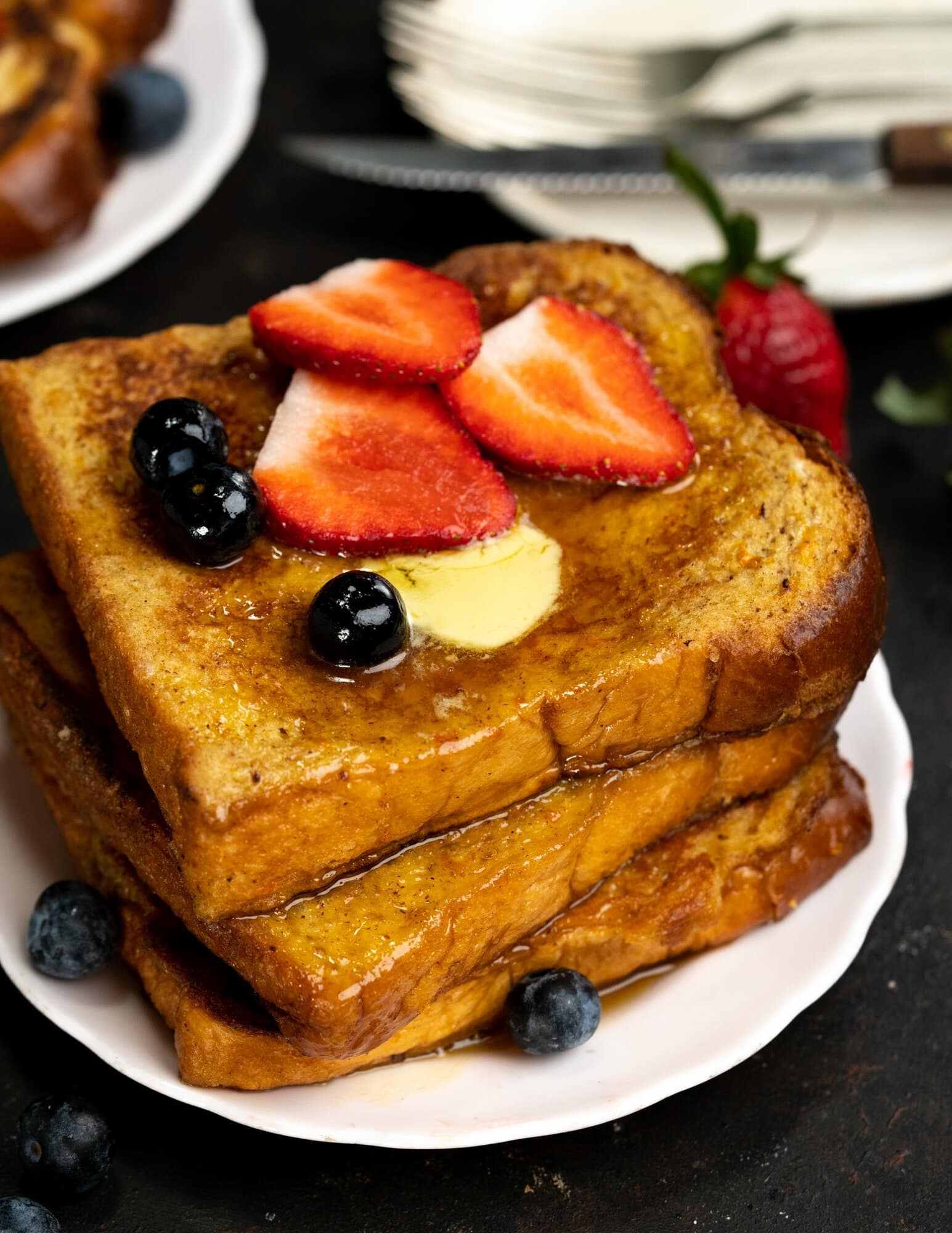 Ingredients
Brioche Bread – Brioche is a soft, cakey bread with a buttery feel and taste. Get it fresh from a local French bakery if you can. You may also find it in the bakery section of local grocery stores.
Half and half – is a mixture of half cream and half milk. It is more diluted than heavy cream but thicker and creamier than milk.
Eggs – are the essence of the dip and the flavor the bread absorbs.
Vanilla, cinnamon, and nutmeg—spices to up the flavor of the toast.
Orange Zest – to have some citrusy flavor in the toast.
Sugar – a little sugar to balance the spices.
Salt – added to bring all the flavors together.
Butter – is used for cooking the bread, and you can add a dollop of butter to make the breakfast richer.
Berries – I have topped the toast with a few blueberries and slices of strawberry.
Tips
One important thing to remember is to use dry bread to prevent French toast from getting soggy. Whether you use brioche, challah, or regular sandwich bread, it better be a bit dry. It can be dry from leftover bread, which slowly loses moisture as fresh bread dries.
Another way to make the bread slices dry is to toast them a bit over medium heat. You can bake them in the oven or pan for a little while. Do not toast them too much; you must do it again after dipping them in the egg mixture.
When using frozen brioche bread, toast the bread slices for at least a few more minutes.
The golden brown color on the sides indicates that the bread is toasted enough. Flip after a minute or two (if using frozen) and check. If not, give it more time and check again.
We will need to more like place the slices in and not a vertical dip. For this purpose, use a rectangular dish for convenience rather than a bowl to match the shape of the slices. Better to use a shallow dish to dip slices and pick them up easily.
How to make brioche French toast
This is a breakfast recipe and a simple thing to do. You cannot go wrong with this. Plus, you can get creative and wild with your toppings. 
Prep
Start with making a bath of half and half, eggs, vanilla extract, cinnamon, nutmeg, sugar, salt, and zest. Add all of those to a rectangular shallow dish and whisk well.
Heat a tablespoon of butter in a hot skillet and let it melt.
Dip bread and toast
Dip the bread slices into this mixture and let it coat both sides. Cook the dipped slice for 1 minute on each side. The bread should become a golden brown color on the sides. Keep it aside.
Repeat for all bread slices.
Serve with your favorite toppings. Refer to the 'Serve with' section for ideas for toppings.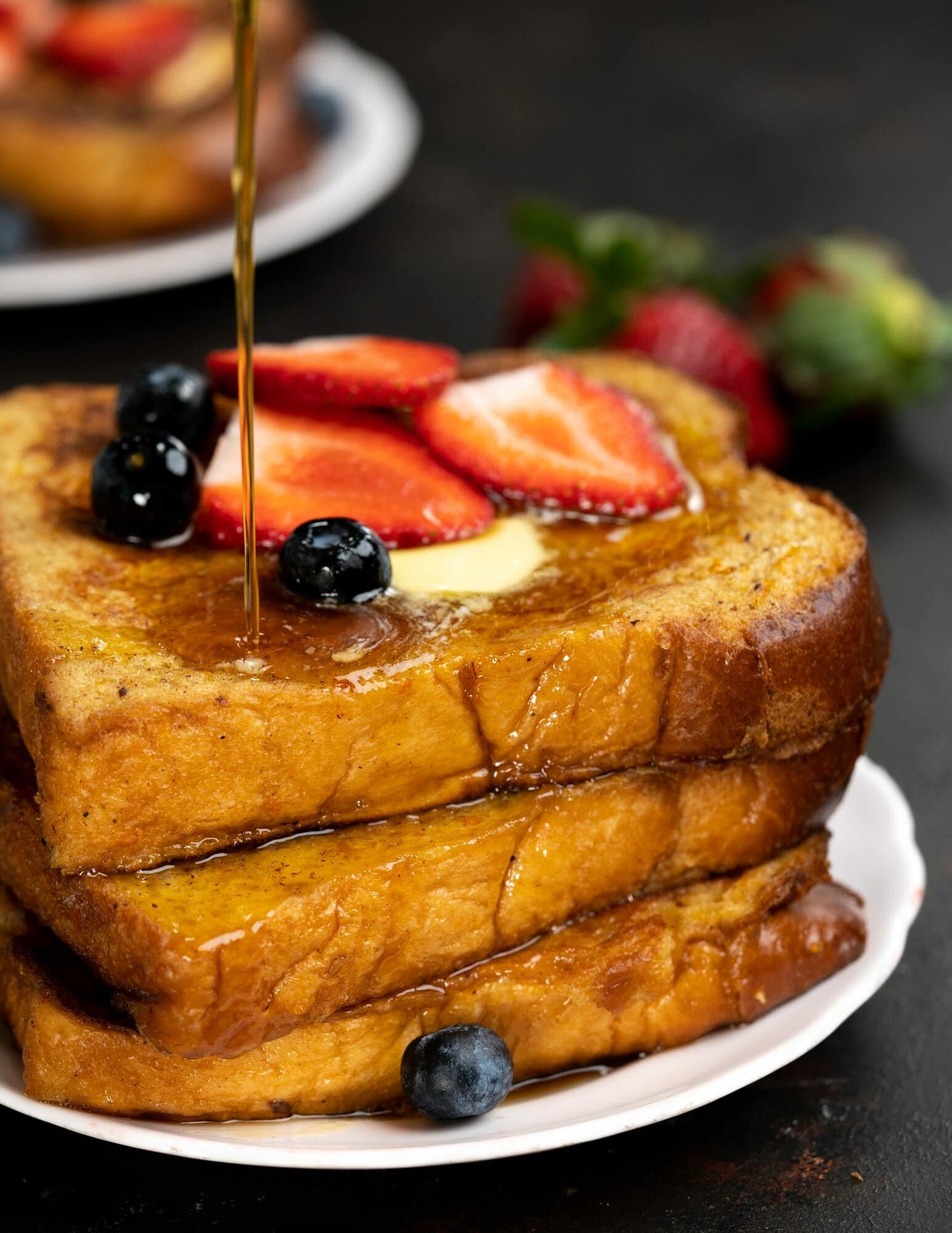 Store leftovers
You can refrigerate leftovers for a few days or freeze them for longer. You can take the toasted brioche, place it in a rectangular, airtight container, and refrigerate it for up to 4 days.
You can freeze it for up to 3 months. You need to ensure that the toasted slices do not touch each other, or they will stick together. There are two ways to do that: first, separate slices with baking/parchment paper while storing the whole loaf together. Second, wrap each slice with a plastic wrap. Once you finish this, add the whole thing to a large zip-lock freezer bag.
There are many ways to reheat cold French toast. You can reheat them in the microwave or heat them in a skillet.
Serve with toppings
There are a plethora of toppings to add to French toast. The variety of sweet and savory toppings you can use and the results they can give make French toast such a versatile dish. 
Syrup, chocolate, and Nutella—maple syrup is a must for me. I would not skip this for honey, which is healthy but more viscous and sweeter. Kids will also love a spread of Nutella on top. Chocolate sauce and caramel will undoubtedly be hits too. 
Fresh fruits – like bananas, blueberries, and strawberries, make it refreshing. Berries add a sweet yet slightly tart taste to the overall sweet profile of the maple syrup.
Nuts – You can also try a variety of nuts, from almonds to walnuts. The crunchy taste of nuts combined with the spice of cinnamon and the sweetness of maple syrup will surely make you crave seconds.
Cheese – Add a butter or cream cheese dollop for a more lavish and rich serving.
Ice cream – Make it even more indulgent with some ice cream; you have enough for brunch.
Other baked bread recipes
No-Knead Rustic White Bread – an easy rustic white bread recipe that requires only four ingredients and no kneading.
Artos: Greek Celebration Bread – this bread is baked with nuts and fruits and has a soft texture.
Cheesy Garlic Bread – cheesy, garlic-y deliciousness with crunchy edges is perfect to pair with pasta, dunk into soups, or serve as a side dish.
Zucchini Banana Bread – moist banana bread with shredded zucchini, spiced with ground cinnamon, has a moist crumb, and is easy to make.
Double Chocolate Banana Bread – a moist and fudgy bread with the right chocolate and banana flavor balance.
Orange and Cranberry quick bread – Orange and cranberry pair very well in this bread.
Orange Cranberry Bread Pudding – delicious dessert with a gooey custard-like center and a crispy top.
Zucchini, mushroom and red bell pepper bread – is a beautiful crusty bread with the goodness of zucchini, a mushroom flavor, and red bell pepper.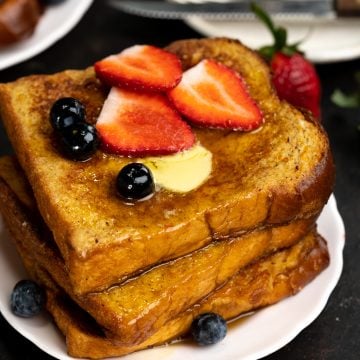 Brioche French Toast
French toasts are what you feel like indulging in on lazy weekend mornings. A crispy brown toast with melting bread inside, soaked in a wash of egg and milk, topped with fresh fruits like berries and maple syrup.
Equipment
1 Bowl to mix egg and milk
Ingredients
6 slices Brioche Bread
1 cup Half & half
2 large eggs
2 teaspoon Vanilla
½ teaspoon Cinnamon
Pinch of Nutmeg
1 teaspoon Orange Zest
2 tablespoon Sugar
¼ teaspoon Salt
4 tablespoon Butter
Berries A few blueberries and slices of strawberry to serve on top of toasts.
Instructions
In a big mixing bowl / rectangular dish add half & half, Eggs, Vanilla extract, cinnamon, nutmeg, sugar, salt, and zest. Whisk well.

Dip bread slices one by one into the mixture and coat them on both sides.

Melt butter in a skillet. Cook dipped brioche slices for 1 minute on each side or until golden brown in color.

Continue this method until all slices of brioche bread have been fried.

Serve it with fresh berries. Drizzle maple syrup on top