Overnight Breakfast Casserole With Bread
This post may include affiliate links that earn us a small commission.
Easy breakfast casserole with eggs, bread, and sausage topped with cheese. This overnight breakfast casserole recipe can be made ahead and is perfect for feeding a big crowd.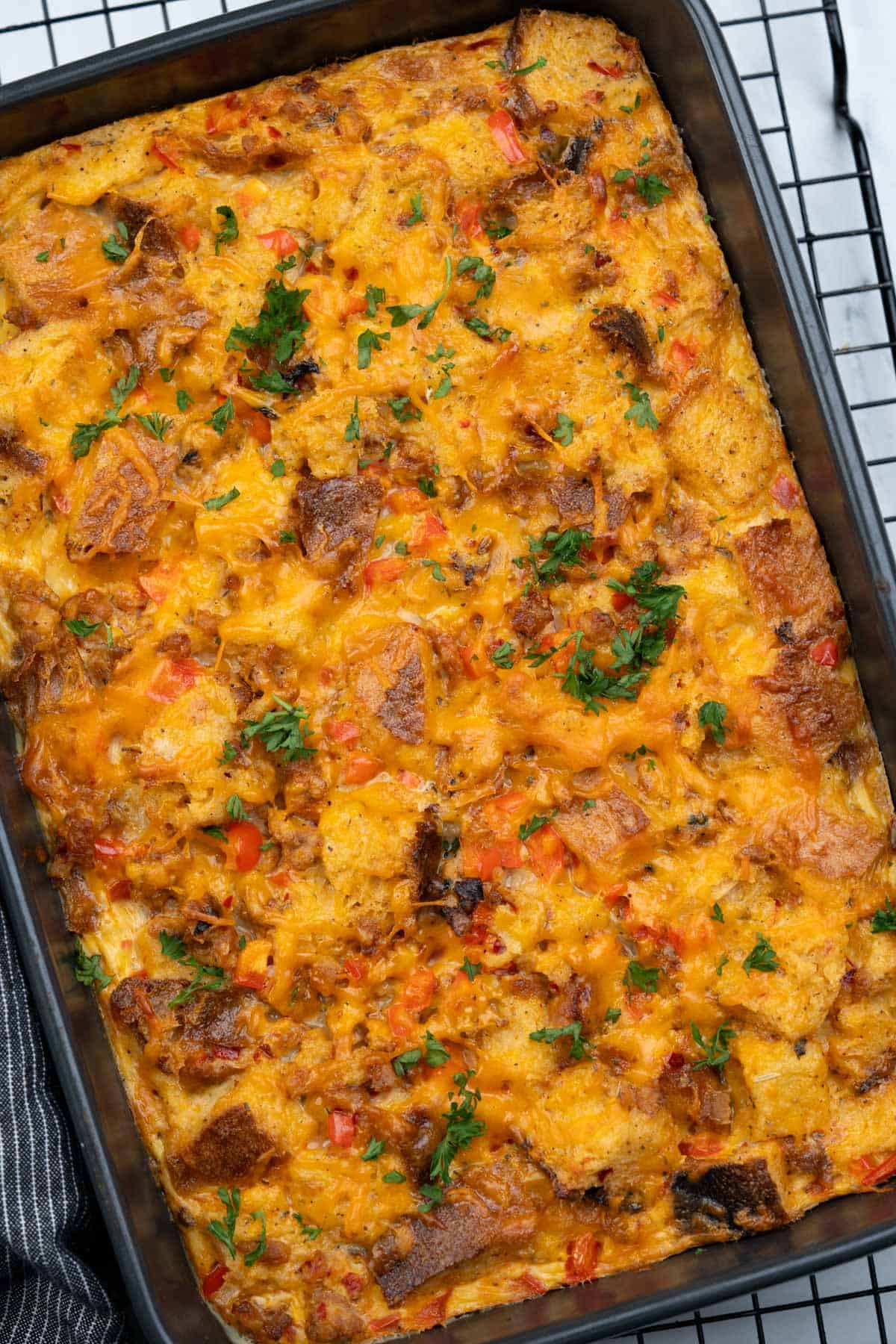 Overnight Breakfast Casserole is made with bread, eggs, and sausage then topped with cheese. It is hearty and filling. With minimum preparation, this easy casserole is a savior on busy mornings. Do all the prep the night before and pop it into the oven the next morning. This warm savoury breakfast casserole is perfect to serve on a holiday morning or for brunch on a Sunday.
Flavours In Your Inbox
Subscribe for recipes straight to your inbox
This casserole is hearty, filling, and is highly adaptable. Add veggies of your choice to make it more wholesome. We don't mind having this for lunch or dinner, as the leftover is equally delicious.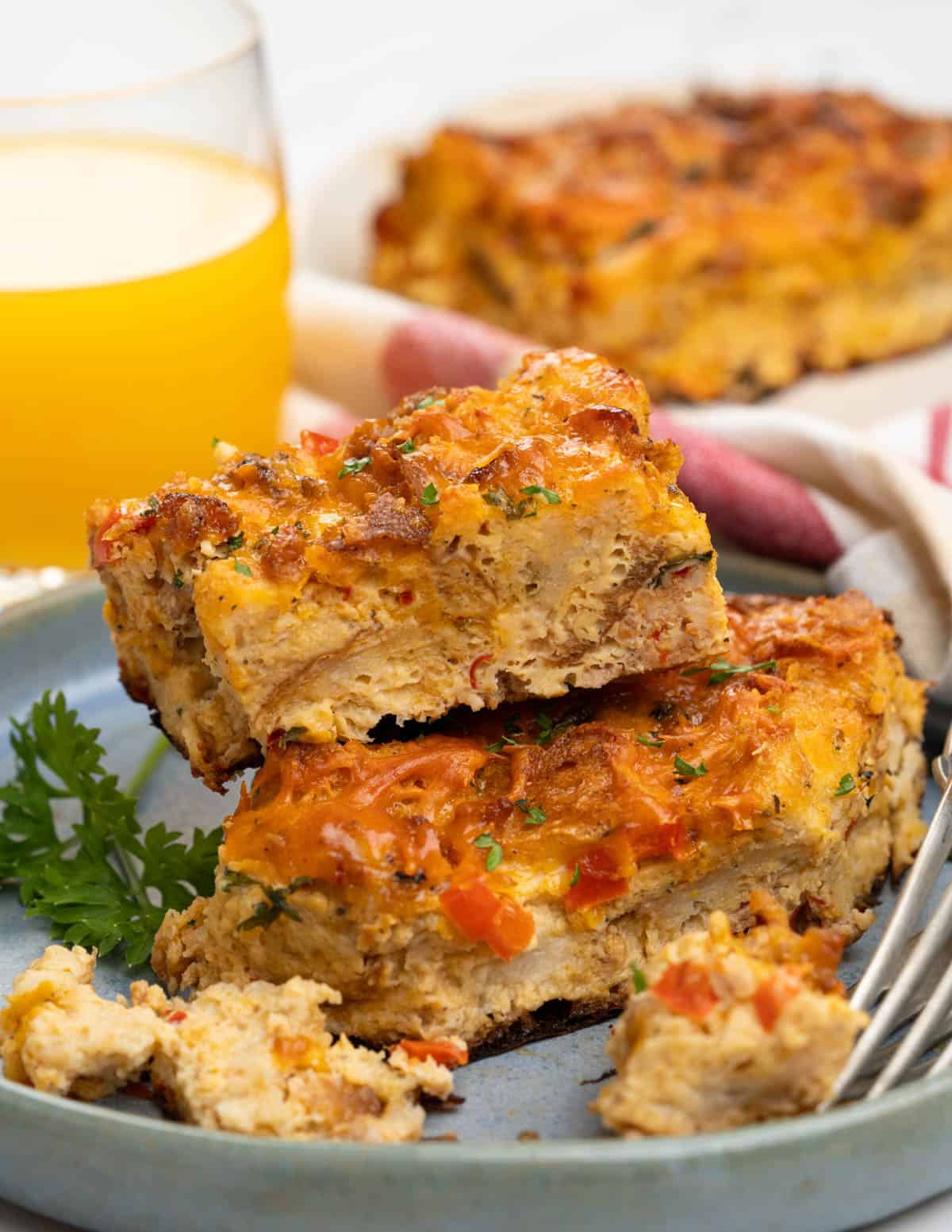 Ingredients for the casserole
Bread- Crusty bread works really well, preferably a day-old bread. Unlike regular sandwich bread, these hold their shape without turning mushy. Especially for overnight casseroles, when the mixture is rested overnight, the bread pieces soak up the liquid making the casserole fluffy and soft.
Breakfast sausage– makes the casserole more filling and wholesome. You can skip this if you wish.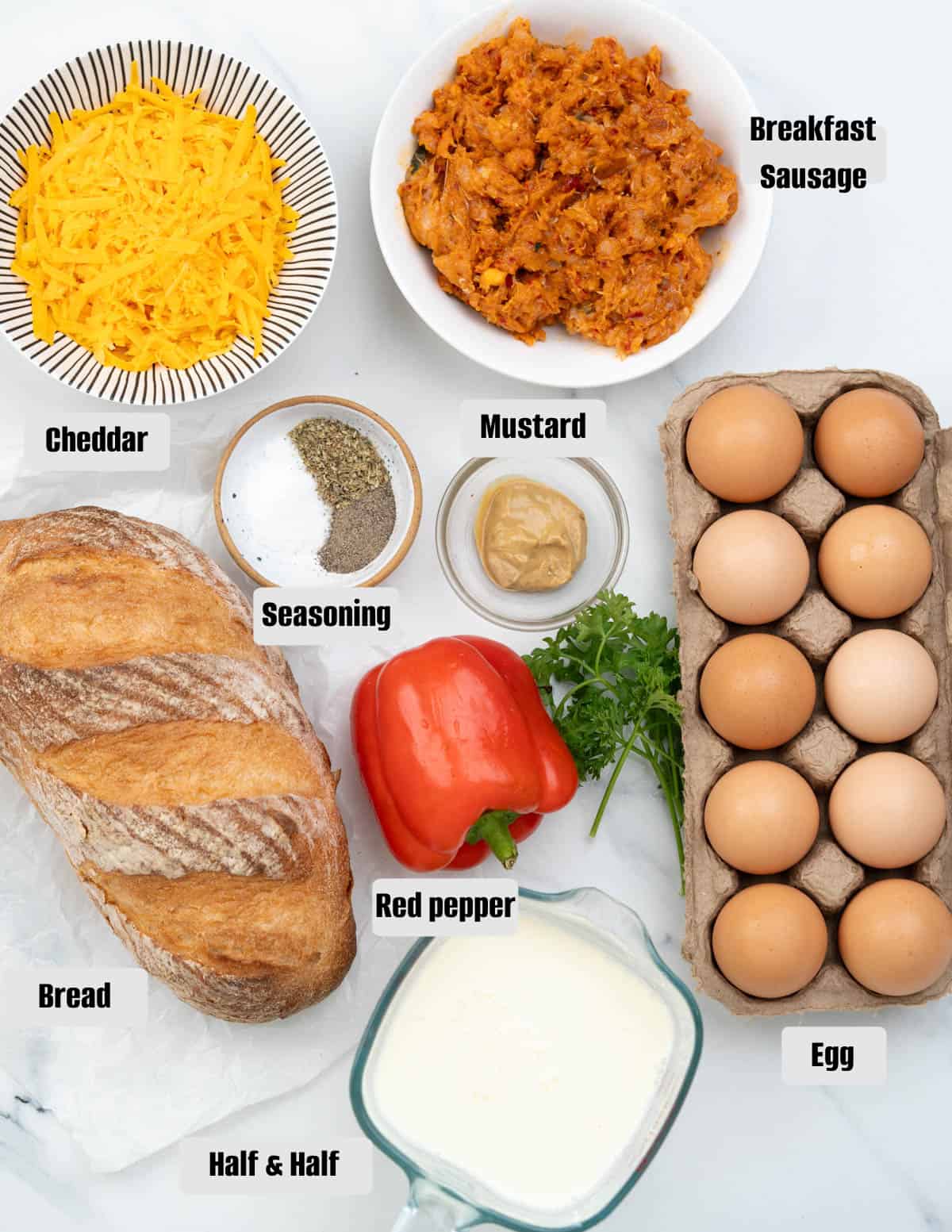 Egg- of course, there are eggs. Go for fresh, free-range large eggs.
Half and half – While heavy cream is a bit too rich, half and half works perfectly in this recipe. For a lighter version, you can also use milk.
Seasoning – Italian seasoning, dijon mustard, salt and pepper.
Red bell pepper- You can use any colored pepper or a mix of all.
Cheddar – Mild cheddar.
Fresh parsley to garnish on top
How To Make Breakfast Casserole?
Making Breakfast casserole is easy. Cook sausage until it is no longer pink. Let the sausage cool down a bit before adding it to the eggs. Cut bread into 1 – 1.5 inch pieces. Beat eggs along with Italian seasoning, dijon mustard, salt and pepper. No need to cook the bell peppers separately, as they will be cooked along with the eggs.
After adding half & half, chopped bell pepper, and 1 cup cheese, give everything a good mix. Then fold in the bread pieces. If you are planning to right away, I would still suggest covering and letting the bread mix rest for 20-25 minutes for the bread to soak up the liquid. Then bake as per the recipe instructions below.
If you are planning to make it the next day, tightly cover the mixture with cling wrap and refrigerate overnight. Remove the mix while you are preheating the oven. Then bake as usual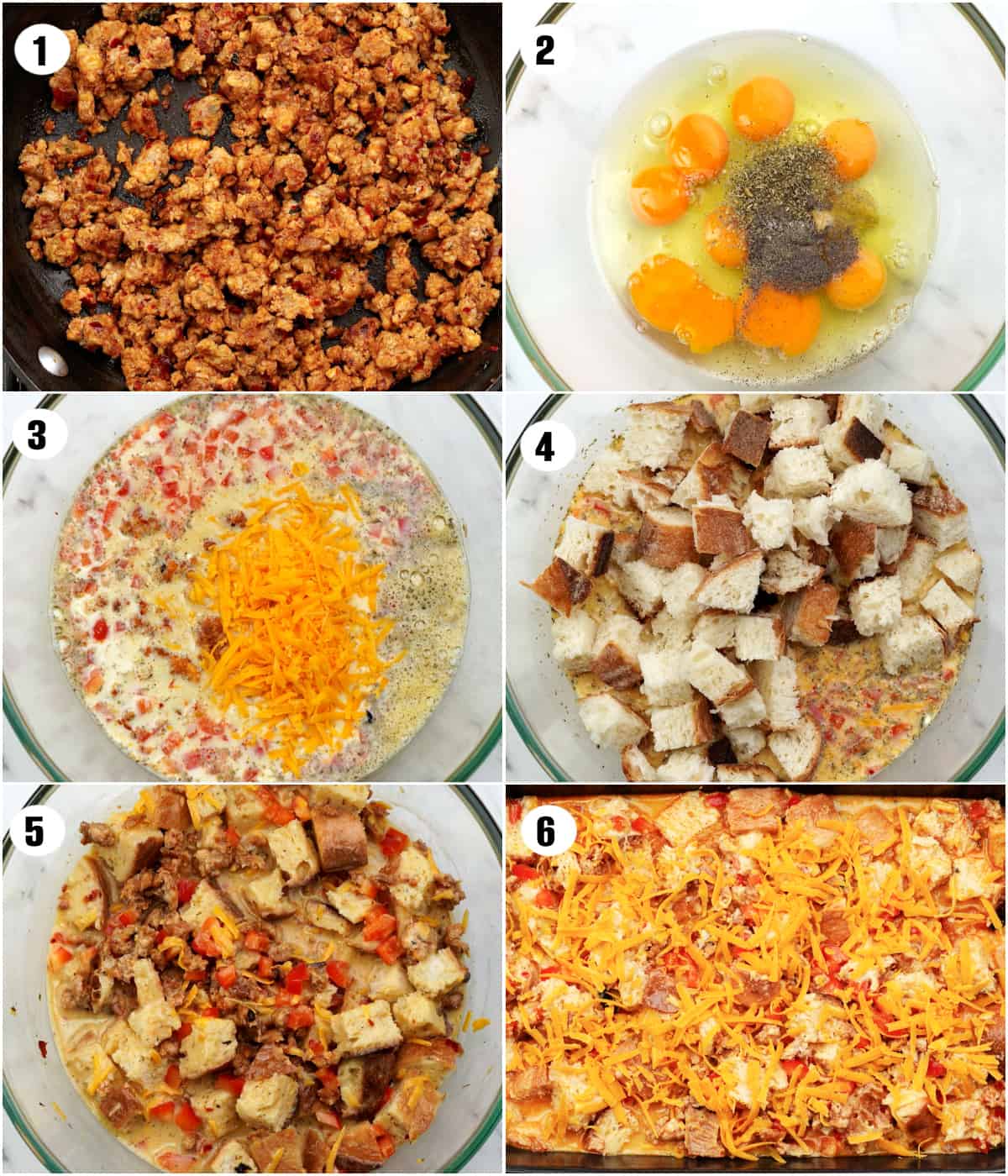 Variations
You can add other ingredients as per your taste and preference. Here are a few additions I love to do
Add veggies like mushrooms, spinach, broccoli, or zucchini. Cook the veggies and drain any extra liquid before adding them to the casserole. I would stick to 2-3 kinds of veggies, without overloading the casserole.
You can add crispy cooked bacon to it, as it adds great flavour.
If you have leftover cooked ham, substitute for sausage.
Pepper jack, and gouda are great alternatives to cheddar cheese.
Storing the leftovers?
It tastes great when immediately out of the oven and still warm. But the leftovers can be stored for up to 4 days in airtight containers in the refrigerator. So it is great for meal prepping.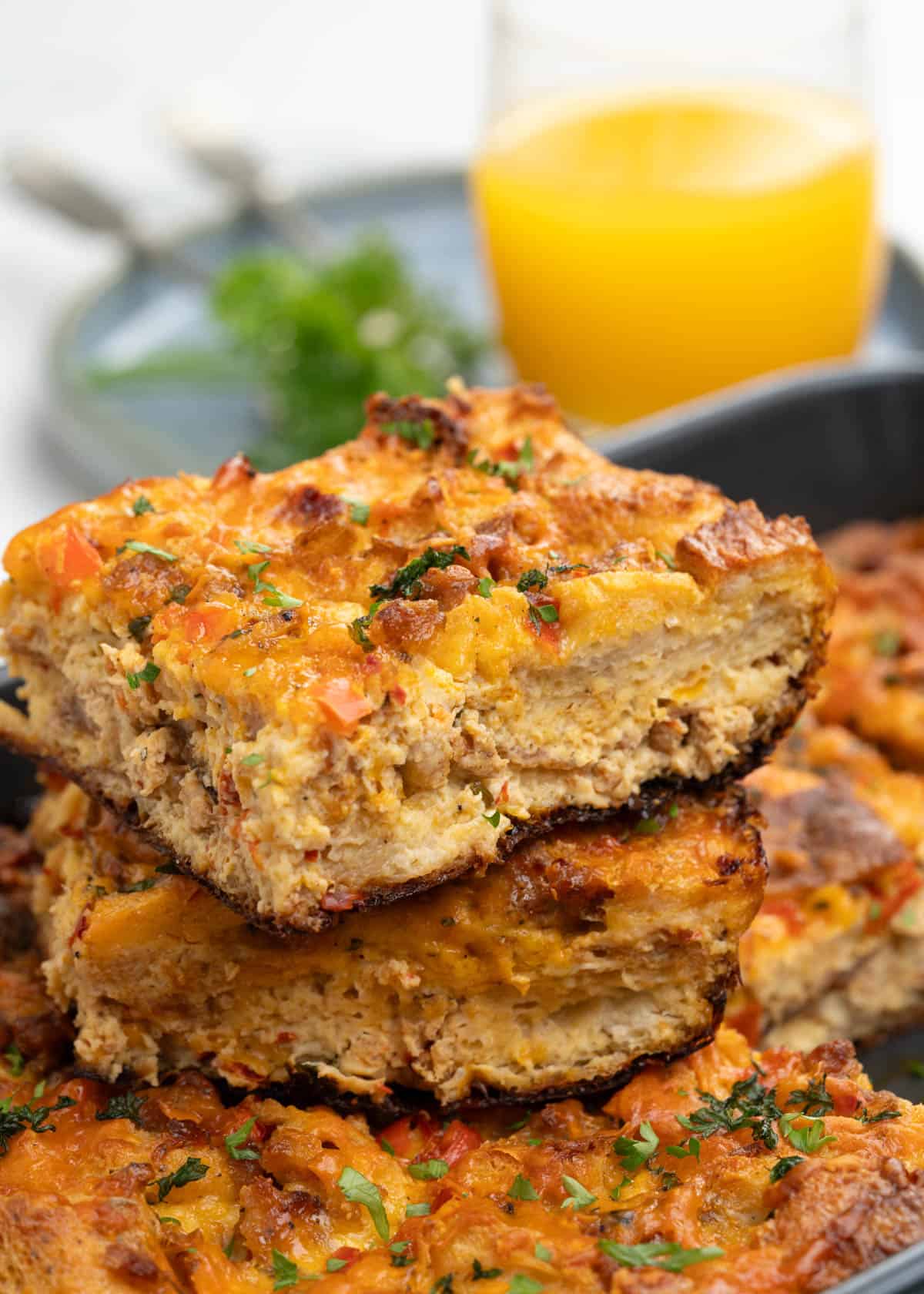 Breakfast Recipes To Try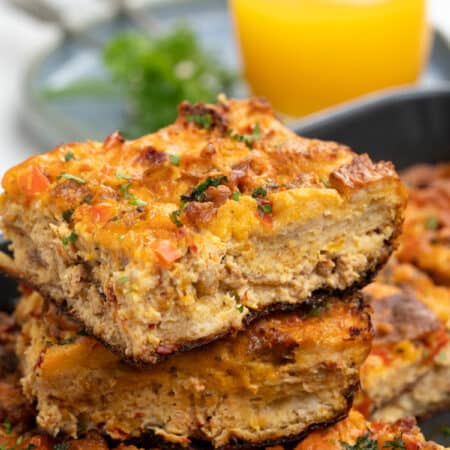 Easy Breakfast Casserole
Easy breakfast casserole with bread legg, bread and topped with cheese. This Breakfast Casserole recipe can be made ahead and is perfect to feed a big crowd.
Ingredients
10 large Eggs
1.25 cup half and half
4 cups Crusty Bread Cut into pieces
2 teaspoon Oil
1 pound ground breakfast sausage
1 Red Bell Pepper chopped
1 teaspoon Italian Seasoning
½ tsp dijon mustard
salt and pepper to taste
1.5 cup Cheddar Cheese
Instructions
Preheat the oven to 350° F.

Heat oil in a skillet. Cook breakfast sausage until it is no longer pink. Let it cool.

Beat eggs in a big mixing bowl. Add Italian seasoning, salt, pepper, dijon mustard, half and half, chopped red pepper, cooked sausage, and 1 cup shredded cheddar. Mix everything really well.

Add cut bread. Toss everything. If you are doing the prep for the next day morning breakfast, then tightly cover the bowl with cling wrap and refrigerate.

If making it on the same day, loosely cover the mixture and rest for 15-20 minutes for the bread to soak the mixture.

Butter a 9×13-inch casserole dish. Pour the mixture into the casserole dish. Sprinkle rest of the cheese.

Bake in a 350°F oven for 50 minutes to an hour, until the top is browned. The center is set and springs back when touched.

Let the casserole rest for 10 minutes before slicing.
Nutrition
Serving: 1serving | Calories: 549kcal | Carbohydrates: 65g | Protein: 26g | Fat: 21g | Saturated Fat: 9g | Polyunsaturated Fat: 3g | Monounsaturated Fat: 6g | Trans Fat: 0.03g | Cholesterol: 239mg | Sodium: 956mg | Potassium: 312mg | Fiber: 3g | Sugar: 8g | Vitamin A: 1109IU | Vitamin C: 19mg | Calcium: 284mg | Iron: 6mg