Healthy Breakfast Cookies
This post may include affiliate links that earn us a small commission.
These Healthy Breakfast Cookies are made with Banana, Oatmeal, nuts, seeds are gluten-free and Vegan. These make-ahead Oatmeal breakfast cookies are perfect for busy mornings.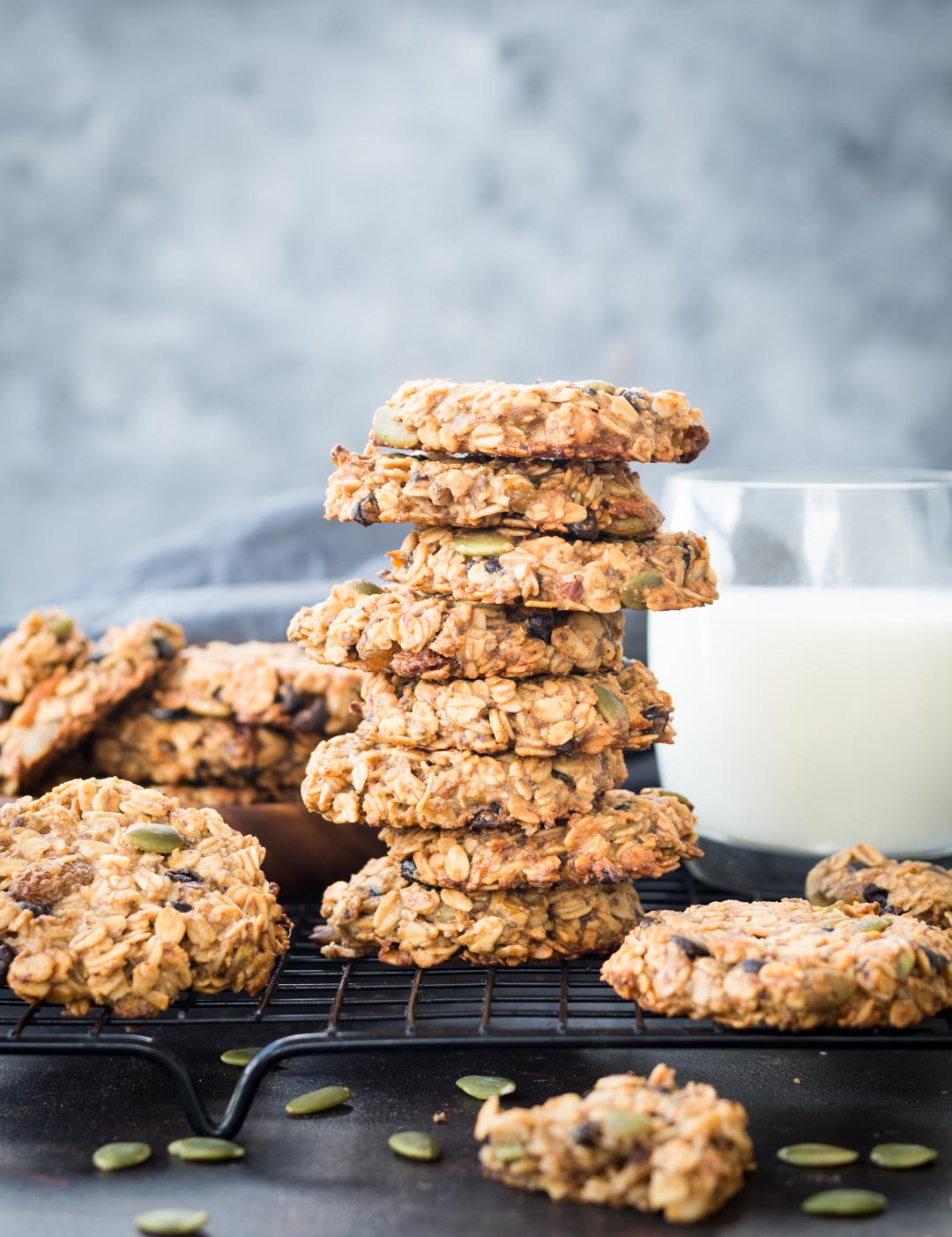 These Oatmeal Breakfast Cookies with wholesome ingredients like Oatmeal, seeds, nut, banana, nut butter are vegan and gluten-free. These Breakfast Cookies are going to be your best friend on busy mornings.
Flavours In Your Inbox
Subscribe for recipes straight to your inbox
When you are running behind chores and don't have time to have your morning meal, these healthy Breakfast cookies are going to be your saviour.
Refined Sugar/ refined flour free
These Breakfast Cookies doesn't have any refined sugar or refined flour. These are rich in fibre, protein, and other nutrients. You can munch on these without any guilt. And your little ones will approve of these cookies too. My daughter doesn't leave my side while making these cookies.
How does your morning look like on weekdays? If you have a school going kiddo and husband who leaves for office early, then I am sure it is no different than mine.
Weekday mornings are nothing less than a horror to me. Kiddo's School, Husband's office, cooking, I am at my wit's end quite so often. And among all these when your stomach is growling with hunger, believe me, that makes everything even worse.
Ingridients To Make Breakfast Cookies
These make-ahead breakfast cookies really come in handy during morning rush hours. These are very easy and quick to make. I doubt anything can go wrong with this recipe, even if you are not an avid baker.
There are four main ingredients in this cookie recipe, that forms the base. Once the base is ready, you can add pretty much any topping to it. To make the cookie base you need Oatmeal, Banana, Honey/Maple Syrup, and any nut butter.
Cookie Base: Rolled Oats+Banana+Honey(Maple Syrup) + Nut Butter
Nuts: Almonds, Pecan, Walnut
Seed: Flaxseed, Pumpkin Seeds, Sunflower Seeds, Chia Seeds, Hemp Seeds,
Other ingredients like Chocolate chips, dried fruits, raisins, dried berries.
SHAPING AND BAKING THE BREAKFAST COOKIES
Banana, Maple Syrup, and Nut Butter act as binding agents in these cookies. After the Cookie dough is made, if it is holding together and is sticky that means the dough is of the right consistency. There is no fear of the cookie falling apart once baked.
Another trick that works for me is putting rolled oats in a food processor and give it a couple of pulses. Breaking whole rolled oats requires less amount of a binding agent. And breaking down the whole oats also make it easier to chew, especially for my little one.

Shaping these Healthy Breakfast cookies is not that difficult. Like shaping any other cookie, use a small ice cream scoop to make even portions. Drop it on a cookie tray. Then using a slightly wet hand press the cookies to the desired thickness.
These cookies don't spread at all after cooking, unlike regular cookies. So you need to press it to the desired thickness before baking.
Can these healthy oatmeal cookies be frozen?
Absolutely! You can freeze them after they are baked. Make sure to separate the cookies with a small piece of parchment paper while stacking, else it might stick together.
If you want to freeze them unbaked, then line the cookie tray, shape the cookies, and place them in the freezer. Once they are hard, stack them and keep them in freezer-safe Ziplock bags.
Storing suggestion
If the cookies are not over the same day, store them in an airtight container. These healthy breakfast cookies stay well at room temperature for up to 5 days. You can also freeze them as mentioned above.

Dunk these soft and chewy cookies in a glass of milk. I love to snack on them. In fact, most of the time these cookies are my pre-workout snacks, along with a mug of espresso.
Check out these other awesome recipes – Healthy Blueberry Banana Granola Bar, Chocolate Chunk Cookies, Chewy Coconut Cookies.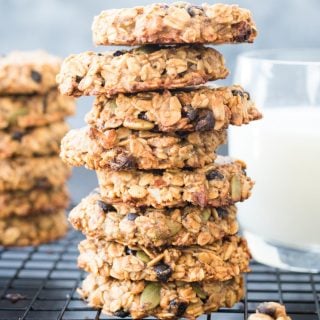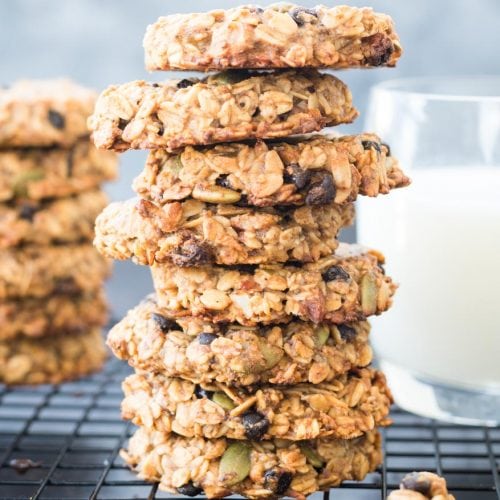 Healthy Breakfast Cookies
Easy and Healthy Breakfast cookies made with Rolled Oats, Banana, nuts, seeds. These are Vegan, Gluten-Free and there is no refined sugar in this.
Ingredients
2 large Ripe Banana
¼ cup Peanut Butter Unsweetened
¼ cup Honey
1 tspn Vanilla Extract
1.5 cup Rolled Oats
1 tbsp Chia Seeds
2 tbsp Pumpkin Seeds
2 tbsp Sliced Almond
2 tbsp raisin
large pinch Cinnamon (optional)
2 tbsp Flaxseed meal
pinch of salt
1 tspn Baking Powder
Instructions
Take a big mixing bowl. Smash the ripe bananas using a fork until there are no big lumps. 

Add peanut butter, honey, vanilla extract, salt, baking powder, cinnamon, flax meal to a pureed banana.

Put rolled oats into a food processor and pulse a couple of times to break the grains in half. We don't need very fine texture here. (This step is optional and can be skipped)

Add rolled oats, nuts, seeds, raisins to the banana mixture. Using a spatula mix everything well. Let it rest while you preheat the oven.

Preheat oven to 180 degrees Celsius. 

Using a small ice cream scoop take portions of the dough and place it in a baking tray. 

With a slightly wet hand press the dough to the desired thickness. 

Bake at 180 degrees Celsius for 25-30 minutes. 

At the end of baking time, the edges would have been crispy but it will feel soft at the center. But it will harden up once cooled down.
Notes
Because the nut butter was unsweetened, I have used honey. If you are using sweetened nut butter then skip the honey. 
if you feel the center of the cookies very soft at the end of baking, try baking it for 5 more minutes. 
Nutrition
Serving: 100g | Calories: 79kcal | Carbohydrates: 10g | Protein: 2g | Fat: 3g | Sodium: 16mg | Potassium: 88mg | Fiber: 1g | Sugar: 3g | Vitamin C: 0.1mg | Calcium: 16mg | Iron: 0.6mg
'PIN IT FOR LATER'