Classic French Onion Soup
This post may include affiliate links that earn us a small commission.
French onion soup is a classic dish made with caramelized onions with the choicest stock. It is baked with cheese-topped croutons in small bowls and served as such.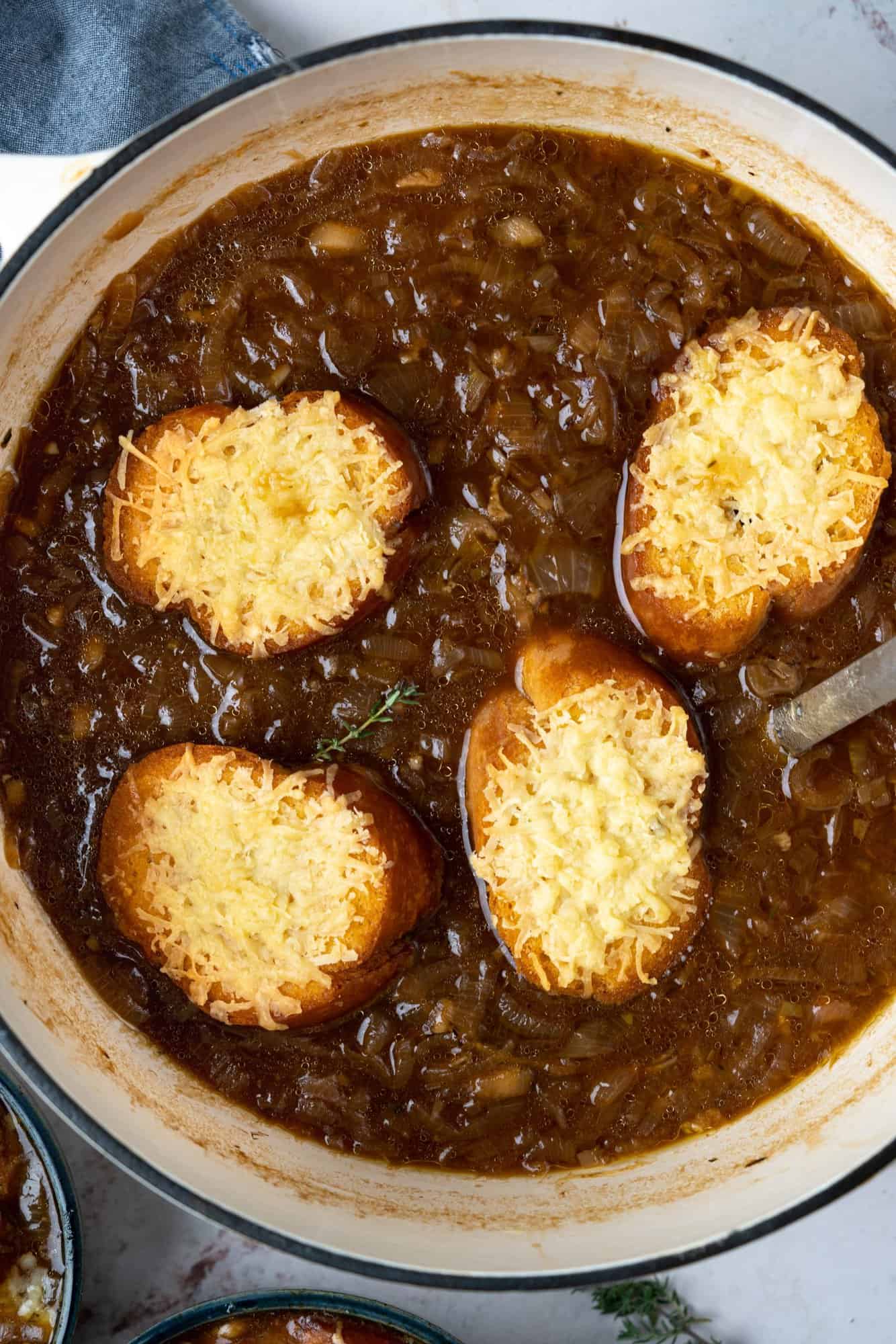 French onion soup has been a revelation – it was utterly delicious, and you cannot appreciate enough the French ingenuity in cooking techniques. From one very popular ingredient like onions, they have added layers of flavor and taste to make it perfect. The taste of caramelized onions is lifted by the best stock and accentuated further through the bay leaf, Worcester sauce, wine, and gruyere cheese. The crustiness of the croutons or toasted bread topped with cheese compliments the depth of the soup.
French onion soup, croissants, foi grass, and macarons are what I wanted to taste – I was seeking the authentic taste – when I landed in Paris. I fulfilled my wish with three of them and got a taste of the best foi grass in Lyon.
A traveler's tip I would like to share – the best onion soups are in the bistros in Paris. A bistro is a small traditional Parisian restaurant with simple décor and has been popular for simple meals, typical of home-style cooking.
We had it multiple times during our week-long stay in Paris and left thinking about making it at home as soon as we were back. So we did make it at home, and my homemade French onion soup recipe has been outstanding. My recipe follows the more authentic versions of the soup, and my family has loved it each time we had it for dinner.
Onion soups have existed since the beginning when man started making soups. It started when onions were grown abundantly; it was easy to take a few onions, chop them, and make a soup by seasoning it.
This soup, much similar in composition to the French Onion Chicken, will surely comfort us often.
The secret behind the best French onion soups
Restaurants and recipe makers serve all kinds of French onions soups – from very ordinary, where several things go wrong, to absolutely delicious ones, where you get worried that your bowls are getting empty soon. Why is there so much difference in taste and texture?
I believe a great French onion soup depends on two things that are essential to get it right:
A great beef stock
The caramelization of onions done right
Get the best beef stock
I cannot emphasize enough the importance of a good stock. If there is one thing you should splurge your money on, this is it. Get the best beef stock that you can afford. Much like the French onion chicken, a flavorful stock is vital here.
It decides the layered and rich taste of the soup since the stock forms the base of the liquid in the soup. It gives it body and elevates an excellent soup to a great one which makes you ask for seconds.
Chicken stock is still a good substitute for beef stock as it is much easier to get a tremendous store-bought chicken stock than beef stock. Also, chicken broth can be relatively easy to make at home if you are in for homemade ones.
I had tried it with a few stock cubes from different brands and noticed the difference with the one that costs more but delivered a much better flavor.
Caramelize the onions
The hero of French onion soup is the caramelized onions; hence no surprise that the taste depends on how you cook your onions. Caramelizing onions is time-consuming, and to make a great onion soup, you must commit time to this step.
Cooking onions until they caramelize to the desired amount isn't difficult but takes time. There might be shortcuts with this, but that won't give you the best soup.
I can place my hand on my heart and say this – it is worth spending a good 45 minutes to 1 hour on this step. You will thank yourself later :).
Follow the instructions in the recipe and watch the video. I have included some small tricks to speed it up a bit.
A vegetarian version?
How can you make a vegetarian version of French onion soup? There are vegetarian and vegan versions of French onion soup. A good quality mushroom stock is an excellent substitute as it has great flavor. You can make a good quality mushroom or vegetable stock at home too.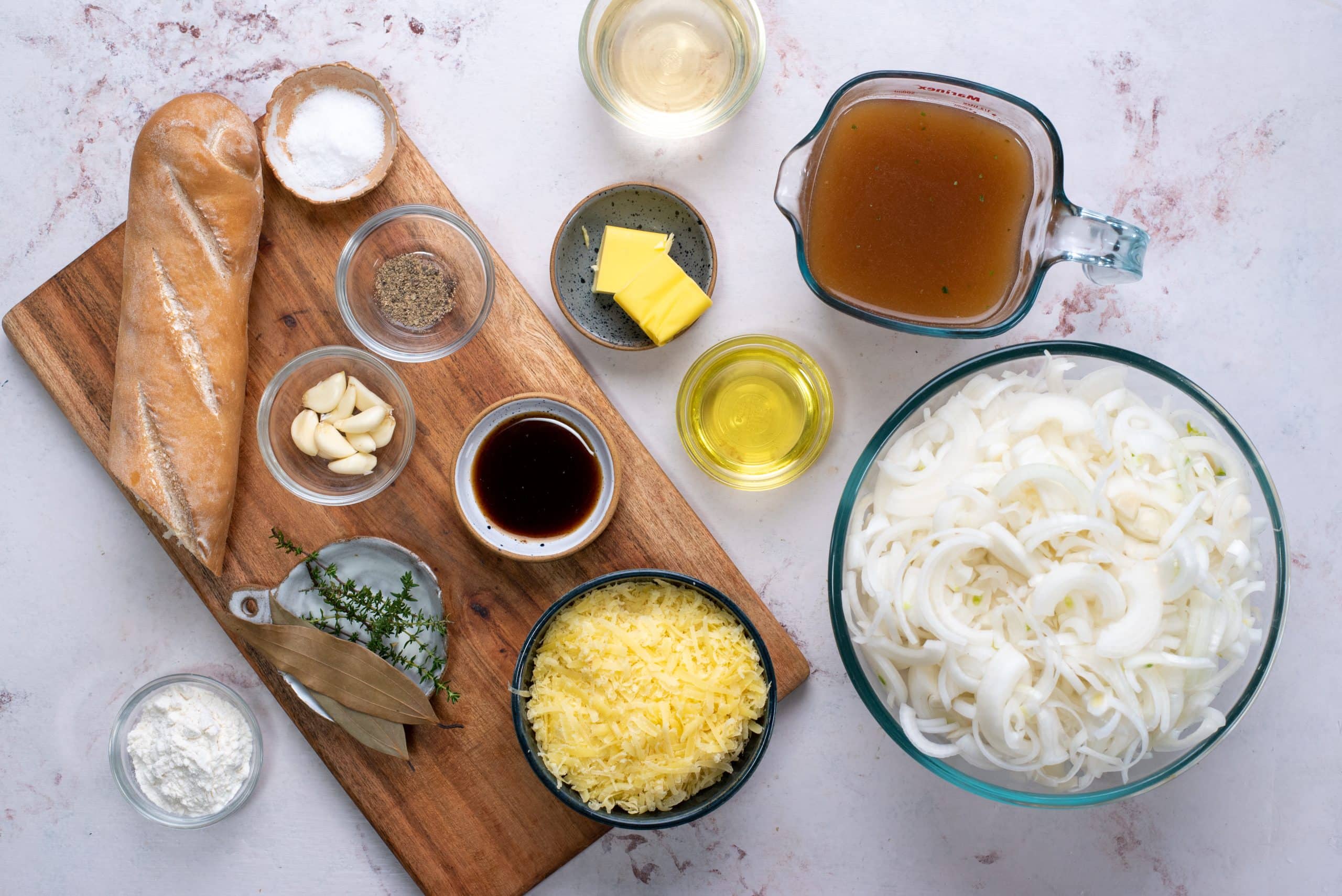 Ingredients
Onions – Any one of red, white, or yellow onions works here. Traditionally,, it is made with yellow onions, they have spicy notes but a lot of sugar. As onions are slowly cooked till sweet, the sweetness in yellow onions shines through. You may use a mix of red and yellow onions.
Beef or chicken stock – Spend on good quality stock to get the best out of this soup. Homemade stock works great too. If beef stock is not your preference, chicken stock or broth is a good choice.
Baguette – is a French bread with a crisp crust and soft interior. It works very well with soups as you can slice and bake it atop the soup. The soft interior soaks up the soup liquid and tastes fantastic with a layer of baked cheese.
Gruyere cheese – the first thing you see is the molten cheese atop the toast, floating on a bed of onion soup. Which cheese can you use here? Gruyère, mozzarella or any other soft cheese is preferred.
White wine – the acidity in the wine helps deglaze the brown bits stuck to the bottom of the pan.
Flour – All-purpose flour helps in thickening the sauce.
Unsalted butter – is used to sauté the onions. Onions sauteed in butter give the most flavor. You may substitute it with oil but end up with slightly less flavor.
Worcestershire sauce – adds an intense umami flavor to the soup.
Spices – Onions are sauteed with minced garlic. Bay leaf & Thyme are added for some herby flavor.
Salt & pepper – A pinch of salt is added to make the onions release water and caramelize faster. The stock and Worcestershire sauce add enough salt, so not much is required to add to the final soup. Black pepper gives that spicy kick that balances the rest of the flavors. Taste and add as per your tolerance.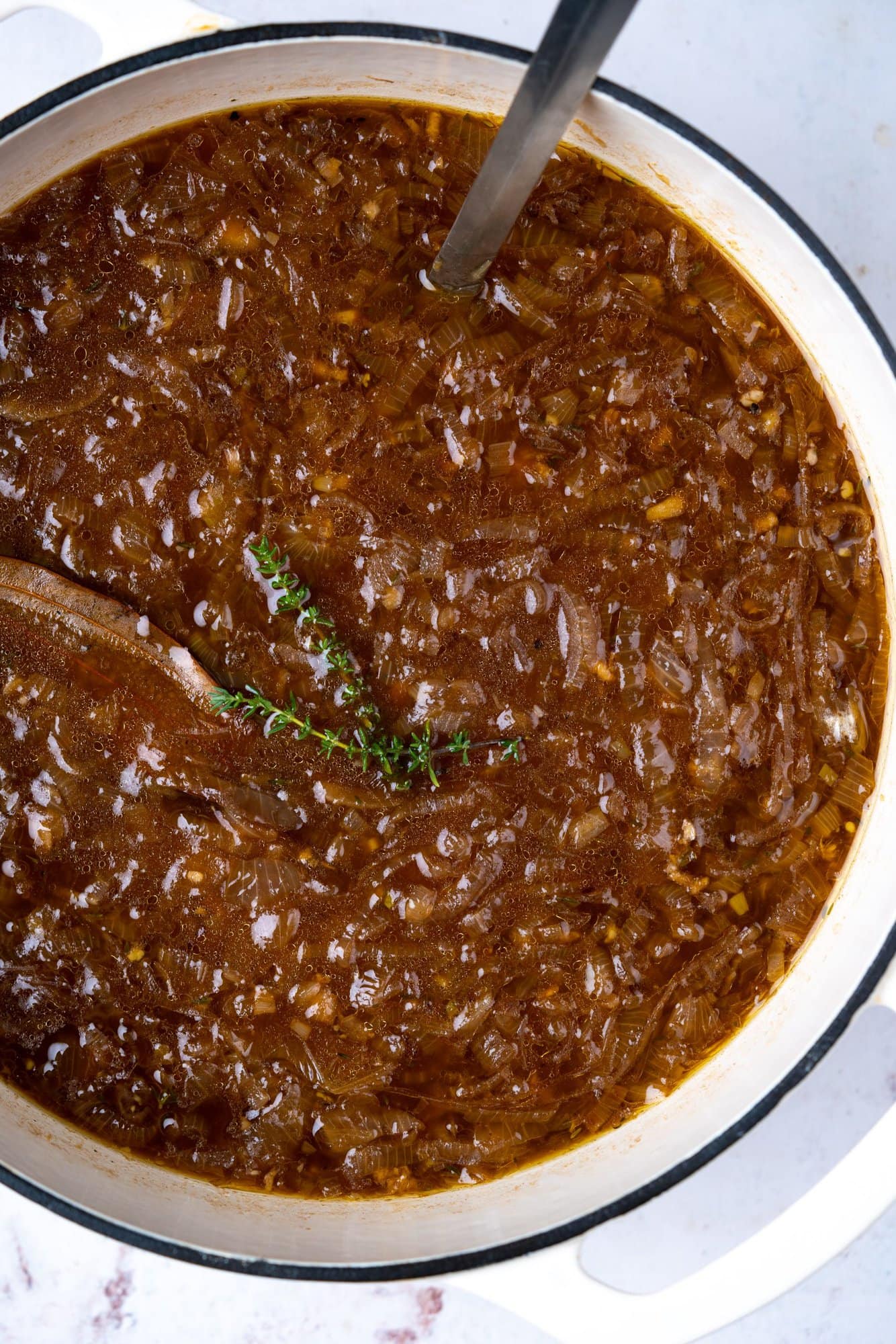 How to make
Prepare and sauté onions.
Cut, peel and slice onions to make them look like inch-long strands. You do not need to chop them.
Flavours In Your Inbox
Subscribe for recipes straight to your inbox
In a wide hot pot or Dutch oven, add butter and oil. Butter imparts flavor to the browning onions, while the oil helps increase the butter's smoking point so it doesn't burn.
After 15 minutes of cooking onions on high heat, sprinkle salt and toss the onions. Salt helps release water and accelerates caramelization. The onions will shrink, and you will see some browning spots on the bottom of the pan. This is the time to reduce the heat to low medium.
Caramelization – Patience is a virtue.
Post this; you must continue cooking the uncovered onions for another 35-45 minutes. Depending on the type of onions used, wide or narrow pan used, the time for them to caramelize differs.
How do you know when the onions have caramelized perfectly? The onions should have reduced and become dark brown. You can taste a slight sweetness in them.
Some recipes call for adding sugar to hasten the process, but I felt the onions become sweet enough by the end without adding the sugar. Also, the caramelization of the added sugar makes everything look brown even before the onions caramelize correctly.
Add other ingredients
Add mince garlic and sauté for another minute. This removes the raw smell of the garlic. Next, add white wine to deglaze the dutch oven, removing the brown bits stuck to the bottom and mixing it with the rest of the content.
Slowly pour the beef stock while stirring the contents. Add thyme, bay leaf, and Worcestershire sauce at the same time. Bring down the heat to low and let the pot simmer for another 30 minutes.
This part is not a hands-free job. You will need to stir the soup occasionally so the onions do not sink to the bottom and burn and stick to the pot.
Sprinkle pepper and mix when the soup loses some water and the consistency appears suitable. Let it simmer for another minute. Taste the soup and add salt only.
Toast the bread slices, parallelly
While the soup simmers, line the baking tray with a baking sheet and preheat it in the oven on the upper track. Do so at 350 F for 20 minutes.
Slice the bread into slices and brush on both sides with butter. Lay the slices on the tray and bake them for 5 minutes.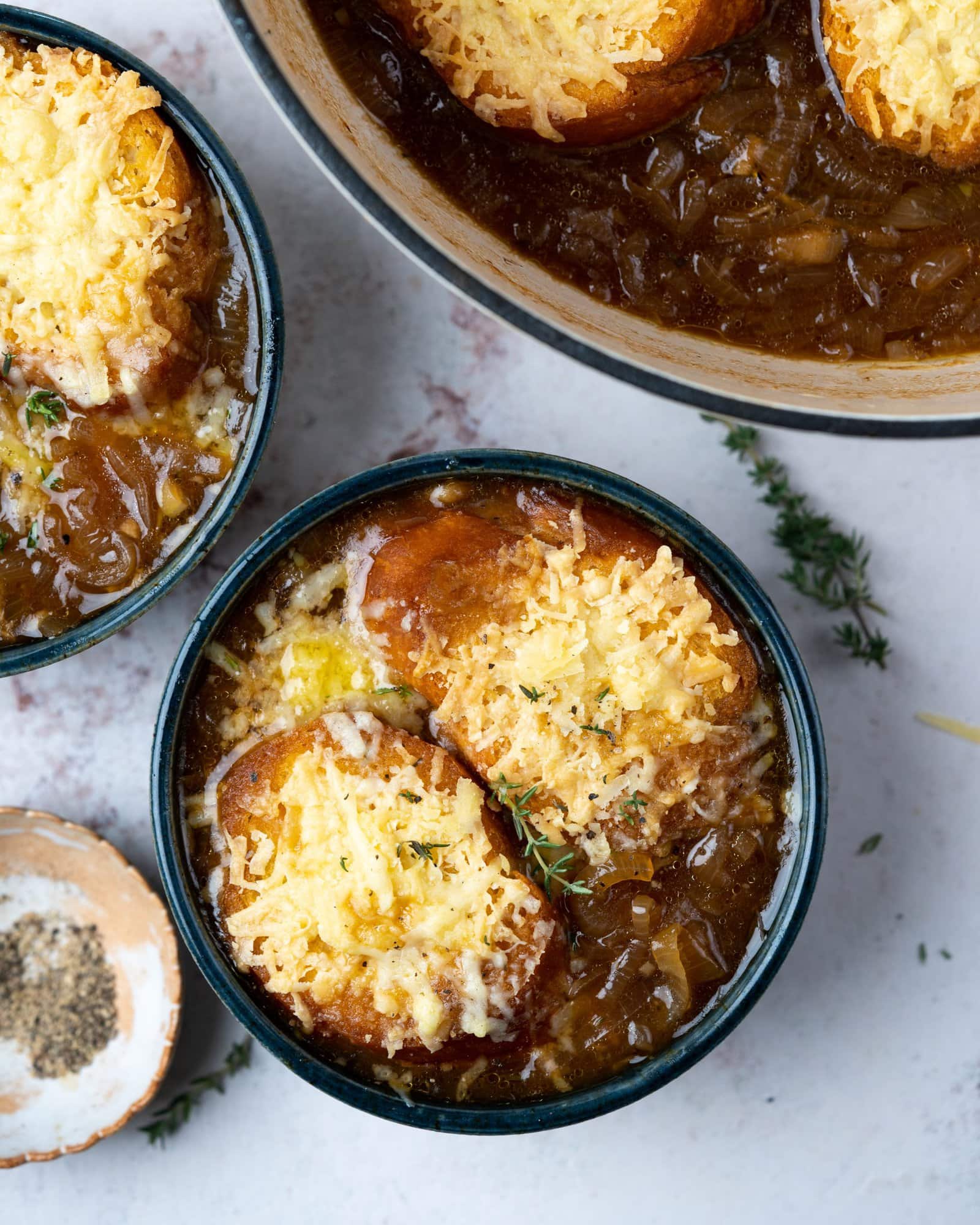 Serve
French onion soup is usually served in a ramekin, a small bowl used to bake and that can be directly transferred from the oven to the table to serve an individual portion.
I didn't have it. I used small oven-safe bowls and transferred the soup using a ladle. Placed the baked bread on these bowls of soup.
What I did next is not often done, but it worked out exceptionally well. Typically, the toasted bread is laid on the soup in a small bowl, and cheese is sprinkled on it. The bowl with the bread on top of the soup is then returned to the oven and baked till the cheese melts.
This is how I was served in many places I had it. If there is some delay in bringing the baked bowls to the table, the bread becomes soft and soggy by the time you cut through it. It tastes good, but you lose the crunchiness that toasted bread should have.
If you are after the crunch of toasted bread underneath the melted cheese, bake the bread with cheese separately in the oven and just lay it over the soup. Serve it like that, and you retain the crunchiness of the bread, at least for the first few bites, until it becomes soft eventually by soaking up the liquid in the soup.
Can I store it?
Bake the bread when you need to. You can cook the soup ahead and freeze it. Use foil to cover the container. Making double-layer insulation makes it air-tight. To consume it, take it out the night before and let it thaw in the refrigerator for a good > 12 hours.
If you plan to consume it within 3-4 days, you may refrigerate it too. Just reheat it in the microwave or bake it with the bread.
I think soups and stews taste best the second day or time it is reheated. They get more time for the ingredients to release the flavor to the soupy liquid. Also, soups and stews form a gel-like texture which breaks down again on reheating, thus leading to more flavor.
Serve with
The crusty bread topped with cheese and onion soup is a fulfilling meal. You may pair it with wine and some greens on the side.
A tip – bake more of these toasted bread and serve it alongside the soup. It is never enough to spoon up that soup with slices of bread. Have a look at my Cheesy Garlic Bread.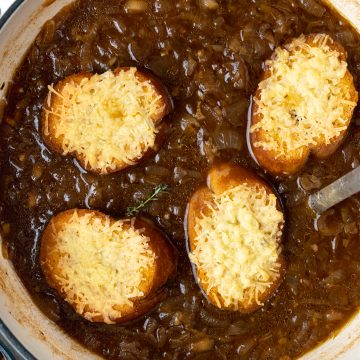 Classic French Onion Soup Recipe
French onion soup is a classic dish made with caramelized onions with the choicest stock. It is baked with cheese-topped croutons in small bowls and served as such.
Ingredients
1.3 kg Yellow/Red/White Onion (3 Pounds)
2 tablespoon Neutral Cooking Oil
3 tablespoon Butter
1 tablespoon Minced garlic
2 Bay Leaves
3 sprigs fresh Thyme
Pepper to taste
½ cup Dry Wine
2 tablespoons Flour
7-8 cups Beef Stock
1 tablespoon Worcestershire Sauce
1.5 cup Shredded gruyere cheese
½ Baguette Sliced
Instructions
Peel and slice onions.

In a heavy bottom pot or preferably a dutch oven heat oil and butter together.

Add sliced onion and stir to coat onions with oil butter mixture. Cover and cook for 20 minutes on medium-low heat. Keep stirring in every 10 minutes to cook it evenly and also prevent it from burning.

At the end of 20 minutes the onions would have softened and reduced to half the quantity. You will also observe the bottom of the dutch oven started to brown. The onions needs to be cooked for another 25-30 minutes for it to be caramelized perfectly.

Add salt and cook uncovered for another 25-30 minutes. Keep stirring every 5 minutes to avoid onion getting stuck at the bottom and burn. Last 10 minutes is important as the onions are almost caramelized and have more chances of getting burned. ( The onions will go from caramelized to burnt in no time, so keep a close eye towards the end). Also keep scraping the bottom of the pot to release any stuck onions.

Towards the end add minced garlic, bay leaf, minced thyme, and pepper. Saute for a minute.

Increase the heat to high-medium. Stir in the wine and cook until the wine has almost reduced to half. There should not be any alcohol smell.

Reduce heat. Add flour and mix well. Cook for 1-2 minutes until there is no raw flour smell. Scarp the bottom of the pan to remove anything stuck to the pan.

Stir in beef broth and remaining thyme sprig. Mix well, once it comes to a boil reduce the heat, cover and simmer for 10 minutes.
Just before serving
While the soup is simmering ( or just before serving) , brush/drizzle sliced baguette with oil. Bake in a preheated oven at 200 degrees Celsius for 7-8 minutes until golden brown in colour.

Remove the bread, top it with shredded cheese and bake again for 2-3 minutes until the cheese melts.
Serving French Onion Soup
Serve the soup in bowls. Top it with Cheese Toasts and more shredded cheese if preferred.
Nutrition
Serving: 1serving | Calories: 987kcal | Carbohydrates: 82g | Protein: 59g | Fat: 46g | Saturated Fat: 22g | Polyunsaturated Fat: 3g | Monounsaturated Fat: 18g | Trans Fat: 0.2g | Cholesterol: 79mg | Sodium: 72221mg | Potassium: 1650mg | Fiber: 4g | Sugar: 57g | Vitamin A: 520IU | Vitamin C: 18mg | Calcium: 582mg | Iron: 4mg