This post may include affiliate links that earn us a small commission.
Cauliflower Potato Soup is ultra-creamy and satisfying. Tastes just like Potato leek soup, but lightened up with cauliflower. Warm, comforting soup perfect to make you feel cozy.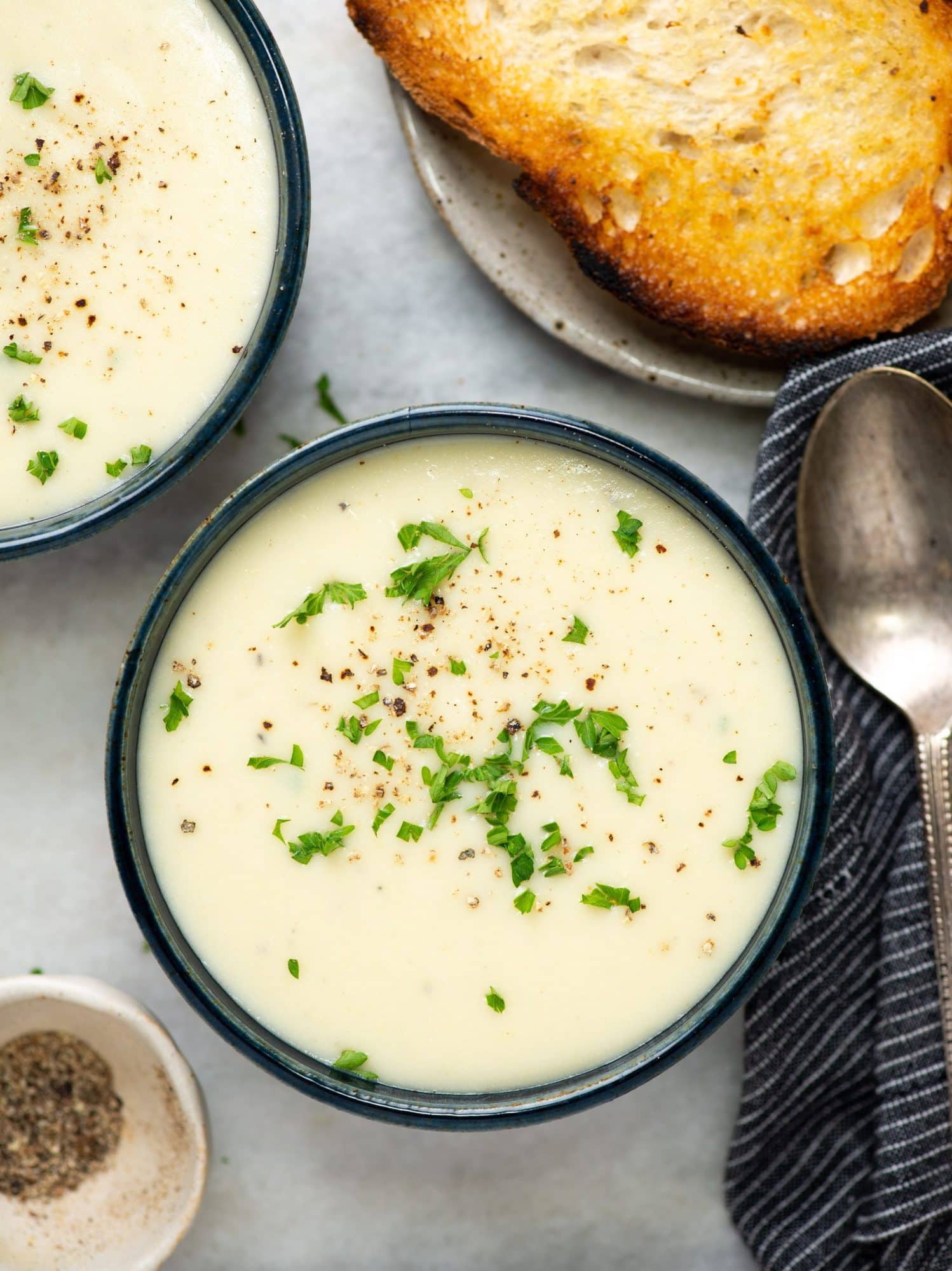 With just a few ingredients, this Cauliflower Potato Soup is easy to make and ridiculously delicious. It is thick and creamy without being overly rich, perfect to scoop with a piece of crusty bread.
Flavours In Your Inbox
Subscribe for recipes straight to your inbox
It tastes like Potato Leek soup, just that half of the potatoes are replaced by cauliflower. And no, you will not taste the cauliflower. Substituting potatoes with Cauliflower makes it low on the carb ( not low-carb) and healthy-ish.
It is also quick and easy to make, with very minimal prep. Just roughly chop potatoes, break cauliflower florets, sliced leeks and chop a few pods of garlic.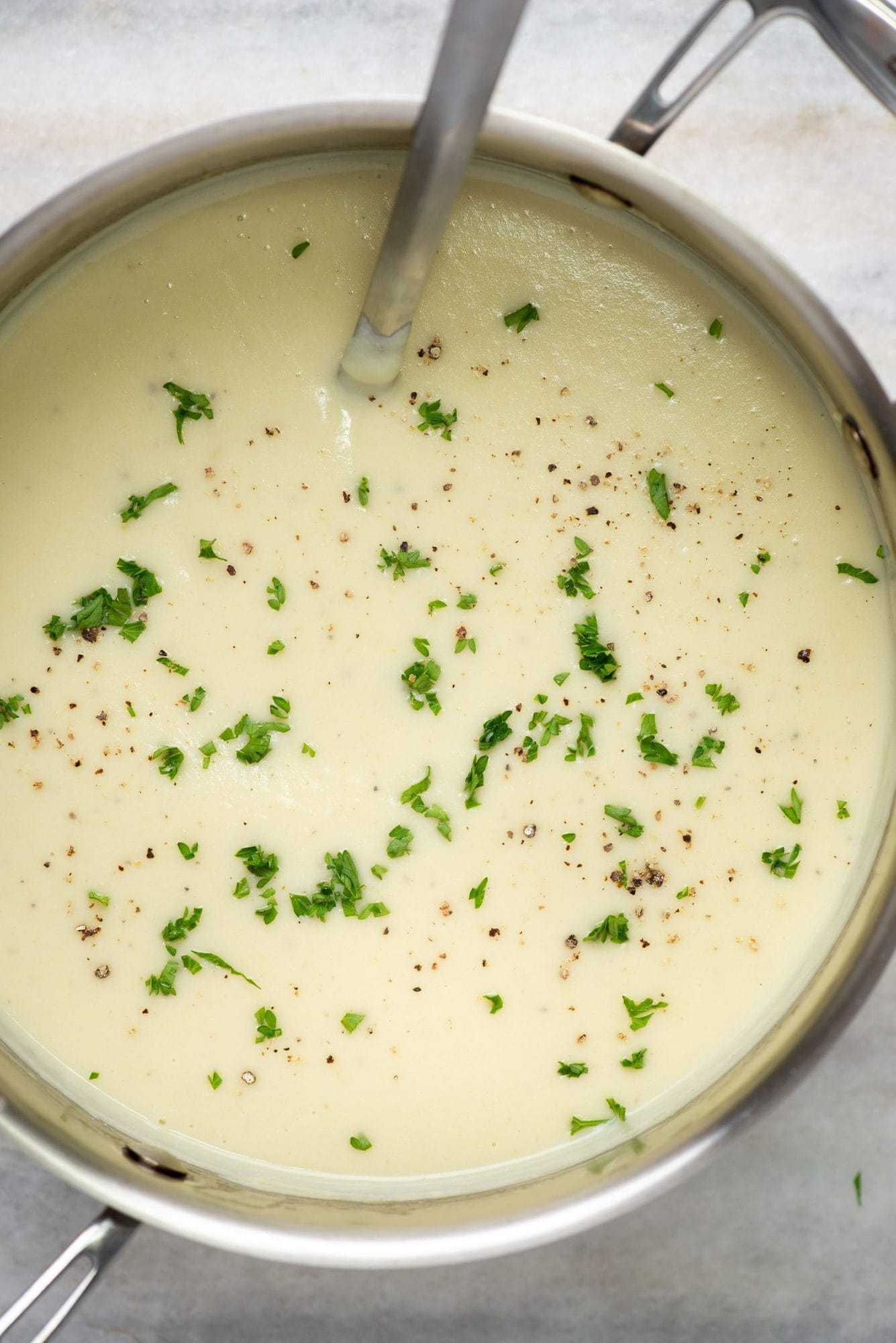 Cauliflower Potato Soup
Though this soup is luxuriously smooth and creamy, it is not overly rich. It doesn't have oodles of cream or cheese. Just a little cream, which you can substitute with milk or any dairy-free alternative as well.
The flavours are really subtle. The mild flavour of leeks shines through the soup. Before we start with the recipe, the first thing we need to do is to prepare the leeks.
How to clean and prepare Leeks
Cleaning leeks well and getting rid of the dirt is very important. Cut the root and dark green part of the leeks. If you see dirt beneath the layers, discard the first couple of layers.
Alternatively, cut the leeks into half lengthwise. run under the tap and clean thoroughly.
Cut into thin slices. Thin slices -> better caramelization-> better flavour
Steps
Cook leeks – Saute leeks in butter until it is nicely caramelized. Cook it low and slow, until it is aromatic.
Add cauliflower and potato – next add cauliflower floret and potatoes. Add stock, season well with salt and pepper. Cover and cook until it is cooked through and really mushy.
Blend – Using a hand blender, blend until smooth.
Last and final step – add cream and switch off.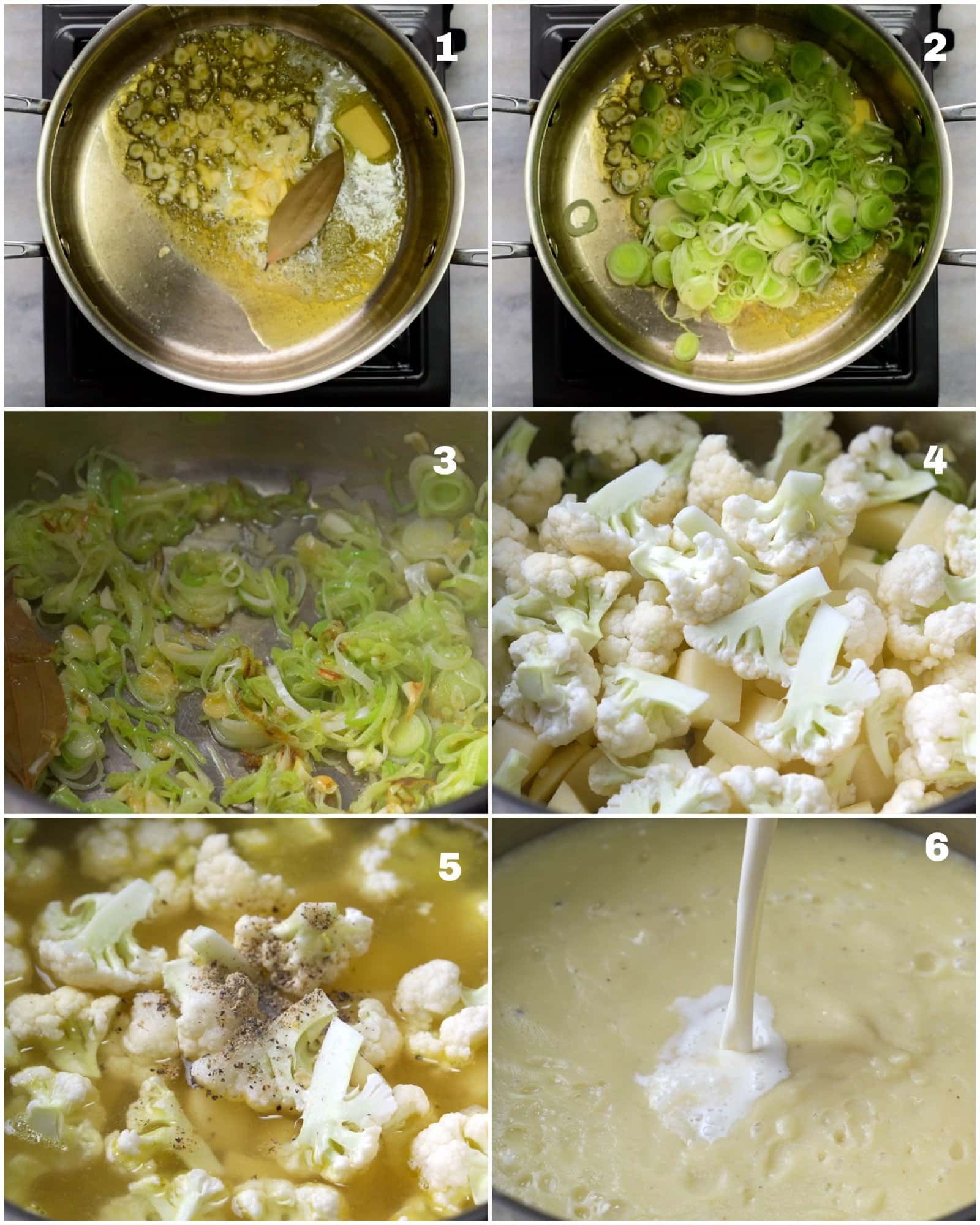 Tips and Variation
You can use frozen cauliflower florets instead, to save time. Increase the cooking time in that case.
While leeks give an earthy flavour, if you dont have it on hand, replace it with onion.
To make it vegan – substitute butter with olive oil. Substitue cream with any nut free milk. As the quantity of cream is less, substituitng it with dairy free milk will not make much difference.
The soup freezes really well. Portion it and freeze it upto 2 months.
Garnish the soup with some crispy baocn or crutons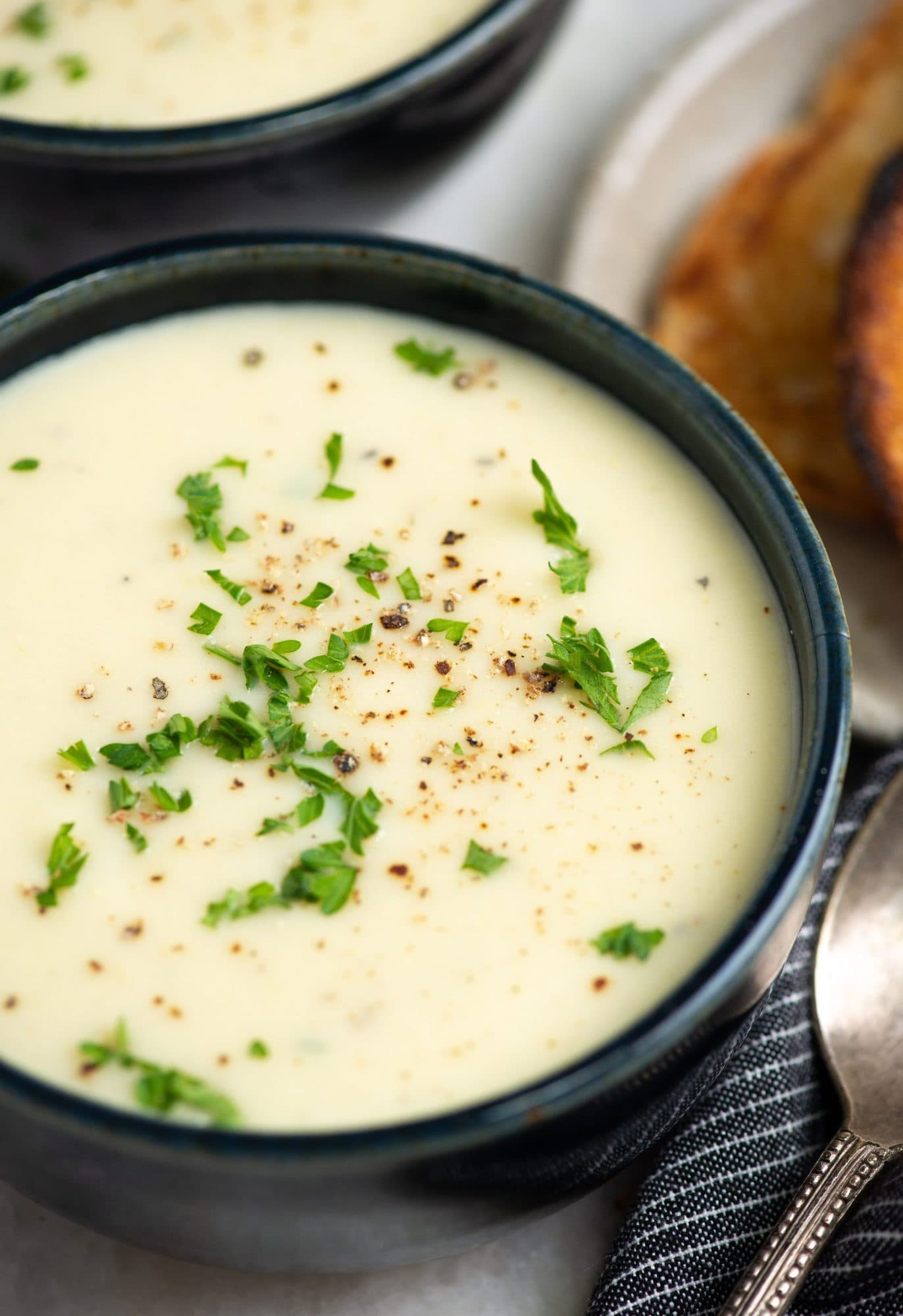 More Soup Recipes…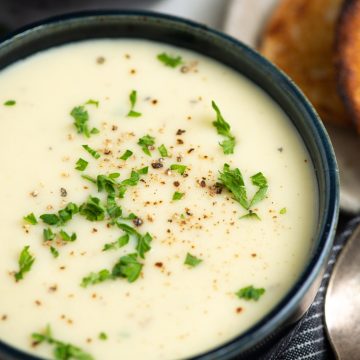 Cauliflower Potato Soup
Smooth and creamy Cauliflower Potato soup is comforting. Mildly flavoured with sauteed leeks and garlic, this soup has classic leek potato soup flavour.
Ingredients
2 cups Cauliflower florets (around 250 grams)
500 grams Potatoes peeled and cubed
2 tablespoon butter
½ tablespoon minced garlic
2 big stalks leek
1 bay leaf
4 cups vegetable stock
½ cup cream
salt and pepper
Instructions
Cut the root and dark green part of the leek. Clean it well to remove any dirt (check in between the layer for hidden dirt). Cut into thin slices.

In a heavy bottom pan, heat butter.

Add garlic, bay leaf and leeks. Cook on medium-low heat until leek has softened and started to caramelize.

Add cauliflower florets, potatoes, stock, salt and pepper. Cover and cook for 20 minutes. The veggies should be cooked through and soft.

Discard bay leaf.

Using a hand blender, carefully blend it until smooth. Switch off the flame.

Stir in the cream. Serve.
Nutrition
Serving: 1serving | Calories: 274kcal | Carbohydrates: 28g | Protein: 4g | Fat: 17g | Saturated Fat: 11g | Polyunsaturated Fat: 1g | Monounsaturated Fat: 5g | Trans Fat: 1g | Cholesterol: 56mg | Sodium: 1024mg | Potassium: 701mg | Fiber: 4g | Sugar: 4g | Vitamin A: 1125IU | Vitamin C: 49mg | Calcium: 48mg | Iron: 1mg