Instant Pot Potato Soup With Sausage
This post may include affiliate links that earn us a small commission.
Instant Pot Potato Soup with sausage has tender soft potato and Italian sausage in a creamy yet light, and flavorful broth. Serve this gluten-free soup with a generous topping of crispy bacon and cheese.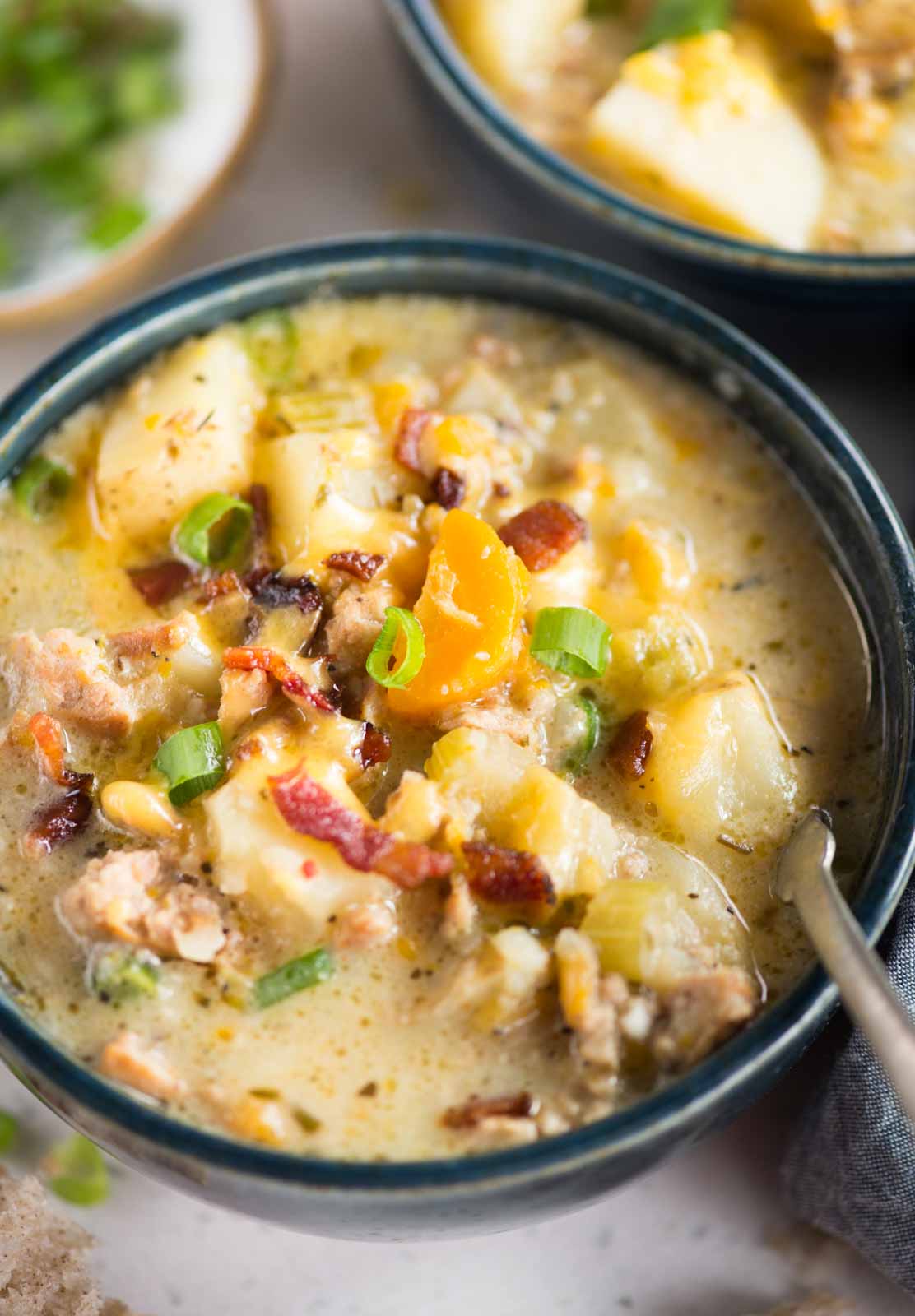 This Instant Potato Soup is crazy delicious and comforting on cold days. This is not thick and creamy with oodles of cream like your regular baked potato soup. It rather has a flavorful slightly creamy broth and chunky textrue.
Flavours In Your Inbox
Subscribe for recipes straight to your inbox
Using an Instant pot for this recipe saves half of your time. It takes less than 30 minutes from start to finish to make this soup. Potatoes are cooked beautifully soft and tender.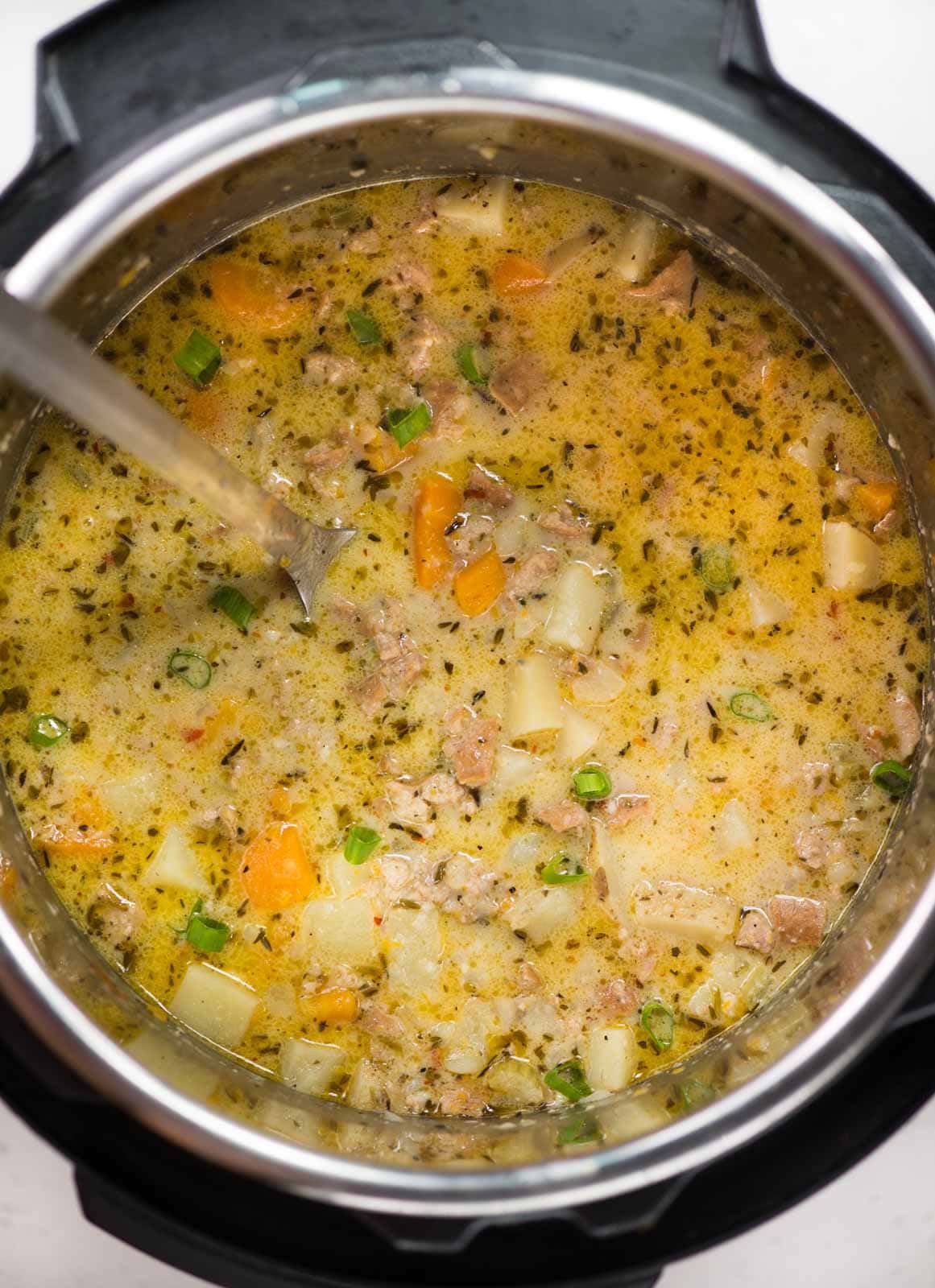 Required Ingredients
Potato: Starchy Russets would always be the first choice, as the natural starch helps to thicken the soup. But you can use any other variants have on hand. I like to keep the skin on not that I am lazy to peel them(ok, sometimes I am) but we actually like potatoes with the peel.
Italian Sausage: Good quality mild Italian sausage works here.
Aromatics and Veggies: Onion, garlic, celery , carrot and dried herbs.
Thickening agent: Most potato soups call for roux ( butter and flour mixture), but I kept to gluten-free. To make it creamy there is Sour cream. And mash some potato cubes once cooked to thicken the soup.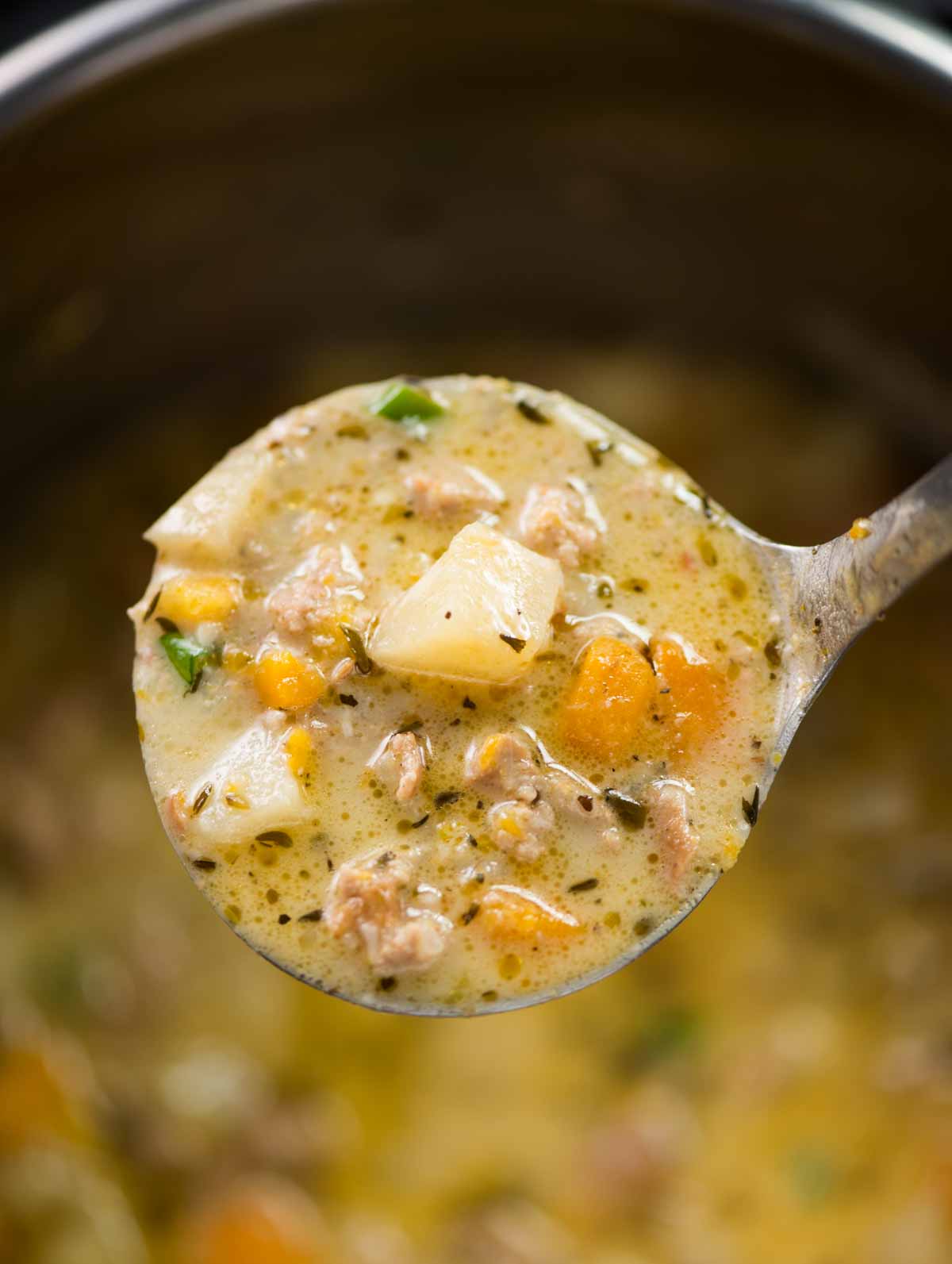 To make Potato Soup in an Instant Pot
Start with browning sausage to release the flavors to the butter. Followed by onion, garlic, celery, carrot and herbs.
Next is to add potatoes, stock , season with salt. Scrap the bottom of the pot to release any stuck brown bit. And let the Instant Pot do the magic.
Add sour cream. To thicken the soup further press few potato cubes with the back of the spoon.
Serve with a generous sprinkle of crispy bacon, cheese and green onion.
More Instant Pot Soup recipes for cold weather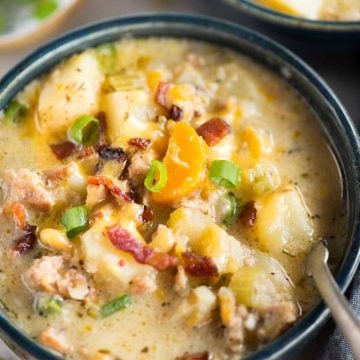 Instant Pot Potato Soup with Sausage
Instant Pot Potato Soup with Italian sausage has tender soft potato, sausage, veggies in a creamy yet light, and flavorful broth. It is gluten-free and naturally thickened with potatoes. There is sour cream to lend a beautiful creamy texture to it.
Ingredients
500 grams Potatoes (about 4 cups)
200 grams Mild Italian Sausage
1 tablespoon Butter
½ cup Onion chopped
⅓ cup Chopped Celery (about 2 stems)
¾ cup diced Carrot (about 2 medium carrots)
½ tablespoon Minced garlic
½ teaspoon dried thyme
½ teaspoon dried basil
¼ teaspoon red pepper flakes
1.5 cups chicken stock
½ cup sour cream
½ cup crispy bacon
½ cup shredded cheddar
Green onion for topping
Instructions
Turn on the Instant pot to Saute mode. When it is hot, melt butter.

Add crumbled sausage and brown until aromatic. for about 2 minutes.

Add chopped onion, celery, minced garlic, carrot. Saute for 2-3 minutes. to soften onion.

Add diced potatoes, thyme, basil, red pepper flakes, stock, and salt.

Give everything a good stir. Scrap the bottom of the pot to release any stuck brown bit.

Close the lid, place the valve to 'sealing', and set Instant pot to high pressure for 8 minutes.

When the timer is off, let the pressure release naturally for 10 minutes. Carefully release rest of the pressure.

With the back of the ladle gently pres a few chunks of potatoes(to thicken the soup).

If you prefer a thinner consistency, add 1/2 cup stock more.

Stir in sour cream.

While serving top with crispy bacon, shredded cheese, and green onion.
Nutrition
Serving: 1g | Calories: 363kcal | Carbohydrates: 9g | Protein: 14g | Fat: 30g | Saturated Fat: 14g | Cholesterol: 78mg | Sodium: 656mg | Potassium: 403mg | Fiber: 1g | Sugar: 4g | Vitamin A: 4492IU | Vitamin C: 4mg | Calcium: 164mg | Iron: 1mg