Creamy Chicken and Rice With Mushroom
This post may include affiliate links that earn us a small commission.
Creamy Chicken and rice with roasted mushrooms is a one-pot dinner that is hearty and comforting. Caramelized mushroom adds so much flavour to the dish and makes a perfect family-friendly dinner.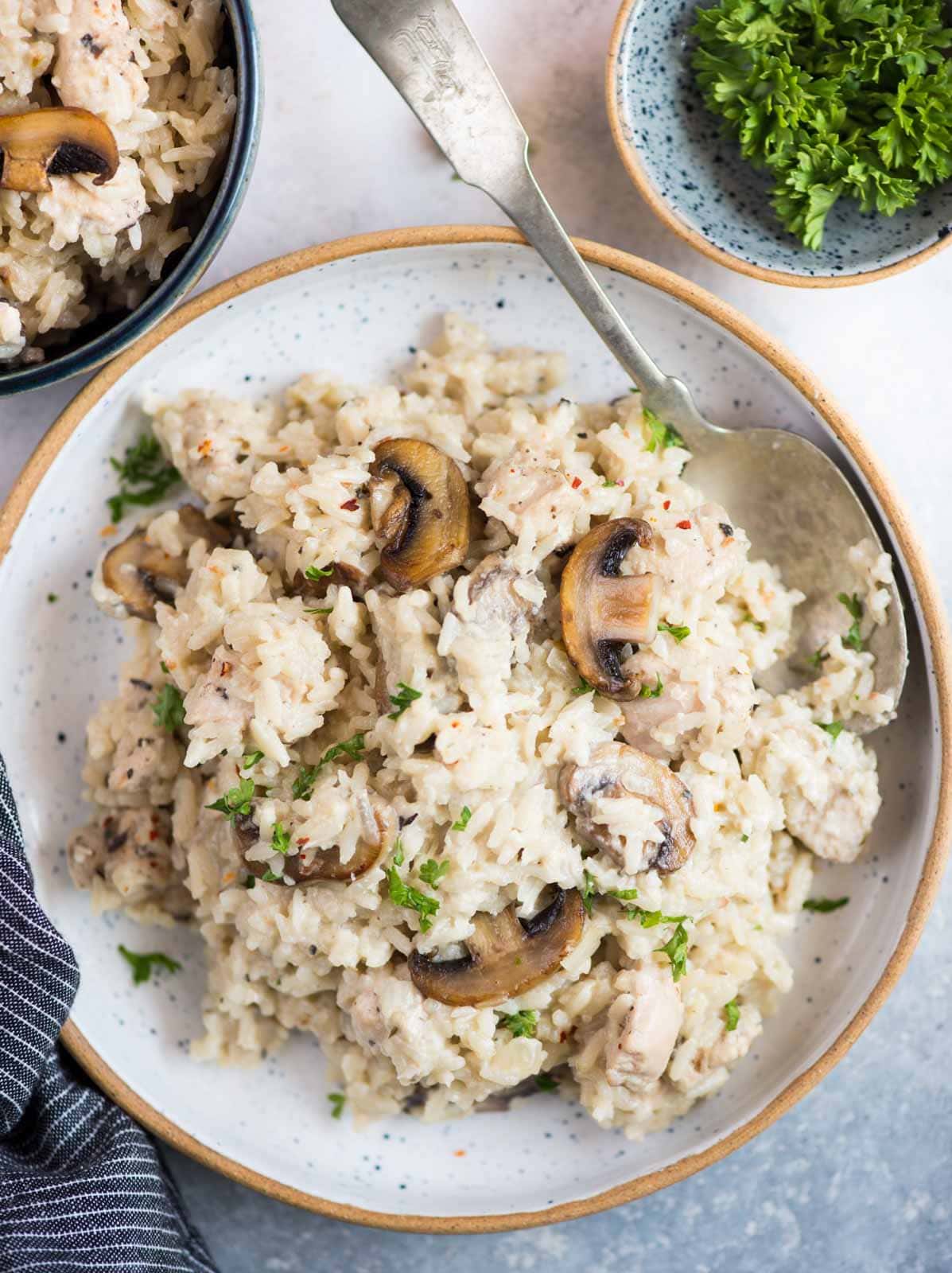 A meal can't be cozier than this Creamy Chicken and rice with roasted mushroom. Rice and chicken cook up in one pot, soaking up all the flavors. It is comfort food made with a handful of ingredients.
Flavours In Your Inbox
Subscribe for recipes straight to your inbox
What I love about This Recipe?
We love rice and have it every single day. And when the recipe has both chicken and rice then what's not to love about it.
Easy one pot dish , so easy clean up.
Takes about 30 minutes to make.
A really versatile dish. There is chicken, rice and mushroom but you can add your favorite veggies.
It is creamy. Top with extra cheese while serving to lure your little ones.
Stores really well in the refrigerator.
List of ingredients you need
I am sure most of the ingredients you might already have in your pantry now or maybe you will have to grab a packet of mushroom from the nearby store to make this Creamy parmesan chicken and rice with mushrooms.
Chicken: I have used Chicken breast, cut into cubes. You can also use chicken thighs instead.
Mushroom: Button mushroom sliced and roasted in a bit of butter until crispy. Roasted mushroom is so much flavorful.
Aromatic: Onion, Garlic, and herbs. That's all you need for an aromatic broth in which the chicken and rice will get cooked.
Low Sodium Chicken Stock: Try to use good Quality low sodium stock . I make stock at home, so that I can control the amount of salt. Always check seasoning after you add the stock to the rice and mix everything, then adjust the seasoning.
Cream and Parmesan: We don't need oodles of cream or cheese. Just enough to bind the rice and give it a creamy consistency.
Steps To make Creamy Parmesan Chicken and rice with Mushroom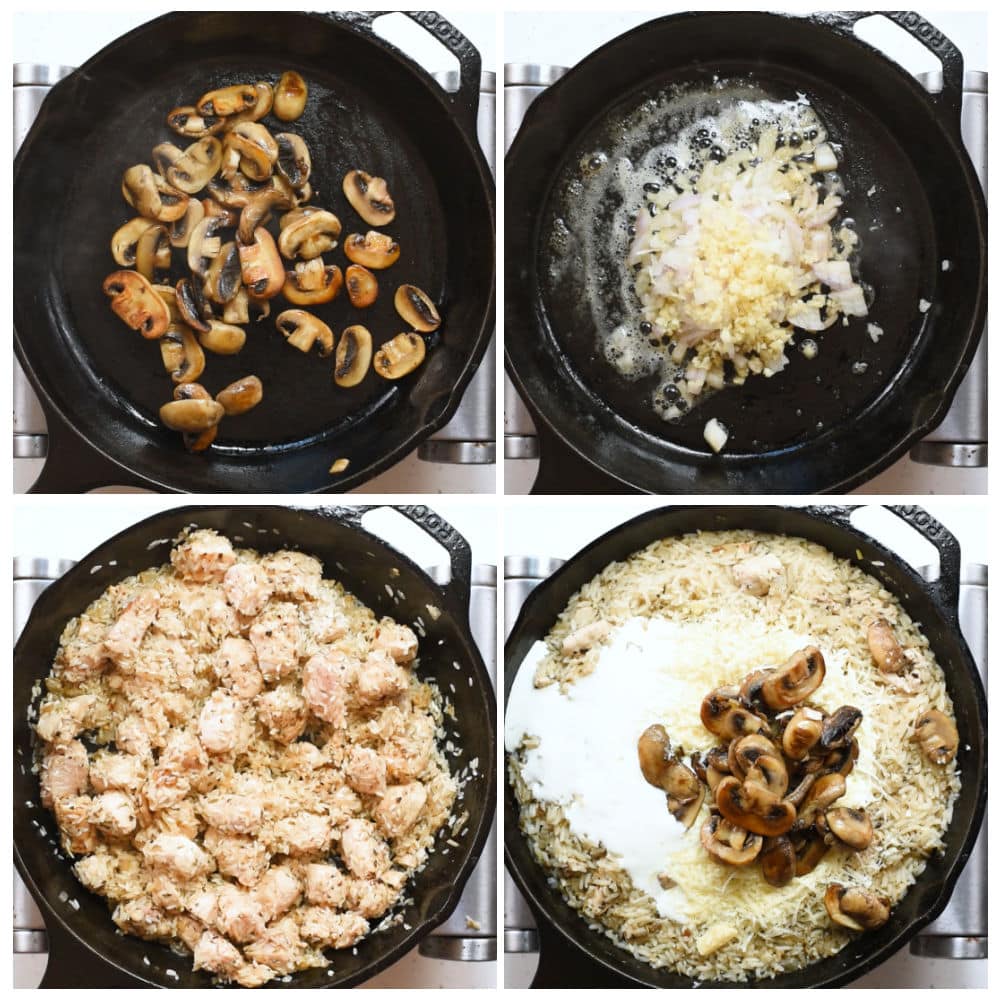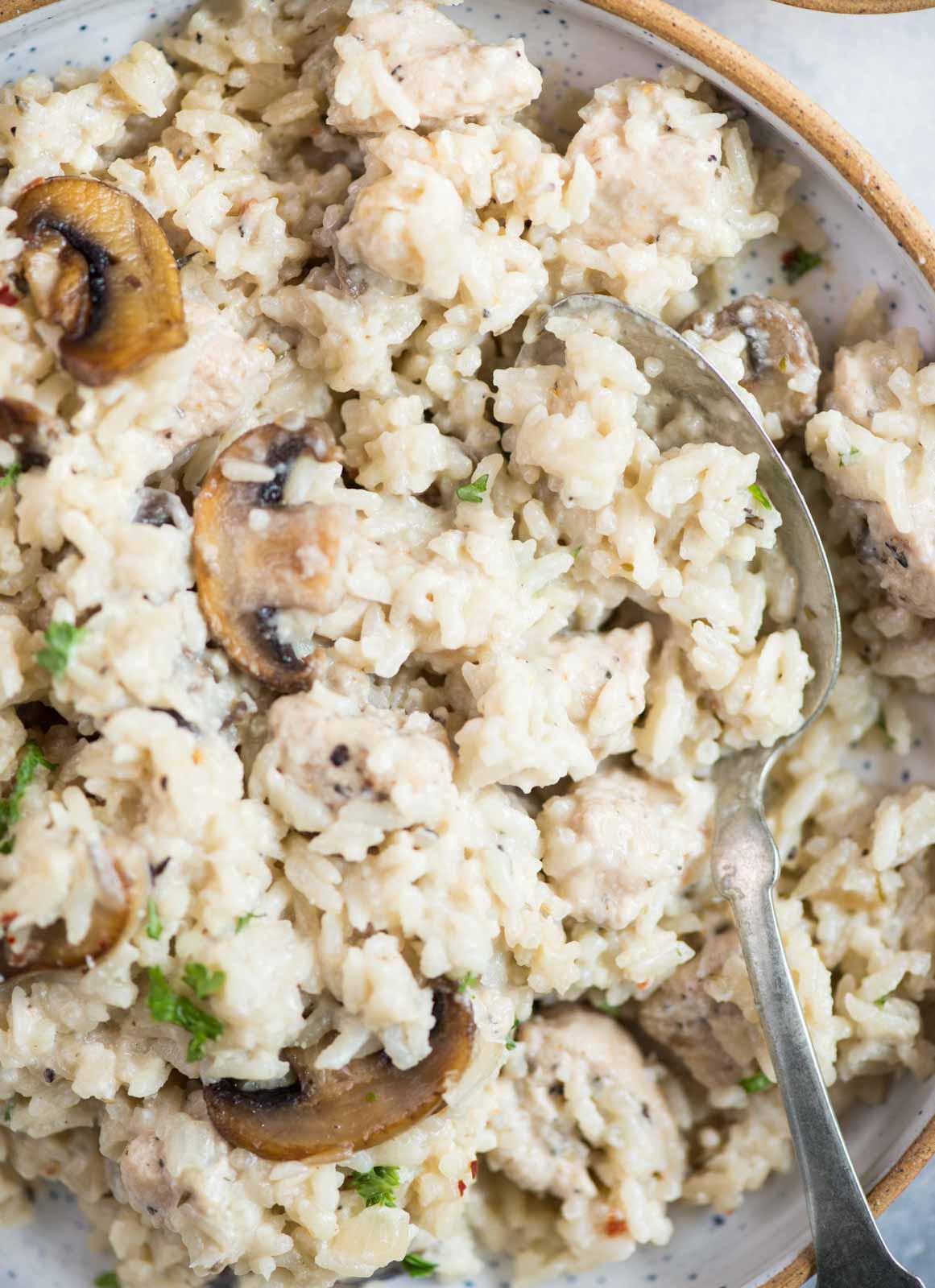 Can we substitute Brown Rice with White
Brown rice really won't fit in with all the flavors here. What we are looking for is a soft delicate creamy texture and brown rice has a different texture when cooked. So no, this Chicken and Rice taste best when made with white rice.
Storing Suggestion for Leftover Chicken and Rice
You can easily refrigerate the leftovers up to 3 days in an airtight container. Once cooled down, the rice might absorb all the moisture and thicken up. While reheating add little warm stock to the chicken and rice to loosen it up.
More Rice Recipes…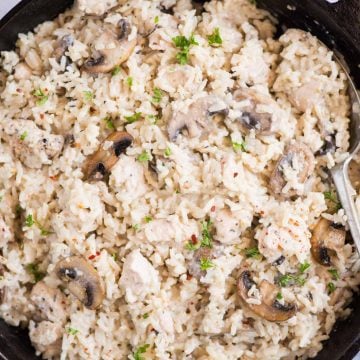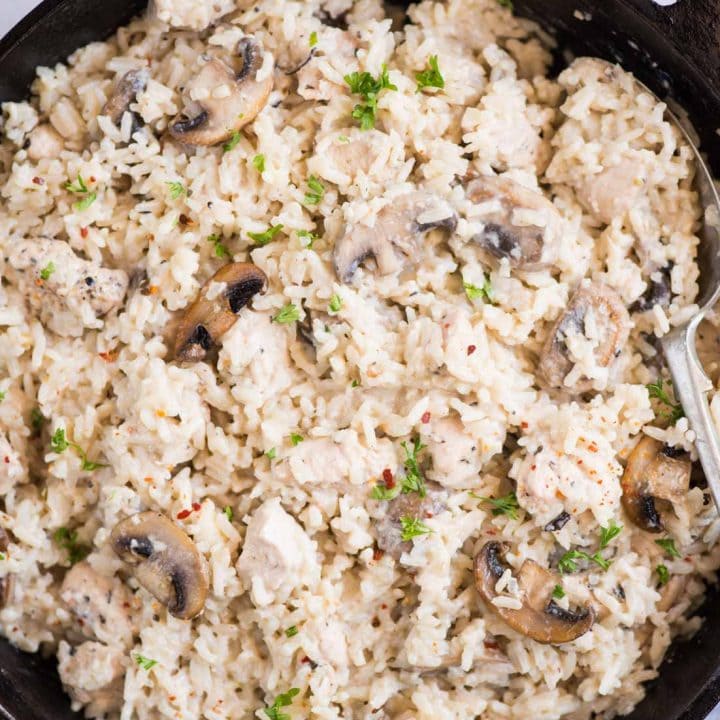 Creamy Parmesan Mushroom Chicken and Rice
Chicken and rice with roasted mushrooms is an easy and delicious one-pot dinner. A very versatile recipe where you can easily sneak in veggies of your choice, it is not loaded heavily with cream. For more detailed step by step instructions watch the recipe video after the recipe.
Ingredients
1 cup long grain white Rice
500 grams boneless chicken breast
200 grams button mushroom Sliced
2 tablespoon butter
⅓ cup chopped onion
1 tablespoon minced garlic
1 tablespoon Italian seasoning
¼ teaspoon pepper
2.5 cup chicken stock
Salt to taste
½ cup heavy cream
⅓ cup parmesan cheese
Instructions
Heat 1 tablespoon of butter in a skillet. Add sliced mushrooms and a 1/4 teaspoon salt. Let it cook undisturbed for about 5 minutes on high heat. Mushroom would release a lot of water.

Then lower the heat and cook until the mushroom looks brown and crispy. Take out of the skillet and keep aside.

To the same pan, add the rest of the butter. When butter melts add chopped onions and minced garlic.

Saute minced garlic for about a minute. The onions should be softened and the raw garlic smell should be gone.

Add chicken, seasoning, and pepper. Stir everything well and cook for 3 minutes on medium-high heat. Its ok if the chicken looks undercooked, as it will be cooked further along with rice.

Add rice to the skillet. Stir on medium heat for 2 minutes. The rice should nicely get coated with the herbs and seasoning.

Add warm chicken stock to the skillet. Add salt to taste.

Let everything come to a boil. Then lower the heat, cover and let it cook on low heat until all the water has evaporated and the rice is cooked through. It should take about 12-15 minutes.

Stir in the cream, cooked mushroom, and shredded parmesan cheese.

Serve hot with a garnish of chopped parsley and more parmesan cheese on top.

Refer note for tips on variations.
Notes
You can add veggies like celery, carrot, peas. If adding celery add it along with onion and garlic. If adding carrot or peas, add it just before adding stock to the skillet. 
Adding warm stock to the skillet reduces the cooking time. And also adding warm stocks also stops half cooked chicken from getting tough. The chicken remains soft and moist. 
The Chicken stock already has salt in it. So check the seasoning before adding more salt.
Nutrition
Calories: 569kcal | Carbohydrates: 47g | Protein: 39g | Fat: 24g | Saturated Fat: 13g | Polyunsaturated Fat: 2g | Monounsaturated Fat: 7g | Trans Fat: 1g | Cholesterol: 139mg | Sodium: 552mg | Potassium: 899mg | Fiber: 1g | Sugar: 5g | Vitamin A: 720IU | Vitamin C: 5mg | Calcium: 152mg | Iron: 2mg