This post may include affiliate links that earn us a small commission.
This cozy Italian sausage and Tortellini Soup is delicious and takes less than 15 minutes to make in an Instant Pot. A bowl of creamy tomato-based broth, sausage, cheesy soft tortellini, and a generous sprinkle of parmesan is filling and flavorful.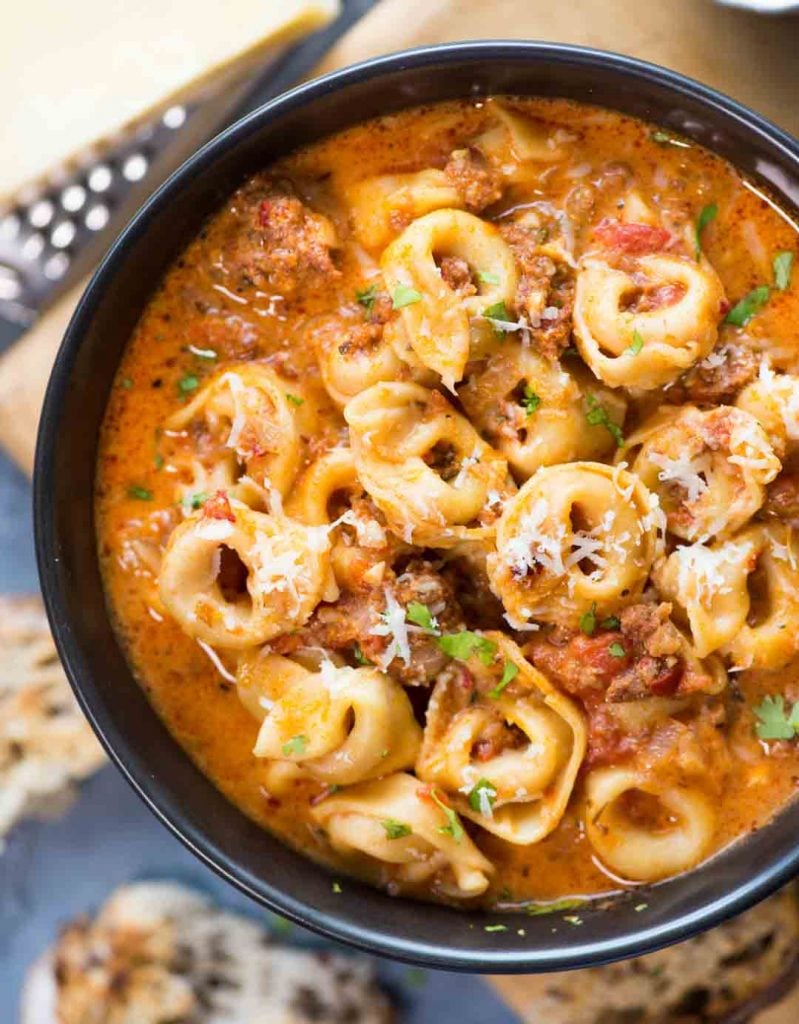 Creamy Sausage Tortellini Soup is hearty and delicious. Made with flavorful Italian sausage, tortellini pasta, Garlic, Onion, and Tomato, this soup has a light, hearty broth. This soup is a meal, so you don't have to worry about making a side, or maybe a simple leafy green salad is just enough. Best of all, it is made in an Instant Pot in just 15 minutes.
Flavours In Your Inbox
Subscribe for recipes straight to your inbox
Winter is slowly setting in, and soups are frequently appearing on our dinner table. So definitely, you will see more and more soup recipes here on the blog for the next couple of months.
Our new favorite soup
Tomato-based soup is one of our favorites at home. I love the refreshingly sweet and tangy taste that tomatoes give off. If you are a regular reader, then I am sure you have tried One-pot Italian Sausage Orzo Soup or this simple Tomato Bisque.
Using tortelloni pasta in a soup instead of regular pasta makes the soup special. The bonus is that you can use your favorite stuffed pasta. The broth is slightly flavorful and refreshing. It is not overly creamy. The pasta absorbs all the flavors and becomes pillowy and soft.
You can also look at another tortellini soup that is a reader favorite – Creamy Chicken Tortellini Soup. Another one with just a tomato base is Creamy Tomato Tortellini Soup.
Add a handful of kale or spinach to make it a filling meal. Sneak in veggies like carrots, or add some canned white beans if you wish.
I prefer mild Italian sausage, but go ahead and substitute it with sweet sausage, smoked sausage, or spicy Italian sausage instead. Play with different flavors; I am sure it will be delicious every time.
I have made a few dishes with sausage. Sausages are versatile and add a bomb of flavor to any protein or vegetable you pair with them. I have paired pappardelle pasta with sausage, have a sheet pan recipe with potatoes, baked pasta with sausage and cheese, and also slow-cooked a stew with sausage and chickpeas.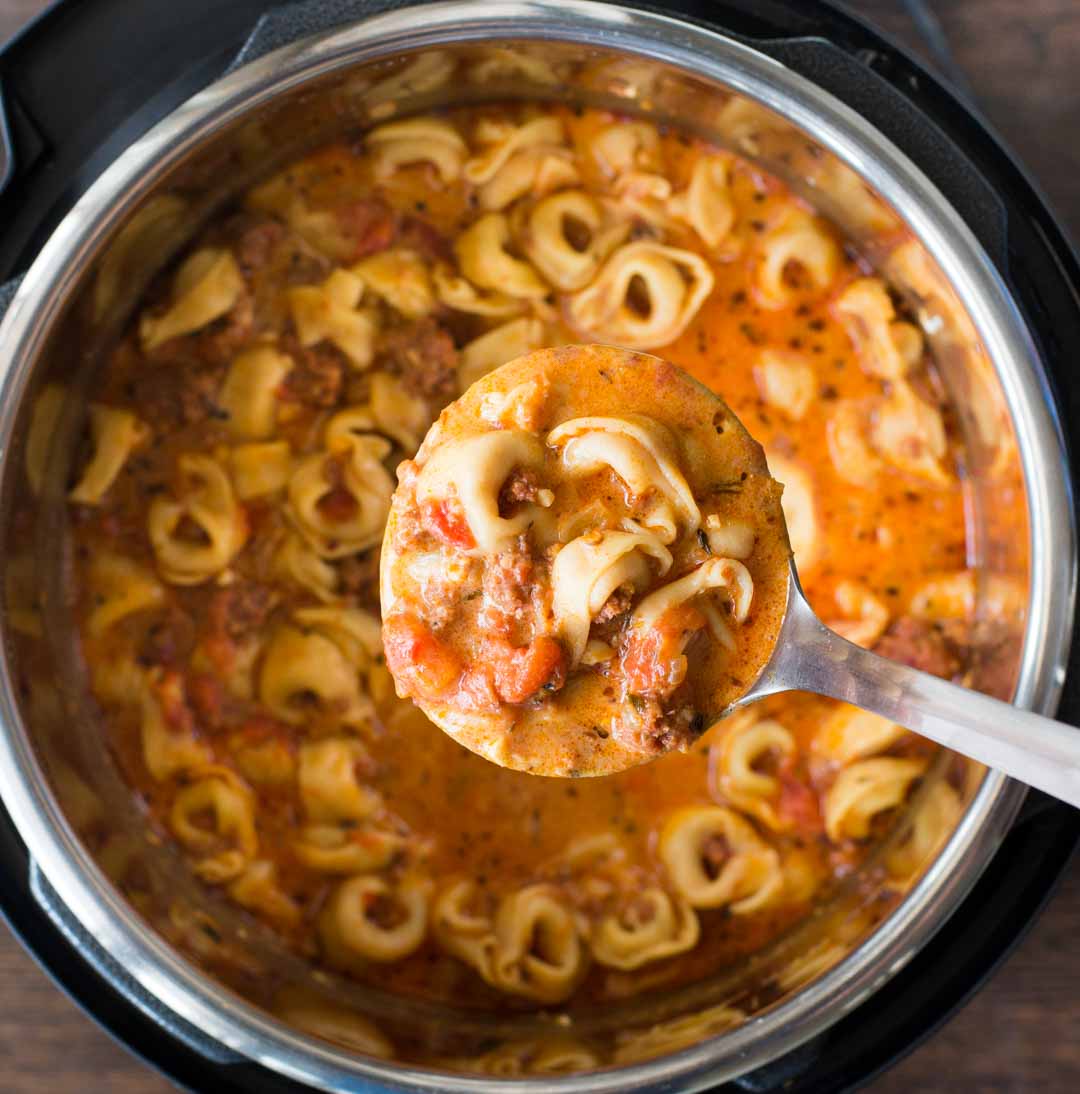 Ingredients
Dried cheese tortellini – Dried tortellini stores well and is what you find commonly on store shelves. It puffs up when it comes in contact with hot water or stock. The cheese stuffed in tortellini offers a rich bite.
Italian sausage – You can get mild or spicy Italian sausage, so get one as per your taste preference. It has a rich flavor and texture and makes pasta soup much better.
Olive oil – You can't make anything closely related to Italian without this.
Onion and garlic – My favorite aromatics that offer a savory taste and depth to the cooked sausage.
Crushed tomato and tomato paste – Crushed tomatoes give you that chunky bite, and you add some tomato paste, which is much thicker, to add a deeper flavor with less.
Chicken stock – adds depth of flavor and umami to the base of the soup.
Half and half – This is part cream and part milk, has a balanced consistency, and is available in most stores.
Parmesan cheese – Parmesan thickens the broth while adding a dash of umami.
Italian seasoning – Popular spice blend that brings characteristic Italian flavors.
Chilli flakes and parsley – Sprinkle chilli flakes for a little heat and garnish with freshly chopped parsley.
Salt – Be careful with the salt, as the stock has some. Taste and add accordingly.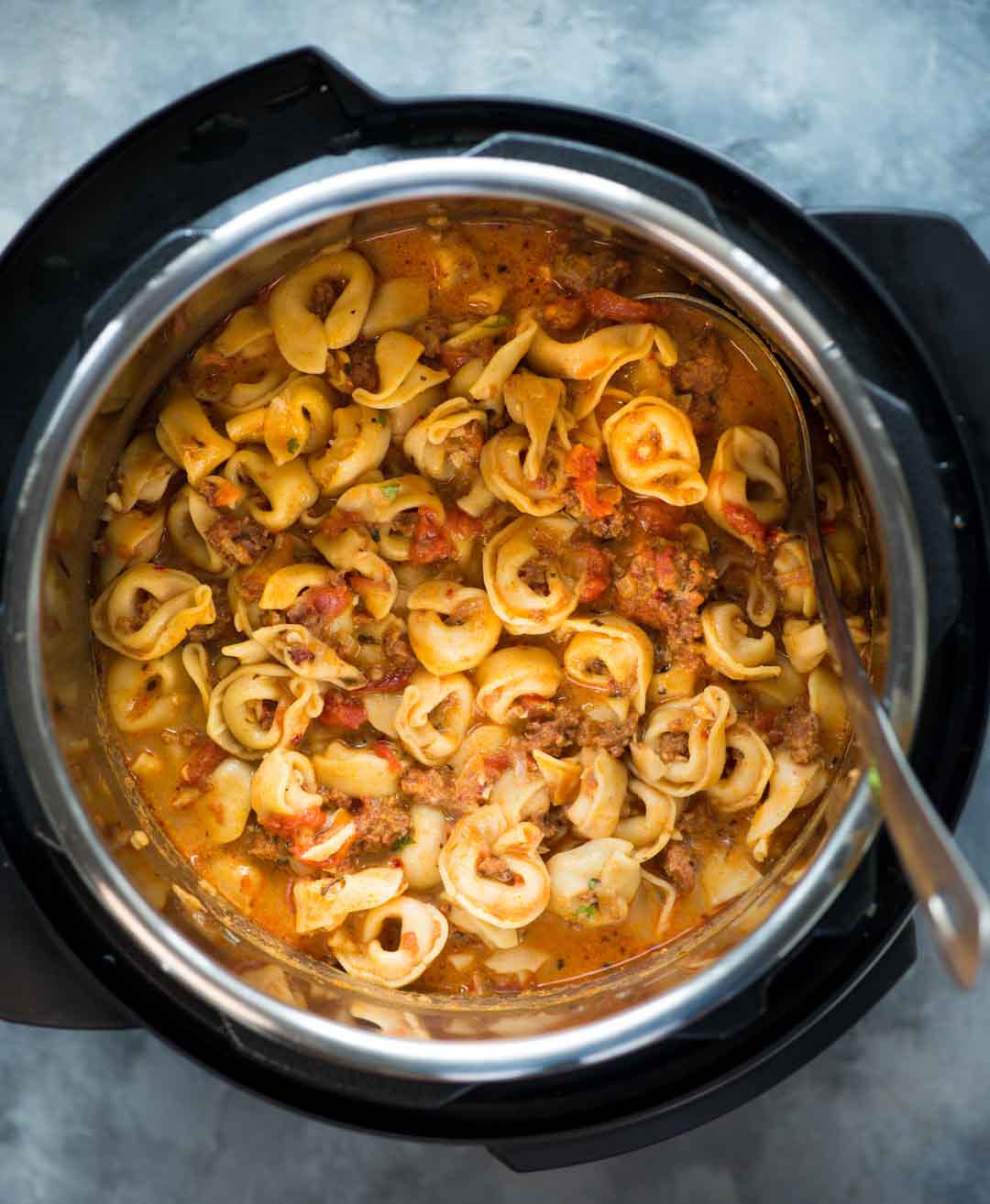 How to make sausage and tortellini soup
I have made this recipe in an Instant Pot because, you know, it's the cool kitchen gadget everyone is raving about. But nothing changes if you make it in a slow cooker or on the stovetop.
Cook aromatics and sausage
The first part is to sauté the onion and garlic and cook the sausage. To cook in an Instant Pot, follow the entire recipe instructions in the pot itself. But, to cook with a slow cooker or stovetop, the following steps are to be done in a pan, and then the mixture is shifted to the cooker or continued on the pan.
Heat oil in a pan. Saute the chopped onion for a couple of minutes until it turns soft. Add minced garlic and sauté for a minute until the raw smell goes away.
Add the crushed sausage to the pan and cook until it no longer looks pink.
Shift the mixture to a slow cooker or continue cooking in a pan on the stovetop.
To make in an Instant Pot
Cook the aromatics and sausage as mentioned in the previous steps in the Instant Pot itself. Next, add the crushed tomatoes, paste, seasoning, salt, and stock to the pot. Mix everything well, and also scrape the bottom to remove the bits stuck to the bottom. They have a lot of flavor, and we do not want to lose that.
Add dried tortellini and cover the lid. Let the pressure build and do its magic, cooking the ingredients. When it is time, release the pressure and uncover the pot. Add Half and half and mix well. Let it simmer for half a minute.
Serve by garnishing with grated parmesan and chopped parsley.
To make in a Slow Cooker
There is nothing like a house filled with the aroma of soup cooking slowly in a slow cooker. So if you want the soup to be slowly cooking in the crockpot the whole day and ready by dinner time, then here is how you will make it.
Follow the instructions mentioned in the first step to sauté the aromatics and cook the sausage, in a pan on the stovetop.
Then shift the sausage mixture to the slow cooker, and add the rest of the ingredients, except the tortellini and cream. Cook on high for 3 hours or low for 4-5 hours.  Add dried tortellini and cream to the slow cooker and cook for another 30 minutes.
To make on the Stovetop.
Making this soup on the stovetop is pretty straightforward. You can finish the cooking on the pan itself, making this a one-pot dish.
Follow the instructions mentioned in the first step to sauté the aromatics and cook the sausage. Add the other ingredients, i.e., tomatoes, seasoning, stock, and salt.
Mix well and let it come to a boil, then lower the heat. Let the stock cook on low for 10 minutes. Then add dried tortellini.
Let it cook until it is tender. Add more stock if required, followed by half and half. Mix everything well and switch off the flame.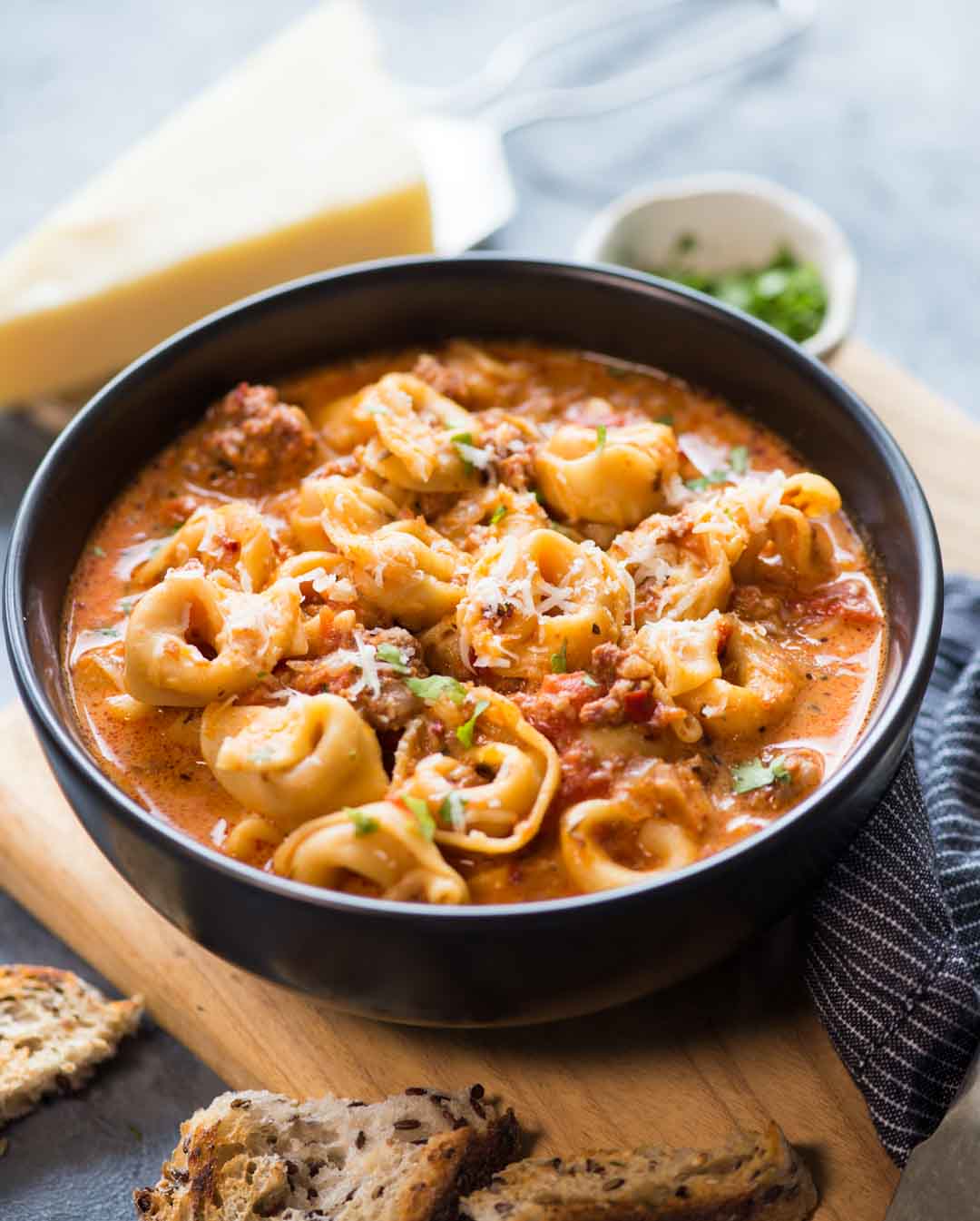 Store
This soup is not ideal for freezing. Tortellini pasta, when left too long in broth, will soak up the liquid and swell up. So I wouldn't freeze this soup with the tortellini in it.
Freeze the soup without adding the tortellini. Cook the soup and let it cool. Store the soup along with the tortellini in separate containers or zip-lock bags.
If there is any leftover and you end up freezing it, then while reheating, loosen the soup by adding more stock to it until the desired consistency is reached.
You can refrigerate the soup for up to four days without the tortellini.
Serve With
This salad with tortellini and veggies is fulfilling and a meal by itself if you want to take it lightly. You can also go with salads, bread, or other sides.
Salads – Serve with a fresh salad like this Asian Cucumber Salad or any salad with a lemon or vinaigrette base.
Bread – Soups like this are great to have with bread. White bread like this No-Knead Rustic White Bread or Artos: Greek Celebration Bread.
Meatballs – go well with this creamy salad, like this Chicken Meatball in Plum Sauce. Also, you may pair it with grilled recipes like Easy Grilled Chicken with Buttermilk Marinade, Grilled Rosemary Chicken Kebabs, or Grilled Shrimp.
Other Soup recipes
Classic French Onion Soup – A classic staple in French kitchens, this soup has a golden crust made of a layer of cheese, over a bowl containing sweet caramelized onions and savory beef broth.
Healthy Vegetable Soup – You can be versatile with your choice of vegetables while making this healthy and comforting soup.
Thai Chicken Coconut Soup (Tom Kha soup) – This famous Thai soup made with coconut milk, chicken, and mushrooms, is creamy and rich, more like a curry.
Tomato White Beans Soup – A quick and satisfying soup, that has tangy tomatoes, white beans, and parmesan cheese.
Lemon Chicken Orzo Soup – Chicken and orzo make it fulfilling, while the lemony broth has loads of umami.
Homemade Tomato Soup – A classic soup that is made from a few ingredients, is tangy, has a hint of sweetness, and is creamy without any cream.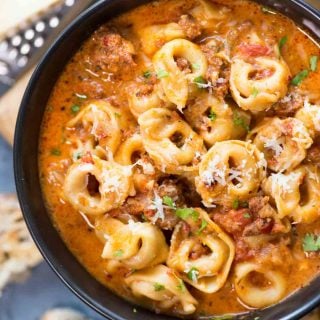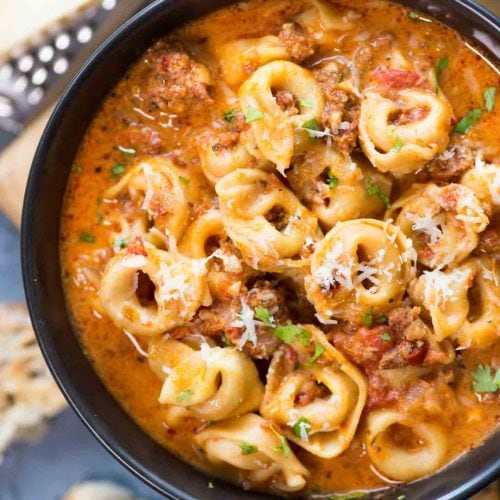 Sausage Tortellini Soup
Sausage Tortellini Soup made in an Instant Pot is delicious and easy to make. A bowl of Creamy Tomato based broth, Sausage, Cheesy soft Tortellini and a generous sprinkle of parmesan is filling and flavourful.


Equipment
pan To cook it entirely on a stovetop
Instant Pot You can cook the soup completely in an Instant Pot, if you wish
Slow Cooker Post sauteeing on a pan, you can transfer the mixture to a slow cooker and complete the cooking in it.
Ingredients
250 grams Dried Cheese Tortellini
200 grams Italian Sausage
2 teaspoon Olive Oil
1 medium Onion
1 tablespoon Garlic minced
1 can Crushed Tomato (14.5 oz )
2 tablespoon Tomato Paste
2 teaspoon Italian Seasoning
½ teaspoon chilli flakes
salt to taste
4 cups Chicken Stock
½ cup Half & Half increase up to 1 cup for a more creamier soup
Grated parmesan and chopped fresh parsley for serving
Instructions
Set the Instant Pot to saute mode. When hot add oil.

Stir in chopped onion and garlic. Saute for a minute for the onion to soften and raw garlic smell has disappeared.

Add crumbled sausage to the pan. Brown it for 2 minutes.

Add crushed tomatoes, Tomato paste, Italian seasoning, chilli flakes, salt and 2 cups stock( reserve the rest to add later). Mix everything well (Scarp bottom of the pan to release any stuck brown bits)

Stir in dried tortellini.

Switch to Manual mode. Cover the lid. Set for 4 minutes on high pressure.

It will take around 5 minutes to come to full pressure and the timer to start.

When 4 minute ends, let the pressure release naturally for 5 minutes. Release rest of the pressure manually.

Once all the pressure is released, carefully open the lid.

Switch to sautee mode again. Add rest of the stock and half & half. Stir gently.

Let it cook for another 30 seconds or so. Switch off the pot.

Serve with grated parmesan and chopped parsley sprinkled on top.
Notes
Don't add all the stock at once. If there is too much liquid, then it might come out from the nozzle while releasing the pressure manually. 
The Soup might look a bit on the thinner side initially, but the tortellini will absorb quite a bit of liquid even after you switch off the pot.  
Adjust the amount of salt towards the end. Sausage and the stock both contain some amount of salt. 
Nutrition
Serving: 100g | Calories: 492kcal | Carbohydrates: 44g | Protein: 20g | Fat: 27g | Saturated Fat: 9g | Cholesterol: 77mg | Sodium: 1196mg | Potassium: 596mg | Fiber: 5g | Sugar: 9g | Vitamin A: 441IU | Vitamin C: 13mg | Calcium: 158mg | Iron: 3mg