White bean salad with lemon vinaigrette
This post may include affiliate links that earn us a small commission.
This white bean salad with kale is refreshing with a Mediterranean zesty lemon vinaigrette and makes for a filling side dish. This salad will convert 'not so good tasting' Kale into a star of the dish. A simple technique will make kale more likable.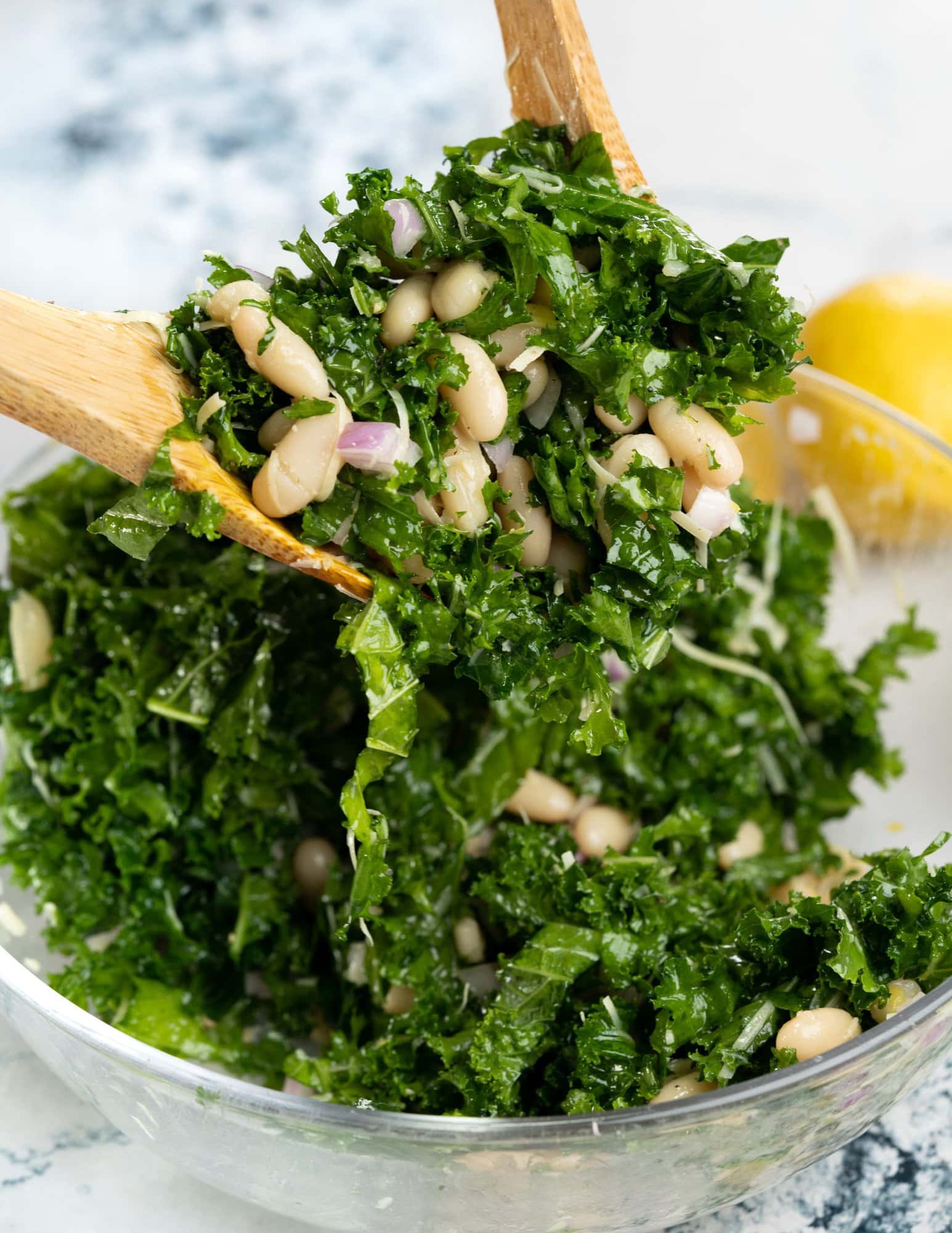 Call it White bean salad or cannellini salad or even kale salad. This white bean salad recipe can pass as any of them since it has both in good measure.
Among all the indulgent and delicious dishes we cook, with all that melting cheese, saucy gravies, and rich meaty mains, I try to balance them with some salads. I believe in the health benefits of foods like kale or spinach or white beans and look for every opportunity to include them in our diet. This gluten-free salad recipe uses two of these nutrient-dense foods – cannellini beans and kale.
Kale is a healthy green leaf to fill your diet with nutrition. You can find kale throughout the year even though it is abundant even in the coldest months. Packed with antioxidants, and vitamins like A, B, C, and K, omega-3 fatty acids, and minerals, it is considered a superfood. Given its benefits, I try to pair kale with stuff that makes the dish interesting as well as up the flavor with a star dressing like this lemon vinaigrette.
There are a few kale recipes I make at home to keep it varying and interesting and have already shared in the blog – Apple Kale Salad With Apple Cider Vinaigrette, Lemon Kale Pasta, and Mushroom, Kale And White Bean Soup.
Cannellini white beans
Pairing kale in this dish is white beans, especially the cannellini beans also known as white kidney beans, which are the largest of white beans. White beans are perhaps the healthiest of beans and a superfood in their own right. Packed with protein and dietary fiber, they complement the dark green leaves both in color and bite. White beans make this salad more fulfilling.
Canned cannellini beans are available across stores. They are already steamed and cooked and you can add them directly to the salad. If you have raw beans in hand, soak them overnight, drain them of the liquid, and cook them the next day.
Flavours In Your Inbox
Subscribe for recipes straight to your inbox
Other types of white beans can also be used in this recipe. Check out the Ingredients section for more details.
Another comforting recipe with white beans is the reader's favorite – Tomato White Beans Soup.
Lemon vinaigrette
A good dressing gives life to a salad
A vinaigrette is a dressing based on oil and vinegar and hence the name. They are sometimes also referred to as 'Italian salad dressing'. The oil is often Olive oil and there is no hard rule that a vinaigrette has to have vinegar in it. Since vinegar is acetic acid diluted with water, it can be substituted with another acid, which in this recipe is citric acid from lemon juice, giving it characteristic Mediterranean flavors.
The lemon juice turns this into an aromatic citrus-flavored dressing. It also helps balance the bitterness of the kale.
Mustard helps in emulsifying – keeping the water(in lemon juice) and oil molecules together. Dijon mustard has a mellow but well-balanced taste. You can go with whole mustard too.
This lemon vinaigrette is versatile and can be paired with many greens and veggies. I had earlier shared a pasta salad with a similar vinaigrette but with a more herby flavor and red wine vinegar too – Chicken Pasta Salad With Lemon-Herb Dressing.
This vinaigrette is easy to make and uses common pantry ingredients. Good quality ingredients like olive oil and Dijon mustard elevate the flavor. The work involved is minimal – gathering the ingredients and mixing them in a bowl.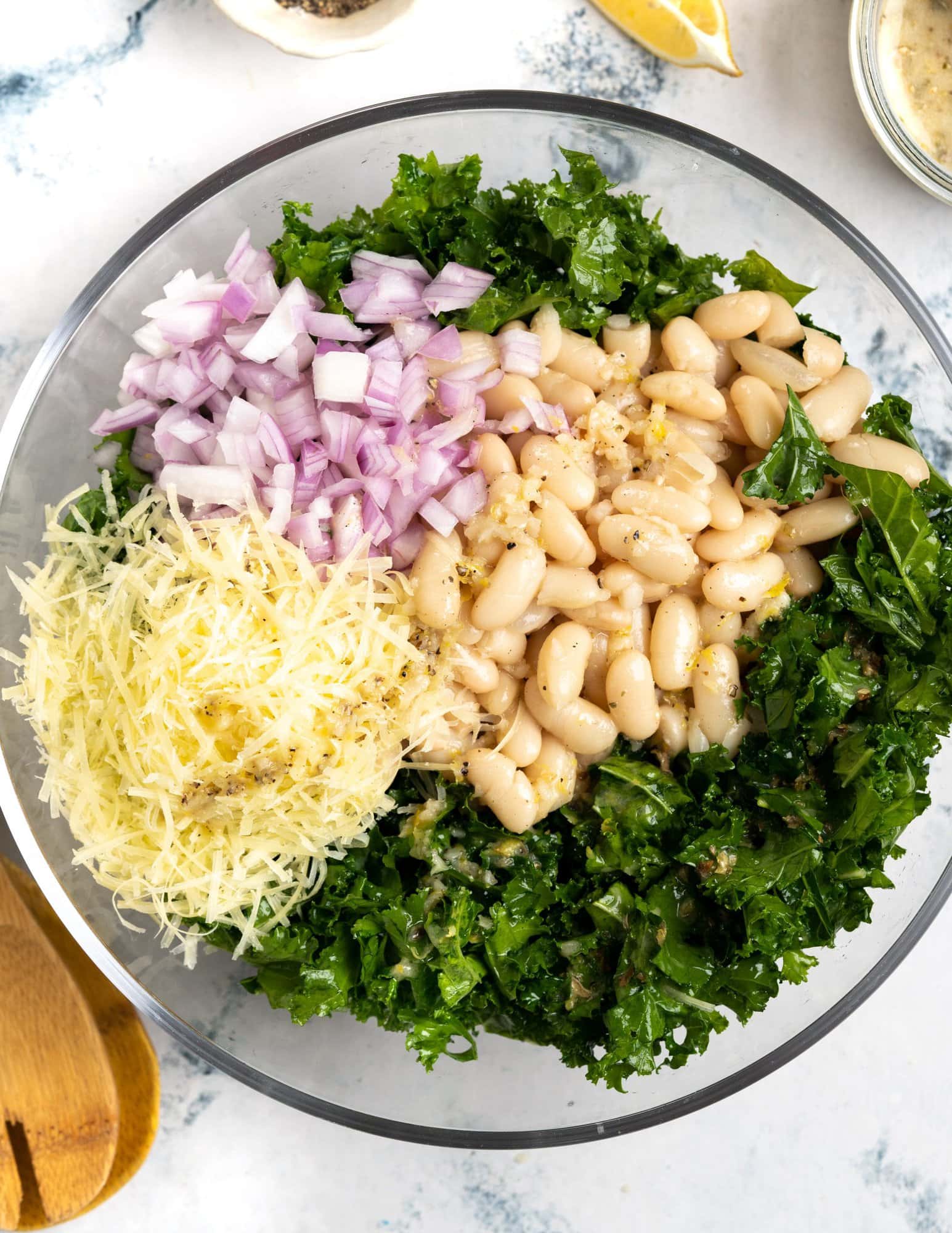 Ingredients
Kale leaves – pick up leaves that have a nice green color and are soft but not wilted and have blackened.
Cannellini beans – canned cannellini beans are easily store-bought and work great. The next best choice would be Great northern beans, baby lima beans, and navy beans in that order, from the firmest to the softest. Navy beans may turn mushy when you cook them and toss them hard.
Onions – another aromatic that is chopped and fills flavor with each bite. Used red onion here for its vibrant color. White onions will work great too.
Shredded parmesan cheese – fills the salad with good fat and flavor and can often help in selecting a recipe because of the deliciousness that cheese brings to your mind. Soft feta cheese can also be added.
Optional – I have kept it simple and you may add cherry tomatoes sliced in halves or red/yellow bell peppers.
For lemon vinaigrette
Lemon juice – substitutes the vinegar with the citric acid present in it.
Olive oil – no substitute for good quality extra-virgin olive oil. A good olive oil makes a great dressing.
Dijon mustard – acts as an emulsifying agent. It balances the taste profile of the dressing.
Dried oregano – gives that herby and Italian flavor to this dressing. You may choose to add fresh herbs like parsley or basil.
Garlic clove – is the popular aromatic used in a classic vinaigrette.
Sugar – helps balance the sour and pungent tastes.
Salt & pepper – salt helps all the flavors pop out and pepper gives you that little kick. Use as per your tolerance levels.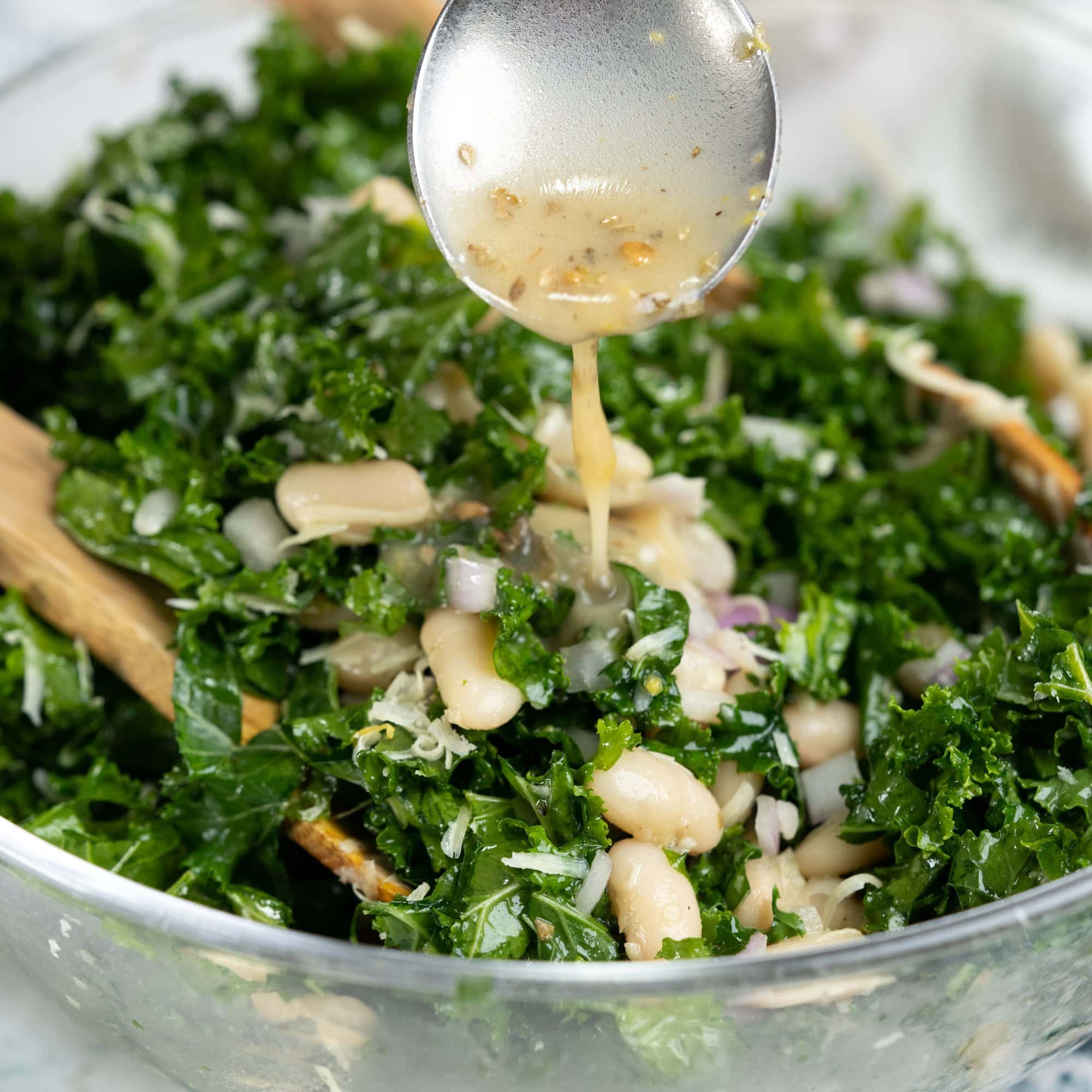 How to make a cannellini white bean salad
Make the dressing
Arrange all of the ingredients required for the dressing. Use a jar with a lid that you can fill with all the ingredients and whisk/shake well.
This dressing can be kept in the refrigerator and can be made ahead.
Prepping the kale
The idea here is to tenderize the kale leaves. Start with removing the stems but if the stems are really tender, you may choose to leave them on. The leaves should be rinsed thoroughly and cleaned. Pull off the leaves from the stem if it is thick.
Run the leaves through a spinner or pat dry the leaves. It ensures that the leaves don't leak water into the salad making it runny. You can chop the leaves or tear them by hand into small pieces.
To tenderize the leaves, sprinkle salt and toss some olive oil. Toss everything and then pick a small bunch and rub gently with your fingertips or palm.
Assemble the salad
Get the leaves, cannellini beans, and diced onion in a large bowl. Sprinkle lemon juice and shredded parmesan on top. Mix everything well ensuring the leaves and beans get coated with the dressing.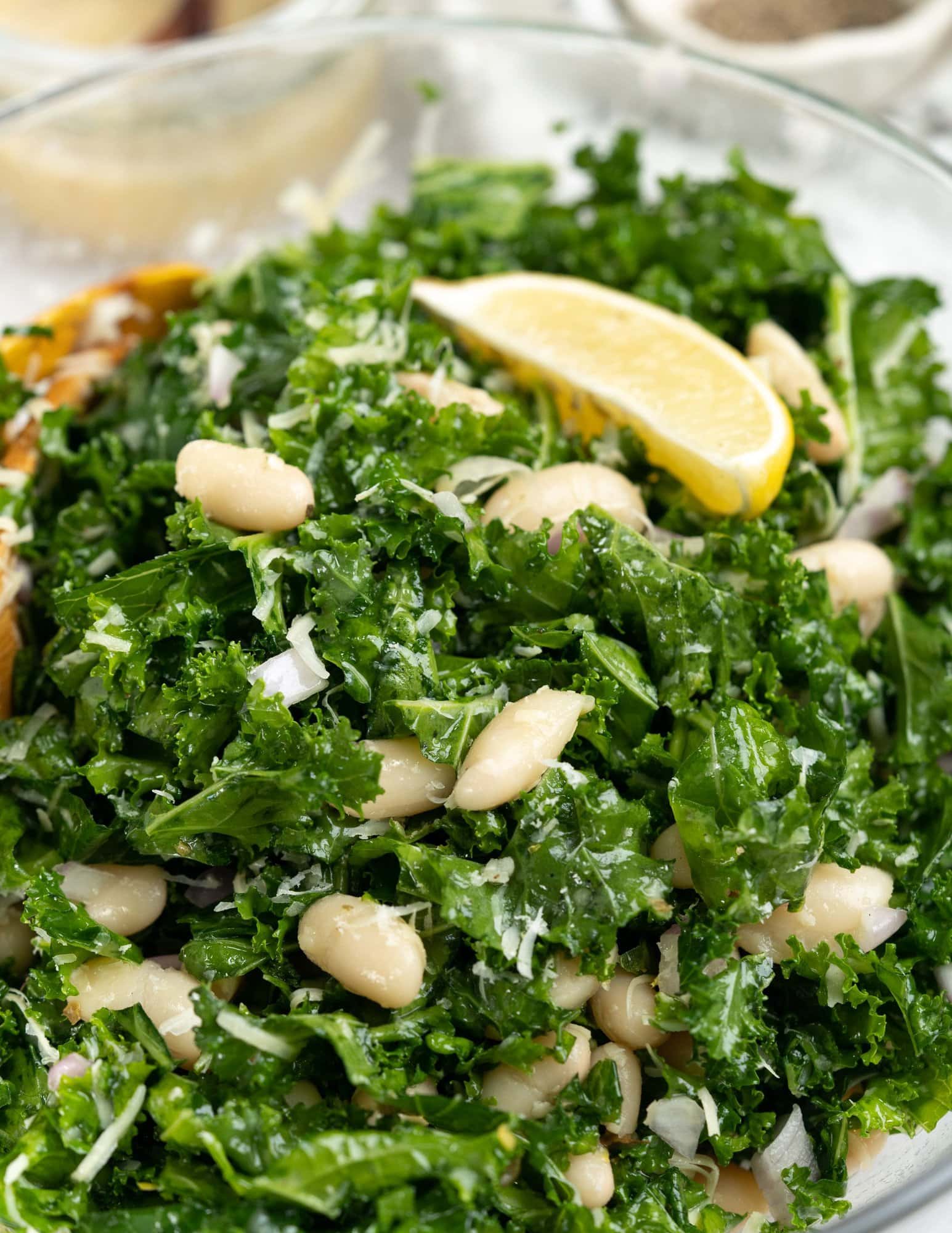 Store & Freeze
This salad is refrigerator-friendly which means you can store it in the fridge without any change in taste or texture.
You can store the dressing in a tight jar for up to two weeks without garlic. If garlic is used, consume it within 7 days. The lemon vinaigrette can be refrigerated separately and used to make the salad any day.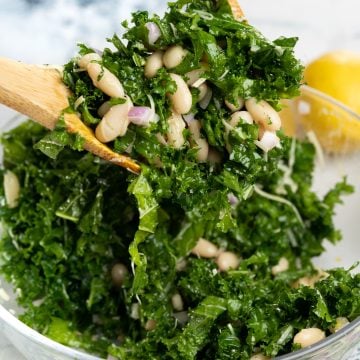 White bean Kale Salad
This salad with white beans is refreshing with a zesty lemon vinaigrette and makes for a filling side dish. This salad will convert 'not so good tasting' Kale into a star of the dish. A simple technique will make kale more likable.
Ingredients
5-6 cups Kale leaves
2 cups Cooked Cannellini Beans
½ Red Onion
½ cup Shredded Parmesan
Lemon Vinaigrette
¼ cup Fresh Lemon Juice
¼ cup Olive Oil
1 teaspoon Dijon Mustard
1 teaspoon Dried Oregano
1 Garlic clove
1 teaspoon Sugar
¼ teaspoon Salt
¼ teaspoon Pepper
Instructions
Lemon Dressing
In a small glass jar with a lid, add all the ingredients for the dressing. Shake well until it sis mixed well and looks creamy. Keep refrigerated until use.
Preparing Kale (massaging Kale)
Rinse and clean the leaves. Remove the thick middle stem by pulling off the leaves. If tender, leave the stems on.

Run the leaves in a salad spinner or pat dry well using a kitchen towel. Make sure the leaves are well drained else the salad will turn watery.

Chop the leaves into bite-sized pieces (You can also tear the leaves with your hand). Place it in a big bowl.

Sprinkle a large pinch of salt and 1/2 teaspoon of olive oil. Toss everything well using both hands. Then pick a handful of leaves and rub them gently in between your palms/ tip of your fingers.

Kale will turn soft and tender.
Assembling Salad
In a large salad bowl combine massaged Kale, drained Cannellini Beans, diced onion, and half of the parmesan cheese. Drizzle the required amount of Lemon dressing. Toss well to coat and serve with more parmesan on top and dressing if required.
Nutrition
Serving: 1serving | Calories: 262kcal | Carbohydrates: 18g | Protein: 11g | Fat: 18g | Saturated Fat: 4g | Polyunsaturated Fat: 2g | Monounsaturated Fat: 11g | Cholesterol: 9mg | Sodium: 549mg | Potassium: 352mg | Fiber: 7g | Sugar: 3g | Vitamin A: 8476IU | Vitamin C: 85mg | Calcium: 416mg | Iron: 3mg