This post may include affiliate links that earn us a small commission.
These amazing Grilled Teriyaki Chicken with sweet and savoury Teriyaki Sauce are absolutely delicious. Tender Chicken, crunchy peppers and Onion, coated in a sticky Teriyaki Sauce.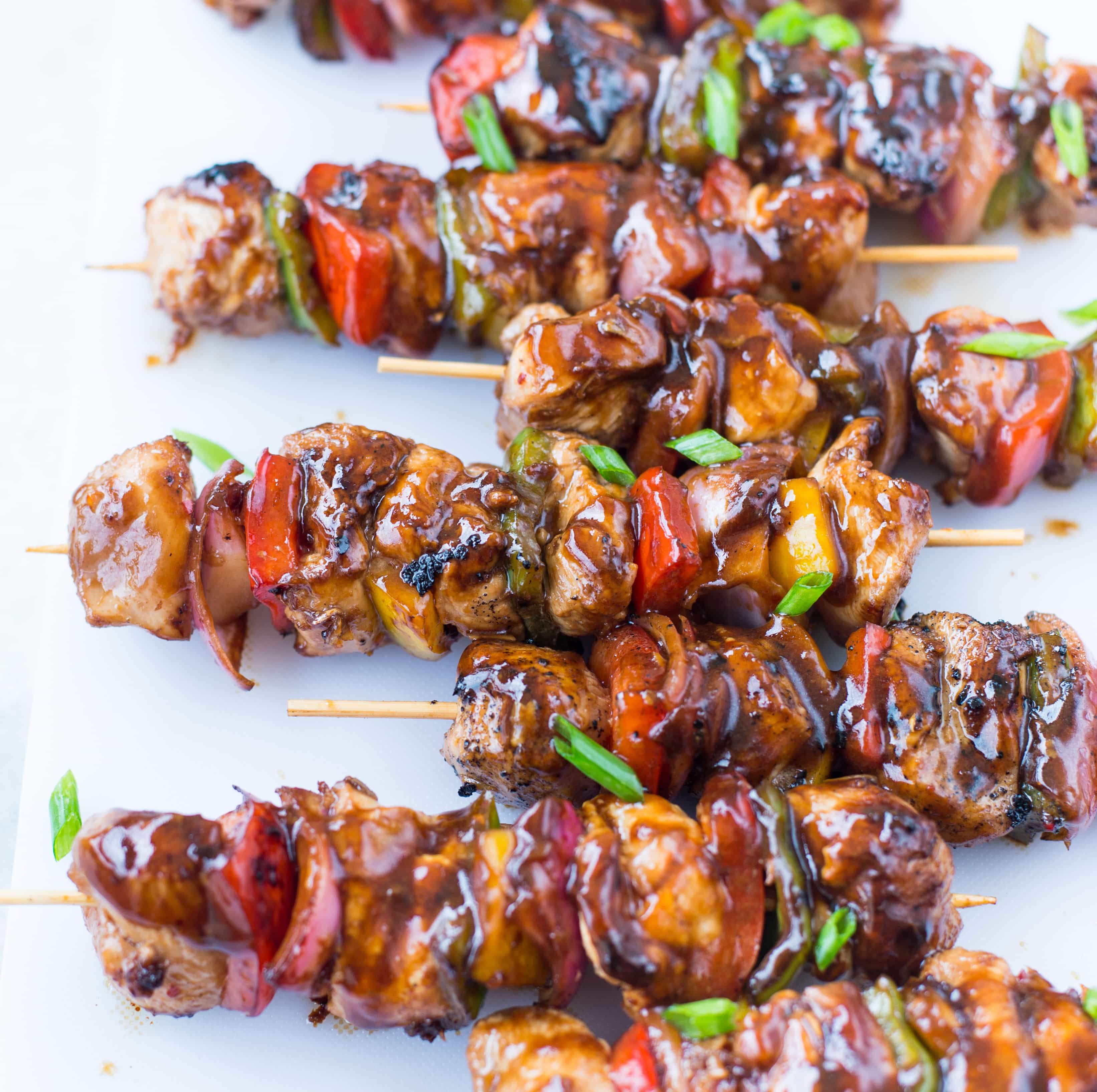 Have you already dusted off your grill? Because summer is already here and it is the time for grilling /barbecue. If you are like me, then I am sure you would not wait for the summer to make these amazing Grilled Teriyaki Chicken Skewers.
Flavours In Your Inbox
Subscribe for recipes straight to your inbox
We don't have a backyard where we leave, so there is no scope of having an outdoor grill.  So most of the time I make grilled chicken skewers on the stovetop in my favourite Grilled Pan.  Occasionally we do barbecue party outdoors, and you would find me around the grill basting the skewers. I absolutely love the smokey flavour that it lends to the meat.
How to make Teriyaki Sauce?
Sometime around last year, there was a huge rage about Teriyaki Chicken on Pinterest.  Teriyaki recipes were all over Pinterest.  The Teriyaki Sauce recipe seemed easy and quick.  But When I did a little more research I found that real authentic Teriyaki Sauce calls for two important ingredients called Mirin and Sake.  These two are popular Japanese ingredients used for making the real Teriyaki Sauce. It helps to get the real Umami flavour to the dish.
Teriyaki Sauce mainly has only three ingredients Soy Sauce, Mirin and Sake. You can also add other ingredients like honey or Brown Sugar, Garlic, Ginger to the base sauce.
But, Don't worry if you don't have Mirin, I have included the substitute in the recipe note.
In this Grilled Teriyaki Chicken recipe, I used Soy Sauce,Rice Wine Vinegar, Chinese Cooking wine( Instead of Sake), Garlic and Honey.  The sauce was sweet, salty and perfectly balanced.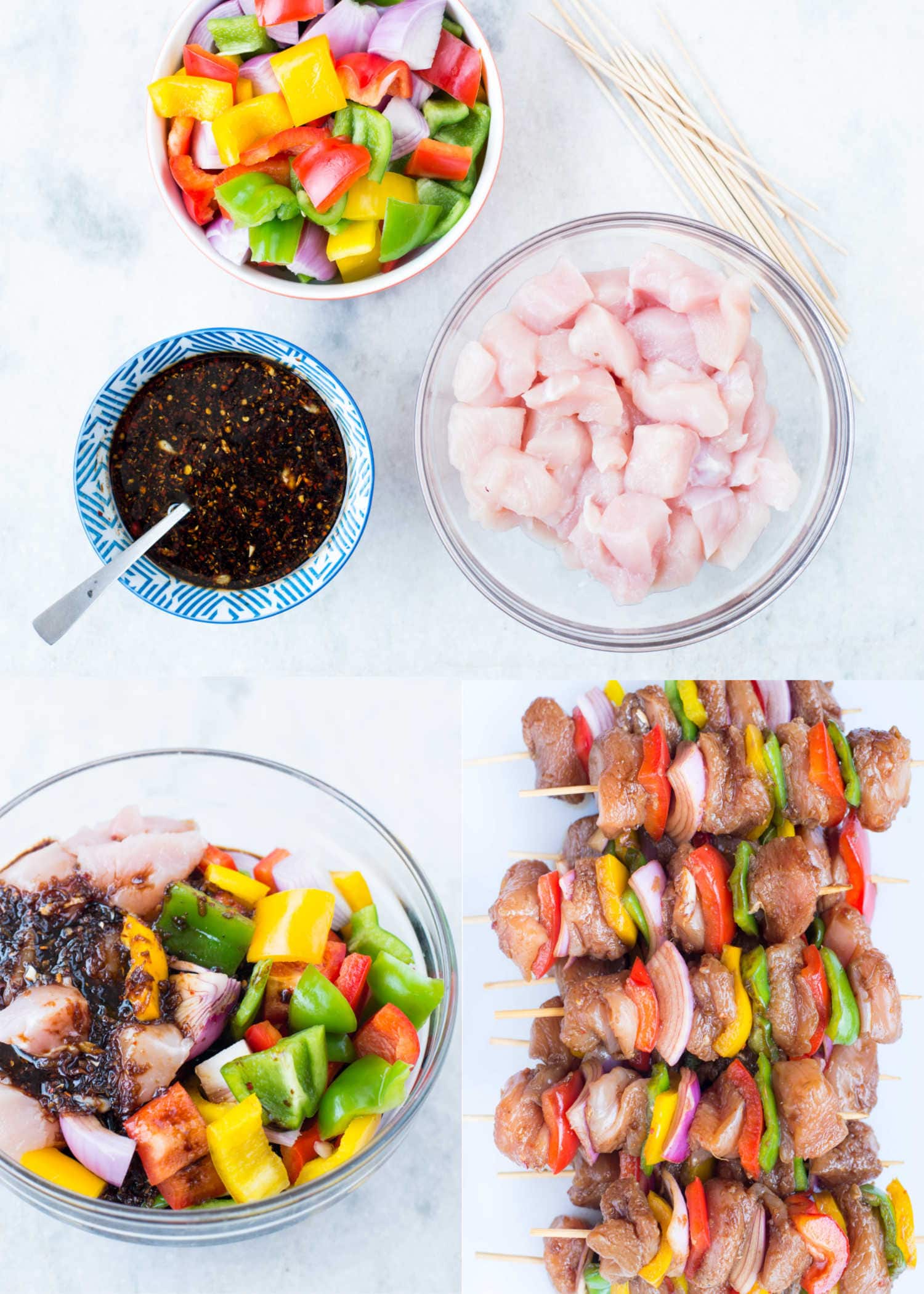 How to make Grilled Teriyaki Chicken?
Prepare all the components first. Make Teriyaki sauce, cut chicken into bite-sized pieces, cut vegetables into big chunks.
Marinating the chicken and veggies for a couple of hours, helps the chicken to soak up all the flavour and makes the chicken extra juicy.
While grilling, Chicken gets grilled in no time. It hardly takes 3-4  minutes.
To get all the goodness of the teriyaki sauce, reduce all leftover sauce in a saucepan until it is thick and glossy. You don't need cornflour of any other thickening agent here, as it reduces naturally to a sticky thick sauce.
Which Cut to use Thighs or Breast?
Authentic Teriyaki Chicken calls for Chicken Thighs. There is no doubt that chicken thigh is juicier than the breast. I have used Chicken Breast for the skewers.  I prefer Chicken breast over Chicken thigh when it comes to Chicken Skewers. Chicken Breast pieces hold well in the skewers, compared to chicken thighs.
But you can use CHicken tenders or chicken thighs instead and adjust the cooking time.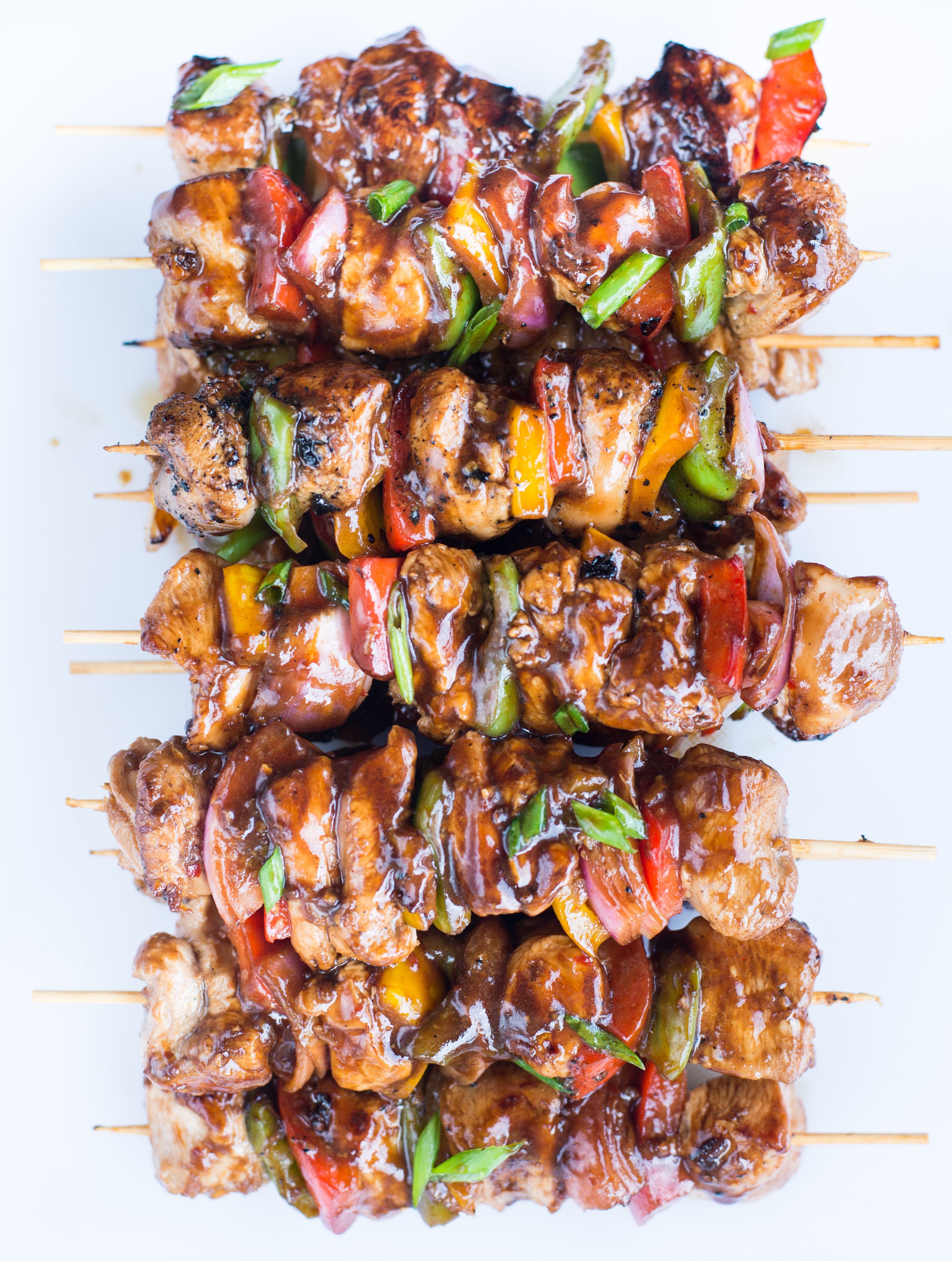 Can I make Teriyaki Chicken Rice Bowl?
Of course, you can. I love food in a bowl. With Layers of texture, rice bowls are my favourite.
So if you have any leftover Chicken Skewers( Which I doubt), then make a rice bowl out of it.  Add your favourite veggie like Broccoli, Green Beans, Zucchini and make a complete meal. Drizzle any extra sauce on the top. Look how vibrant my Teriyaki Chicken Bowl looks.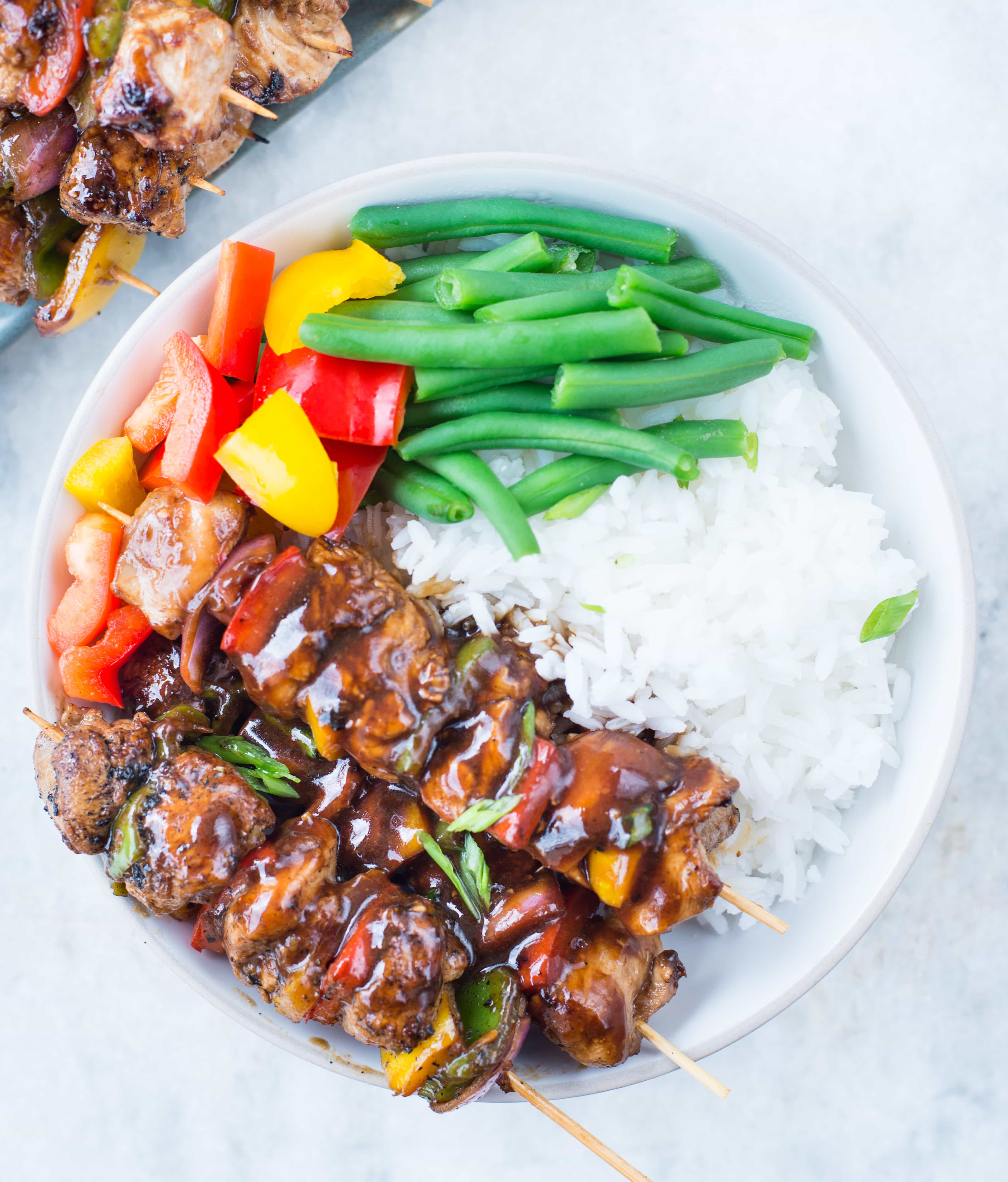 Perfect side dishes to serve with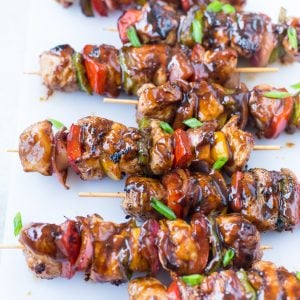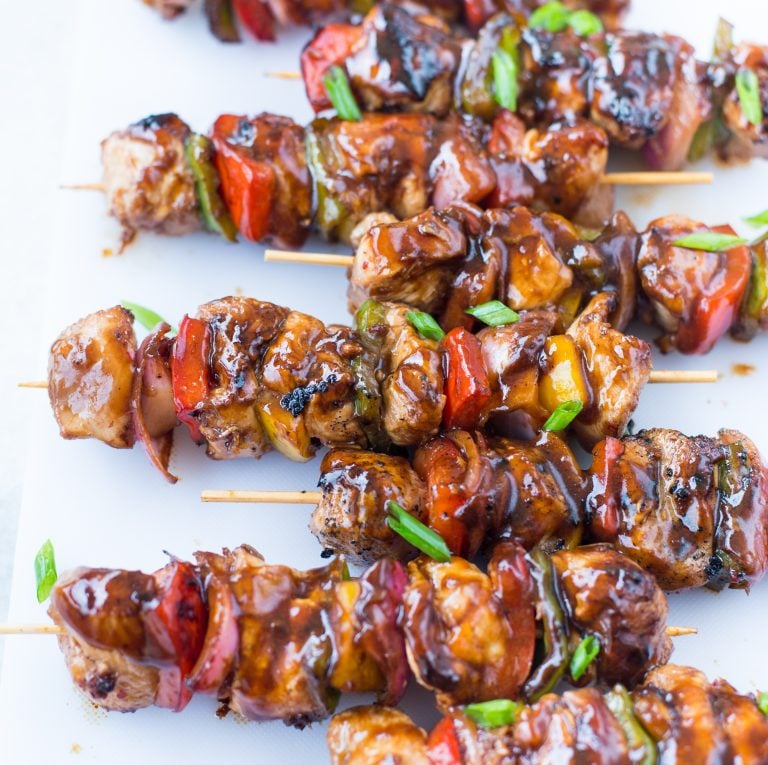 GRILLED TERIYAKI CHICKEN
These amazing Grilled Teriyaki Chicken Skewers with sweet and savoury Teriyaki Sauce are absolutely delicious. Tender Chicken, crunchy peppers and Onion, these chicken skewers are perfect appetizers.
Ingredients
For Chicken Skewer
2 Boneless Chicken Breast
2 Cups Assorted pepper cut into cubes
1 large onion Cut into cubes
2 tspn cooking oil
Salt and Pepper as per taste
10-12 Wooden Skewers (Soaked in water for 15 minutes)
For Teriyaki Sauce
¼ cup low Sodium Soy Sauce
2.5 tablespoon honey
1 tablespoon Rice Wine vinegar Or Sake
.5 tbsp Minced garlic
1 teaspoon Ginger Juice (grate fresh ginger and squeeze the juice)
1 teaspoon Cornstarch
2 tablespoon Water
Instructions
In a bowl, add all the ingredients mentioned under Sauce. Mix everything well.

Take a big bowl, add boneless chicken cubes, onions and peppers. Season it with salt and pepper.

Add two tablespoons of the sauce. Mix well. Cover the bowl with a cling wrap and let it rest for 30 minutes.

Thread Chicken pieces, Onions and pepper cubes alternately to the skewer. Leaving little space to both the ends.

Meanwhile, take the remaining sauce in a pan. Add cornstarch water mixture. Cook it on low-medium heat till it is reduced and thickened.

Grill the Skewer for 3-4 minutes per side or until the meat is done. Baste with the reserved sauce.

Remove the chicken skewers from the grill and glaze with the more sauce if preferred.

Serve.
Nutrition
Serving: 100g | Calories: 161kcal | Carbohydrates: 16g | Protein: 17g | Fat: 2g | Cholesterol: 48mg | Sodium: 490mg | Potassium: 475mg | Fiber: 1g | Sugar: 11g | Vitamin A: 1600IU | Vitamin C: 68.2mg | Calcium: 21mg | Iron: 0.8mg