This post may include affiliate links that earn us a small commission.
Roasted Corn Salad is packed with sweet corn, cucumber, tomato, and onion and tossed in a lemony salad dressing. Charred corn adds a lot of flavor to the salad. This quick salad is a perfect side dish for summer BBQs or potlucks.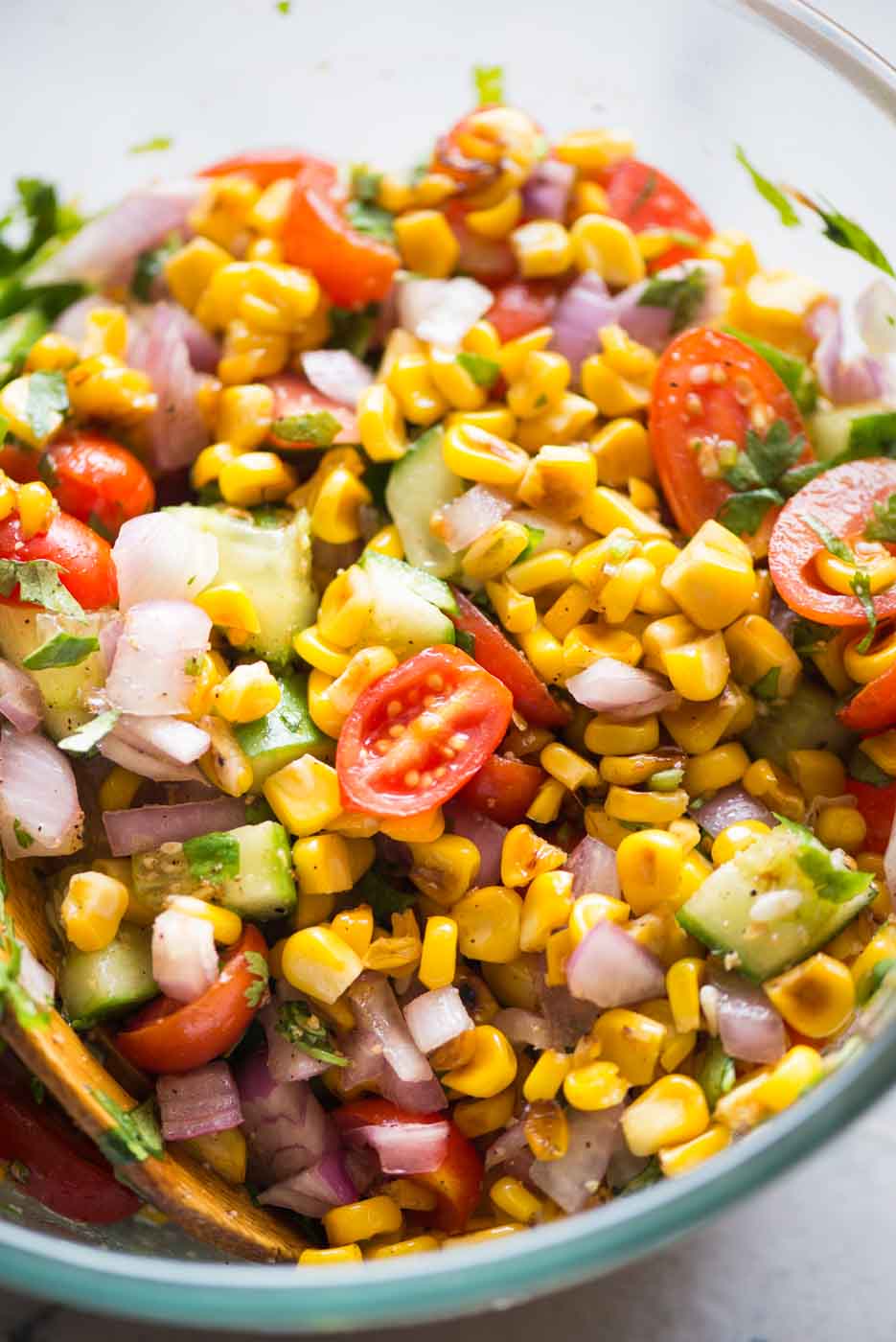 Packed with fresh summer produce, this Roasted Corn salad is refreshing, simple, and has all the Mexican flavors. Sweet and Juicy corn kernels are roasted first, with the charred corn adding a smoky flavor to the salad. This corn salad recipe combines the sweetness of corn, the crispness of cucumber and tomato, and the zingy flavors of onion and lemony dressing.
If you plan to take this salad to a potluck or backyard barbeque party, this is perfect for making it ahead. It can easily be made for a larger crowd.
Let's now discuss the dressing. A lemony dressing gives the salad a fresh, zesty accent that naturally brings out the components' tastes. A light and energizing dressing is made from tart lemon juice, a tiny bit of olive oil, salt, and pepper, which perfectly links the tastes of the salad together. The salad dressing is tangy with heat from chili powder and roasted cumin powder.
Check out Corn Pasta Salad for another corn salad recipe with added pasta. I have used corn in many delicious recipes, like dips in Chessy Corn Dip, chowder recipes like this Instant Pot recipe, and Bacon and Shrimp. Corn makes excellent appetizers like these cheesy corn fritters.
How to roast corn for salad
Roasted corn is the game-changer here. The charred bits of corn kernels enhance the sweetness and add smokiness to the dish. There are several ways to roast corn; it is up to your convenience.
On a skillet– Use a cast iron skillet to get the perfect charred effect. Add corn kernels to a hot, greased cast iron skillet. Roast it on medium-high heat for 5-6 minutes, stirring continuously, until you see charred spots. In the video below, I have used a Cast Iron skillet to roast the corn.
On Stovetop Grill– Another way to roast Corn is on a grill pan. Using a pastry brush, apply oil to the corn on the cob. Season it with salt and pepper. Cook on a grill pan until the corn looks charred.
On BBQ grill– If you are outdoors with access to a BBQ grill, grill some seasoned corn directly on the grill until charred.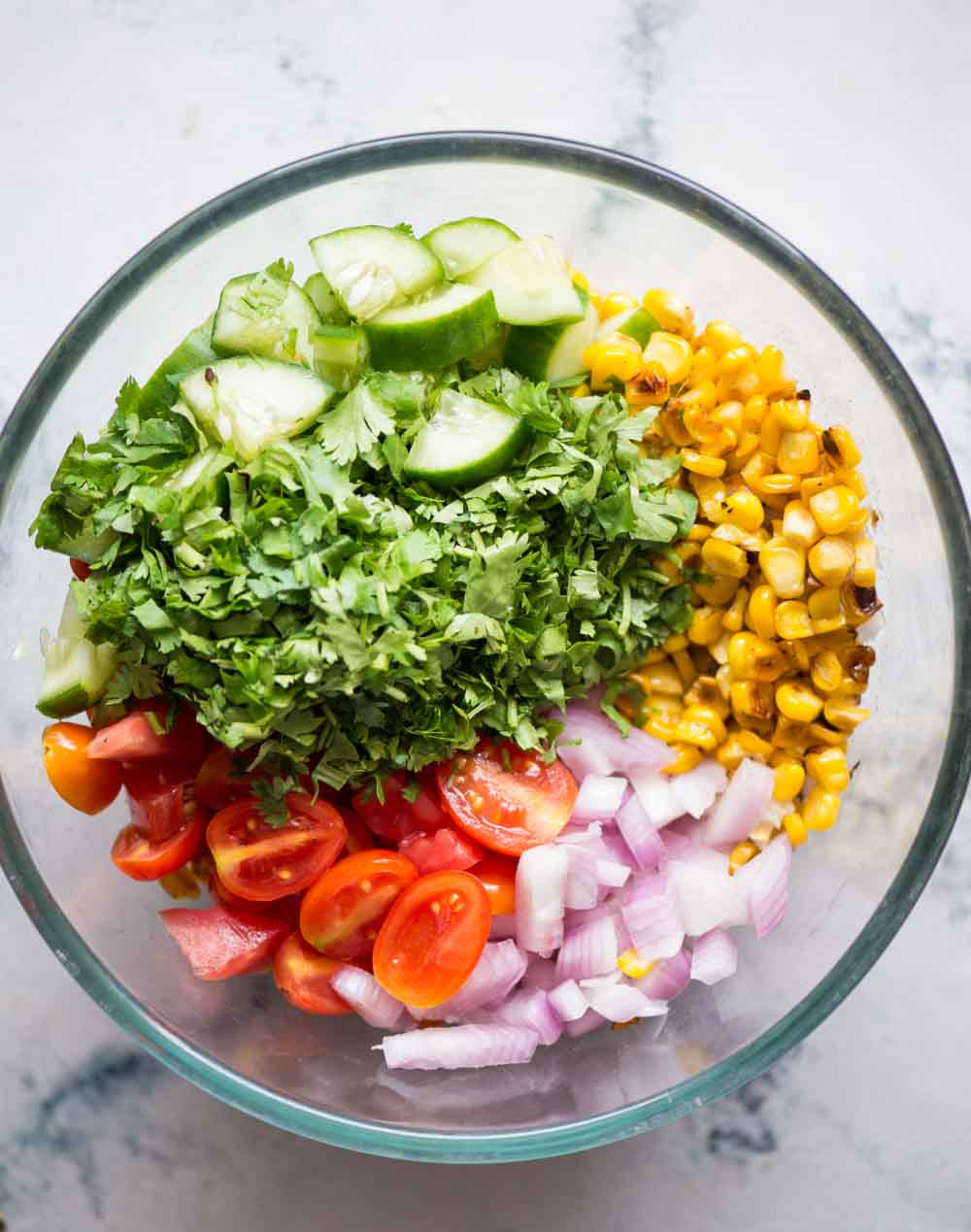 Ingredients
For the lemon dressing
Fresh lemon juice – The citrusy note of freshly squeezed lemon gives a zesty flavor.
Olive oil – Go for a good quality Extra virgin olive oil that adds richness and a smooth feel to the salad.
Garlic powder – For the savory notes from my favorite aromatic.
Roasted cumin powder – Grind toasted cumin seeds to a powder to give a warm feel.
Smoked paprika – Increases the overall smokiness and depth of flavors.
Salt & pepper – Salt and pepper to balance the other flavors.
For the salad
Corn – Use the freshest seasonal corn. Sweet corn is the star of the dish. It brings a sweetness, and the charred notes make the salad shine.
Cucumber – Look for English or regular cucumber with a light green color. It is better to have thin skin and fewer seeds not to taste bitter. Chop into small pieces to taste each spoonful's crunch and other ingredients.
Tomatoes – Fresh red tomatoes like cherry tomatoes or Roma tomatoes work best.
Onion – Adds a savory and sweet note along with some crunch.
Bell pepper – Red or yellow bell pepper add a pop of color and a hint of sweetness.
Jalapeno – For a spicy twist, remove the seeds and dice them for some heat in the salad.
Herbs – Fresh herbs like cilantro or parsley add a herby note and brighten up flavors.
Steps To Make Roasted Corn Salad
Roast Corn
Grill corn in any of the above methods and keep aside to cool. Ensure roasted corn is completely cool before adding other vegetables, or other veggies will lose their crispiness.
Chop Vegetables
Start with fresh cucumber, cherry tomatoes, and onion. Fresh veggies will give crunchiness. Add chopped red or green bell pepper, Jalapeno for extra heat. You can also add diced Avocado just before serving. Chop or tear fresh herbs like cilantro.
Prepare the Salad Dressing
Add the ingredients for the salad dressing in a small bowl and whisk together the lemon juice, olive oil, garlic powder, roasted cumin powder, smoked paprika, salt, and pepper to create that irresistible dressing.
Assemble and toss
Assemble the ingredients for the salad – the roasted corn, chopped veggies, bell pepper, jalapeno, and onions in a large bowl.
Drizzle the lemony dressing over them. Toss everything well so the dressing coats the other ingredients evenly. Sprinkle chopped coriander and serve.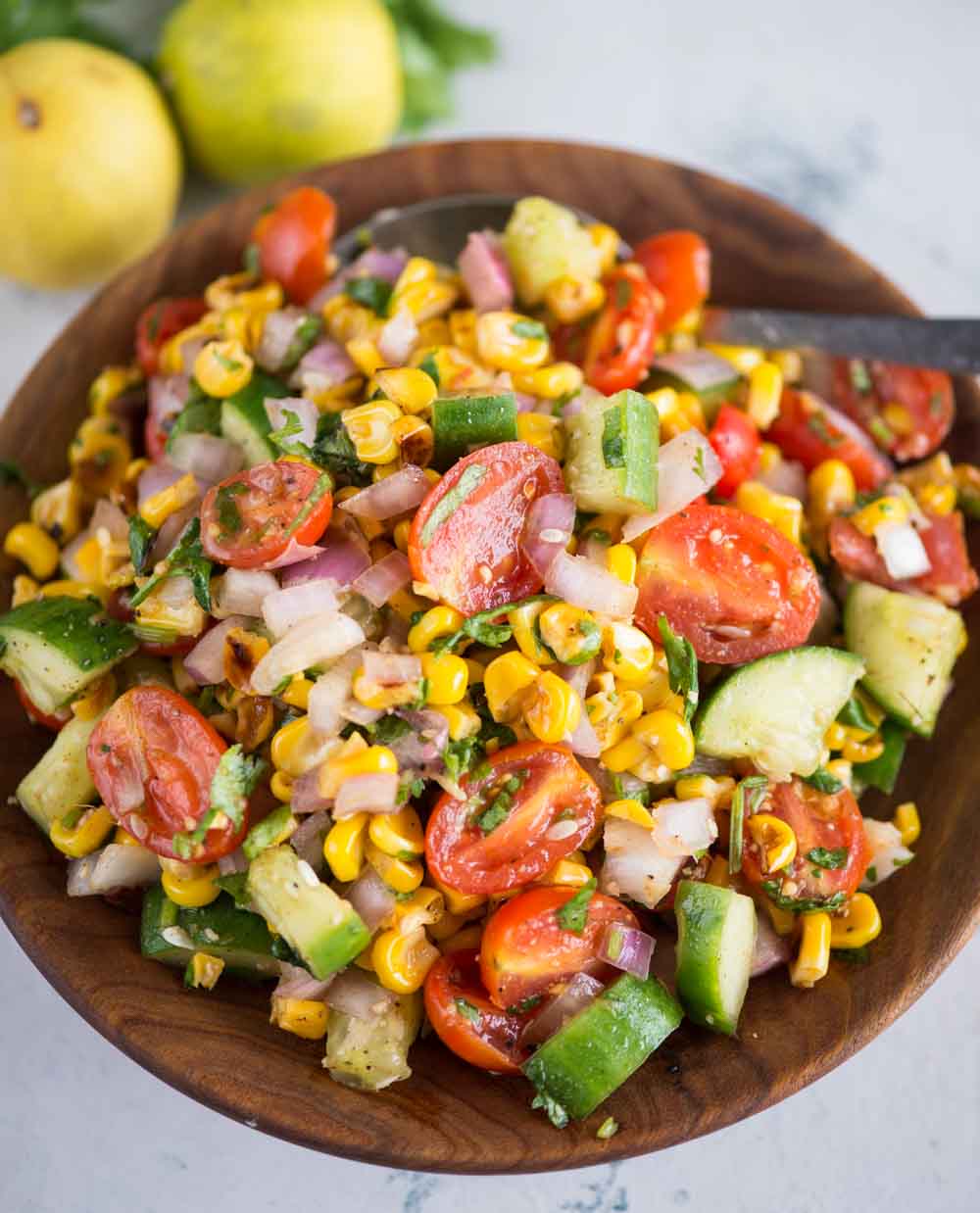 Store leftovers
This salad is best served fresh to enjoy the crispness and texture. You can also serve it cold after a brief time in the refrigerator.
You may store in the refrigerator for up to 3 days. Keep the salad separately in an airtight container. Before serving leftovers, give the salad a gentle toss so the corn and veggies get a good coating of the dressing.
If you plan to prepare this salad ahead, don't add the chopped coriander and dressing. Just before serving, add fresh coriander and the salad dressing.
Serve with
Have it as a light lunch or dinner, or let this corn salad's fresh and vibrant flavors shine along with other mains.
Flavours In Your Inbox
Subscribe for recipes straight to your inbox
More Summer Salad Recipe
Italian Chopped Salad – Authentic Italian salad with fresh greens, tomatoes, and onions tossed in a light vinaigrette.
Easy and Zesty Quinoa Salad – Quinoa, vegetables, and feta cheese with an olive oil vinaigrette.
Cucumber Strawberry Salad – The freshness of cucumber and the sweet juiciness of strawberry make a great combo.
Lemon Dill Potato Salad( No Mayo) – Dill leaves sprinkled over another toss of herby, lemony dressing, and potatoes.
Cold Tuna Pasta Salad – an easy summer salad that is healthy with the goodness of tuna, macaroni, olive oil, and veggies.
Cherry Tomato Salad – Seasonal cherry tomatoes, red onion, and basil tossed in a light olive oil red wine dressing.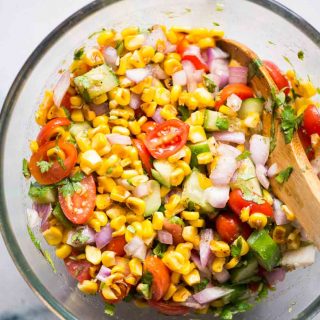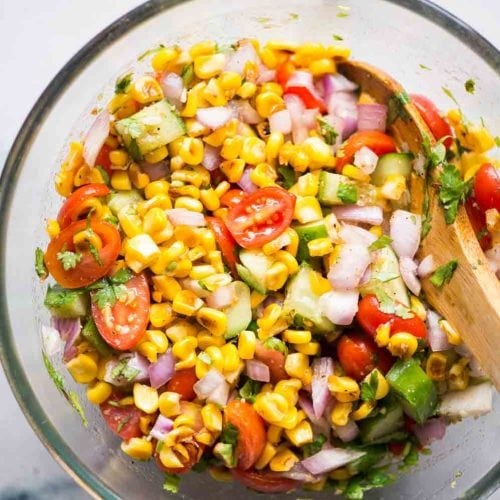 Roasted Corn Salad
Fresh Roasted Corn Salad is packed with sweet corns, cucumber, tomato, onion and tossed in a lemony dressing. Charred corn ads a lot of flavour to the salad. This quick salad is a perfect side dish in summer BBQs or for potlucks. 
Ingredients
4 cobs Fresh Corn
1 cup Chopped Cucumber
1 cup Halved Cherry Tomatoes
½ cup Chopped Onion
½ cup Chopped Fresh Coriander
1 Avocado
For Salad Dressing
¼ cup Olive Oil
2 tablespoon Fresh Lemon Juice
½ teaspoon Garlic Powder
½ teaspoon Roasted Cumin Powder
½ teaspoon Smoked Paprika
salt and pepper to taste
Instructions
Start with roasting corn kernel. Heat a castiron skillet until smoking hot. Add 1 tablespoon of oil. Season with a pinch of salt and pepper.

Roast the corn kernels for about 5-6 minutes, stirring in between, until the corn looks charred and smells really good.

Keep the corn aside and let it cool completely before adding other vegetables.

Mix well all the ingredients for the dressing and keep aside.

For making the salad, in a salad bowl add cooled Roasted Corn, chopped Cucumber, halved cherry tomatoes, onion, avocado and fresh Coriander.

Drizzle desired amount of dressing and toss everything well.
Nutrition
Serving: 1g | Calories: 134kcal | Carbohydrates: 12g | Protein: 2g | Fat: 10g | Saturated Fat: 1g | Sodium: 12mg | Potassium: 232mg | Fiber: 2g | Sugar: 4g | Vitamin A: 394IU | Vitamin C: 12mg | Calcium: 9mg | Iron: 1mg