Pan-Seared Lamb Chop Recipe
This post may include affiliate links that earn us a small commission.
Get ready to indulge in a succulent and flavorful lamb chop dish that's quick and effortless! These pan-seared lamb chops are marinated with delightful Mediterranean spices, delivering a crispy crust on the outside and a tender, pink interior. You'll love the fantastic flavor and simplicity of this recipe.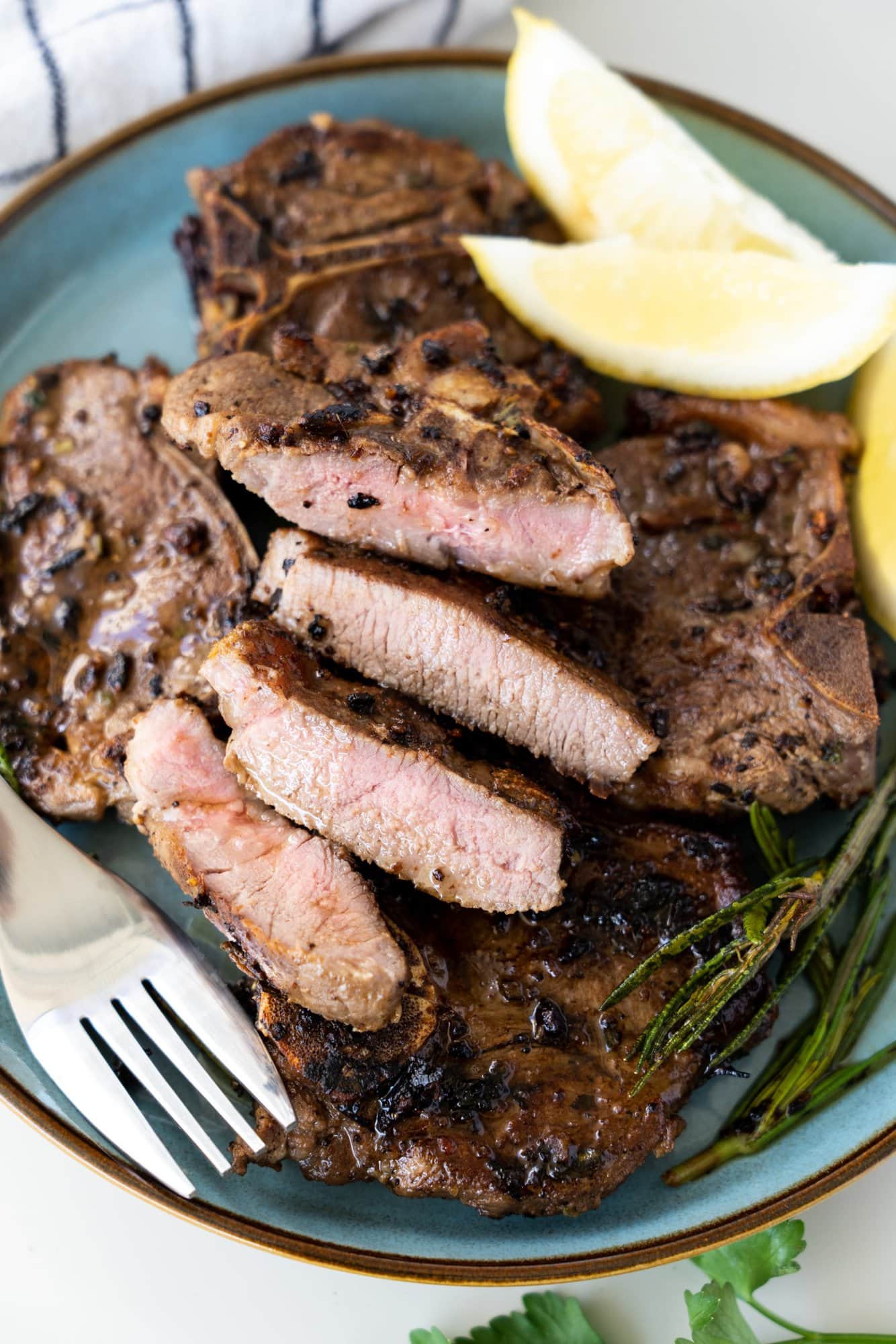 A well-done lamb chop stands on its own. When you take your first bite of these pan-seared lamb chops marinated in the Mediterranean marinade, it will be worth all the little effort (really, it is easy to make) in the kitchen. The pan-searing imparts a wonderful roasted crust on the chops. The chops are also perfectly cooked (look at the pink insides. Yum and Inviting!!)
Flavours In Your Inbox
Subscribe for recipes straight to your inbox
These lamb chops' deliciousness comes from how well they are cooked and their Mediterranean-inspired marinade. Allow the marinade to work its magic, and by the time you have seared the chops on the pan, the house smells sumptuous and inviting.
Lamb or mutton is a favorite meat in my family, and we have had other recipes like this Slow Cooker Lamb Stew, Stuffed Peppers with Spicy Lamb and Brown Rice, or Turkish Lamb Pide. One recipe we often make is the flavorful Indian Mutton Curry (Stove Top & Slow Cooker).
Which part is lamb chop?
Lamb chops are cut from the loin area where the rib meets the spine. These cuts have a segment of the spine, including a rib or two. Hence, they are also known as loin chops or rib chops. These also come in the broader portion as a rack of lamb.
Most lamb chops are served to make an 'L' section, with the tail end having a good portion of the meat. The meat in the tail is tender and juicy, and the bone isn't something to leave behind. They have flavor any way you cook them.
Pork chops are similar cuts to lamb chops, and you can check out recipes where I have paired them with two delightful sauces. One, with a sour cream sauce – Skillet Pork Chops With Sour Cream, and another with a creamy mushroom sauce – Pork Chops In Creamy Mushroom Sauce.
How to get the best lamb chops
When buying lamb chops from the local butcher, try to get chops that look pink to slightly red in the meat. This would indicate that the meat is not very old and shouldn't have a grainy texture. Avoid getting grey or dark red meat, as this could be from much older animals.
The fat in lamb is not as prominent or influential as that of steaks, but look for marbling which is fat lines that run through the chop. Avoid fat that has turned yellow.
The size or thickness of the chops will define your experience. Lamb chops should be at least an inch thick and not more than 2 inches. A thick chop's outside will be cooked, but the middle will still be raw.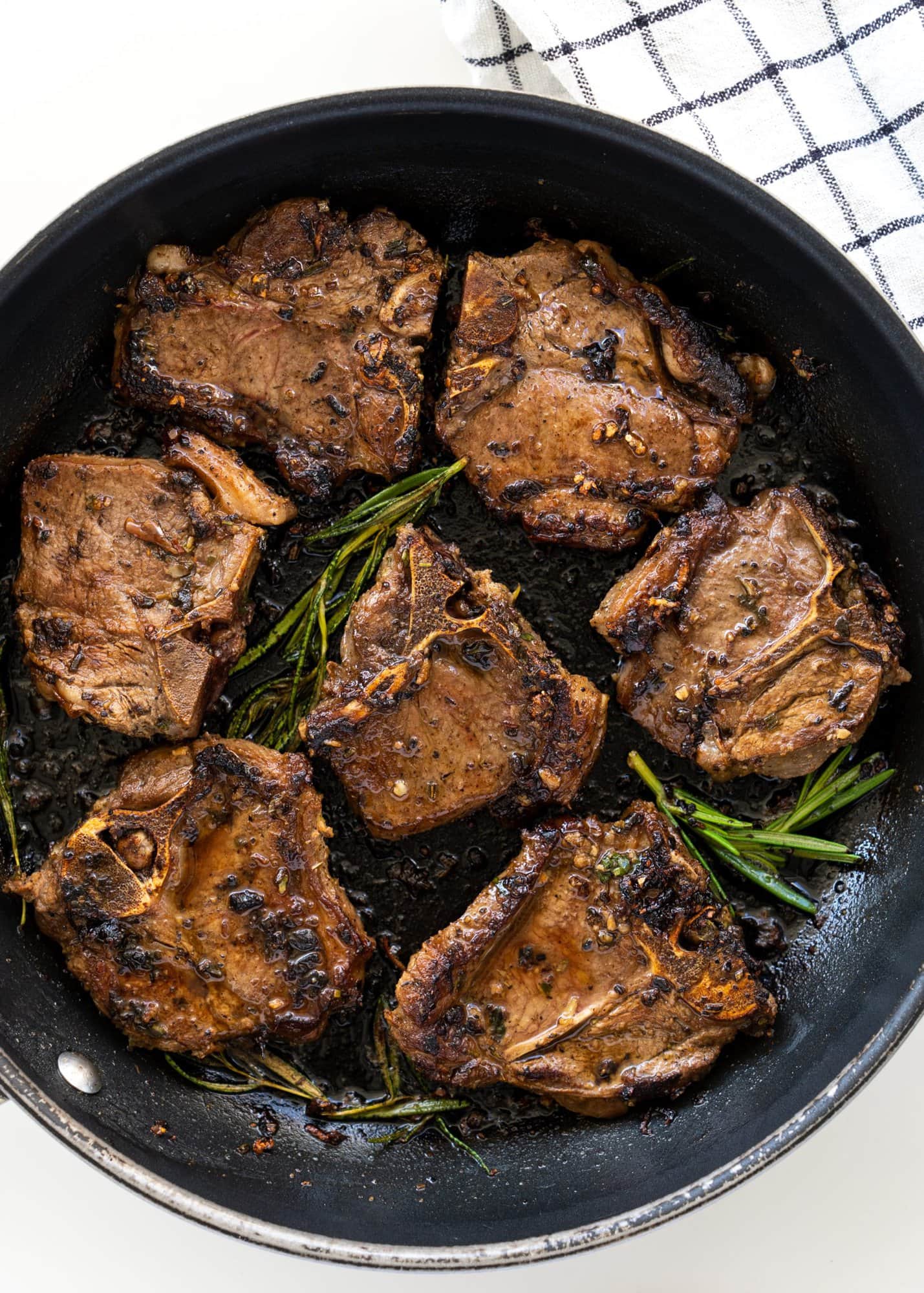 Mediterranean marinade
Though lamb chops are fine meat by themselves, the taste and flavor of the seared chops come from this fantastic Mediterranean marinade. The marinade is made of a few ingredients that would be available in most kitchens or nearby stores.
Olive oil – provides the base of the marinade and is a very healthy fat.
Lemon juice – I have used lemon juice and zest for that citrus fragrance and taste.
Garlic – is a flavor bomb, and I love to use it when possible.
Parsley – gives those herby characteristics to the marinade. You may use basil instead of parsley or both. Use fresh leaves. Thyme or rosemary are good alternatives.
Cumin – Highly fragrant and potent and is the most popular middle eastern spice. Available and used around the world too.
What Is The Internal Temperature For Lamb Chops Recipe?
Lamb chops can be cooked to different degrees of doneness as per preference. To check the internal temperature, insert a meat thermometer in the thickest part of the meat.
For rare, it is 130˚F
For medium-rare, it should be 140˚F – 145˚F
For medium-well is 160˚F
For well done, the ideal temperature is 165˚F
Resting the chops for 8-10 minutes before cutting is also essential. Resting helps the chops absorb the juices into the protein strands released during cooking. This keeps the chops juicy and tender. If you serve the chops immediately, the juices will ooze out when you cut the meat, and the chops will taste tough.
How to cook lamb chop?
Lamb chops are not hard to cook. I would say that Lamb chops are pretty straightforward and one of the quickest dishes to make.
These pan-seared lamb chops require just a couple of bowls and a pan (heavy – preferably) in terms of equipment. Effort goes in just whisking up the marinade and then searing and cooking the chops on the pan.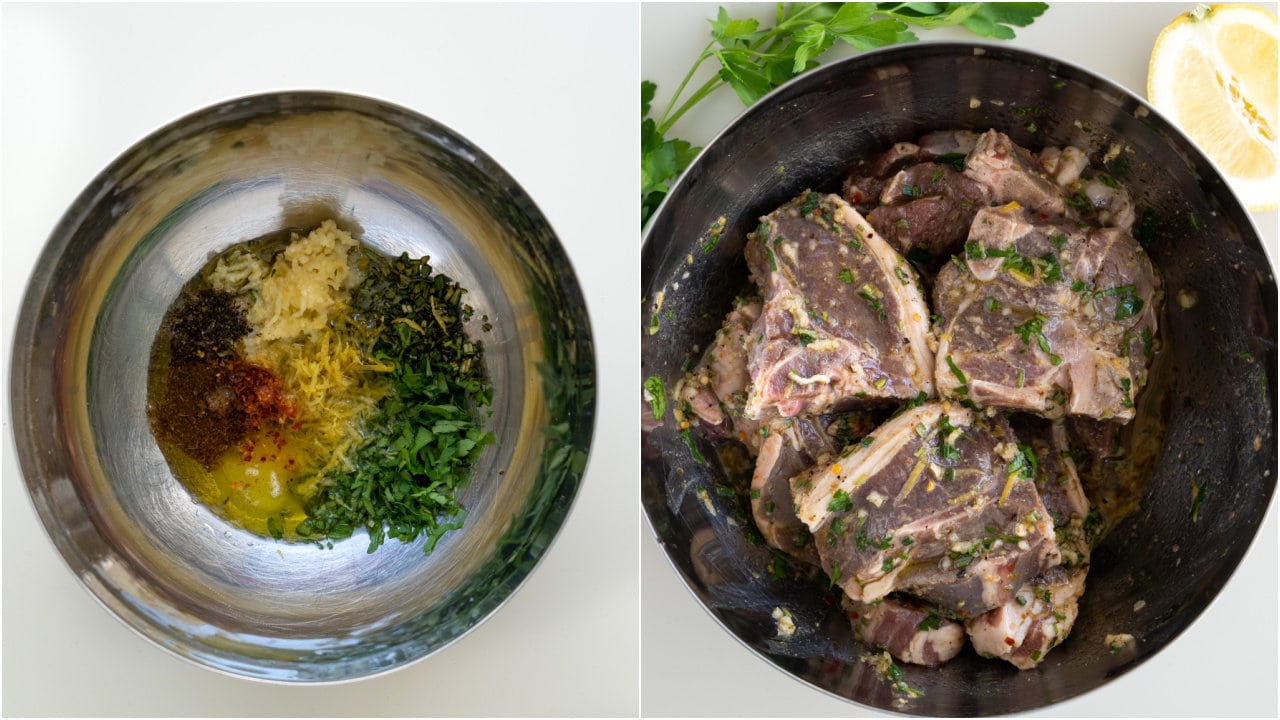 Prepare the Mediterranean marinade
The Mediterranean marinade is one of the quickest things to do. Gather all ingredients and add to a bowl. Mix them properly, and you are ready.
Pour the marinade over the lamb chops in a big bowl and rub them thoroughly. Each side of the lamb should be coated with the marinade. Let the marinated chops rest for 30 minutes for the flavor to seep through.
Sear lamb chops
Heat a heavy pan until it is piping hot and the heat is high. Start searing the chops on one side for 3 minutes and then flip them. Press the back of the chops with a tong so that any fat renders and spills over to the pan. This gives a fantastic flavor and mixes with the wet marinade dripping from the chops.
Turn the heat to medium-low and sear the chops again for 2 minutes. While doing this, you can pour some of the leftover marinades from the bowl, if at all, and baste them. Take the chops out from the pan and let them rest.
Serve with some roasted veggies and mashed potato, and have it hot.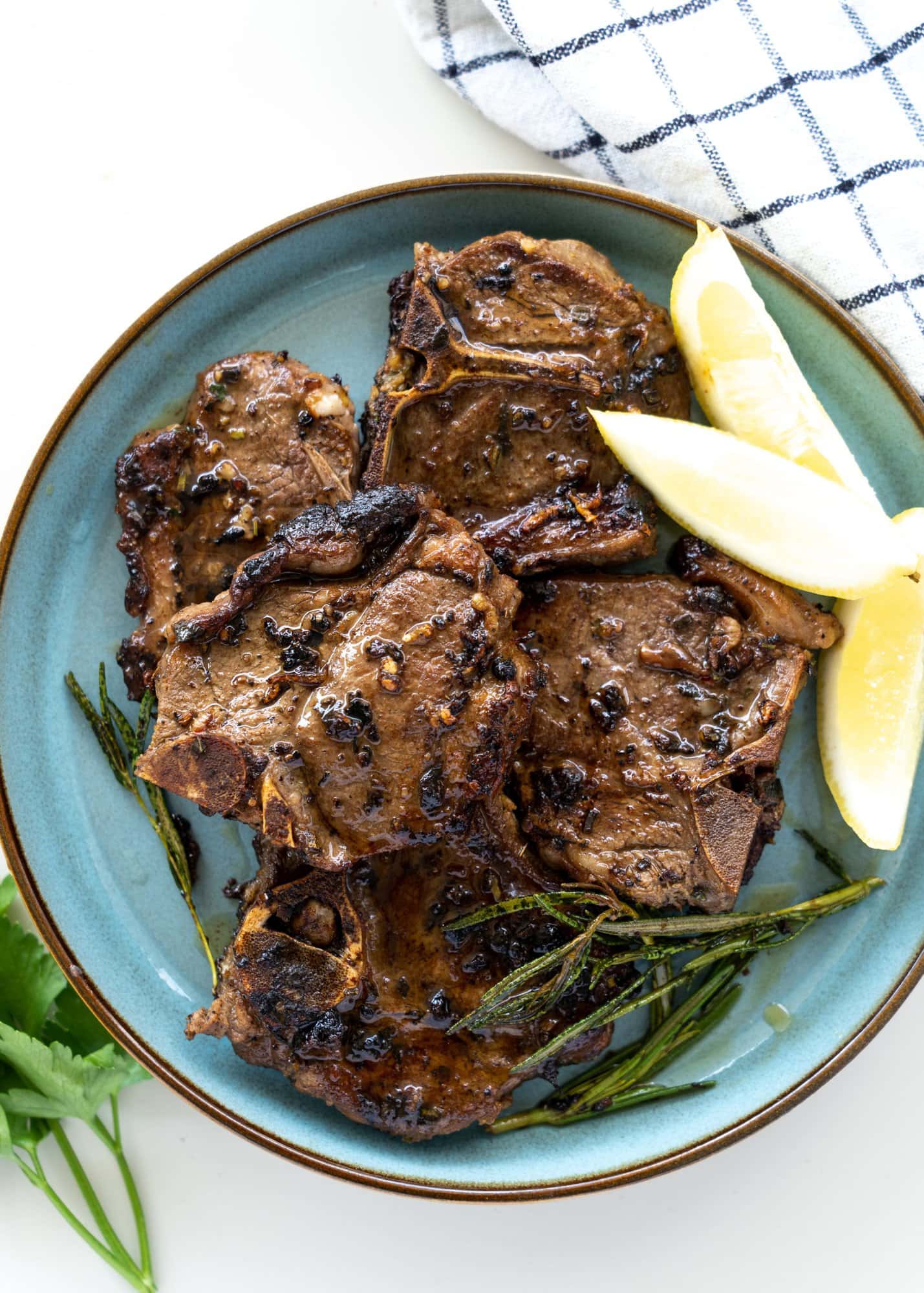 Recipe tips for juicy and tender lamb chops
Get the best cuts for lamb chops. You can refer to the previous section on identifying thickness, color, and which kinds of cuts to select to get the best results.
Marinate ahead – marinating for at least a couple of hours makes a lot of difference. Lamb chops by themselves would taste blend. A good marinade, especially with salt and given time, adds flavor and tenderizes the meat.
Thaw – allow the frozen chops to come to room temperature, which shall help in cooking evenly.
Right skillet to sear – Get a cast iron skillet or heavy-bottom skillet since the heavy bottom ensures uniform heat distribution and even cooking of the chops. Thin bottoms appear to cook the surface much faster, but the center remains relatively raw.
Do not overcook – watch when you have left chops to sear on the skillet. Chops cooked to rare or medium-rare is preferable, as they lock the juices inside and stay juicy and tender. Chops would need no more than 3-4 minutes on each side to cook to 130°F or 145°F. Cooking them for longer guarantees makes them dry due to moisture loss and will have a rubbery texture. Use a kitchen thermometer and cook until the center reaches the desired temperature.
Resting time – Do not serve immediately after taking the chops off the skillet. Allow the chops to rest covered for 10 minutes until the juices get re-absorbed and help the chops remain juicy and tender.
Can you store lamb chops?
You can store uncooked lamb chops in the freezer for up to a few months. I would not advise storing cooked lamb chops in the refrigerator or freezer. The reason is lamb chops tend to lose moisture the moment they are heated and keep on losing while getting cold.
Cold chops from the fridge would be pretty dry and not taste the same. If you still insist on freezing them, do so in an air-tight container or zip-lock bag.
When you take them out, let them thaw, and then heat them again in an oven for a few minutes. Do not microwave them, as it makes them super dry.
Serve With
Lamb chops are one of the best meaty dishes to serve on a table. They are packed with protein, and to make a balanced meal out of it, you may consider these options to serve chops with: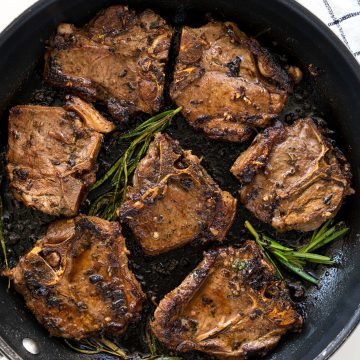 Pan Seared Lamb Chop
Lamb chops are marinated in Mediterranean inspired marination and then are pan-seared until it is nicely caramelized on the outside while it is juicy and tender from inside.
Ingredients
8-10 Lamb Chops
4 tablespoon Olive oil
¼ cup Fresh Lemon Juice
Zest of a lemon
3 Garlic Pods, minced (about 1 tablespoon)
2 tablespoon Chopped Parsley
1 teaspoon Roasted ground Cumin
½ teaspoon Pepper
1 teaspoon Salt
Instructions
In a bowl, add all the ingredients(except 2 tablespoons of Oil) for the marination.

Add Lamb chops to the marinade and massage the marinade well with fingers. Cover and let it rest for 30 minutes to 1 hour.

Heat remaining oil in a large cast iron skillet. When the pan is hot, add the lamb chops and cook undisturbed until a rich, brown crust forms on the bottom. It should take 4-5 minutes.

Lower the heat and flip the lamb chops. Spoon some of the pan drippings on top of the chops while cooking. Cook for another 4 minutes or until an instant-read thermometer inserted into the thickest part of the meat registers 145°F.

If the lamb chops are too thick then it should take about 10-12 minutes in total.

Let it rest for 10 minutes before cutting.
Nutrition
Serving: 1chop | Calories: 348kcal | Carbohydrates: 1g | Protein: 42g | Fat: 19g | Saturated Fat: 6g | Polyunsaturated Fat: 1g | Monounsaturated Fat: 10g | Cholesterol: 129mg | Sodium: 391mg | Potassium: 545mg | Fiber: 1g | Sugar: 1g | Vitamin A: 1IU | Vitamin C: 3mg | Calcium: 21mg | Iron: 4mg