This post may include affiliate links that earn us a small commission.
Shredded sweet carrots paired with pineapple chunks, raisins, and crunchy walnuts. The creamy Mayo dressing with dijon mustard is perfect for the carrot salad.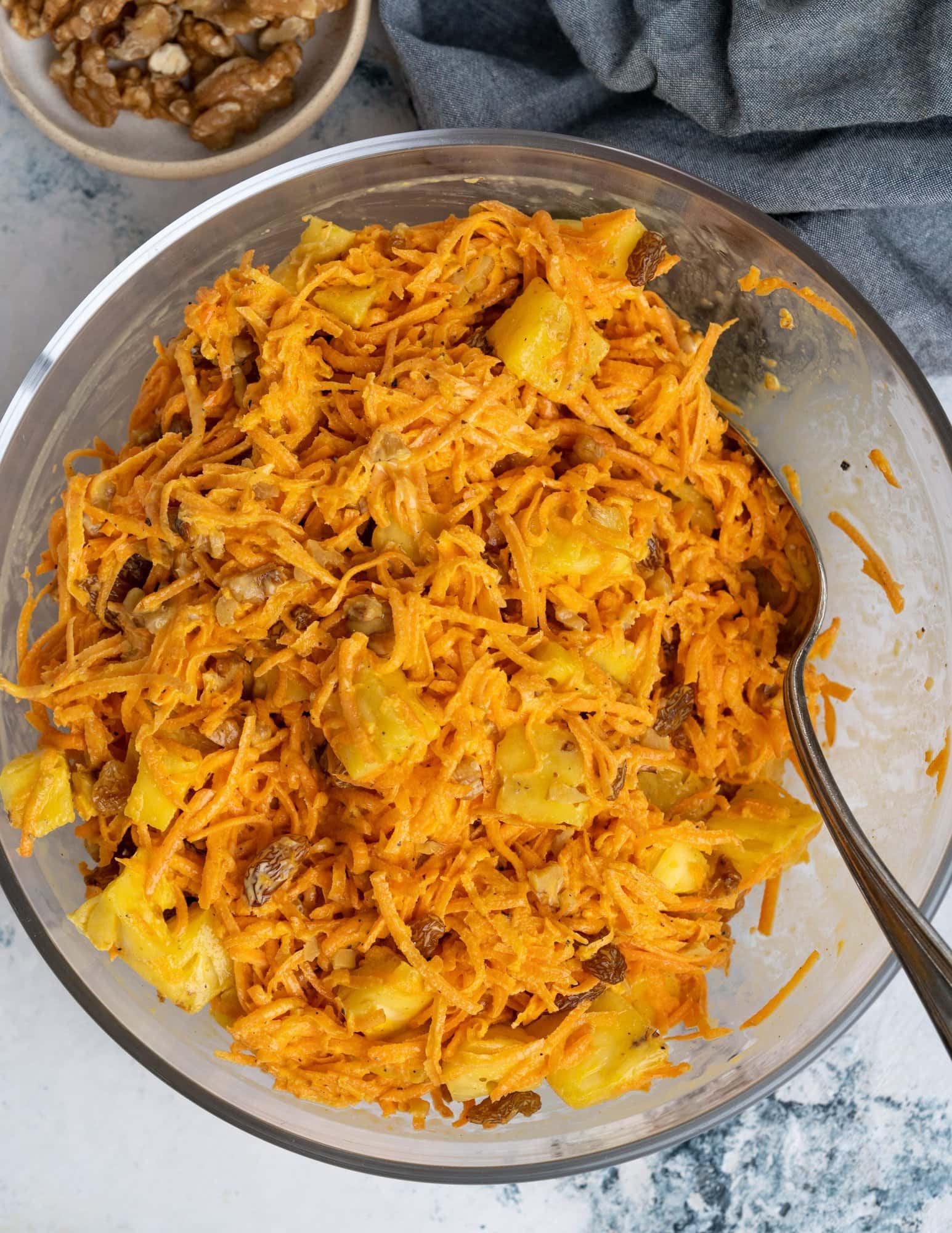 Add another easy and tasty salad recipe to your collection. This a simple and healthy carrot salad recipe, that is diary-free, that combines the crunchiness of shredded carrots and walnuts and tropical flavors from pineapple chunks. This veg and fruit combination is then coated with a rich and creamy mayo-based dressing. Dijon mustard gives it a sharp tang and lemon juice brings Mediterranean flavors.
This recipe is more like a base that you can build from by adding a few veggies, berries, or nuts as you like it.
Flavours In Your Inbox
Subscribe for recipes straight to your inbox
Plain raisins are added along with chopped pineapple to the salad for natural sweetness and flavor. Gives a unique twist to the salad bringing its tropical flavors and packing it with nutrition and anti-oxidants. You may add golden raisins, cranberries, or blueberries instead. Toasted walnuts add a crunch to every bite.
Now, that's quite a flavorful approach that takes simple ingredients to the next level. A salad is so easy, you can just whip it up with everyday ingredients in less than 10 minutes.
The best part is the mayo-based dressing with dijon mustard and lemon juice. You can make it ahead and store it in the refrigerator for later use.
Mayo dressing
A good dressing gives life to a salad
I so love this mayo dressing with its Mediterranean flavors. The mayo gives the creaminess crunchy vegetables need so much and the lemon juice keeps it from tasting like other mayo dressings.
You can make this creamy dressing from everyday ingredients. The best version of this creamy mayo-based dressing comes from good-quality olive oil and dijon mustard. This does not have vinegar but has lemon juice as the acid.
Dijon mustard acts as a emulsifier. It helps make the bond between oil and water molecules(from the lemon juice). It also has a sharp taste. Making this salad is as easy as it comes – hardly takes 5 minutes.
I have used similar versions of dressing, but without the mayo, in Chicken Pasta Salad and White bean salad recipes, and they aren't creamy. Those are classic vinaigrette but with a zesty citrus taste.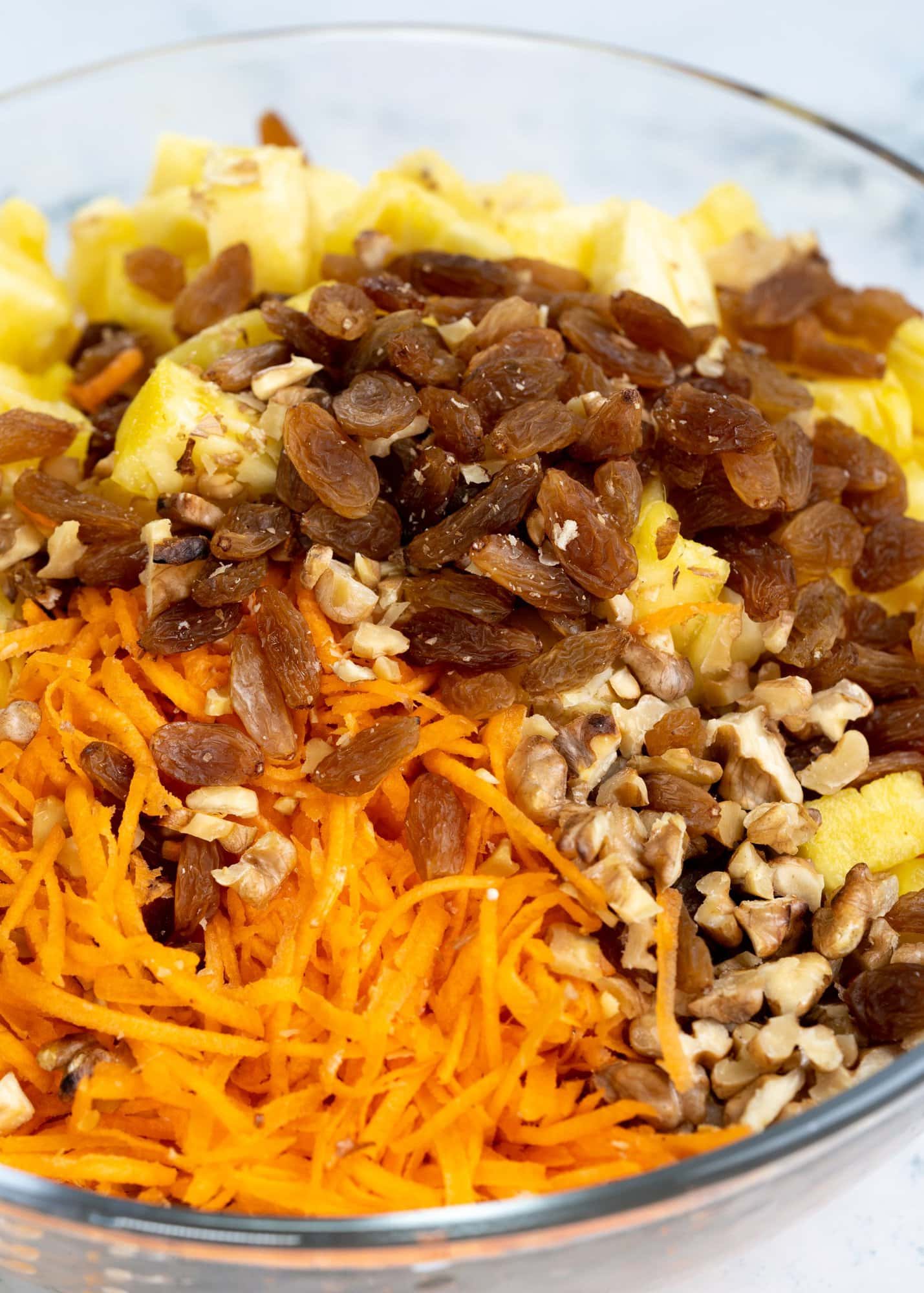 Ingredients
Carrots – get medium-sized carrots that will be grated.
Raisins – add flavor, sweetness, and health benefits to the salad.
Pineapple – chopped and added to the salad. Adds a tropical flavor to the salad.
Walnuts – are added for their nutty taste and crunch.
(Optional) – You can add diced onions for flavor and fresh herbs like chopped parsley leaves for aroma. Even seeds like sunflower seeds can be added to this recipe.
For mayo-based dressing
Mayonnaise – Add mayo to add a rich and creamy texture to the salad. Can substitute half or more of it with sour cream or greek yogurt for a healthier alternative.
Lemon juice – the citric acid in the juice forms the sour base for the vinaigrette and adds a Mediterranean flavor. You may substitute this with orange juice.
Dijon mustard – acts as an emulsifier to hold the water and oil together. It also provides a sharp and strong taste yet is slightly spicy.
Sugar – to balance all that sourness, pungent, and salt in the salad from the other ingredients.
Salt and pepper – salt bring out all the other flavors and use it and pepper as per your taste.
How to make carrot salad with creamy dressing?
This is the easiest of recipes to swing. Involves only shredding and tossing things well in a bowl.
First, wash and clean the carrots. Pat them dry. Trim the ends of the carrots. Put them in a food processor to grate them or use a grater. You should see thin long threads of grated carrots.
Prepare the dressing in a medium bowl. Add mayo, lemon juice, dijon mustard, sugar, pepper, and salt. Whisk it well. You can refrigerate the dressing and use it later too.
Toast the walnuts for a while. Add shredded carrots, raisins, chopped pineapple, and toasted walnuts in a large bowl. Pour the dressing all over and toss well ensuring the dressing coats everything.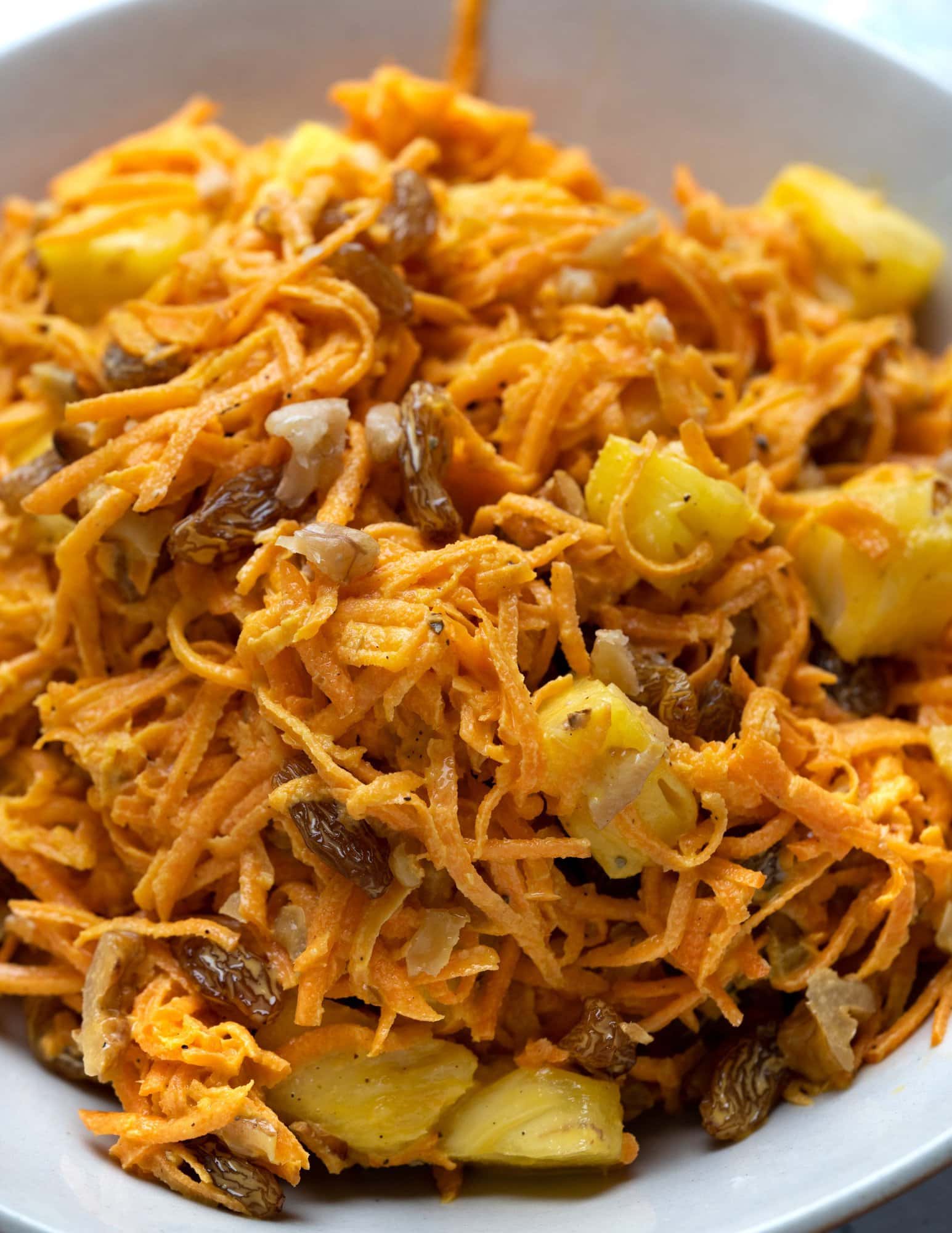 Tips for creamy carrot salad
You can make it healthier by substituting a good portion of mayo with sour cream or greek yogurt. It will be healthier but not as rich and creamy.
To make it vegan, you may use eggless mayo from nearby stores.
You can use pecans instead of walnuts.
Toasting nuts makes them taste much better. Toasting brings out the oil from nuts to the surface, increases their flavor, and makes them crunchy.
You can toast nuts on dry heat or use a little oil. Store-bought nuts are usually roasted and can be used directly off the pack.
You may substitute pineapple with apple. Apple slices work great too.
Using canned pineapple? Drain the liquid properly first, or else it makes the salad soggy.
Store
This carrot salad is best served fresh. You can refrigerate this for a couple of days but the veggies and fruits give away water and become soggy in this mayo dressing. The better thing would be to refrigerate the mayo salad dressing and add it to other freshly chopped and grated ingredients at the time of serving.
Having said that, you can surely keep this in the refrigerator for a few hours to serve it cold.
The dressing can be stored in the refrigerator for up to 4 days. Salad dressings based on mayonnaise, which has egg, and will not stay beyond this.
Serve with
With a fiber-rich salad like this one, complete your meal with some meaty mains along with a glass of white wine. For meat dishes checkout – Easy Grilled Chicken with Buttermilk Marinade, Roasted Harissa Chicken, Skillet Pork Chops With Sour Cream, or Air Fryer Salmon. You can also add Roasted Garlic Mashed Potatoes.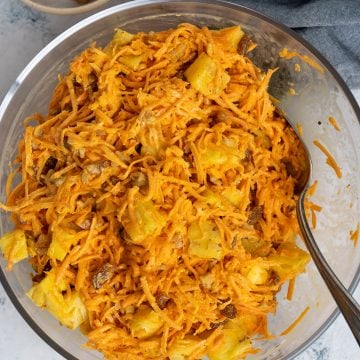 Creamy Carrot Salad
Shredded sweet carrots paired with pineapple chunks, raisins, and crunchy walnuts. The creamy Mayo dressing with dijon mustard is perfect for the carrot salad.
Ingredients
4-5 medium carrots
½ cup raisin
1 cup chopped pineapple
⅓ cup toasted walnuts chopped into smaller chunks
⅓ cup mayo
¼ teaspoon salt
¼ teaspoon pepper
2 teaspoon sugar
2 teaspoon lemon juice
1 teaspoon dijon mustard
Instructions
Clean and trim the ends of the carrots. Using a food processor or grater, grate carrots.

In a big salad bowl, mix Mayo, dijon mustard, Lemon Juice, sugar, salt, and pepper.

Add grated carrots, pineapple chunks, raisins, and chopped toasted walnuts to the above-made dressing. Toss well to combine.
Notes
If using canned pineapple, drain well before adding it to the salad.
You can also use apple instead of pineapple.
Pecan also works instead of walnuts.
Nutrition
Serving: 1serving | Calories: 299kcal | Carbohydrates: 29g | Protein: 3g | Fat: 21g | Saturated Fat: 3g | Polyunsaturated Fat: 13g | Monounsaturated Fat: 4g | Trans Fat: 0.04g | Cholesterol: 8mg | Sodium: 325mg | Potassium: 443mg | Fiber: 4g | Sugar: 9g | Vitamin A: 10230IU | Vitamin C: 25mg | Calcium: 43mg | Iron: 1mg