Pork Chops In Creamy Mushroom Sauce
This post may include affiliate links that earn us a small commission.
Elevate your dinner game with the best juicy, and tender pork chops smothered in a velvety and creamy mushroom sauce. Made in a skillet, this pork chop recipe makes your dinner special and takes just 15 minutes. Impress your family and guests with these savory and indulgent pork chops that are sure to become a favorite.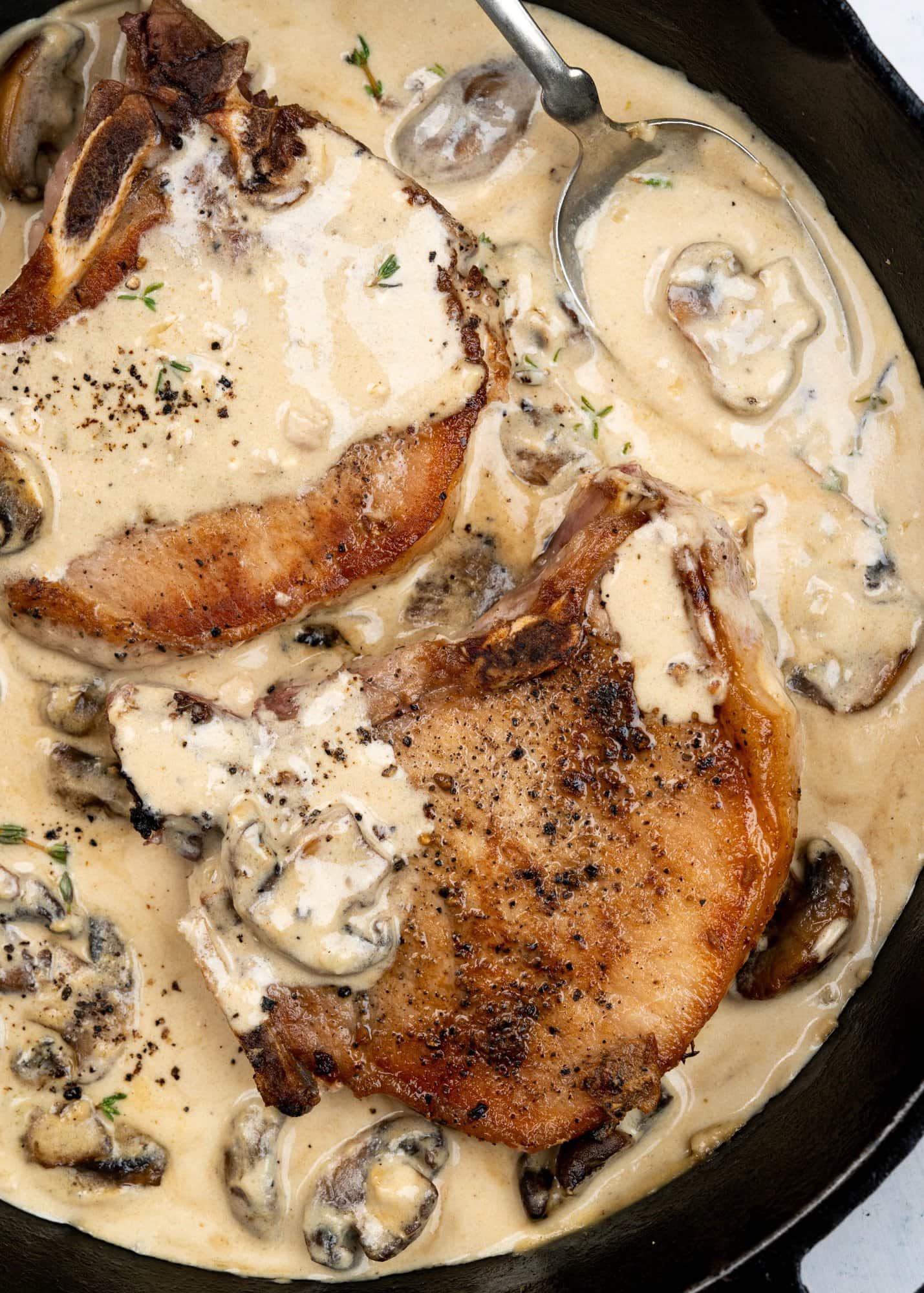 Pork chops seared to perfection with a nice brown sear on both sides. Now, pour some velvety and creamy sauce over the chops with the added depth of flavor from mushrooms. That's so comforting and indulgent at the same time.
Pork chops with this delicious mushroom sauce are excellent comfort food in many countries. It is also a pretty popular restaurant fare. It is easy to make and is regularly dished out at homes for comforting dinners.
Also, this popular cut can be had with gravy, like this Skillet Pork Chops With Sour Cream, which comes packed with savory flavors but with a tang. I have another comforting pork recipe – Spicy Pork Ramen– spicy pork with ramen noodles in a flavorful broth.
Flavours In Your Inbox
Subscribe for recipes straight to your inbox
Another tender cut of the animal that you bake and serve a delicious dinner in 30 minutes is Baked BBQ Pork Tenderloin.
This pork chop recipe is a keeper for homely dinners and would also always be appreciated by guests at a party because –
Pork chops are cooked to perfection. Follow my timelines to sear the chops till the correct temperature and you get the nice crust on the outside and pink doneness in the center.
The mushroom sauce compliments the pork chops very well as it has a creamy texture with complex flavors.
It is a versatile sauce that you should have in your arsenal, and you can pair it with other grilled meats or roasted veggies.
Which part is pork chop?
Pork chops, or pork loin chops, are cut from the loin area of the pig. The loin runs, in the back, from the shoulder to the hip. These cuts have a segment from the spine. You also get pork chops from the shoulder area, which are relatively tougher and suitable for slow cooking.
A pork chop from the loin is usually treated with high heat as a standard. They are leaner and tender cuts of meat, and you can cook them in a few minutes of medium-high heat on both sides.
Lamb chops are similar cuts from lambs, and I have used Mediterranean flavors in the marinade in this Pan-Seared Lamb Chop recipe to get them tender and flavorful.
Another great tender cut from the animal is the pork tenderloin, a very lean cut with little to no fat. Season it with a great dry rub and brush a flavorful BBQ glaze to make a fast and delicious Baked BBQ Pork Tenderloin.
How to get the best pork chop cuts?
Keep the following tips in mind to get the best pork chop cuts.
Bone-in chops – Always prefer bone-in over boneless. The bone that runs on the side of the chops helps distribute heat for even cooking and has more flavor too.
Check for marbling – Marbling refers to thin, fat lines running through the meat. The more marbled a cut is, the more tender it will be. They also will have more flavor.
Color – Check for the pinkish-red color of the meat. Avoid cuts that have a brown or grey color, which happens when the meat is past its prime.
Thickness – We recommend getting cuts about 1 – 1 and 1/2 inches thick.
Creamy mushroom sauce
Creamy mushroom sauce is a rich and versatile sauce that you can pair with many dishes ranging from roasted greens to meaty dishes like pork chops, lamb chops, roasted chicken, pasta, or steak.
This sauce is a condiment that elevates any dish served. It is rich and velvety in texture and has earthy, savory, creamy, and cheesy flavors.
Mushroom sauce is typically made by first sauteing mushrooms in butter. A roux is then prepared by stirring common flour in garlic and butter to prepare the base for the sauce. Wine and then stock (chicken or vegetable) are added to it to make the flavor base. It is often garnished with fresh herbs like thyme and rosemary.
Mushroom has an earthy and umami taste that I find quite flavorful. I have used it in various recipes – Spicy Mushroom Chicken Pasta, Quick Garlic Butter Mushrooms, and Mushroom Gravy.
Some of my other hit sauce recipes are Baked Meatballs In Garlic Butter Sauce, Salmon Pasta in Creamy Lemon Sauce, Instant Pot Chicken In Creamy Tomato Sauce, and Baked Tilapia In Lemon Garlic Sauce.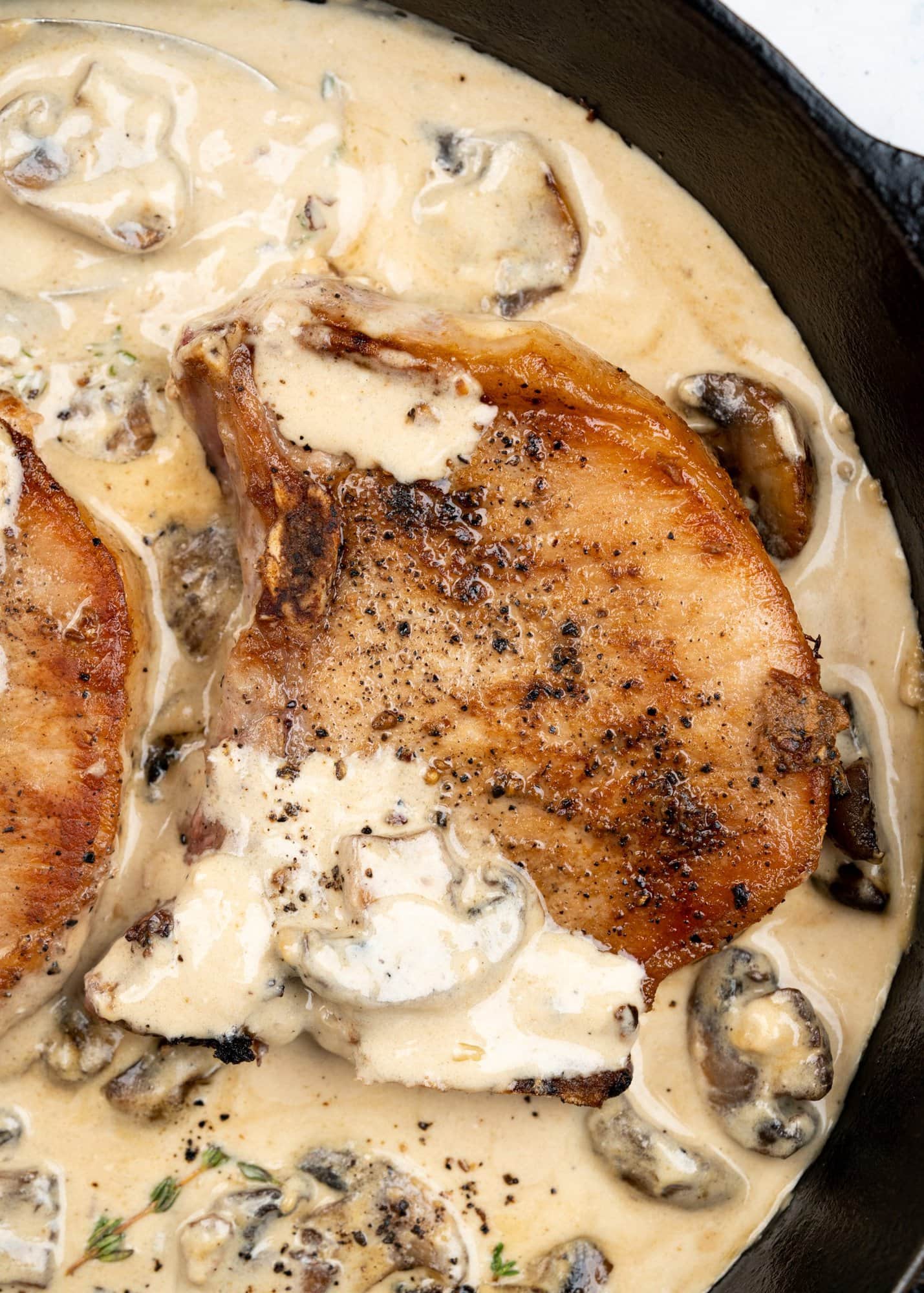 Ingredients required
To season pork chops
This recipe uses a very simple seasoning mix to season the pork chops.
Pork chops with/without bone – Get pork chops about 1 to 1½ inches thick. Thick-cut chops need more time to season and cook in the skillet too. I believe bone-in pork chops always have more flavor and prefer that. Boneless pork chops are ok, too, but you should cook them for a few minutes less.
Salt & black pepper – generously season the chops with them.
Garlic powder – Garlic is the best aromatic in my world. Garlic powder is more intense and convenient, especially for rubs, than minced garlic or garlic cloves.
Olive oil – is used to sear the pork chops.
To make the mushroom sauce
Mushroom – use normal button mushrooms. Mushrooms have an earthy and meaty taste that enhances a sauce.
Dijon mustard – for its sharper taste as it is slightly more spicy and tangy than yellow mustard.
Butter – adds more flavor when you saute garlic in it and is used to make the roux.
Garlic – my favorite aromatic to add that garlicky flavor to the sauce.
Flour – is cooked in butter to make the roux, which is the base of the sauce. Usually used to thicken gravies and sauces.
Wine – adds a depth of flavor to the sauce.
Stock – is used to add volume and form the flavor base of the sauce.
Heavy cream – is added to thicken the sauce and make it creamy.
Parmesan cheese – to make the sauce complete with some cheesiness.
Fresh thyme – for that fresh herby flavor in the sauce.
How to cook pork chops and mushroom sauce
Prep
Keep the chops dry by patting them. Season the chops on both sides with the seasoning mix.
Sear chops
On a heated heavy bottom skillet, sear the chops on each side with butter. Keep them aside. You may use a timer to sear them for exactly
Cook the mushroom sauce
In the same skillet, cook and brown sliced mushrooms. In the end, season lightly with salt and pepper. Remove from the pan and keep aside. Keep the juice of the mushrooms if any.
The next step is to make the roux. With more butter added to the skillet, saute aromatics like garlic first and then with flour.
Add wine and let it simmer until it reduces to half. As the wine reduces, there won't be any residual smell of the wine in the sauce. Next, add the rest of the ingredients to make the sauce. Let everything simmer for a couple of minutes.
Add the cooked mushrooms along with their juice to the skillet now. Toss it around a few times.
Sauce over chops
Add back the cooked pork chops to the skillet. Spoon some sauce and pour over the pork chops. Switch off the flame.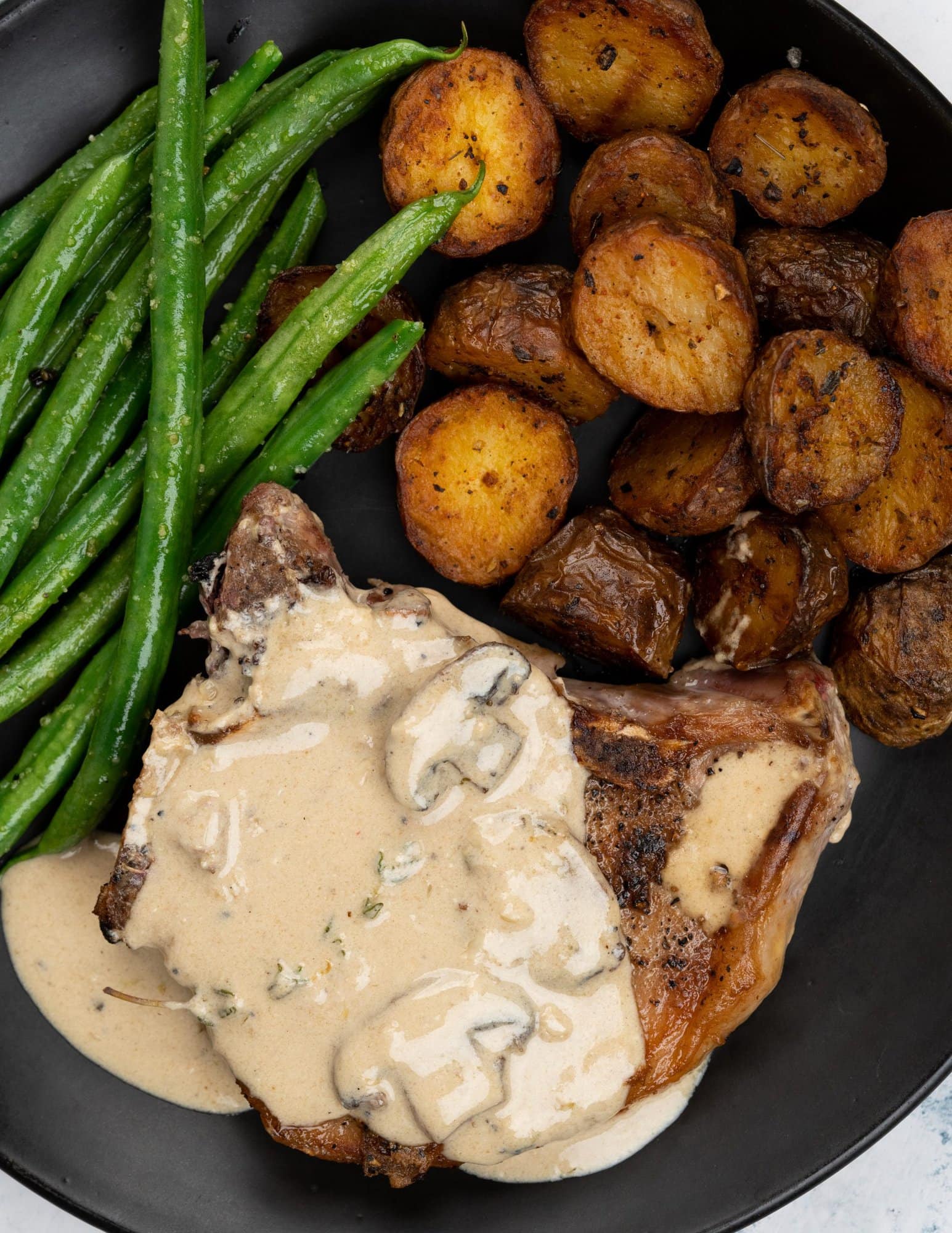 Recipe tips for juicy and tender pork chops
Get the best cuts for pork chops. You can refer to the previous section on identifying thickness, color, and which kinds of cuts to select to get the best results.
Season your chops – a good seasoning makes a lot of difference. Pork chops by themselves would taste blend. Seasoning, especially with salt, brings out the flavors in the chops.
Thaw – allow time for frozen chops to thaw to room temperature. Cold chops will not cook evenly.
Brine – If you can plan ahead, a very useful step to increase the flavor and tenderness of your pork chops would be to brine lean meats like chops. Brine is a process of submerging cuts of meat in a saltwater solution. If you are short on time, even 30 mins will help, and you can brine for a recommended 12 hours. It helps by softening the protein strands, which won't coil up when cooked, thus retaining more moisture and staying tender.
Right skillet to sear – Get a cast iron skillet or heavy-bottom skillet since the heavy bottom ensures uniform heat distribution and even cooking of the chops. Thin bottoms appear to cook the surface much faster, but the center remains relatively raw.
Do not overcook – watch when you have left chops to sear on the skillet. Chops would need no more than 3 minutes on each side. Cooking delicate meat like chops for longer guarantees makes them dry due to moisture loss and will have a rubbery texture. Use a kitchen thermometer and cook until the center reaches 145°F (63°C).
Resting time – Do not serve immediately after taking the chops off the skillet. Allow the chops to rest covered for 10 minutes until the juices get re-absorbed and help the chops remain juicy and tender.
Store
I recommend that when you refrigerate or freeze pork chops made with creamy mushroom sauce, you do NOT add the pork chops to the mushroom sauce. Store them in separate containers. This way, the pork chops will not be soggy. Also, before you put them in the fridge, allow them to cool completely and pack them separately.
You can store pork chops with mushroom sauce in the refrigerator for 3-4 days. Pack them in air-tight containers or wrap them tightly with plastic wrap.
You may also freeze pork chops for up to 3 months. Mark the wrapped packs or containers with the date of storage, so you can track how long they have been frozen.
For frozen chops or sauces, on the day before you reheat, move them to the refrigerator section to thaw overnight. Like other creamy sauces containing dairy, the mushroom sauce might separate or have a grainy texture. This might also happen while reheating.
To solve this, stir or whisk the sauce gently when you reheat it in a pan over low heat until you see the sauce become smooth. Serve the chops by pouring the sauce over them.
Serve with
Pork chops served with a creamy sauce have good protein and fat. To make a balanced meal out of it, you may consider these good options to serve pork chops with: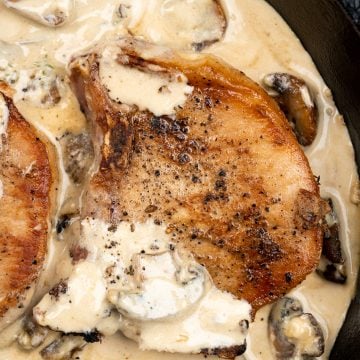 Pork Chops in Creamy Mushroom Sauce
The best juicy and tender pork chops are made in a skillet. They are smothered in a velvety, creamy mushroom sauce. Make your dinner special in 15 minutes with this easy pork chops recipe.
Equipment
1 Skillet to sear the pork chops and also make the mushroom sauce
Ingredients
2 Pork-chops Bone-in or Boneless
½ teaspoom Salt
½ teaspoon Pepper
1 teaspoon Garlic Powder
2 tablespoon Olive Oil
200 gm mushroom
1 tablespoon Butter
½ tablespoon Garlic
1 teaspoon flour
⅓ cup wine
⅓ cup stock
½ cup heavy cream
½ teaspoon dijon
¼ cup parmesan cheese
2 sprigs of thyme
Instructions
Pat dry Pork chops really well with a Kitchen towel.

Mix Salt, pepper, and Garlic Powder. Season both the sides of pork chop with the seasoning mix.

Heat 2 tablespoons of Olive oil in a heavy skillet. Sear pork chops on medium-high heat for 3 minutes undisturbed on one side. Flip and cook for another 2 minutes. Remove and keep covered.

To the same pan add sliced mushroom. Spread in a single layer and cook for 4-5 minutes undisturbed. Flip and cook until it is evenly browned. Towards the end season the mushrooms with a pinch of salt and pepper. Remove from the pan and keep aside.

Add butter to the skillet, when it foams saute minced garlic for 30 seconds until aromatic. Add flour and saute for another 30 seconds.

To the skillet, add wine. Let the wine cook and reduced to half. There should be no more smell of alcohol.

Lower heat, add chicken stock, heavy cream, dijon mustard, and thyme. Mix and let it simmer for a couple of minutes.

Mix in the cooked mushroom along with any pan juice to the skillet.

Add cooked pork juice back to the skillet. Pour over the sauce. Switch off the flame.

Serve with mashed potatoes and green beans.
Nutrition
Serving: 1serving | Calories: 1122kcal | Carbohydrates: 72g | Protein: 98g | Fat: 61g | Saturated Fat: 26g | Polyunsaturated Fat: 7g | Monounsaturated Fat: 22g | Trans Fat: 0.3g | Cholesterol: 181mg | Sodium: 600mg | Potassium: 7005mg | Fiber: 20g | Sugar: 42g | Vitamin A: 1240IU | Vitamin C: 43mg | Calcium: 270mg | Iron: 11mg