This post may include affiliate links that earn us a small commission.
Looking for the best mushroom gravy and how to make it from scratch? Your search ends here. This mushroom gravy is super delicious, easy to make, and has unmistakable umami from a secret ingredient. You can serve it with any steak, mashed potato, grilled veggies, or bread.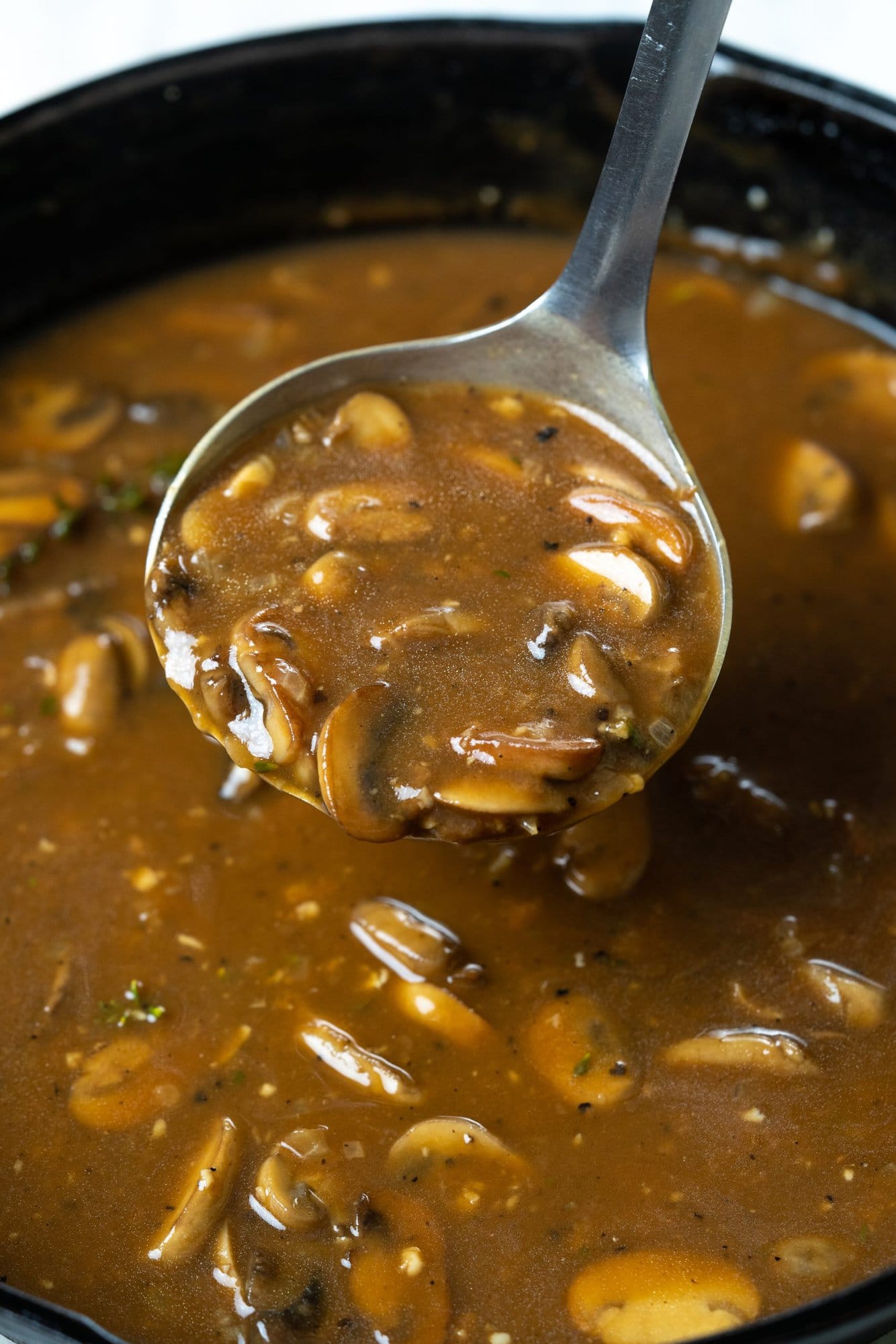 Mushroom Gravy
A good gravy recipe is a home cook's most versatile tool. Mushroom gravy is a star in that category. Delectable and quick to make, it elevates any dish you can serve with. A perfect partner to compliment many slices of bread, meat, or veggies in flavor and taste.
This mushroom soup is quite a simple sauce for something that seems so powerful. It has only mushrooms as its star ingredient; the rest are used well to up the flavor. And it has one secret ingredient that brings out the strong umami flavor in the gravy – read the ingredients.
Flavours In Your Inbox
Subscribe for recipes straight to your inbox
Once I made this, it stayed with me, coming out often to save a rainy day – if you know what I mean. If making more than one dry dish seems like a lot of effort, you have a lifesaver like mushroom gravy. Make it in batches, freeze it, and whip it out to pair with the most popular steaks, grilled dishes, fried stuff, and even many savory baked goodies.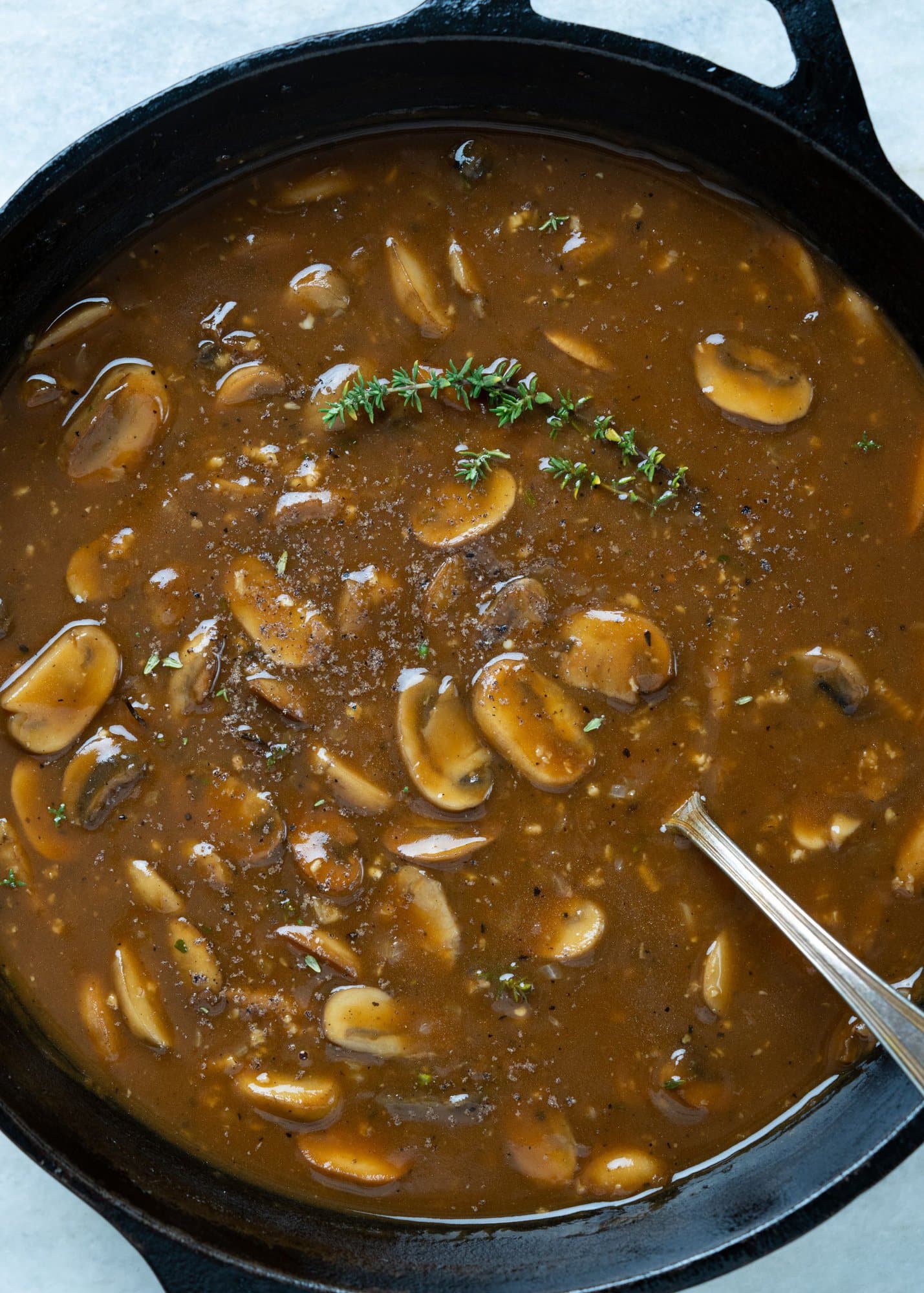 What I love about this recipe
It is super easy to make. Just a handful of ingredients, with mushroom being the star and the others enhancing the gravy flavor.
It can be made quickly. The only time-consuming part here is the browning of mushrooms. The rest of the gravy can be made fast.
Mushroom gravy is rich, thick, and full of flavor. The umami in the gravy comes from stock and soy sauce (Our secret ingredient).
This is as good as the one you order in your favorite restaurant. You will be proud of it 🙂
A super versatile gravy – you can have it with everything.
Ingredients
Good mushroom gravy comprises three parts – a good stock (preferably beef), roux ( a mixture of flour and fat – butter in this case), and a mushroom base. The roux, when stirred and cooked well, thickens the gravy and forms the base of the gravy adding a nice flavor.
Mushrooms – I have used button mushrooms. You may go for commonly available types or even something more exotic, but I doubt that will make much difference in a gravy.
Beef stock – the quality of the beef stock is important as it forms the flavor of the gravy base. Get the best one possible. A homemade stock would be ideal but often not feasible.
Soy sauce – the secret ingredient in the gravy. It brings out that umami and a depth of flavor we love so much in this gravy.
Shallots – used to caramelize and create flavor in the gravy.
Garlic – is my most used flavor bomb.
All-purpose flour – helps to thicken the gravy. You may use corn starch instead, but flour is better for flavor.
Butter – is used to sauté the mushrooms and the shallots too.
Olive oil – is mixed with butter for added flavor for sauteing the mushrooms. Get extra-virgin oil for better taste and flavor.
Black pepper – adds a bit of heat to balance the sourness and salt.
Thyme – our herby friend that elevates this dish in flavor.
How to make this gravy
Sauté the mushrooms
Chop the mushrooms by trimming the stems. Cut them to a quarter-inch size so they still hold some shape after shrinking.
Add butter and olive oil to a hot pan and start with high heat. Add mushrooms, preferably in batches. After a while, reduce to medium heat and sauté until they get golden brown. Keep them aside for now.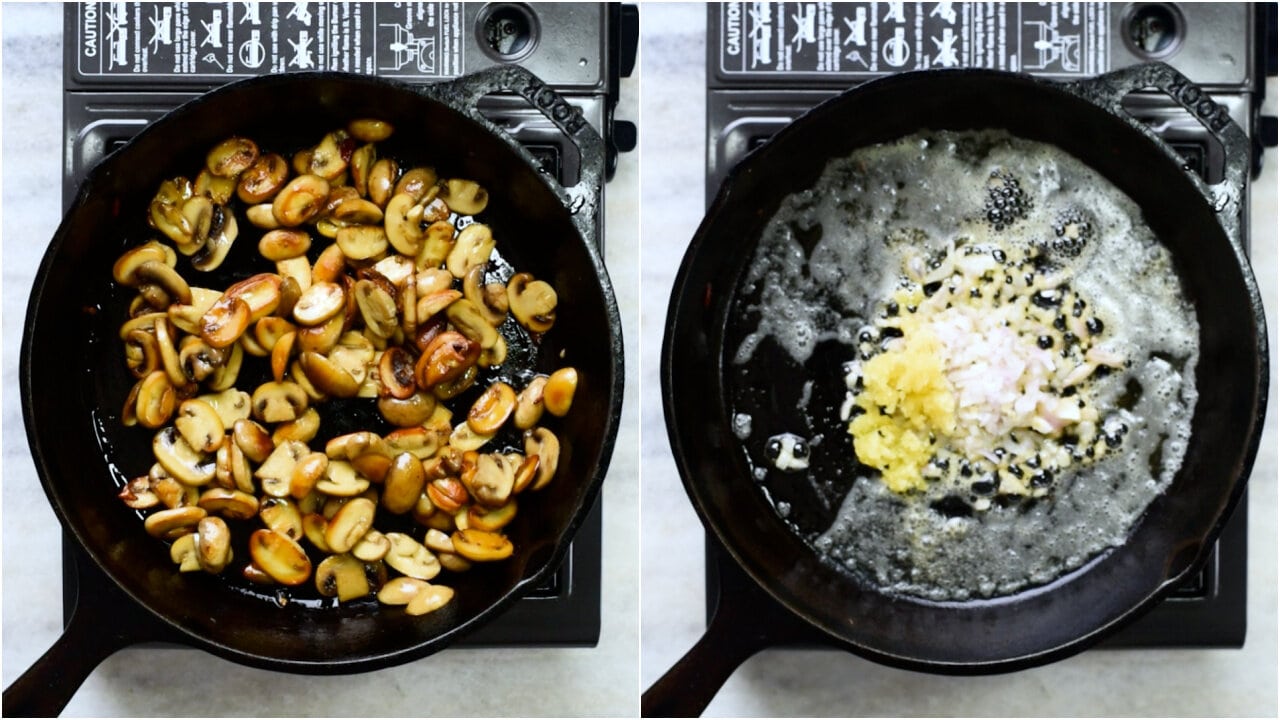 Prepare the roux
Add finely minced onions and garlic to the same pan and sauté them until they become soft and slightly brown.
Roux – Add flour on low heat now. Stir continuously to prevent the flour from getting burnt. Flour cooked for a couple of minutes adds good texture and flavor to the gravy.
Slowly add the stock and keep stirring to keep the roux lump-free. Stir and simmer for 2 minutes.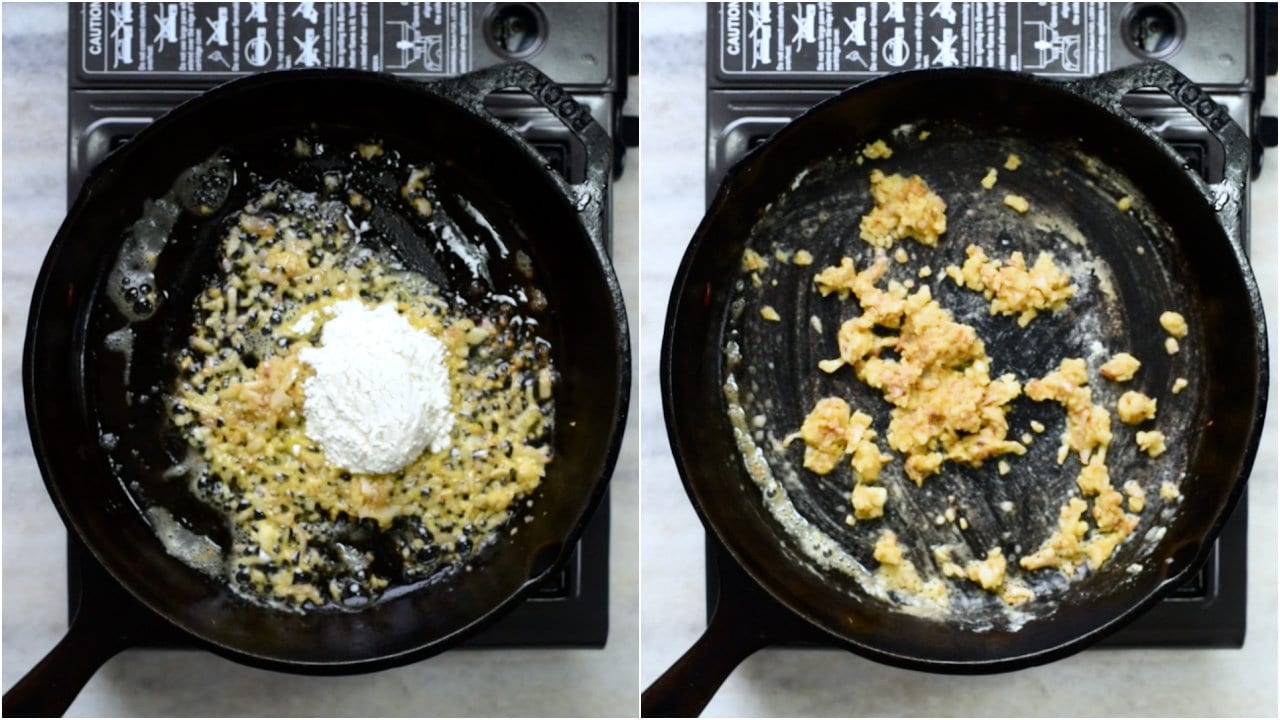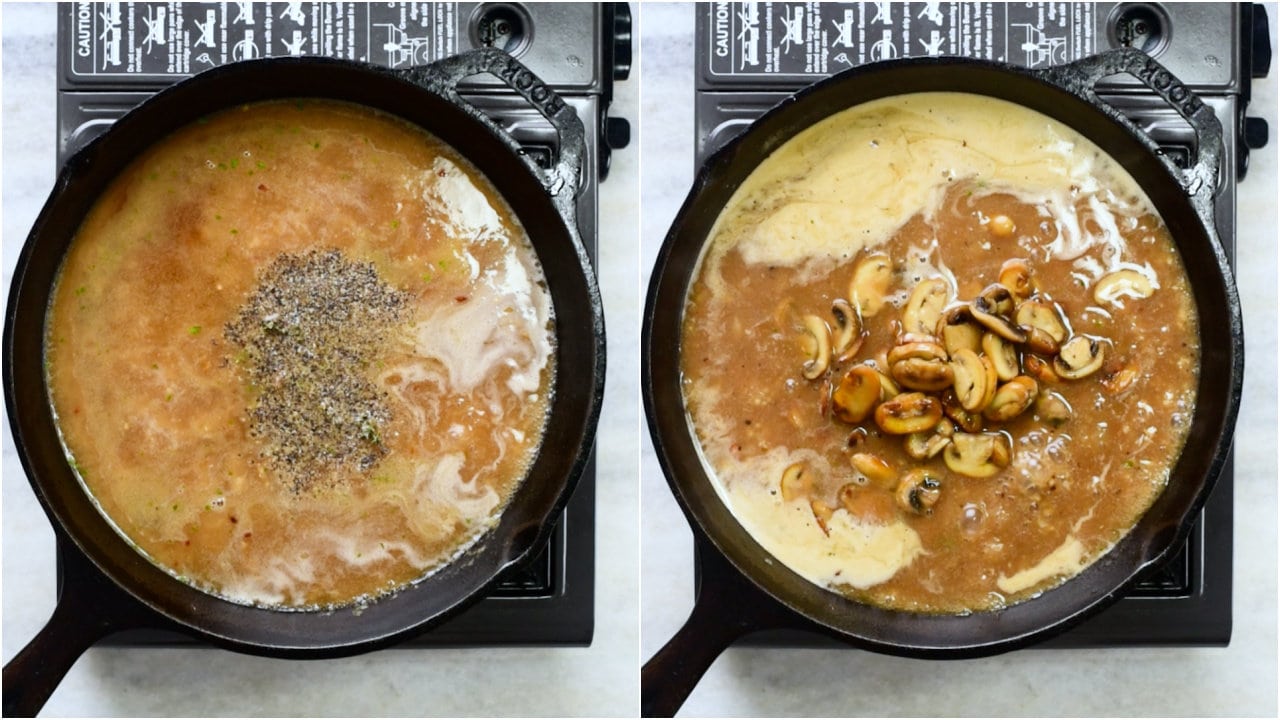 Make the gravy
Add the remaining ingredients – mushrooms, soy sauce, thyme, and pepper. Simmer for 5-8 minutes to make the gravy thick and glossy.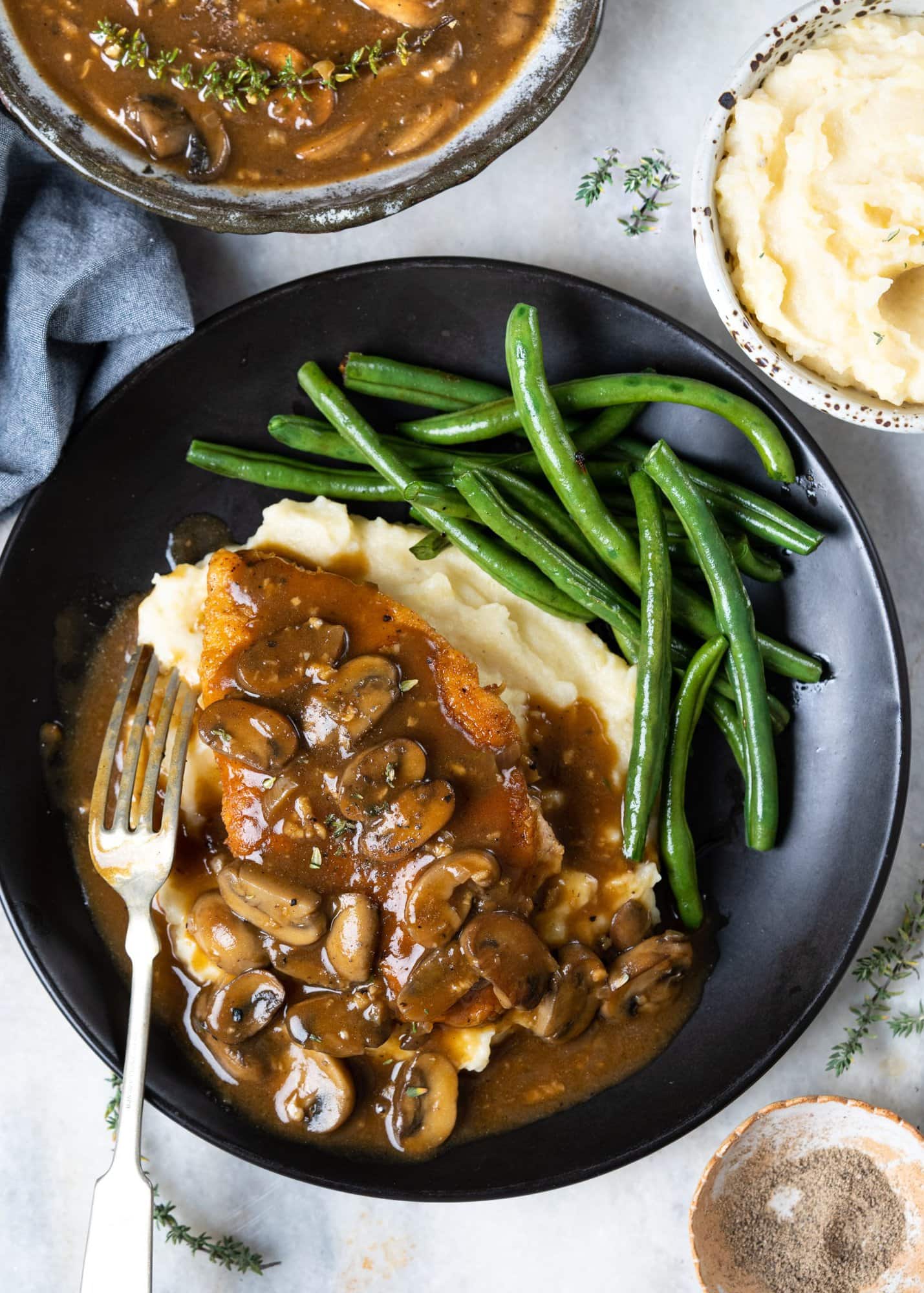 Tips
Since mushrooms shrink to half their size, do not cut them too thin when cooked. Chop them thicker to at least a quarter-inch size.
Use the best quality beef stock that you can get. I cannot emphasize that enough. A good beef stock not only adds color to the gravy but also gives the best flavor to the mushrooms and gravy.
You may use chicken stock, but that would be pale in color. Honestly, It would not match the beef stock in terms of flavor. If that's what you have, so be it.
Sauté the mushrooms in batches. You need to brown the mushrooms, which can be easily managed in batches.
If you overcrowd the mushrooms in the pan, it takes a long time to brown them. Meanwhile, they would release water, and you will have to wait for that extra water to evaporate. There is a risk of drying out mushrooms while waiting too long.
If you are working out with a very wide pan and have a small batch of mushrooms to brown, then go for all at once.
You may use Worcestershire sauce instead of soy sauce. Both work for depth of flavor here, but good quality soy sauce is more widely available.
Both beef stock and soy sauce are high in sodium usually, so go easy on the salt. Better to wait till the end, taste the gravy and then add salt if required.
If you get a low-sodium variety of stock, you may be a bit liberal on the salt.
What if your sauce becomes runny? Simmer it for longer to get the desired consistency.
Store
Mushroom gravy can be stored for a long time when frozen. If you refrigerate it, do so in an air-tight container, which can be stored for up to 3 days. You can take it out and reheat it in a microwave or a pan. Stir a bit to get back the consistency if it splits up.
When frozen, you can have it for months. You have to let it thaw and then reheat it the same way.
Serve With
Why do I call this gravy super versatile? Because you may feel that you can serve it with just anything. The flavors of this gravy pair well with most dishes you can think of.
Bread – Delicious combination with most bread, like my No-Knead Rustic White Bread, Artos: Greek Celebration Bread, or Cheesy Garlic Bread. Nothing like wiping the gravy with a piece of bread.
Grilled chicken – Serves as an excellent side to any grilled chicken dishes like meatballs, Easy Grilled Chicken with Buttermilk Marinade, or Crispy Fried Chicken Tenders.
Steak or Meatball – Works best as a side to your favorite steaks or meatballs.
Mashed potato – When you have mashed potato – Roasted Garlic Mashed Potato, hash browns, or even french fries.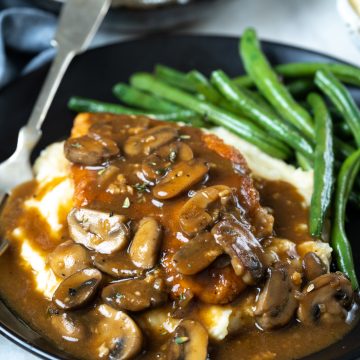 Mushroom Gravy
Mushroom gravy is an all-purpose gravy that you can serve with meat, mashed potatoes or grilled fish. It is packed with umami.
Ingredients
500 grams Mushroom
1 tablespoon Olive oil
2 tablespoon Butter
¼ teaspoon black pepper
For Gravy
2 tablespoon Butter
¼ cup chopped shallots
½ tablespoon minced garlic
3 tablespoon All-purpose flour
2.5 cups Beef stock
1 teaspoon Soy sauce
2 sprigs Thyme
¼ teaspoon black pepper
Instructions
Clean mushroom using a damp kitchen towel or brush off any dirt Cut into 1/4 inch thick slices.

Heat 1 tablespoon olive oil and 1 tablespoon butter in a large skillet. Cook half of the sliced mushroom until golden brown in colour on both sides.

Add another tablespoon of butter. Add rest of the sliced mushroom to the skillet. Cook until golden brown. Remove and keep aside.

In the same skillet melt 2 tablespoons of butter. Saute chopped shallots and minced garlic until the shallots have softened and the garlic is not raw anymore. It should take about 2 minutes.

Lower the heat. Add flour and keep stirring for a minute to avoid the flour from burning.

Slowly add stock and keep stirring to make the roux lump free. Finish adding all the stock.

Add soy sauce, thyme, pepper, and sauteed mushroom. Simmer for 5-10 minutes until you get the desired thickness. Keep in mind the gravy will slightly thicken once it cools down.

Put it in a gravy jug and serve.
Notes
Cut mushroom into 1/4 inch thickness. Mushroom when cooked shrinks, so cut it s bit thick. 
 Use good quality beef stock. I would avoid using bullion or stock powder. 
 You can also use chicken stock but the flavour would be very different. 
Instead of Soy sauce, you can also use Worcestershire sauce instead for depth of flavour.
Nutrition
Serving: 1serving | Calories: 664kcal | Carbohydrates: 46g | Protein: 38g | Fat: 38g | Saturated Fat: 19g | Polyunsaturated Fat: 2g | Monounsaturated Fat: 14g | Trans Fat: 1g | Cholesterol: 60mg | Sodium: 51501mg | Potassium: 1440mg | Fiber: 2g | Sugar: 36g | Vitamin A: 500IU | Vitamin C: 5mg | Calcium: 136mg | Iron: 3mg