Crispy Fried Chicken Tenders
This post may include affiliate links that earn us a small commission.
Crispy Fried Chicken Tenders are amazingly Crispy outside and super juicy from inside. It is dairy free and Gluten free.Let's learn how to make Crispy Fried Chicken Tenders here!!
Crispy fried chicken tenders are always a crowd-pleaser.  These chicken tenders are well seasoned and really crispy on the outside. We have made it a lot of times, so I can say these are well approved by everyone at home.  When you pair it with a dip, the combination is sure to die for.
When everyone is switching from fried to baked version, you must be wondering why am I praising this fried one so much. It's been raining here in Bangalore and gloomy. When it rains all we can think about is something fried. We really won't feel like preheating the oven and waiting for another 30 – 45 minutes to get things ready. Got the point now ?? So even though I make baked chicken a lot but when you are in a hurry or you are craving some fried chicken tenders this version is the answer.
Flavours In Your Inbox
Subscribe for recipes straight to your inbox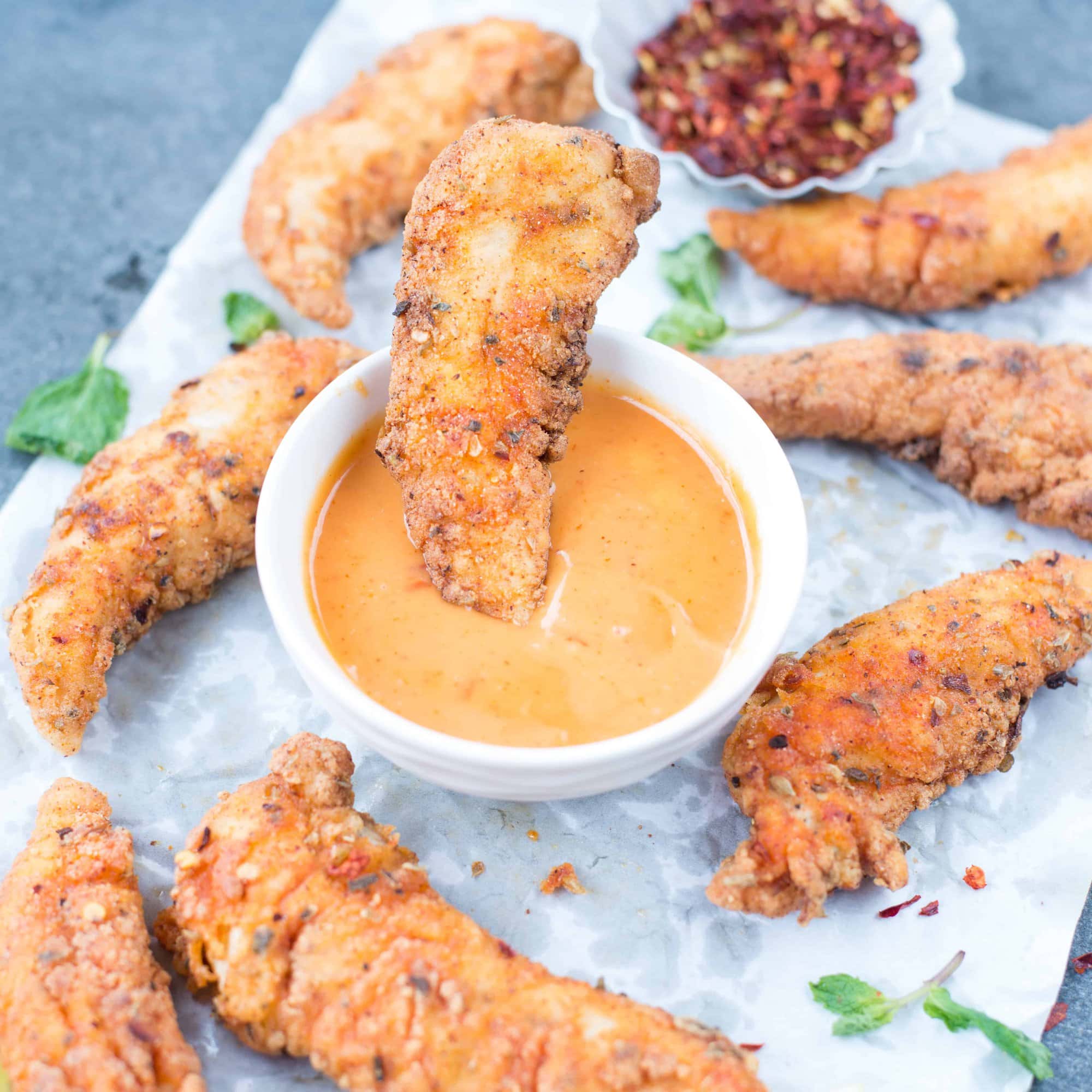 There are numerous ways of making fried chicken and I am sure you must be having one of your favorites. You would find recipes that call for marinating in buttermilk then followed by coating in Panko bread crumbs. Then there are few in which you dip chicken into egg mixture then followed by dipping in flour and bread crumbs mixture. I have tried both the types and they come really good.
Now coming to this version, I felt this one is less fussy. I have used lemon as tenderizer instead of buttermilk. For coating, I have used a mixture of cornflour and rice flour. So it is gluten free. I have seen my mom using rice flour while deep frying. Rice flour gives very nice crunch to the deep fried stuff. She uses a mix of chickpea flour and rice flour as a batter mixture. I have also used corn flour for making it extra crispy. I have used chicken tenders here. If you wonder what exactly is Chicken tenders then refer to this article from thekitchn.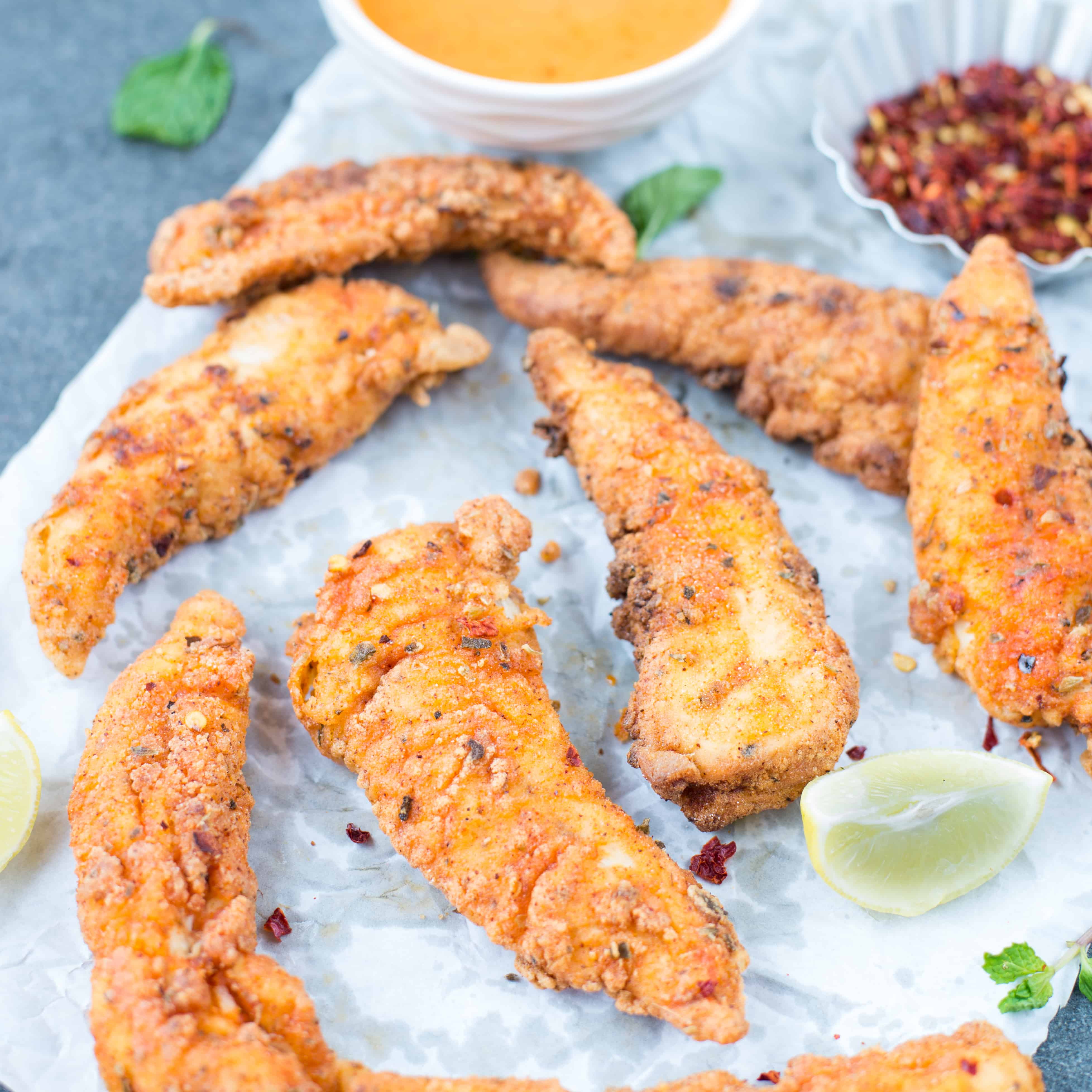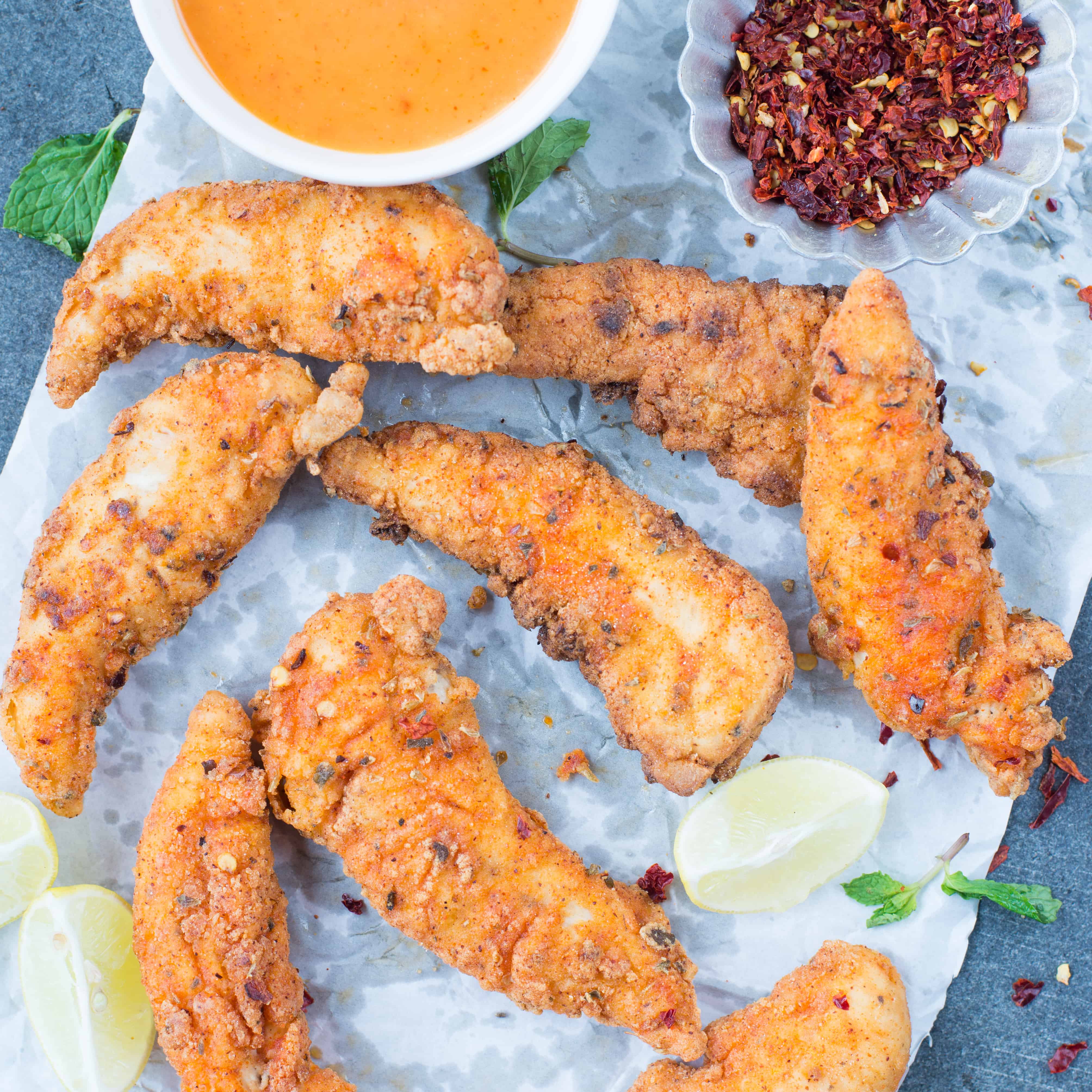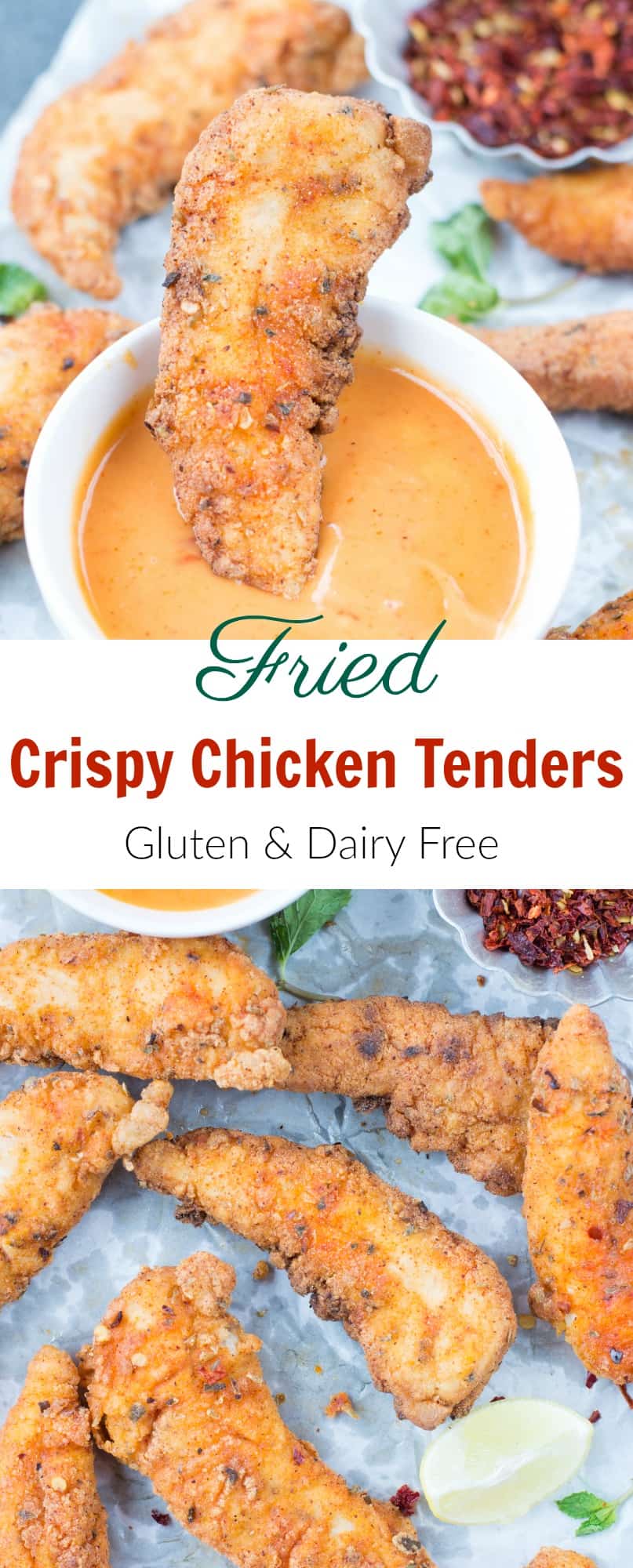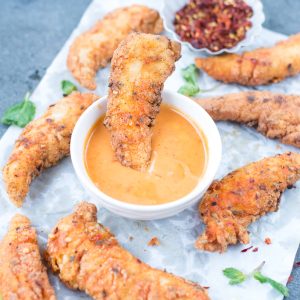 CRISPY FRIED CHICKEN TENDERS
Crispy Fried Chicken Tenders are amazingly Crispy outside and super juicy from inside.
Ingredients
For Marinating Chicken
500 gms Chicken Tenders Or Chicken Breast cut into strips
1 tbsp Minced garlic
Juice of Lemon
Salt and Pepper as per taste
For Flour mixture
½ Cup cornflour
⅓ Cup rice flour
1 tbsp Kashmiri Red Chili powder / Paprika (Adjust as per preference)
1 tbsp Dried Oregano
½ tbsp Red chili flakes (Optional)
Salt to taste
Instructions
Mix all the ingredients mentioned under marination. Cover and let it rest for at least 30 mins up to 4-5 hours.

If the Chicken is refrigerated , Take it out before frying and allow it to thaw completely.

Mix all the ingridents mentioned under cornflour mixture. Make the coating.

Heat just enough oil for shallow frying. The oil should be just medium-hot.

Shake off extra marination liquid form the tenders. Coat uniformly the tenders with the flour mixture. Shake off extra mixture

Shallow fry the coated chicken tenders for about 3-4 minutes in medium heat, turning in between.