This super moist 2 minutes Eggless Apple Peanut Butter Microwave Mug Cake is a quick fix dessert for your sudden sweet craving.
Apple and Peanut Butter is an all-time hit combination. We snack on Apple Peanut Butter quite frequently and its one of our favourite. So I always stock up peanut butter at home, mostly homemade one.  It is a saviour when you have sudden midnight hunger pangs, which I get quite frequently.  A thick spread of creamy peanut butter on a slice of bread and then either I spread some jelly or top it with some banana slices, which is enough to have a good night sleep.
What do you prefer Smooth or  Crunchy Peanut Butter??? My vote always goes for crunchy. It is hard to believe that this cake is made in a microwave in 2-3 minutes. If you have a sweet tooth like mine, I am sure you might have tried 1-minute mug cake by now. You might have your favourite recipe too. If done in the right way, a good mug cake might turn out as good as a conventional baked cake.
What I like about quick mug cake is you don't have bake a whole cake to satisfy your craving. Just customize the recipe and you can come up with an individual serving of desserts in no time.  In every bite of this cake, you can taste peanut butter and Apple. I mean, I have taken care of your peanut butter craving here.
One last thing I must warn you before I share the recipe.  The cake batter is so damn good that you will feel like licking the bowl clean. Actually, I did so. I ate two spoonfuls of batter before putting them into the mugs.  So if end up with only one mug cake instead of two, then I am not the person to be blamed. 🙂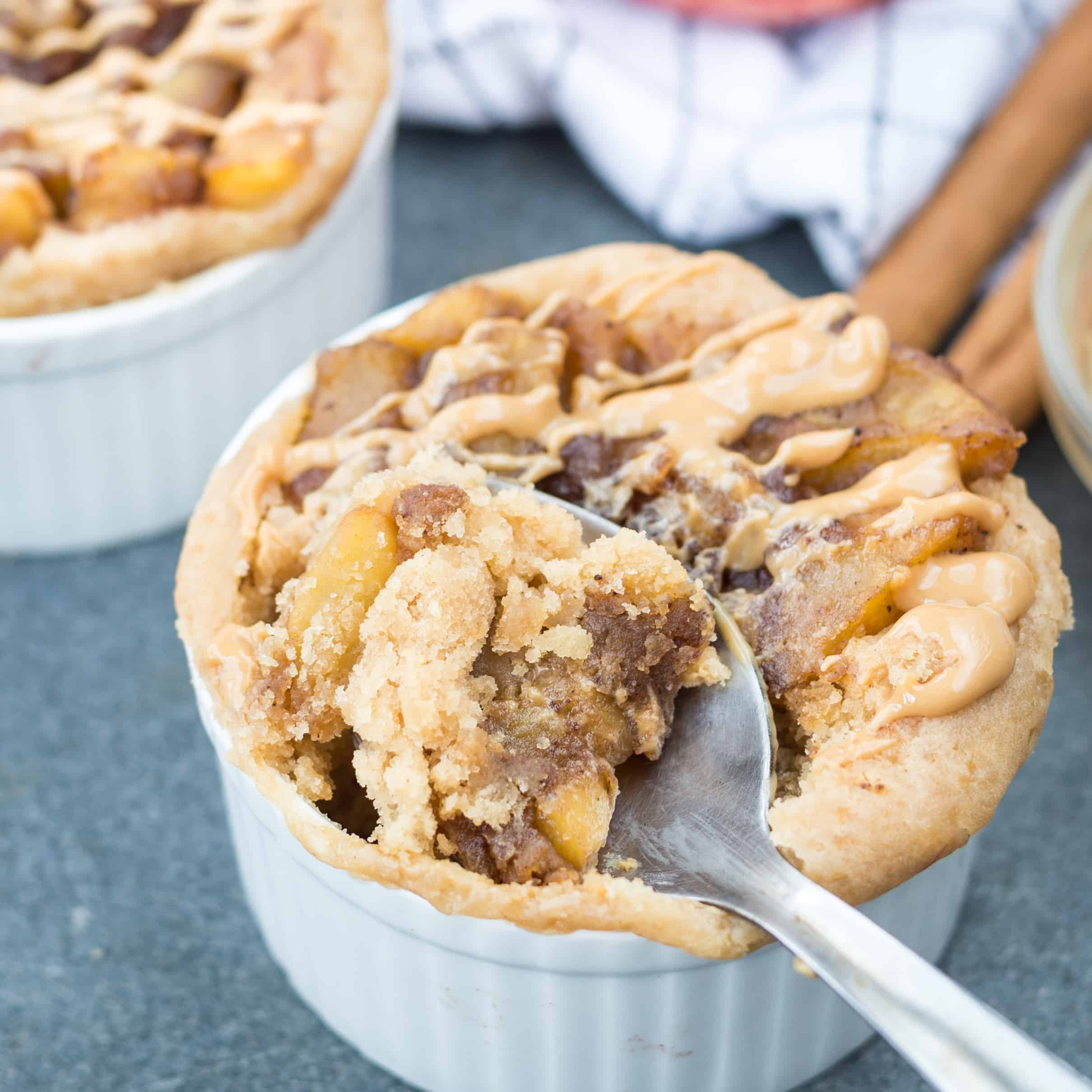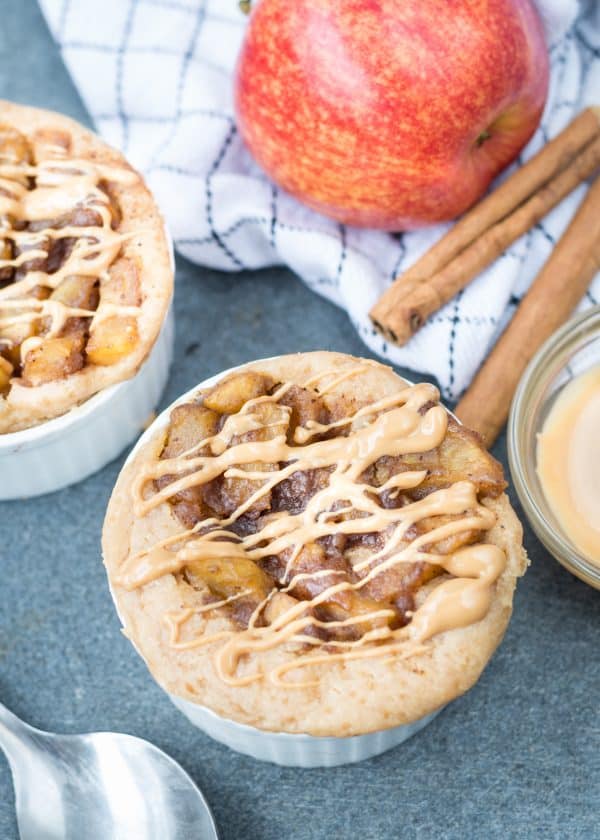 | | |
| --- | --- |
| | |
To make the Apple filling
Cut Apples to small chunks.

In a microwave safe bowl place apple chunks.Add butter, Cinammon powder and brown sugar and mix well. Microwave for 1-2 minutes till the apple softens.

After microwving you might see a good amount of liquid relased. When still warm add 1 table spoon of flour and stir well.

Apple mixture will get thicken when you add flour. Keep aside the apple mixture while we make the cake batter.
To make Peanut butter cake
In a bowl mix all the dry ingredients flour, baking powder ,salt and sugar. stir well. Then add softern peanut butter followed by milk. Mix till there is no trace of flour.
To assemble the Mug cakes
Divide the batter equally among two microwave-safe mugs (I have used ramekins). Make sure the mugs are 3/4 filled.

Spoon the apple mixture at the center. After spooning press the mixture slightly at the center.

Microwave for about 1 to 1 minute 30 seconds. at 100% power.

Drizzle with more peanut butter if desired.