This Creamy Cauliflower Curry With Coconut is rich and delicious with a flavourful gravy. It is an one-pan dish and vegan as well. Serve it on a bed of steamed rice or beside Naan Bread.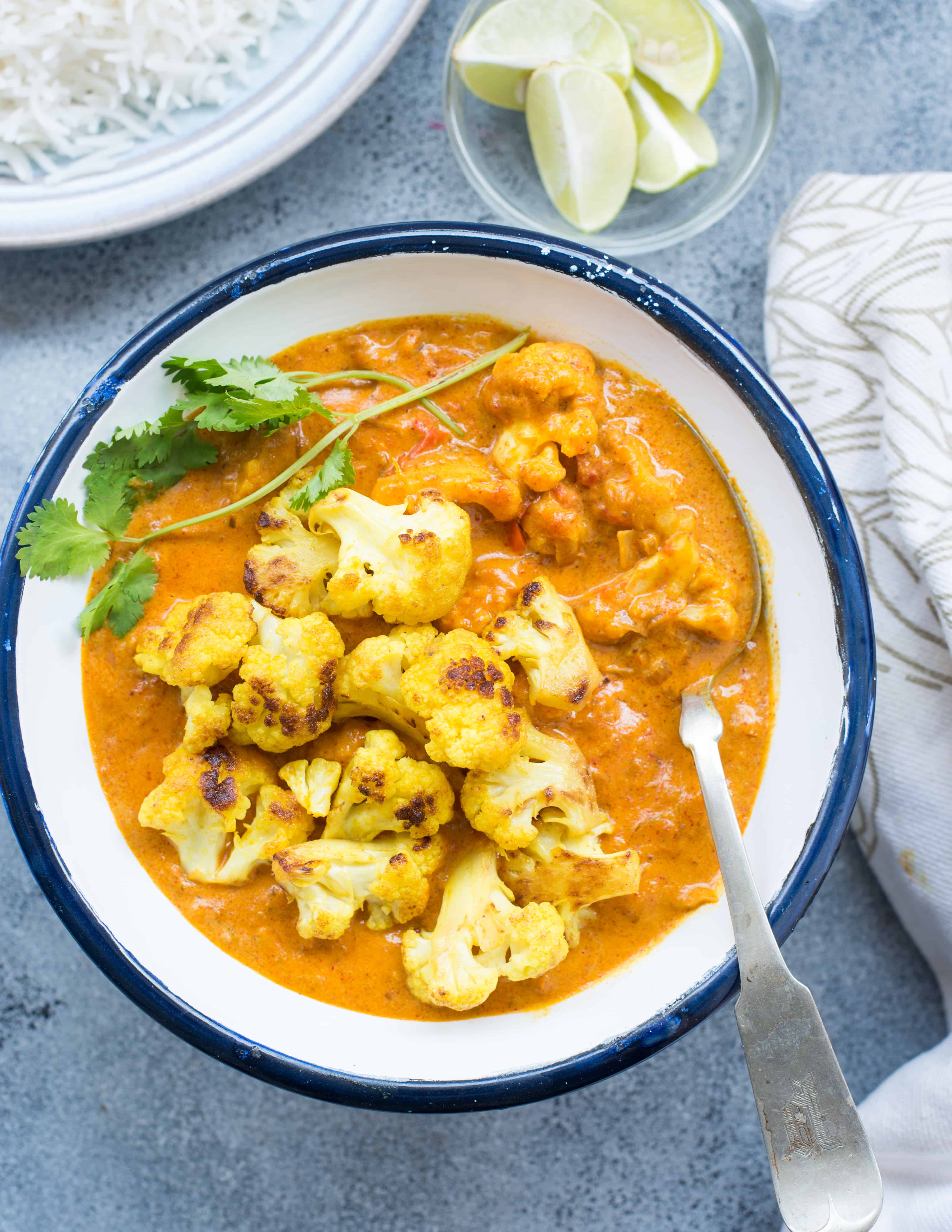 Who doesn't love a good flavourful curry? I crave rice and curry every other day. A Hot bowl of rice with spicy curry is my ultimate comfort food and this is nostalgic.
You will find various curries made with different kinds of spices in India. And everyone will have their favorites. This Indian-style Creamy Cauliflower Curry With Coconut is a delicious way to cook your favorite cauliflower in a creamy and flavorful curry.
Did I also mention that cauliflower curry recipe is a vegan recipe? and also gluten-free? Is it keto-friendly? A big YES ! Coconut milk is the best vegan alternate to normal diary that one can have. Adds richness and creaminess to the gravy of this recipe. Coconut milk also mellows down other strong spices to enhance the curry flavor.
Cauliflower is a preferred option when you want to want to go short on calories. it is high on fiber, low on carbohydrates and is high on other minerals and vitamins.
This recipe is the latest addition to our favorite curry list. I have made it 3-4 times in the past couple of weeks. Coconut milk gives it that light creamy texture.
If you like cauliflower, you may look at some other delicious recipes - Cauliflower Potato Soup, Instant Pot Cauliflower Soup, Low Carb Cauliflower Rice and Healthy Taco Salad with Cauliflower - Low Carb.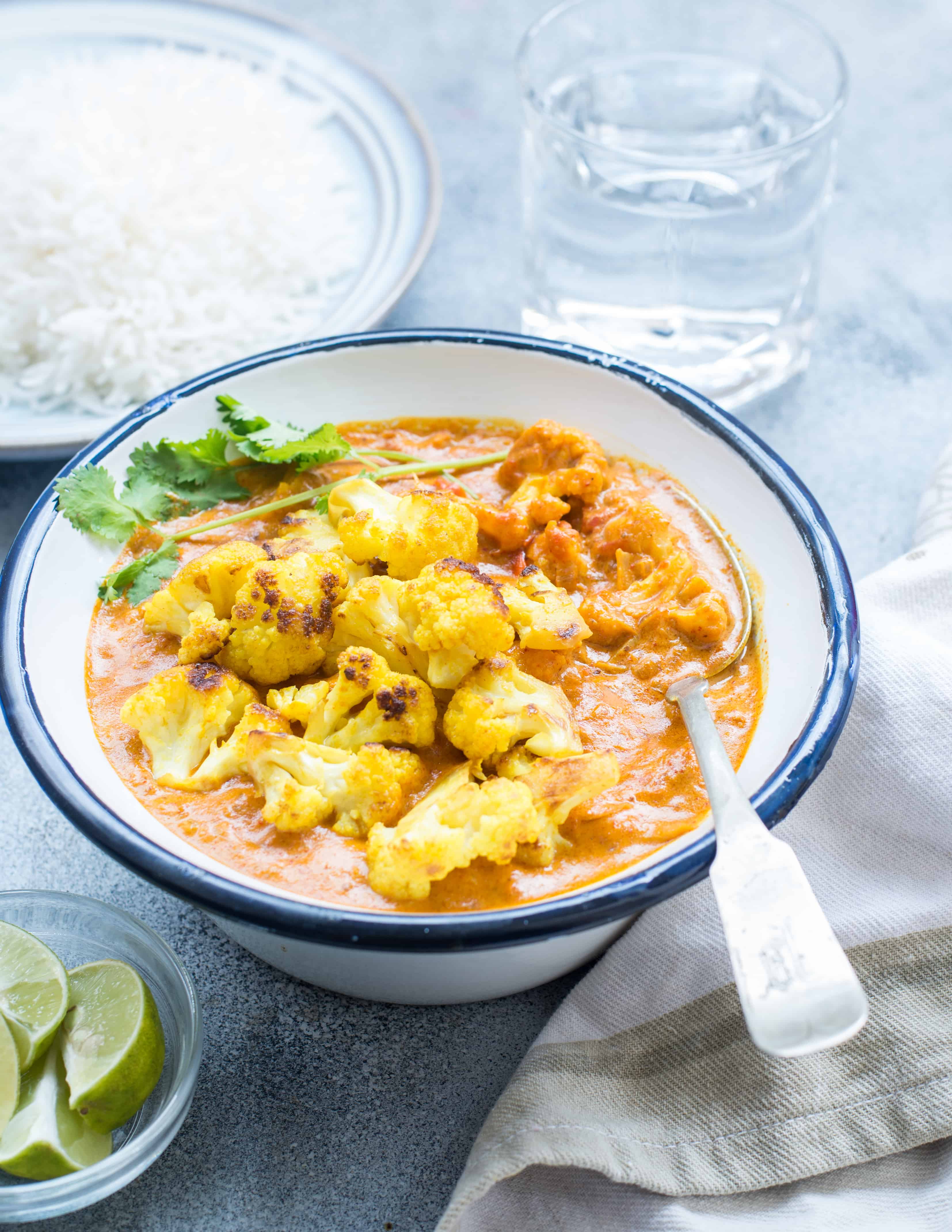 Ingredients
Cauliflower florets - Get a fresh cauliflower and size does not matter much. You should cut the flower to small even-sized florets. Refer to the tips section for an helpful video on cutting the cauliflower.
Onion - are used in Indian curries for various reasons. One, is it helps in thickening the curries and second, the sugar in onions when released upon cooking enhances the taste of the gravy.
Ginger-garlic paste - is the most often used ingredient in Indian cooking especially curries. Ratio of ginger is lesser than garlic as it has a stronger flavor. it can be easily refrigerated and can be easily prepared at home for fresher and stronger flavor.
Tomatoes - are used along with onions to form the base of the gravy. Tomatoes provide a sweet and tangy taste to the gravy.
Dry Spice powders - Turmeric powder, cumin powder, coriander powder and Kashmiri chili powder are commonly used. Turmeric is used for color whereas cumin and coriander for flavor. Kashmiri chili powder is often used to impart a red color but is not spicy.
Garam Masala - is a combination of various spices used in Indian cuisine. It makes for a convenient mix that can be added to curries instead of adding many different spices.
Vegetable Oil - is most preferred oil for Indian cooking as it has a neutral taste and flavor.
Coconut Milk - makes the gravy creamy, thicker and balances the rest of the strong and pungent flavors from the spices. You can use the full-fat coconut milk to get a more creamy gravy.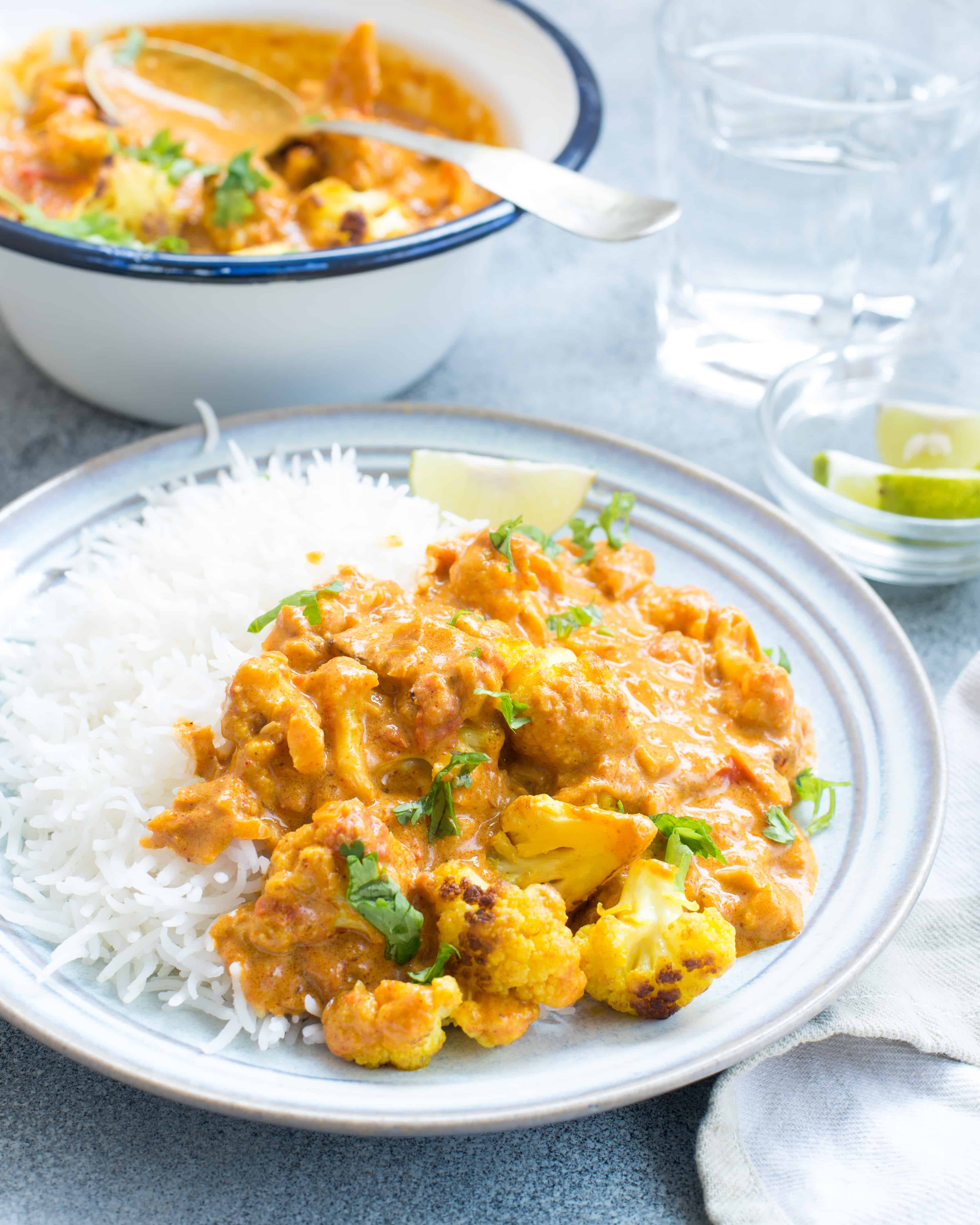 How to make cauliflower curry
Prep and roast cauliflower
Soak the cauliflower in salt water for 30 minutes. It helps kill any germs that would be there, largely in organic ones.
The first step is cutting the cauliflower into small florets. Removing the leaves at the base of the cauliflower and cutting them into florets is not a difficult task. You can refer to the tips section on how to do it.
On a hot skillet, heat some vegetable oil and add the florets. Fry them until you see brown spots on the florets. The florets should have been ¾ cooked by now. Remove them from the pan and keep aside
Cook the gravy
The next step is making the masala base for the curry. This involves working with several ingredients quickly one after the other. We start with adding the chopped onions to some oil, on medium heat, in the skillet. Fry the onions until they look transparent and slightly brown. Onions lose their rawness and become slightly sweet by now.
Add the ginger-garlic paste and sauté it. The paste should lose its raw smell. Add tomatoes next, and sauté them. It mixes with the paste and onions and the tomatoes becomes mushy.
Add the dry spice powders now - turmeric, cumin, coriander and Kashmiri chili powder. Sauté them as they form the mixture. If it becomes too dry and runs a risk of burning, splash a little water. When the spicy mixture is cooked, oil starts separating from it. This shows the masala base is ready.
Add Florets and Masala
Add the roasted florets back to the masala base. Sprinkle garam masala and salt all over. Toss them with the masala base. Cook under cover for another 5 minutes on low heat.
Pour the coconut milk and mix it well. It gives a creamy texture to the gravy. Put the lid on and let it cook covered until it comes to a boil. Reduce the heat and stir it. Keep it covered and let it simmer for another 5 minutes. You can check before too if the cauliflower is cooked and then switch off the flame.
You can use chopped fresh cilantro on top of the curry for more aroma and flavor.
Serve & Relish !!
Tips & secrets to a good Indian Curry/gravy
Bhuno the masala - The foremost technique to making a good curry is to 'Bhuno' the masala properly.  'Bhuno' is cooking/frying the Onion, Ginger-garlic paste, Tomato, and spice mixture until the raw smell is gone and oil starts oozing out from the sides.
You would find most of the Indian curries involves this step. This thing needs time and patience. There are no shortcuts to it but believe me; it is worth the effort.
Roast your florets - Another important trick to get the best flavor from your cauliflower is to roast them. How many of you roast cauliflower before making curry? I do it every single time.  I love the smell that comes when you roast cauliflower.
Roasted cauliflower adds a lovely crunch and flavor to the gravy. So Next time, try roasting the cauliflower florets before adding them to the gravy. I am sure you would love it. The caramelized cauliflower bites add a lot of flavor to the curry.
Cut cauliflower to florets - What is the best way to cut your cauliflower. You can refer to this video on how to cut the cauliflower to small beautiful florets. Getting the right size florets help in roasting and cooking as we need to ensure they are of the same size.
Is curry powder an alternate? - If you do not get garam masala, then curry powder is your best alternative to use in this recipe. Curry powder is comparable to garam masala but is not widely used in India though. It is a mix of garam masala and other indian spices like turmeric, coriander, cumin and others. It is quite a convenient mix that had started being sold outside India to make cooking curry easier.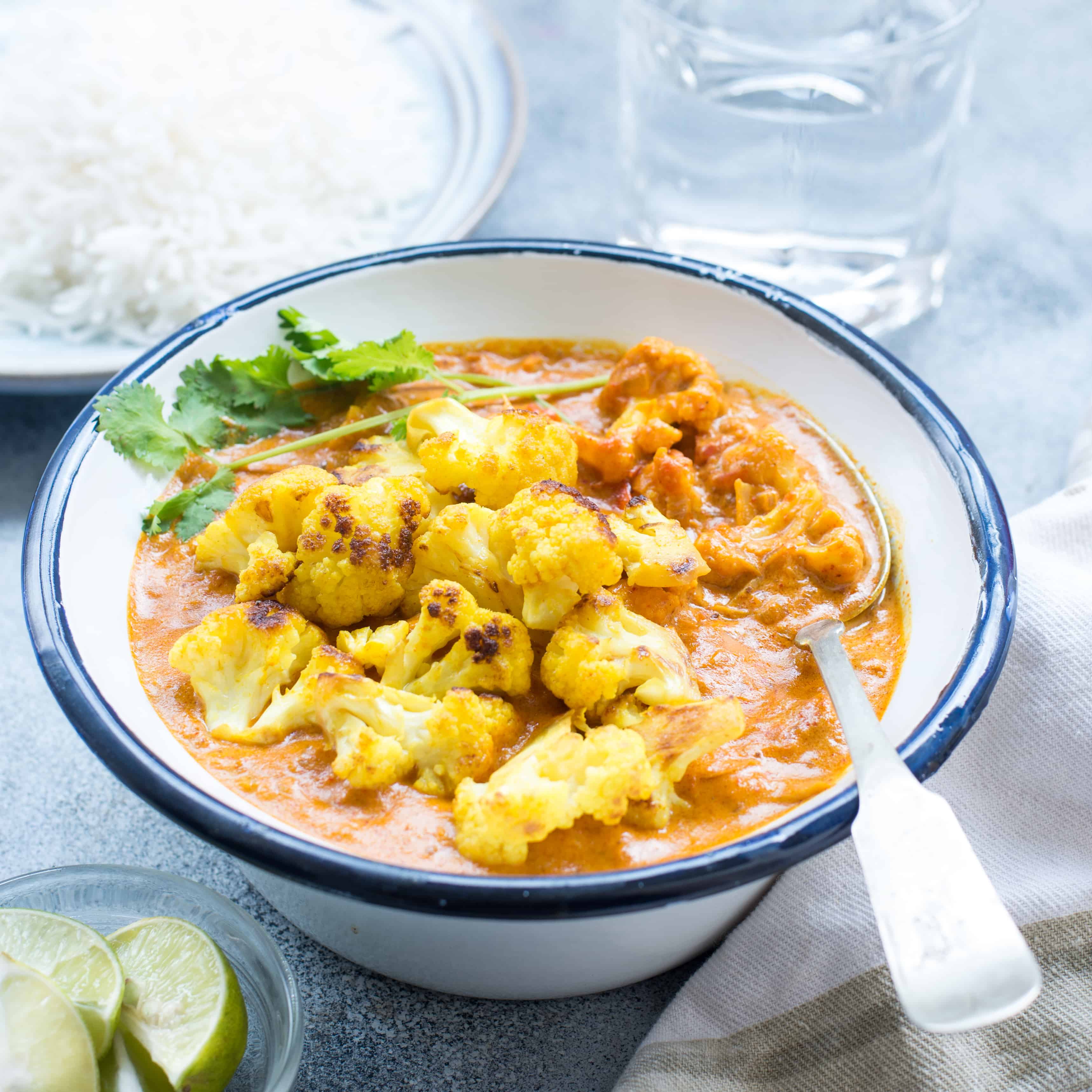 Store
Store this nutritious and delicious gravy in an airtight container for up to 4 days in the refrigerator. These curries do not do well when frozen as the coconut milk does not help. Also the veggies in the curry become soggy over time.
You can reheat it in a kadai or pan or even in the microwave for a minute.
Serve With
This curry can be had with roti (Indian flatbread), plain white or brown rice, basmati rice, Jeera rice, Vegetable pulao, or Paneer pulao.
Related Recipes
If you love curry recipes as much as we do, here are a few more delicious curries/gravy recipes.
Mushroom in Spicy Mustard Gravy
Indian Mutton Curry (Stove Top & Slow Cooker)
📖 Recipe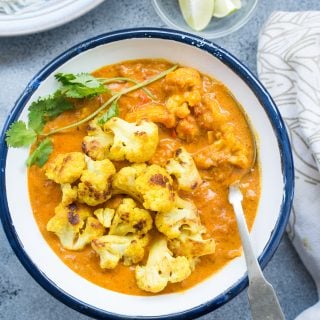 Cauliflower Coconut Curry
This Vegan Cauliflower Coconut Curry is rich, creamy and has a perfect blend of spices. Serve it on a bed of steamed rice or beside Naan Bread.
Print
Pin
Rate
Ingredients
1

Small head of Cauliflower

2-3 Cups of Cauliflower Florets

4

tbspn

vegetable oil

1

large

onion

Finely Chopped

1

tbspn

Ginger garlic paste

1

large

Tomatoe

Finely Chopped

1

tspn

turmeric powder

1

tbspn

kashmiri chilli Powder

1

tspn

roated Cumin powder

1.5

tspn

Coriander powder

1

tsp

garam masala

200

ml

coconut milk

Salt to taste

Fresh Coriander leave for garnishing
Instructions
Cut cauliflower into small florets. Clean, Drain excess water and keep aside.

In a pan heat 1 tablespoon oil. Once medium hot, add cauliflower florets. Add a pinch of salt and turmeric. Fry on Medium-High heat till you see small brown spots on the florets. Keep stirring to avoid burning.

When the florets are almost ¾ cooked and have brown spots, remove from the pan and keep aside.

In the same pan add remaining oil. When the oil is hot add chopped Onions. Cook till onions are soft, translucent and start to brown.

Add Ginger Garlic paste. Fry till the raw smell is gone. Then add chopped tomato.

Cook tomatoes till they are soft and mushy. The mixture should start coming together by now.

Add all dry spices Turmeric Powder,Cumin powder,Coriander powder and chili powder. Fry the mixture untill oil starts separating from the mixture from the sides. ( You might add few drops of water to prevent burning)

Add roasted Cauliflower florets. Mix till the florets are coated well with the spice mixture. Add garam masala and salt. Cook covered on low heat for 5 mins.

Then add Coconut milk. Cover the lid and bring the curry to a boil. Then reduce the flame, Cook for another 5 minutes or till cauliflower is cooked.

Garnich with fresh coriander leaves. Serve along with rice/roti/naan.