Low Carb Cauliflower Rice
This post may include affiliate links that earn us a small commission.
Cauliflower Rice recipe with crispy garlic chicken and nutty cauliflower rice is low carb, Keto, and ready in 20 minutes. This Low Carb Chicken Cauliflower Rice is healthy, easy, and packed with flavor.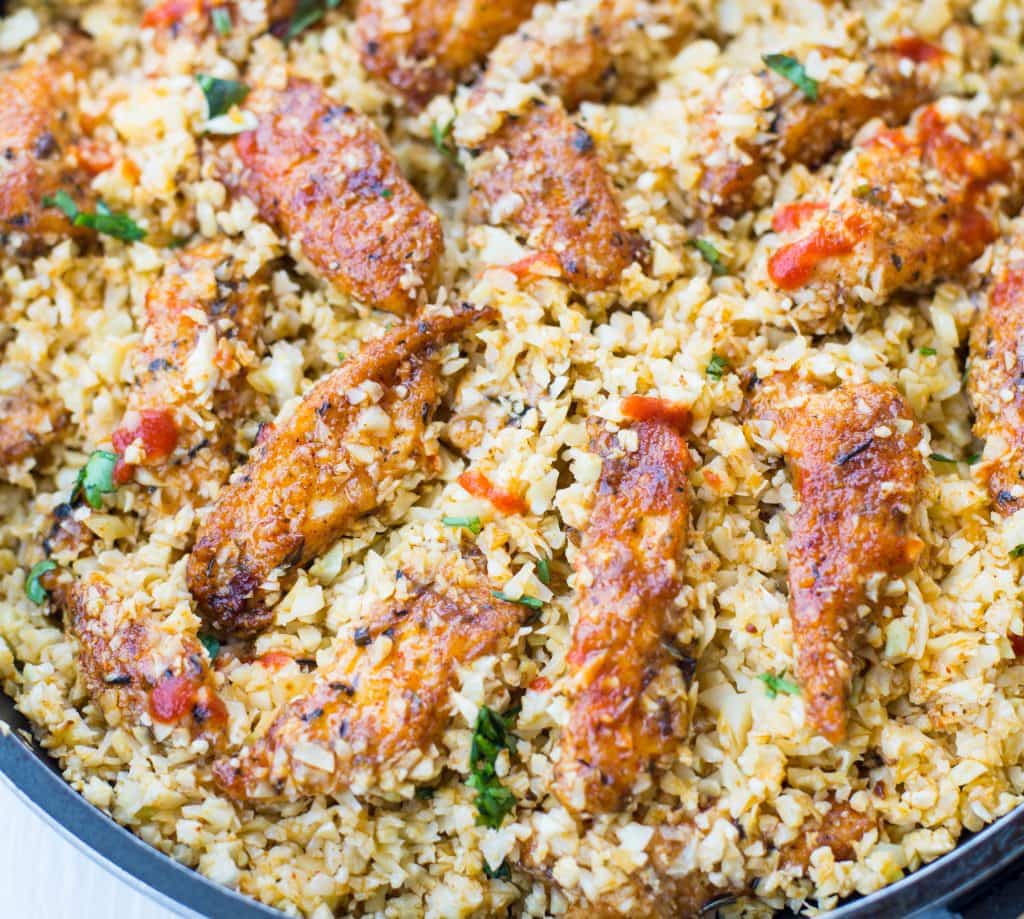 This Cauliflower Rice with chicken in a skillet is my go-to low-carb recipe. What I love about this Cauliflower Rice recipe –
Flavours In Your Inbox
Subscribe for recipes straight to your inbox
It is low carb and keto friendly.
It is loaded with protein and thanks to the garlic chicken added to rice.
Is a one-pot meal that would give you the required amount carbs and protein in a single serving.
Before I tell you how delicious this recipe is, let me confess. Yes!! Confession of a true rice lover. A bowl of hot steaming rice is my soul food. I can not even think of a single day without having rice. At least one of my meals in a day has rice in it.
So when I came across 'Cauliflower Rice', I literally frowned. I mean, how can one substitute rice with Cauliflower rice and still be satisfied?
Honestly, It took me a while to make peace with Cauliflower Rice. I love Cauliflower a lot and usually end up making some kind of Curry.
I have also tried a lot of healthy recipes with Cauliflower like this Cauliflower Chocolate Protein smoothie, Crisp Parmesan Cauliflower fritters. But I simply could not think of substituting rice with Cauliflower Rice.
But you know there comes a time when you need to choose health over taste and comfort. When I went on a low-carb diet, Cauliflower Rice is the only best option available. It definitely took some time to get used to Cauliflower rice. But when you have a delicious and easy Cauliflower Rice Recipe like this, it is not that difficult to swap.
Riced cauliflower has a very subtle taste and takes a backseat when seasoned with other aromatic spices or herbs.
How to rice cauliflower
Making cauliflower rice at home is quick and easy. You really don't have to get Frozen Cauliflower rice, when you can make it at home in 2-3 easy steps.
The easiest and quickstep for making homemade cauliflower rice is to use a food processor. Clean and cut cauliflower into florets. Put in a food processor and pulse until you get the couscous-like texture.
Another way to rice Cauliflower is to use chop it with a chopping knife until you get desired texture.
I prefer bigger grains, as shown in the below picture. You can also process it further for more fine grains.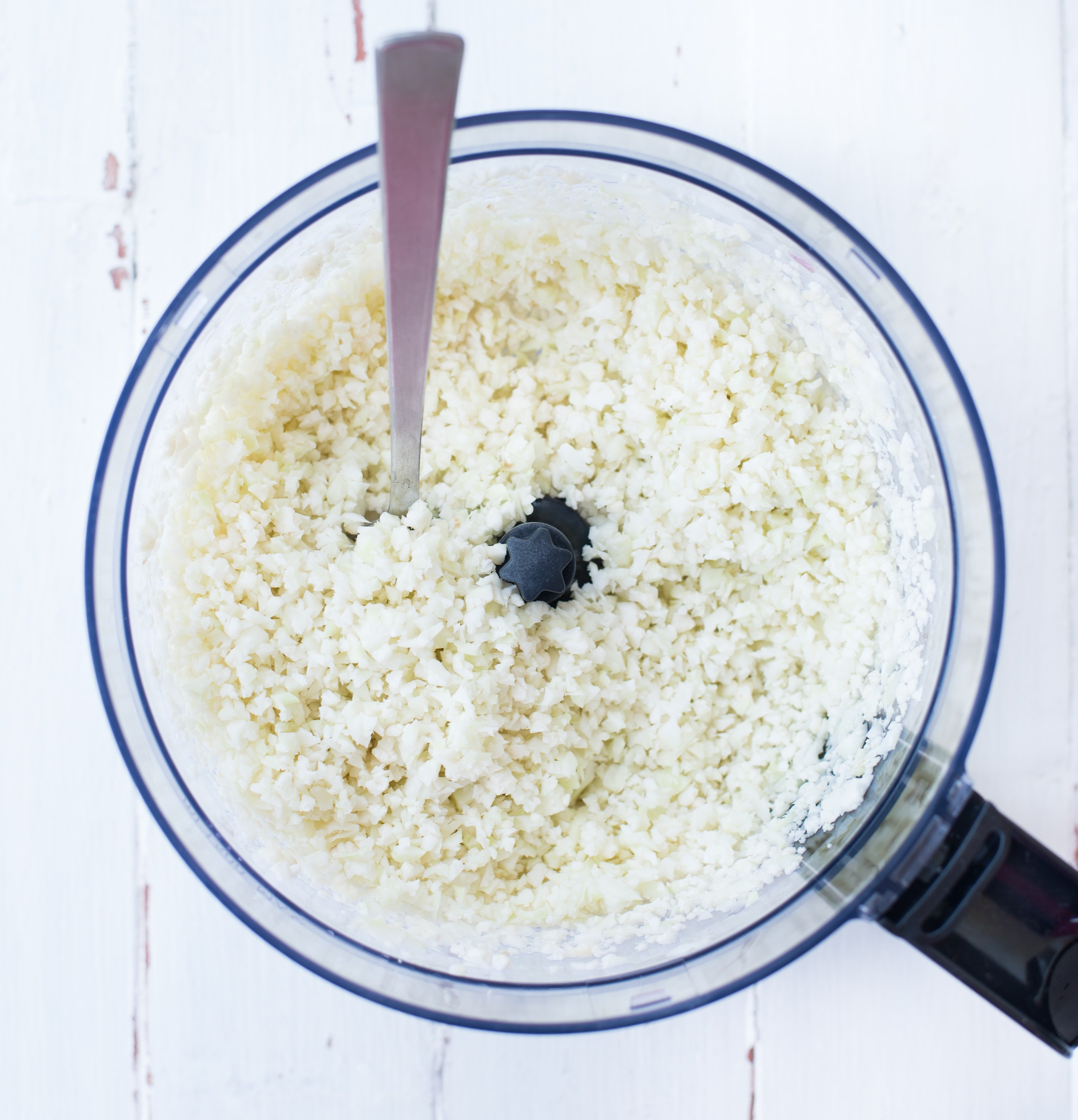 How to make Cauliflower Rice
Start by making cauliflower rice from the florets. Refer to the above section for details.
Prep the chicken. You can use boneless chicken breast or chicken thighs. Cut chicken into medium cubes or Juliennes.
In a mixing bowl add parmesan cheese, garlic powder, Onion Powder, Mixed herb, paprika, salt, and pepper. Coat each chicken piece evenly with the seasoning.
Cook Chicken – In a pan heat butter and spread coated chicken pieces in a single layer. After cooking for 2-3 minutes, turn the chicken pieces, and let it cook for another 2-3 minutes. Remove the chicken pieces from the pan and keep them aside.
To the same pan, add minced garlic, followed by Cauliflower rice. Cook, it covered for 4-5 minutes. Then add cooked chicken, mix everything well.
Add chopped parsley and dash of sriracha while serving.
Frequently Asked Questions
How to cook Cauliflower rice?
Cooking cauliflower rice depends on how you are going to use it.  I like to toss it in a pan with little butter till the raw smell is gone and it is tender. Cook for around 5-6 minutes and then at the end season the rice.
Another way of cooking Cauliflower rice is to microwave it for 4-5 minutes. Then I sometimes put the rice in a strainer/muslin cloth to squeeze extra liquid.
Can we use frozen cauliflower rice?
Absolutely you can use Frozen Cauliflower rice here. In fact, sometimes I make a big batch of cauliflower rice and freeze it in smaller zip lock bags. Thaw it for an hour before using it.
Can we store Cauliflower rice?
This cauliflower rice with chicken is good for meal prep too. You can make a big batch of it and keep it in a refrigerator for up to 3 days.

You can also freeze cauliflower rice for up to 2 months in a zip-lock bag. Remove any excess air from the bags after putting in the cauliflower rice. Press it flat and freeze it flat.
Is Cauliflower rice a vegetable or carb?
Cauliflower is known as a nutrient-rich vegetable with many health benefits. It also has a lot lesser calories than many grains like quinoa and brown rice.

With a couscous-like texture, it is often used as a substitute for real rice when one intends to cut back on carbs.
Other Cauliflower Recipes
Creamy Cauliflower Curry (Vegan)
Healthy Taco Salad with Cauliflower – Low Carb
Achari gobi ( pickled cauliflower)
Curried Almond Cauliflower Soup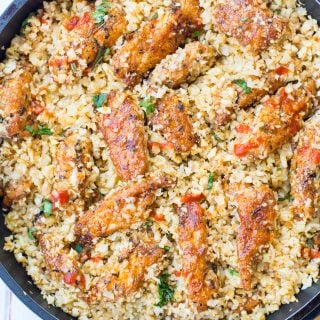 LOW CARB CHICKEN AND CAULIFLOWER RICE
Chicken Cauliflower Rice with garlic chicken and nutty cauliflower rice is low carb, Keto and ready in 20 minutes.  This Low Carb Chicken Cauliflower Rice is healthy, easy and packed with flavour.
Ingredients
medium cauliflower
250 grams Boneless Chicken Breast Cut into cubes
2 tbsp butter
1 garlic pod
chopped parsley for garnishing
Sriracha or Any Red Hot Sauce (optional)
To coat chicken
¼ cup Parmesan cheese
1 tspn Garlic Powder
1 tspn paprika
2 tspn Mixed herbs
Salt and Pepper as per taste
Instructions
Cut Cauliflower head to small florets. Clean under the running tap. Drain excess water.

In a food processor add Cauliflower Florets. Pulse until you get rice like texture.

In a mixing bowl add all the ingredients mentioned under 'To Coat Chicken'

Coat Chicken pieces with the seasoning mixture.

Heat a pan. Add one tablespoon of butter.

Arrange coated chicken pieces in a single layer. Cook for 2-3 minutes. Turn each pieces and cook further for 2-3 minutes. Chicken pieces would look crispy and golden brown in colour.

Remove cooked chicken pieces from the pan and keep it aside.

To the same pan add remaining butter. Add minced garlic.

Once the raw smell is gone, add cauliflower rice and cover. Cook for 5-6 minutes.

Add cooked chicken. Season it with salt and pepper. Mix well.

Add chopped parsley or cilantro. Mix well.

While serving add a dash of Sriracha.
Nutrition
Serving: 100g | Calories: 149kcal | Carbohydrates: 1g | Protein: 16g | Fat: 9g | Saturated Fat: 5g | Cholesterol: 60mg | Sodium: 224mg | Potassium: 231mg | Fiber: 1g | Sugar: 1g | Vitamin A: 410IU | Vitamin C: 2mg | Calcium: 77mg | Iron: 1mg