Parmesan Cauliflower Fritters (Low carb, Keto)
This post may include affiliate links that earn us a small commission.
These healthy low-carb, gluten-free Parmesan Cauliflower Fritters are crisp on the outside and tender on the inside. This is keto friendly and perfect for guilt-free snacking. Serve these fritter with garlicky yoghurt dip.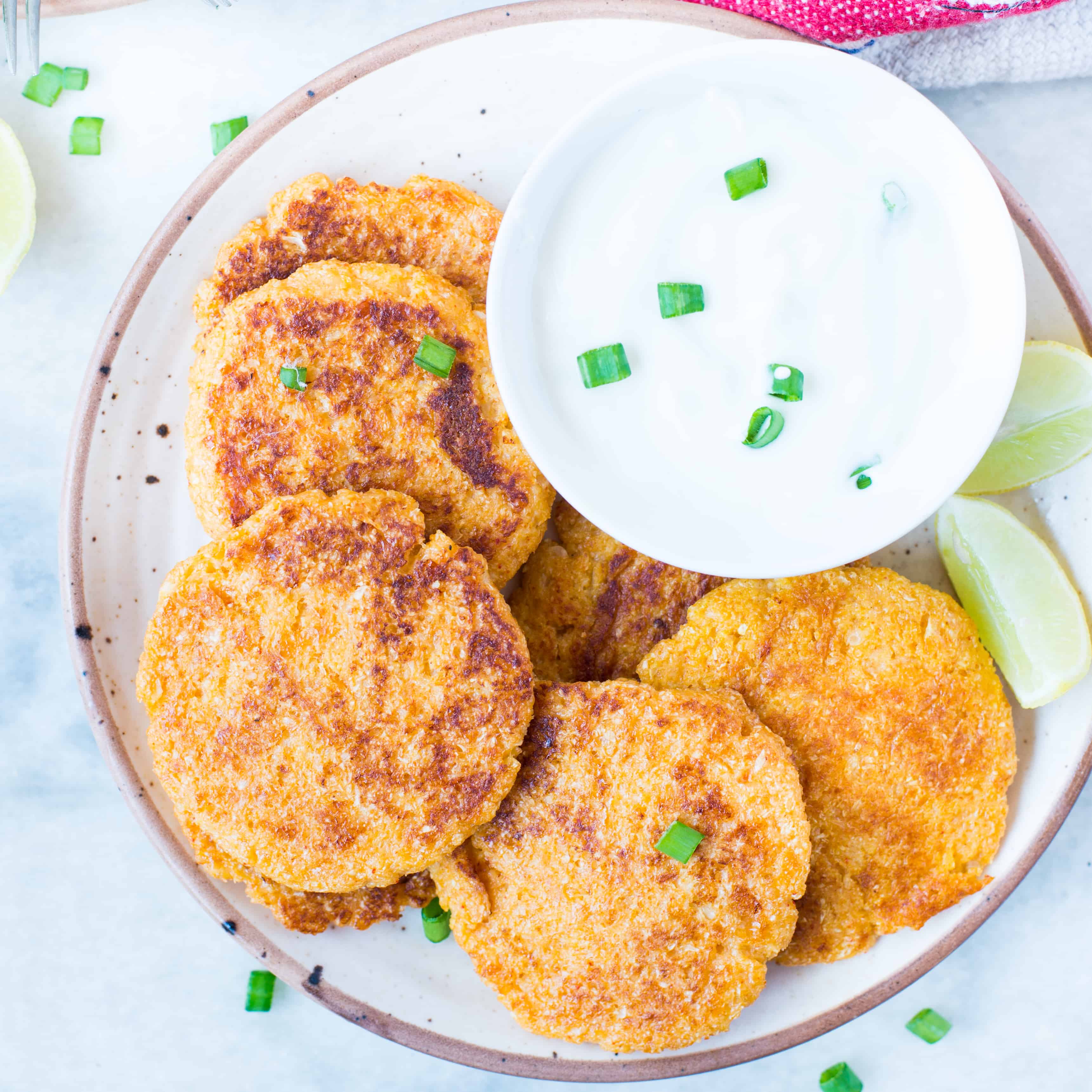 If you have been looking for a healthy, guilt-free snack, then these amazing Parmesan Cauliflower Fritters are for you. I absolutely go crazy and long for some junk food during evening hours. And then my entire calorie count goes for a toss.
Flavours In Your Inbox
Subscribe for recipes straight to your inbox
So along with my meal prep, I also plan for some healthy, quick snacks for a few months now. It helps me from consuming unnecessary calories and also from guilt.
I keep some healthy trail mix or crackers handy. On days when I am in a mood to spend 15 – 20 minutes in the kitchen, I make some quick snacks like Crisp Parmesan Cauliflower fritters.
I love these with Garlicky yogurt dip. You can also serve with sour cream or with mayo (for a little indulgence).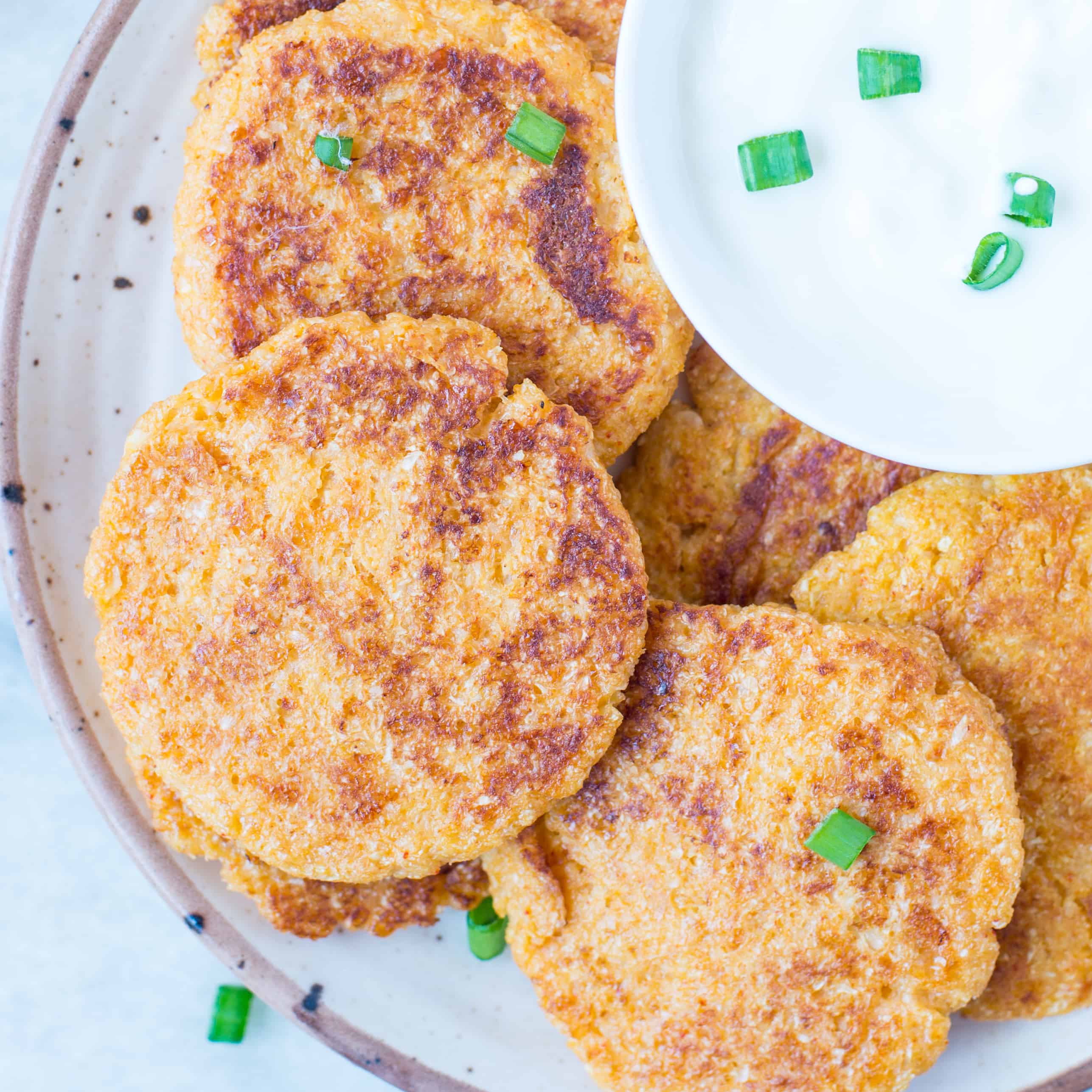 I have been experimenting a lot with this amazing vegetable nowadays. Cauliflower is low carb and high in fiber and it fits in most types of diet. Because of their meaty texture, these are perfect for any savory dish.
If you are wondering you can use cauliflower only in a savory dish, then check this Cauliflower Chocolate Protein Smoothie.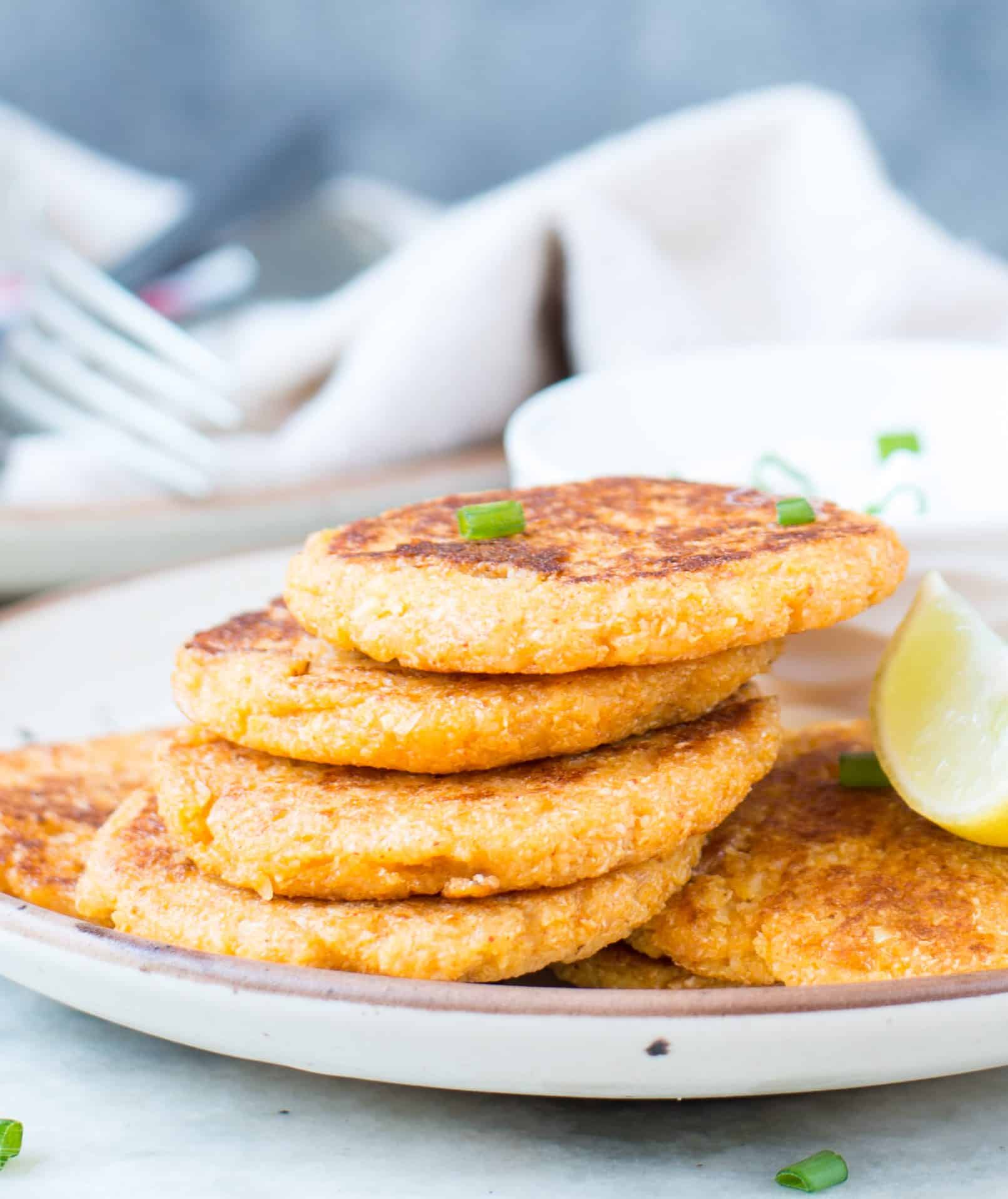 These fritters or you can say pancakes are amazingly crispy on the outside, juicy, and tender on the inside.
If you have already tried your hands on cauliflower fritters and ended up with soggy ones, then let me tell you a little secret here.
Cauliflower once cooked, loses a lot of water. Be it cauliflower rice or these fritters, all of them end up soggy and watery. After a couple of trials, I realized it is important to get rid of the extra liquid before cooking.
This one step will make sure your final dish has amazing texture and flavour.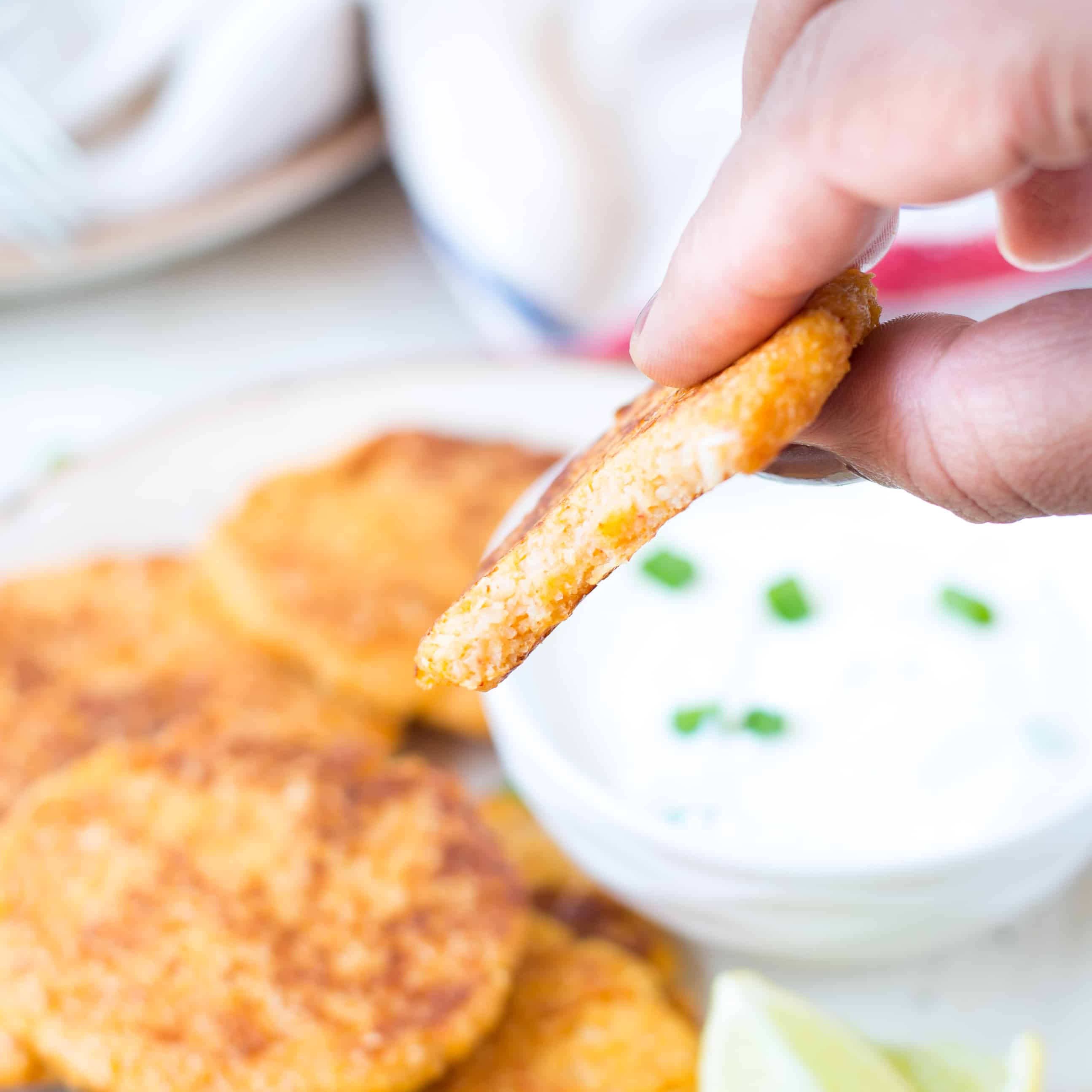 Tips for making the fritters extra crisp
Before you make anything with Cauliflower rice, this extra step will make sure the end result is not soggy or watery.
Clean cauliflower floret and put in a colander to drain any extra liquid.
Make Cauliflower rice in a food processor or using any other convenient method.
Put Cauliflower rice in a microwave-safe bowl and sprinkle a little salt.
Microwave on high for 5 minutes.
Let it cool.
Put rice in a kitchen towel and squeeze extra liquid.
After this step, you can either use it right away or put in Zip-lock bag, freeze it.
Here is the step by step video recipe to make Parmesan Cauliflower Fritters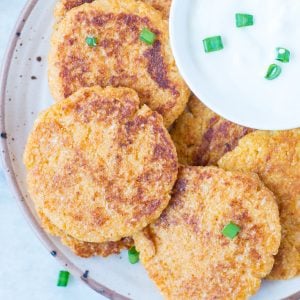 PARMESAN CAULIFLOWER FRITTERS ( LOW CARB, KETO)
This healthy low carb, gluten free Parmesan Cauliflower Fritters are crisp on the outside and tender on the inside. This is keto friendly and perfect for guilt-free snacking.
Ingredients
1 Medium cauliflower
1 egg Whisk one egg and use half of it
½ cup Parmesan cheese
1 tspn Garlic Powder
½ tspn paprika
1 tbsp Arrowroot powder
Salt to taste
Instructions
Break Cauliflower into small florets. Clean and make cauliflower rice ( Detailed steps to make perfect cauliflower rice mentioned above in the post).

In a big mixing bowl, add cauliflower rice, beaten egg, parmesan cheese, salt, paprika, garlic powder and arrowroot powder.

Mix everything well.

Take a heaping tablespoon of the mixture. Make patties using both the palms.

Lightly grease a pan and place the patties, leaving little space between each.

Cook on meduim heat for 7-8 minutes or till it looks crisp and golden in color. Flip and cook the other side till crisp and golden brown in color.

Serve warm with a cooling dip.
Notes
Let the fritters cook on one side undisturbed before flipping.
You can also add some chopped fresh green onion to the mixture.
Nutrition
Serving: 100g | Calories: 54kcal | Carbohydrates: 4g | Protein: 4g | Fat: 2g | Saturated Fat: 1g | Cholesterol: 24mg | Sodium: 129mg | Potassium: 228mg | Fiber: 1g | Sugar: 1g | Vitamin A: 110IU | Vitamin C: 34.7mg | Calcium: 93mg | Iron: 0.5mg