Lemon Chicken and Asparagus
This post may include affiliate links that earn us a small commission.
Chicken and asparagus recipe with Mushroom is fresh, healthy, and low-carb dinner made in one pan in under 30 minutes. The buttery lemon herb sauce is flavourful and delicious.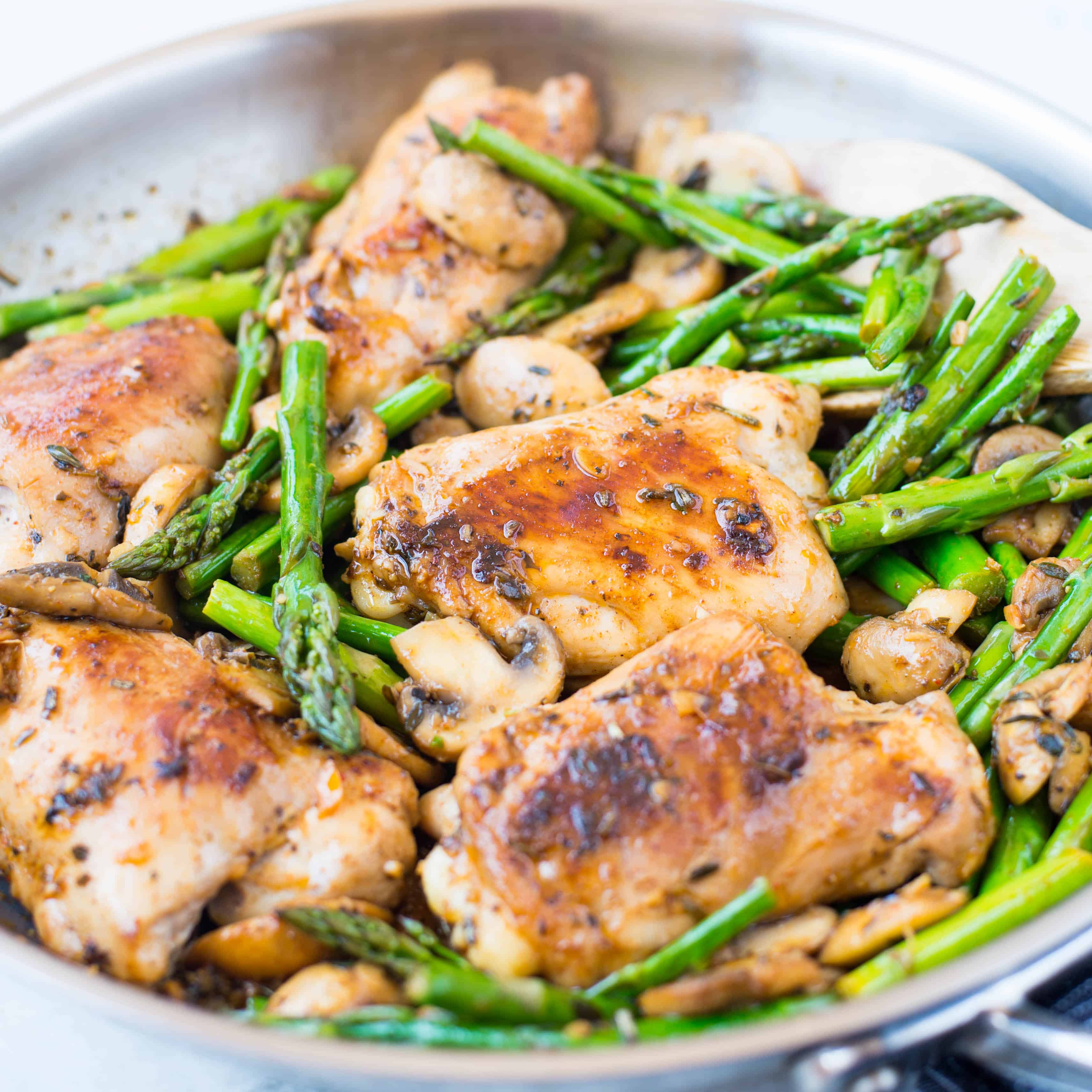 Chicken and Asparagus with Lemon butter sauce
Let's discuss this fresh and vibrant-looking pan recipe today.
Flavours In Your Inbox
Subscribe for recipes straight to your inbox
This dish has everything that one would need for a perfect dinner. It is one pan, therefore so easy to clean up.
An excellent dish to have your favorite seasonal asparagus.
It has the right balance of protein, fat, and carbs. You will not miss your veggies as well.
The herby lemon butter sauce is to die for. I would pair it with some rice or noodles for a complete meal.
All three – chicken, asparagus, and mushrooms are sauteed and cooked in butter, giving great flavor.
Are you team – Chicken breast or Chicken thigh? Honestly, I love both of them. If you know the right way of cooking them, both taste great. Many might disagree with me and say chicken thigh is always better. It is true, but chicken breast can be juicy and tender with good marination and the right cooking time. My preference differs depending on the recipe.
Coming to this Lemon Herb Chicken, Asparagus, & Mushroom Skillet recipe, both chicken breast and thighs will work here. All you have to do is adjust the cooking time. You may also bake the chicken once you have seared the meat. All that juice released from the chicken will make a delicious butter herb sauce.
With spring around the corner, Asparagus will soon be in season. Asparagus tastes best when it is still crunchy, and the seasoning is not overdone. The lemony herb butter sauce goes well with asparagus by retaining its natural taste. Not only is Asparagus a delicious vegetable, but it is also high in fiber and loaded with nutrients.
You must check the Chicken and Asparagus Stir-fry Noodle recipe when discussing asparagus. This noodle stir-fry has lovely Asian sauce, Gluten-free rice noodles, and crunchy Asparagus.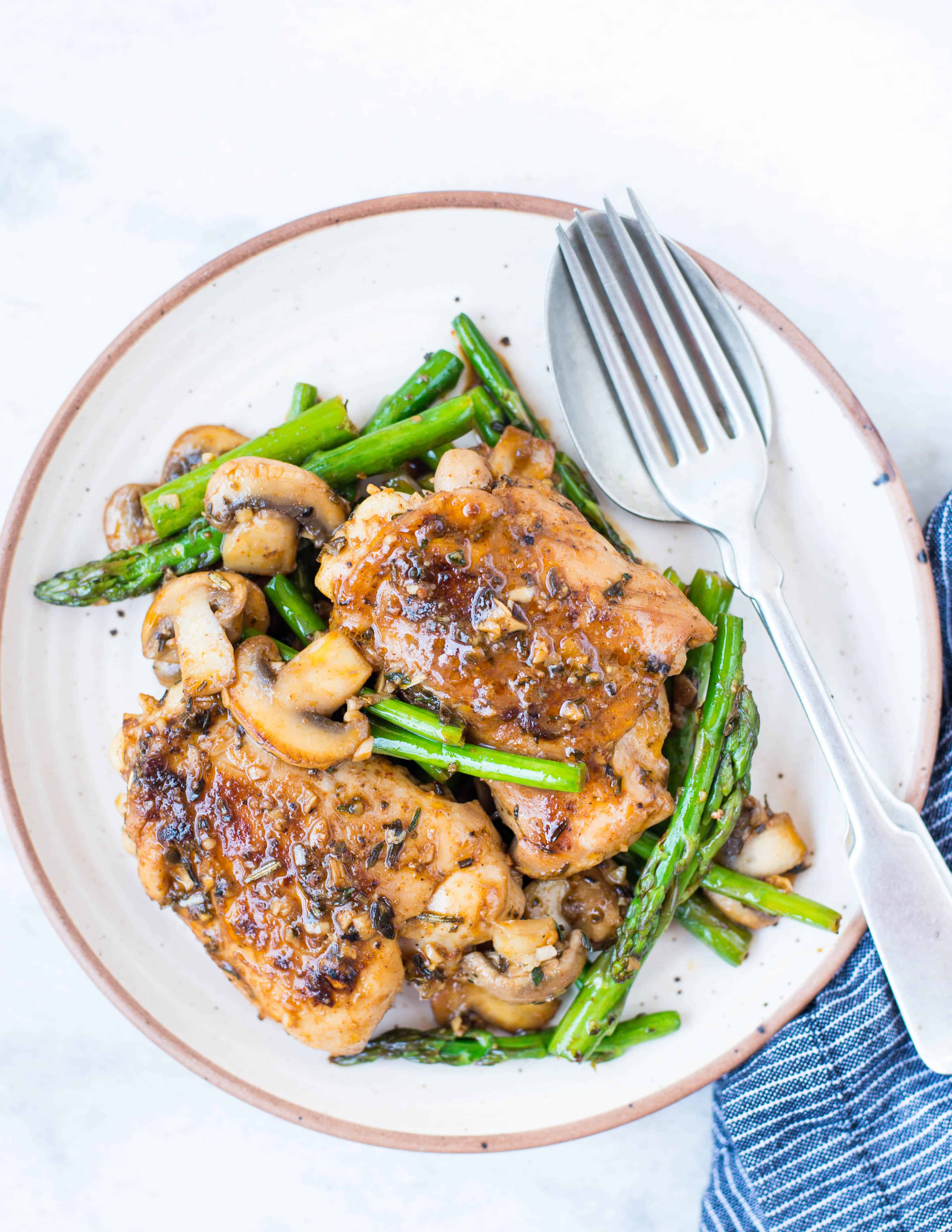 Lemon Herb Butter Sauce
The star of the dish is the sauce. Lemon juice, along with butter, drives the flavor of the sauce. Also, chicken and asparagus are cooked in chicken stock which gets flavor. The sauce tastes rich and creamy with the fat and flavors from the stock. Herbs combine thyme and rosemary, which elevate the sauce to another level.
This is not a gravy dish; the sauce is thick and delicious. Also, no cream is used here, which scores when you do not want very creamy sauces. it is just right to compliment the chicken and sauteed asparagus.
Ingredients
Skinless chicken thigh – I prefer skinless chicken thighs here. You may also use chicken breasts. With breasts, the cooking time reduces by 5 minutes, as they turn chewy soon. Bone-in pieces impart more flavor to the sauce.
Asparagus – Go from thick, green ones which are not soft to the touch or appear wiltedd. You do not have to peel asparagus. Just get rid of the bottom part of the stalk.
Mushroom – I have used button mushrooms. Mushrooms are an add-on and are sauteed here; any mushroom fits the bill here.
Chicken stock – If you have homemade stock, that is ideal. Else, get a good quality stock.
Garlic – Minced garlic to add flavor to the sauce.
Lemon juice – The lemon flavor of the sauce is its USP.
Unsalted butter – is the source of fat used to cook chicken, asparagus, and mushrooms. If you use salted butter, you may need less salt later.
Minced herb – a mix of thyme and rosemary provides excellent aroma and flavor.
Paprika, pepper, and salt – Paprika is used to season and color the dish. Use them as per taste.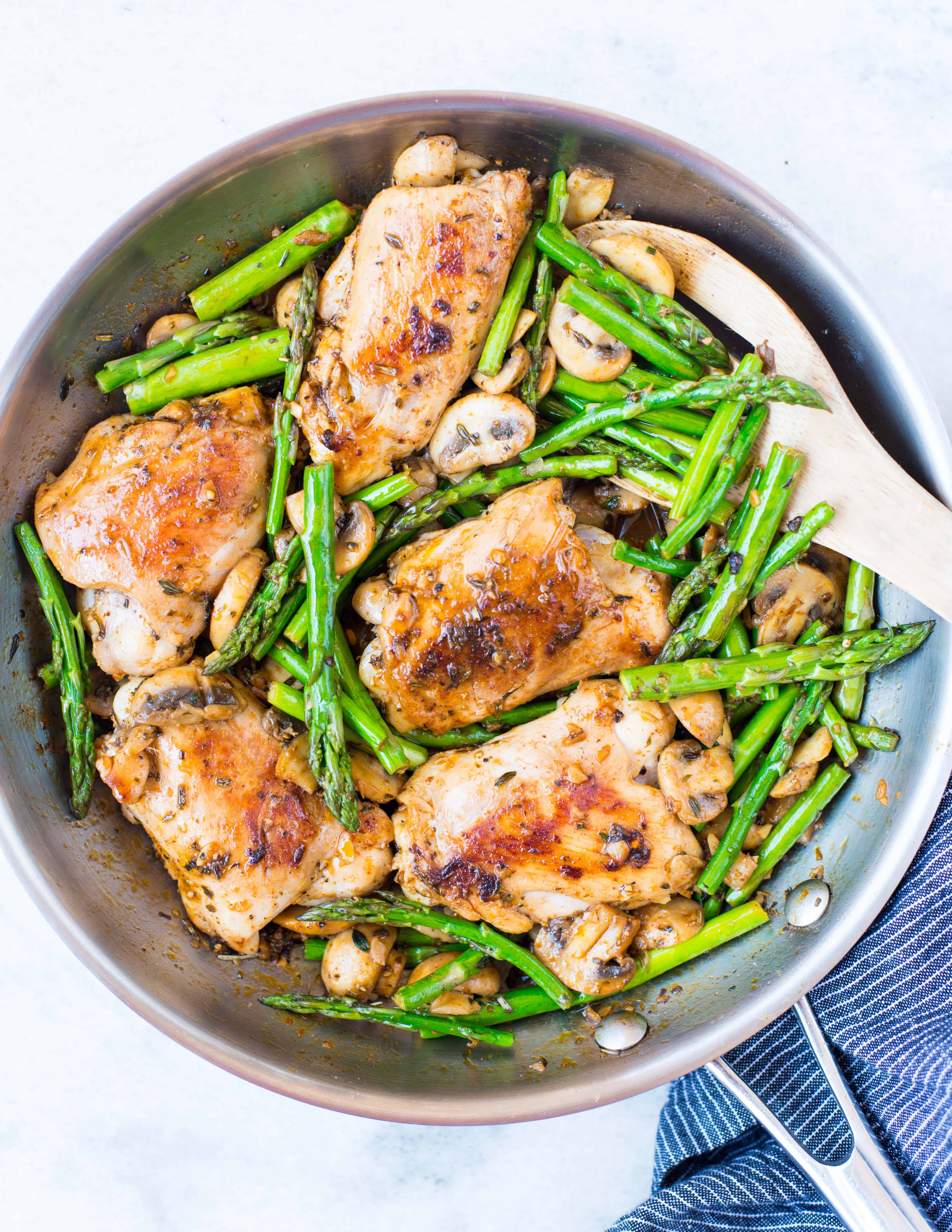 How to make
Making this dish and getting the flavor right requires a few steps. Follow the recipe steps in order, and you will have a well-cooked chicken, asparagus, and a delicious sauce.
Saute mushrooms
Add butter and saute mushrooms chopped to quarter-inch sizes on a hot skillet or pan. Start with high heat, and after the butter melts, reduce heat to medium. Saute until the mushrooms get brown. Take them out and keep them aside.
Garlic and Herbs
Add the minced garlic with the remaining butter. Garlic should lose its raw smell.
Add the chopped herbs of thyme and rosemary and saute along with garlic. They should smell aromatic, and then you should chicken.
Cook chicken in stock
Add chicken thigh pieces. Flip them, so they coat well with the herbed garlic butter. Cook them for 5 minutes on a medium flame. Chicken should be almost cooked but not fully done.
Next, add lemon juice and paprika. Flip the pieces so that they coat well with these. Slowly pour the chicken stock. Let the stock simmer for 5 minutes.
Mushrooms & Asparagus
Time to add the sauteed mushrooms & asparagus to the pan. Toss everything well. Let it cook for another 4 minutes.
Store
Yes, you can make this ahead as meal prep. Store the chicken and asparagus in an air-tight container or zip-lock bag in the refrigerator for up to 4 days as it has garlic.
Take it from the fridge, and you can reheat this in the microwave. Place it in a microwave-safe container and cover it with an aluminum foil or paper towel. You may also choose to reheat it on a pan/skillet until it is hot. Do not overheat it as the chicken may overcook and may taste chewy.
Serve With
This can be had as a whole dish by itself. You may serve it with white rice or brown rice or with salads like Cucumber Strawberry Salad, Lemon Dill Potato Salad( No Mayo), or Apple Kale Salad With Apple Cider Vinaigrette.
Bread goes well with a protein-rich dish like this. Make this Cheesy Garlic Bread or a simple option No-Knead Rustic White Bread.
Other chicken thigh recipes
Oven Baked Creamy Chicken Thighs
Sweet and Spicy Boneless Chicken Thighs
Creamy Garlic Parmesan Chicken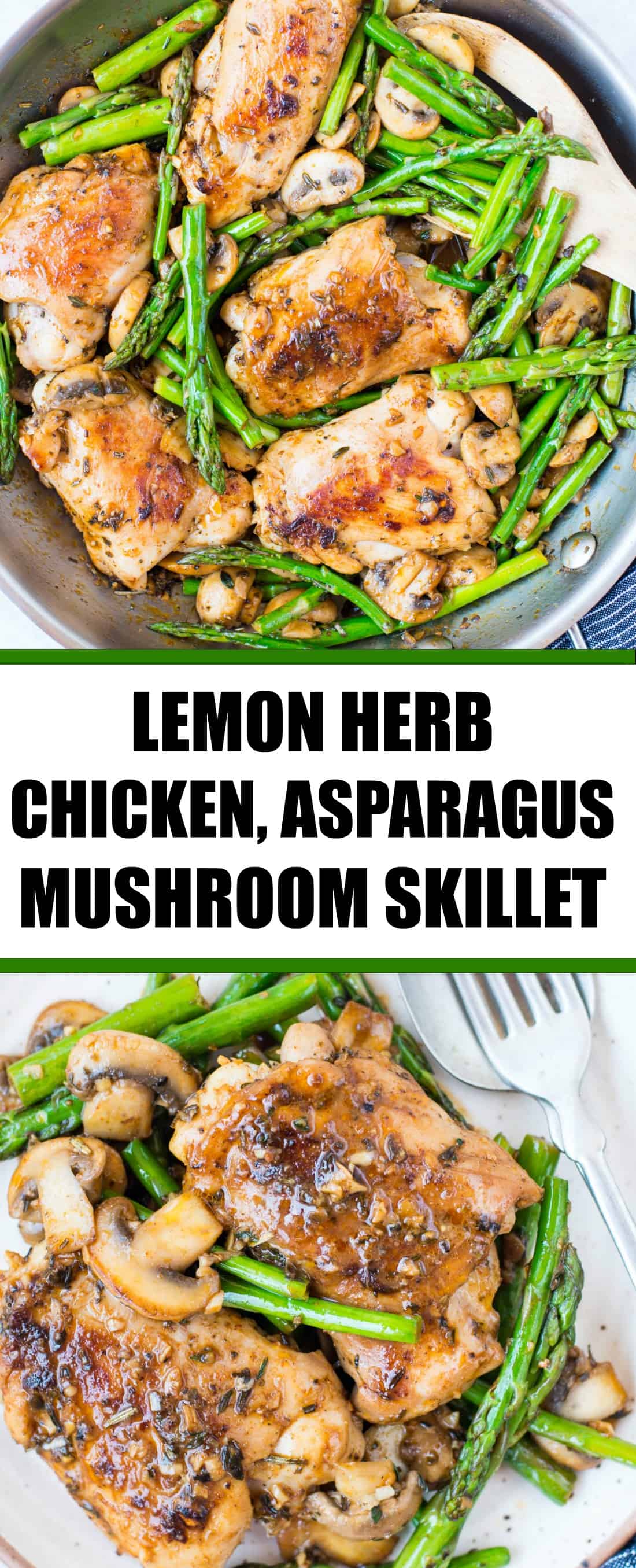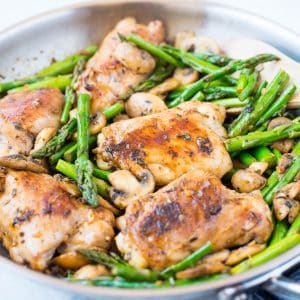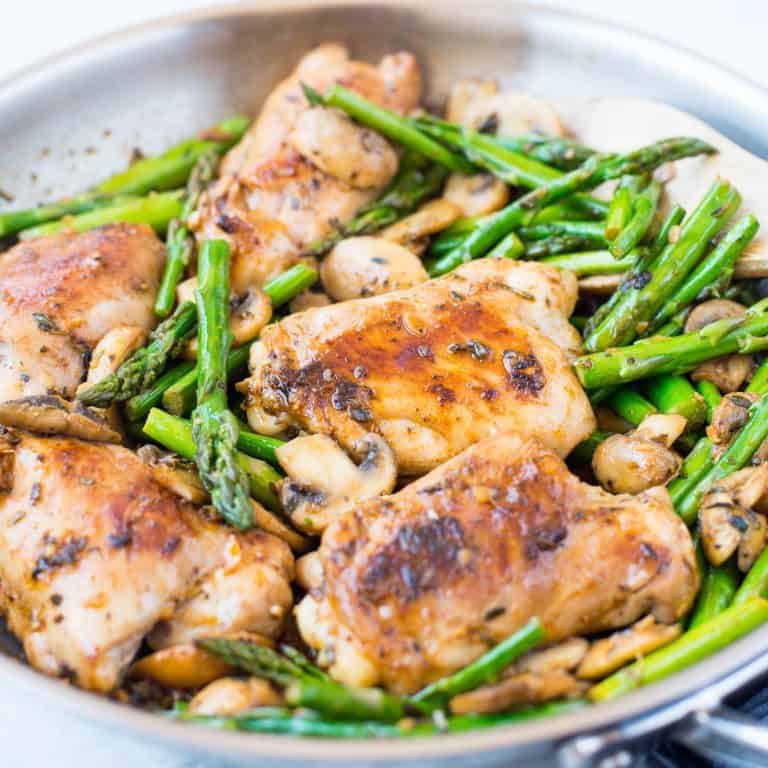 Lemon Chicken,Asparagus and Mushroom
This Lemon Chicken, Asparagus, & Mushroom Skillet is fresh, healthy and low carb dinner made in one pan in under 30 minutes. The buttery lemon herb sauce is flavourful and delicious.
Ingredients
500 grams chicken thigh
200 grams Mushrooms (sliced thinly)
400 grams Asparagus
4 tbsp unsalted butter
1 tbsp Minced garlic
1.5 tbsp Minced herb (I used mix of rosemary and thyme)
1.5 tbsp Fresh Lemon jiuce
½ tspn paprika
⅓ cup Chicken Stock
Salt and Pepper as per taste
Instructions
Season chicken with salt and pepper. Keep aside.

In a pan add 2 tablespoons of butter. Add sliced mushrooms. Cook till mushrooms are cooked and look golden brown in color. Remove and keep it aside.

In the same pan add the remaining butter. Add minced garlic. Stir and cook till aromatic.

Add minced herb and stir well.

Add chicken thighs. Coat it well with herbed butter. Let it cook for 5 minutes.

Add Lemon Juice and Paprika. Coat chicken pieces well. Slowly add chicken stock to the pan and let it cook simmer for 6-7 minutes.

Add Sauted mushroom and asparagus. Toss everything well. Let it cook for another 5 minutes.

Serve warm with hot steamed rice or have as it it.
Nutrition
Serving: 100g | Calories: 468kcal | Carbohydrates: 6g | Protein: 31g | Fat: 35g | Saturated Fat: 12g | Cholesterol: 183mg | Sodium: 134mg | Potassium: 722mg | Fiber: 2g | Sugar: 2g | Vitamin A: 1080IU | Vitamin C: 6.9mg | Calcium: 38mg | Iron: 3.2mg