Cucumber Strawberry Salad
This post may include affiliate links that earn us a small commission.
If you are looking for a quick and fresh summer salad with chopped veggies and fruits, this simple Strawberry cucumber salad would be right up there. With the classic combination of strawberry and cucumber, it is a light and easy side for any party or dinner.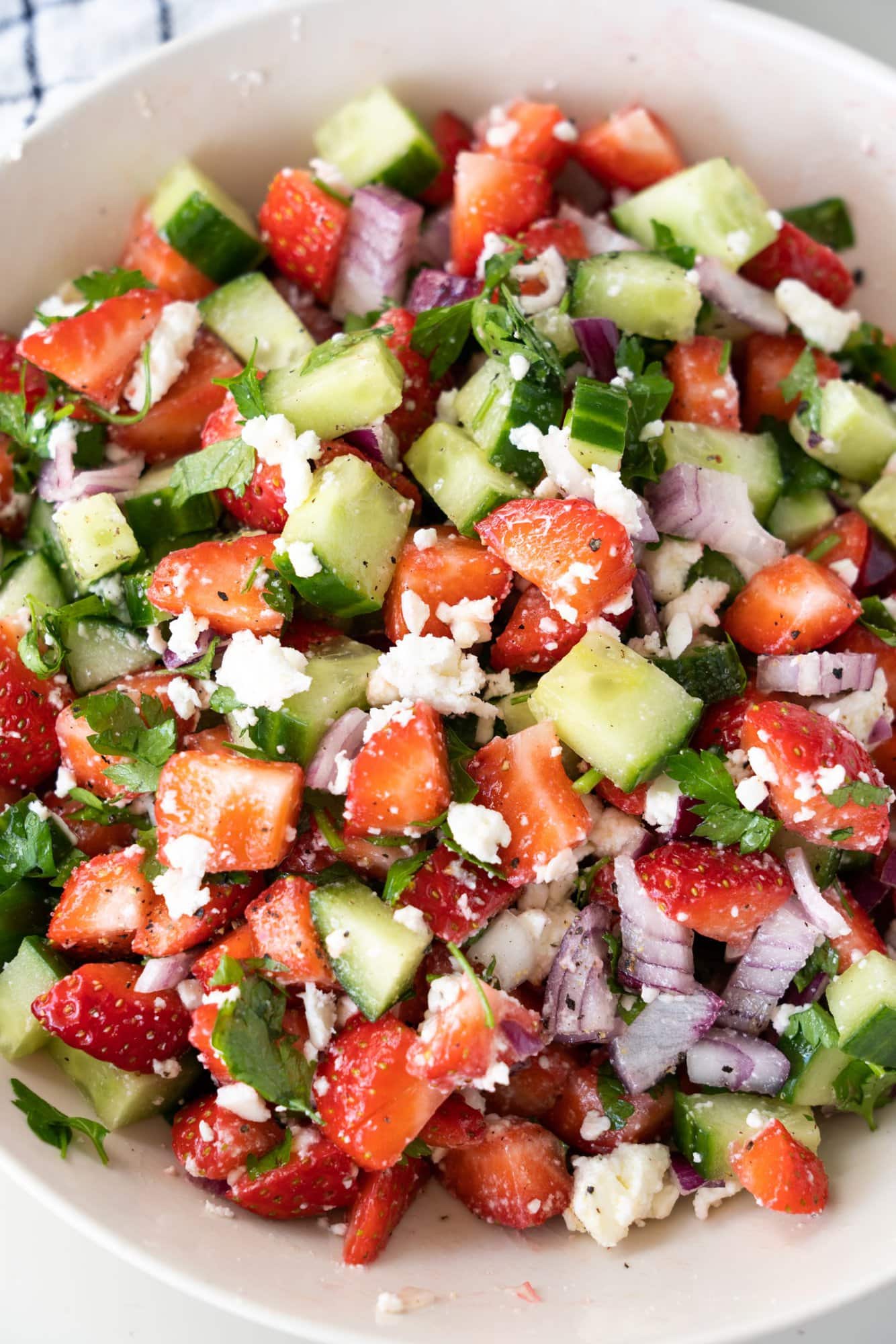 The tartness and sweetness of strawberries are balanced with the crunchy coolness of cucumber. This strawberry salad also gets a punch from the onion, soft and cheesy from the cheese, olive oil for flavor, and freshness from mint.
Flavours In Your Inbox
Subscribe for recipes straight to your inbox
Whether planning for an easy side to a BBQ, potluck, or dinner, you cannot go wrong with this no-fuss recipe. There is no cooking and only a little chopping involved here.
There is no complex dressing in this summer salad. It gets a simple flavor from the dressing (if you can even call that), which is just olive oil, pepper, and salt.
There are strawberry salads and cucumber salads; these are both worlds' best. Both are the right picks for the summer season, and with a few flavorful ingredients added, it makes for a fresh, fruity, and chopped salad.
I recourse to salads regularly all year round, especially in summer. Check out some more fruity and veggie salad recipes – Apple Kale Salad With Apple Cider Vinaigrette, Pineapple Mango Salsa, Asian Cucumber Salad.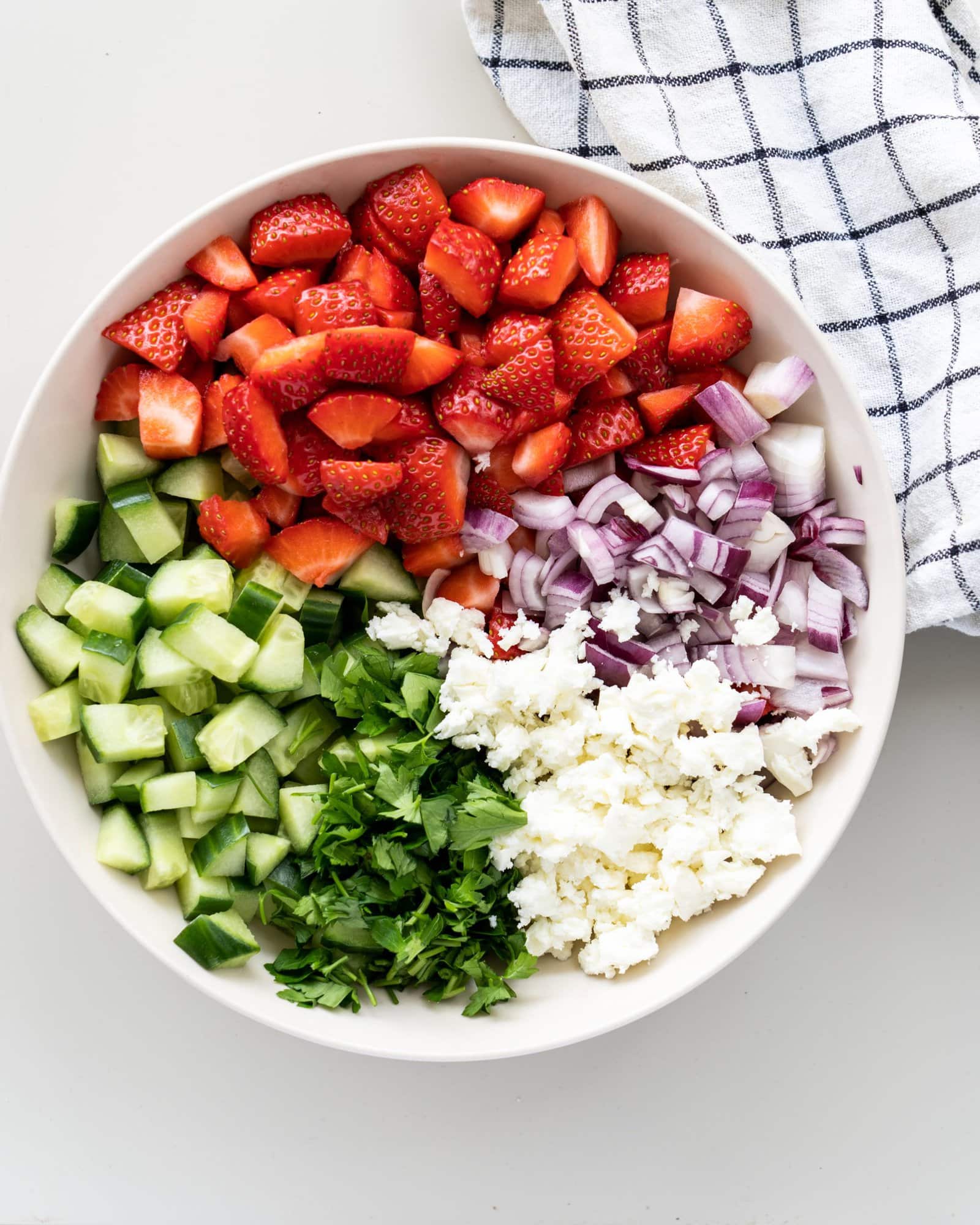 Ingredients
Strawberry – pick ones with brilliant red color. The brighter the color, the sweeter they would be. Check for fresh green caps on top. With good ripe and sweet strawberries, this salad would taste so great.
Cucumber – English cucumber, you know, is slender and looks fresh and green. In summer, this cucumber salad is an easy go-to.
Feta cheese – A crumbly cheese like feta goes very well with chopped salads. You may go for goat or blue cheese as a substitute.
Chopped Onions – Adds a punch to each bite of the salad
Olive oil – is used for the flavor and base of the dressing.
Mint – adds a touch of freshness to the chopped fruit and cucumber.
Pepper – for a bit of heat and flavor.
Salt – as per taste.
How to make
Honestly, this zesty summer salad is one of the easiest I have prepared. There is no cooking required at all. All you need to do is to learn to chop the strawberry, cucumber, and onions and tear the mint leaves into small bits 🙂
After you get the correct picks of strawberries and cucumber, chop them into small pieces. You may prefer to slice the strawberry in the middle with a vertical cut. If the berries are a good size, you may also chop them into four parts.
Just make sure to chop them to a size that you can have a piece of each with the cucumber and onion in each bite. Chop the onions into small pieces. Refer to the image for the right cut size.
When the chopping is done, collect it all in a big bowl and drizzle the olive oil, pepper, and salt and sprinkle the crumbled feta cheese over the bowl. Mix everything well, and you are ready with one of the easiest salads.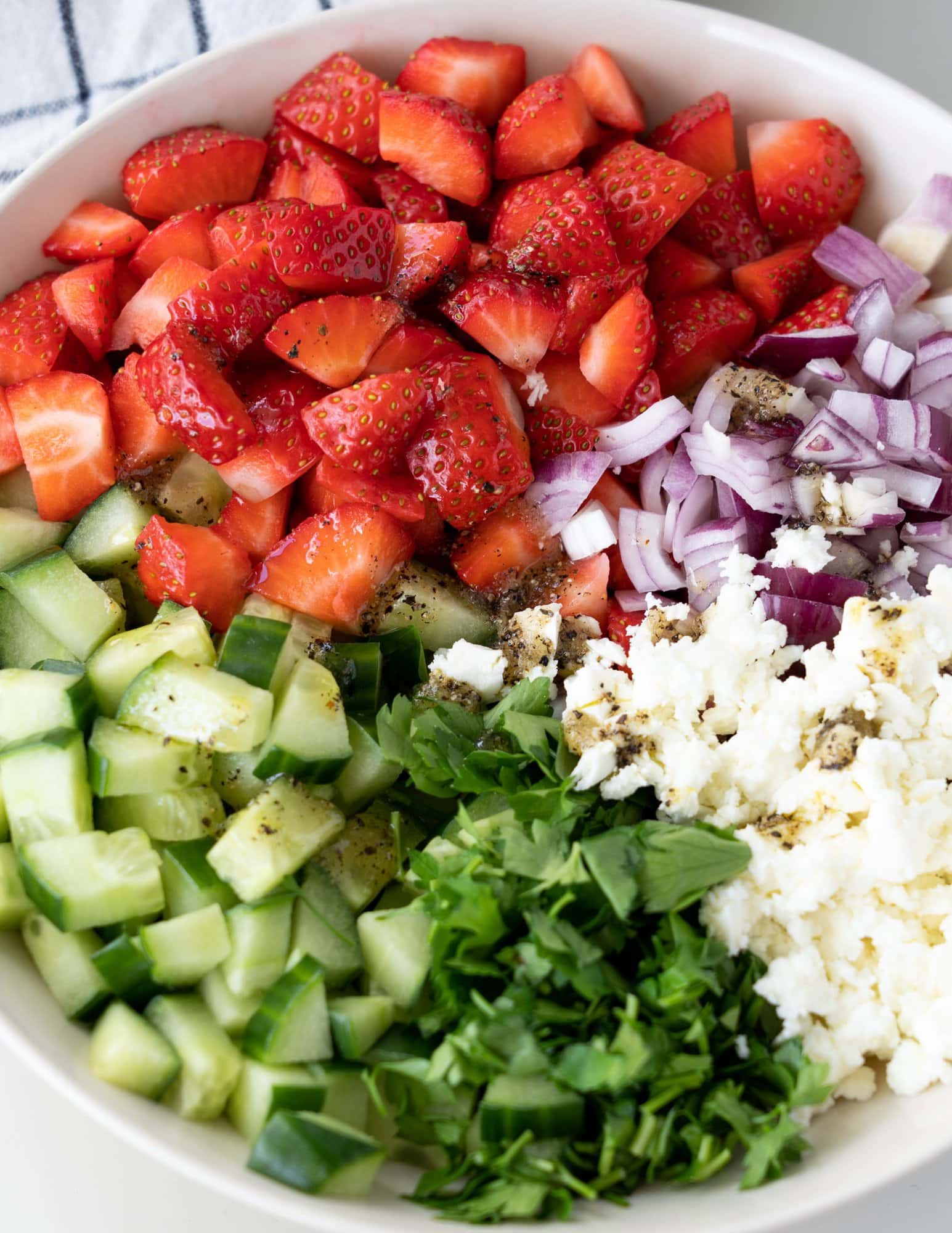 Serve With
This summer strawberry salad is a quick and easy side to any meaty meal. The beauty of this salad is its versatility. Use them as a side dish, light lunch, or part of the spread at any party or dinner spread. These can be served with a variety of things.
Store
Cucumber Strawberry Salad is an Instant Salad as you can chop, mix and make when needed. There is nothing to pre-cook here. For a few days, chopped berries and veggies like cucumber and onions can be chopped ahead and stored in the refrigerator in a zip-lock bag.
Do not store the salad once you have added the olive oil and cheese, making the salad soggy and not ideal for refrigeration.
Other Salad Recipes
Mediterranean Chickpea Salad – A protein-packed chickpea salad with Mediterranean flavors.
Lemon Dill Potato Salad( No Mayo) – A summer salad with herby and lemony flavors over potatoes.
Creamy Tuna Pasta Salad – Protein-rich tuna and egg with macaroni in a mayo and Greek yogurt dressing.
Ramen Noodles Salad With Peanut Dressing – Salad with ramen noodles that is tangy and sweet from the peanut butter-based dressing.
Easy and Zesty Quinoa Salad – Rich in protein and vegetables packed with an Olive oil vinaigrette.
Avocado Chicken Salad – Creamy avocado, fresh veggies, and roasted chicken aptly supported by lemon-herb vinaigrette.
Shrimp Orzo Salad With Pesto – Fresh basil pesto lifts this orzo salad with shrimp and tomatoes.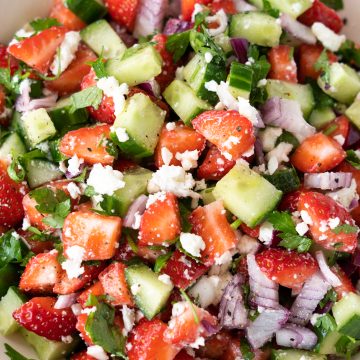 Cucumber Strawberry Salad
Simple summer chopped salad made with cucumber, strawberries, red onion, and with lots of fresh herbs. Salty feta brings a nice balance to the salad.
Ingredients
500 grams Strawberry
1 English Cucumber
½ Red onion
¼ cup Parsley
¼ cup Mint
⅓ cup Feta
Dressing
2 teaspoon Olive oil
1 teaspoon Honey
Salt & Pepper
Instructions
In a big salad bowl add chopped strawberry, cucumber, red onion, and chopped fresh herbs.

Whisk together olive oil, honey, salt and pepper.

Pour the dressing on chopped veggies and toss everything well.

Add half of the crumbled feta and mix everuthing.

While serving sprinkle the rest of the feta on top.
Nutrition
Serving: 1serving | Calories: 116kcal | Carbohydrates: 16g | Protein: 3g | Fat: 5g | Saturated Fat: 2g | Polyunsaturated Fat: 1g | Monounsaturated Fat: 2g | Cholesterol: 11mg | Sodium: 149mg | Potassium: 367mg | Fiber: 3g | Sugar: 9g | Vitamin A: 582IU | Vitamin C: 83mg | Calcium: 109mg | Iron: 1mg