Sweet, smokey and perfectly Juicy, these Oven Baked BBQ Chicken has outdoor summer grilling vibes. Easy to make with a handful of ingredients and a family-friendly dinner for sure.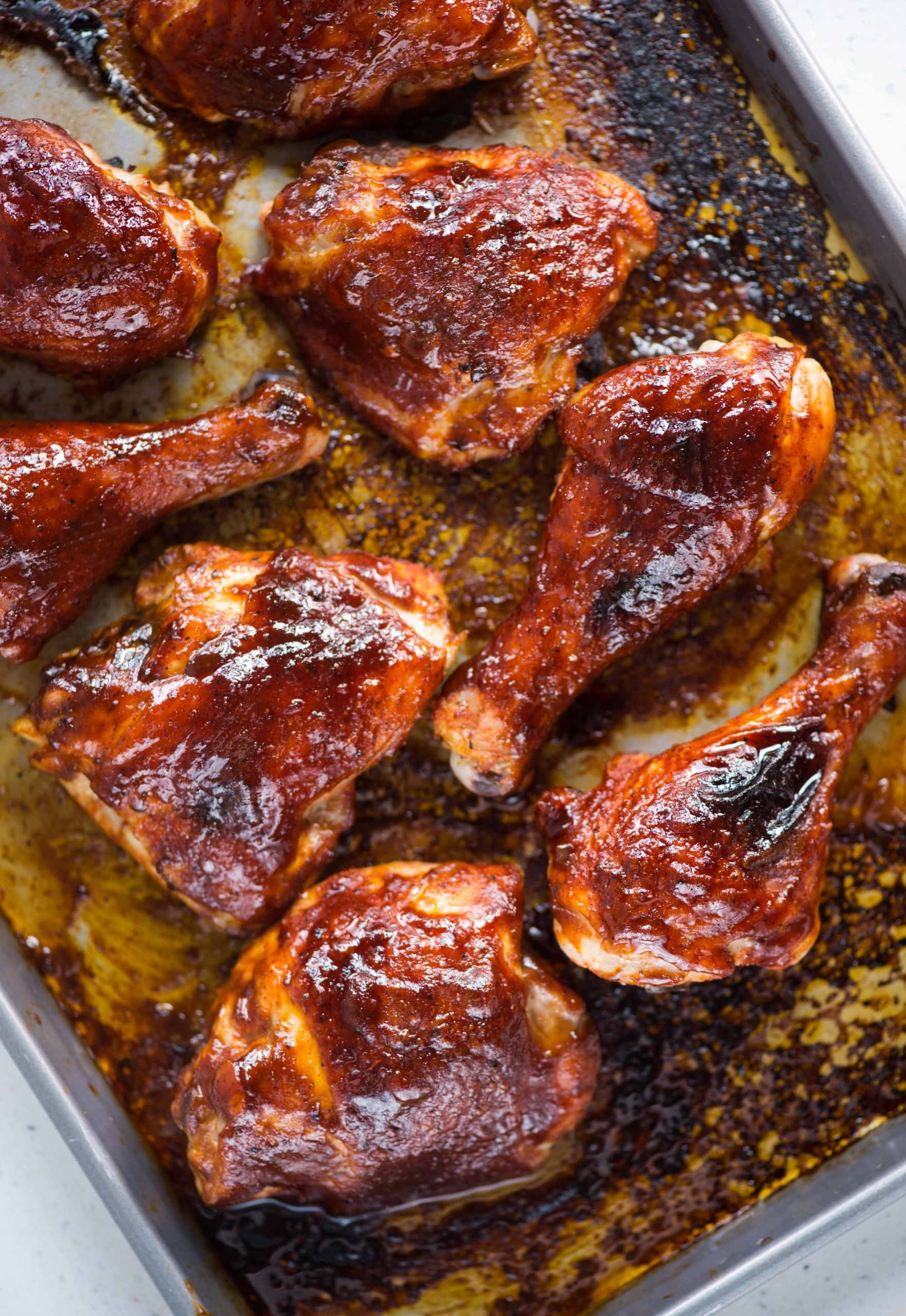 Pin
This BBQ Chicken in the Oven technically needs just two ingredients. But why not make it extra delicious and toss the chicken in a simple spice mixture before applying the BBQ sauce. This is a great
Fortunate are the ones who can grill outdoors year-round. But you don't always have to fire up the grill to make these.
What's special about this recipe?
Quick & easy. 3 simple steps to get to a delicious and juicy Baked BBQ Chicken
No Marinade
A simple dry rub for infusing flavours
NO broiling required and no risk of burning.
How long does it take to bake BBQ chicken in the oven?
The entire process including a 5-minute prep takes less than an hour. You can split the entire cooking time into three steps:
Prep - It is very easy to prep and does not take more than 5 min.
Bake the chicken - 20 mins to cook the chicken as a first step.
Apply BBQ sauce and bake again - 20 mins in total. 10 mins each side after applying the BBQ sauce.
What cut of chicken is best for BBQ chicken in the Oven?
Well, in theory, you can baste BBQ sauce over any cut of chicken. There are four cuts of chicken that you would have seen being used for baking or grilling:
Chicken Legs
Bone-in Thighs
Boneless Thighs
Boneless breast
The thigh and leg cuts are what are called 'Dark Meat' cuts of the bird. These four cuts can be also split as 'Bone-in' or 'Bone-less'.
The chicken breast is obviously a boneless cut and you get boneless thigh pieces too.
What works best for baking or grilling recipes, especially with a sauce on it, are a mix of Bone-in cuts like thigh and legs. There are two reasons why bone-in cuts are best for this -
The bone imparts a flavour to the meat. Also, because they take longer to get cooked, it gives enough time to infuse the flavours from the sauce or spice to the meat.
Bone-less meats cook very fast and run the risk of getting overcooked (read chewy and tough) by the time the sauce caramelized.
So with bone-in pieces, first, you get the most flavour, and second, it cooks at the same time as the sauce caramelizes. Delivers the best flavour this way.
What size of cuts for baking in the oven?
It is best to have even-sized cuts of the chicken. A reason for this is - you can ensure that all of those get cooked at the same time. We do not want one to overcook while the other gets done perfectly.
If you get a whole chicken or much bigger pieces, suggest you cut them to a uniform size.
How to know what is the right size for each piece?
I have learnt and applied a simple rule to have a uniform size of the cuts. Of course, when you take a mix of different cuts like legs and thighs, they vary in shape to start with. Just make sure that the length is more or less similar.
Each piece should not be smaller than the palm width - i.e. width from index to the little finger.
Neither should they be much wider than your palm length (from bottom to the top of your palm)
Homemade BBQ sauce or store-bought sauce bottles?
This is home-made freshness with pride vs convenience. If you have the time to make a homemade BBQ sauce, surely go for it. An initial effort is needed to collect the ingredients for the sauce.
Making of the sauce is not difficult though.
On the other hand, there are many brands for BBQ sauce bottles, available in the supermarkets nowadays. Honestly, a few of them are quite good. Look carefully for the list of ingredients and avoid sauces that are too sweet.
You can just grab a bottle and run with this recipe to reduce your prep time significantly.
How to make BBQ Chicken in the oven?
The whole process can be divided into three easy steps. Season the chicken, bake and then coat with BBQ sauce.
Prepare the seasoning with garlic powder, onion powder, paprika, salt and pepper. Season well the chicken. This extra step of seasoning the chicken gives more flavour.
After baking the seasoned chicken, we are going to coat BBQ sauce in two stages. Remove chicken from the oven and increase the heat to 425 degrees F.
Brush BBQ sauce and bake for 10 minutes. Then remove the tray and give a second coat. Bake for 10 more minutes. By the end of 10 minutes, the chicken was cooked through and the internal temperature was close to 165 degrees F. If the chicken pieces are really big then bake for another 5 minutes.
For a charred skin, broil it in the upper half of the oven for 2-3 minutes, keeping a close eye to avoid burning.
How to store baked BBQ Chicken in the fridge?
It is easy to refrigerate or freeze cooked BBQ chicken. The good thing is once you reheat it, there isn't any difference at all while you have it post freezing.
To refrigerate baked BBQ chicken, put the cooked pieces in an airtight container ( to avoid absorbing the smell from other items in the fridge as well as to avoid releasing its own).
You can refrigerate them for up to 3 days.
To freeze the chicken, cling wrap the pieces individually (so that they don't stick because of the sauce). It would be difficult to separate them later if they stick together. Put the wrapped pieces in a zip-lock bag and you can leave it frozen up to 3 months.
When it is time to serve the chicken, take them out of the fridge and leave it aside to thaw. Once the chicken comes to room temperature, reheat it in the microwave until it gets warm.
What to serve with baked BBQ chicken?
BBQ chicken goes well with a salad or mashed potatoes or crispy potatoes. Here are a few serving suggestions
Best BBQ Chicken in Oven
Sweet, smokey and perfectly Juicy, these Oven Baked BBQ Chicken has outdoor summer grilling vibes. Easy to make with a handful of ingredients and a family-friendly dinner for sure.  
Print
Pin
Rate
Ingredients
1

kg

Chicken thighs and legs

With skin and bone-in

1

teaspoon

Garlic Powder

½

teaspoon

Onion Powder

1

teaspoon

Paprika

½

teaspoon

Salt

¼

teaspoon

Pepper

¾

cup

BBQ Sauce

ref note -1 & 2
Instructions
Preheat oven to 400 degrees F . Line a baking tray with foil and keep aside.

Start with patting the chicken dry with a kitchen towel.

In a bowl mix all the dry ingredients.

Arrange chicken pieces on the prepared tray little apart. Season generously with above seasoning mix both the sides.

Keep the skin side up. Bake in the middle rack for 20 minutes.

Remove from the oven. Increase oven heat to 425 F.

Brush chicken generously with BBQ sauce. Put the tray back into the oven. Bake for 10 minutes.

Again remove chicken from the oven, give a second coat of BBQ sauce. Bake it again for about 10 minutes. Chicken is done when clear juices run out of it and the internal temperature is 165 degrees F.

For the extra charred effect on the skin, broil the chicken in the upper rack for 2-3 minutes(keep a close eye not to avoid burning)
Notes
 After brushing chicken with BBQ sauce if dipping the brush back to the sauce, the BBQ sauce is contaminated. So any leftover sauce should not be consumed directly unless being cooked.  Alternatively, take out half of the total sauce in another bowl and use it. 
If the bottled BBQ sauce is too sweet, add a tablespoon of apple cider vinegar to the sauce. 
Nutrition
Serving:
1
g
|
Calories:
384
kcal
|
Carbohydrates:
16
g
|
Protein:
26
g
|
Fat:
23
g
|
Saturated Fat:
6
g
|
Cholesterol:
133
mg
|
Sodium:
1249
mg
|
Potassium:
334
mg
|
Fiber:
1
g
|
Sugar:
12
g
|
Vitamin A:
377
IU
|
Vitamin C:
1
mg
|
Calcium:
13
mg
|
Iron:
1
mg