Baked Greek Potato Wedges
This post may include affiliate links that earn us a small commission.
These Potato Wedges in a lemony Greek Marinade are baked in the oven until crispy and golden brown. Serve these healthy baked wedges as a side dish or as an appetizer.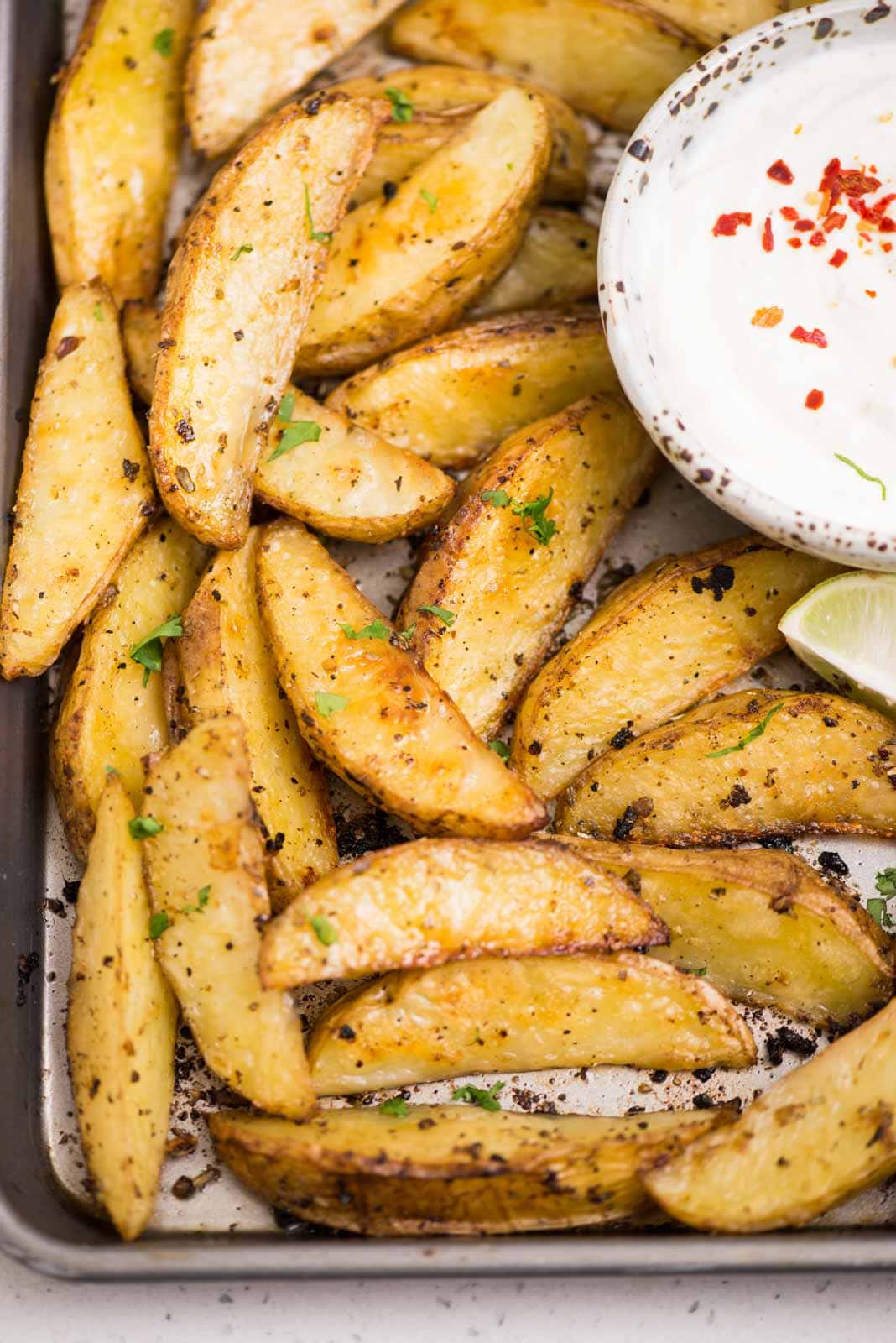 Potato wedges marinated in Greek flavors are a tasty take on a traditional side dish. Thanks to their crispy exterior and herb-infused flavor, they will be a hit at your next gathering or family supper. Grab some potatoes, prepare the Greek marinade, and enjoy these delectable wedges that will give your meal a taste of the Mediterranean.
Look how crispy these baked Greek potato wedges are. These wedges are perfectly seasoned from the inside out and baked in the oven until golden brown. Baked wedges are the best when you crave French fries but want to avoid frying.
Flavours In Your Inbox
Subscribe for recipes straight to your inbox
Unlike the traditional ones, an upside of these wedges is that you can have them without a dipping sauce. The flavors from the marinade infuse them enough to stand on their own.
For more Greek-inspired recipes, check out Greek Tortellini Pasta Salad and Artos: Greek Celebration Bread.
We love potatoes no matter how it is prepared. Potatoes work great as a side dish like this Cheese Ranch Potatoes, Roasted Potato Salad , Baked Crispy Cajun Potatoes.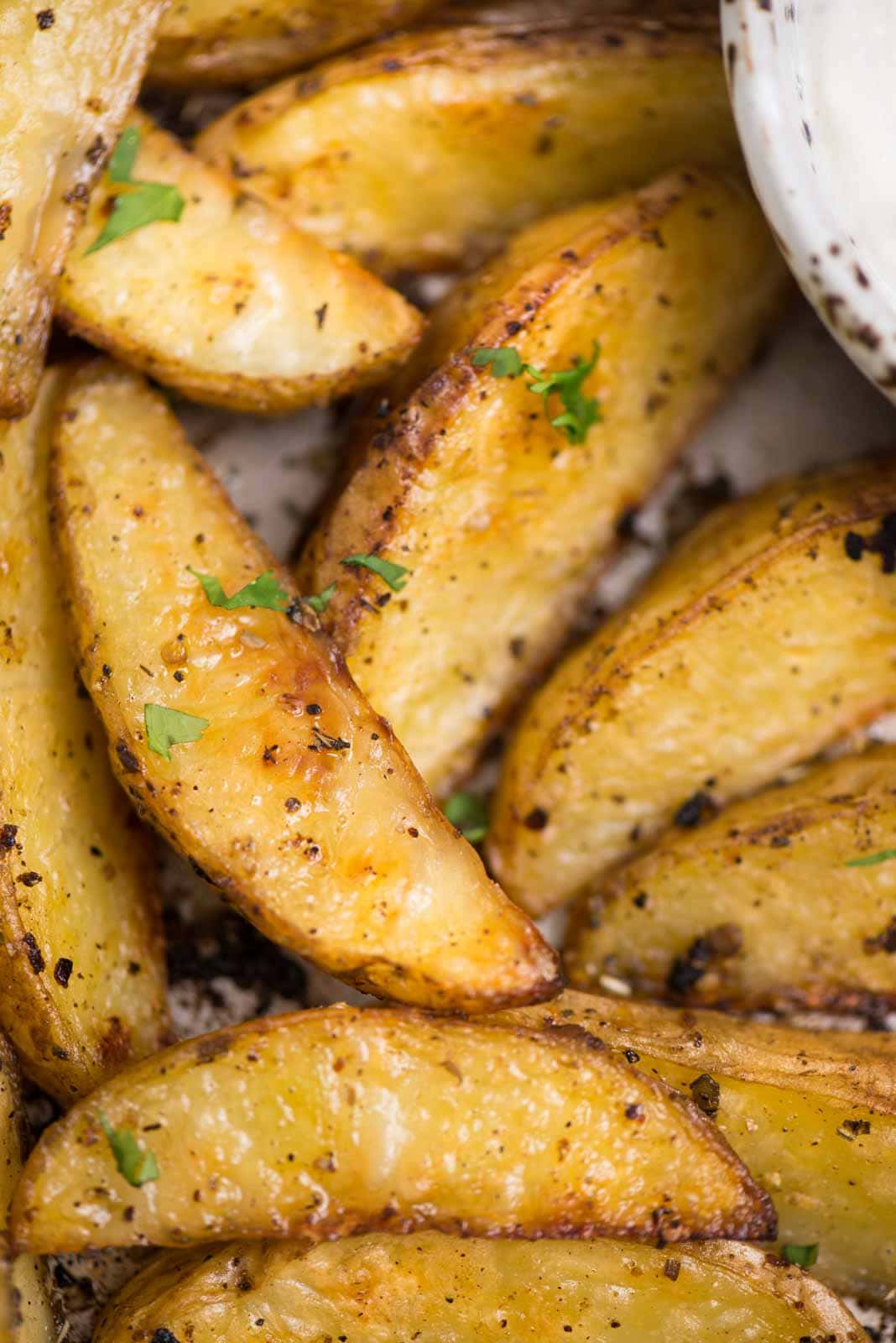 How to Cut Potatoes For Potato Wedges?
Cutting potatoes for wedges is easier than cutting French fries.
Cut the potato into half. Then each half is into two parts lengthwise.
For even cooking, use similar-sized potatoes and cut them equally thick.
I like to keep the skin on, but you can peel the skin if you prefer.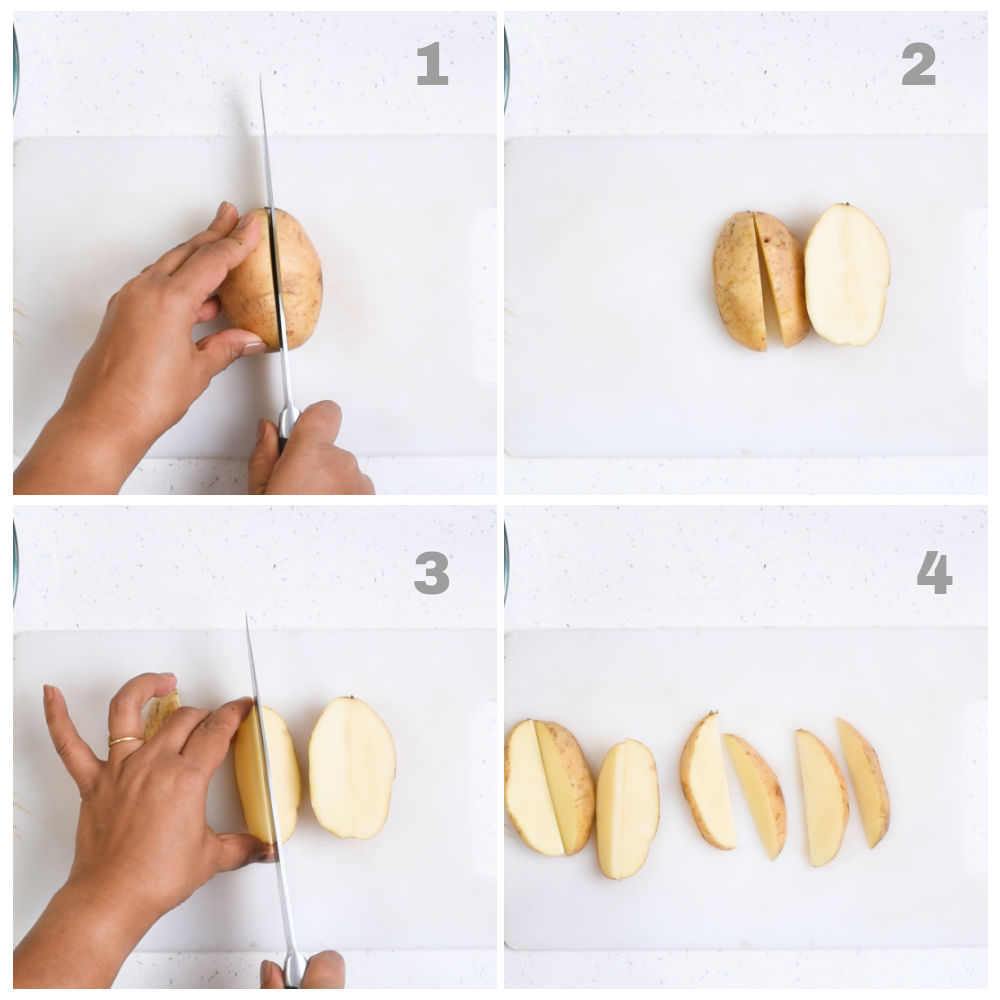 Why cook Potatoes before baking?
Most potato wedges recipe asks to season and directly bake them in the oven. Then why an additional step of cooking the potatoes?
Well, I have tried it both ways. Baking the potatoes directly gives crispy wedges, but the seasoning doesn't quite get inside the potatoes.
So by briefly cooking the potatoes in salted water, potatoes soak up the seasoning well and reduce the baking time.
Another advantage of parboiling the potatoes is letting them cool completely, toss them in a marinade, and freeze after cooking. And next time you crave wedges, pop the wedges into a hot oven and bake until crispy.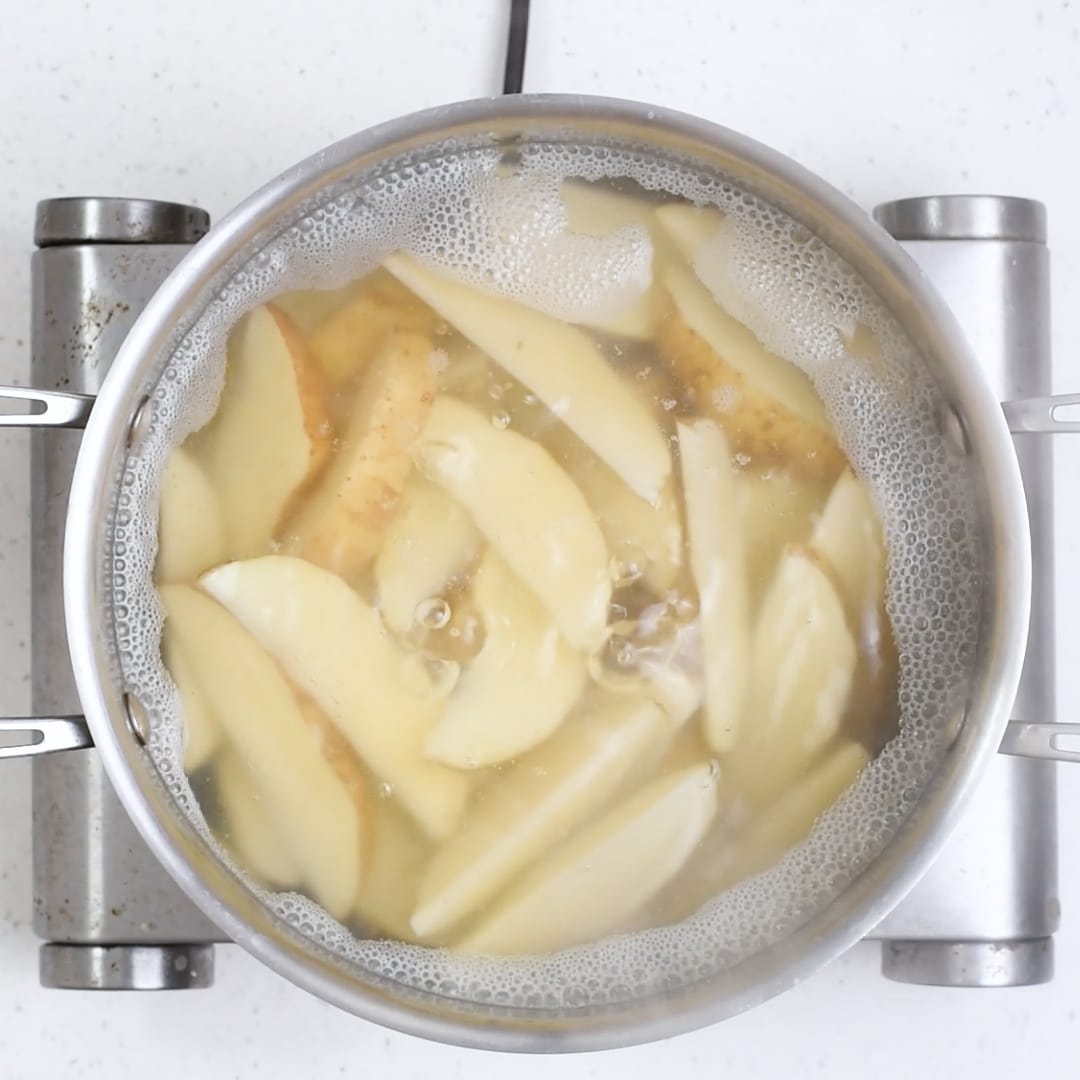 Greek Marinade For the Potato Wedges
Tangy, garlicky and fresh, this Greek marinade is easy to put together.
Olive oil
Garlic
Lemon Juice
Dried Oregano and Rosemary
Salt and pepper
Paprika(Optional) – If you need a bit of color, add 1/2 teaspoon of paprika.
Cumin (Optional) – 1/2 teaspoon of cumin powder for a smoky taste.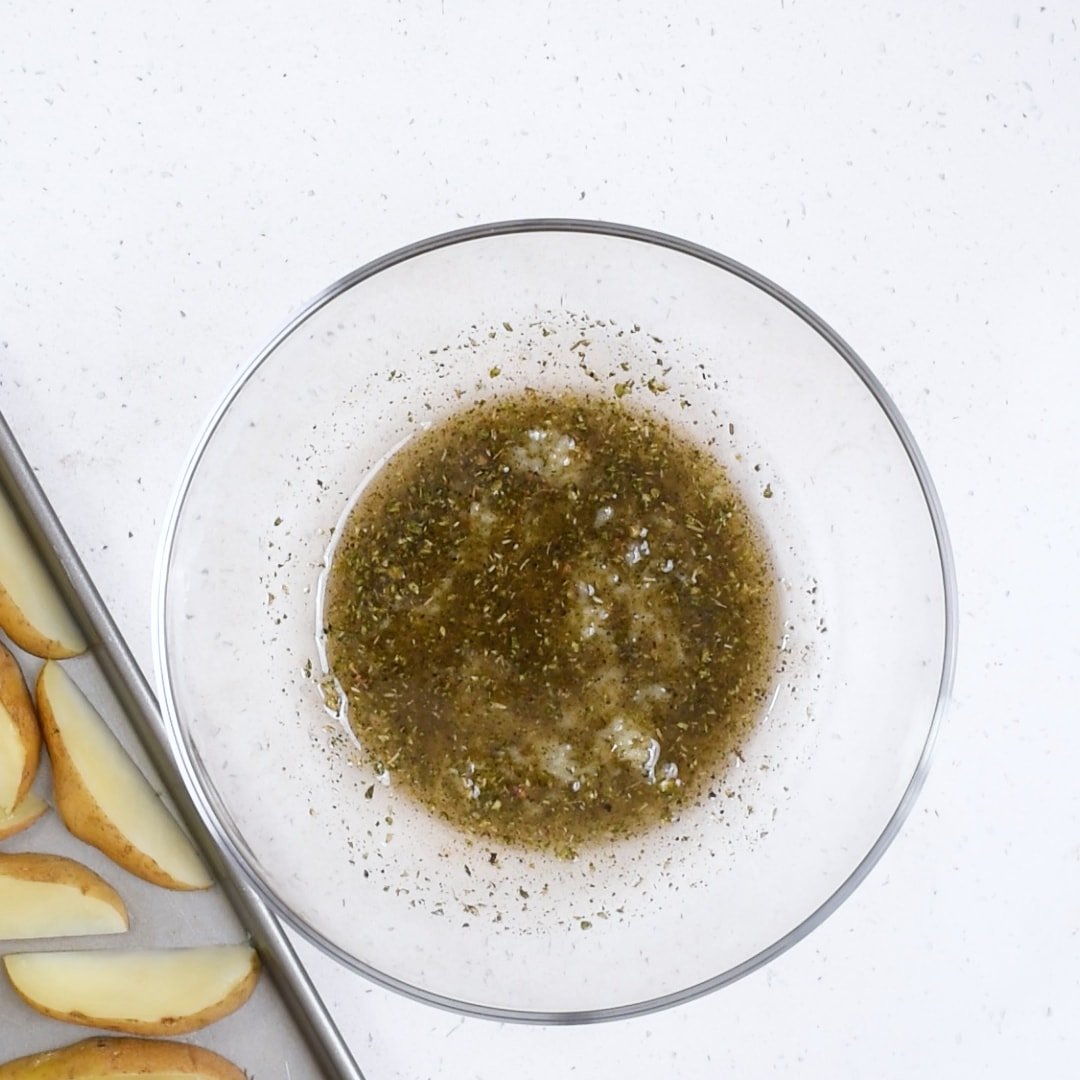 Tips For Extra Crispy Wedges
Cut the wedges to equal thickness so that they cook evenly.
Don't cook the wedges completely. When you insert a fork in the thickest part of the wedge, it should still be firm.
Once the wedges are cooked, let them cool completely.
Season well with salt. Because there is salt while cooking, add salt accordingly to the marinade.
While baking, spread the wedges in a single layer without crowding the pan. If the pan is overcrowded, then the potatoes will start to steam and won't crisp up.
Flip the wedges in between for even crisping.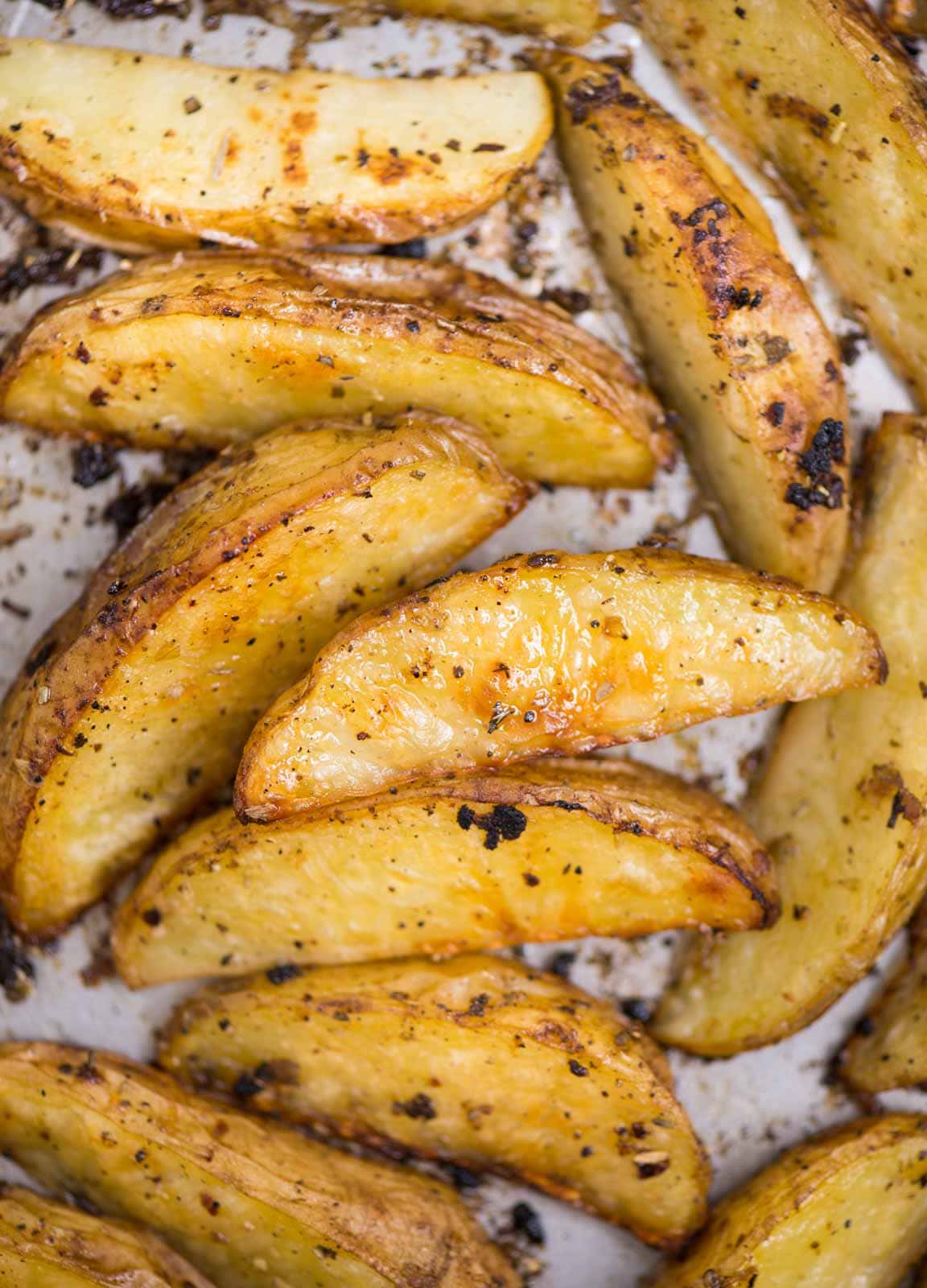 Storage Instructions
If you have any leftovers (which is rare!), store them in an airtight container in the refrigerator. They can be reheated in the oven or microwave, although they may not be as crispy as when freshly baked. If you have an Airfryer, that is the best way to heat these wedges, making them crispy again.
Consume the leftover potato wedges within 2-3 days for the best taste and texture.
Serve With
The versatility of potatoes allows you to experiment with various grilled or roasted meats, salads, grilled veggies, yogurt, or sauce.
More Potato Recipes
Potatoes are a versatile ingredient that can enhance the texture and taste of various dishes. They are high in starch and help make recipes more fulfilling.
To have some chopped potatoes in salads, check out Red Potato Salad, Fall Roasted Sweet Potato Salad, or Lemon Dill Potato Salad( No Mayo).
They are an excellent and important part of our daily breakfast when you can bake, mash, or roast them like in Mashed Potato Pancakes, Crispy Skillet Breakfast Potatoes, or Roasted Garlic Mashed Potatoes. Add some bacon for more flavor, like in this Potato Breakfast Casserole With Bacon.
Potatoes – high in starch and fiber, can be a perfect side dish or soupy starter to your meaty means, or grilled veggies with these Cinnamon Maple Roasted Sweet Potatoes or Cauliflower Potato Soup.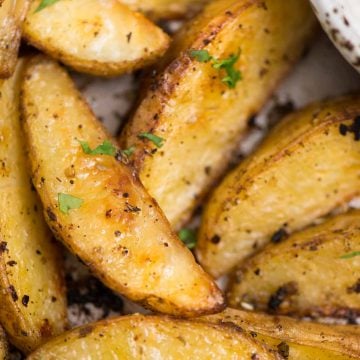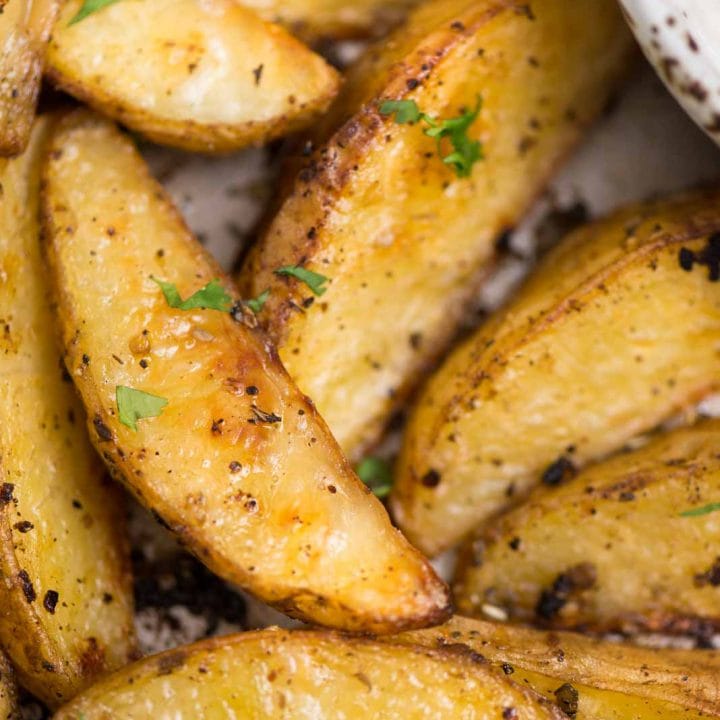 Baked Greek Potato Wedges
These Potato Wedges in a lemony Greek Marinade are baked in the oven until crispy and golden brown. Serve these healthy baked wedges as a side dish or as an appetizer.
Ingredients
5 Medium Potatoes (2 pounds)
¼ cup Olive oil
1.5 tablespoon Minced Garlic
2 tablespoon Lemon Juice
2 teaspoon Dried Oregano
1 teaspoon Rosemary
½ teaspoon Pepper
1 teaspoon Salt (adjust per taste)
Instructions
Preheat the oven to 400 degrees Fahrenheit/ 200 degrees Celsius.

Cut each potato in half lengthwise, then cut each half lengthwise to make quarters. Then again cut each piece into half lengthwise. You will end up with 8 wedges in total.

Bring a pot of water (just enough for the potato wedges to fully submerged) to boil.

Add salt to the pot ( I added 1.5 teaspoon salt to 8 cups of water)

Add potato wedges to the water and let it cook on medium-high heat for 8 minutes.

Don't cook the potato completely. It should only be cooked about 40%. When you insert a fork it should still be quite firm at the middle.

Drain the potatoes, arrange in a tray and let it cool completely.

To make Greek marinade, In a big mixing bowl add rest of the ingredients. Whisk well.

Add cooled down potato wedges to the marinade. Toss well until everything is coated well.

Arrange potatoes in a baking sheet in a single layer. Don't crowd the sheet.

Bake at 400 F / 200 C for 30 minutes.

Take out the baking tray after 30 minutes, flip the wedges. Bake again for 20 minutes or until it looks crispy around the edges.
Nutrition
Serving: 1serving | Calories: 329kcal | Carbohydrates: 48g | Protein: 6g | Fat: 14g | Saturated Fat: 2g | Sodium: 598mg | Potassium: 1145mg | Fiber: 6g | Sugar: 2g | Vitamin A: 25IU | Vitamin C: 55mg | Calcium: 50mg | Iron: 3mg