Easy Grilled Chicken with Buttermilk Marinade
This post may include affiliate links that earn us a small commission.
Grilled Chicken with Buttermilk Marinade is juicy and flavourful. This Grilled Chicken Marinade made with Buttermilk, garlic, herb, spice marinade is easy and quick to make. Best for a quick weeknight dinner or for summer barbeques.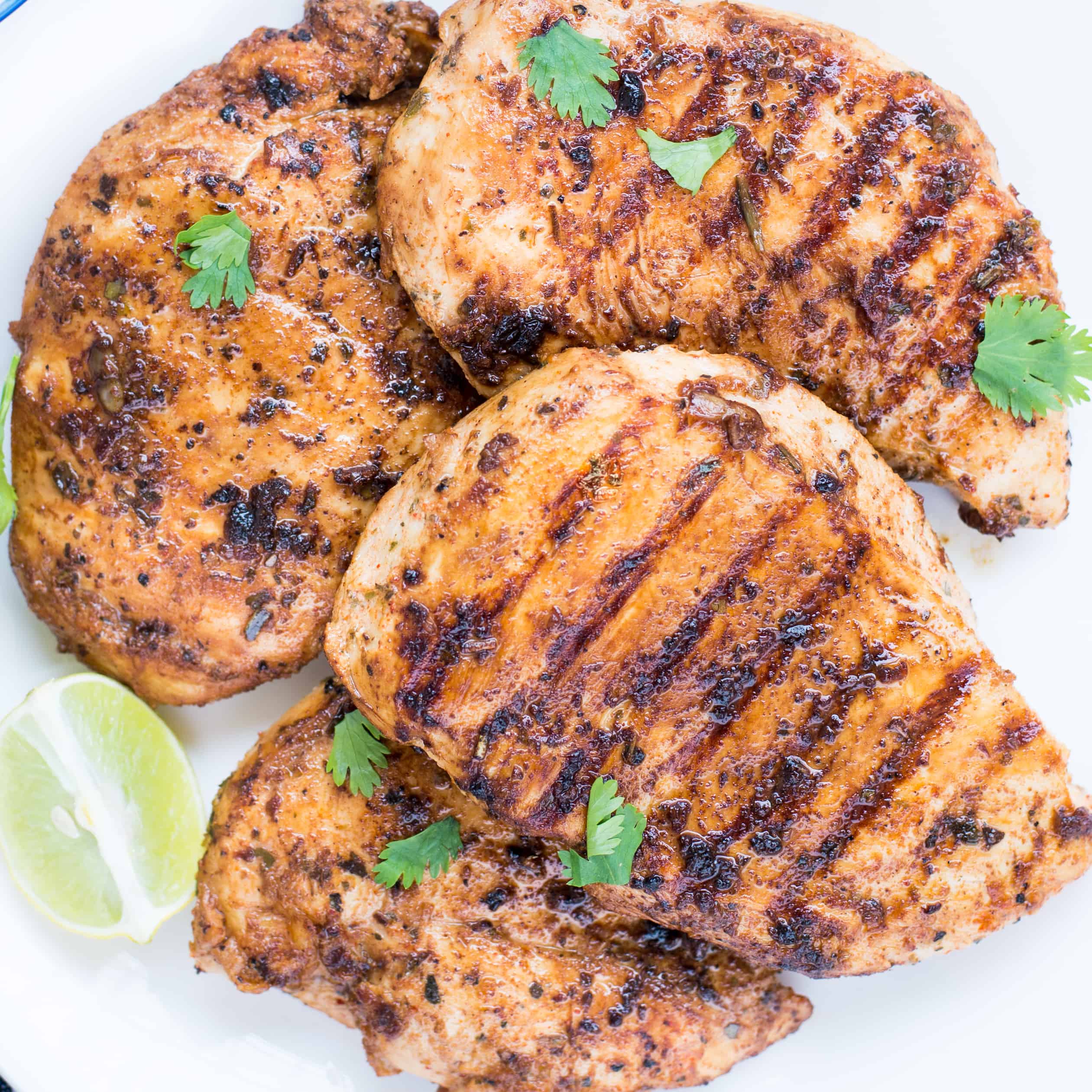 Looking for the Best grilled chicken recipe? This Grilled Chicken with Buttermilk Marinade is one of the basic and most frequently cooked at my home. It is an easy, no-fuss recipe. All you need to do is plan a little ahead of time and marinate the chicken.
Perfectly tender, moist and flavour-packed chicken breast can be used in many different ways. I usually make a rice bowl with diced Chicken breast, char-grilled veggies, some fresh salad and rice/ any grain. Sometimes I also serve them as it is alongside a fresh salad for dinner. This grilled chicken also works as a stuffing in a wrap. So it the most versatile Chicken breast recipe you will ever need.
Flavours In Your Inbox
Subscribe for recipes straight to your inbox
If you planning outdoor grilling this summer, then make sure you have this recipe bookmarked. Still, it is cold out there??? Make this grilled chicken in a grilled pan on stove top.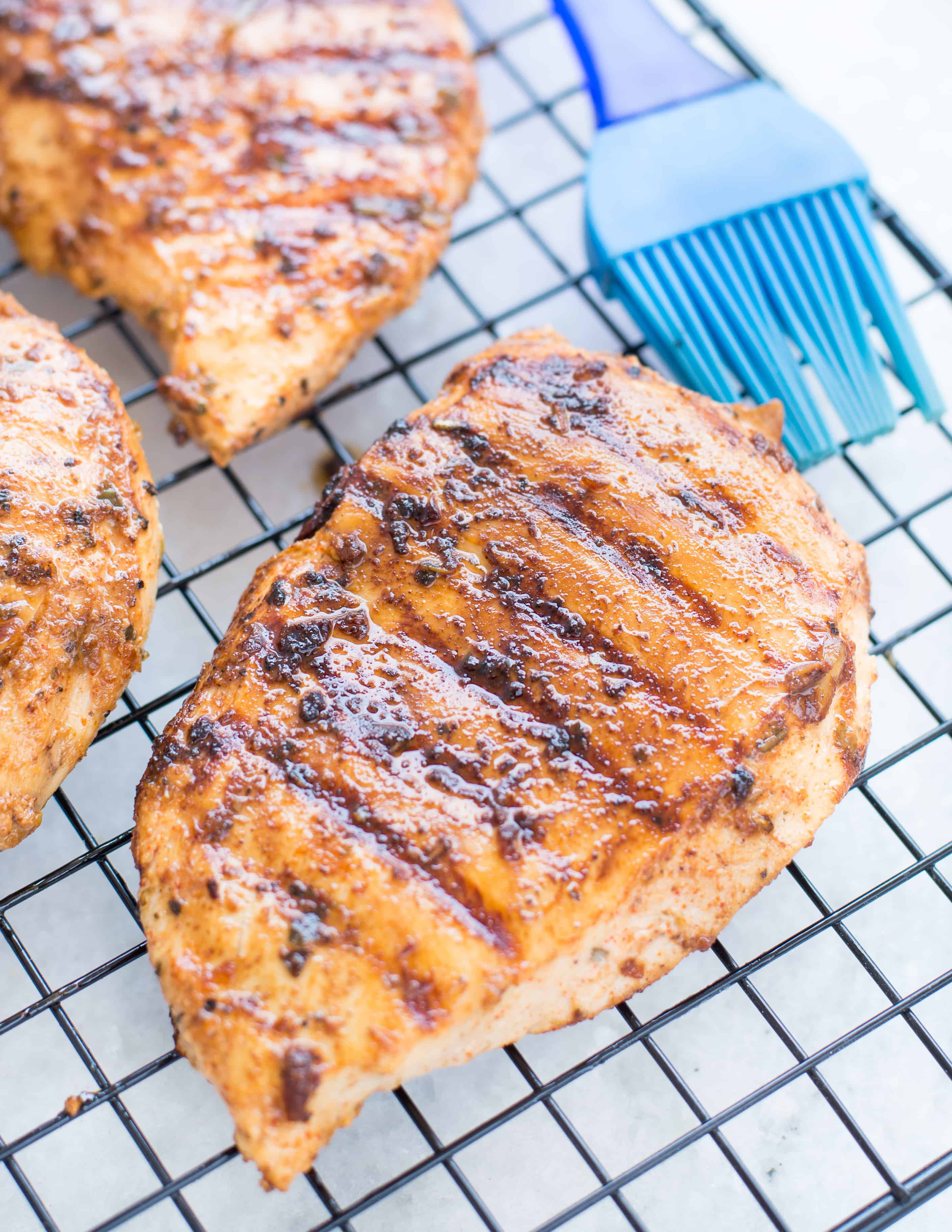 Honestly, it doesn't matter much in which method you are cooking your chicken. It is about Grilling chicken breast right. Chicken breast if not cooked in the right way, will end up dry and hard. So I have seen many people prefer Chicken thighs over the breast because Chicken thigh doesn't get dry so easily. But believe me, Chicken breast can also be as juicy as Chicken tight if you take care of a few things.
Grilled Chicken Marinade
Next comes the marinade. This buttermilk marinade is the best and easy grilled chicken marinade. Buttermilk, garlic, herbs, and a couple of basic pantry stuff you would need for this marinade.
Brown sugar also helps to tenderize the meat and gives a nice caramelization while grilling.
Season buttermilk generously with salt. It's ok if the buttermilk mixture tastes slightly salty.
Buttermilk makes sure the meat remains tender while cooking the chicken breast. Other herbs and spices give the required flavor. Dump all the ingredients in a zip-lock bag or a bowl, and refrigerate.
How To Make Grilled Chicken Breast Juicy?
These are the few tips that would ensure your Grilled Chicken Breast is tender and juicy.
Begin by pounding the chicken breast to an even thickness. This step might not seem important. But this is one of the important steps and should not be missed. The chicken breast is not of uniform thickness. So when cooked the thinner part of the fillet drys out while the thickest part is still undercooked. Fillet of uniform thickness ensures even cooking.
Or else use a meat tenderizer or a simple rolling pin, keep the fillet in between cling film and gently flatten the thick side of the fillet.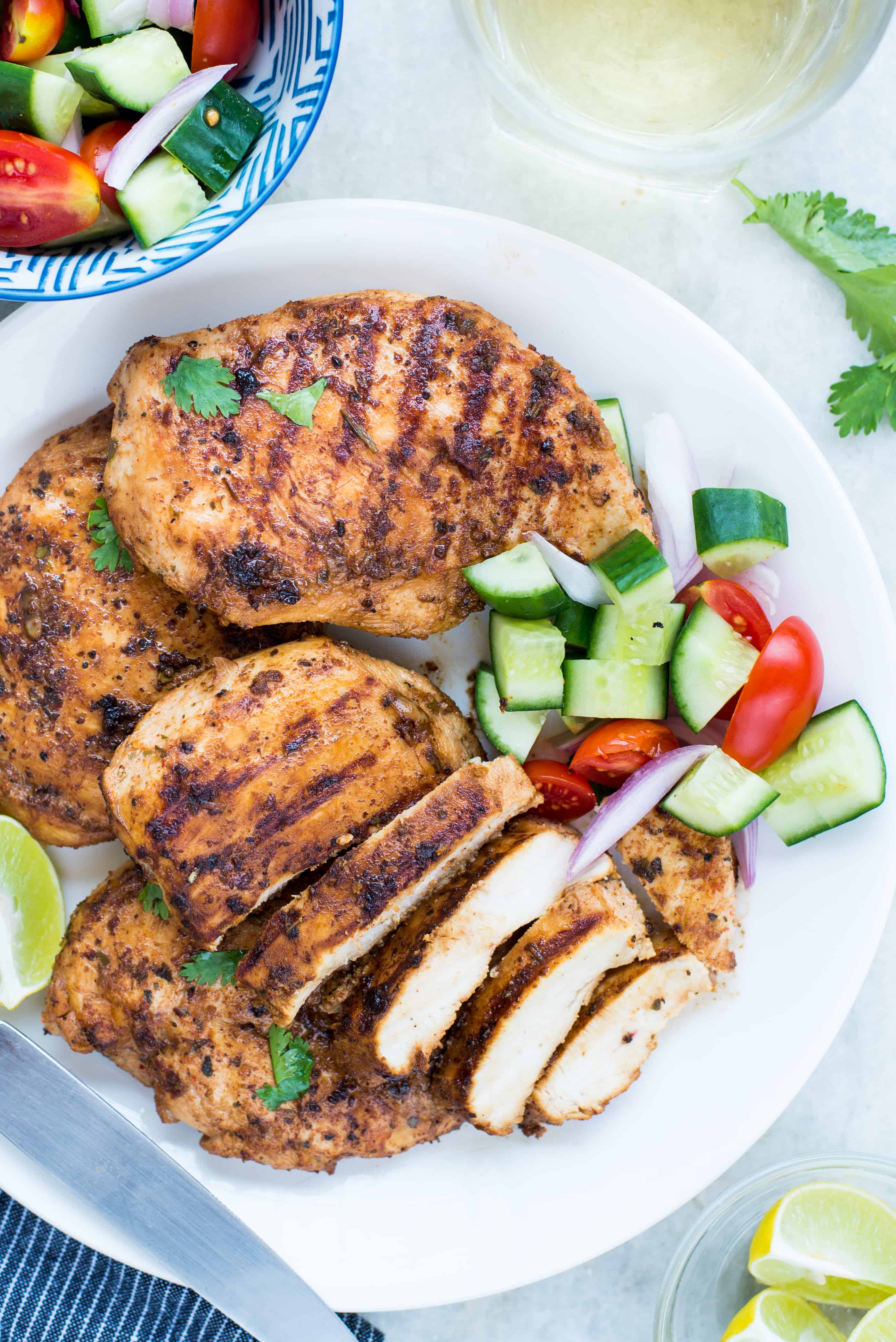 This step is important if you have refrigerated the marinated chicken for more than an hour. Make sure you take the marinated chicken out of the refrigerator at least an hour before cooking. Chicken fillets should be at room temperature while grilling, else it might not be cooked uniformly.
Last but not least is the cooking/ grilling time. Once the fillets come to room temperature heat up your grill to the highest or if using a grill pan heat it. Grease the grill pan lightly. Grill each side for 3 minutes each side. Needless to say, overcooking would make the fillets dry and hard.
Bast chicken with melted butter in between to keep the meat moist.
If you are still not sure about the cooking time then check the internal temperature of the grill. It should be around 155 F – 160 F.
Once the chicken is done, cover and let it rest for 7-8 minutes before serving.
Can I Use Any Other Cut Of Chickem?
Yes, the same marinade can be used for any cut of chicken. You will have to adjust the cooking time accordingly.
And that's it !! Juicy and tender Grilled Chicken breast is ready.
Sides to serve with Grilled Chicken
Creamy Cranberry Apple Coleslaw
Couscous Salad With Orange Vinaigrette
Few more grilling recipes for Summer Barbecue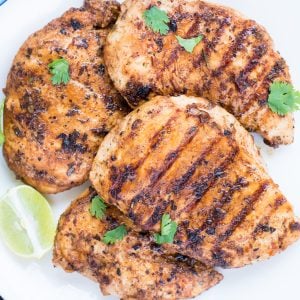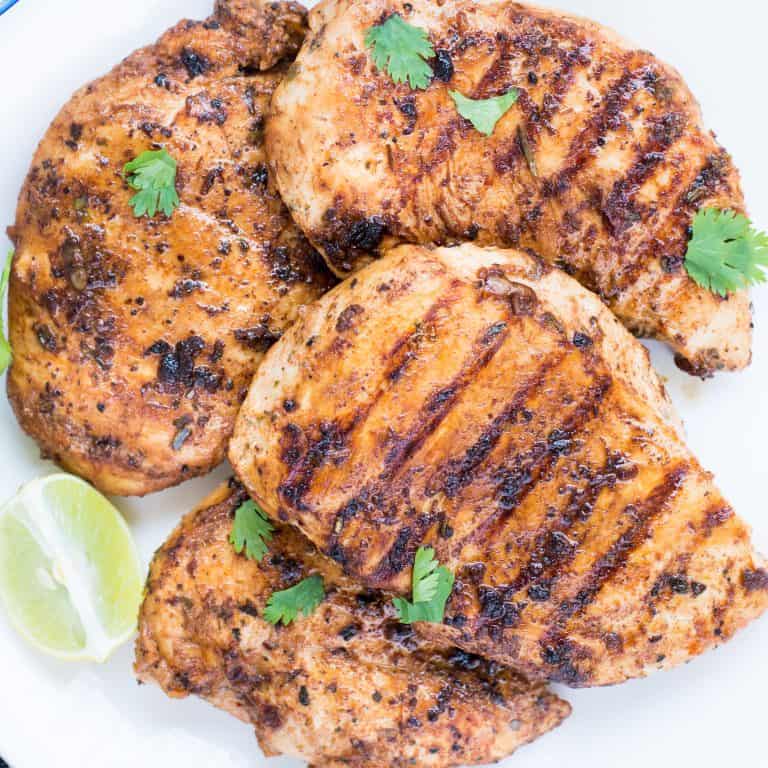 Grilled Chicken With Buttermilk Marinade
Grilled Chicken with Buttermilk Marinade is juicy and flavourful. This Grilled Chicken Marinade made with Buttermilk, garlic, herb, spice is easy and quick to make. Best for a quick weeknight dinner or for summer barbeques.
Ingredients
4 chicken breast medium size
1.5 cups buttermilk
1 tablespoon Minced garlic
1 teaspoon Onion powder
2 teaspoon Italian seasoning (or mixed dry herb)
½ teaspoon chili powder
1 tablespoon brown sugar
Salt and Pepper as per taste
2 tablespoon Melted salted Butter
Instructions
Pound chicken breast till it is of uniform thickness. If it is too large, then cut horizontally to two fillets.

In a ziplock bag or a bowl, add all the ingredients including chicken. Check the seasoning.

Marinate in the refrigerator for at least 1 hour up to 24 hours.

Remove Marinated chicken at least 1 hour before cooking and let it come to room temperature. (Letting the chicken to come to room temperature is important).

Heat the grill pan or the outdoor grill to medium-high heat. Grease the grill lightly.

Cook each fillet 3-4 minutes on each side. Bast with melted butter in between. The internal temperature reaches 165 F.

Cover and let it rest for 5 minutes before serving.
Nutrition
Serving: 100g | Calories: 336kcal | Carbohydrates: 10g | Protein: 51g | Fat: 8g | Saturated Fat: 3g | Cholesterol: 154mg | Sodium: 362mg | Potassium: 957mg | Sugar: 8g | Vitamin A: 290IU | Vitamin C: 3.3mg | Calcium: 130mg | Iron: 1mg