Coconut Ice Cream (No Ice Cream Maker)
This post may include affiliate links that earn us a small commission.
With natural coconut flavor from Coconut milk, this Coconut Ice Cream is so easy to make. It is no-churn, and you don't even need an Ice cream maker. Beautiful light texture and creamy, this Coconut Ice Cream is a must-try in Summer.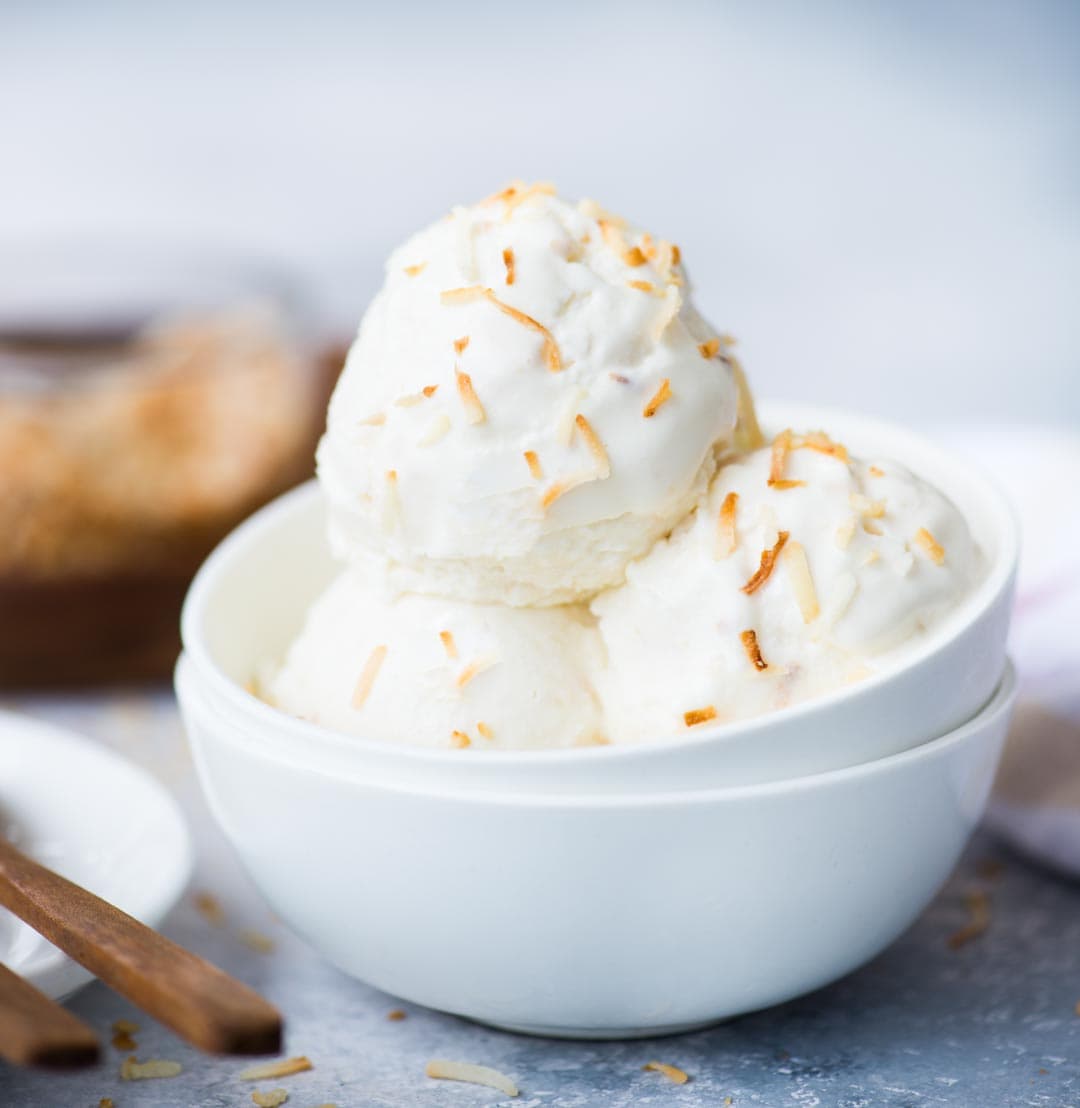 Creamy and decadent Coconut Ice Cream is made with just a few Ingredients and has tons of coconut flavor. It might sound like a showoff, but I bet this Ice cream is as good as the store-bought ones. Another best thing is there are no artificial ingredients or preservatives in it. All you need is Cream, Powdered sugar, Coconut milk, Condensed milk, and toasted coconut here.
Flavours In Your Inbox
Subscribe for recipes straight to your inbox
No Ice crystal, light and airy, a bowl of this ice cream is a real treat.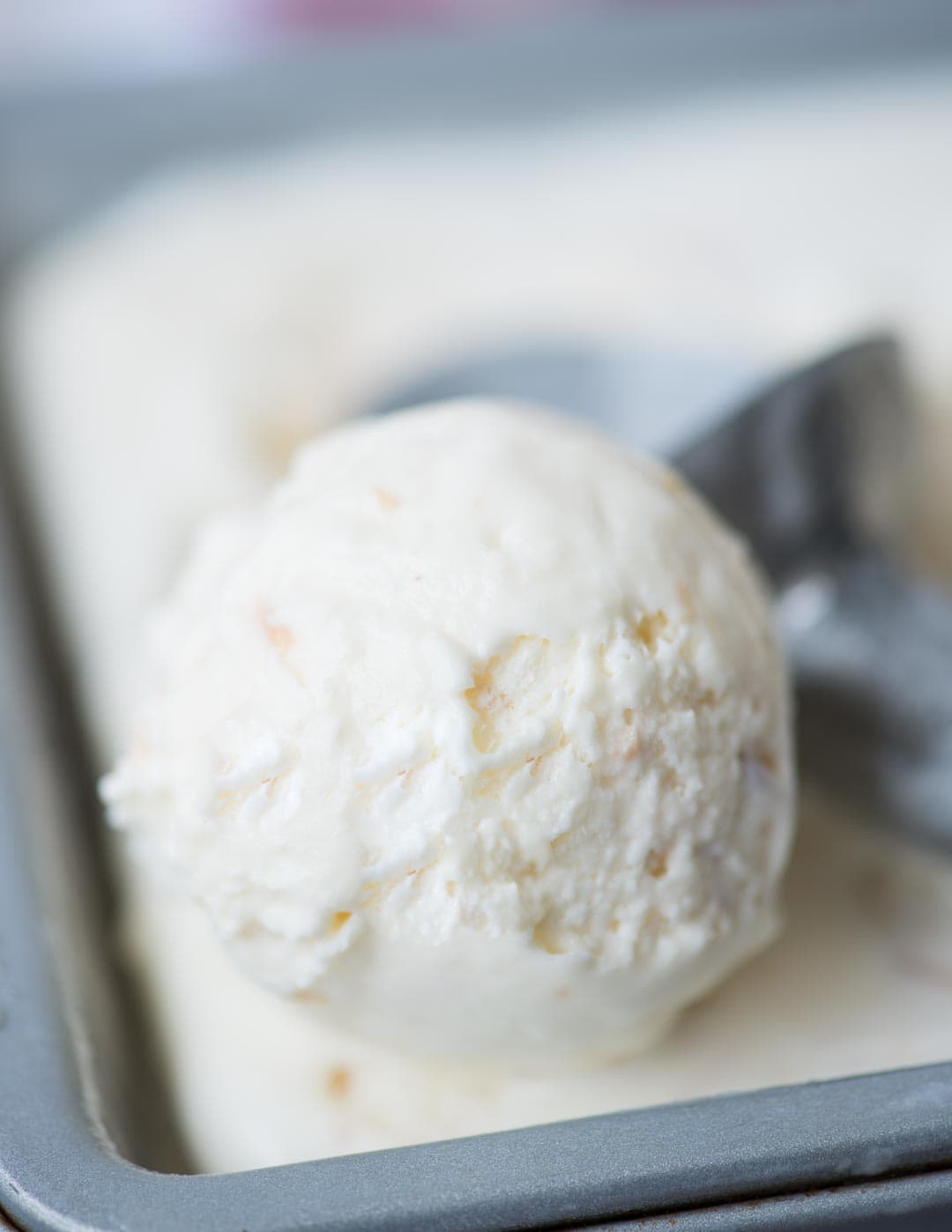 No-Churn Ice Cream
It is always convenient to pick up a tub of ice cream from the nearby store when the craving kicks in. But sometimes, it is enjoyable to make Ice cream from scratch at home.
Digging into perfectly creamy homemade Ice cream is satisfactory. And not to mention, homemade ice cream is free from artificial ingredients.
It might be frustrating to see ice crystals in your ice cream. Usually, No churn or the ice cream made without an ice cream maker is not creamy enough and has tiny ice crystals.
Ice cream makers churn the ice cream and prevent ice crystal formation. And by churning, it also incorporates air and makes the ice cream light and airy. The same texture is difficult to achieve without an ice cream maker.
Some recipes call for churning the ice cream 4-5 times every 30-40 minutes to break the ice crystal and incorporate air into the mixture.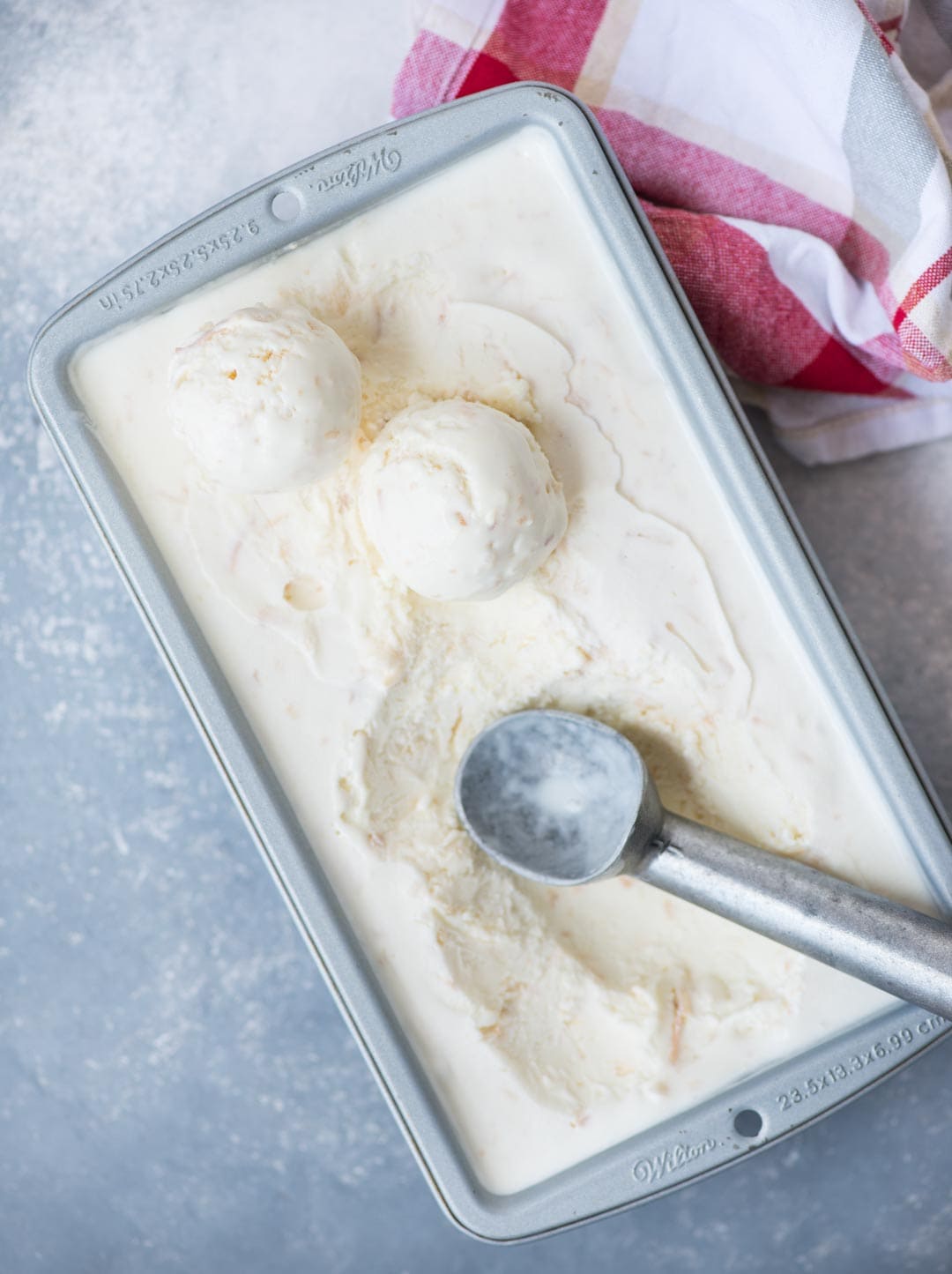 Creamy Coconut Ice Cream
This Coconut Ice Cream doesn't need an ice cream maker, and no churning is required, yet it is so creamy and light. Here is why.
Using full fat Cream and Coconut milk helps to make the Ice cream Creamy. Because of higher fat content, the formation of Ice crystals is very negligible.
The amount of sugar added is very less, instead sweetened condensed milk is added for sweetness. Condensed milk also helps to make the Ice cream creamy.
Whipping Heavy cream until light and fluffy helps to incorporate air to the mixture and makes the Ice cream light.
Because of very low (almost negligible) water content. very fewer chances of ice crystal formation. Which means perfectly scoopable Ice cream.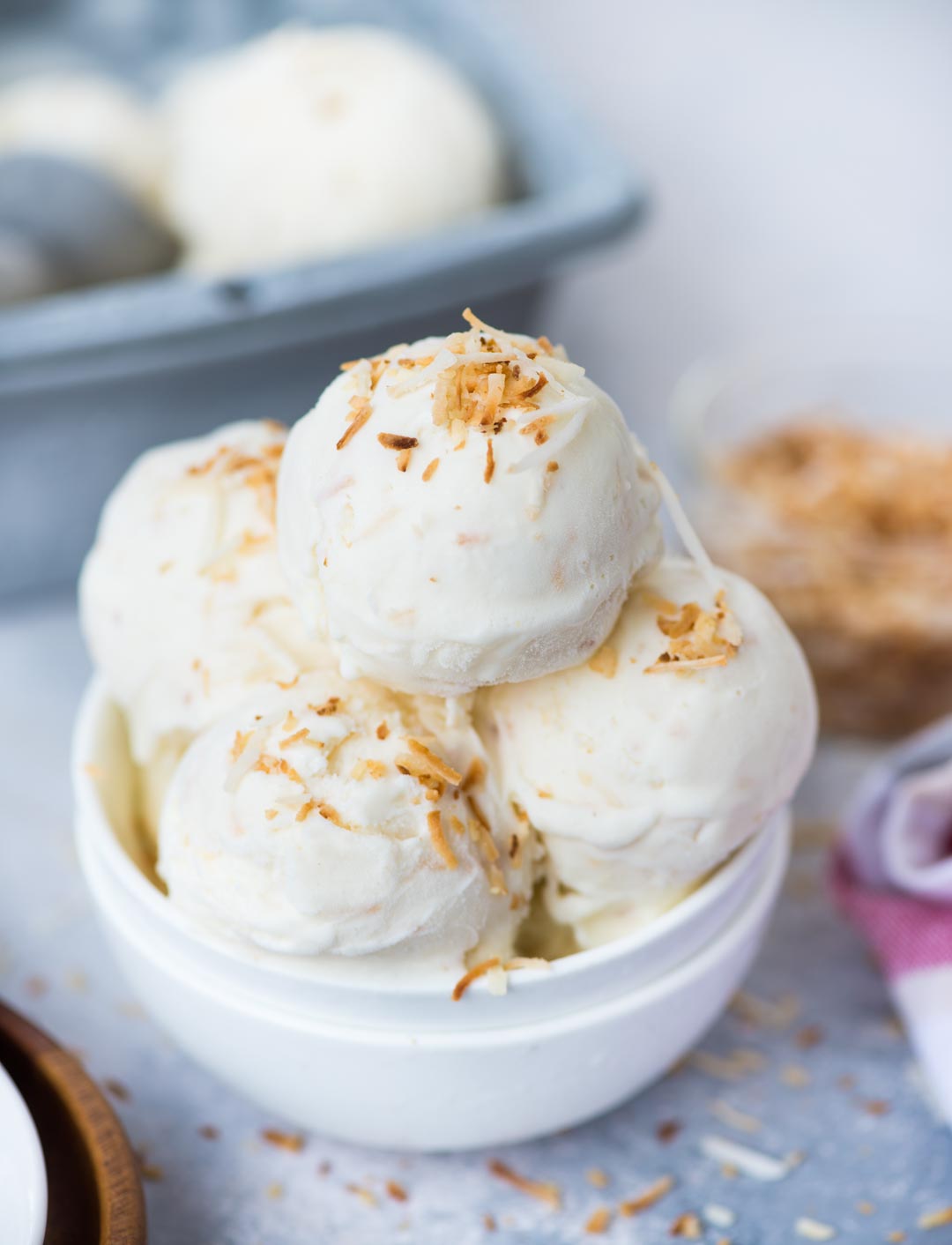 More Ice cream Recipes…
Hazelnut Coffee Mascarpone Ice Cream
Mango Ice Cream(No Ice Cream Maker)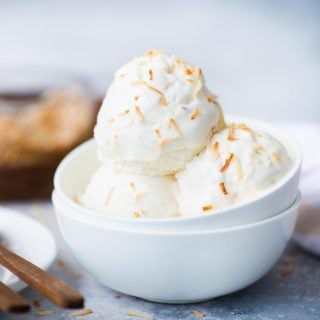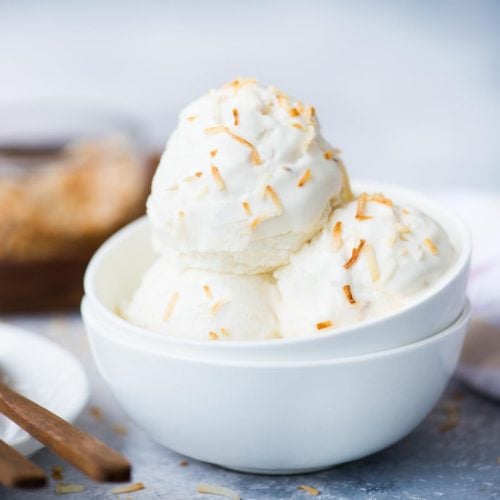 Homemade Coconut Ice Cream
With real coconut flavour , this Coconut milk Ice Cream is so easy to make. It is no churn and you don't even need an Ice cream maker. Beautiful light texture and Creamy, this Coconut Ice Cream is a must try in Summer.
Ingredients
1.5 cup Heavy Cream/ Whipping Cream cold
¾ cup Powdered Sugar
1 teaspoon Vanilla Extract
2 cups Coconut Milk Full Fat (cold)
½ can Sweetened Condensed milk cold ( 400 grams can)
⅛ teaspoon Coconut extract (optional)
½ cup Dry shredded Coconut / Coconut flakes toasted & Unsweetened
Instructions
In a big bowl add cold whipping cream, sugar and vanilla extract. Using a hand blender whip cream until it has doubled in volume and have stiff peaks.

In another bowl add coconut milk, sweetened condensed milk, coconut extract. Mix everything really well.

Take a couple of scoops of cream and fold into the coconut milk, condensed milk mixture. This step will aerate the mixture.

In two batches pour coconut milk mixture to whipped cream. Using spatula fold until it is fully incorporated. Make sure to fold gradually to retain as much air as possible.

Pour the mixture in to a rectangular shallow container.

Place a piece of cling wrap or baking paper on the surface and press gently.

Cover the container tightly with lid/ cling Wrap/ foil.

Freeze for at least 8 hours or preferably overnight.

Before, serving remove the wrap from the surface.

Let the Ice cream rest for 5 minutes before you scoop and serve.
Notes
By keeping all the liquid ingredients cold, the ice cream Freezes comparatively quickly. 
Coconut extract has quite an intense flavour so 1/8 teaspoon was enough for me. You can increase it up to 1/4 teaspoon depending on how intense coconut flavour you prefer. 
Nutrition
Serving: 50g | Calories: 366kcal | Carbohydrates: 29g | Protein: 4g | Fat: 28g | Saturated Fat: 21g | Cholesterol: 56mg | Sodium: 47mg | Potassium: 225mg | Fiber: 1g | Sugar: 26g | Vitamin A: 580IU | Vitamin C: 1.2mg | Calcium: 89mg | Iron: 1.7mg