Mango Ice Cream: All I can say about this ice cream is this is the perfect summer treat. It's creamy and as good as store-bought ice cream. And I am gonna tell you how to get the creamiest Ice Cream at home, even without using an Ice Cream Machine.
Summer means Mangoes.. Summer means frozen treats. And this recipe is both. From simple kulfi to any gourmet variant,Ice Cream is one of the simple joys to be enjoyed in summer. I am kind of a person who snacks around though out the day. I keep munching one or other thing if at home. Since last fews days It's unbelievably hot here in Bangalore and all I can think about having is something cold. I have prepared a big batch of this Ice Cream and scooping out of the container when ever I have the craving. Even now while I am drafting this post, I have a bowl of it right next to me.
I have been making Ice Cream at home since last year. There is no doubt that an Ice Cream machine gives the best result. But if you follow few tricks while making Ice Cream at home , I bet you won't get disappointed.So stay with me and find out the tricks.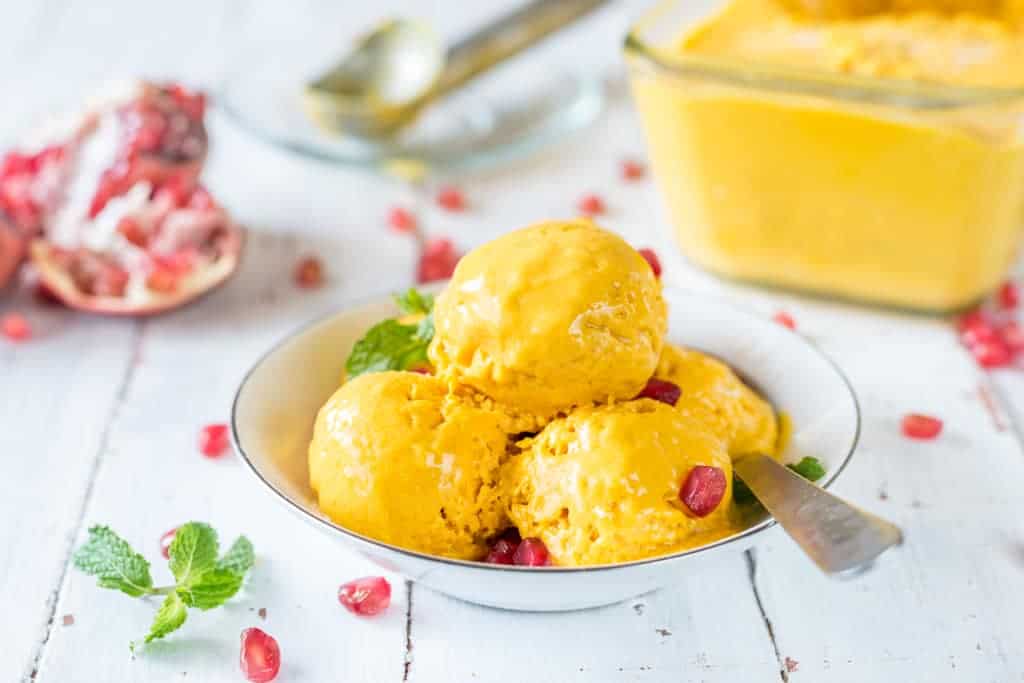 The most common problem when you make Ice Cream at home is it turns out grainy. This is because of water crystallization. The longer it takes to freeze the Ice Cream mixture, more are the chances of bigger crystals. The freezer section of home refrigerators are not designed to freeze things quickly. So the slow freezing time is the cause behind bigger crystals in Ice Cream. Commercially Ice Creams are allowed to freeze rapidly, so the crystallization is very minimal.So when you come accross recipes thats say to churn the mixture every one hour or so, that is because churing help breaking the bigger crystals and helps in getting creamy texture.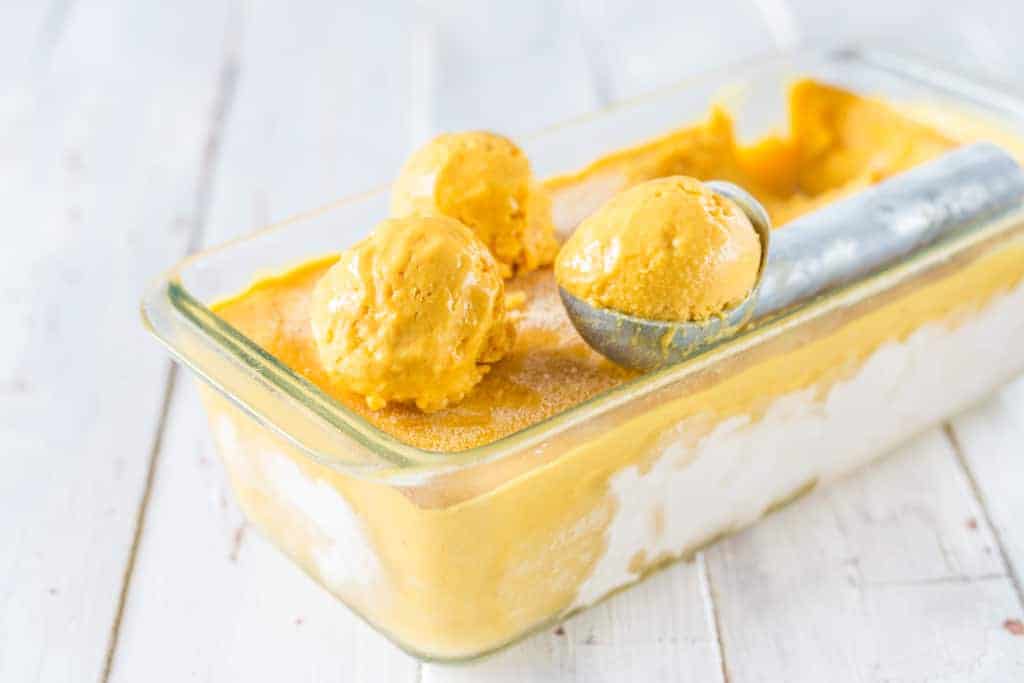 Generally home made Ice Creams are custard base. Either it asks for egg yolks or cornflour. Then different flavours are incorporated to the base. Egg yolks adds richness to the custard, In turn it gives creamiest and smoothest Ice Cream. When you are making Ice Cream at home make sure it has enough fat content in it. Never replace full fat milk or cream with it's low fat version. In this recipe I have used Coconut Milk with a good fat level.
While making Ice Cream make sure all your ingredients including the mixing bowl ,Containers are freezing cold. When the Ice Cream mixture is freezing cold, it take comparatively lesser time to freeze( remember the quicker it freezes, lesser the size of water crystal formed).
This particular recipe calls for churning the mixture in every 45 minutes to 1 hour, for 3-4 times. Don't ignore this step. You can either churn the mixture in the container itself using a hand mixer or you can shift the mixture to your food processor and whisk it couple of times.I have a No churn Ice Cream recipe, which I will be sharing soon.
When kept in the refrigerator keep your freezer in lowest possible temperature setting and don't over crowd the section. Always Keep the container covered inside the freezer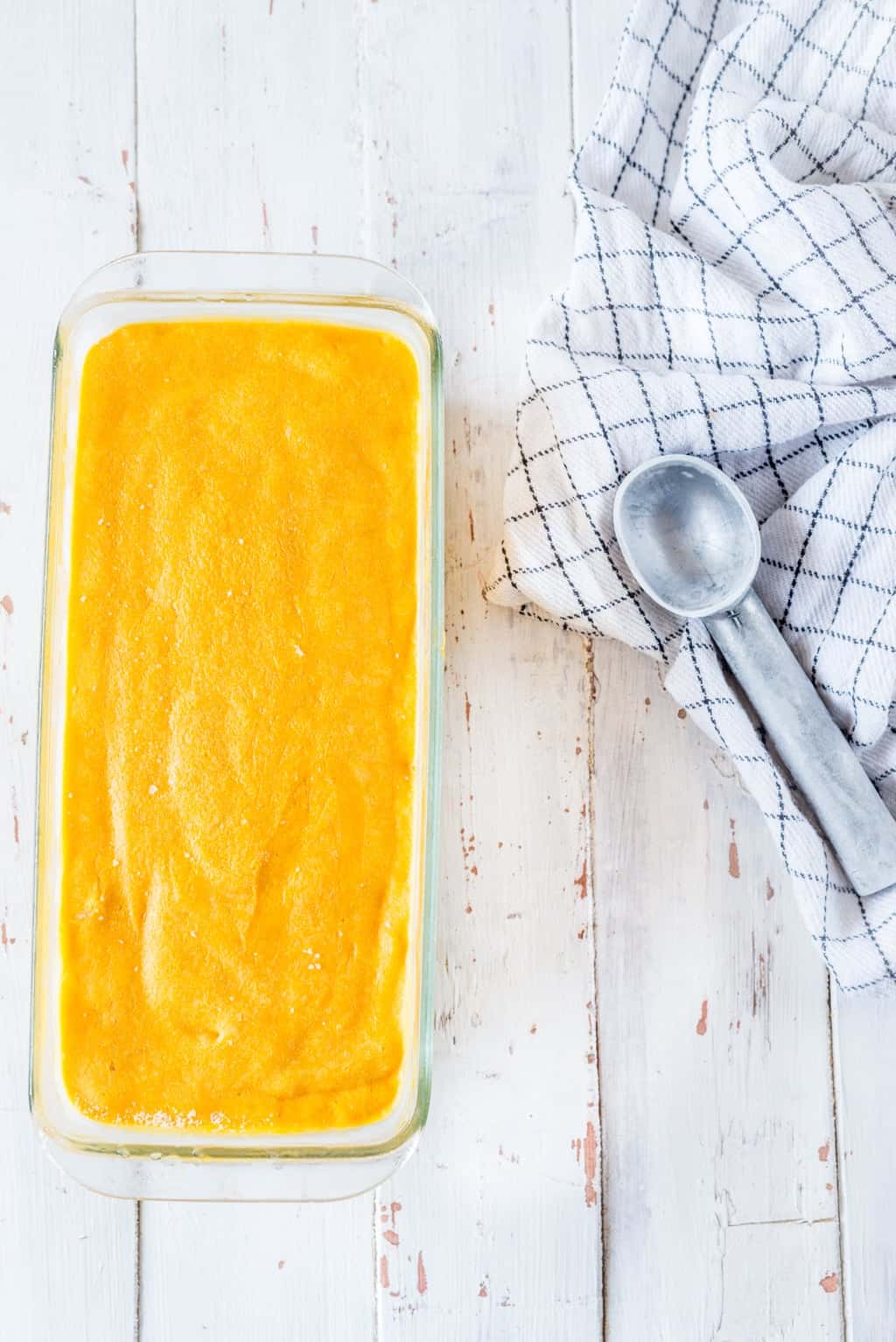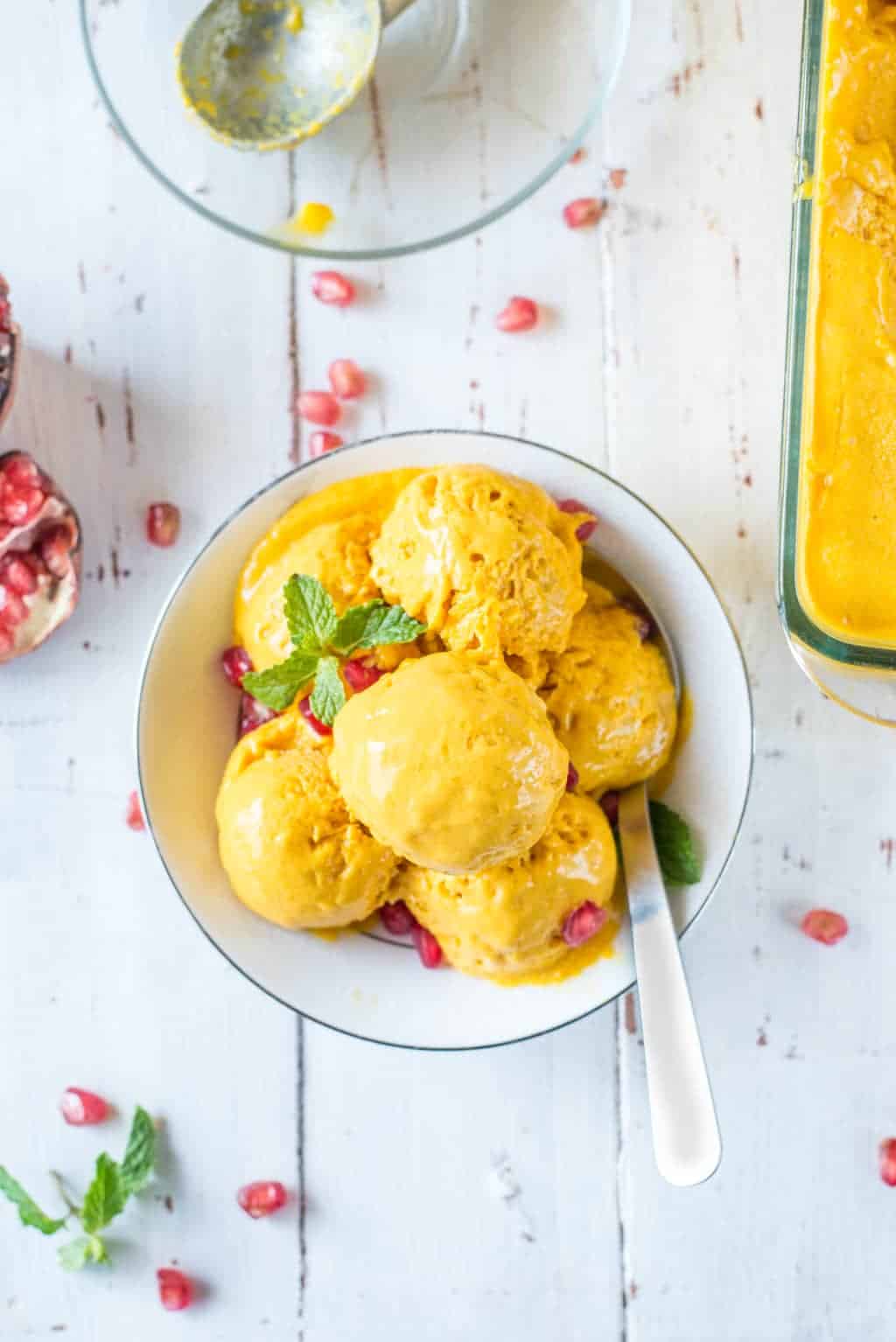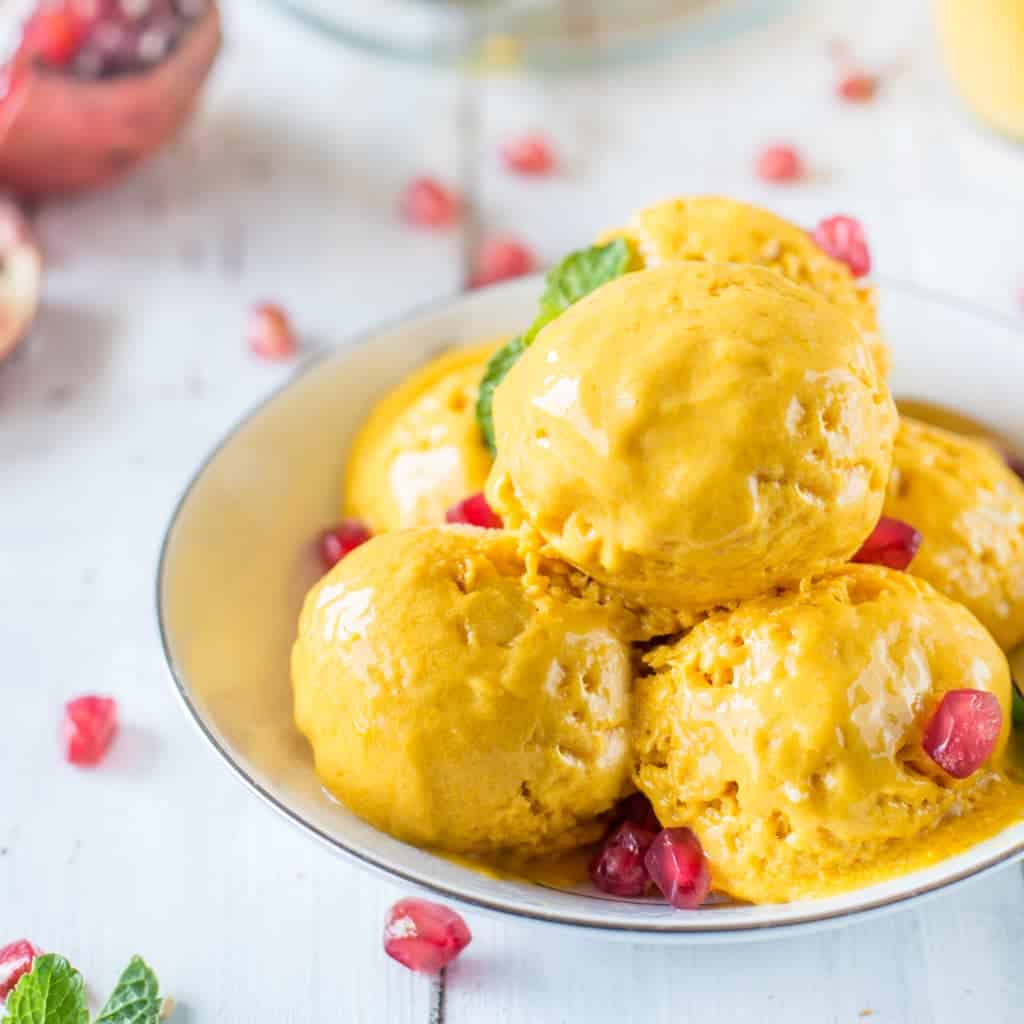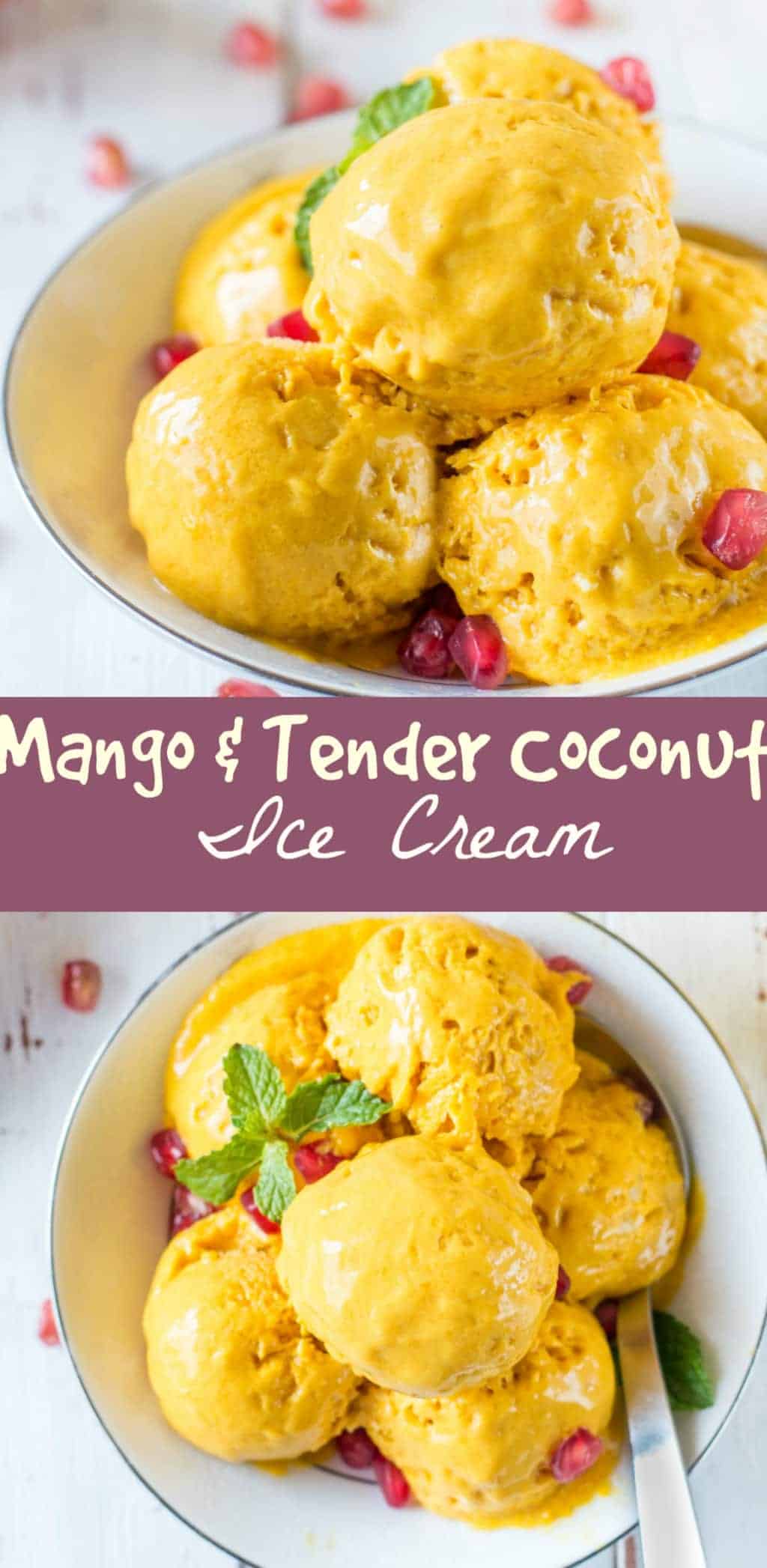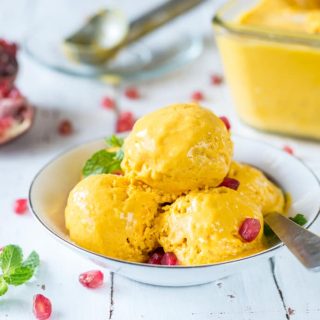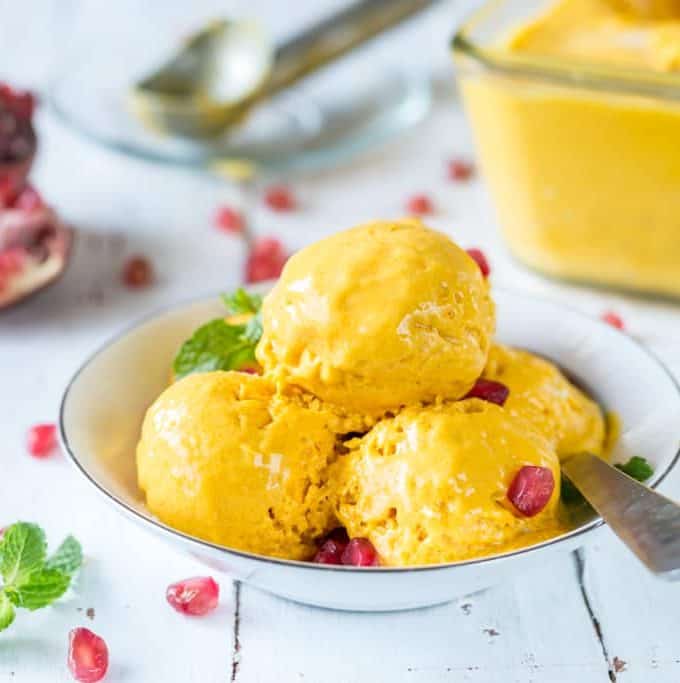 Mango Ice Cream
Creamy Mango Ice cream made without any ice cream maker, tastes much better than the store brought one. Absolutely no ice crystal and scoops like a dream.
Print
Pin
Rate
Ingredients
2

cups

Fresh mango puree

(ref note 1)

½

can

Sweetened Condensed milk

(half of 400 grams Can)

2

tablespoon

Dry milk powder

½

cup

Sugar

(ref note-2)

2

cups

Heavy Cream
Instructions
Pour mango puree into a saucepan, add milk powder to it. Whisk until there are no lumps.

Cook the above mixture on low heat until it reduces to ¾th of the quantity.

Towards the end of the cooking, add condensed milk. Mix until it is well incorporated. Switch off the flame.

Let the above mixture cool down to room temperature. Keep the mixture in an airtight container and let it chill in the refrigerator for at least 1 hour.
Ice cream
Whip chilled heavy cream to soft peak.