Chicken Ramen Noodle Recipe
This post may include affiliate links that earn us a small commission.
Chicken Ramen Noodle with a flavourful stir-fry sauce takes only 20 minutes to make at home and is better than take-out. This Easy Ramen Noodles recipe is a perfect mid-week dinner and customizable to your preference.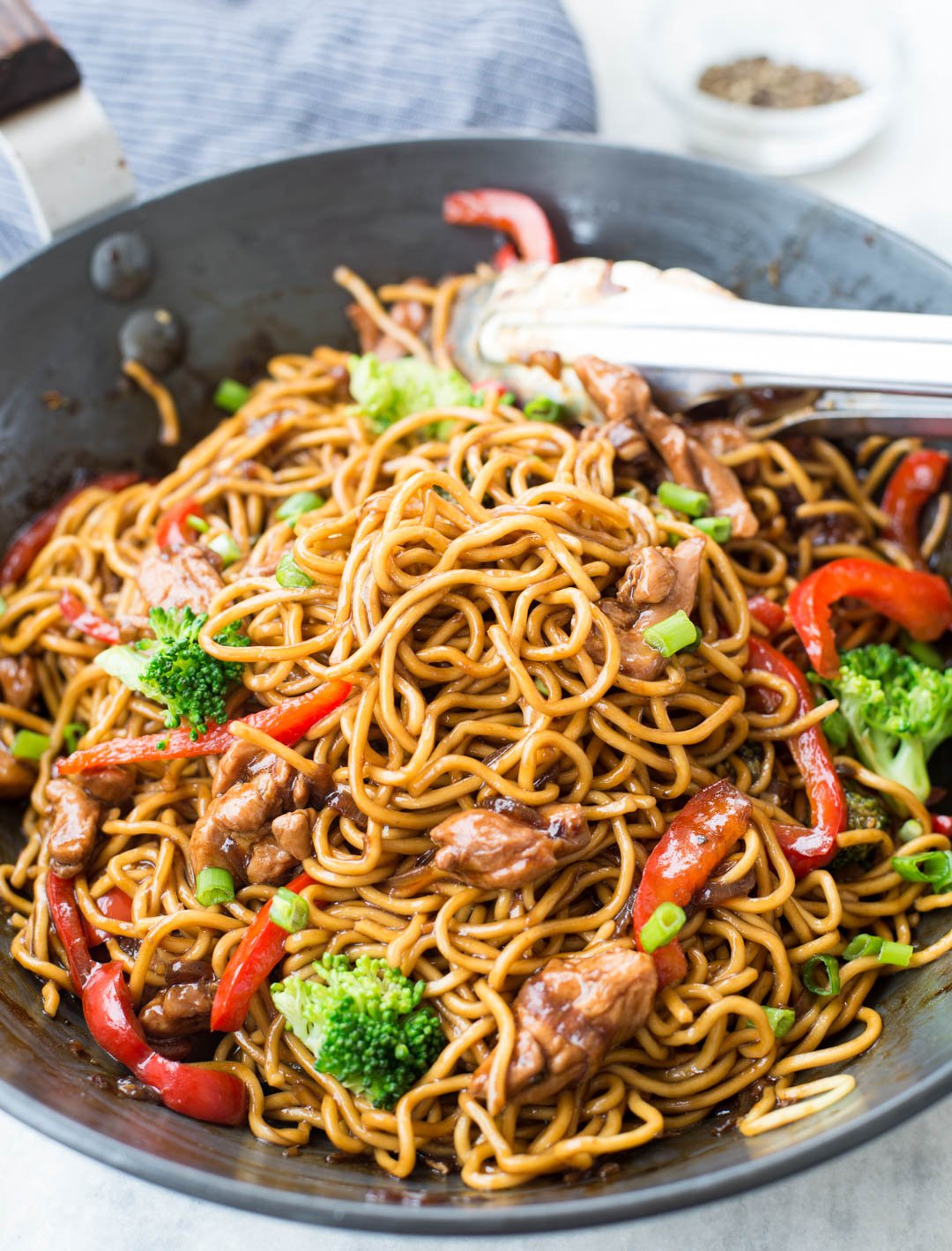 Flavours In Your Inbox
Subscribe for recipes straight to your inbox
I am super excited to share this Chicken Ramen noodles recipe with you guys today. This Ramen Noodle Recipe turned out so good, that I made it two days in a row for dinner. Perfectly balanced stir-fry Sauce, juicy chicken, and loads of veggies. This Ramen recipe just hits the spot.
You may also look at other recipes from the Noodle and Ramen world – Crispy Sesame Ginger Tofu With Soba Noodles, Oriental Chicken Noodles, Ramen Noodles Salad With Peanut Dressing and Spicy Pork Ramen.
Instant Ramen Noodles
I have been a big fan of instant noodles. It used to be my go-to meal during college days. I am sure many can relate to this fact. Even now I keep a few packets of instant noodles handy for my mid-night hunger pangs or a quick cheat meal.
But not a big fan of the seasoning that comes with it. It has not got to do with its taste, which is quite good but has more to do with the health aspect of it. So though Instant Noodles has become a rare indulgence, it is still one of my favorites.
I have no count of how many variations of instant noodles I have tried. But every time it used to be with the packed seasoning.

Ramen Noodles without Seasoning packet
This is the first time I used my own stir-fry sauce instead. And the result is just mind-blowing. So with this, I could have healthy ramen noodles with veggies and protein of my choice.
It is time now to ditch the seasoning packet that comes along with your instant ramen noodles. There is no excuse now to not repeat this easy and flavourful Asian ramen noodles recipe at home.
The secret behind making these noodles delicious is the stir fry sauce. It is not only quick to make but packs flavor. It goes great with noodles and can be used with fried rice too (Yay! one sauce – two recipes).
Takeaways have a distinct smoky flavor to the stir fry ramen noodles. That smokiness comes from the iron wok over a high flame. You can try the same if you have a wok at home. Otherwise, a simple skillet will work fine. There is less risk of ingredients tumbling out of a wok. Take care of this while doing it in a skillet.
Ingredients
This Chicken Ramen Recipe is pretty customizable. Basically, it has 4 components. You won't be needing the salty seasoning that comes with the package, yet have quick ramen noodles ready in minutes.
Here is what goes into this –
Instant Ramen Noodles – You can use any non-sticky noodles instead of ramen.
Chicken thigh or any other Protein – I prefer chicken thigh as it's juicy, has flavour, and gets done perfectly for all stir-fry recipes.
Veggies
Delicious Stir-fry sauce (make it on your own – read How-to below)
Use any of your favorite instant noodles. Make sure you are cooking the noodles right.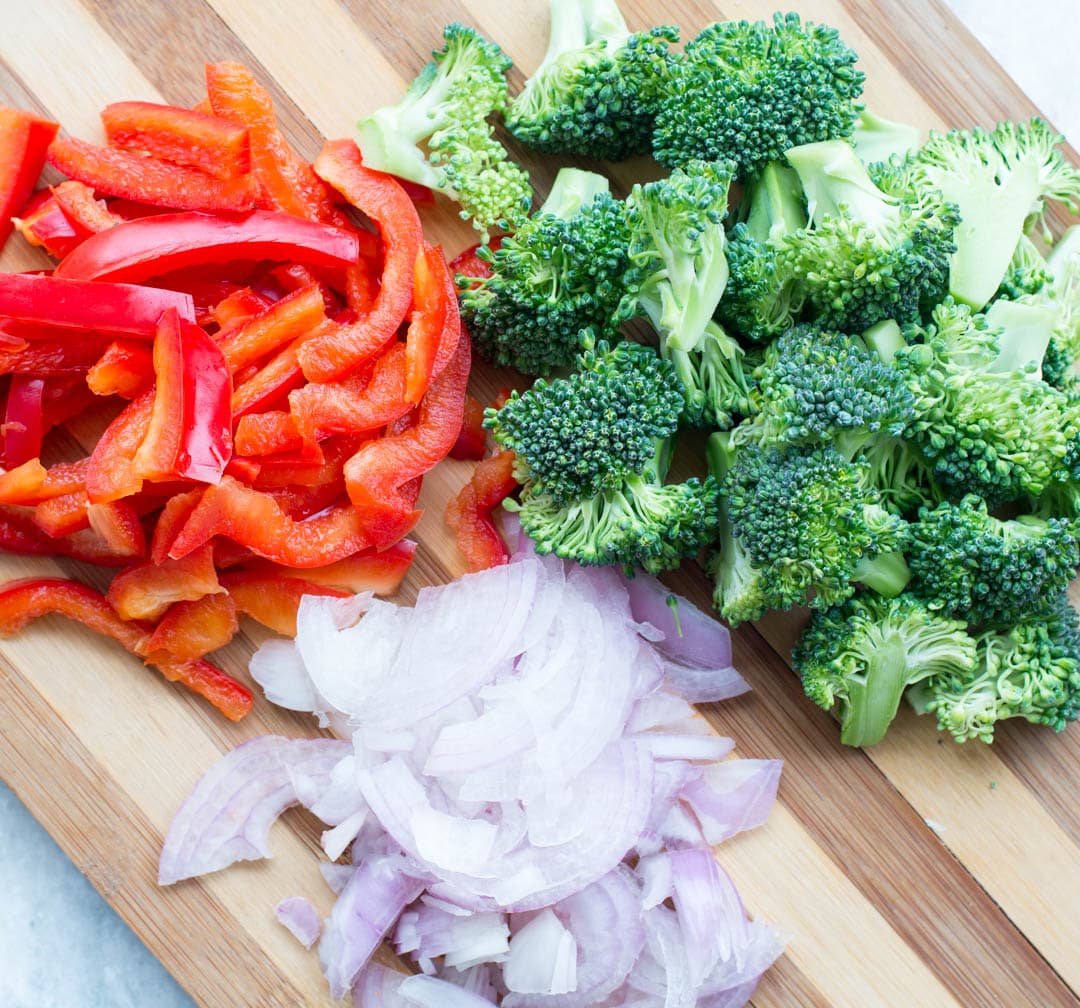 There is no limit to the number of veggies you can add. I have added Broccoli and pepper here. You can add mushrooms, carrots, beans, zucchini. While veggies are good, I would not overload the dish with them. There has to a balance among noodles, chicken, and veggies.
I have used Chicken thighs here. I love how juicy they remain after cooking. Chicken thighs will always be my first preference in stir-fries. You can also use chicken breast, but need to be careful to avoid overcooking it.

How to make Stir Fry Sauce for ramen noodles
This Stir-fry sauce is the best part of the entire dish. It is sweet, salty, and a tad bit spicy. It is a simple Asian Stir-fry sauce. The ingredients are as follows
Soy Sauce
Oysters Sauce
Rice Vinegar
Sugar
pepper
Sriracha
Sesame Oil
This sauce is very easy to make. Add the sauces – Soy, Oysters, and Vinegar in a small bowl. Add Sesame oil to the mix. Then add sugar and give it a stir.
This stir-fry sauce is quite versatile. You can use it in any Asian stir-fry recipe. I always keep a bottle handy in my refrigerator.
How to make the best Chicken Ramen Noodle?
Homemade Ramen is always better than take-outs. It is easy, healthy, and completely customizable.
Start with prepping all the ingredients before you start cooking. it takes just 5 minutes to finish the dish.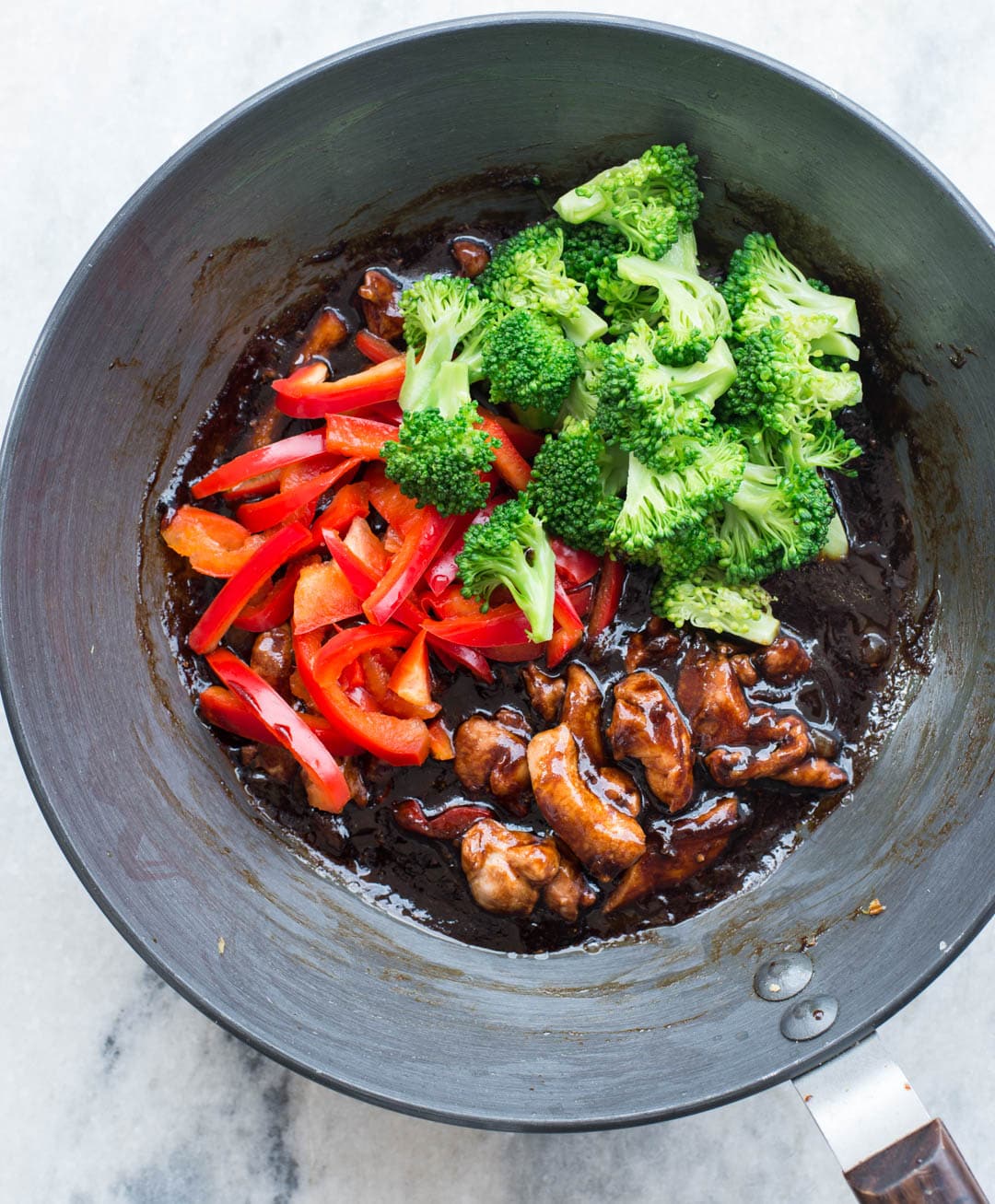 While making any stir-fries, it is important to add the ingredients as per their cooking time.
Start with adding any aromatics like ginger, garlic, or chili, followed by Onion if using.
Then add the protein.
When the protein is almost cooked add tough vegetables like carrot, beans. Wait till the veggies are half-cooked.
Add the rest of the ingredients like broccoli, peppers, etc.
When you are almost done with cooking the chicken and veggies, add water and instant Ramen noodles. Let it cook for a minute.
Then flip the blocks and cook for another 2 minutes.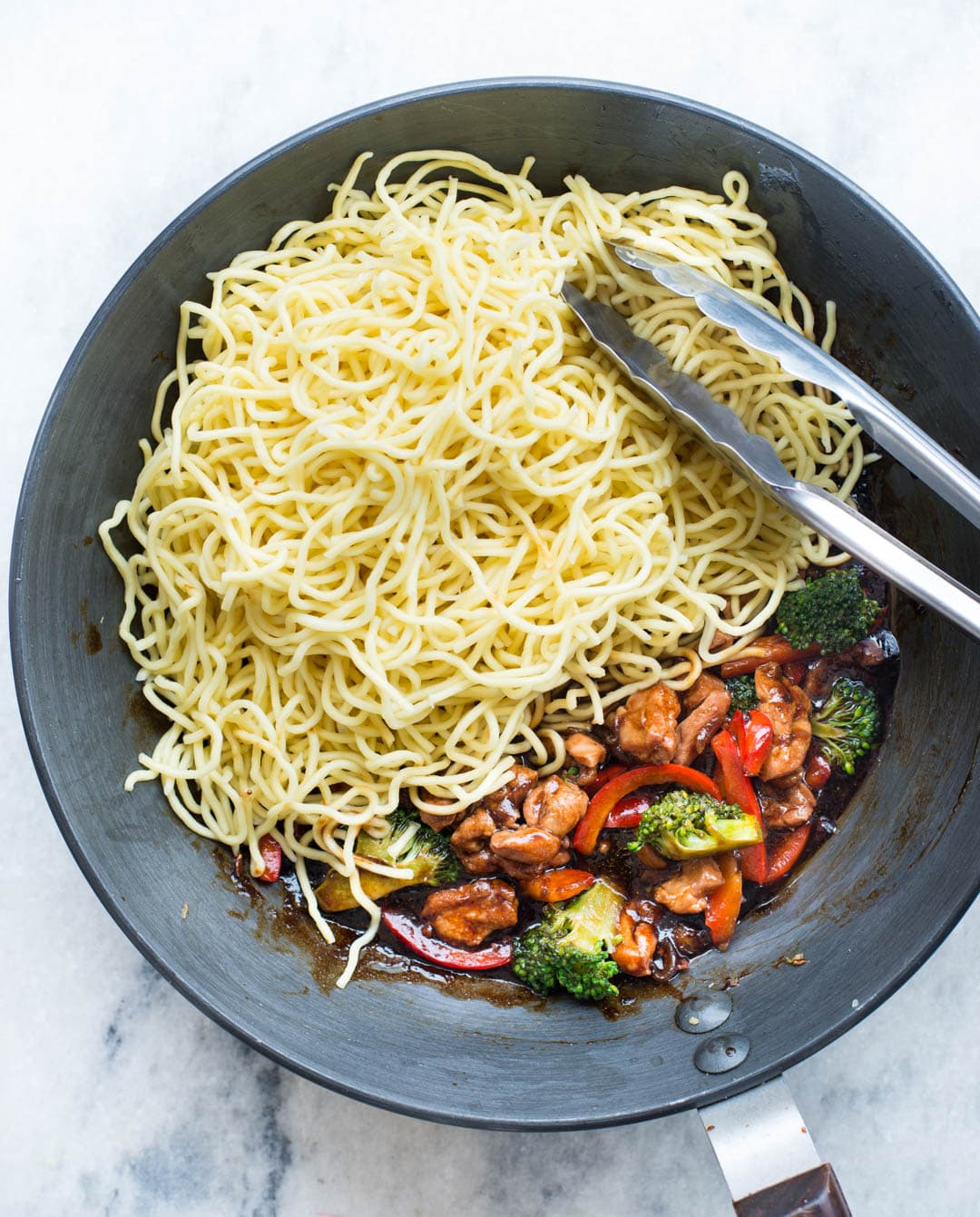 The thumb rule while making any Stir-fry is to keep the vegetable crunchy. So make sure you don't overcook the veggies.
Cook the instant noodles as per the package instruction. Time suggestions are usually a minute or two.
You can use beef or pork instead of Chicken here. The noodles have enough sauce in them.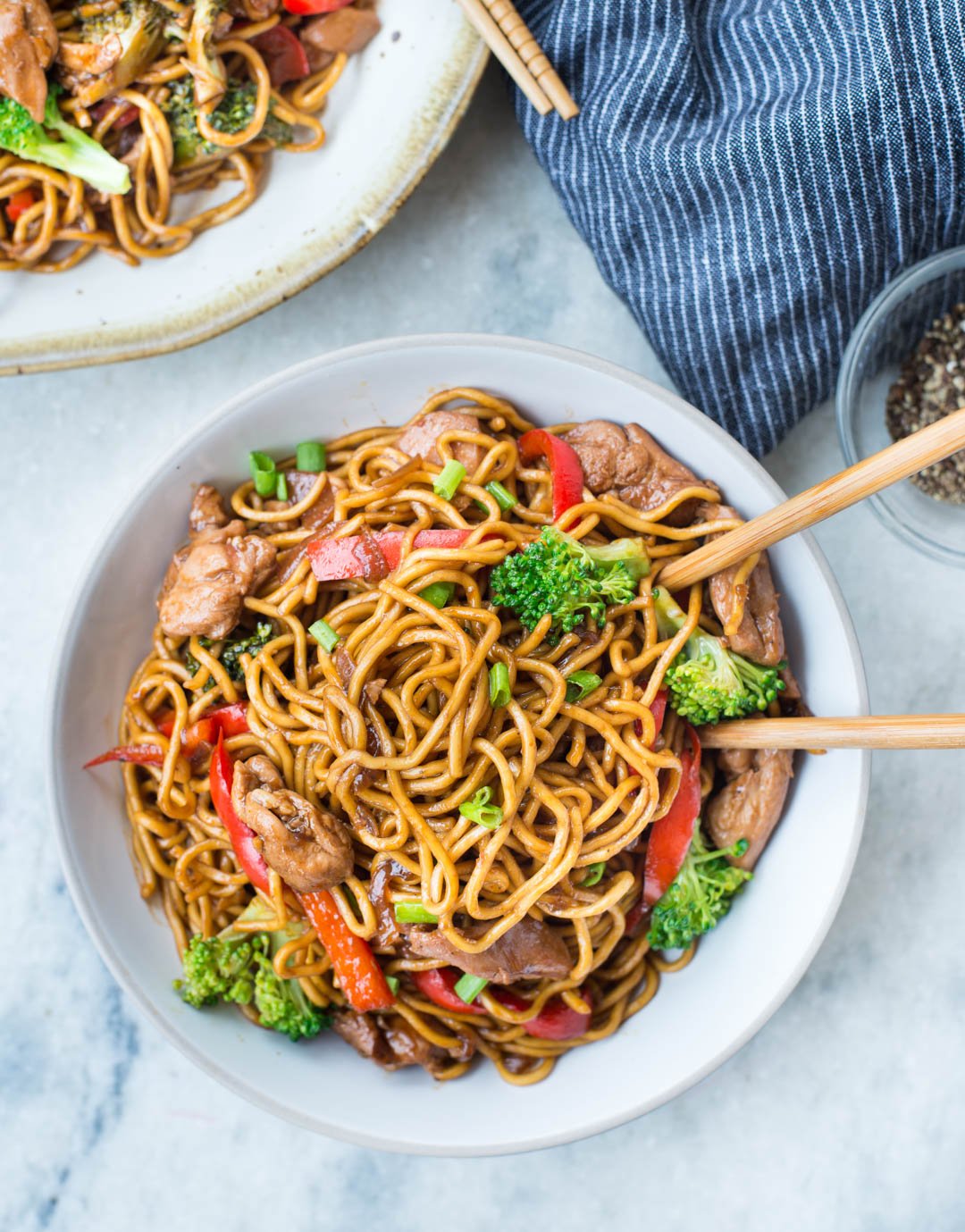 Few more Asian stir-fry recipes you might like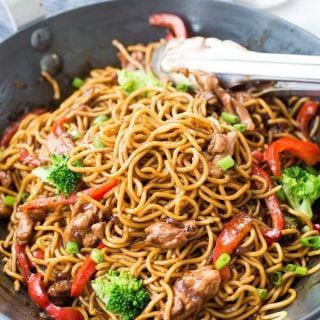 CHICKEN RAMEN NOODLES
This Easy Ramen Noodle recipe with chicken and flavorful stir-fry sauce takes only 20 minutes to make and is a perfect mid-week dinner.
Ingredients
For Chicken Ramen
200 grams Boneless Chicken Thigh Cut into cubes
1 tbsp Minced garlic
1 tbsp vegetable oil
1 medium onion Sliced
1 Cup Broccoli Floret
1 medium red bell pepper
½ cup Carrot Cut into Julliens
3 Blocks Ramen Noodles
1.5 cups Water
Ramen Stir fry Sauce
¼ cup low sodium soy sauce
2 tablespoon Oyster Sauce
1 teaspoon Rice Wine vinegar
½ tablespoon light brown sugar or regular sugar
1 teaspoon Sriracha or Any Red Hot Sauce (optional)
½ teaspoon Sesame Oil
Pepper as per taste For the heat
Chili sauce (optional) for extra heat
Instructions
Start with making the stir-fry sauce. Add all the ingredients mentioned under the sauce, in a jar or a mixing bowl. Keep aside.

In a pan heat oil. Add minced garlic and sliced Onion. Cook until the onion softens.

Add chicken thigh pieces. Cook for 2-3 minutes on high heat.

Add the stir-fry sauce, followed by bell pepper,broccoli florets and Carrot. Mix everything well. Let it cook till vegetables are crispy (~ minutes)

Just when the sauce starts to thicken up, add water and ramen blocks. let it cook for a couple of minutes.Then flip and break any bigger chunk of ramen. cook for another 2 minutes.

Garnish with spring onion. Serve Immediately.
Notes
Low cooking time & High heat. Asian stir-fry Noodles are traditionally cooked on high heat and stirred constantly. The high heat and a few minutes are enough to cook all the ingredients properly. Chicken and veggies are expected to be a bit crispy on the outside and juicy outside.
Instant Noodles type – I bought an Instant Ramen Noodles pack from the nearby grocery store. Any noodles made with egg (preferably) or not will do as long as it is non-sticky types.
Sauce. Suggest making the Asian stir-fry sauce first and keep it ready. It is easy to make as you have to mix the sauces (Soy, Oyster), vinegar and Oil first. Then add sugar and stir until the sugar is completely dissolved. Keep the sauce ready and aside.
Prepare Noodles – Boil the noodles next. This is again easy to do. Just follow the instructions in the label of the instant ramen noodles. Mine was good to go in a minute.
Noodles until soft – I do not cook the noodles completely and take them out once they turn soft and not fully done. Noodles will also be cooked for a couple of minutes along with the chicken and veggies. We do not want them to be overdone and chewy.
Minced garlic should be the first ingredient cooked in the pan. Garlic cooks very fast as it does not release a lot of water. There is a chance of burning garlic so a minute should be fine.
Onions – After a minute of cooking garlic, add onions. Onions release water and they do not get burnt quickly. Cook unit they become soft and little golden.
Crispy Veggies – Vegetables added to the noodles should be crispy. We do not want the veggies overly cooked and soft. 2 ~ 3 minutes should do the trick.
Any Protein – I have used chicken breast which cooked for 3 minutes on high heat turns out juicy and tender. Chicken breasts can be used but care should be taken to cook them for less time. You can also use Shrimp or pork as substitutes.
Nutrition
Serving: 100g | Calories: 336kcal | Carbohydrates: 17g | Protein: 20g | Fat: 20g | Saturated Fat: 7g | Cholesterol: 98mg | Sodium: 1724mg | Potassium: 441mg | Fiber: 1g | Sugar: 9g | Vitamin A: 1150IU | Vitamin C: 61mg | Calcium: 39mg | Iron: 1.7mg