Sesame Garlic Ramen Noodles
This post may include affiliate links that earn us a small commission.
Easy and super quick Sesame Garlic Noodles is a perfect weeknight meal. Ramen noodles tossed in Soy sauce, sriracha and lots of toasted sesame seeds is all thing delicious.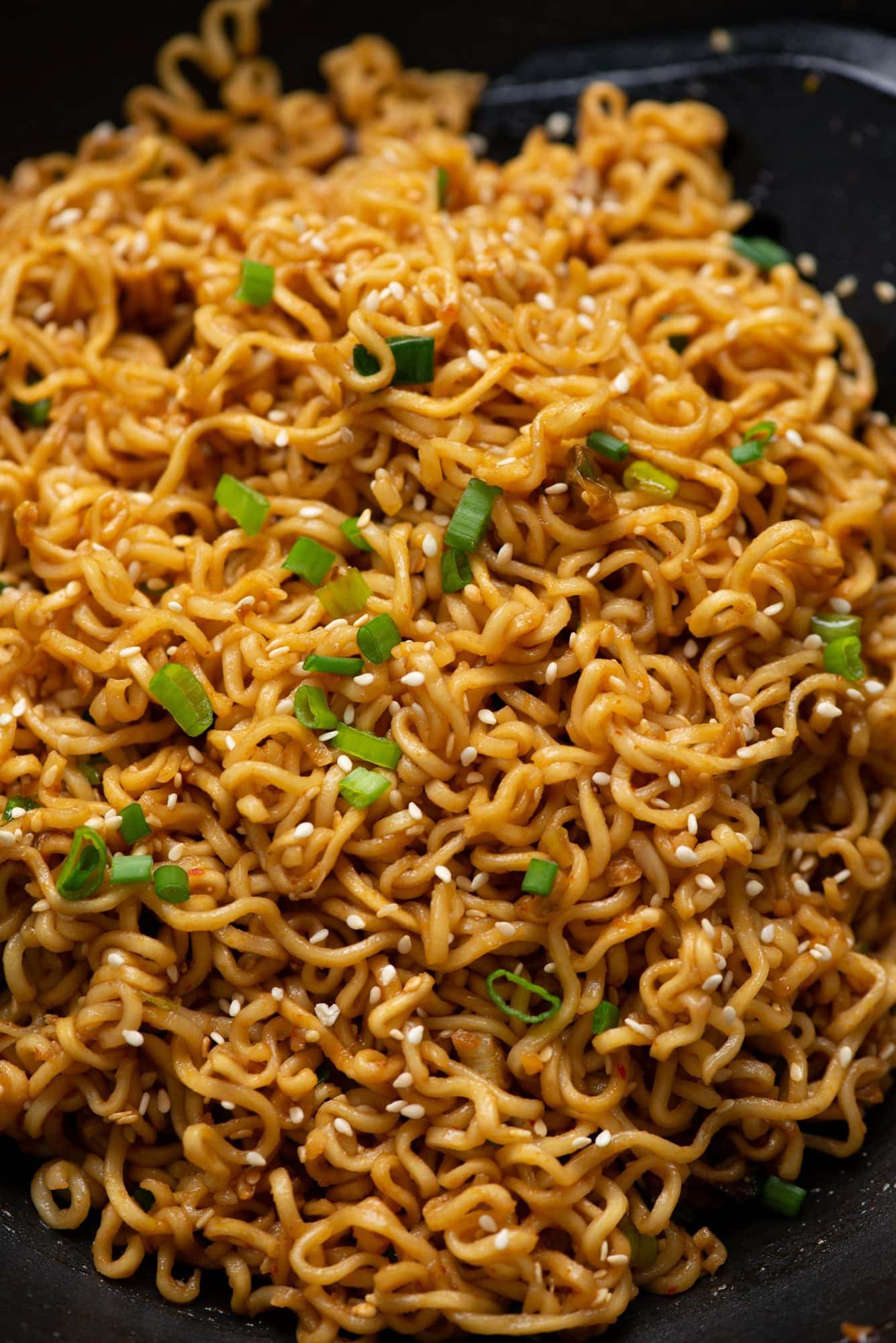 Garlic Ramen Noodles Recipe
Can you think of a single dish that is delicious, super quick to make and also budget-friendly? This Sesame Garlic Ramen noodle is all of the above. It is super easy to whip up and definitely satisfy your Asian food craving.
Flavours In Your Inbox
Subscribe for recipes straight to your inbox
So next time when you have a hungry family to feed, grab a few packets of Instant noodles, ditch the package seasoning and make this sesame garlic noodle in no time.
Ingredients
Instant Ramen Noodles
Garlic
Ginger
Soy Sauce
Sriracha
Brown sugar
Sesame Oil
Toasted Sesame Seeds
Green Onion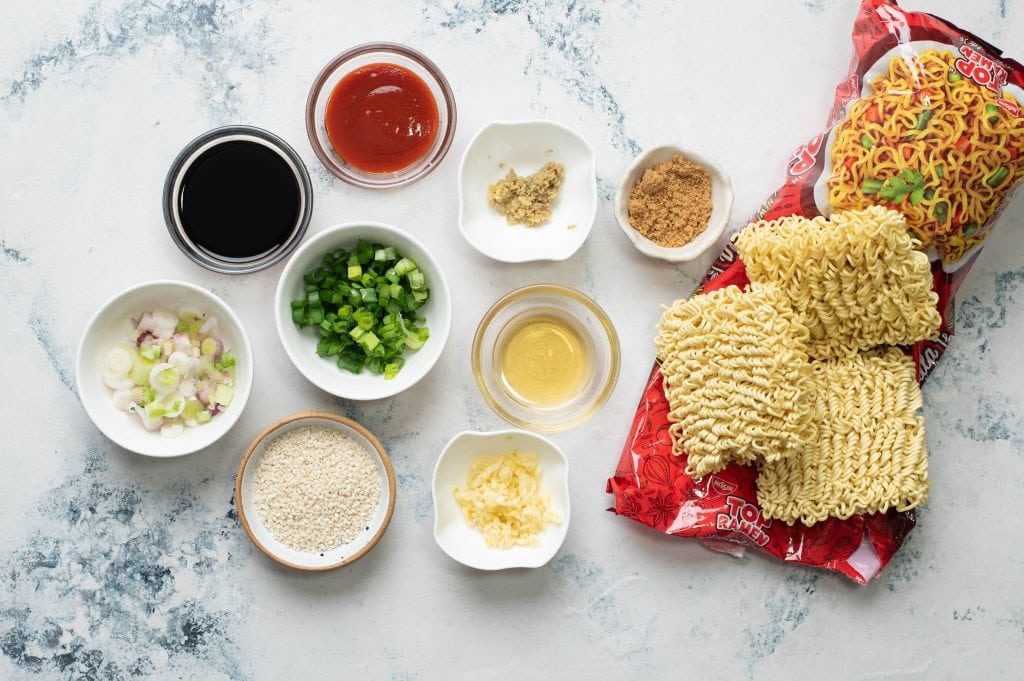 Steps to make Sesame Garlic Ramen Noodles
It takes almost the same time as making your favourite instant noodles. This recipe moves really fast, so keep everything measured and ready.
Bring 4-5 cups of water to a boil. Add ramen blocks to the hot water. Let it cook for 2 minutes on high heat.
While the ramen is cooking, heat a wok or a wide skillet. Add oil, garlic, ginger and white part of the green onion. Cook for 30 seconds.

3. Add all the sauce and sugar. Mix and simmer.
4. Drain ramen. Add to the wok along with toasted sesame seeds, green onions. Switch off the flame and toss well.

Add-ins and Variation
While this garlic ramen noodles is a super quick version, you can add just about any veggies or protein to make it a complete meal.
You can add shredded carrot, beans, broccoli, mushroom, pepper and cabbage. For protein add leftover or cooked Chicken, eggs or even cooked shrimps.
Storing leftover / reheating
If the ramen is cooked properly ( i.e. not overcooked), it can be stored in an airtight container for up to 3 days.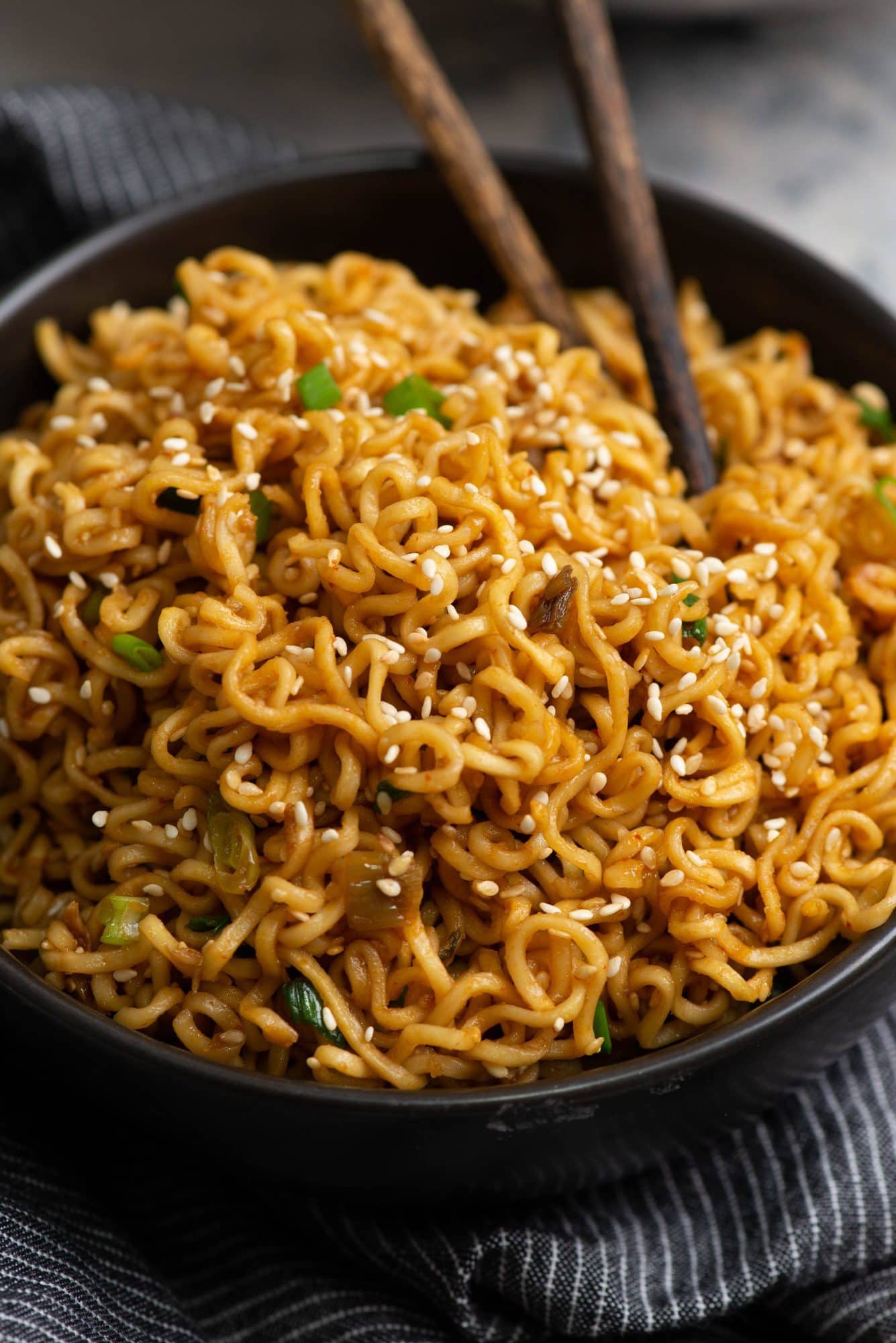 More Ramen Recipes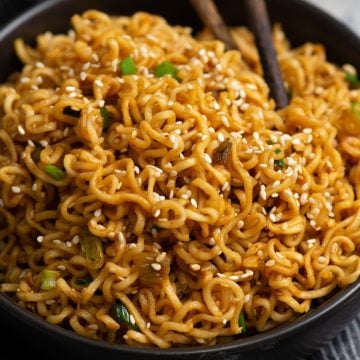 Sesame Garlic Ramen recipe
Ramen noodle is tossed in a Sesame, Soy and Garlic sauce. This fast, easy and inexpensive stir fry is loved by kids and adults equally.
Ingredients
2 blocks Instant Ramen noodles 200 grams
½ tablespoon Garlic minced
1 teaspoon Ginger
2 tablespoon Light Soy Sauce
2 teaspoon Sesame Oil
2 teaspoon Sriracha
2 teaspoon Light brown Sugar
2-3 tablespoon Toasted Sesame Seeds
2 stalks Green Onion
Instructions
The recipe moves really fast, so keep all the sauce measured and ready.

Chop green onions. Keep the white part and the green part separately

Boil 4 cups water, Add dried ramen noodles and cook for 2 minutes. Drain well and keep aside. Save 1/4 cup ramen cooking water to use later. ( I have used 3 ramen blocks for it to be 200 gms) .

Heat sesame oil, minced garlic, ginger, and white part of green onion. Saute for 30 seconds, until aromatic.

Lower heat. Add Soy Sauce, Sriracha and sugar.. Stir it well.

Add cooked Ramen ramen, toasted sesame seeds and chopped green onion. Toss to coat ramen well with the sauce.

Serve.
Nutrition
Serving: 1serving | Calories: 120kcal | Carbohydrates: 9g | Protein: 4g | Fat: 8g | Saturated Fat: 1g | Polyunsaturated Fat: 3g | Monounsaturated Fat: 3g | Sodium: 1136mg | Potassium: 134mg | Fiber: 1g | Sugar: 5g | Vitamin A: 127IU | Vitamin C: 6mg | Calcium: 98mg | Iron: 2mg