Vietnamese Grilled Shrimps are Shrimps marinated in lemongrass, fish sauce, spices and grilled till golden brown. Refreshing lemon flavour, pungent fish sauce and aromatic spices make grilled shrimps so delicious.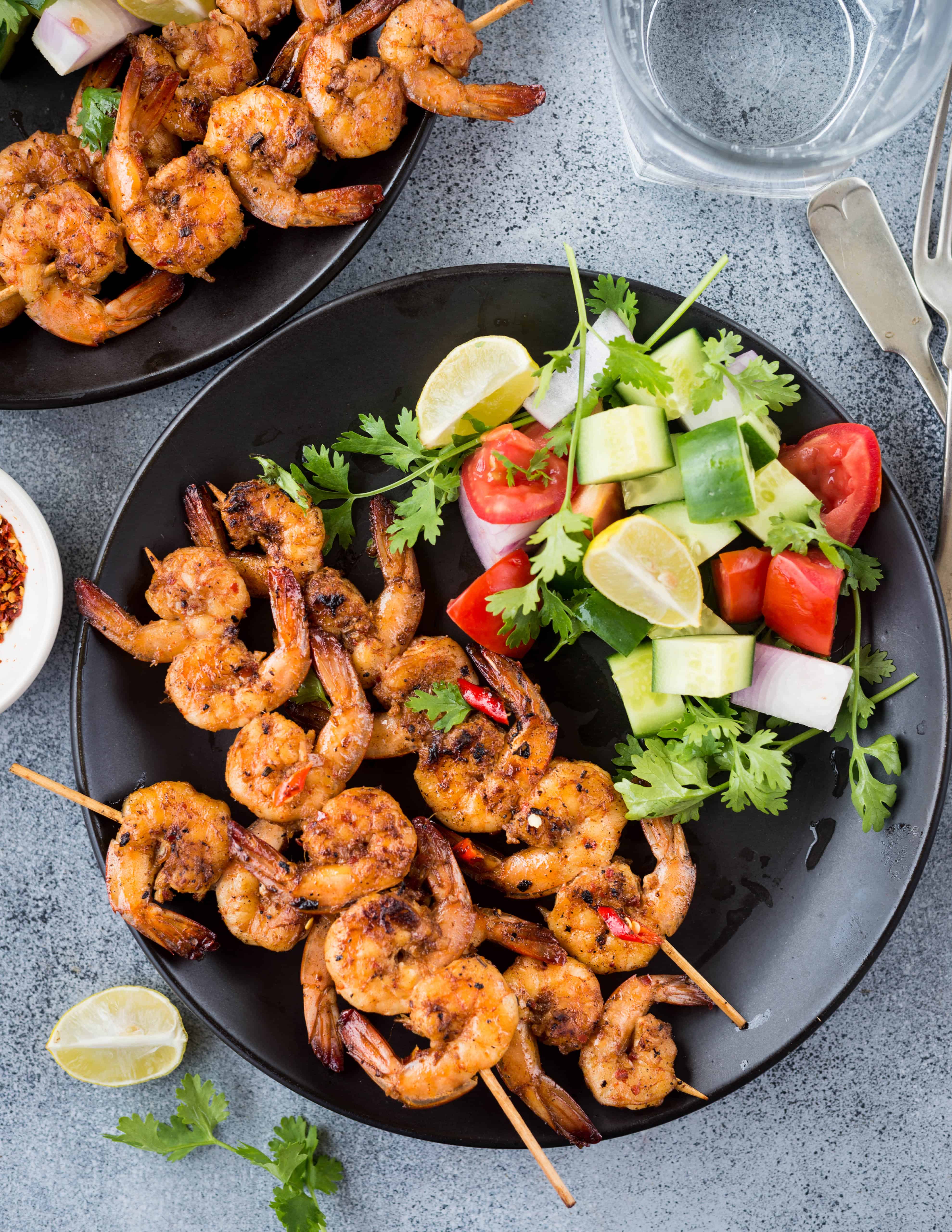 Grilled Vietnamese Shrimps are so easy and quick to make. It is a great appetizer and can easily be served to a large crowd. The best part is it takes 10 minutes of prep and 5 minutes to grill these shrimps.
A few days back while browsing I stumbled upon this article which beautifully explains the Vietnamese cuisine. When it comes to Vietnamese cuisine, all I can think about is the refreshing rice paper roll with sweet and spicy peanut sauce, that amazing creamy Vietnamese coffee or comforting Pho ( noodle soup in an aromatic broth).
But after reading the article I got to know there is much more in Vietnamese cuisine.  The layers of flavour, usage of fresh herbs and the way food is influenced by its geography from north to south.
When few of my favourite ingredients are part of a cuisine, I knew I had to make something inspired by Vietnamese flavours.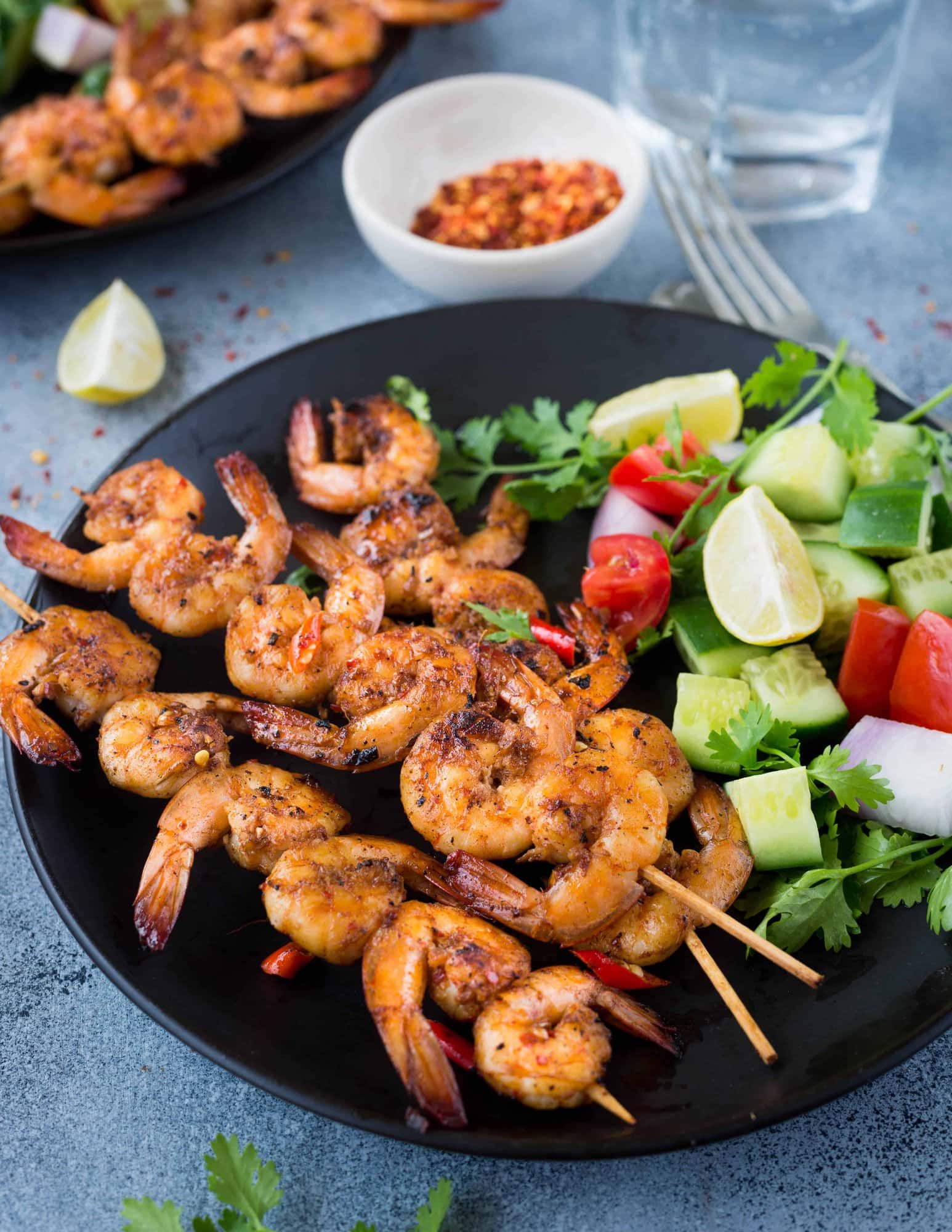 How to make Vieatnamese Grilled Shrimp?
First, let's take about the Grilled Shrimp Marinade. The marinade has ginger, garlic, lemongrass as main ingredients. There is honey to give a hint of sweetness. And then a touch of fish sauce, for that Asian touch.
Try to use fresh ingredients for the marinade. I minced some fresh lemongrass stem in this recipe.
Once the Marinade is ready, it is optional to marinate the shrimps. If you are short of time, you can directly grill them. Else marinate the shrimps for 30 minutes and then grill.
I prefer to keep the tail on for extra flavour and crunch.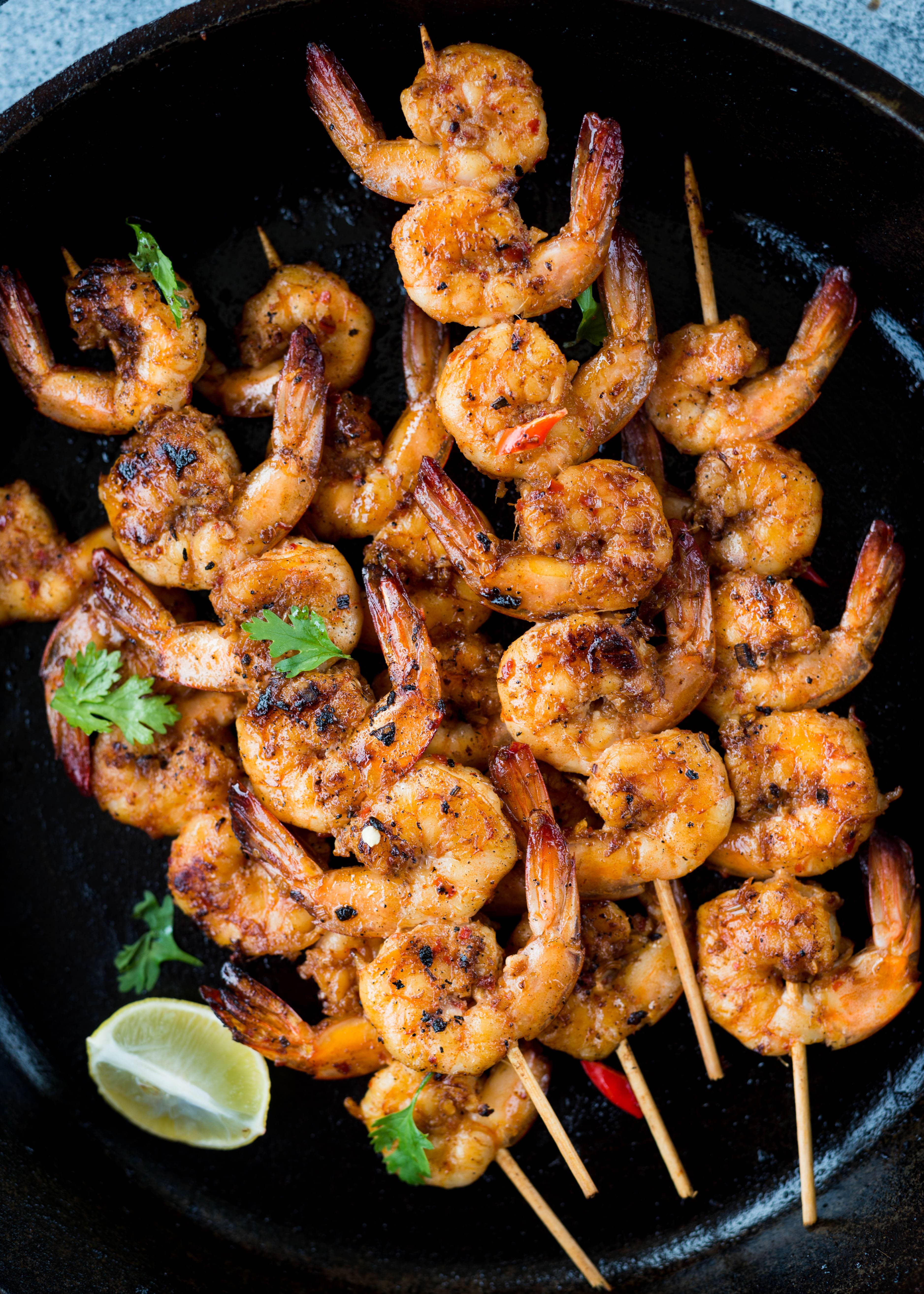 How To Grill Shrimp?
Now the important part how to grill the shrimps.  It is very important not to overcook the shrimps. When shrimp are overcooked, they turn rubbery and dry.
Cook shrimps directly on the grill. Depending on the size of the shrimps, it might vary fro 3-5 minutes per side.
Another way of grilling shrimp is on a grill pan, on the stovetop. Lightly grease the grill pan and cook each side on medium high heat for 2-3 minutes each side.
You can also bake the shrimp in a pre-heated oven at 400 degrees for 6-8 minutes.
Serve a simple refreshing cucumber salad on the side. How about this  RICOTTA PASTA SALAD  or  VEGAN MACARONI SALAD?
Looking for some amazing Summer barbecue recipes?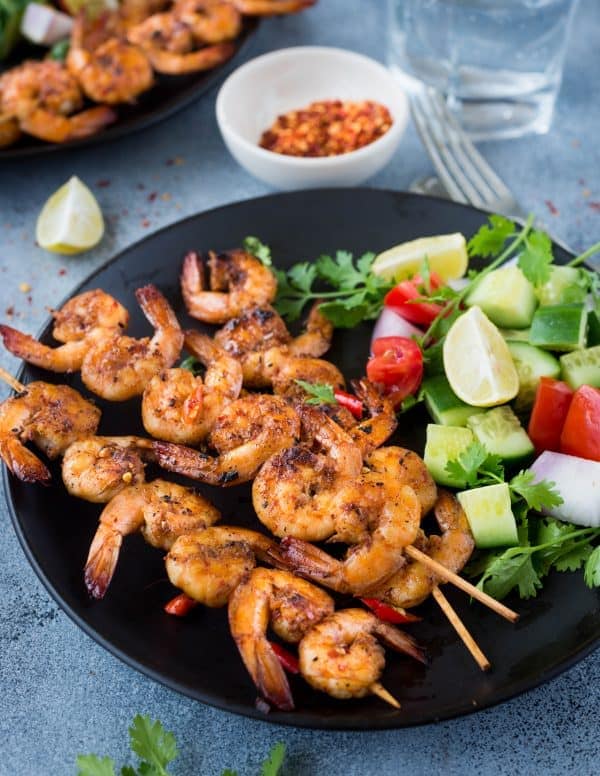 | | |
| --- | --- |
| | |
Mix all the ingredients mentioned above. Add the cleaned prawns. Marinate at least for 30 minutes.

Prepare the grill pan or barbecue by brushing some oil on it.

Carefully skewer the prawns. And grill each side for about 3-4 minutes. Blast in between with the remaining marinade to keep the prawns moist.

While serving garnish with fresh coriander leaves.