Garlic Mushroom Spaghetti With Bacon is an easy weeknight dinner, made with just handful of ingredients. This Mushroom Pasta is packed with flavour and takes just 20 minutes from start to end.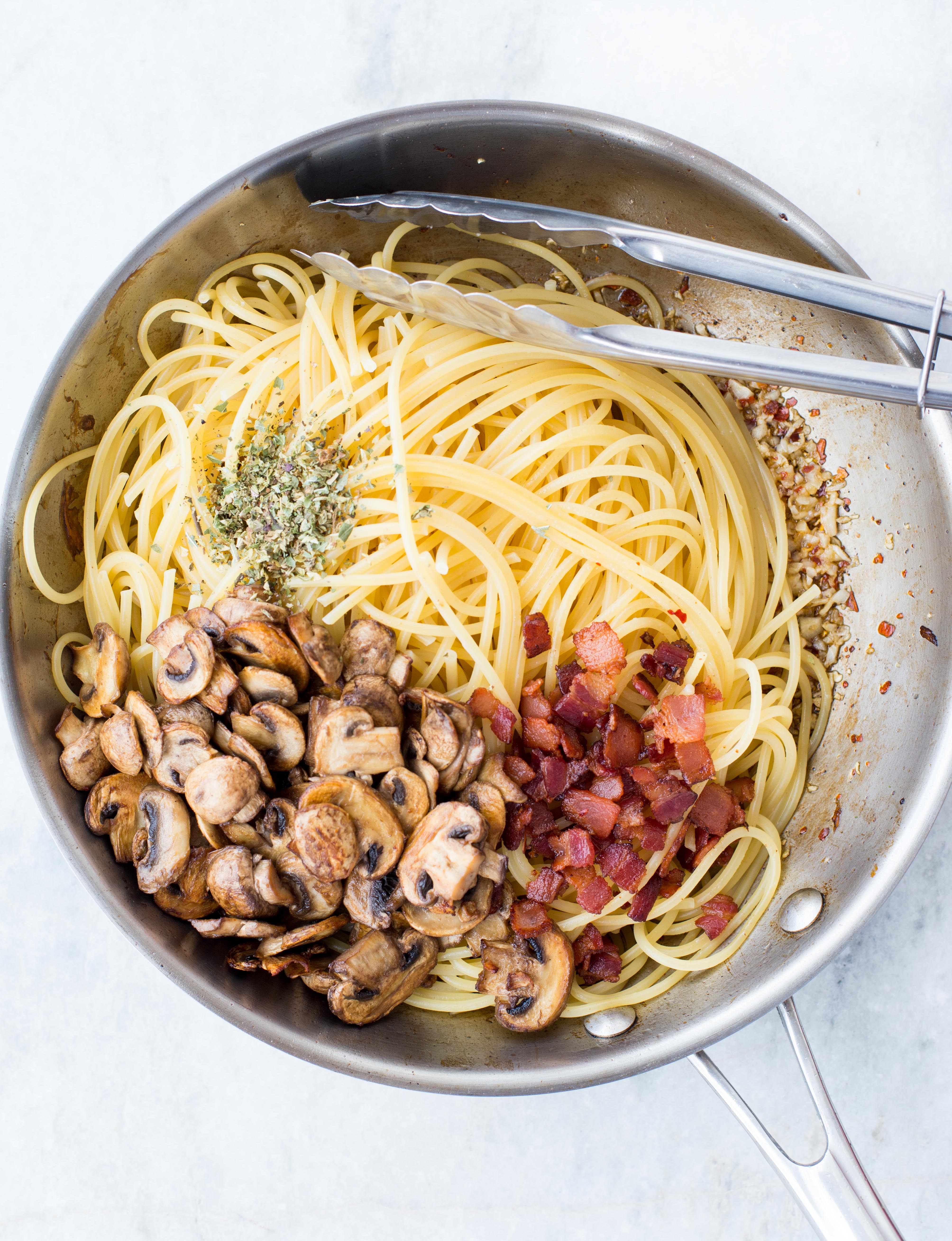 Happy Monday Folks! I have a brand new recipe for you all, that is easy, quick and packed with flavour. This Garlic Mushroom Spaghetti with bacon has tons of garlic, browned mushroom and smokey bacon.  With just 6 ingredients, this easy dinner recipe is definitely going to impress everyone.
Mushroom and pasta work great together. And when you load Mushroom pasta with bacon, loads of garlic, chilli flakes, it just gets better.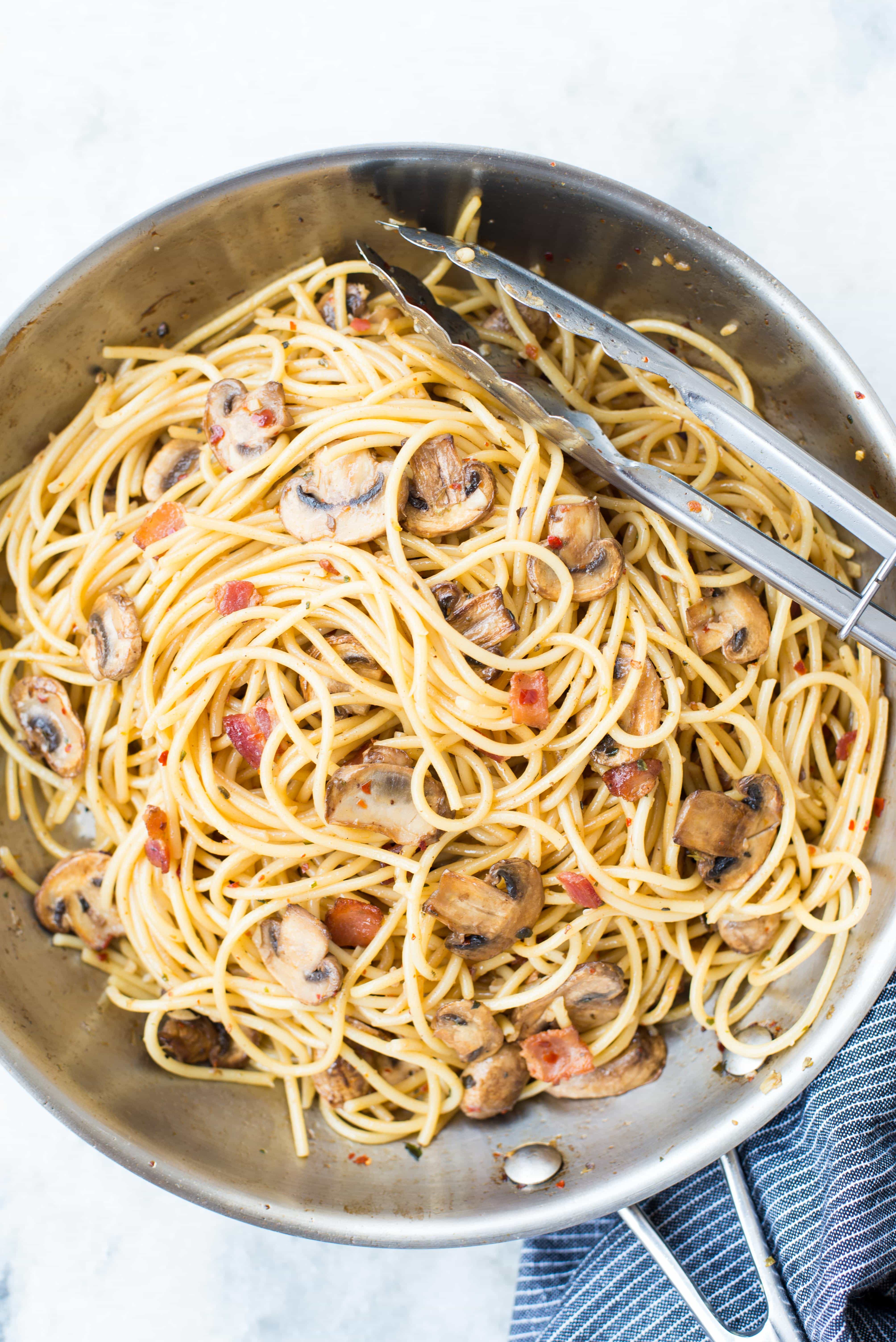 If you think because I am a food blogger, it is easy for me to plan the menu, then you are wrong. Believe me, I pull my hair when it comes to deciding the menu. Every day morning I stand in front of the refrigerator for 15 minutes to decide what to cook. And when you have a toddler at home you need to be even smarter.
I also suck at menu planning. Everyone out there who do menu planning at the beginning of every week, hats off to you guys. I simply can't plan the entire week menu ahead of time. So most of the time it is spontaneous.
This Garlic Mushroom Spaghetti with Bacon happened on one such night. It was the weekend and refrigerator clean-up day. Had some leftover cooked spaghetti from other night.  The spaghetti came out delicious and became regular on our table.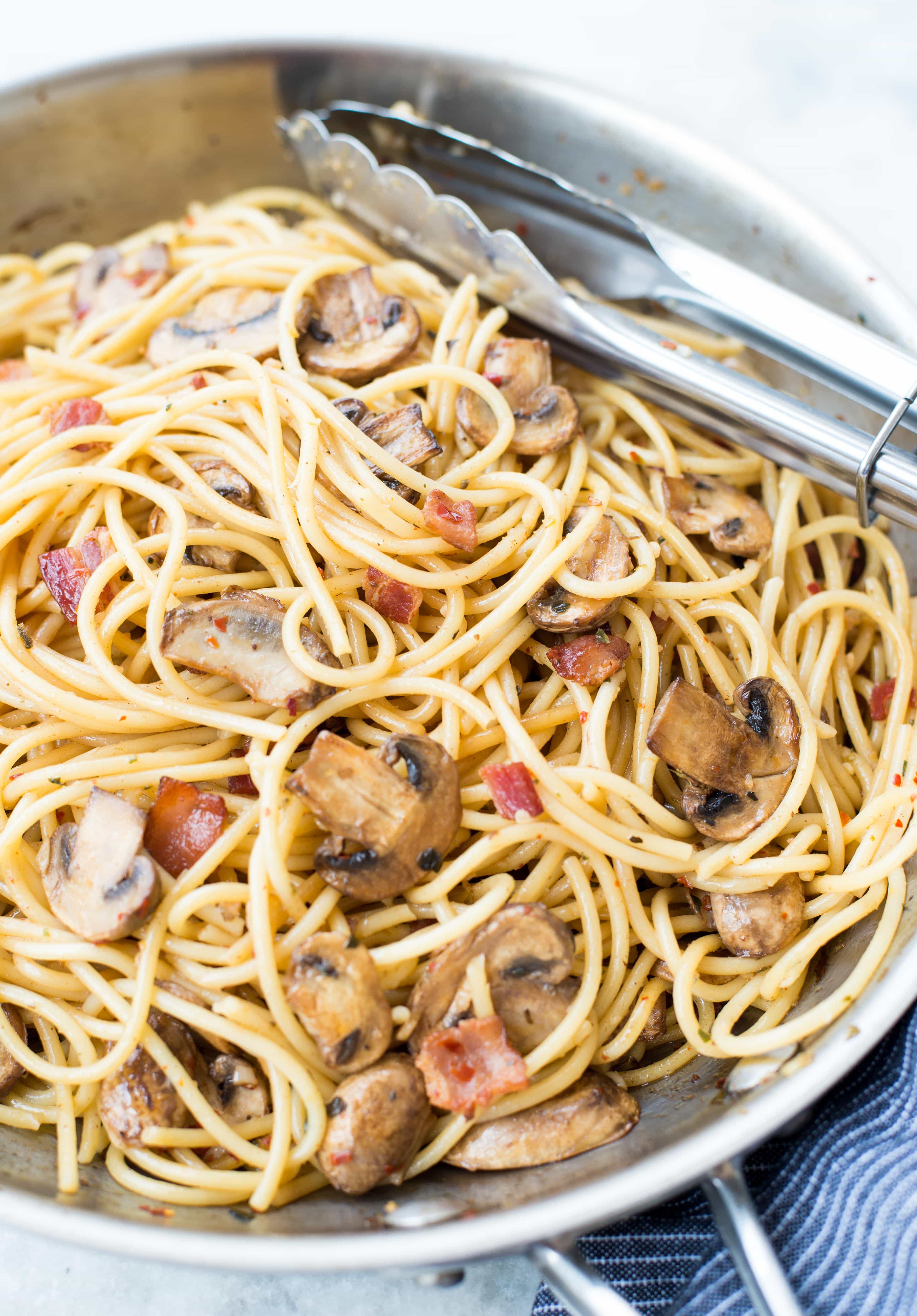 WHAT DO YOU NEED TO MAKE GARLIC MUSHROOM SPAGHETTI WITH BACON?
You need just 6 ingredients to make this mushroom pasta recipe
Spaghetti
Mushroom
Bacon
Garlic
Chilli flakes
Oregano
I have used button mushroom here. Though button mushroom doesn't have much of flavour, it absorbs the flavour of garlic and bacon very well. So next time when you are making your favourite pasta, try adding mushroom instead of chicken. I am sure you will love it.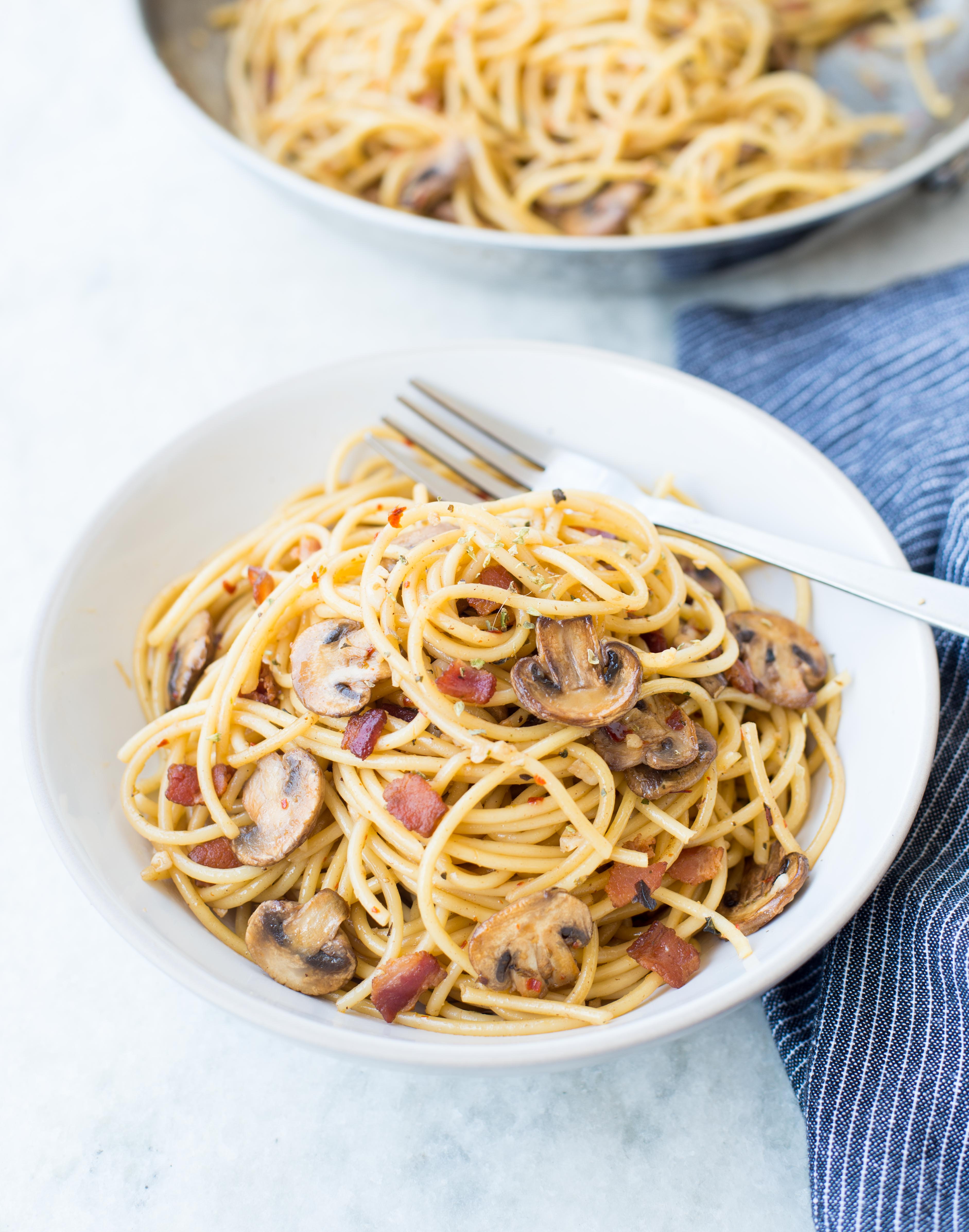 STEPS TO MAKE GARLIC MUSHROOM SPAGHETTI WITH BACON?
Start with cooking the pasta right. You don't want to spoil the dish by overcooking the spaghetti. Bring a pot of water to boil, generously season with salt and cook the pasta just till done. Reserve a cup of pasta water while draining the spaghetti.
Next step is to cook the Mushroom right. Recently I found a great way to cook mushroom until they are brown and crispy.
The first step is don't overcrowd the pan. Arrange mushrooms in a single layer. Cook undisturbed until they are golden brown on one side. Then flip them and cook further.
Mushrooms tend to lose lots of water once they hit a hot pan. So don't add salt initially. Add salt only after the mushrooms are brown and crisp. Initially, it will release lots of water and would start to shrink. Once it is brown on both the side then lightly season with salt.
I don't add any oil to the pan while cooking. But if you are worried, just lightly grease the pan with little olive oil.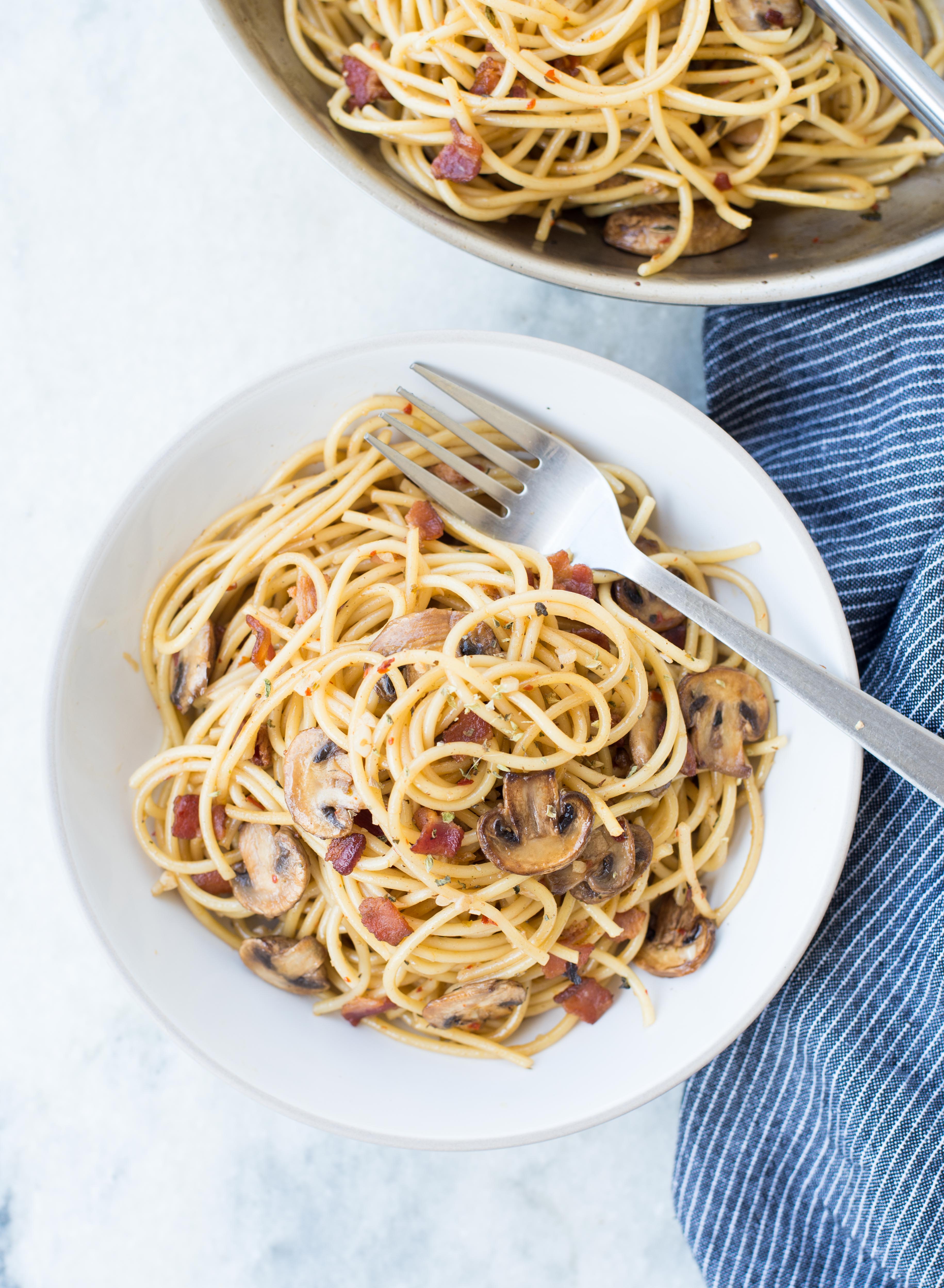 Once the mushrooms are browned, remove them and keep it aside. To the same pan add chopped bacon. Cook on medium heat till they are crisp and brown.  Remove crispy bacon pieces with a slotted spoon and keep aside.
Either you can use only bacon fat. Or you can reserve half of the fat and add olive oil to the pan. Then add finely minced garlic. When garlic starts to brown add chilli flakes followed by cooked spaghetti, cooked bacon, mushroom, Oregano. Add a pasta water. Toss everything well and cook until the pasta is coated well with the sauce.
Like the regular pasta, there is no special sauce here. The pasta water when gets cooked starts to thicken and binds everything together.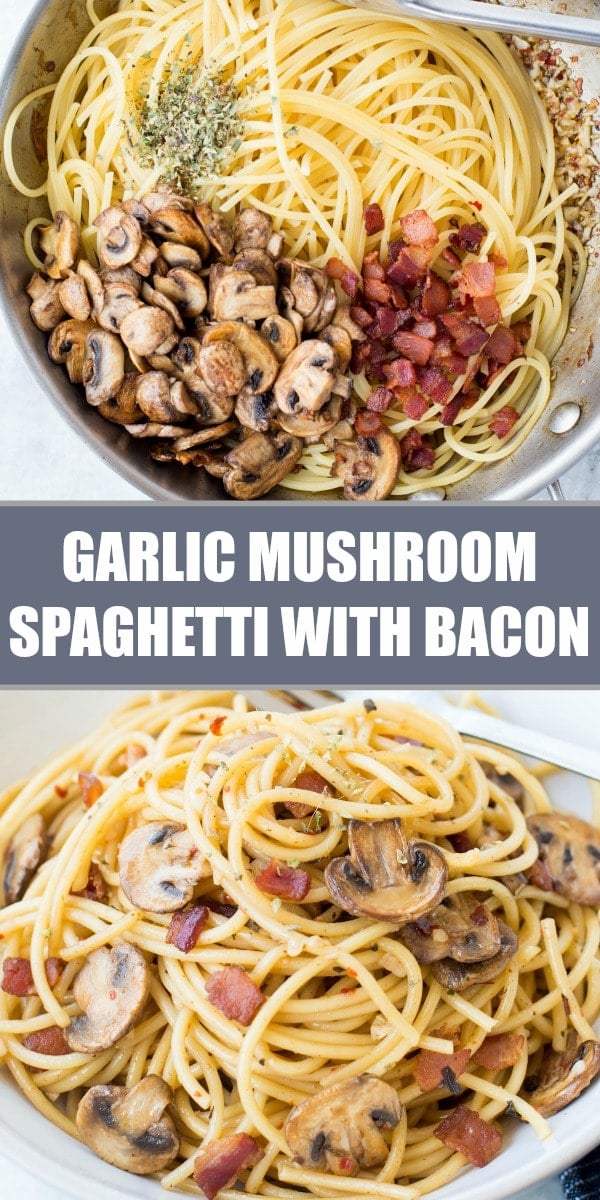 Here are a few pasta/noodles recipe for weeknight dinner.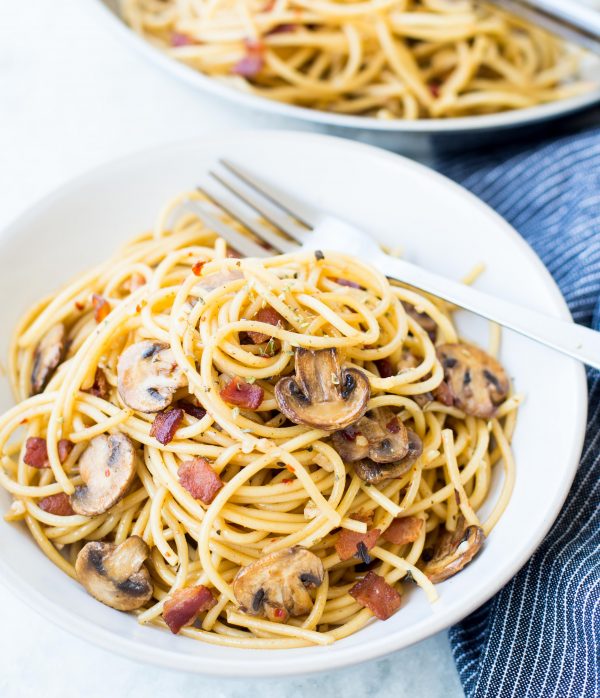 | | |
| --- | --- |
| | |
First, cook the pasta in salted water until done. Drain and keep aside. Reserve 1 cup of pasta water for later use.

Clean and slice mushroom. Heat a pan and arrange sliced mushrooms in a single layer(Don't overcrowd the pan).

Cook mushroom undisturbed until they are golden brown in colour on one side. Then flip and cook the other side.

Once mushroom is cooked on both the sides and it is crispy golden brown, remove and keep aside.

To the same pan add chopped bacon. Cook until bacon is crisp and brown in colour.

Remove cooked bacon from the pan using a slotted spoon. Keep aside.

You can either use the bacon fat or reserve the fat and use olive oil instead. I used the bacon fat for extra flavour.

Add minced garlic to the fat. When it starts to brown, add chilli flakes. Stir on low heat till aromatic.

Add Cooked spaghetti, mushroom, bacon and oregano. Add one cup of warm pasta water reserved from the first step.

Toss everything well and cook until the pasta water has reduced and almost thickened.