Creamy Lemon Garlic Shrimp Pasta
This post may include affiliate links that earn us a small commission.
Easy and quick Lemon Garlic Shrimp recipe is ready in flat 20 minutes. Toss in your favourite pasta like fettuccine and your Creamy Lemon Garlic Shrimp Pasta is on the table in no time.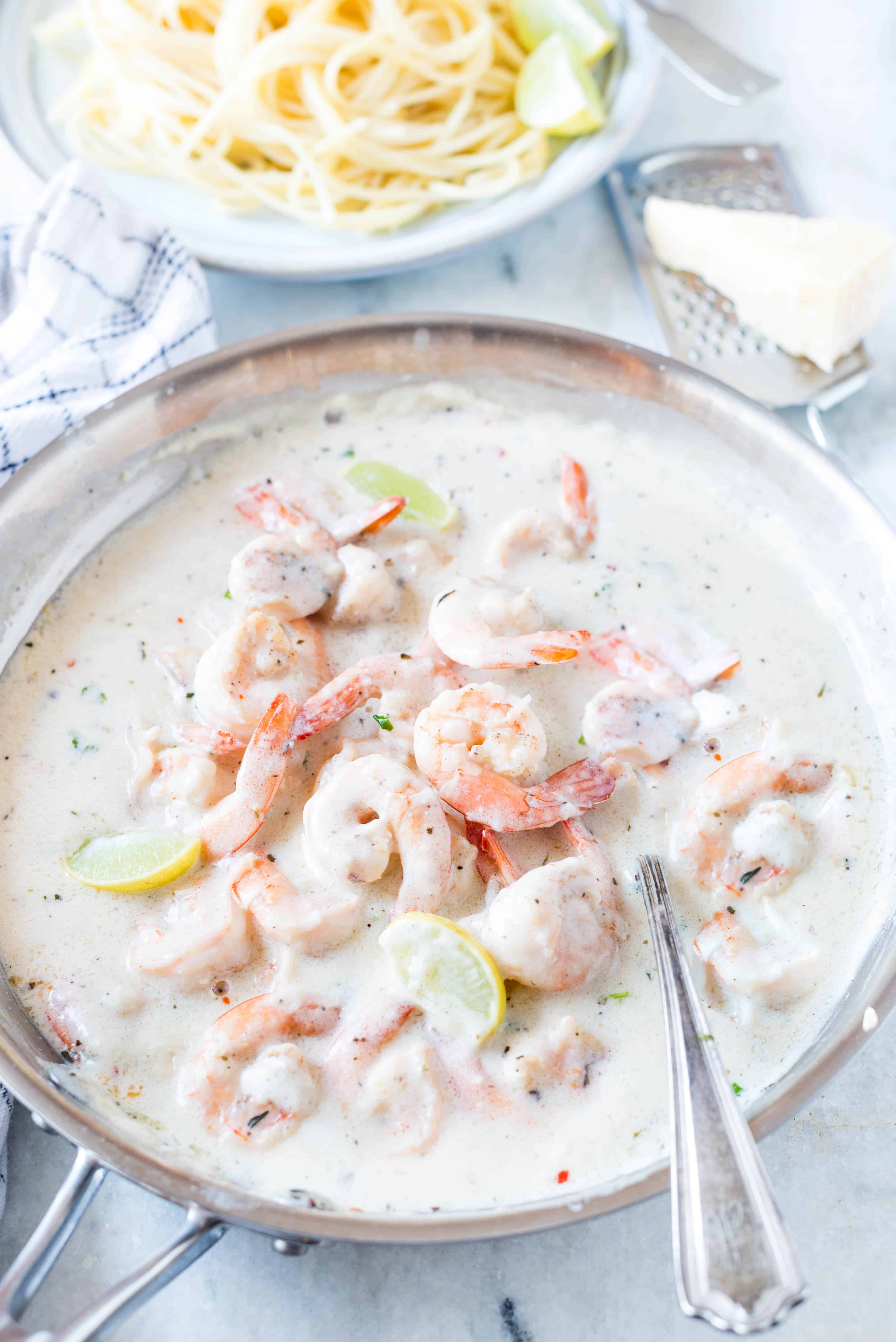 Flavours In Your Inbox
Subscribe for recipes straight to your inbox
The sauce is creamy, smooth and has a refreshing lemon flavour. The awesome thing about this dish is, all of it can done in one pan.
There are times my husband returns from work, dreaming about a restaurant-style dinner to be served. When he finds the usual Roti(Indian Bread) and Curry on the table, his disappointment can be clearly seen. Though he never complains, I can clearly make out.
As if coming up with a dinner idea was not enough, there is also demand for something new every week. So experimenting with new recipes never ends for me.
But at the end, when I see happy faces after dinner, all this effort seems worth.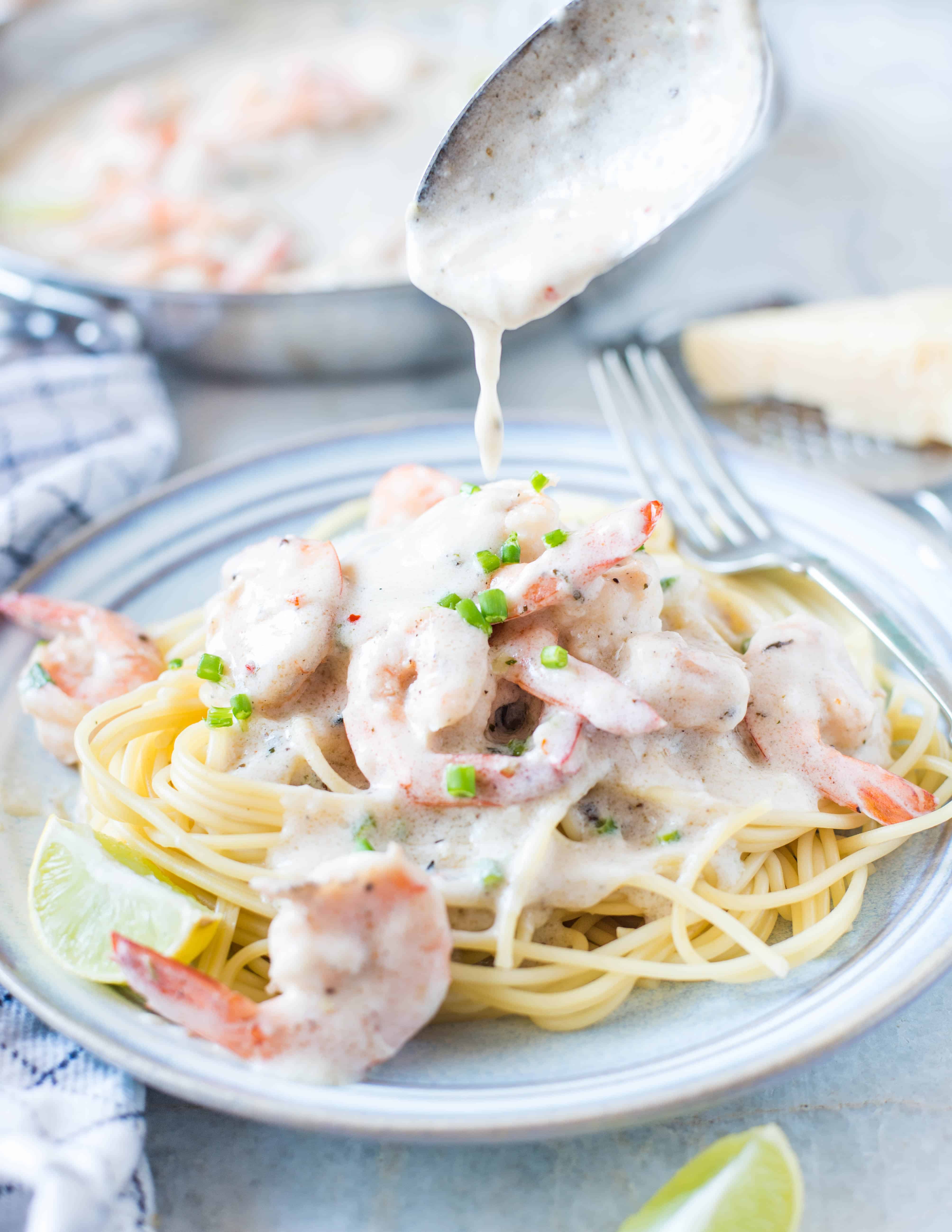 This Creamy Lemon Garlic Shrimp Pasta is exactly the kind of meal you would order in a fancy restaurant. Shrimp is tossed in incredible creamy Lemon garlic sauce and served along with your favourite pasta. The only difference is you don't have to pay a bomb and You can have this in your PJs on your couch.
Are you a Shrimp Lover or Hater? I absolutely love Shrimp, so is my Husband.  Humble Indian Curry like this Goan Prawn Curry to this quick Garlic Butter Shrimp and Vegetable Skillet, we love anything with Shrimp.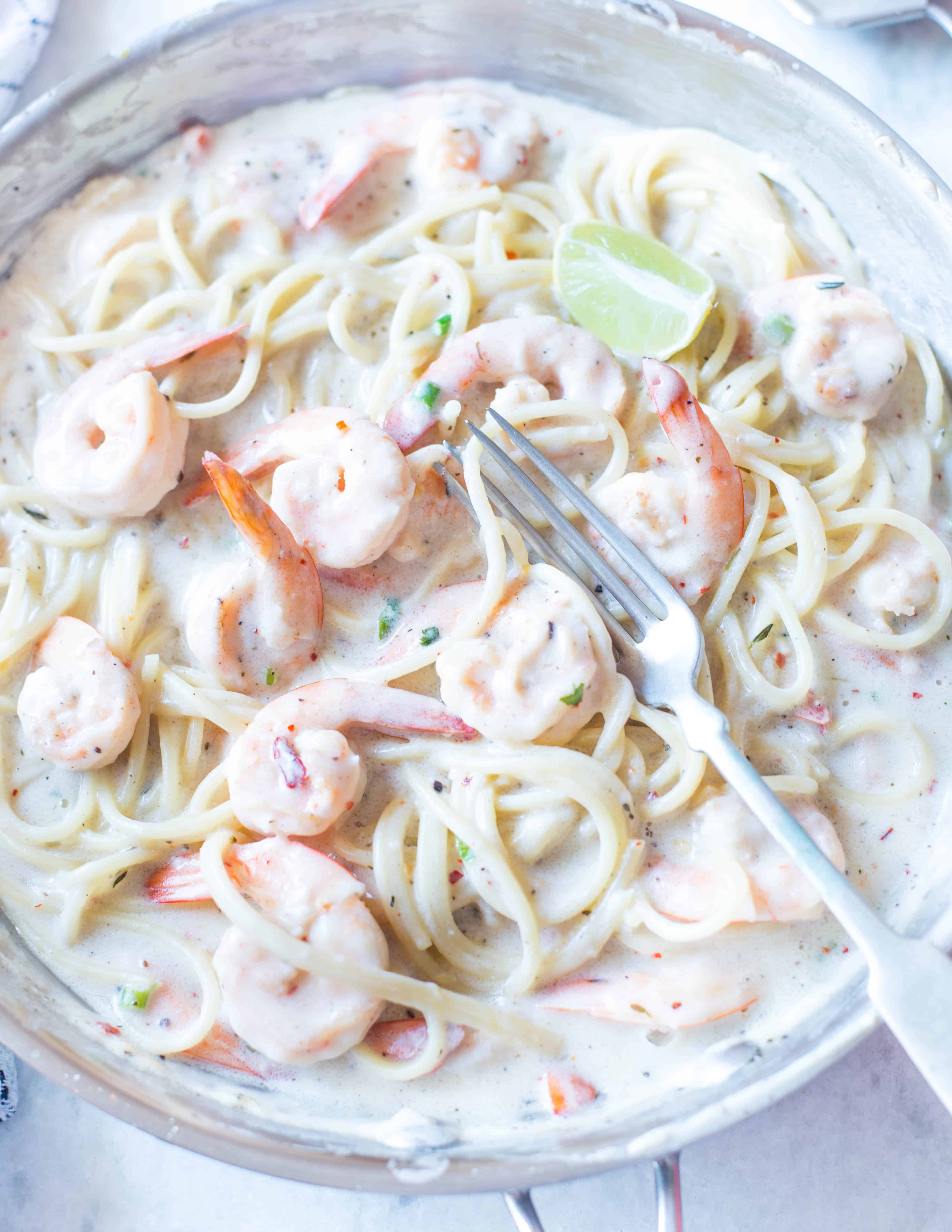 The process of making this Creamy Lemon Garlic Shrimp Pasta is fairly simple and easy. It doesn't call for any fancy ingredients.
Bring a big pot of water to a boil. Lightly season with salt. Cook pasta as per package instruction.
Start with Sauting shrimps in butter and garlic.  Once the prawn turns pink remove from the pan. Don't overcook shrimp in this step, else they will turn rubbery.
In the same pan add butter, before it starts to brown add flour. Mix well. Let it cook for about 30 seconds.
Add chicken stock. Mix until there are no lumps.  the sauce will start to thicken.
Add cream. followed by Italian seasoning.
When the sauce starts to thicken add lemon juice and season with salt and pepper.
Add shrimps.
Serve the Creamy Lemon Garlic Shrimp on your favourite Pasta.
CAN I USE FROZEN SHRIMP?
While I have always used fresh shrimp, I don't see any issue with frozen shrimp.
Once thawed, you can absolutely use Frozen Shrimp.
Other Pasta Recipes
STEP BY STEP VIDEO RECIPE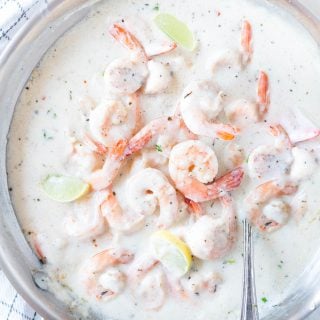 CREAMY LEMON GARLIC PASTA
Quick and easy Lemon Garlic Shrimp in creamy buttery Parmesan sauce. Ready in 30 minutes.
Ingredients
2.5 tbspn butter
2 tspn extra virgin olive oil
500 gms (gross) Shrimp/Prawn peeled and deveined
3 tspn Minced garlic
2 tspn all purpose flour
½ cup chicken stock (more If required)
1 cup heavy Cream
½ Cup Parmesan cheese
1 tspn Onion powder
2 tspn italian seasoning
Zest of a Lemon
1.5 tbspn Fresh Lemon Juice
Salt and Pepper
2 cups Cooked pasta of your choice
spring onion and Parsely for garnishing
Instructions
Season Shrimp with salt and pepper. Mix well

In a pan add Olive oil. Once medium hot add shrimp(in two batches) to the pan in a single layer. Cook for 1-2 minutes each side till light brown in color.

To the same pan add butter. Few drops of oil. When butter starts to foam, add minced garlic. Sit for a couple of seconds.

Add all purpose flour. Stir till it looks light golden brown in color and the raw smell is gone.

Lower the flame. Slowly add warm chicken stock ,stirring continuously with other hand. Stir till there is no lumps.

Slowly add heavy cream followed by Parmesan cheese. Add onion powder and Italian seasoning. (If you find the sauce too thick add 1/2 cup warm chicken stock).

Add salt and pepper. Add cooked shrimp. Mix everything well using a spatula.

To the last add lemon juice.Mix well. Bring everything to a boil. Switch off the stove.

For making Pasta : Toss cooked pasta into the sauce (Add reserved pasta water if required to get desired consistency)