This post may include affiliate links that earn us a small commission.
Goan Prawn curry made with roasted spices, fresh coconut, and coconut milk is easy to make. This Prawn curry with Coconut is spicy, tangy with a hint of sweetness to it.

Goan curry with juicy succulent Prawn in creamy coconut gravy is really delicious and flavourful. We love coconut-based gravy a lot. Have you checked the Creamy Cauliflower curry and Slow Cooker Coconut Curry Chicken that I had shared earlier?
Flavours In Your Inbox
Subscribe for recipes straight to your inbox
This creamy Prawn Curry is the perfect curry to pair with rice. The gravy is spicy, slightly tangy, and has a hint of sweetness to it. Coconut milk makes the curry thick and adds richness to it.
And I can't stress enough on the freshly made spice paste made roasted spices, freshly grated coconut.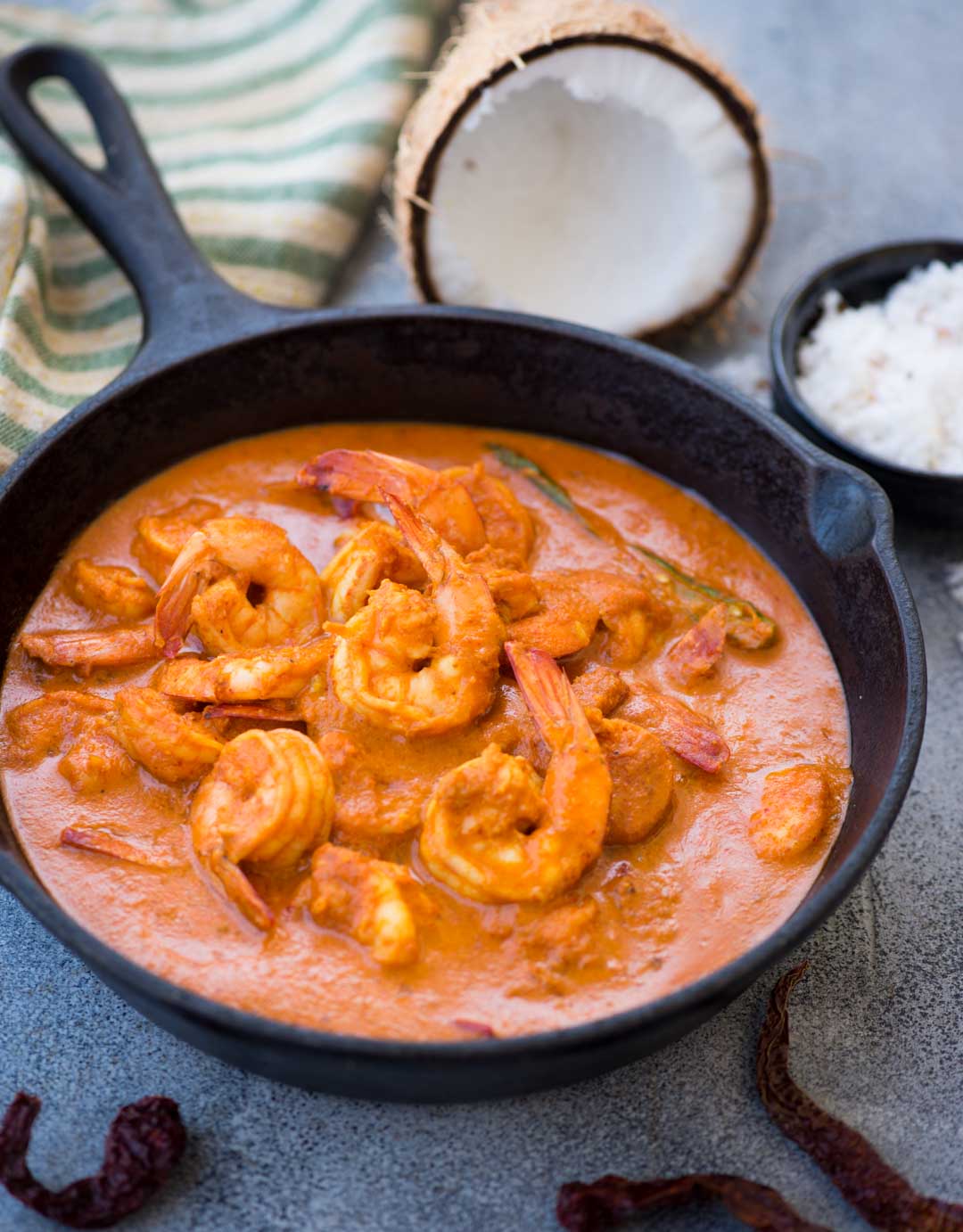 So the first time when I made this curry was in a fun cook-off organized by ITC. We were a bunch of food enthusiasts made into groups.
Each group was assigned an expert regional chef and they need to cook a dish that belonged to that particular region. For our group, the mentor was a Goan Chef and we decided to make this Goan Prawn curry.
Tips for perfect Goan Curry
The key to this Prawn curry is freshly ground spices. First, the spices are roasted to release the aromatic oil and make it more fragrant. Roast cumin, coriander and pepper on low heat till its aromatic. It is always convenient to use ready-made Coriander and cumin powder. But both are definitely not the same.
Freshly grated coconut and coconut milk make the gravy thick, creamy and rich. You can also use frozen grated coconut or desiccated coconut. The thickness of the coconut milk is medium.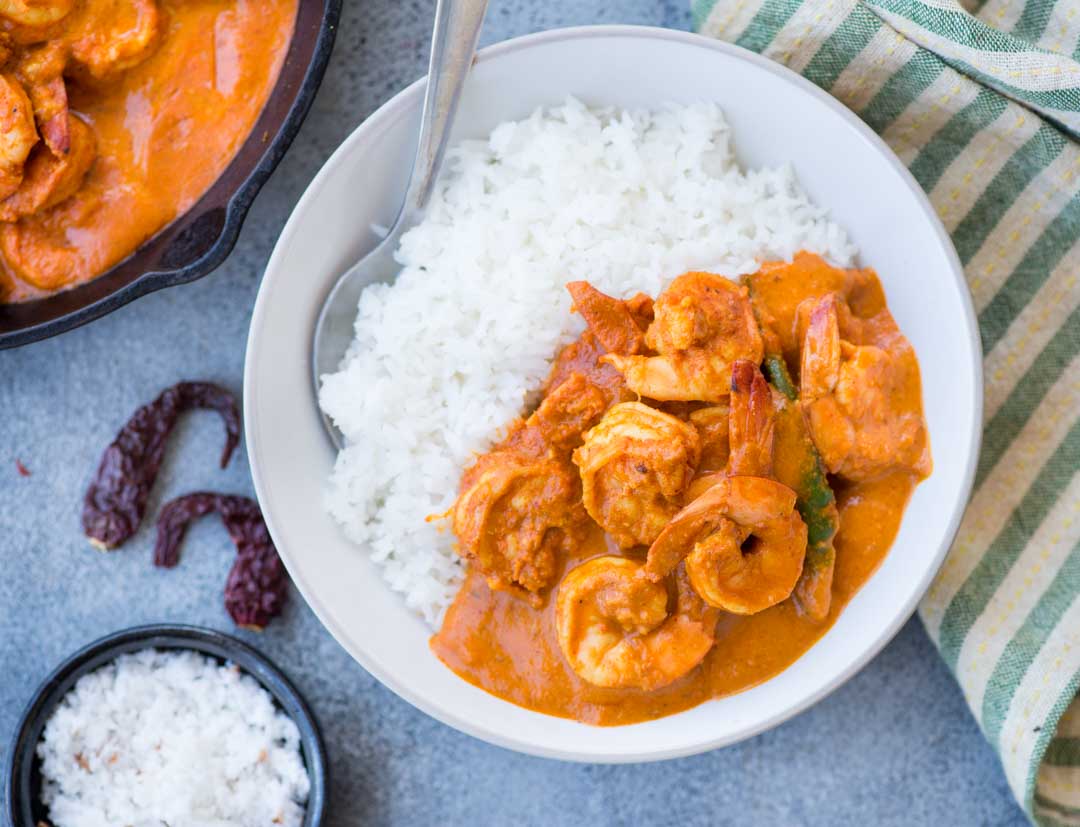 Another important tip is to avoid overcooking of Prawns. You might often find that prawns turn chewy and rubbery when cooked. SO the reason is prawns barely need 4-6 minutes to cook depending on the size. Any longer cooking time would make the prawn chewy.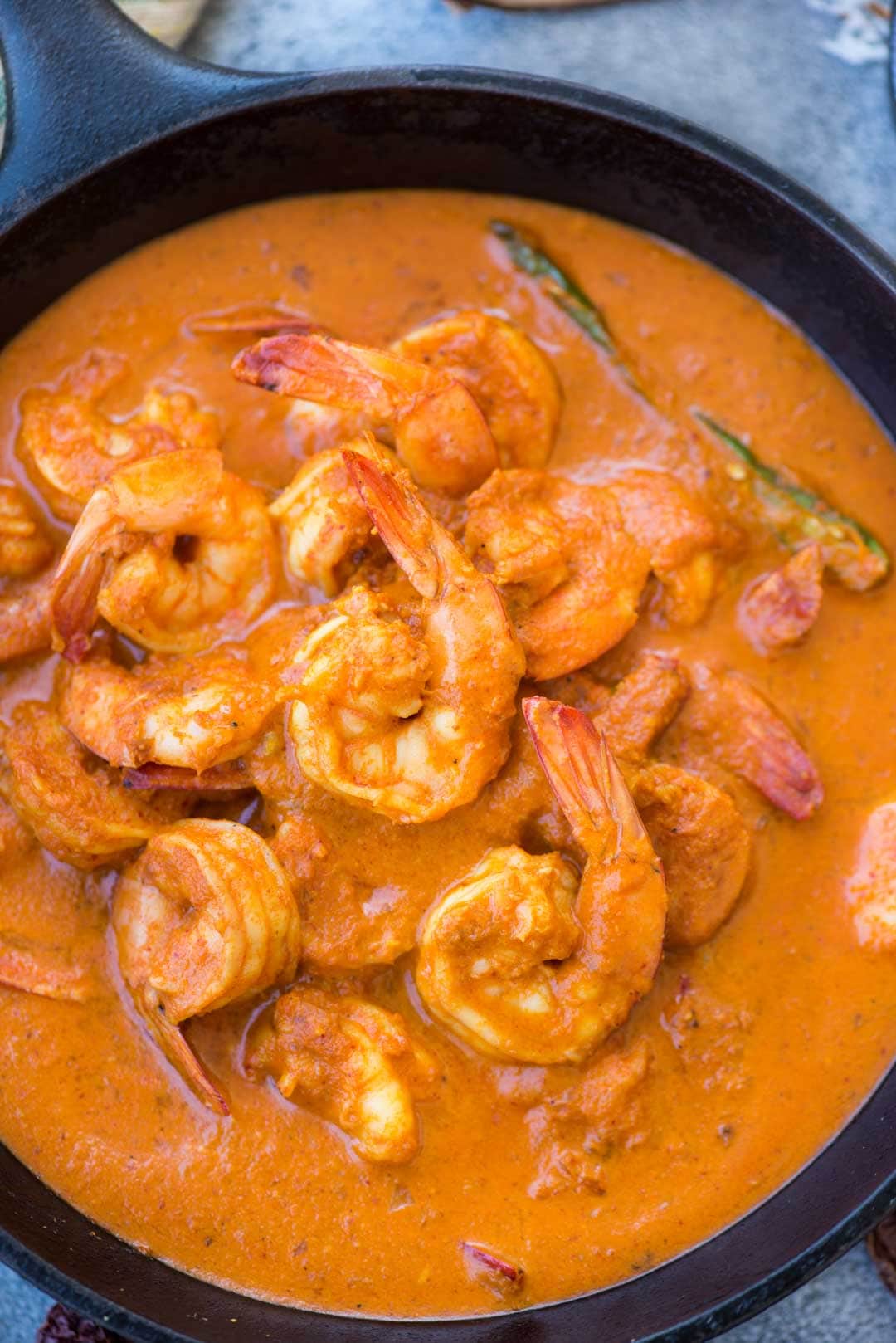 Serve With
This curry can be had with roti (Indian flatbread), plain white or brown rice, Jeera rice, Vegetable pulao, or Paneer pulao.
Other Indian Recipes
Goan Prawn Curry (Step by Step Video)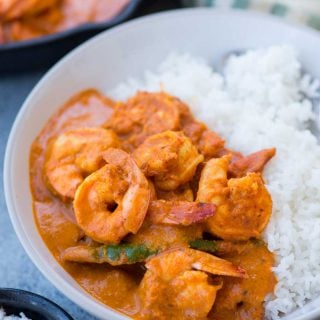 Goan Prawn Curry
Goan Prawn curry made with roasted spices, fresh coconut and coconut milk is easy to make. This Prawn curry with Coconut is spicy, tangy with a hint of sweetness to it.
Ingredients
500 Grams Prawns
1 Large Onion Chopped
1 Small Tomato
½ teaspoon Turmeric
Salt to taste
2 Green Chilies
1 Cup Coconut Milk
For Ground Paste
1.5 Tablespoon Coriander Seeds
½ Tablespoon Cumin Seeds
1 teaspoon Black Pepper
7-8 Garlic
4 – 5 Kashmiri red chilies
½ Tablespoon Tamarind Pulp
1 cup Fresh Coconut grated
1 cup Water
Instructions
Clean and devein prawns.

In a pan dry roast coriander seeds, Cumin, Black pepper seed till aromatic.

In a blender add grated coconut, roasted Coriander, cumin, Black pepper, red chilies, garlic, Tamarind pulp.Add enough water and make a very smooth paste.

In a pan add oil. Add chopped onions. Saute till the onions are translucent and soft.

Add chopped tomatoes and cook until the tomatoes are soft and mushy.

Add turmeric and salt to taste.

Add ground coconut paste and saute till the raw smell is gone.

Add coconut milk. Bring the gravy to a boil.

Once the gravy comes to a rolling boil,add sliced green chilies.

Add prawns. Let it cook for about 4-5 minutes. Switch off the gas.

** Watch a detailed video on how to make Goan Prawn curry after the recipe.
Notes
Traditionally Kokum is used for giving the sourness. But because Kokum is not available easily everywhere, I have used Tamarind. If you have kokum, use it instead for authentic flavor. 
2. The cooking time of prawn depends on its size,so judge it accordingly. Cooking prawns for too long results in rubbery prawns.
Nutrition
Serving: 100g | Calories: 285kcal | Carbohydrates: 12g | Protein: 28g | Fat: 14g | Saturated Fat: 11g | Cholesterol: 315mg | Sodium: 1062mg | Potassium: 417mg | Fiber: 2g | Sugar: 4g | Vitamin A: 190IU | Vitamin C: 16.3mg | Calcium: 230mg | Iron: 5.9mg