Oven Roasted Vegetables With Chicken
This post may include affiliate links that earn us a small commission.
Oven Roasted Vegetables with Chicken is vegetables, chicken tossed in butter, Italian seasoning and roasted until charred and tender. Roasted vegetables are super easy to make and healthy too.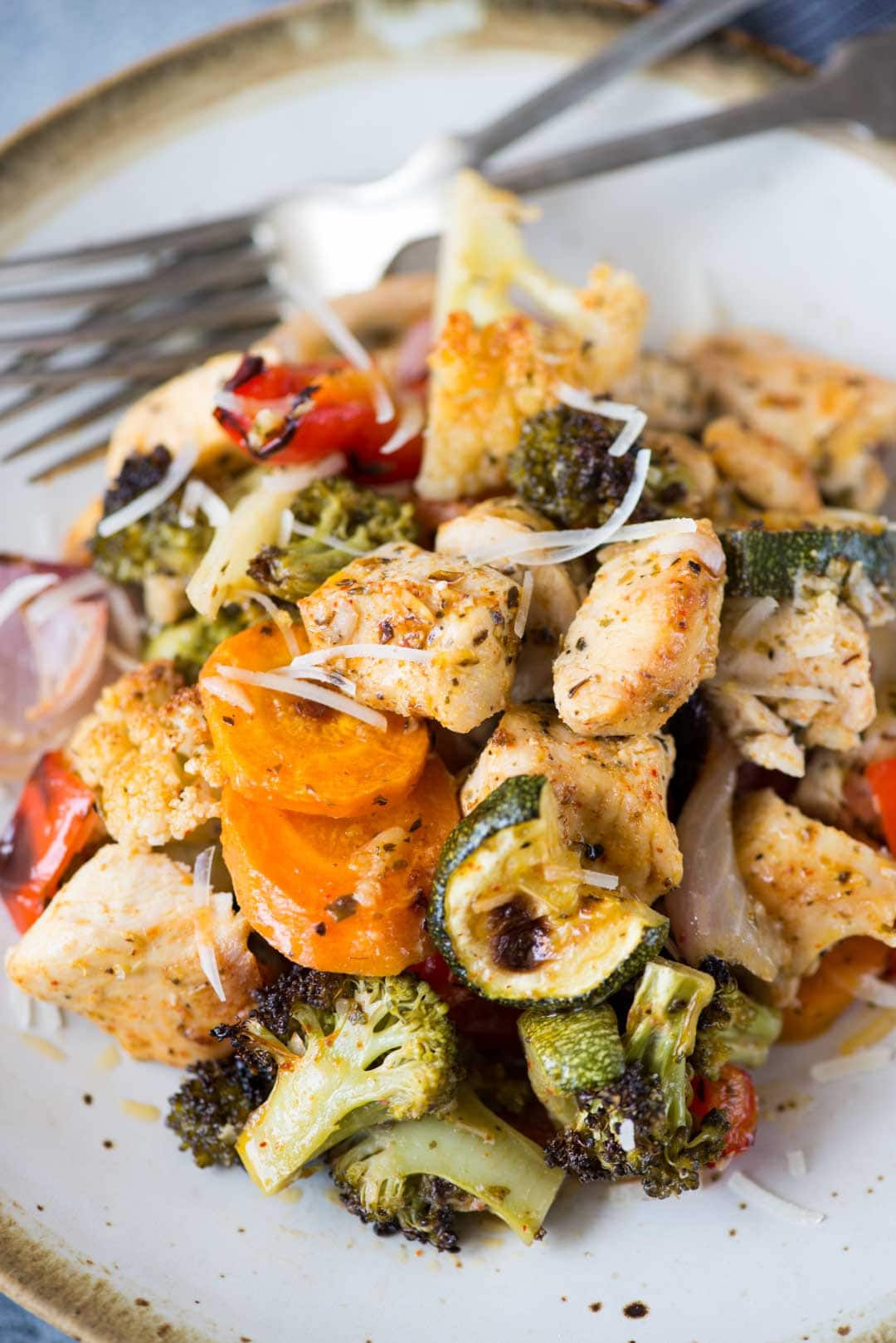 Oven Roasted vegetable with chicken is one of the healthiest dinners you can make which is absolutely delicious. These vegetables are roasted in a buttery Italian dressing until tender and charred. Even a peaky eater would love these Roasted vegetables, I assure you.
Flavours In Your Inbox
Subscribe for recipes straight to your inbox
I call this refrigerator cleaning meal because most of the time I throw in any vegetable that is available. What I love about roasted vegetable is there is no strict recipe for this. It's pretty versatile. You can use just about any veggies and protein you prefer. Just take care of a few things while roasting, apart from that, it is a pretty foolproof recipe.
Vegetables You Need For Roasted Vegetables
If you are wondering what kind of vegetables you can use, then here is the detail.
Root Vegetables: Root vegetables such as Potatoes, Carrots, Parsnips, beetroot etc.
Soft Vegetables: Broccoli, Cauliflower, Peppers, Zucchini, Butternut squash, Brussel sprout, green beans, asparagus, Mushroom, Onion.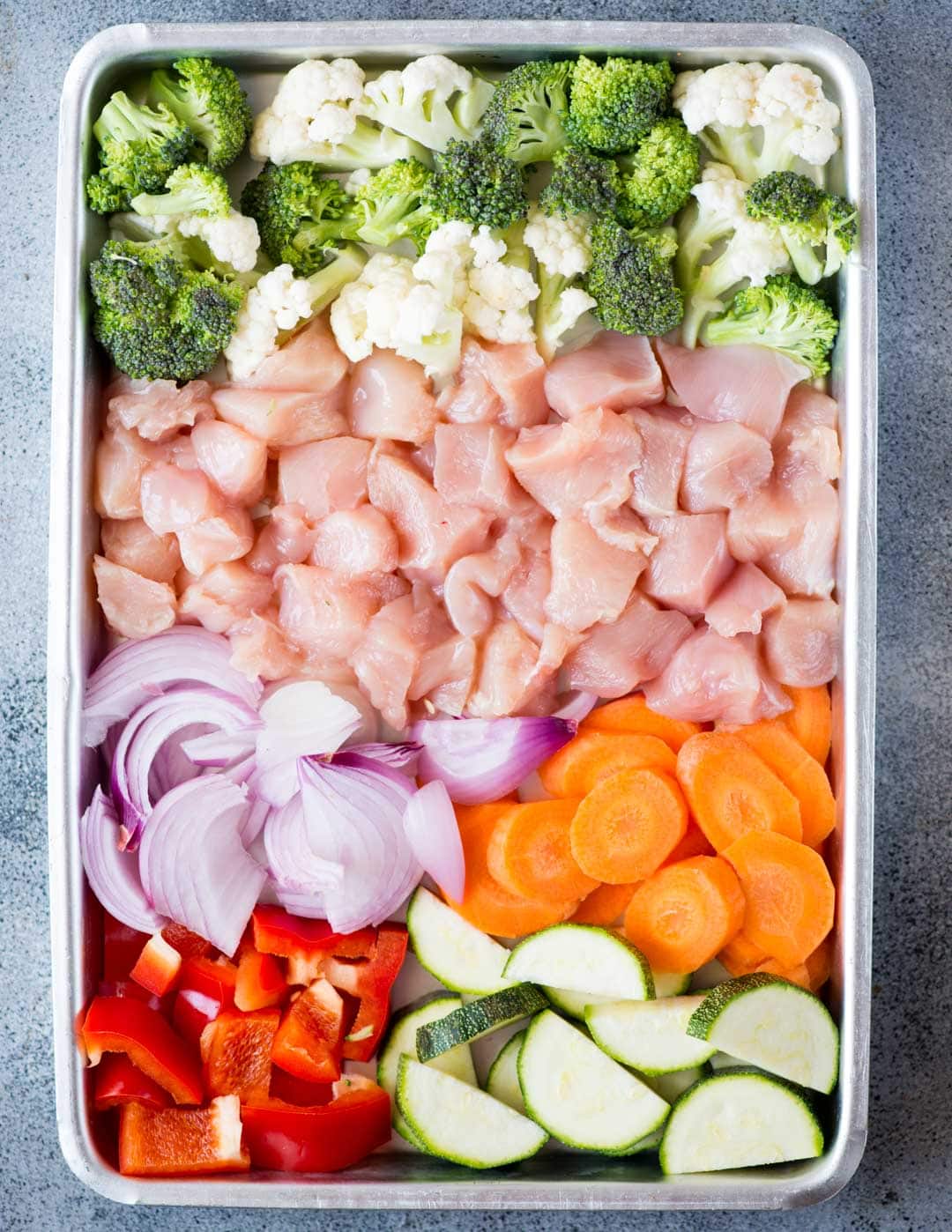 Seasoning For Oven Roasted Vegetables
Fresh vegetables have their own flavour and taste. So I prefer not to go overboard with the seasoning. A simple Italian blend seasoning will do the job. Many recipes call for Olive oil, but I loke buttery taste in the roasted vegetables. So butter is the choice of fat for me.
Then there is loads of garlic because garlic makes everything taste better. To bind all the flavours together I love to add a good squeeze of lemon. The dressing is really delicious with refreshing flavours.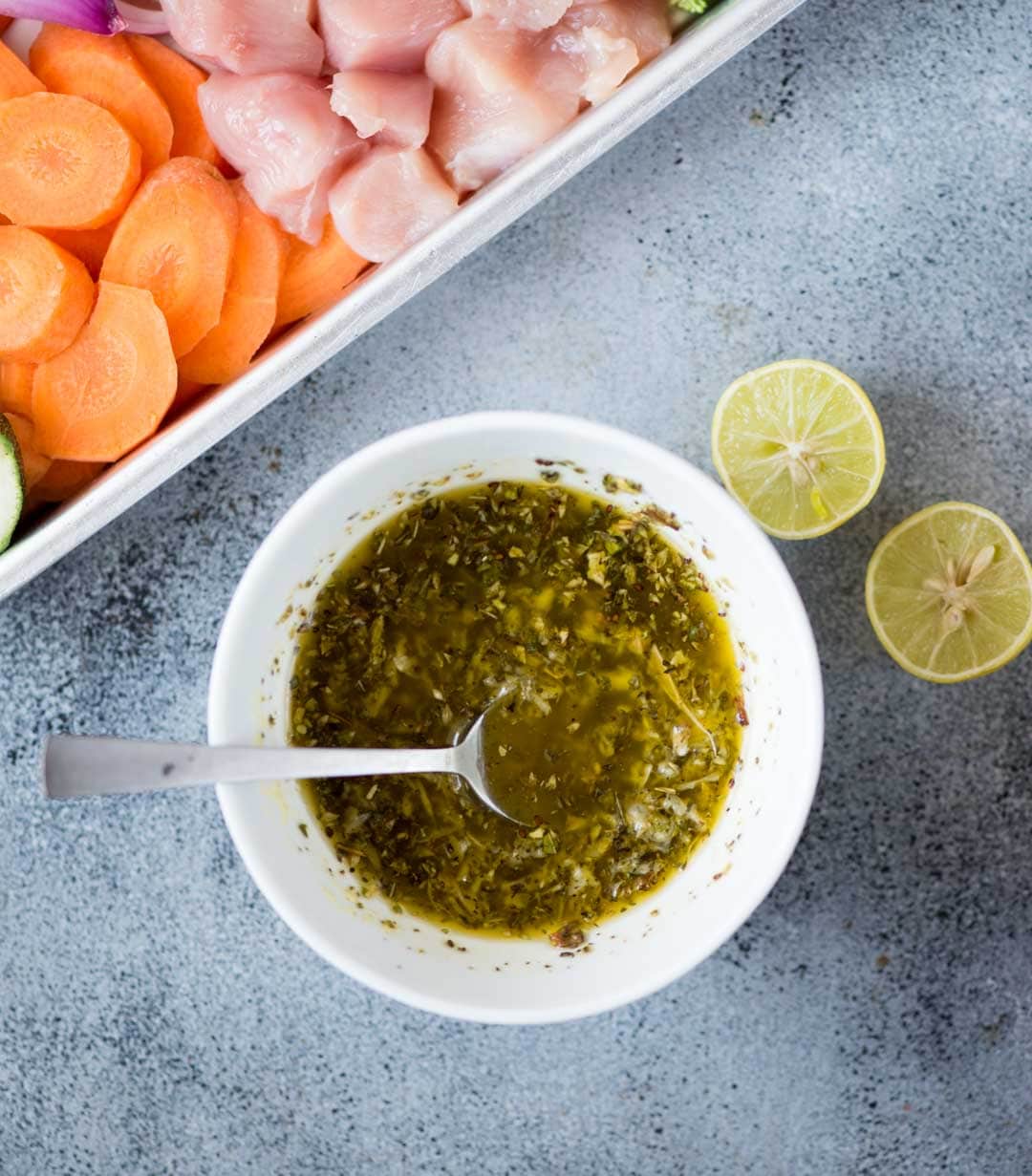 Tips & Tricks For Perfect Oven Roasted Vegetables With Chicken
First thing is to know your vegetables. Does it belong to the hard or soft category? It would help you decide the total cooking time and the cooking order. Hard vegetable definitely takes more time to cook than soft varieties. What I do is I add all the vegetables to the baking tray, seasoning it and cook for 15-20 minutes. Then I take out the softer vegetables that are cooked tender and let rest of the hard vegetable cook little longer. Towards the end of cooking time add back all the vegetables back to the pan and broil it for 4-5 minutes.
Another way of roasting vegetable is to parboil tough vegetables then bake it with the rest of the veggie till cooked through and charred.
Cut vegetables to appropriate thickness. Too small or too big, it will now get cooked properly.
Chicken is my preferred protein. Boneless chicken breast or thigh work well. Shrimps also can be substituted. The cooking time would vary a little though.
Don't overcrowd the tray at all. Make sure everything is arranged in a single layer. Vegetables when cooked releases a lot of moister. So if the pan is overcrowded, you will end up with more liquid in the pan and mushy veggies.
Just don't stop when you see vegetables are cooked through and tender. I like those crispy caramelized edges a lot. So here is a trick that works for me. Towards the end of cooking, Increase the oven temperature and move the tray to the upper third of the oven. Broil for 2-3 minutes till you see charred bits towards the edges.
More Quick Dinner Recipe…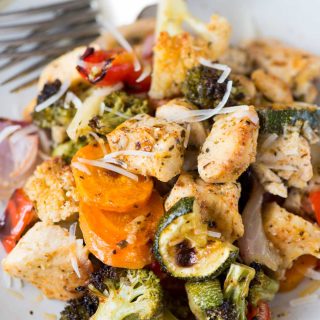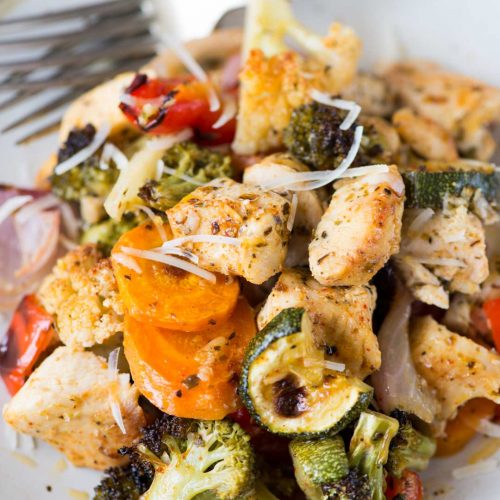 Oven Roasted Vegetable with Chicken
Vegetables, Chicken tossed in butter, Italian seasoning and roasted until tender and charred in the oven. Roasted vegetables are super easy to make and make a healthy dinner.
Ingredients
2 Boneless Chicken Breasts Cut into cubes
1 small Zucchini
1 Red Bell Pepper
1 cup Cauliflower cut into florets
1 cup Brocolli cut into florets
1 medium Onion
2 Carrots
Grated Parmesan To serve
For Italian Dressing
3 tablespoon salted butter
1 tablespoon garlic minced
2 tablespoon Italian Seasoning
1 tablespoon fresh lemon juice
Freshly ground pepper
Instructions
Preheat oven to 200-degree Celsius.

Clean and cut the vegetables to medium thickness. Let any extra water drain from the veggies.

In a bowl mix all the ingredients for seasoning.

Arrange chicken and vegetables in a single layer in a tray.

Drizzle Italian Seasoning evenly on the veggies and chicken. Using hand coat everything well with the seasoning.

Place the tray in the middle rack and bake for 10 minutes. 

Then turn the tray and bake for 10 minutes more.

Now check the vegetables with a fork.

Now move the tray to the upper third part of the oven and broil for 3-4 minutes until you see the charred bits at the edges.
Notes
At the and of baking, you might see a lot of liquid in the tray. What I do is I scoop out the liquid just before broiling the vegetables. Scooping out the liquid will make sure the vegetables are nicely toasted.  If the amount of liquid is too much reduce it on stove top and drizzle on top while serving. 
If you are using any hard vegetables like potato, beets which takes a little longer to cook, then first season the hard vegetables with the dressing. Bake it for 15 minutes. Then add rest of the vegetables and chicken to the pan and bake as mentioned above. 
Nutrition
Serving: 100g | Calories: 403kcal | Carbohydrates: 27g | Protein: 29g | Fat: 21g | Saturated Fat: 11g | Cholesterol: 117mg | Sodium: 364mg | Potassium: 1329mg | Fiber: 8g | Sugar: 11g | Vitamin A: 13100IU | Vitamin C: 164.4mg | Calcium: 172mg | Iron: 3.6mg