This post may include affiliate links that earn us a small commission.
Apple Cake with chunks of fresh apple, walnut is super moist and a perfect cake with your afternoon tea. With a hint of cinnamon, this cake has tender crumbs and chunks of apple in every bite.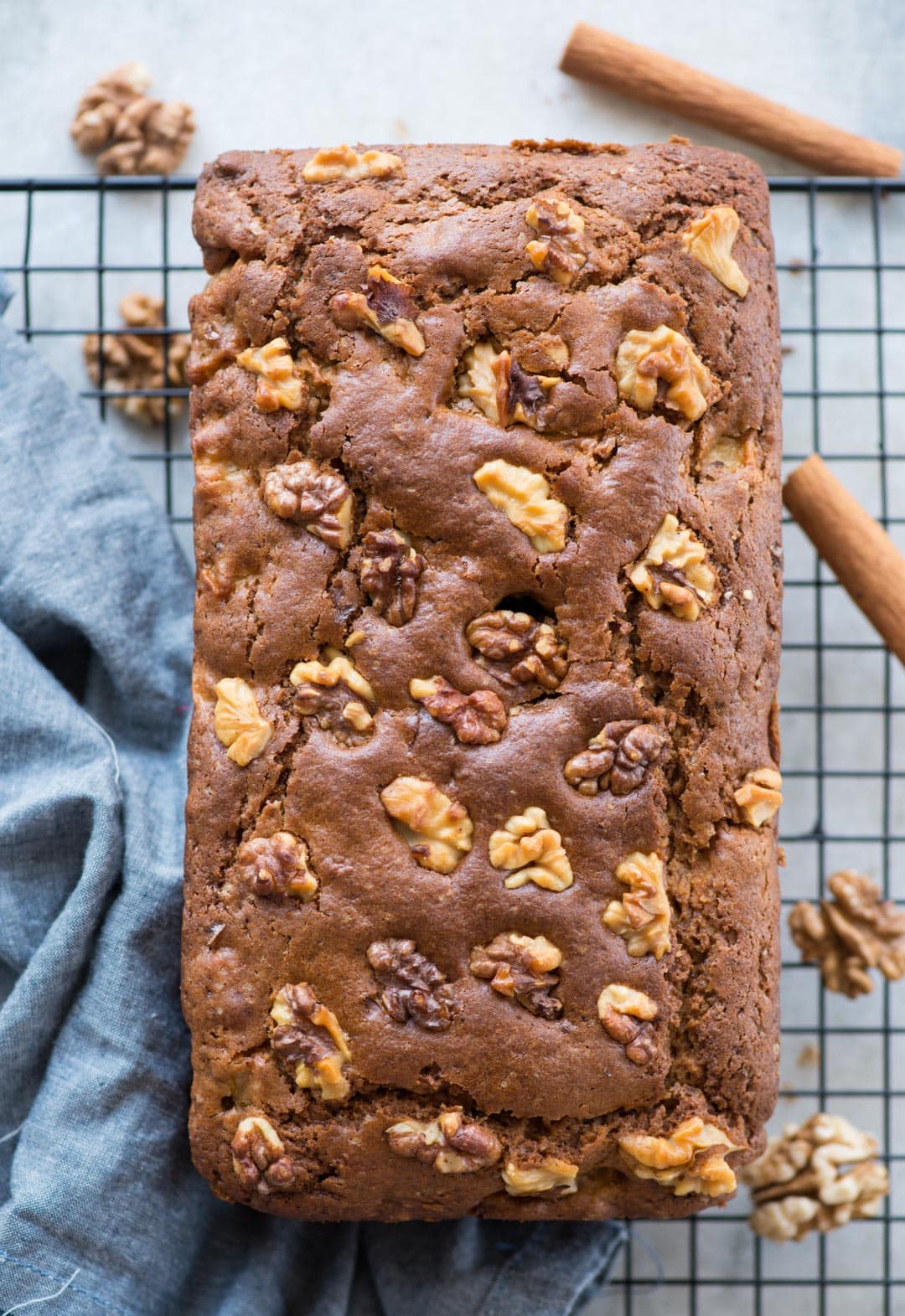 Buttery tender crumbs, chunks of apples in every bite, a slice of this cake is so good with a cup of tea. This Apple Cake with fresh apple is one of our favorites and makes its appearance once every couple of weeks.
Flavours In Your Inbox
Subscribe for recipes straight to your inbox
Whenever I find a few days old apples lying in the fridge, either I turn them into smoothies or make this Apple Cake. What I love about this cake is it is really easy to make, you need only one bowl and a spatula. There is no butter in the cake, so no mess of creaming. It has oil, curd which makes the cake really moist and tender.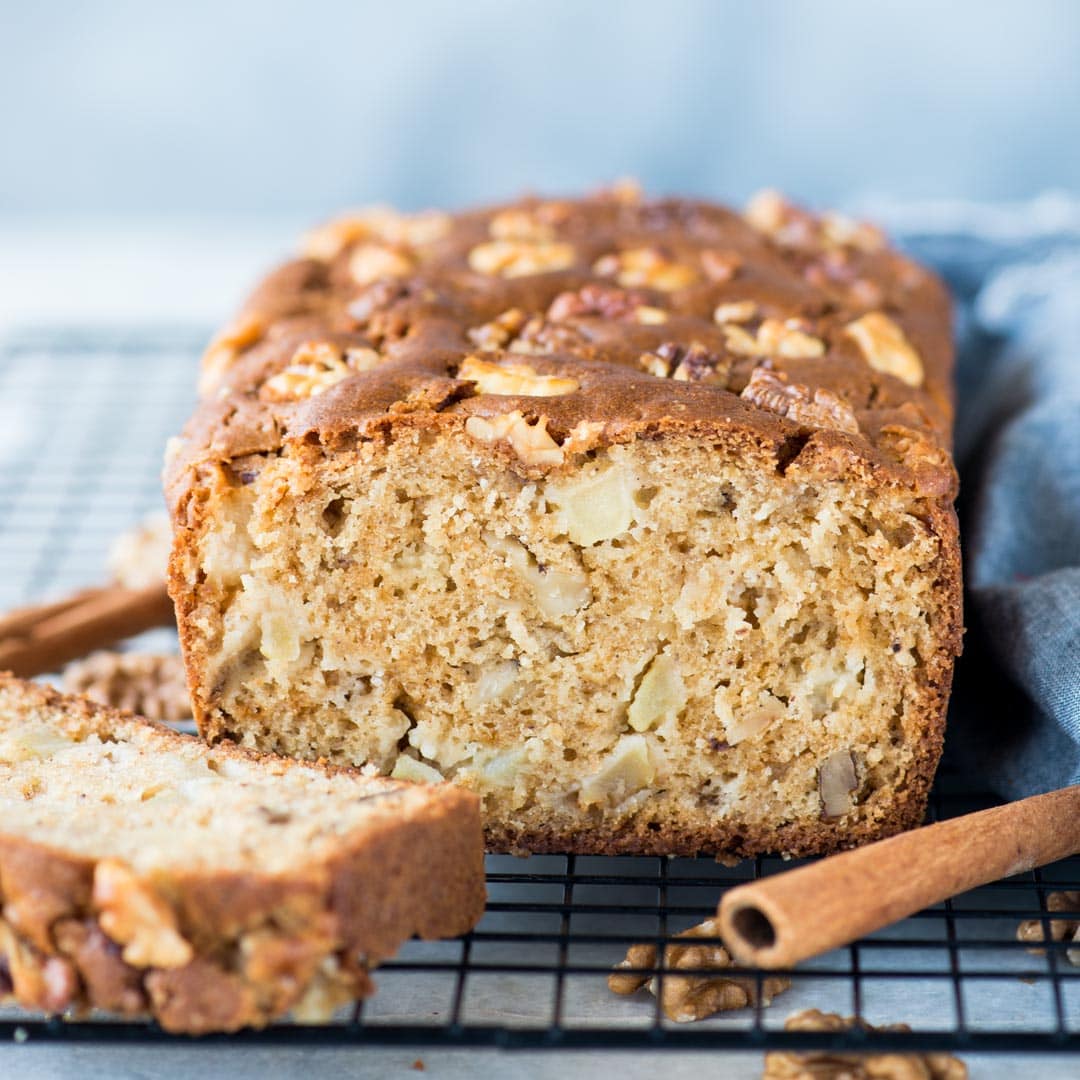 What are the best Apples for Apple Cake?
Choice of apple really doesn't matter much here. Make sure the apples are crisp and fresh. Granny Smith apples are always better because their tartness holds up against the sweetness of the cake. I have also used Gala apples, Honeycrisp a couple of times with fairly good results.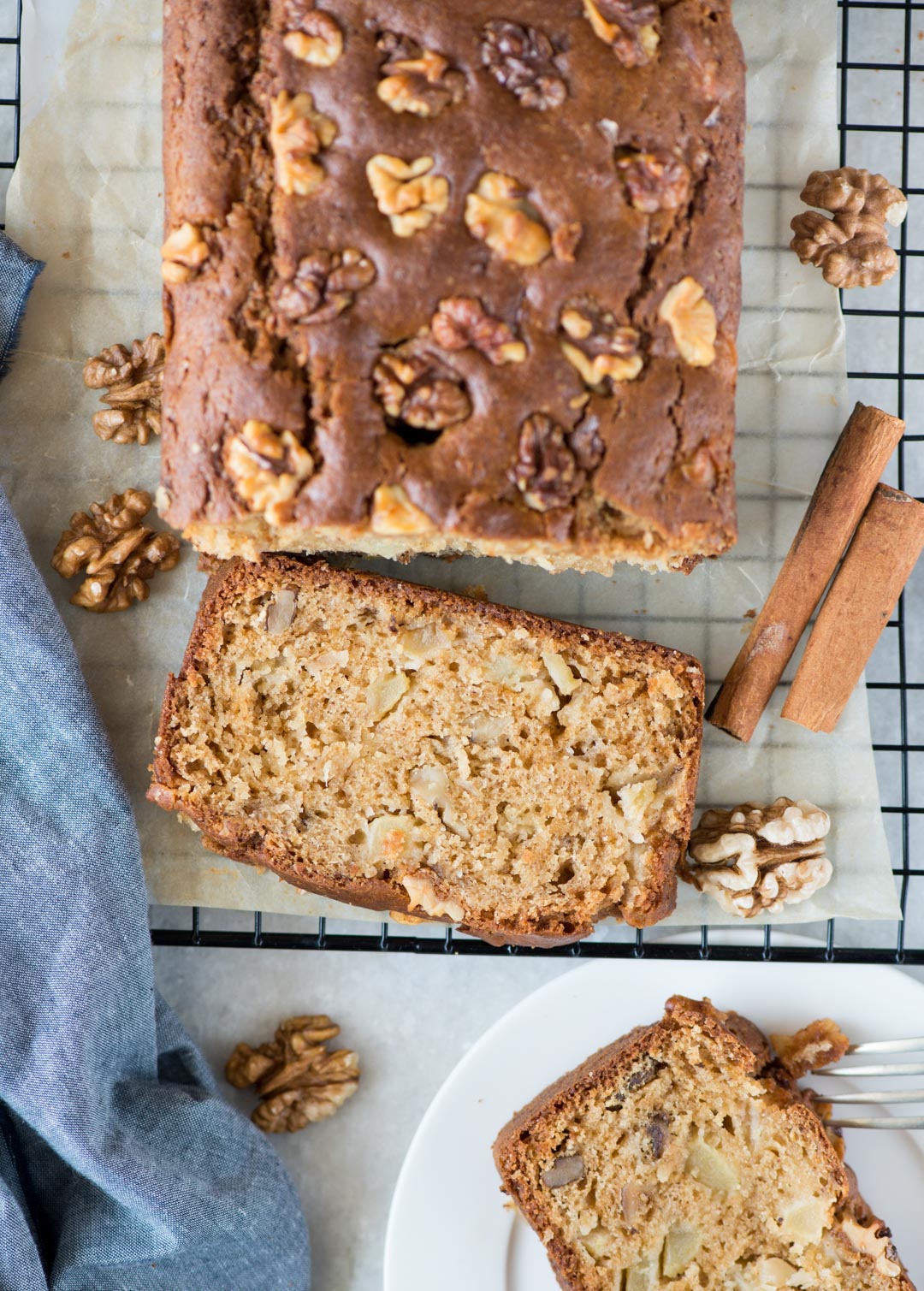 Steps to make
This easy one-bowl apple cake recipe can be divided into 3 steps.
1. First, prepare the apple. Peel and core. I love to use an apple corer to remove the core. You can also cut the apple in half and use a spoon to remove the core.
2. Chop apple pieces into small bite-size pieces. Bite-sized apple chunks distribute evenly in the batter and you will get apple chunks in every bite.
3. Add flour and cinnamon powder to chopped apple. This is to ensure that Apple doesn't sink to the bottom of the pan.
4. Keep aside the flour and cinnamon-coated apples aside.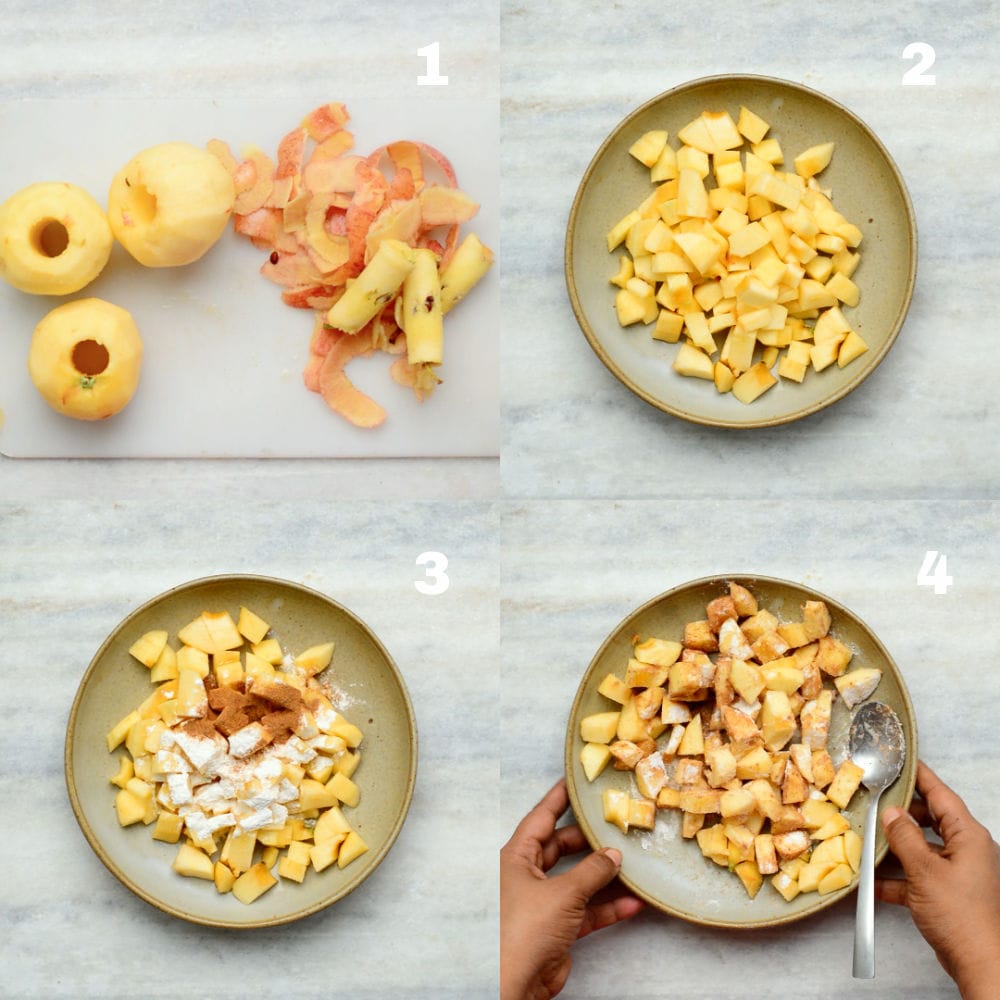 5. Next mix flour, baking powder, baking soda, baking powder, salt, cinnamon powder, and nutmeg.
6. In another bowl add oil, eggs, yogurt, sugar, vanilla. Whisk it until everything is mixed well.
7. Add in dry ingredients and mix using a spatula until just mixed. The batter will be thick.
8. Add apples and fold them in using a spatula. The cake batter is thick so there is very little chance of the apple sinking to the bottom of the pan.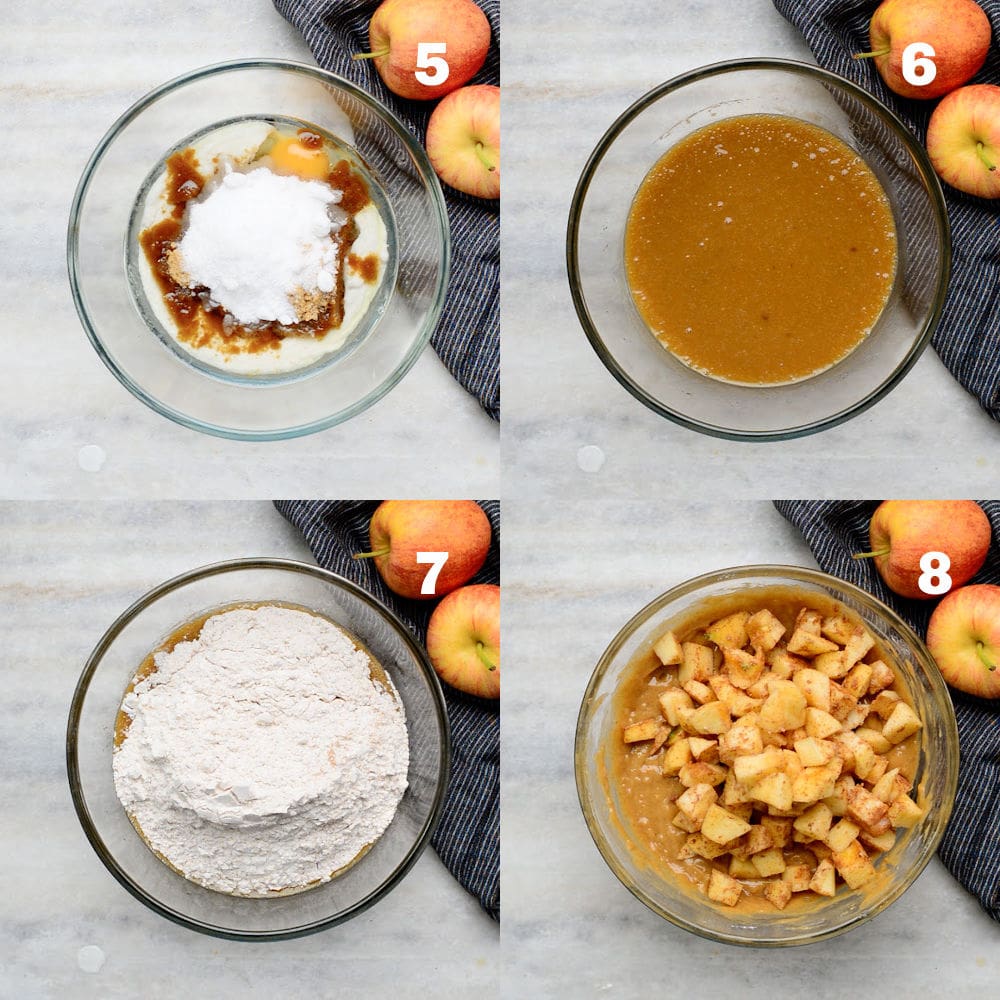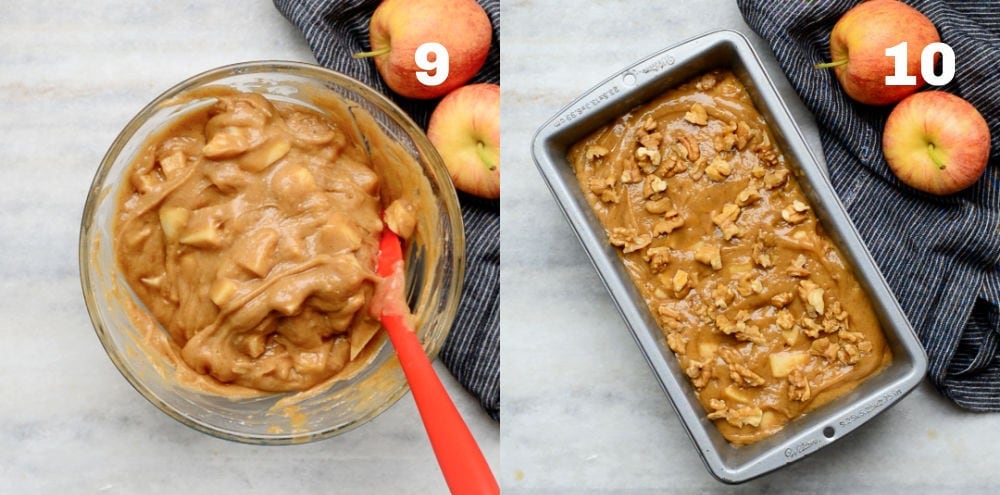 How long does Apple Cake keep ?
I doubt you will be with any leftovers to store for later. I have kept the cake in an airtight container and it lasts up to 2 days. If kept in the refrigerator, it can easily be stored for up to a week. Warm it in the microwave for 30 seconds before serving.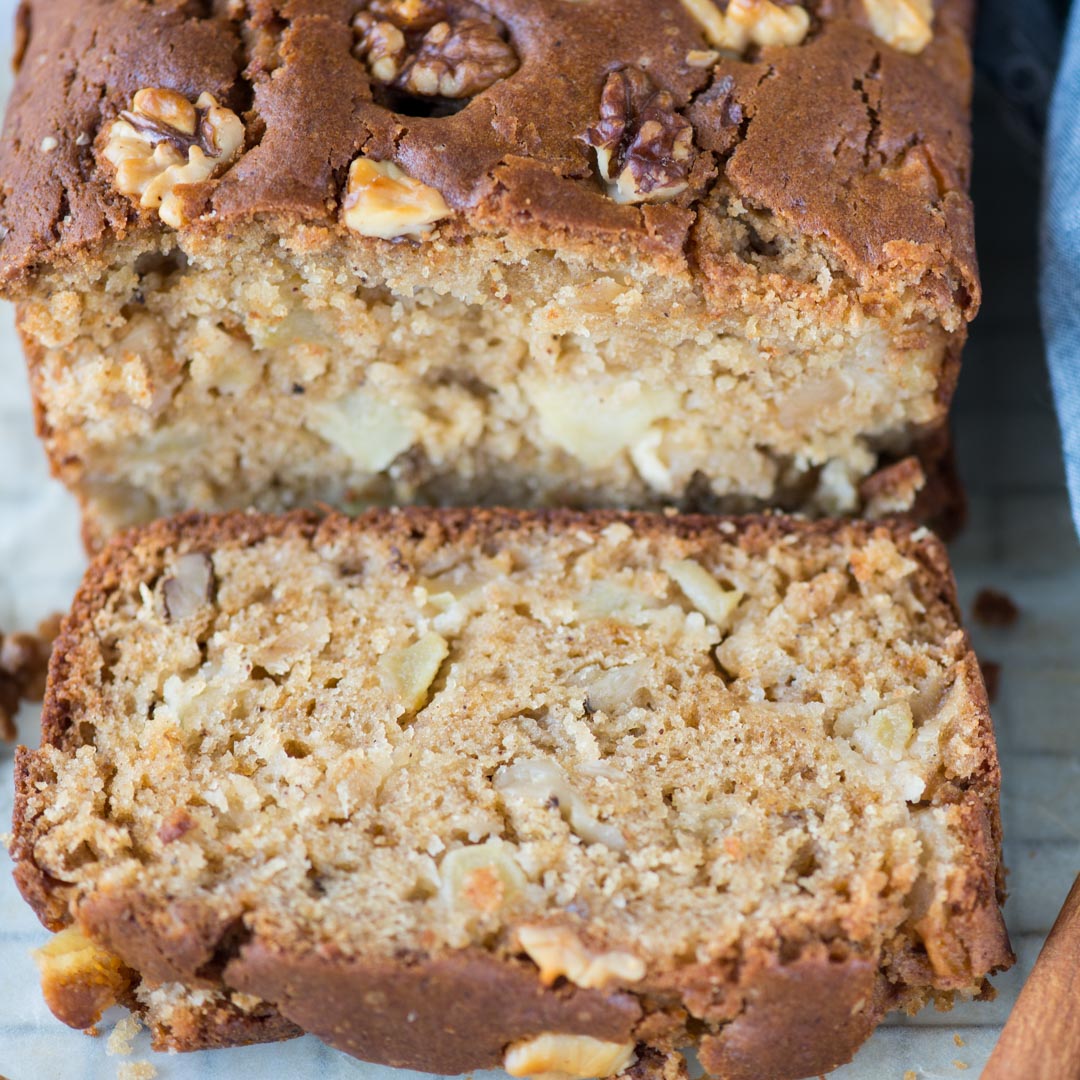 More cake recipes…
Looking for more ways to cook with Apple?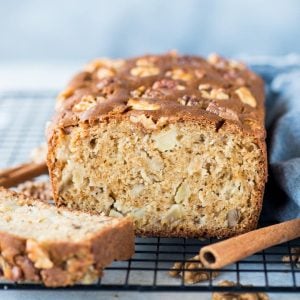 Moist Apple Cake
Apple Cake with chunks of fresh apple, walnut is super moist and a perfect cake with your afternoon tea. With a hint of cinnamon, this cake has tender crumbs and chunks of apple in every bite.


Ingredients
2 Cups All purpose flour
2 Teaspoon Baking Powder
½ Teaspoon Baking Soda
½ Teaspoon Salt
2 Teaspoon Ground Cinnamon
¼ Teaspoon Nutmeg
¾ cup Light Brown Sugar
½ cup White Sugar
2 eggs
½ cup Oil
½ cup yoghurt
2 large Apples
¾ cup Walnuts
2 teaspoon Vanilla Extract
To dust Apples
2 tablespoon Flour
1 teaspoon Ground Cinnamon
Instructions
Pre-heat oven to 180 °C / 360 °F

Prepare a 9X13 inch loaf pan. Line with a double layer of parchment paper. 

Core and peel apples. Cut into small chunks.  Toss with 2 tablespoons all-purpose flour and 1 teaspoon of cinnamon powder.

In a mixing bowl add Flour, Baking Powder, Baking Soda, Cinnamon Powder, Nutmeg, Salt. Whisk well.

In another bowl add eggs, oil, yoghurt, Vanilla Extract, Light brown sugar and white sugar. Whisk well until everything is mixed and the mixture looks smooth.

Add dry ingredients mixture in two parts. Mix using a spatula until the dry ingredients are incorporated. Don't overmix.

Add coated apples and walnuts to the flour and carefully fold using a spatula.

Put the batter in the prepared container.  Bake at 180 °C / 360 °F for 20 minutes then reduce the temperature to 160 °C / 320 °F and bake for another 30 minutes. 

Insert a knife to check if it is done. Remove and let it rest on the counter for 10 minutes. 

Using a knife loosen the edges and flip to a wired rack.

Let it cool completely before slicing. 
Notes
It is recommended to line the baking pan with 2 layers of parchment paper, to avoid over-browning of the bottom layer. 
If the top of the cake is turning brown, cover loosely with aluminium foil. 
 It is very important to bring the cake completely to room temperature before slicing. When the cake is warm, the apple chunks will be soft and gooey. It is easier to slice the cake at room temperature without any soft gooey patches of apple. 
Nutrition
Calories: 4023kcal | Carbohydrates: 554g | Protein: 58g | Fat: 185g | Saturated Fat: 20g | Polyunsaturated Fat: 76g | Monounsaturated Fat: 83g | Trans Fat: 1g | Cholesterol: 343mg | Sodium: 1959mg | Potassium: 2528mg | Fiber: 27g | Sugar: 317g | Vitamin A: 873IU | Vitamin C: 23mg | Calcium: 897mg | Iron: 19mg