This post may include affiliate links that earn us a small commission.
Easy apple fritters made using a very simple pancake batter. Ideal for breakfast or it can also be served as dessert dusted with cinnamon sugar or glazed with chocolate sauce or with a scoop of vanilla ice cream.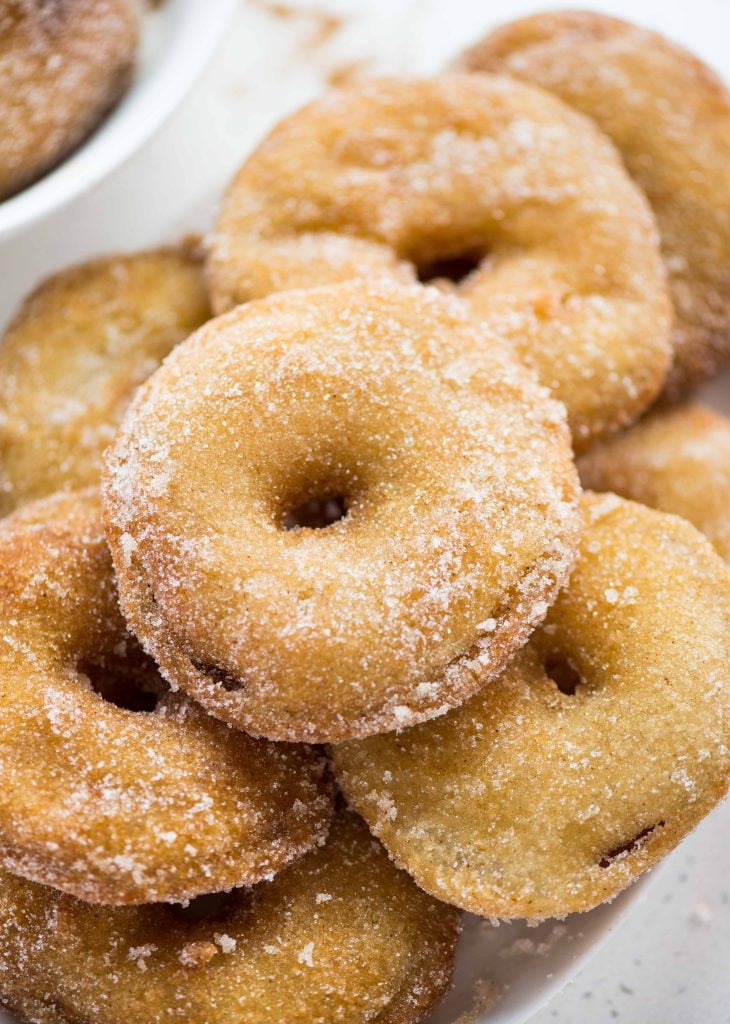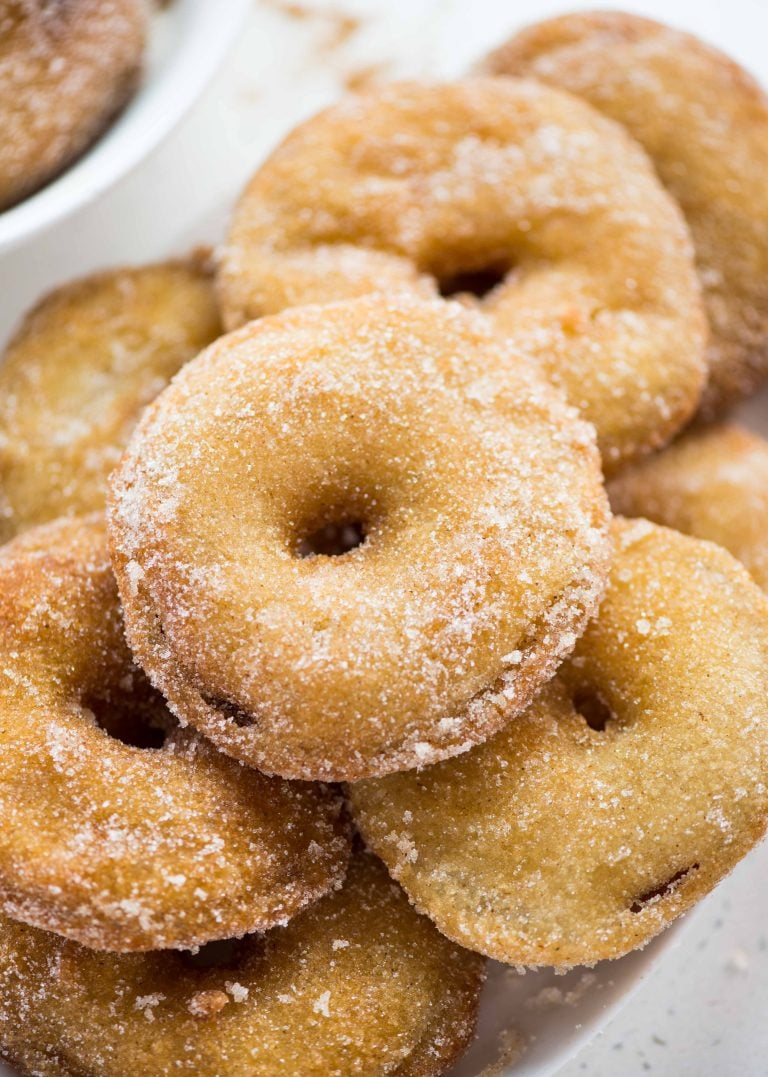 These donut-like Apple Fritters are such a treat to eat. Crispy apple with a soft fluffy outer coating and dusted with cinnamon sugar is a fall favorite. It is really easy to make at home. Apple slices are dipped in a thick batter ( similar to pancake batter), deep-fried, and then dusted with cinnamon sugar.
Flavours In Your Inbox
Subscribe for recipes straight to your inbox
While you would find recipes that call for adding chopped apples to the batter and fried into small balls, this is a really fun way to make the fritter. My daughter absolutely loves these.
Dust these fritters with some cinnamon sugar. You can also drizzle some Chocolate sauce or serve with a scoop of ice cream.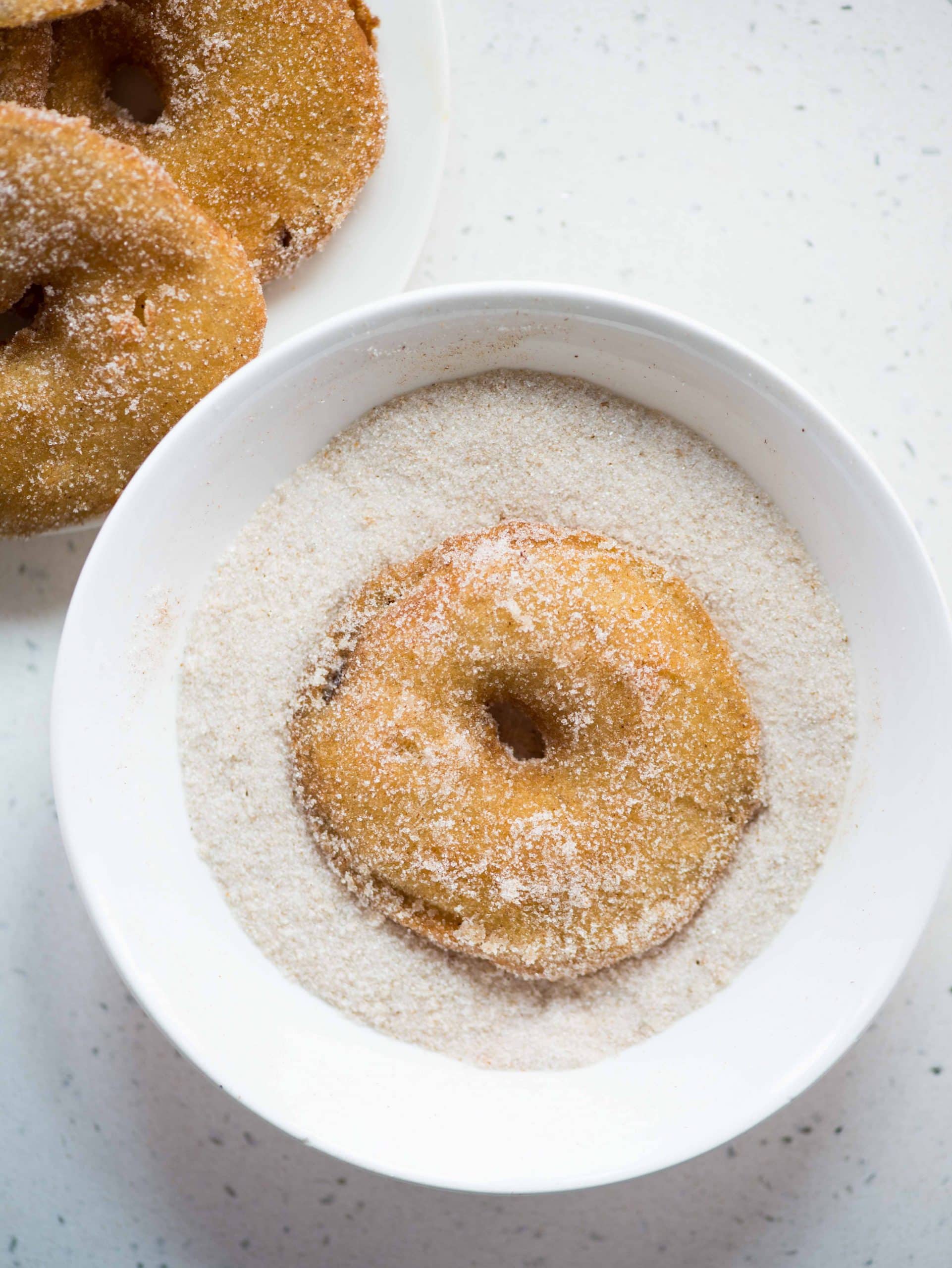 Best Kind of Apple for The Fritters
Any crisp and firm variety of apples like HoneyCrisp, Gala, or Fuji would work for Apple fritters. Tart apple might not work well in this recipe as the tartness would contrast the sweet coating.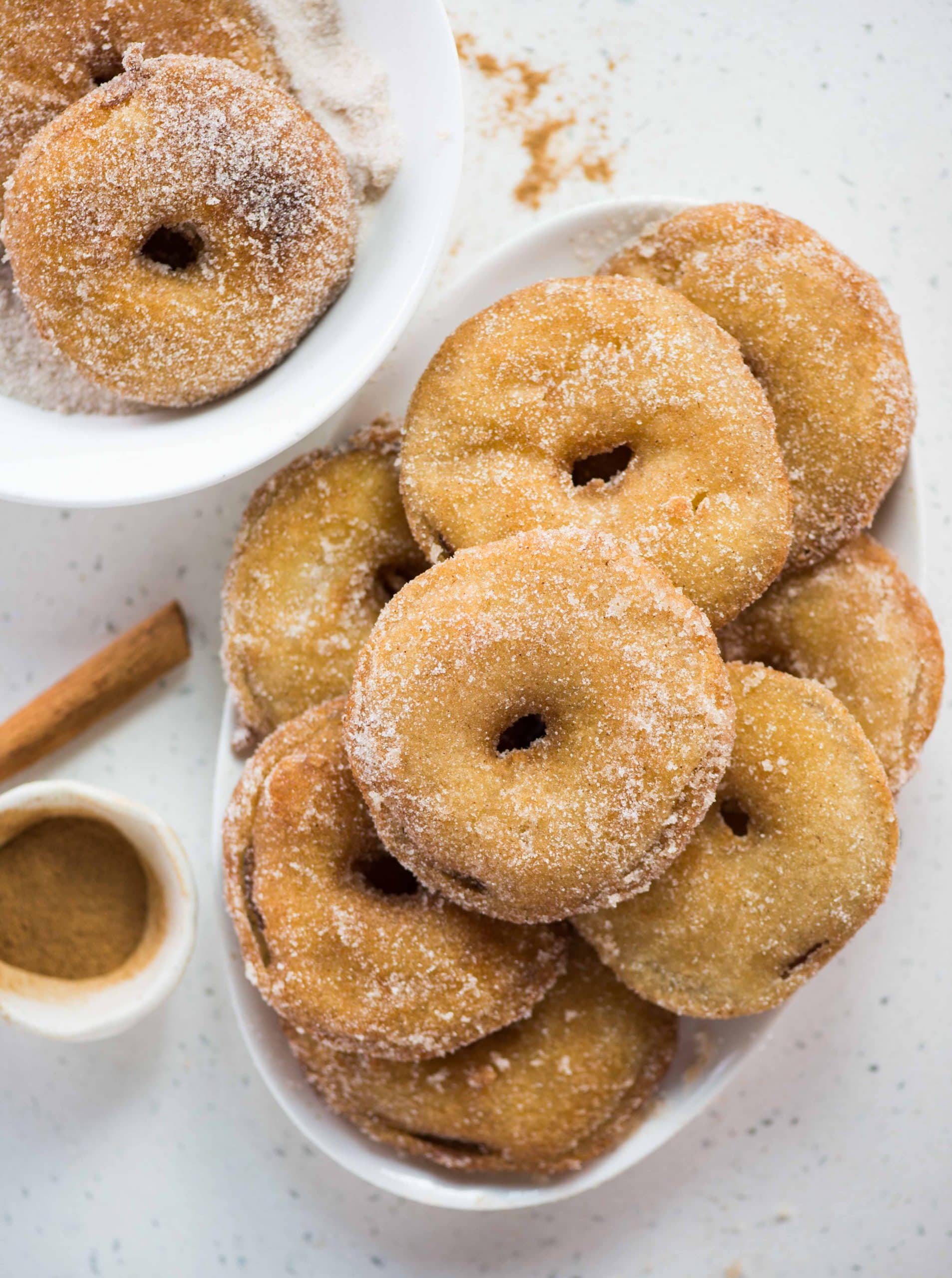 Tips For Making Apple Fritters
Use crisp and firm in-season apples if possible. The apple needs to hold shape after frying.
Use any neutral oil like vegetable oil or Canola oil for frying.
The pan used for frying the fritters needs to at least 3-4 inches deep and wide enough to hold 2-3 apple slices.
The temperature of the oil while frying is very important. If the oil is not hot enough, the coating won't stick well to the apple and the fritters would be too oily. If the oil is too hot, the coating would burn from the outside while it will remain raw inside. Use a candy thermometer to check the temperature.
Alternatively, to know if the oil is hot enough to fry, drop a spoonful of batter to the oil, the batter within seconds would rise up and float. If the batter sinks to the bottom of the pan, then the oil is not hot enough.
Fry 2-3 apple rings at a time. Avoid overcrowding the pan.
After frying a batch of fritters, the oil temperature drops. So let the oil heat for a while and come to the recommended temperature before frying the next batch.
The batter should be smooth and lump-free. The consistency needs to be like a pancake batter.
Avoid overcooking the fritters, as the apple will become soft and mushy. I like to keep the apple a little crunchy.
Can These Fritters be stored?
These are best served warm, preferably immediately after dusting with cinnamon sugar. The apple starts to release moisture and make the fritters soggy, so these are not ideal for storing.
More Apple Recipes you might like…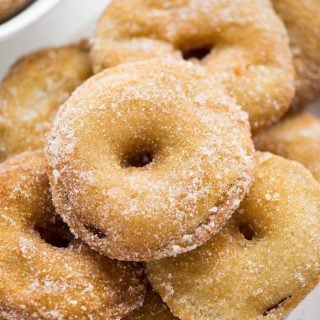 Apple pancake fritters
Easy apple fritter coated with simple batter and deep-fried. Ideal for breakfast or it can also be served as dessert dusted with cinnamon-sugar or glazed with chocolate sauce or with a scoop of vanilla ice cream.
Ingredients
2 apples (any firm variety)
For batter/ coating
1 cup all-purpose flour
2.5 tablespoons sugar
½ teaspoons baking powder
½ teaspoon salt
1 teaspoon Cinnamon Powder
¼ teaspoon Nutmeg powder
1 tablespoons Unsalted butter melted
½ cup full fat milk (+ 2 tablespoon)
1 egg
1 teaspoon vanilla extract
4 cups Neutral oil for frying
For Cinnamon Sugar coating
½ cup White Castor Sugar
1 tablespoon Cinnamon
Instructions
For Cinnamon Sugar coating - In a mixing bowl add castor sugar and cinnamon. Keep it aside.

In a small bowl mix all dry ingredients listed under batter.

Whisk in melted butter, egg, vanilla extract, and milk to the dry ingredients. The batter has to be smooth and lump-free.

Cut apple into slices with medium thickness (not too thin or too thick). Using apple corer or a knife remove the center (the core) of apple slices.

In a deep frying pan/sauce pan heat oil to medium heat.

When the oil reaches 365F (185C) in a kitchen thermometer or when you drop a spoonful of batter to the pan and the batter sizzles and rises to the top (refer the video below) , the oil is ready for frying.

Dip one apple slice at a time to the batter, coat well on both sides and slowly drop into the oil by hand or a fork. Within seconds the apple rings would rise and float.

Repeat the above process and drop 1 or 2 more apple slices well coated with batter.

Fry for 1 minute on each side or until it is nice golden in colour.

Use tongs to remove apple fritters, drain excess oil, and keep it in a kitchen towel lined plate.

Before frying, another batch let the oil heat for some time and reach 365F (185C).

While the fritters are still warm, dip one fritter at a time to the cinnamon-sugar mixture prepared in step 1. Coat well on both sides.

Don't miss the detailed Video of making Apple Fritters below.
Nutrition
Serving: 1g | Calories: 102kcal | Carbohydrates: 21g | Protein: 2g | Fat: 2g | Saturated Fat: 1g | Cholesterol: 15mg | Sodium: 92mg | Potassium: 68mg | Fiber: 1g | Sugar: 13g | Vitamin A: 70IU | Vitamin C: 1mg | Calcium: 28mg | Iron: 1mg