This post may include affiliate links that earn us a small commission.
Apple Turnovers are the perfect fall treat. Flakey puff pastries stuffed with spiced tender sweet apple filling.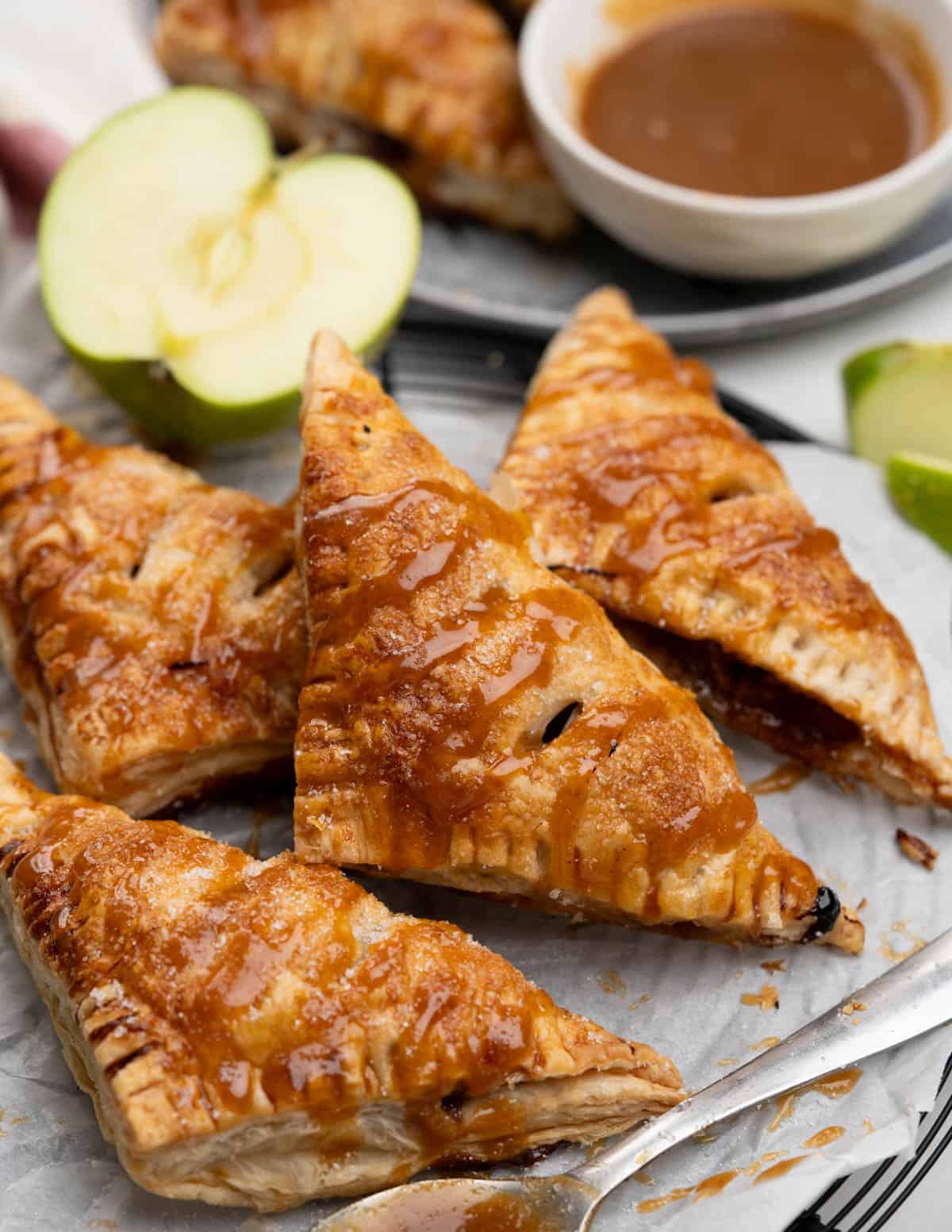 Making Apple turnovers can't be easier than this. Readymade puff pastry filled with a chunky apple filling and then baked until crispy. The apple filling is flavored with warm cinnamon, and brown sugar gives an intense caramel flavor. These warm Apple turnovers taste incredible when topped with caramel sauce, sweet cinnamon glaze, whipped cream, or a scoop of ice cream.
When you have seasonal Apples in abundance, why only make Apple pie? These apple turnovers are easier to make with a generous cinnamon apple filling. Have it for breakfast or serve it as a dessert, it's entirely up to you.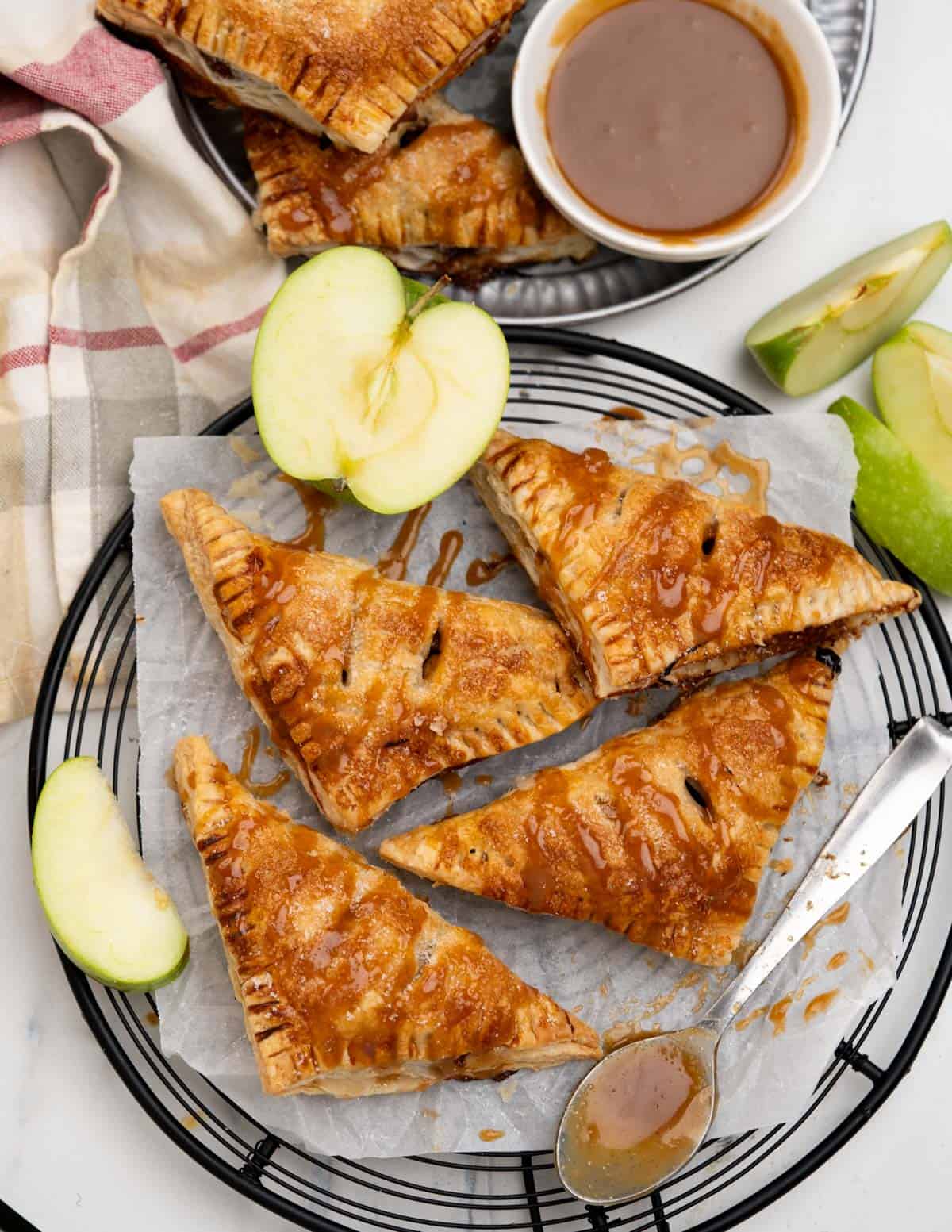 Ingredients for Apple Turnovers
Puff Pastry Sheets- While making puff pastry sheets from scratch is great, store-bought ones make it more convenient.
Apples – Now the big confusion is which apple to use for Turnovers. We need the apple filling to be chunky and have a bite to it. So any apple variety that holds shape after cooking is preferable. Granny Smith apples will always be my first choice as they are firm and have a nice tartness to them. You can use other firm ones like Honeycrisp and Pinklady.
Brown sugar – For sweetening the apples. Brown sugar gives that rich caramel flavor. You can substitute it with regular sugar as well.
Salt and Cinnamon – You can also use Apple spice instead of cinnamon.
Vanilla extract
Butter – Adds richness to the filling
Cornflour – to thicken the sauce.
Egg and milk – Egg wash to give a nice golden crust.
Granulated Sugar – To sprinkle on top.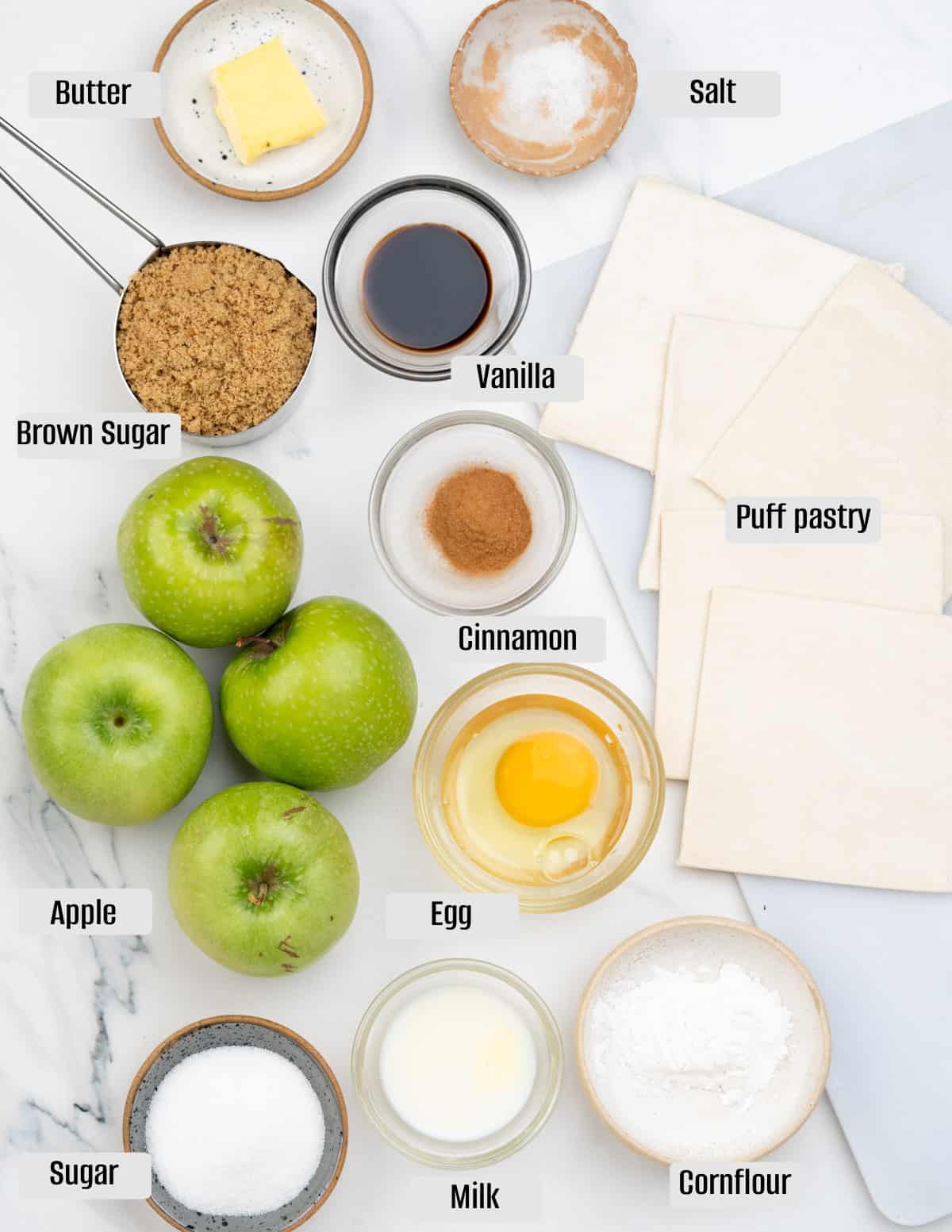 Steps to Make Apple Turnovers
Make apple Filling – Peel, core, and chop apples into bite-sized pieces. If Too small the cut apples will break down and turn too mushy.
In a skillet cook together chopped apple, brown sugar, butter, ground cinnamon, salt, and cornflour for 5-6 minutes. The apples should get softened yet a little crisp at the center. The caramel sauce should be thick and coat the apple well. Let the filling cool down while you prepare the puff pastry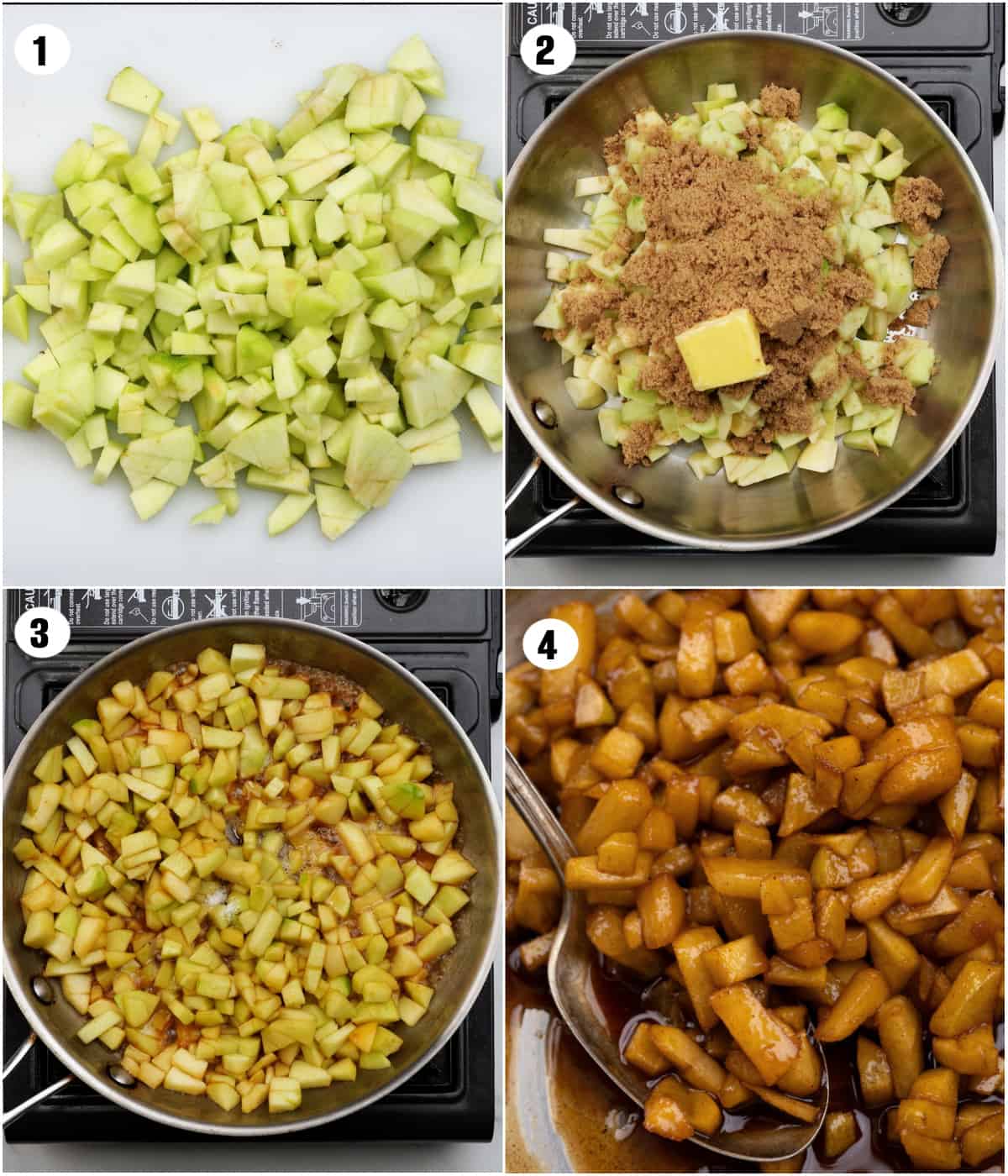 Shaping Apple Turnovers – While the apple filling is cooling down, lightly flour the working surface, this prevents the pastry from sticking. We get 10cm square puff pastry sheets in the supermarkets. If you get large sheets, then handle one sheet at a time and keep the rest covered.
Spoon the filling at the center. Drain any caramel syrup before adding the filling. Brush 2 adjacent edges with egg wash. Then fold the pastry into a triangle. Next, is to seal the edges dip a fork into flour and press around the edges.
Brush the pastry with egg wash. Next is to make small slits, for the steam to escape. If there is no way for the steam to escape. the pastry might burst open on the sides and leak. Sprinkle sugar on top and then bake.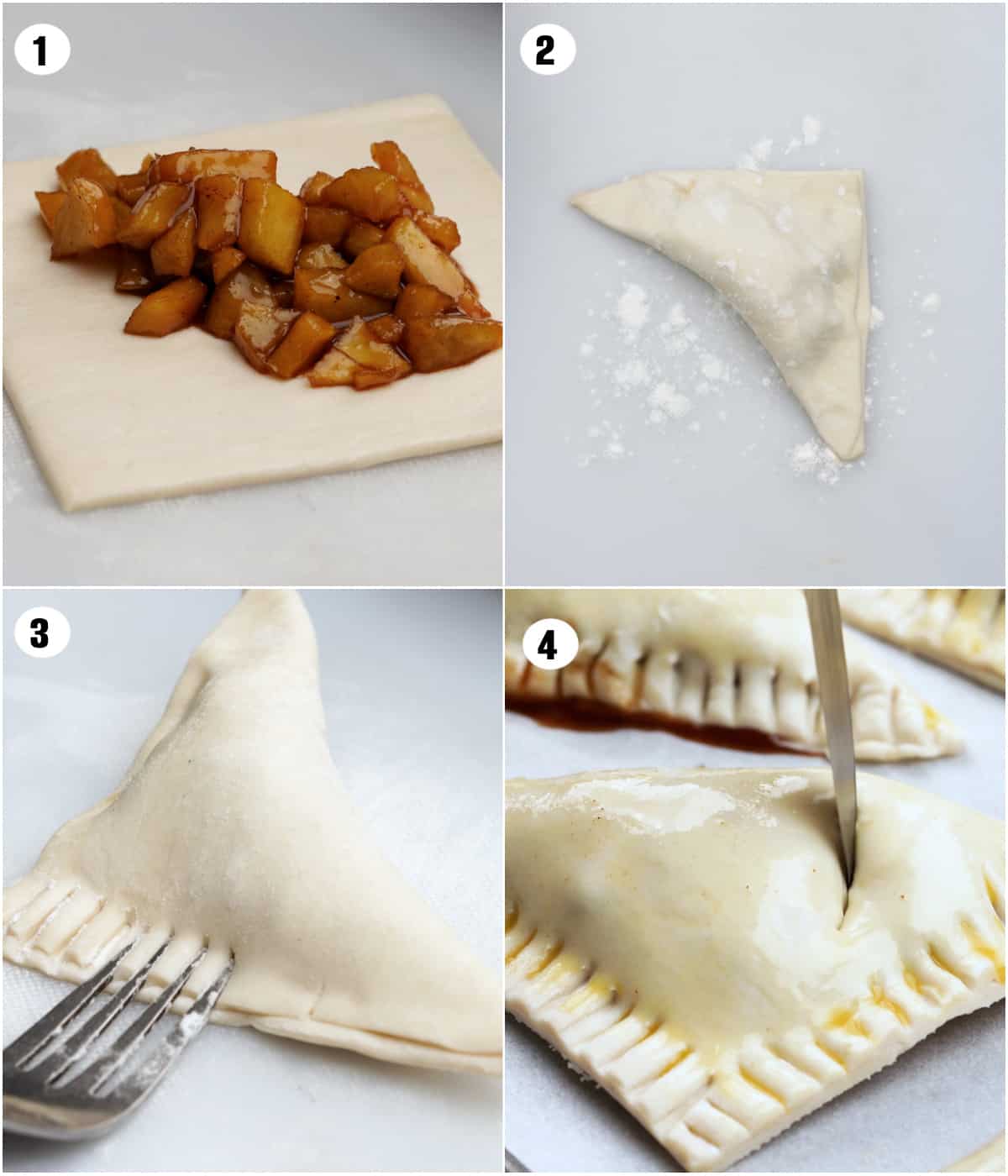 Tips for Perfect Apple Turnovers
Make sure you are using a firm variety of Apples only for some texture in the filling.
While cooking the filling, use a large skillet and cook on medium-high heat. It helps more water to evaporate and the caramel sauce thickens quickly without overcooking the apples.
Rest the puff pastry sheets for 10-15 minutes on the kitchen counter. If the sheets are too cold, they will not fold smoothly and break. Room-temperature puff pastry might be sticky and difficult to handle. So the sheet should be still cold to touch yet pliable.
Can we make Apple Turnovers In an Air fryer?
Air fryer Apple turnovers are as good as the oven baked ones. In fact, it's hard to differentiate. If you are making a larger batch and don't have enough space, you can easily divide and make half in the air fryer. If the air fryer basket is not non-stick, then place a liner or spray with nonstick spray. Place 2-3 turnovers at a time leaving enough space in between for air to circulate. Air fry for 15 minutes on 180C / 350F or until golden brown.
Flavours In Your Inbox
Subscribe for recipes straight to your inbox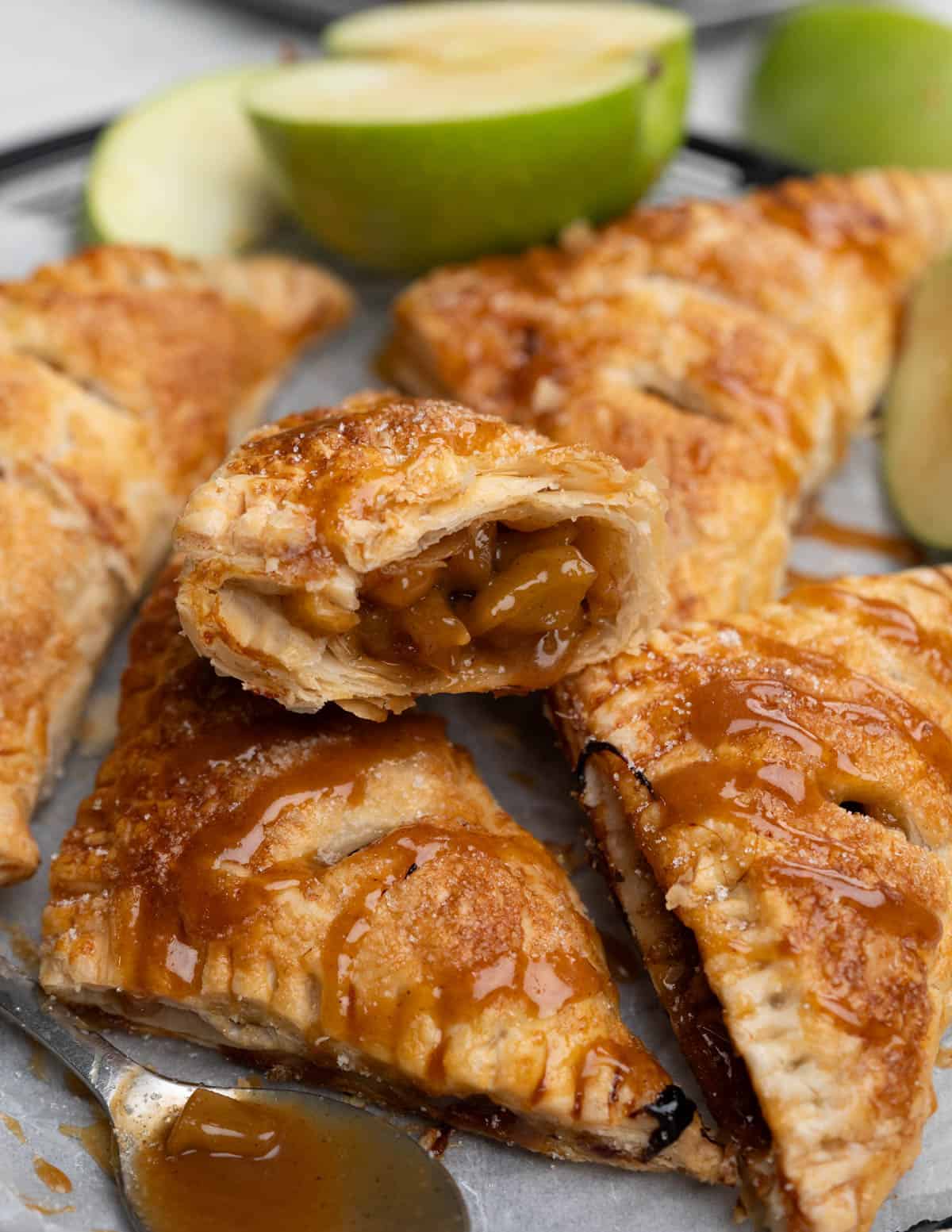 Looking for more ways to cook with Apple?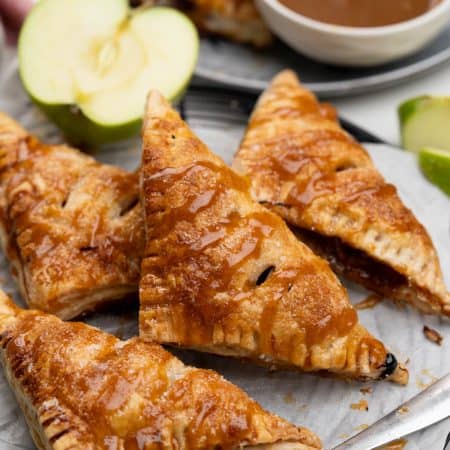 Apple Turnovers with Coffee Glaze
Apple Turnovers are the perfect fall treat. Flakey puff pastries stuffed with apples spiked with warm cinnamon.
Ingredients
4 Granny Smith Apple
1.5 tablespoons Cornflour/cornstarch
1.5 Teaspoon Apple pie spice/ cinnamon
½ cup brown sugar tightly packed
1 tsp vanilla extract
1 tablespoon butter
large Pinch salt
2 tablespoons Granulated sugar
Instructions
Peel, core, and chop apples into small pieces. If not using them immediately, toss them in a few drops of lemon juice to prevent them from browning.

In a skillet, melt butter. Add chopped apples, light brown sugar, and ground cinnamon/apple pie spice to it. Sprinkle cornflour. Give everything a good mix. Cook for 5-6 minutes on medium-high heat. The apple should get only 3/4 cooked and have a bite to it. If you prefer the filling to be compote-like, then break it down further.

Cool down the filling. Meanwhile, prepare the puff pastry sheet. Puff pastry should just be thawed and pliable ( not soft).

 Preheat oven to 200°C/400°F

Beat together egg and milk well.

Lightly flour the working surface or line with a parchment paper. Cut into 10-inch squares. Brush 2 sides with egg wash. Take 1.5 tablespoons of the cooled apple filling (drain any liquid from the pan). Place it at the center. Fold the puff sheet into a triangle. Using a fork (dipped in flour to prevent sticking), press around the edges to seal it well.

Place the shaped pastry on the prepared baking sheet 1 inch apart. Brush with egg wash. Sprinkle sugar on top.

Using the sharp pointed edge of a knife, make 2-3 deep cuts (for the steam to escape).

Bake in a preheated oven for 15-20 minutes. The puff pastry should be evenly browned, puffed, and crispy.

Once baked, shift it to a wired rack ( to prevent the bottom from getting soggy). Drizzle with caramel sauce/cinnamon glaze. Or serve it with whipped cream or ice cream.
Nutrition
Serving: 1serving | Calories: 414kcal | Carbohydrates: 50g | Protein: 4g | Fat: 22g | Saturated Fat: 7g | Polyunsaturated Fat: 3g | Monounsaturated Fat: 11g | Trans Fat: 1g | Cholesterol: 6mg | Sodium: 148mg | Potassium: 90mg | Fiber: 2g | Sugar: 25g | Vitamin A: 86IU | Vitamin C: 1mg | Calcium: 16mg | Iron: 2mg