This post may include affiliate links that earn us a small commission.
Homemade French onion dip with sweet savory caramelized onion is the perfect party appetizer. It is creamy, not too rich, and better than the store-bought one any day.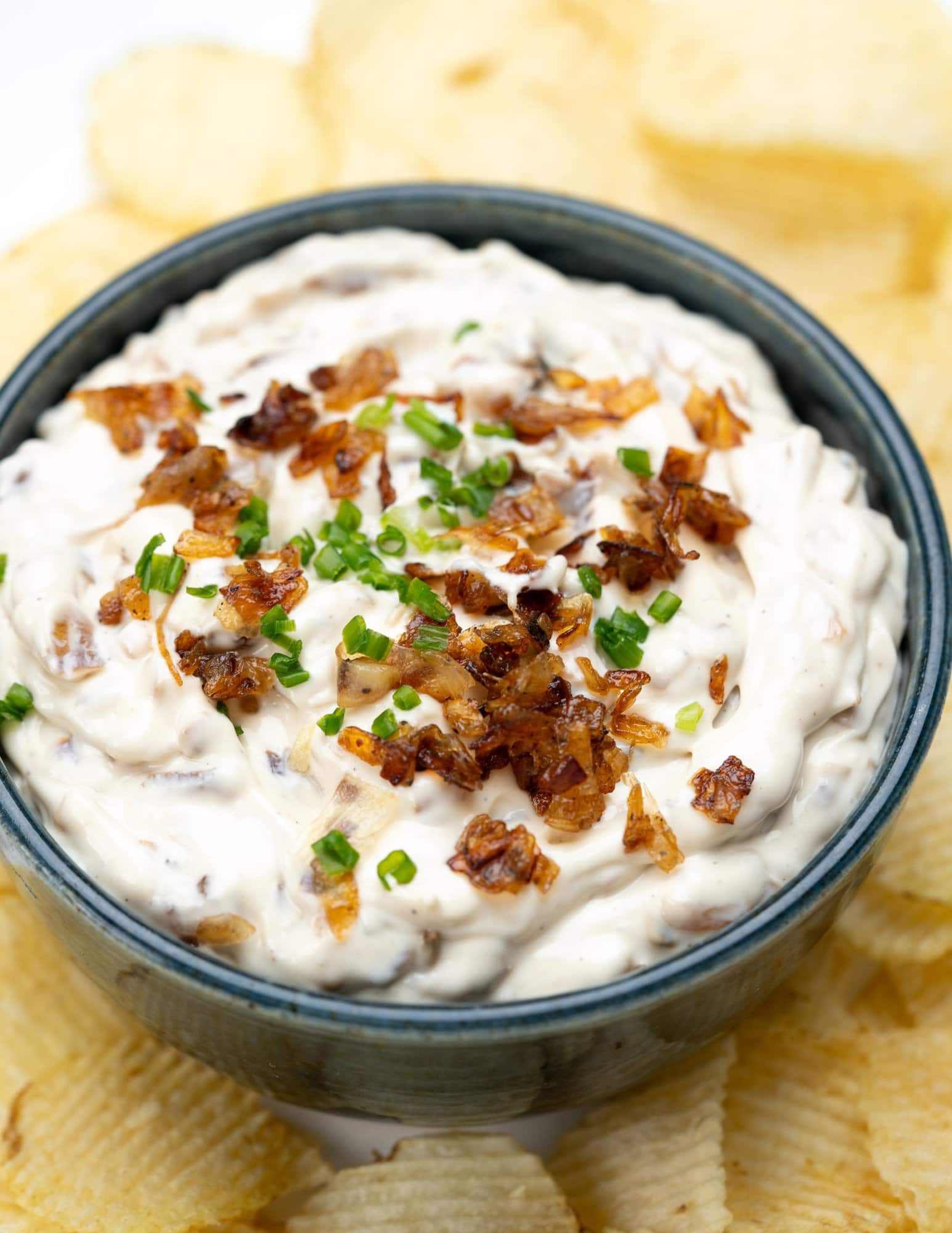 This homemade French Onion dip is made from scratch(no premade mix here). It is creamy, and tangy, and has the lovely sweetness from the caramelized onions. This party dip served with potato chips, pita chips, and veggie sticks, is always a crowd pleasure.
It's very easy to go overboard with cheese in a dip, making it rich and cloggy. On the other hand, this homemade version is well-balanced, not overly rich, and carmalized onion adds a hint of sweetness. If you love caramelized onion in a dish as much as we do, then do check out French onion soup and French Onion chicken recipe for sure.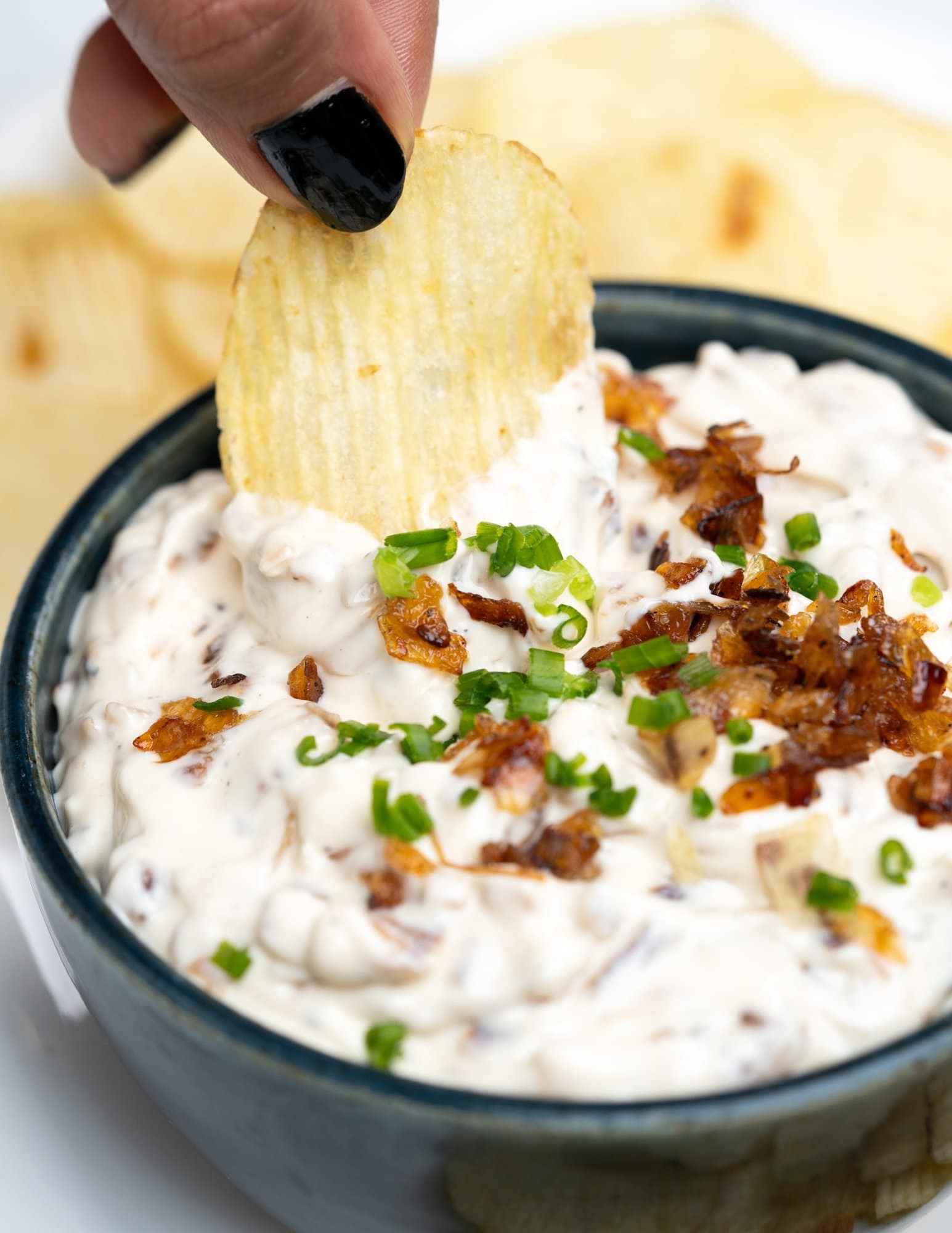 French Onion Dip Ingredients
What we are looking at is a list of 10 ingredients out of which 7-8 are pantry staples. Most likely there is one ingredient that you might not have handy, but I will tell you a substitute for that as well.
Onion – Yellow, white, or brown onion will work. Dice onion to cook and caramelize evenly.
Garlic– Garlic enhances and compliments the flavor of onion.
Butter and olive oil– Obviously butter is flavor. But to cut down the richness, olive oil works best.
Mayo
Sour cream
Thyme, chive, salt and pepper
Worcestershire sauce- If you don't have Worcestershire sauce, you don't need to do a grocery run for only this one ingredient. You can either skip it or substitute it with soy sauce.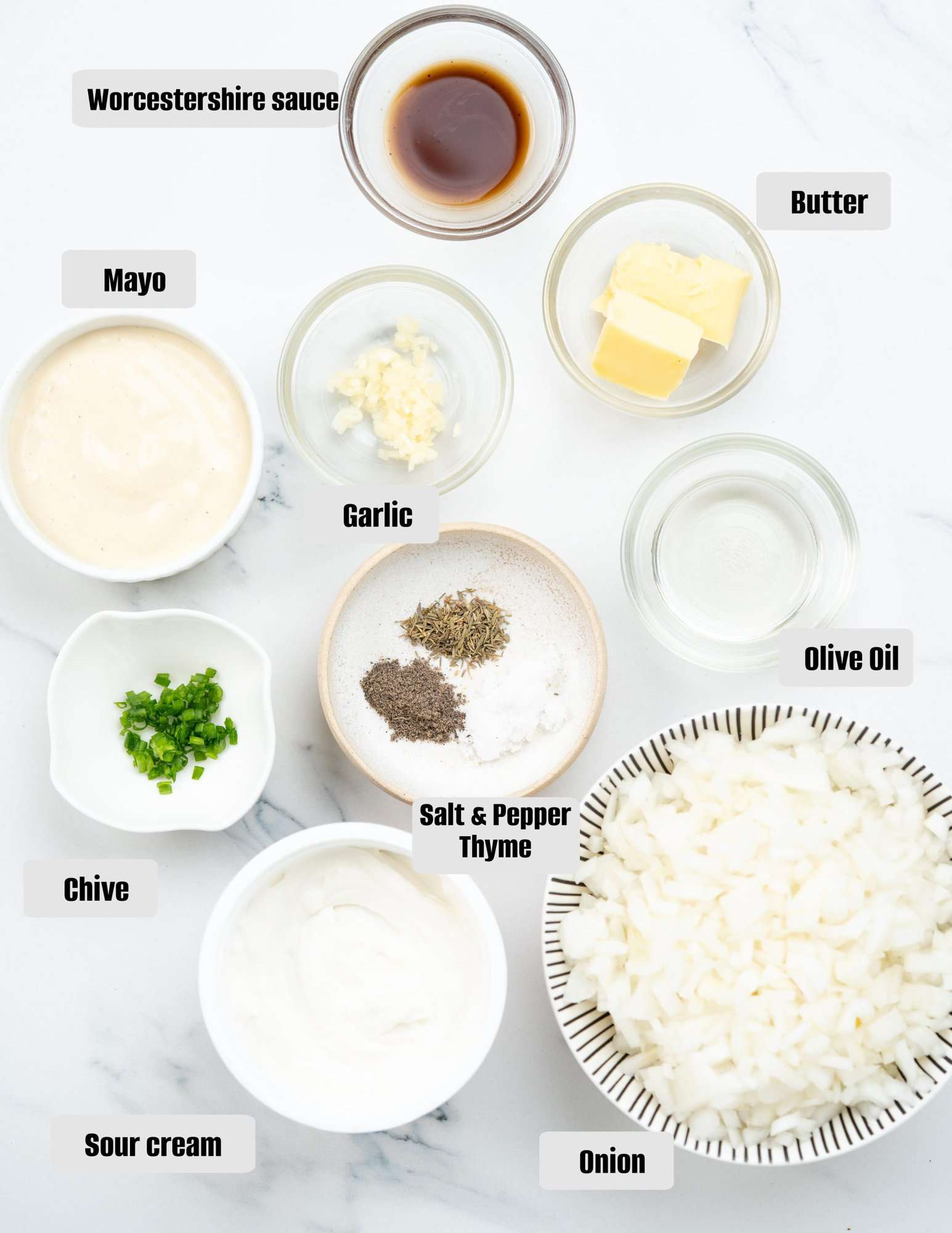 How to make
The key to making French onion dip is to caramelize the onion perfectly. So gather all your patience and keep aside 30 minutes of your time(you need to stand by the stove while making this) for this step. It might seem like a daunting task, but there is no shortcut to this. If hurried, Onions will burn in no time and taste bitter. When a large pinch of salt is added to the onion, it sweats onion faster.
Flavours In Your Inbox
Subscribe for recipes straight to your inbox
Start with medium-high heat and saute the onions. When the onions have softened and look translucent, reduce the heat. From there on cook onion on low heat, stirring frequently. Add a splash of water a couple of times, to prevent the onions from burning. Onion when caramelized perfectly has a sweet and savoury taste.
Cool down the onion. Meanwhile, mix sour cream, mayo, chives, parsley(if using), salt and pepper. Add cooled down onion. Check seasoning and adjust as per preference.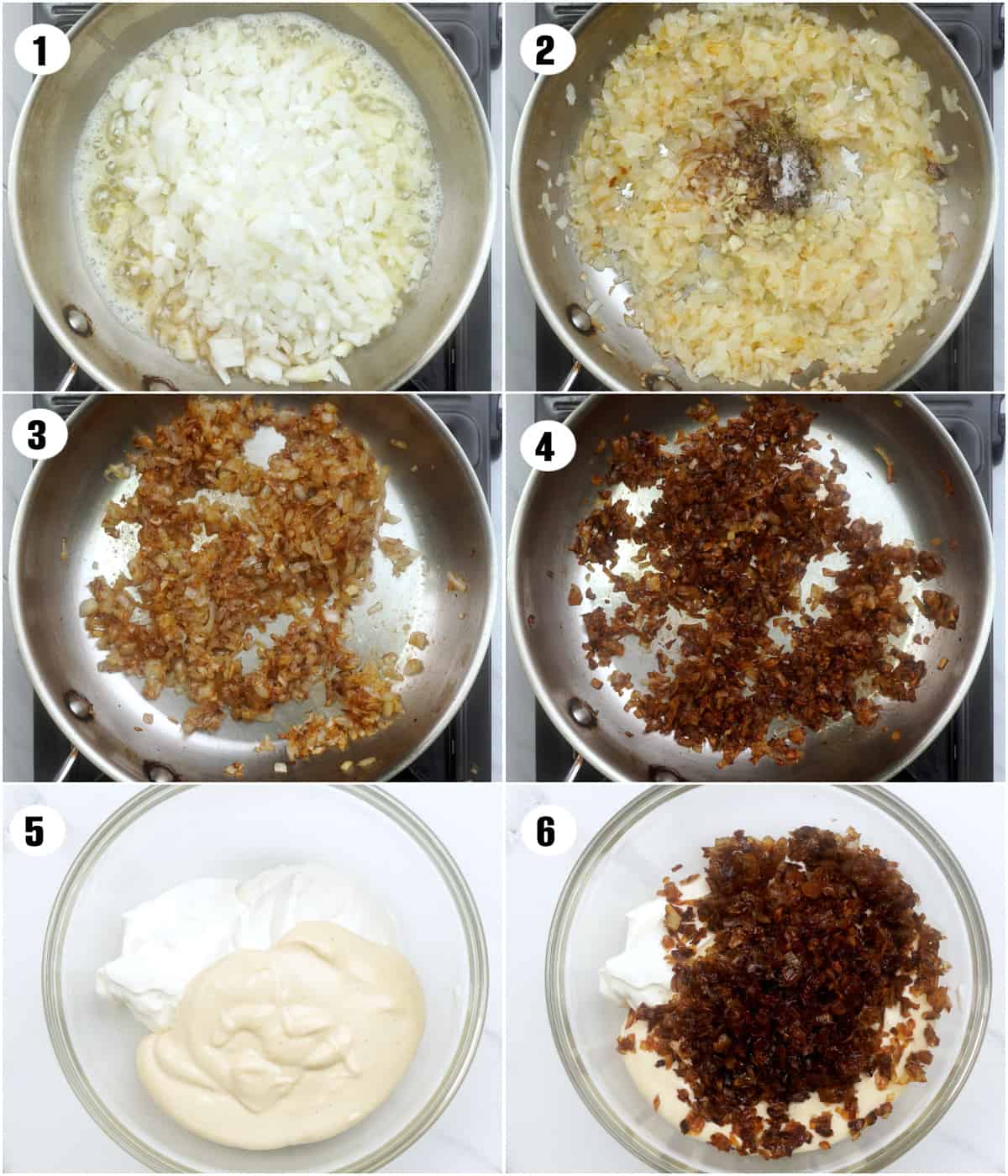 How long Homemade French Onion Dip can be stored?
Once ready, I prefer to refrigerate for a couple of hours before serving. It gives time for the flavors to blend. You can store the dip for up to 3 days and it will only get better. The dip might thicken up when chilled, so add a little water or milk to adjust the consistency.
Because of the dairy ingredients, this dip is not ideal for freezing as it might split.
To make it ahead for a party or large gathering, you can make it a day ahead and rest in the refrigerator.
What to serve French onion dip with?
The best pairing I can think of is French onion dip with ridged potato chips. That's the classic combination. Apart from that you can serve pita chips, bagel chips, or even veggie sticks.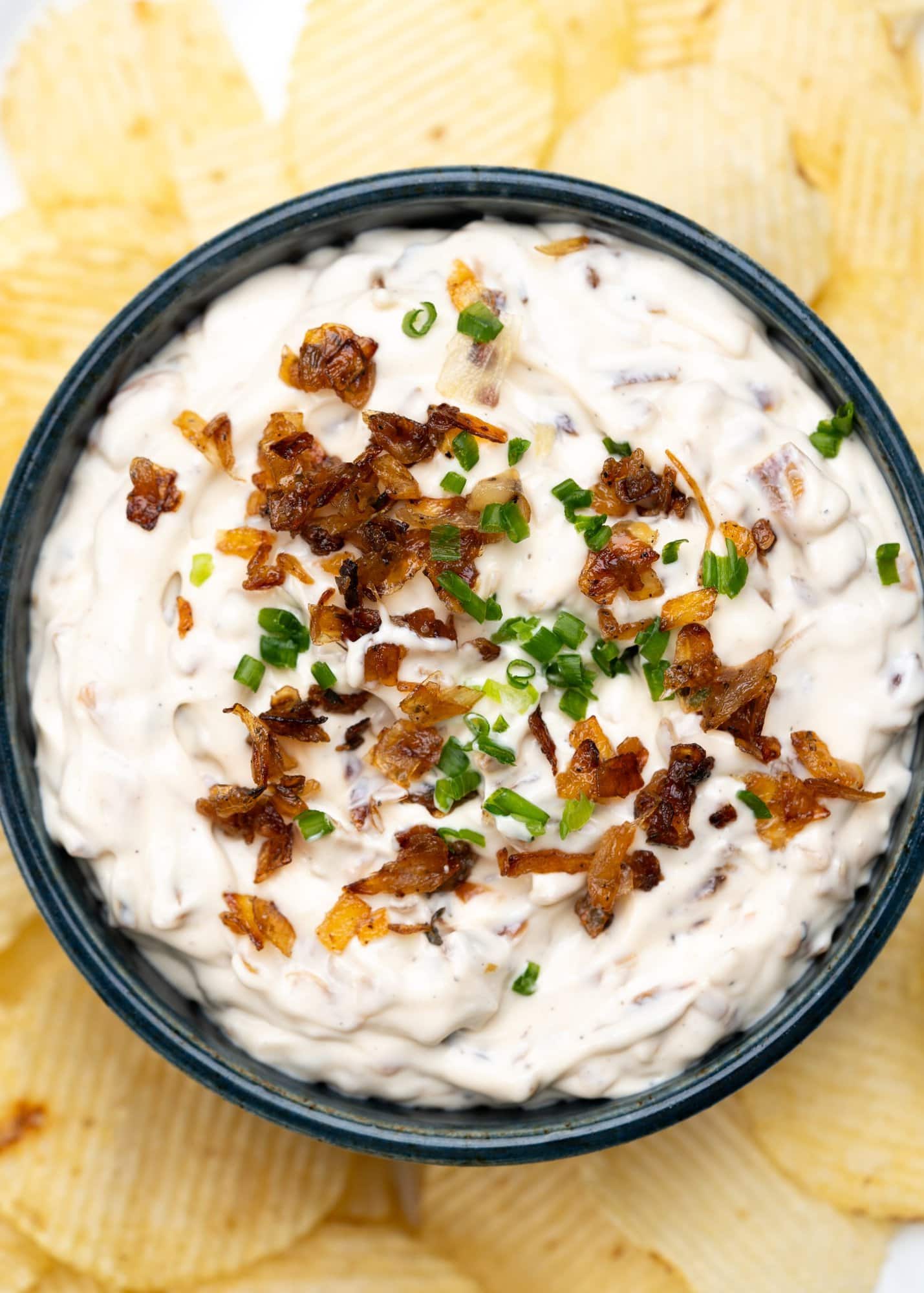 More Dip recipes to try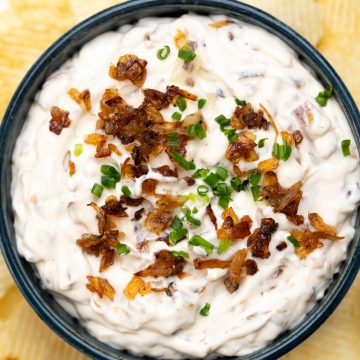 French Onion Dip
Sweet caramelized onion is mixed with sour cream and mayonnaise for a perfect creamy party dip.
Ingredients
2 tablespoons butter
1 tablespoons olive oil
3 yellow or white onions diced
1 teaspoon garlic minced
2 teaspoons Worcestershire sauce to taste
1 teaspoon fresh thyme leaves or 1/4 teaspoon dried thyme
1 teaspoon sea salt
½ teaspoon freshly-cracked black pepper
1 cup sour cream
½ cup mayonnaise
2 teaspoons chopped fresh chives
Instructions
Heat olive oil and butter in a large skillet.

Add diced onion to the skillet and saute on medium heat for 5-6 minute until the onions have softened and looks translucent.

Once the onions are light brown in colour, add minced garlic, thyme and salt. Saute again for 8-10 minutes on very low heat until the onion is caramelized and uniform brown in colour. If you see onion is getting stuck at the bottom towards the end, splash a few drops of water in between and keep stirring.

Toward the end add Worcestershire sauce and mix well. Let the mixture cool down completely.

In a mixing bowl, Whisk together. Add caramelized onion and mix again. Check the seasoning and add more salt or pepper if needed.

Serve!
Nutrition
Serving: 1serving | Calories: 282kcal | Carbohydrates: 8g | Protein: 2g | Fat: 28g | Saturated Fat: 9g | Polyunsaturated Fat: 9g | Monounsaturated Fat: 8g | Trans Fat: 0.2g | Cholesterol: 40mg | Sodium: 576mg | Potassium: 153mg | Fiber: 1g | Sugar: 4g | Vitamin A: 386IU | Vitamin C: 5mg | Calcium: 59mg | Iron: 0.4mg