This post may include affiliate links that earn us a small commission.
Juicy boneless chicken breast smothered in savory caramelized onion gravy and topped with gooey melty gruyere cheese. A one-pan skillet meal packed with classic french onion soup flavors.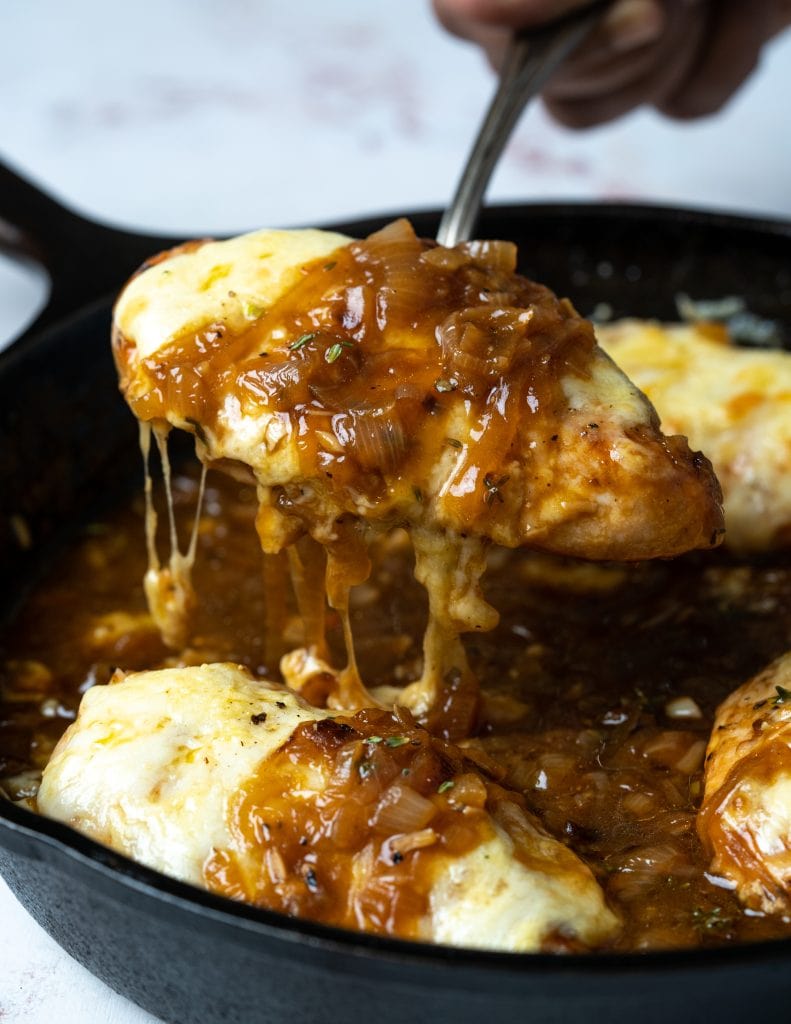 French Onion Chicken recipe offers a one-pot meal with the flavors from the French onion soup, plus the chicken and cheese enhance the taste and make it fulfilling.
Flavours In Your Inbox
Subscribe for recipes straight to your inbox
It's amazing how just caramelized onion and a good quality beef broth build the dish.
The best thing about this baked French onion chicken recipe is that it is a one-pot dish. You do everything in the skillet. It makes cooking easy and after that cleaning too. Though this recipe asks you to cook it on the stove-top and bake it, you move the skillet from the stove to the oven.
I have a few delicious one-pot recipes that you may look at – One Pot Mushroom Rice, One Pot Tomato Basil Chicken Orzo, One-Pot Lemon Pasta, and One-Pot Chickpea Curry (Chana Aloo)
French Onion Chicken
I love French onion soup, and I am sure you do too. Among onion soups, it is the King! The first time I was in Paris, I could not wait to taste the authentic French onion soup that I had heard so much about that is almost a French national treasure.
I tried it in many places during my week-long stay in Paris and have indeed got a favorite spot I would now visit each time I land there. The unique flavor in the French onion soup comes from the combination of beef broth and caramelized onions, white wine, thyme, bay leaf, and caramelized onions (the dish's star).
I felt onion soup is more like a fantastic first course and not a meal by itself. To make it a meal, it needs a heavyweight, which is what the French onion chicken recipe delivers. It feels so well balanced as you have chicken to keep you full. To top it with cheese ups the taste and flavor and makes the dish richer.
Chicken Breasts or Chicken Thighs?
Should you use chicken breasts or thighs in this recipe? You can use either. It is entirely up to what you like or have at the moment. But, there is an excellent reason to use breasts here.
Mostly, I prefer chicken thighs, just not for this recipe. Let me call it – Chicken thighs are the best part of the bird. They have more moisture and hence are resistant to drying up and are tender, have more flavor, and are thus used in a wide variety of dishes.
Chicken breasts, on the other hand, are delicate to cook. It dries up very fast, and you need to check the timer while cooking it to perfection. I give you – it is fast to cook but has a chance of going wrong if it's a minute too long. Chicken thighs, on the other hand, are pretty forgiving because
Why is chicken breast good for this recipe? Because the breast has less fat than the thighs. French onion recipes call for caramelized onions (meaning – deep fried in lots of oil) and have plenty of cheese. There is enough fat in the dish, though that makes it super flavorful, to want to add any more from the chicken thighs.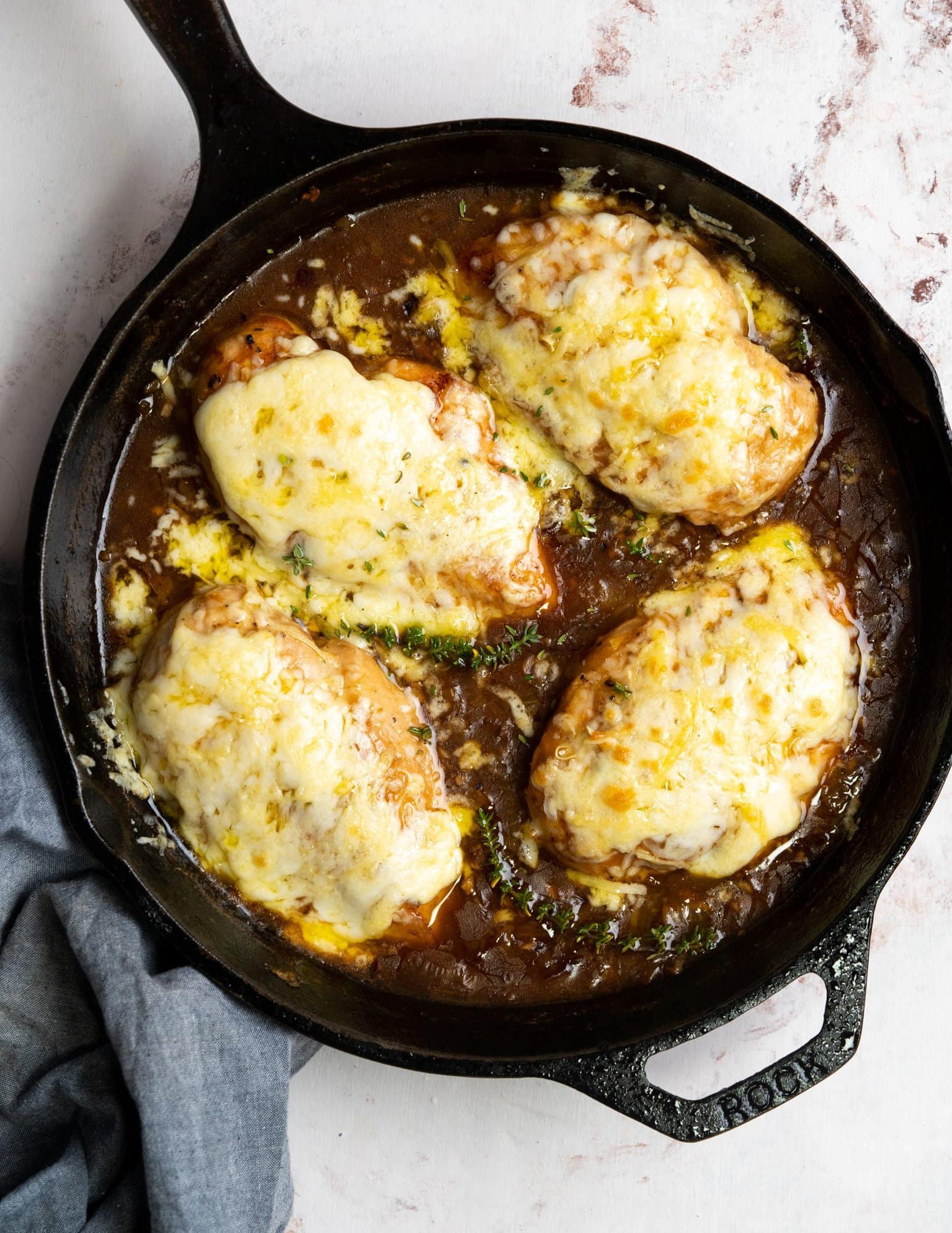 Ingredients
Chicken Breast – choose the skillet size based on the size of the chicken breast. For thick chicken breasts, you will need to pound them to make them thin, i.e., almost a quarter-inch, allowing even cooking of the breast.
Yellow onions – these onions are best for flavor used in French cooking.
Beef broth – get a good quality beef broth. That makes all the difference, and you will not regret spending on this. The primary driver of flavor to the sauce gives a fantastic taste.
White wine – adds flavor to the sauce though it evaporates on reduction while cooking.
Gruyere cheese -topped on the chicken breast and bubbly cheese is inviting.
Minced Garlic – garlic is my universal flavor agent in most recipes. I cannot live without it.
Thyme – gives that herby flavor to the sauce.
Bay leaf – this spice makes the sauce aromatic.
All-purpose flour – is used to coat the onions, garlic, and spices while frying and thickening the sauce.
Olive Oil – We need olive oil for flavor though butter is the primary fat.
Butter – Used butter for maximum flavor in both chicken and sauce.
Salt & Pepper – for overall taste and some heat to balance the sweetness of the onions.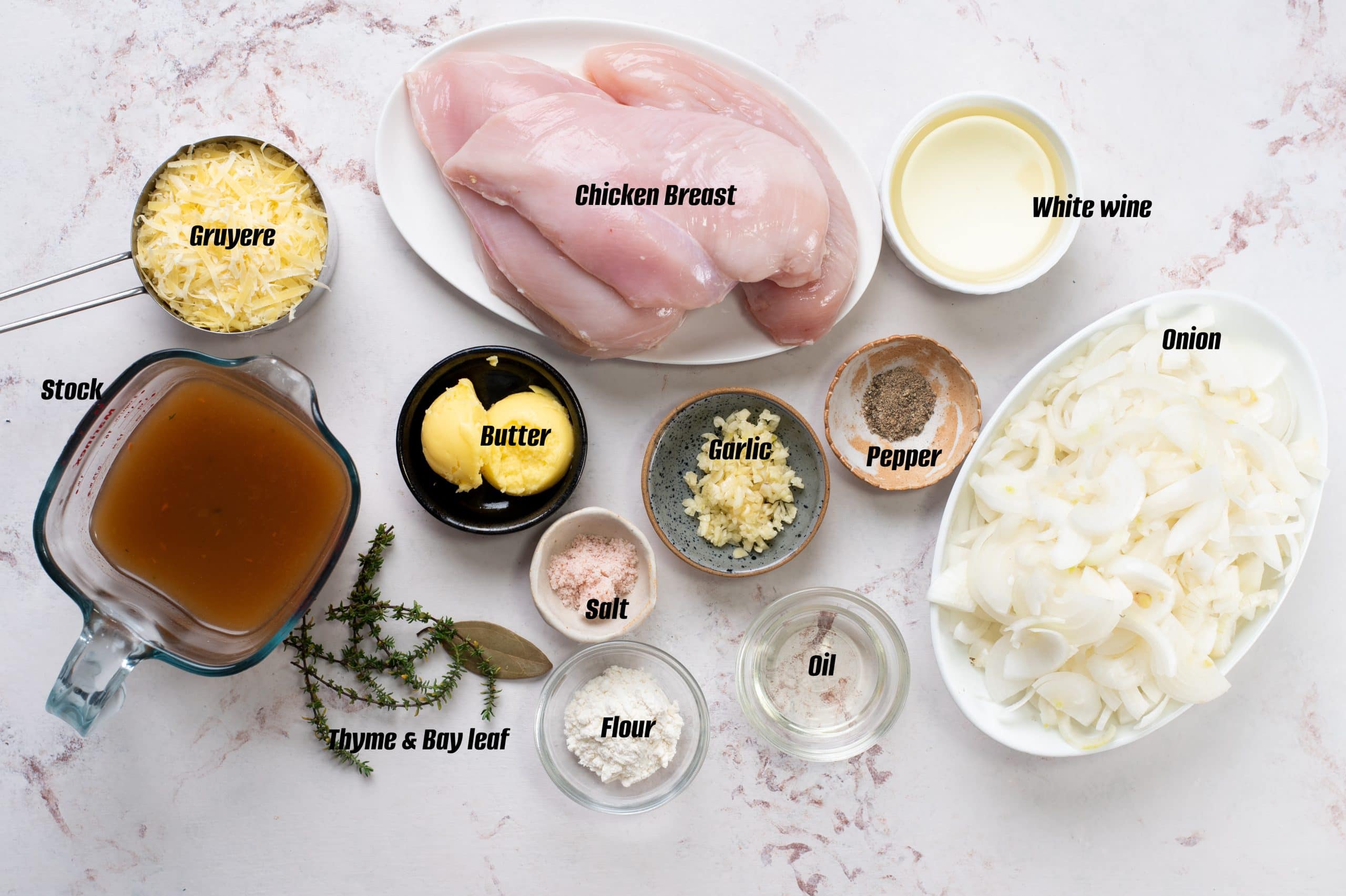 How to make – detailed instructions & tips
Season chicken – Pat dry the chicken breasts with a paper napkin or towel. Drying the chicken breast decreases the moisture on the skin. It helps get a crisper skin when searing the chicken. It also helps reduce the water leaked while the chicken cooks.
If the chicken breast is over a quarter-inch thick, you should pound the chicken to make it thin. Thinner pieces cook evenly, and there is no risk of outer cooked and core remaining raw. Sprinkle salt and pepper over the chicken breast and rub it over all sides. Please leave it to rest for 15 minutes.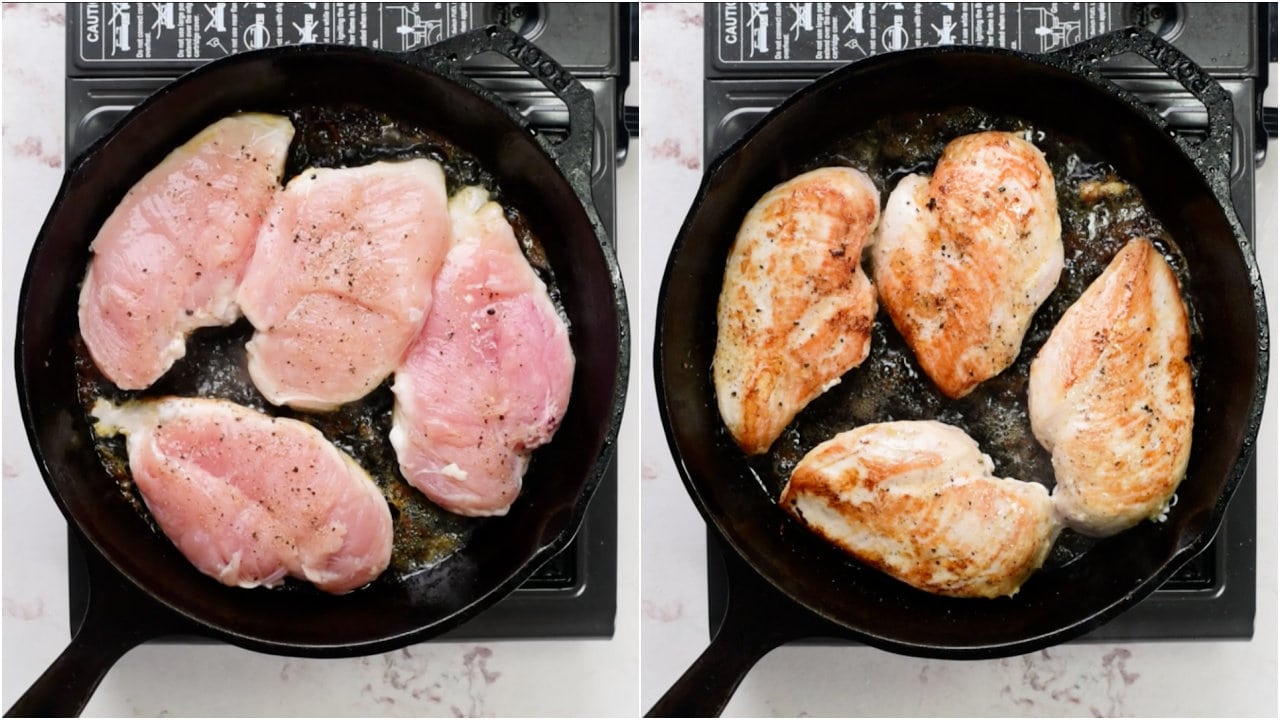 Sear chicken – Heat a skillet over medium heat. Add a tablespoon of olive oil and butter to the skillet and allow the butter to melt. Place chicken breast on the skillet and sear it for 3 minutes on each side. Take it out when the breast turns slightly whitish on both sides. We do not want to cook the chicken entirely now and will do so while baking it towards the end.
Caramelize onions – Add remaining butter to the skillet. Now add onions and sauté for 8 minutes. Reduce the heat to medium-low. Sprinkle a pinch of salt and sauté onions for 25 minutes. Stir occasionally to prevent burning. This step needs patience.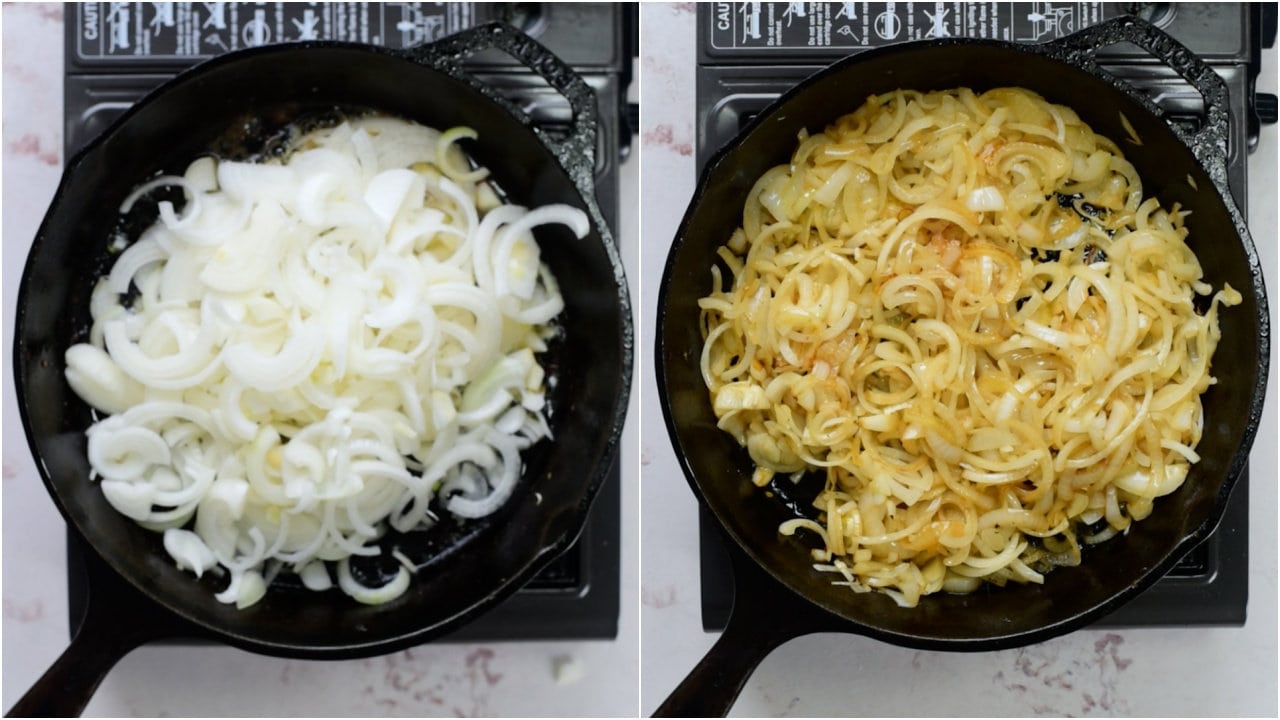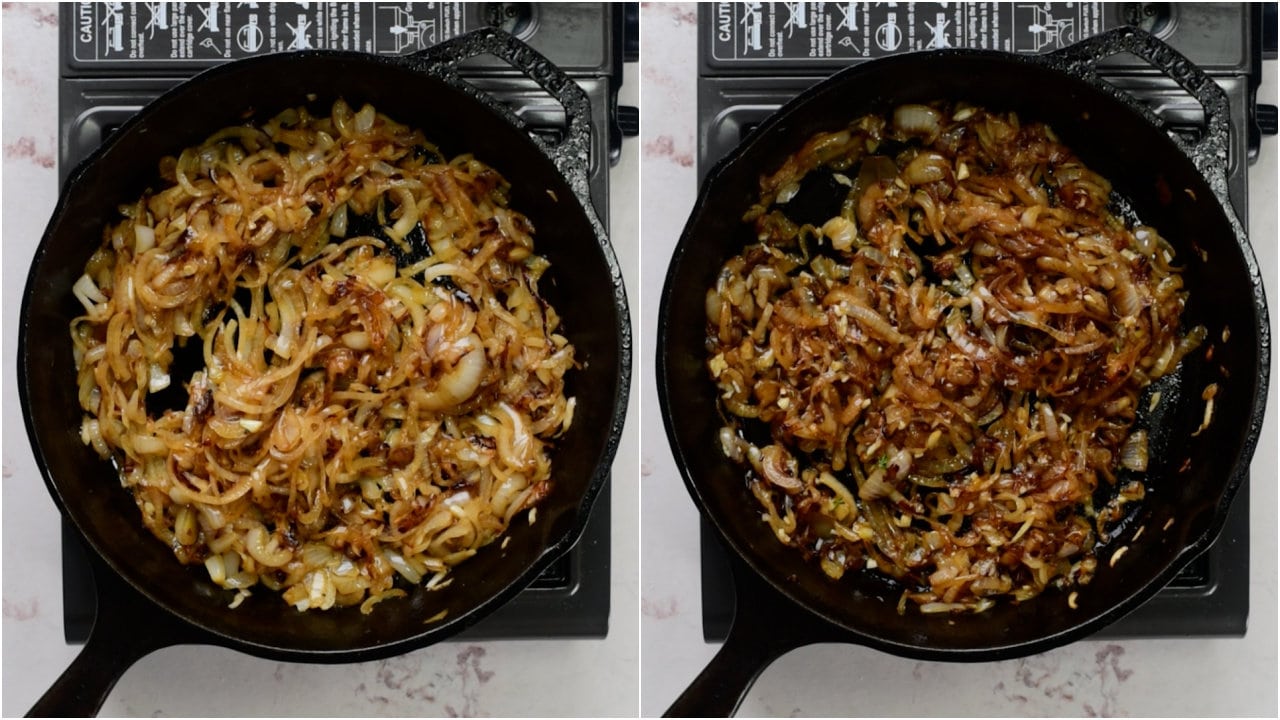 Cook with wine – When onions turn golden brown, add thyme, bay leaf, and minced garlic and cook for 30 seconds. Add wine next and deglaze the pan with wine by scrapping the bottom. It takes out bits stuck to the pan, adding flavor to the sauce. Allow it to simmer for 7 minutes to reduce the wine completely. Now, there will be no wine left and just its taste.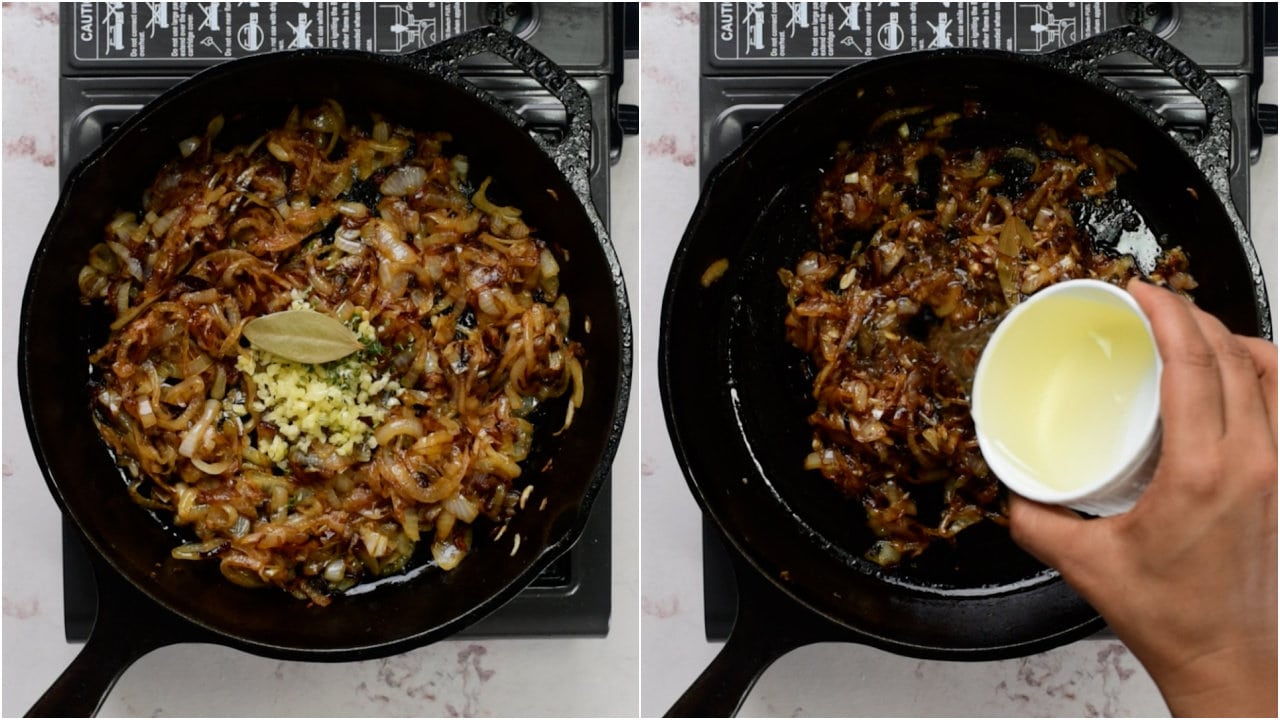 Flour & beef stock – Add flour to the mix, toss everything, and cook for up to 2 minutes. Pour beef stock all over and simmer it further to thicken the sauce. This should happen in 2-3 minutes.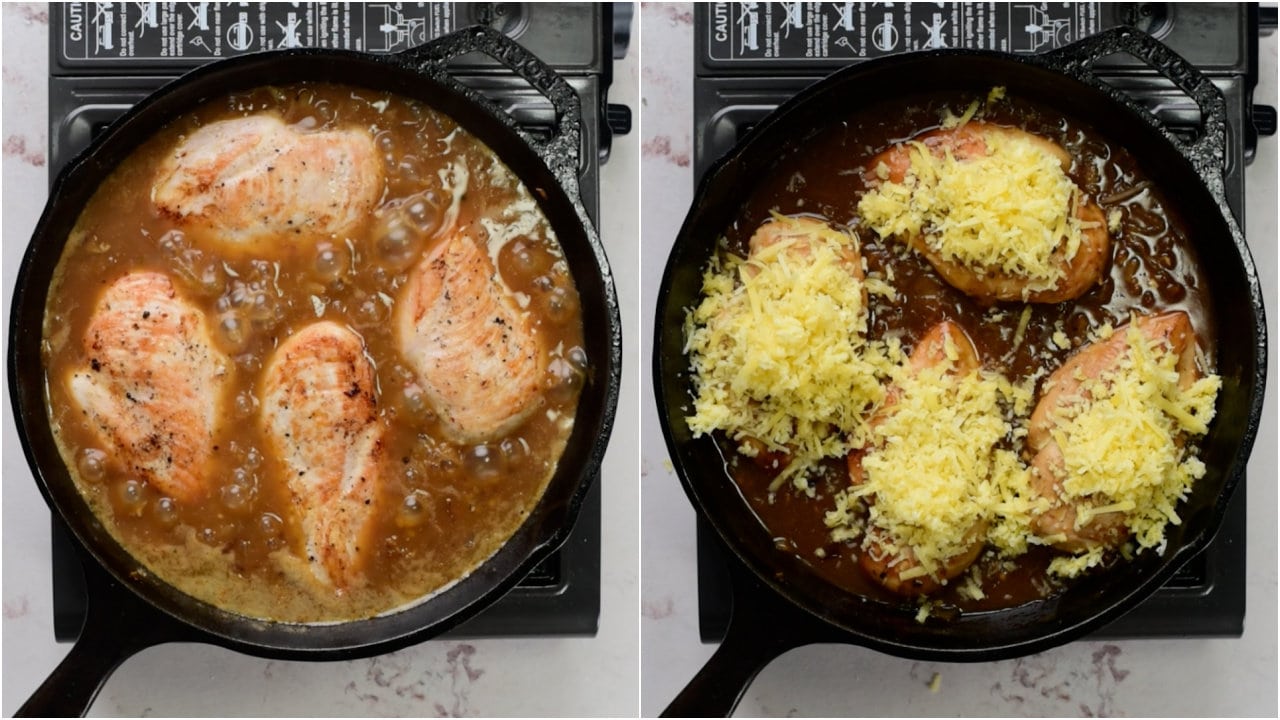 Chicken & Cheese – Add chicken breast to the skillet. Top the breast pieces with gruyere cheese. Move the skillet to the oven and bake for 10 minutes. Baking should cook the chicken thoroughly, and the cheese should appear bubbly.
Serve and savor – 🙂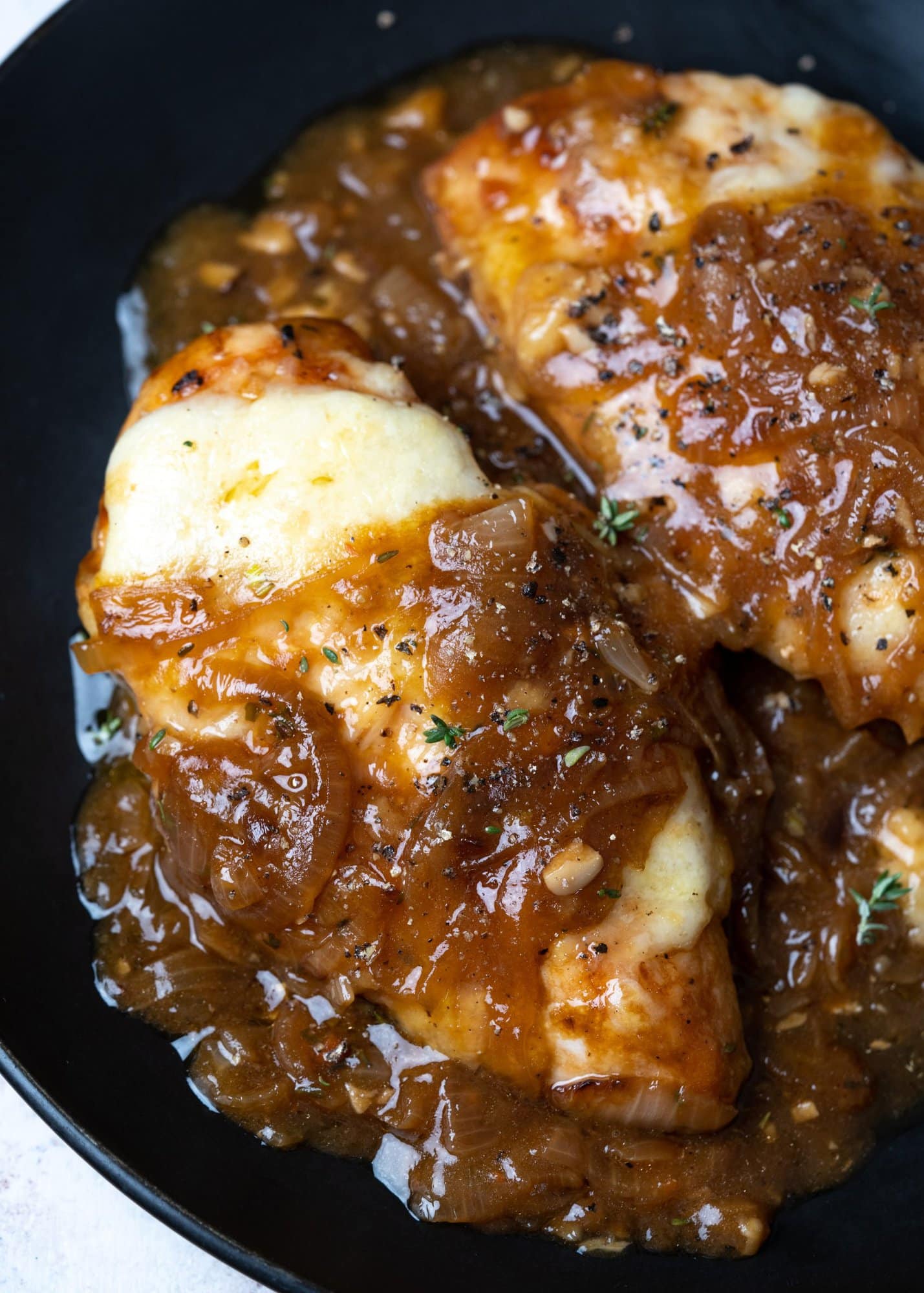 Store
You may store it in the refrigerator for up to 3 days. Please keep it in an air-tight container and reheat it in the microwave or pan for up to a minute.
If you plan to make it ahead, skip topping with the cheese and finish it with the chicken. Store it in the refrigerator. While you remove it from the fridge, shift it to a hot pan and top it with cheese. 5 to 10 minutes top should work for it to be done.
Serve with
This dish has oodles of protein and fat here. To balance this, you can serve it with some grilled veggies for fiber. Other options include mashed potatoes like this Roasted Garlic Mashed Potato or a salad.
Other Chicken Breast recipes
Have you got chicken breast and wondering what to make with them? Apart from this delicious french onion chicken baked recipe, check out the others –
Air Fryer Crispy Chicken Breast
Mushroom Spinach Stuffed Chicken Breast
Creamy Garlic Parmesan Chicken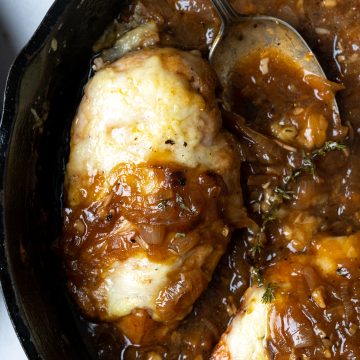 French Onion Chicken
Juicy boneless chicken breast smothered in savory caramelized onion gravy and topped with gooey melty gruyere cheese. A one-pan skillet meal packed with classic french onion soup flavors.
Ingredients
4 Medium Boneless Chicken Breast (650-700 grams in total)
3 cups Thinly sliced Yellow onion
3 tablespoon Butter
1 tablespoon Olive Oil
½ tablespoon Minced Garlic
2 sprigs Thyme
1 bay leaf
½ cup Dry white wine
1 tablespoon Flour
1 cup Beef Broth
1.5 cup Gruyere cheese
½ teaspoon Pepper
Salt to taste
Instructions
Pat dry chicken breast. Using a meat mallet pound Chicken to even thickness. Lightly season with salt and pepper on both sides.

In a large oven-proof skillet, heat 1 tablespoon olive oil and 1 tablespoon butter.

When butter starts to foam, sear chicken breast for 2-3 minutes on each side.

Remove chicken breast from the skillet and keep it loosely covered with foil while doing the rest of the steps.

To the same skillet heat remaining 2 tablespoons of butter.

Add sliced onion. Saute for 7-8 minutes. Add a pinch of salt and cook on low-medium heat for another 20-25 minutes. Keep stirring occasionally to prevent onions from burning.

Meanwhile, Preheat oven to 475 degrees.

When the onions are evenly golden brown, add minced garlic, thyme, and bay leaf. Cook it for about 30 seconds until the raw garlic smell is gone.

Deglaze the pan with wine. Scrap the bottom of the pan to remove brown bits. let it simmer for 2-3 minutes for the wine to reduce completely.

Once the wine has reduced completely, add flour. Toss to coat and cook for 1-2 minutes, until the raw smell is no more.

Slowly add beef stock to the skillet. Whisk well to make a smooth sauce. Simmer for 3-4 minutes. (For a thicker sauce simmer a little longer)

Add chicken breast back to the skillet. Top it with cheese. bake for about 8-10 minutes until chicken is cooked through completely and the cheese starts to bubble.

Serve with mashed potatoes and greens.
Notes
Patting the chicken breast dry thoroughly helps reduce the moisture level and get a crisper skin. Less moisture also reduces the amount of water that it leaks later while cooking.
Pound the chicken to get an even thickness ensuring the breast gets evenly cooked throughout.
Do not cook the chicken completely when searing it on the pan as the first step. It will be completely cooked when it's baked towards the end.
Adding salt while sauteing onions helps them leak water and caramelize faster.
Though we add wine to this dish, all that simmering evaporates the wine completely. The sauce reduces by that time, and all that's left is the flavor that wine brings.
Some bits that are stuck to the bottom and got nice flavor from all the searing of chicken and sauteing of onions and garlic. Scrapping the bottom of the pan while cooking the sauce ensures that these bits come out and mix with the sauce making it more flavorful.
Get the best beef stock that you can buy. I cannot emphasize enough the importance of good stock and the flavor that it brings to the dish.
Nutrition
Serving: 1serving | Calories: 655kcal | Carbohydrates: 14g | Protein: 65g | Fat: 34g | Saturated Fat: 17g | Polyunsaturated Fat: 2g | Monounsaturated Fat: 12g | Trans Fat: 0.4g | Cholesterol: 222mg | Sodium: 913mg | Potassium: 1121mg | Fiber: 2g | Sugar: 6g | Vitamin A: 830IU | Vitamin C: 13mg | Calcium: 553mg | Iron: 2mg