Creamy Garlic Parmesan Chicken
This post may include affiliate links that earn us a small commission.
Juicy, tender, and perfectly seasoned chicken breast in a creamy garlic parmesan sauce. This one-pan chicken recipe takes less than 30 minutes to make and fits well on your weekday dinner menu.
For more such easy and delicious boneless chicken breast recipes try Creamy Ranch Chicken, Honey Mustard Chicken, Pesto Chicken, and Spinach Stuffed Chicken Breast.
Flavours In Your Inbox
Subscribe for recipes straight to your inbox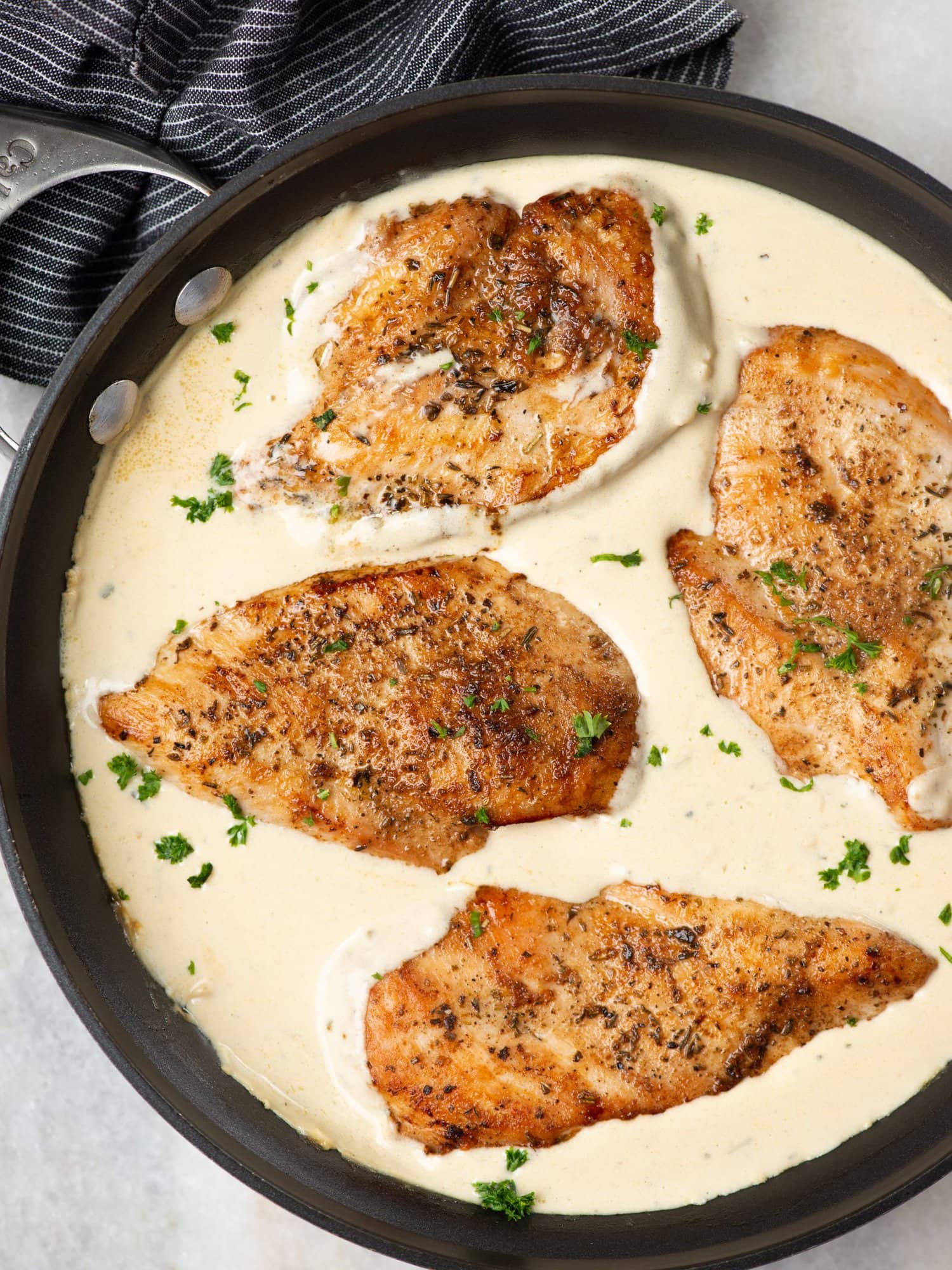 You need less than 30 minutes to make this creamy Garlic Parmesan Chicken. The delectable garlic parmesan Sauce transforms boring boneless chicken breast into a restaurant-worthy dish.
Perfectly seasoned chicken breast cooked until it is crispy on the outside, yet moist on the inside. I love how quickly the sauce comes together and the flavors are just amazing. Even the picky eaters at the house would devour it without any complaint. Another best part is this is a one-pan recipe, so minimal clean-up.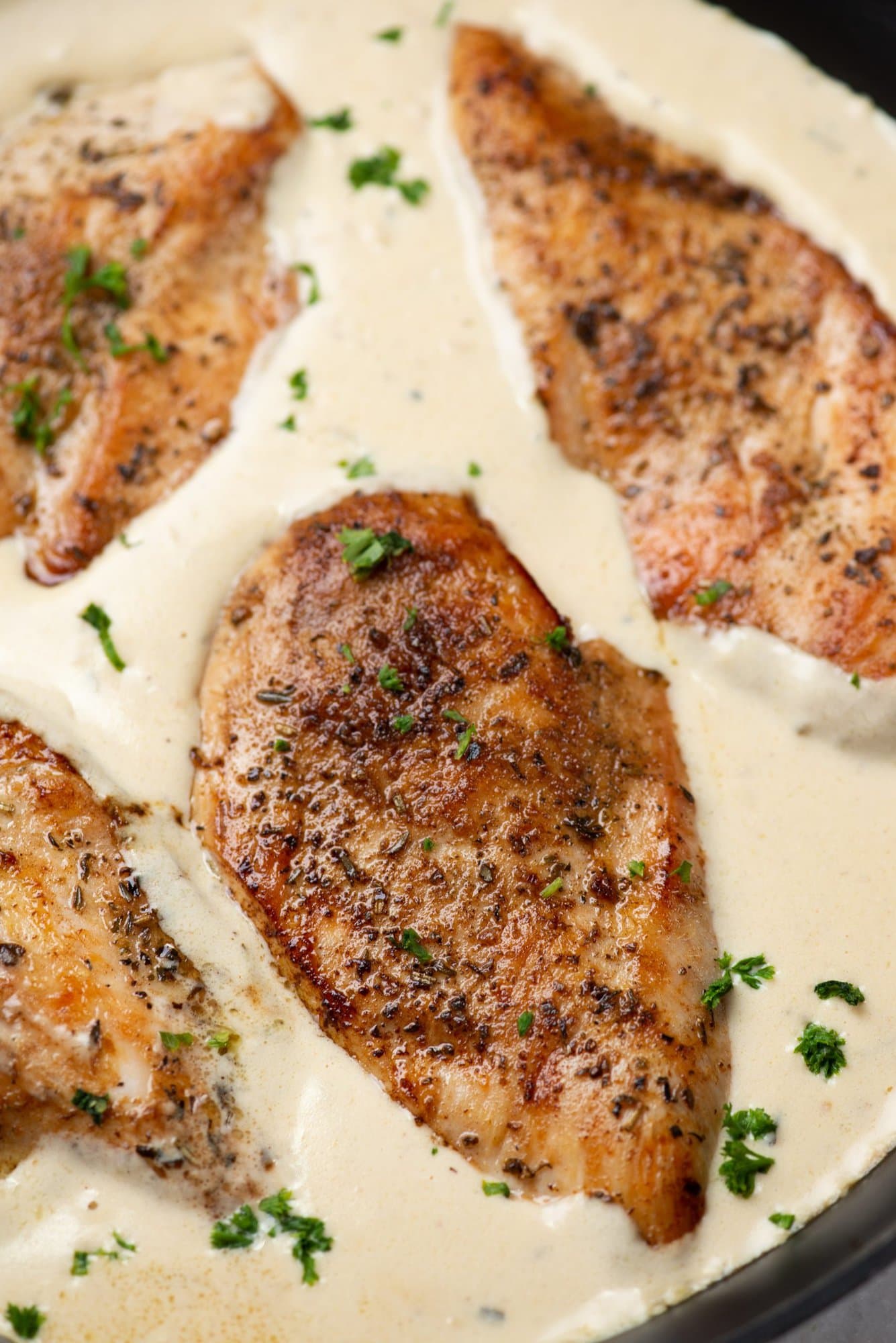 Ingredients you need
Boneless Chicken Breast – We need thin chicken breast with uniform thickness for even cooking. If you get chicken cutlets in the supermarket pick those to make the process easy. Else cut large chicken breast into half lengthwise to get two chicken cutlets. Use a meat pounder and pound the thick parts.
Seasoning– It is a simple blend of salt, pepper, garlic powder, and Italian Seasoning.
Oil and butter – Cooking chicken in butter gives a beautiful golden crust and also flavor.
Garlic – You can substitute with garlic powder instead.
Flour– Just a tablespoon to thicken the sauce.
Chicken Stock, Heavy Cream
Parmesan – Freshly grated Parmesan cheese. Avoid pre-shredded parmesan cheese as those are loaded with anticaking agents.
Parsely
Steps to make Creamy Garlic Parmesan Chicken
Cooking with boneless chicken breast seems tricky. But when cooked right they literally melt in your mouth. Cutting the chicken into cutlets and making it of even thickness is already the first step for tender chicken breast.
Cook Chicken breast – Before cooking, we are going to season chicken breast generously with a blend of salt, pepper, garlic powder, and Italian seasoning. When the oil-butter mixture is hot and starts to foam, sear the chicken for 3-4 minutes on each side until it has a golden crust.
Use a large skillet preferably cast Iron and it should be large enough.
After removing cooked chicken from the skillet, keep it loosely covered with a foil to avoid it from drying.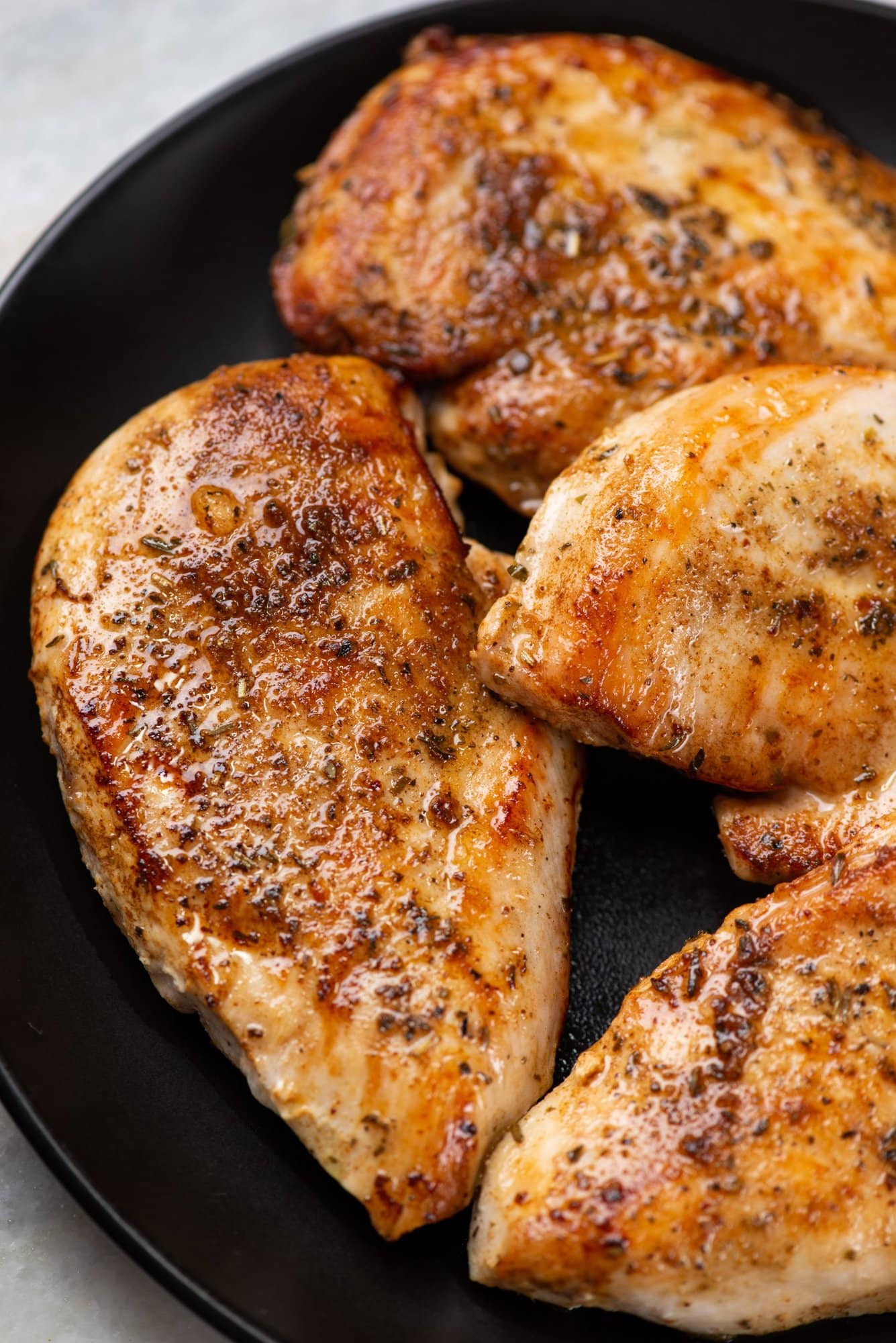 Make Garlic Parmesan Sauce – In the same skillet (the brown bits from cooking chicken will add so much flavor, so no clean up is required) saute garlic until it is aromatic then add flour and cook until there is no raw smell. Lower the heat while adding flour, to prevent it from browning too much.
Next, slowly add chicken stock and whisk continuously to avoid lumps. The sauce will start to thicken. Lower the heat if the pan is too hot and slowly add heavy cream. Whisk well until the sauce comes together and looks creamy. Then add parmesan cheese and whisk again.
Can we use Chicken Thigh Instead?
Chicken breast is lean meat, so pairs well with this rich garlic parmesan sauce. While you can substitute with chicken thighs, it will be too rich and mouthful.
What to serve with Garlic Parmesan Chicken
I love the fact that this dish pairs beautifully with a lot of side dishes. Serve it with some rice or pasta, because there is plenty of sauce to pour. You can also serve it alongside mashed potatoes or roasted potatoes.
Roasted veggies like green beans and broccoli also go well.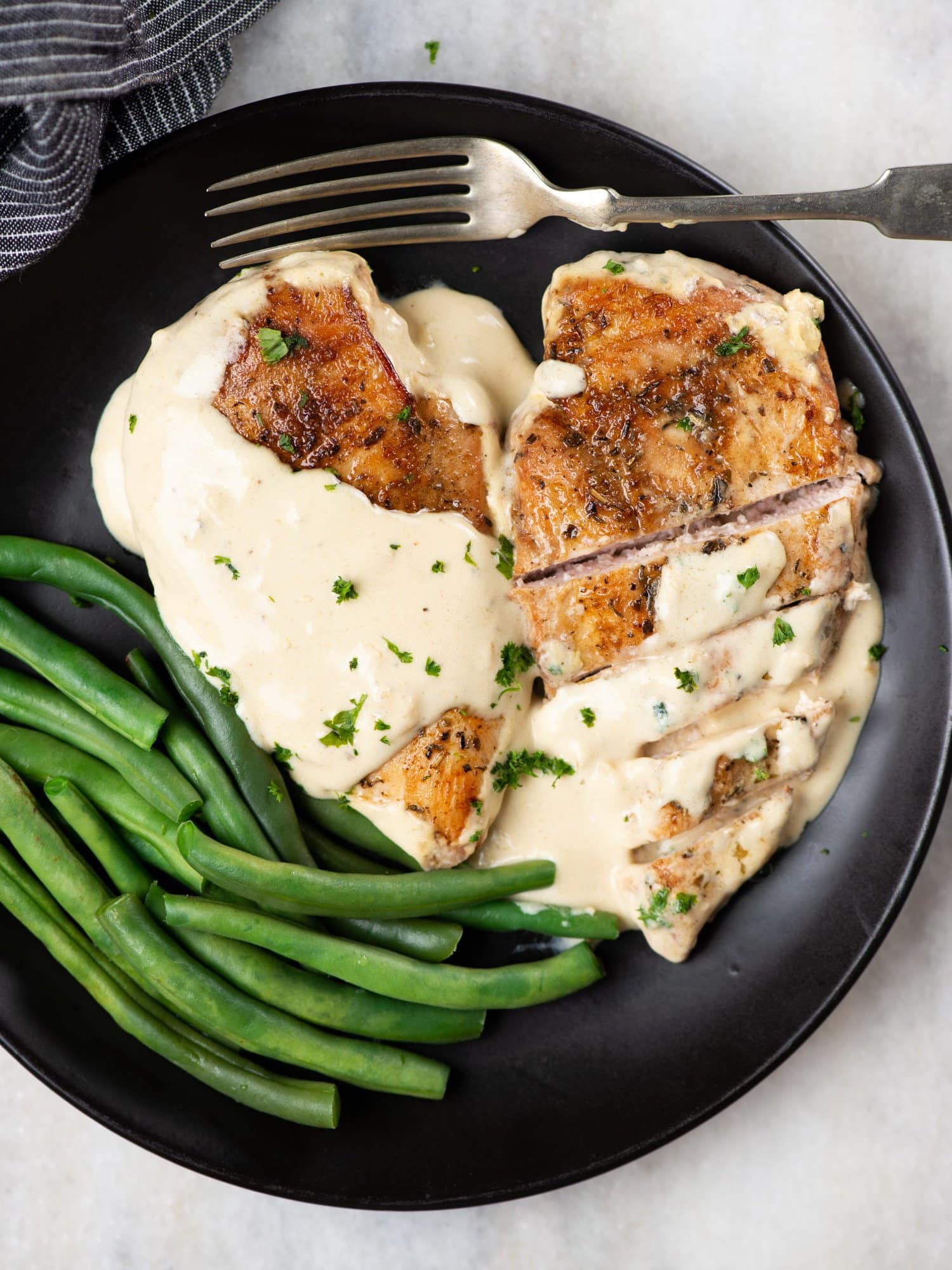 Possible Variations
This chicken dish tastes amazing as such. You can also add sauteed mushrooms, spinach, or crispy bacon if you prefer.
More Chicken Recipes to try
Honey Soy Baked Chicken Drumsticks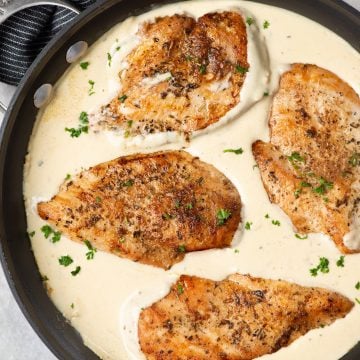 Garlic Parmesan Chicken
Seasoned Chicken Breast cooked until golden brown in colour and cooked in creamy garlic parmesan sauce.
Ingredients
2 large Boneless Chicken Breast
½ teaspoon Garlic Powder
1 teaspoon Italian Seasoning
½ teaspoon Salt
½ teaspoon Pepper
1 tablespoon Butter
1 tablespoon Olive Oil
For Garlic Parmesan Sauce
1 tablespoon Butter
1 tablespoon Minced Garlic
1 tablespoon Flour
1 cup Chicken Stock
¾ cup Heavy Cream
½ cup Freshly Grated Parmesan Cheese
Chopped parsley to garnish
Instructions
Cut Chicken into two halves lengthwise. You will have 4 chicken cutlets.

Make the seasoning by mixing garlic, Italian Seasoning, Salt, and pepper.

Pat dry chicken cutlets with a kitchen towel. Sprinkle above seasoning on both sides.

Heat 1 tablespoon of each oil and butter in a large skillet. When the butter starts to foam, place seasoned chicken cutlets in a single layer.

Cook chicken undisturbed for 3-4 minutes. Flip and cook for another 4 minutes.

Remove chicken from the skillet to a plate and keep it loosely covered with foil, to prevent it from drying.

Heat another 1 tablespoon of butter in the skillet. Add minced garlic and saute for 30 seconds until aromatic.

Lower the heat and add flour. Cook for 30 seconds.

Slowly add chicken stock. Keep string to make a smooth creamy mixture.

Stir in the cream and parmesan cheese. Whisk to make a smooth sauce. Simmer for 2-3 minutes.

Add the cooked chicken fillets back to the skillet. Spoon garlic parmesan sauce over.

Serve with desired sides.