Honey Soy Baked Chicken Drumsticks
This post may include affiliate links that earn us a small commission.
That delicious-looking caramelized color and the dark brown glaze on the drumsticks call out to you. To make an easy dinner or party snack, add these Honey Soy Baked Chicken Drumsticks to your go-to recipe list.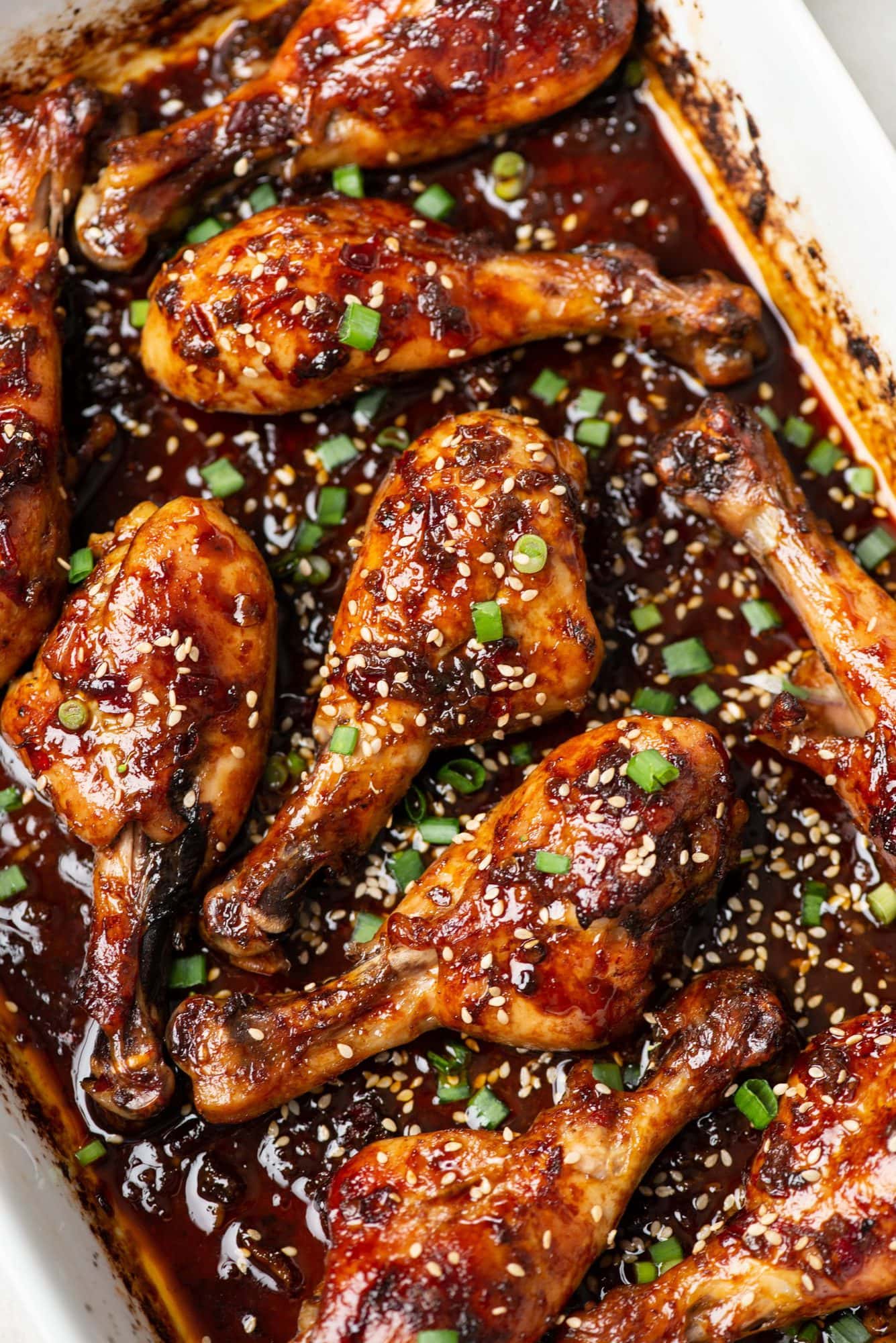 These baked chicken drumsticks have a wonderful sweet, sour glaze on the outsides. The outside is a dark brown and slightly crisp. The meat is cooked well and thoroughly, so each bite has a caramelized baked crisp with juicy meat inside.
Soy sauce gives a lot to meat. Being an acidic liquid, it helps tenderize chicken drumsticks and adds flavor. As this is used with honey to coat the chicken drumsticks,  it helps give a glaze to the outside while not letting you forget the taste of the meat inside.
Flavours In Your Inbox
Subscribe for recipes straight to your inbox
Honey being thick, acts as a wonderful coat for the drumsticks. It imparts sweetness and, added with some brown sugar, balances the sourness of the soy sauce.
I have used sambal oelek to give a little heat to counter the sour and sweet flavor and balance the taste. Sambal is a simple Indonesian chili paste made of four ingredients – chili peppers, water, vinegar, and salt. It is slightly different from sriracha sauce as it has no sugar. You can use any other chili paste instead.
Ingredients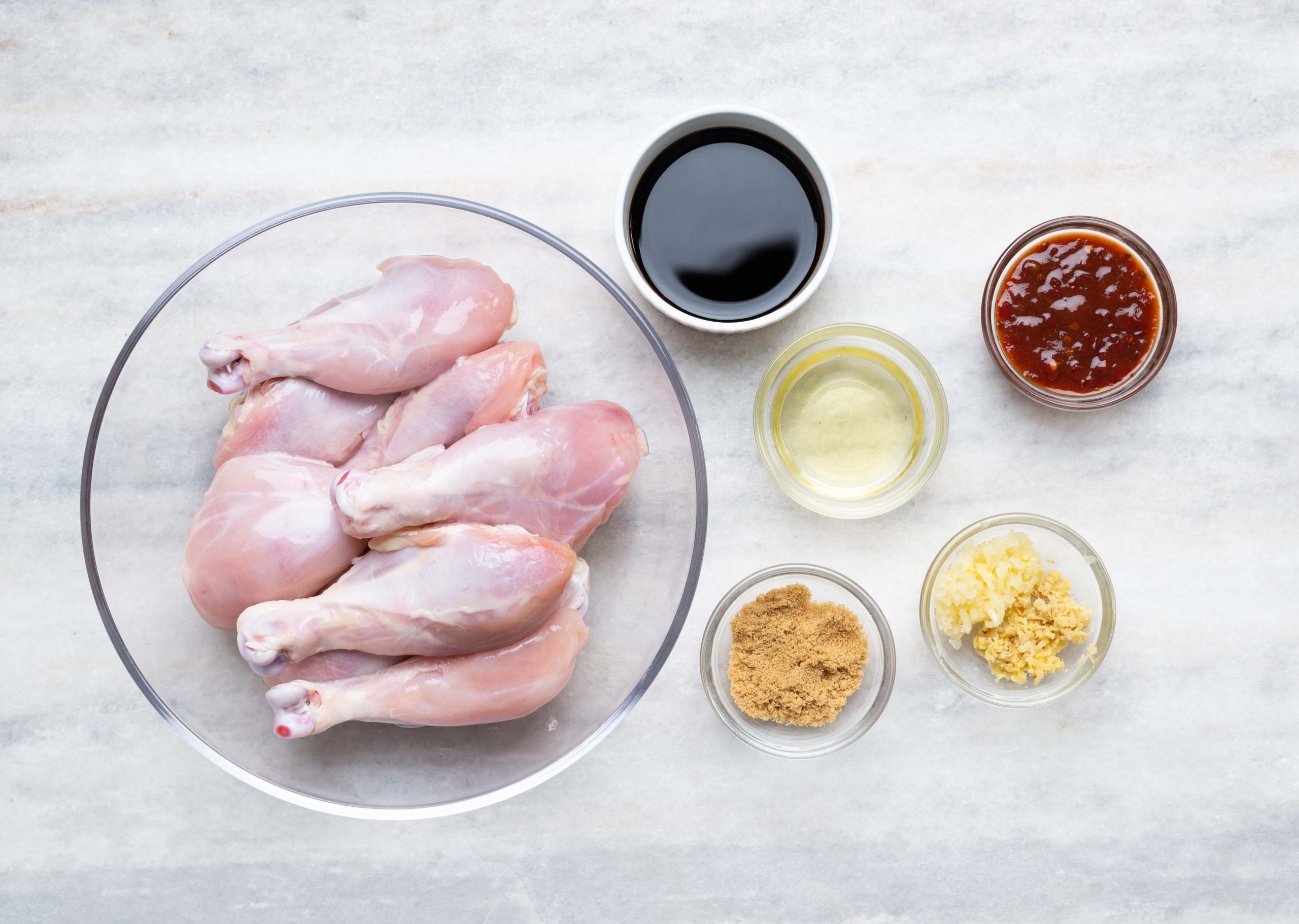 Chicken drumsticks – Recommend using skinless drumsticks. Since this recipe uses a wet sauce like a marinade, the sauce will make the skin soggy, and you will not get the desired slightly crisp exterior of the drumstick.
Soy sauce – Use a good quality soy sauce. Soy sauce is easily available in most nearby stores in the Asian section.
Ginger and Garlic – I have used minced ginger and garlic for flavor
Oil – Have used regular cooking oil
Sambal Oelek – Gives baked drumstick an Asian-inspired taste and flavor. Added a little to provide some heat. You may substitute it with any chili paste.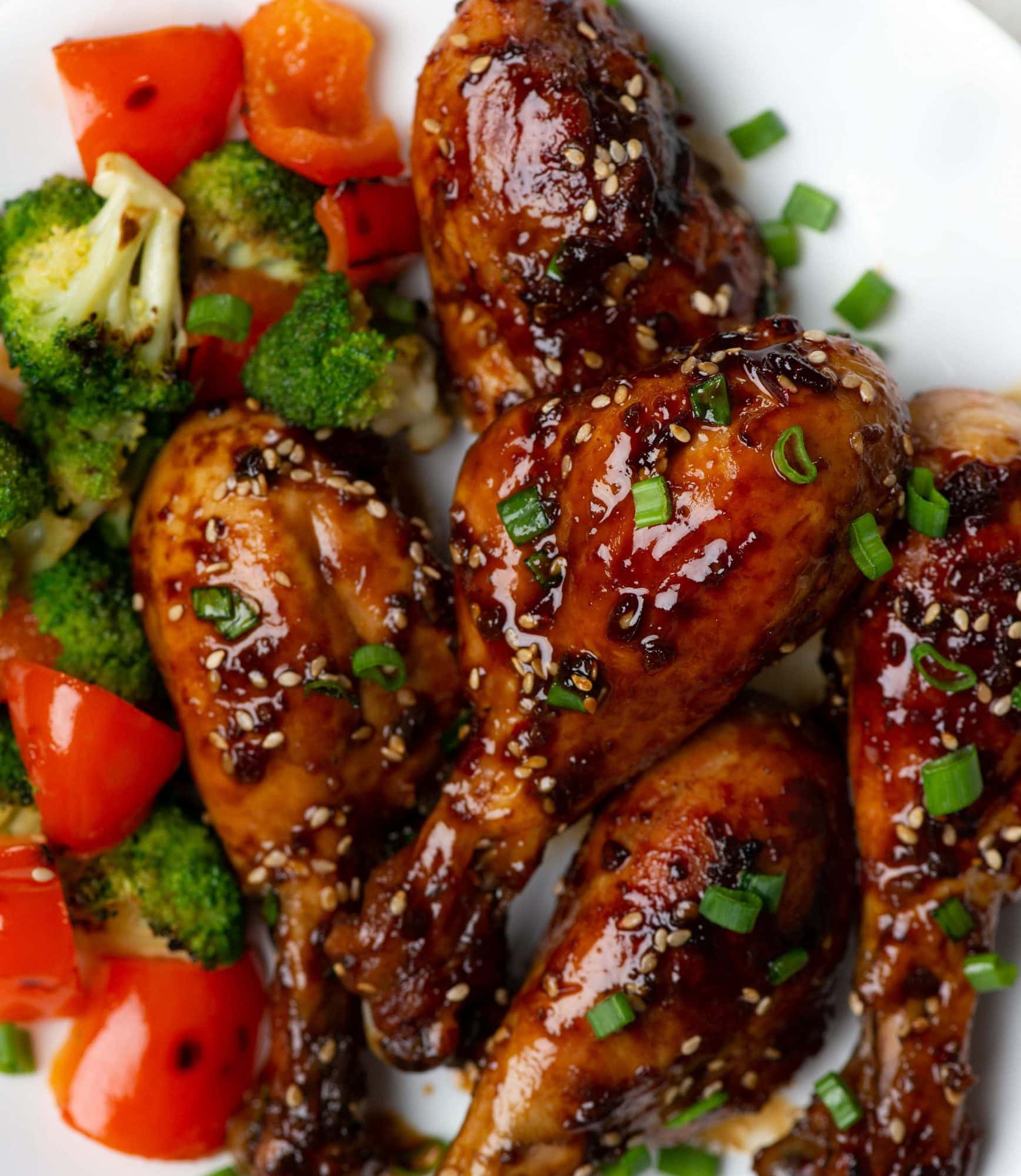 Make baked drumsticks
Baking chicken drumsticks is very easy. This recipe does not call for long marination. Chicken drumsticks remain moist after baking and also soak up all the flavors.
The ingredients needed to coat and mix with the chicken drumsticks – Soy sauce, honey, garlic, ginger, chili sauce, and oil, need to be mixed in a small bowl.
Apply the wet sauce all around the drumsticks using a brush.
Preheat the oven to 200 °C or 400 °F.  Put the pan containing the drumsticks and bake at 200 °C or 400 °F for 40 minutes. At around 25 minutes, take the pan out and flip the drumsticks to get even cooking on all sides.
Garnish with mustard and minced green onions.
This recipe does not need salt because soy sauce and sambal are salty enough.
Other baked chicken recipes
Baked Chicken Legs And Vegetables – Chicken legs and vegetables tossed in a ranch marinade and cooked until tender and juicy.
Baked BBQ Chicken – Bone-in chicken with skin baked with a flavorful spice rub and BBQ sauce, giving summer grilling vibes.
Baked Honey Garlic Chicken Wings – wings tossed in a sweet and savory sauce and baked until crispy.
Oven Baked Creamy Chicken Thighs – baked chicken thighs slathered with creamy parmesan sauce.
Baked Garlic Parmesan Chicken & Potatoes – classic chicken and potato combination in a butter garlic herb sauce.
Baked Cilantro Lime Chicken – fresh flavors from cilantro highlight this sheet pan recipe where chicken thighs are baked with potato and pepper.
Chicken stuffed baked chili peppers – a baked version of stuffed chili pepper is delicious, with chicken stuffing and cheese.
Crispy Baked Sweet and Sour Chicken Wings – crispy wings baked with a glossy sweet and sour sauce. A party hit!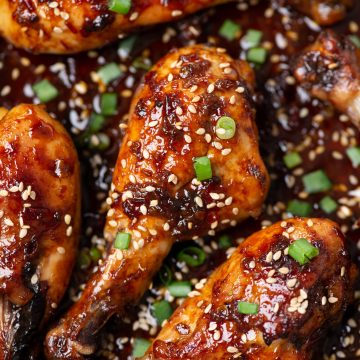 Baked honey soy chicken drumstick
Ingredients
1 kg Chicken drumstick
¼ cup Low sodium soy sauce
⅓ cup Light brown sugar
2 tablespoon Sambal oelek or any other chili paste/hot sauce.
1 tablespoon Garlic minced
1 teaspoon Ginger minced
1 teaspoon Oil
Instructions
Pre-heat oven to 200 C /400 F.

Add all the ingredients except drumsticks to an oven-safe dish. Mix well.

Add chicken drumsticks, coat well with the sauce. Bake for 30 minutes.

Remove the pan from the oven, brush the marinade and put the pan back in the oven. Bake it for another 15-20 minutes.

Garnish it with green onions and toasted sesame.
Notes
You can use any other hot sauce instead of sambal oleke. Adjust the amount of hot sauce as per your taste. 
I prefer using skinless drumsticks for this recipe. Chicken drumsticks with skin when baked in a wet sauce, then the skin doesn't get crisp, it remains soggy. 
Nutrition
Serving: 1serving | Calories: 292kcal | Carbohydrates: 18g | Protein: 25g | Fat: 13g | Saturated Fat: 3g | Polyunsaturated Fat: 3g | Monounsaturated Fat: 5g | Trans Fat: 1g | Cholesterol: 123mg | Sodium: 570mg | Potassium: 373mg | Fiber: 1g | Sugar: 15g | Vitamin A: 75IU | Vitamin C: 2mg | Calcium: 32mg | Iron: 1mg