Few desserts have unanimous fans with very few dislikes, if at all. Can it stand on its own as a dessert, invoke nostalgia about festivals and occasions, and be versatile enough to be had with various combinations. In Indian sweets, Boondi would be all of this and much more.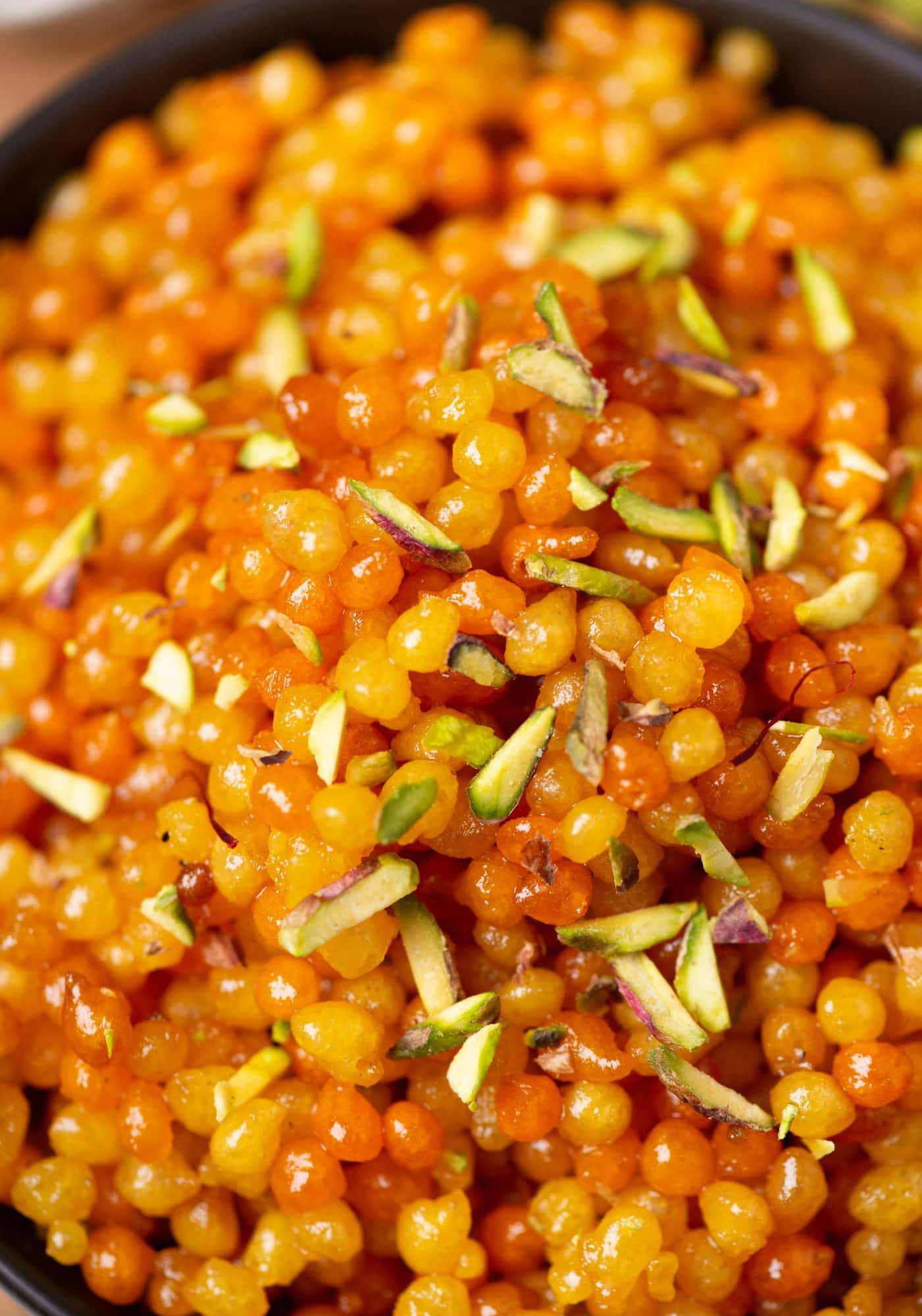 At a time, I thought this to be a difficult sweet to make at home. In my mind, it wasn't possible to get the same taste and texture of sweet (Meethi or Mithi) boondi as that in any good sweet shop.
How wrong could I be? Having made this now, I am proud of the taste and look of my handiwork. And you realize making savoury or sweet boondi is just so easy once you have done it.
I have shared all the tips and tricks to make the perfect boondi at home. Just being aware of some basic cooking tips helps in making this a smooth process without any hiccups.
What is boondi?
Boondi or Bundi are tiny pearls of fried chickpea flour (known as Besan or Gram flour). They are fried in oil to make just plain boondi or dipped in a sugar syrup to make sweet boondi.
One can make boondi both savory and sweet and versatile in both forms, as it can be mixed or garnished to make various other savories and desserts.
Sweet boondi or Meethi boondi is widely available in any sweet shop in the Indian subcontinent. Its demand rises from the fact that it is distributed at many festivals and occasions.
Use boondi to make sweets like Boondi Ladoo or tasty variety like Khara boondi (spicy boondi). Khara boondi is crispy and salted fried gram flour mixed with chopped curry leaves. Mix it with yogurt to make Raita and serve rice dishes like pulav, fried rice, and biriyani. You can also use it to make a mixture (a mix of assorted savory items and some dry fruits too).
Ingredients
Gram flour - known as Besan. It is important to get good quality and fresh besan.
Salt - a pinch of common salt which ups the general taste of the boondi.
Sugar - this recipe uses small-sized refined sugar
Water - to make the chickpea flour batter.
Saffron (kesar) - infused in the syrup to have a nice aroma
Cardamom - the syrup gets the flavour from cardamom
Food Color - to give a rich red color to the syrup
Pistachio & Almond - Crushed and used as garnish
How to make Boondi
Sugar Syrup
Take water and add sugar and saffron to it. Saffron is used to getting an aroma into the syrup. Place it on medium heat and let it simmer so that the sugar dissolves. The liquid should thicken and form a thick syrup in the vessel.
Fry pellets of gram flour
Take chickpea flour (also known as Besan) and put it through a sieve to filter any clumps. Add water and salt to it to achieve the desired consistency of the batter.
Take a perforated spoon (Jhara or Boondi maker) and Hold it over the hot oil. Put the batter, using a ladle, onto the spoon covering the whole area of the spoon. The batter will trickle through the holes in the spoon to form tiny pearls and fall in the oil. Do not shake the jhara or spoon while the batter trickles.
Drain e
It takes very little time to fry the pearls of besan. Just wait until you see a nice uniform yellow color on all of them and take them out. Please pick them up with a perforated spoon to remove the excess oil, and place it on a paper napkin or kitchen towel to further soak away the oil.
Let it soak
Put the fried boondi in the syrup and gently toss them until the syrup coats it.
Leave it for an hour, and you will see the gooey syrup settles down and the boondi pearls separate nicely, having absorbed the syrup. Each pearl would be spongy and juicy, and pressing them between fingers will ooze out the syrup.
Tips for perfect sweet boondi
Batter consistency. It is important to get the right consistency of the batter. A runny batter will form odd shaped boondi and a thick one will take a long time to fry and will not easily trickle through the spoon.
Medium hot oil. The oil should not be too hot. Heat the oil on medium and keep it like that throughout.
Keep it still. Have the Jhara or boondi maker or spoon still when you pour the batter with a ladle. Have to be careful here. Then slowly move the laddle around for even distribution of batter.
Distance from oil. Keep the perforated spoon 3 - 4 inches above oil when you pour the batter onto it. The distance for the batter drops to fall is critical to get the right shape of the boondi. If you hold it too high, it will hit the oil at speed enough to make the pearls flat from the impact. Keep it too low, the drops wont get enough time to form a pearl shape by the time they hit the oil.
Do not fry for too long. Fry the boondi for 40 to 60 seconds. Boondi needs to be lightly fried and it tends to get dark in color very soon. Watch out to get a light yellow color and then take them out.
Clean before each batch. You should need to clean the spoon or boondi maker before each batch. This helps in ensuring free trickle of the batter through the holes of the spoon.
Fry in small batches. Do not overcrowd the pan with too many boondi pearls frying at once. They will stick together and we want pearls of boondi to be separate. Another reason is since they overcook fast, it is easier to take out a small batch fast. Else, by the time, you have taken out a batch of boondi from the pan and drained them, the rest run a risk of getting burnt.
Syrup should be hot. For the boondi to absorb the syrup properly and quickly, have the syrup hot.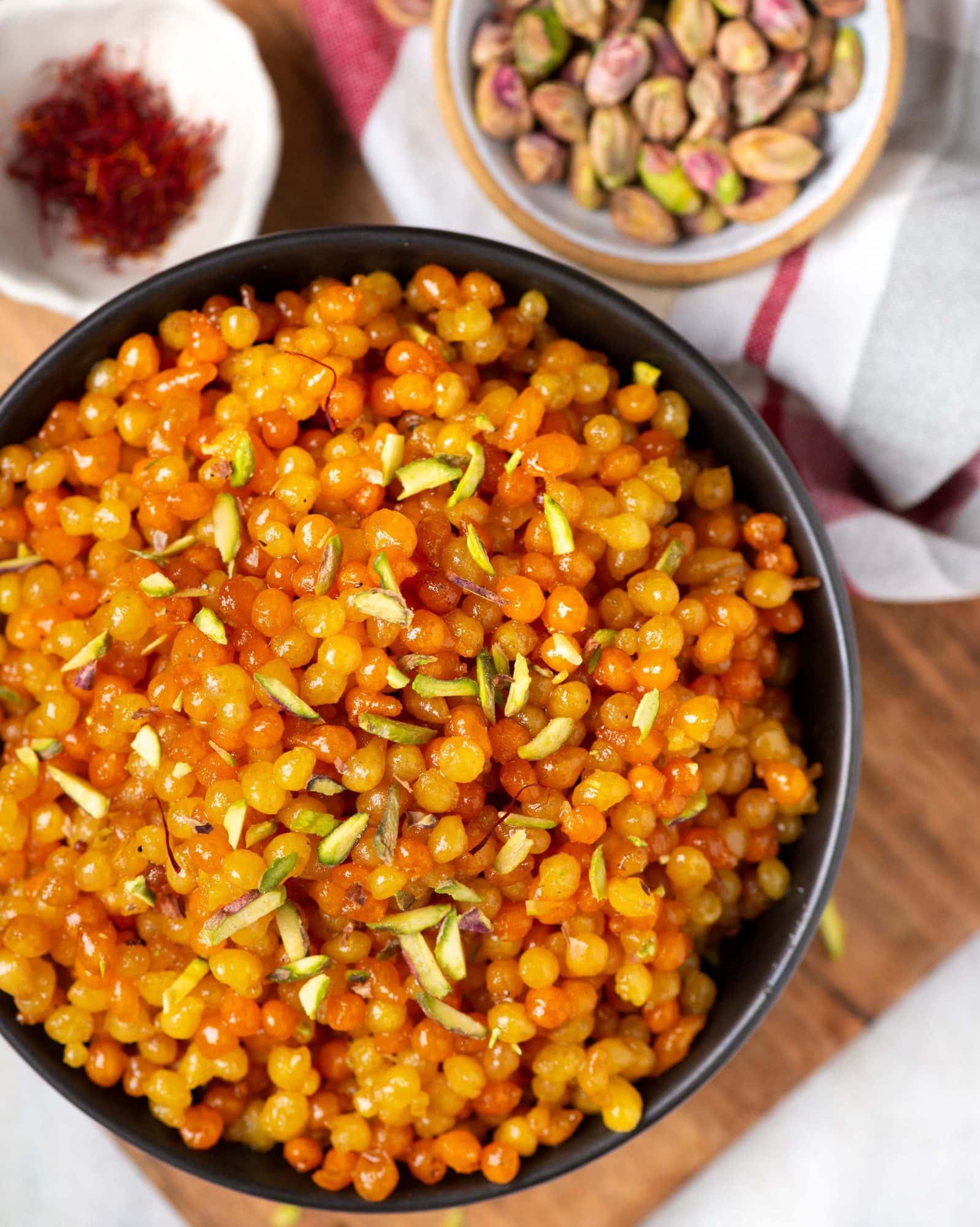 Serve with
Boondi is a versatile sweet and can be had many ways. You can enjoy a bowl of boondi or use it to make Laddoo or use it as a garnish on Kheer.
You can also mix it with Sev to have a sweet and savory mixture.
Store
Store a batch of boondi in an air-tight container in the refrigerator for up to a week.
Other Indian sweets and snacks
📖 Recipe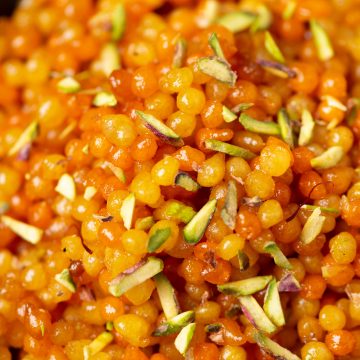 Sweet Boondi
Sweet boondis are fried gram flour balls soaked in flavoured sugar syrup. One of the most popular desserts in India during any special occasion.
Print
Pin
Rate
Ingredients
1

cup

Besan / Gram flour

½

cup

Water

+ 2 tablespoon

1

teaspoon

Oil/ Ghee

large pinch of salt

saffron red / orange food color

nuts to garnish

Oil / Ghee for frying
For sugar syrup
1

cup

sugar

½

cup

water

½

teaspoon

cardamom powder

2-3

strands

saffron
Instructions
Run besan/gram flour through a sieve or with a fork break any big lumps.

To the flour add oil and salt.

Add ½ cup water and using a whisk slowly mix and make a smooth lump free mix. (don't add all the water at a time).

Cover and let the batter rest for 15 minutes.

Whisk the batter vigorously 4-5 times.

Slowly add 1 tablespoon of water at a time and mix well until the desired consistency is achieved. The batter should be of thick but pouring consistency. (Check the video below to check the consistency).

If you are planning to make colourful boondi, take half a ladle of batter in a separate bowl. Add 2-3 drops of food colour( you could use orange or green colour)

Heat enough oil or ghee in a pan.

To prepare boondi, pour a ladle of batter slowly over the skimmer (jhara) or grater.

Don't hold the skimmer too far or too close to the oil. It should be 3-4 inches above the oil.

When the boondi start to float, stir occasionally to cook it evenly. The boondi need not be brown. After one minute, using a slotted spoon remove the boondi from oil , drain and keep it aside.

Clean the skimmer (jhara) before the next round.

Add fried boondi to hot sugar syrup and mix well. Let it sit in sugar syrup for 4-5 hours.

Drain extra sugar syrup by placing the boondi in a colander or remove boondi using a slotted spoon.

Garnish boondi with some chopped pistachio or almonds.

At the end of the recipe, I have included detailed notes and a troubleshooting guide. Please do check.
Make sugar syrup
Add sugar, water to a saucepan. Bring to a boil. Cook for 2 -3 minutes.

The sugar syrup need not be too thick. When the syrup feels just sticky between the fingers, it is ready. Keep the syrup covered.
Notes
For perfect round boondi, the batter consistency needs to be perfect.  If too thin and when added to the skimmer the batter should not flow freely. Else the batter will not form shape and it will scatter in the oil. 
 Boondi with little tail - Don't tap the ladle after putting batter, else the boondi will have little tails.  The batter should fall slowly. 
Make sure the oil is hot enough and when the batter falls into the oil it should immediately float.
Flat Boondi - If the oil is not hot when batter falls to the oil or if you hold the ladle too high from the surface of the oil.
 Always add boondi to hot sugar syrup. 
Keep rotating thee laddle around, so that it doesn't form lumps. 
Nutrition
Serving:
50
grams
|
Calories:
5
kcal
|
Carbohydrates:
1
g
|
Protein:
1
g
|
Fat:
1
g
|
Saturated Fat:
1
g
|
Polyunsaturated Fat:
1
g
|
Monounsaturated Fat:
1
g
|
Trans Fat:
1
g
|
Sodium:
1
mg
|
Potassium:
4
mg
|
Fiber:
1
g
|
Sugar:
1
g
|
Vitamin A:
1
IU
|
Vitamin C:
1
mg
|
Calcium:
1
mg
|
Iron:
1
mg