Rice Pilaf With Dried Fruit and Nuts
This post may include affiliate links that earn us a small commission.
Pilaf is a flavourful alternate to plain rice and works as a side to any of your favorite meat dishes. Cooked in stock with caramelized onions, dry fruits, mild spices, and butter, it is rich and aromatic.
Few dishes come close to rice to satiate a family at dinner. Any time I want to serve anything better than plain rice, these rice dishes like pilaf, pulao or biriyani do wonders to make everybody happy. Not only are they relishing by themselves, but you can also pair them so well as most grilled, roasted or even gravy meat dishes.
Flavours In Your Inbox
Subscribe for recipes straight to your inbox
Over the years, I have shared some of my favorite rice dishes like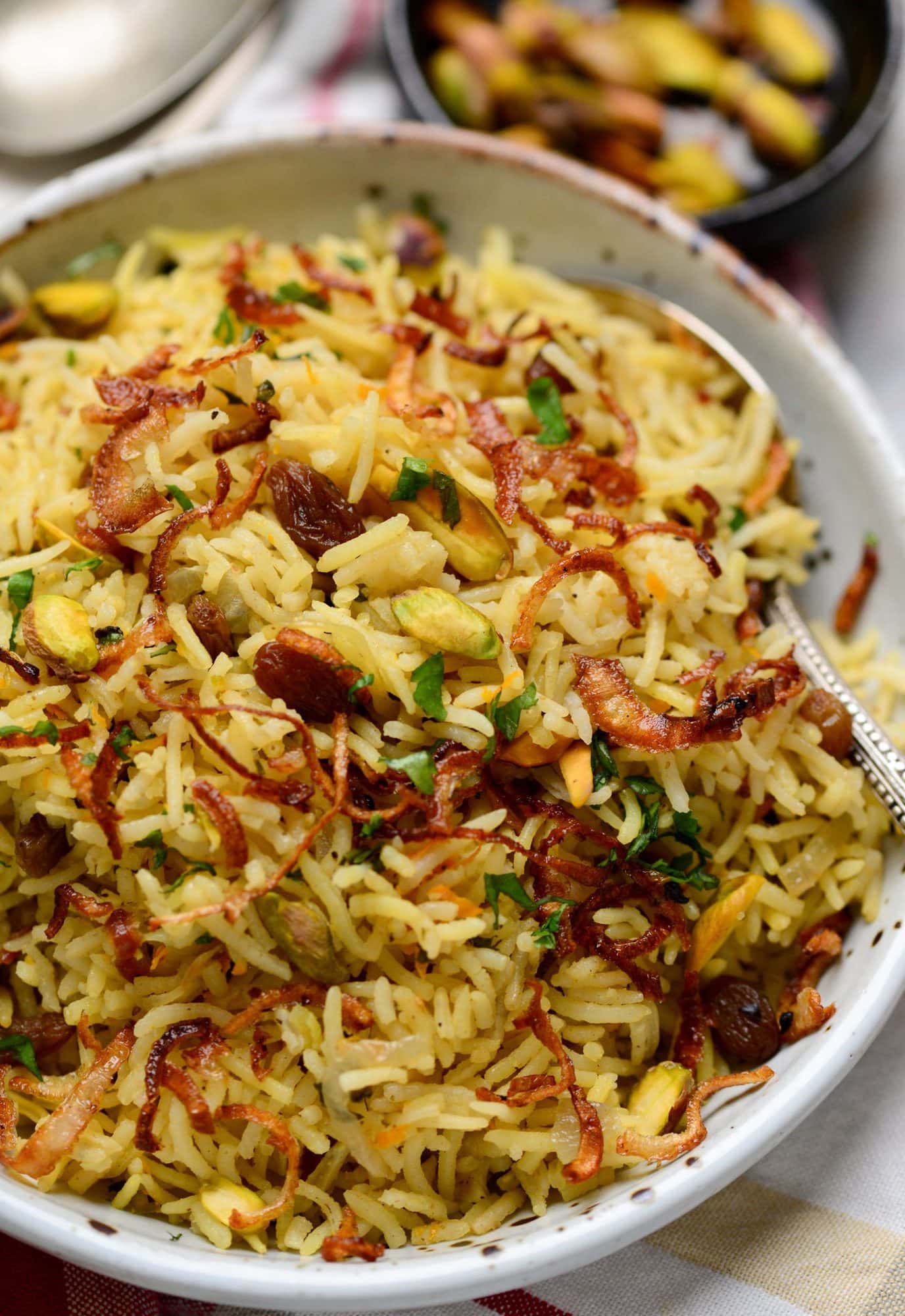 Rice Pilaf
Rice pilaf is everyday rice enhanced to have lots of flavors using a specific technique. Pilaf is a centuries-old dish with its variants popular across the world.
Pilaf technically is rice cooked in broth or stock with assorted vegetables or meat, spices, and dry fruits. The broth is what gives pilaf its characteristic aroma and flavor. There are many variations to pilaf, and it varies from region to region.
It is one of the dishes that has travelled a long stretch from eastern Asia to western Europe and has taken forms with the base of the dish remaining consistent.
History
Techniques of making Pilaf originated in Persia, which is modern-day Iran now. It was widely adopted from western Europe to south Asia during the reign of the Third Caliphate( 800 AD – 1500 AD).
All modern derivations of pilaf – namely the pulao/pulav in south Asia, biriyani in the south and west Asia, to paella in Spain have evolved as variations of pilaf.
These dishes have become a mainstream staple today in large parts of the world and would count as one of the most delicious dishes to put on a table.
Pilaf method
The identity of good pilaf lies in its light, fluffy and separate grains of rice.Long grain basmat rice is ideal for pilaf. You can also long grain rice or even brown rice. Jasmin rice or sort grain rice will not work.
Rinse and soak rice for 15 minutes remove the starch. Choice of fat differs based on dish and region.  Rice is cooked in broth or stock preferably. In many places, they also cook it in water.
Pilaf is mildly spiced and uses spices like cardamom, bay leaves, and cinnamon. Fried or caramelized onions are often used, for their flavor and sweet taste, layered on top.
Vegetarian recipes use a combination of vegetables for cooking and rice, whereas regional variations use a variety of meat.
It has a creamy white hue and is adorned with various toppings like fried onions and dry fruits, contrasting colors. The use of saffron can change the color of pilaf to yellow in many recipes.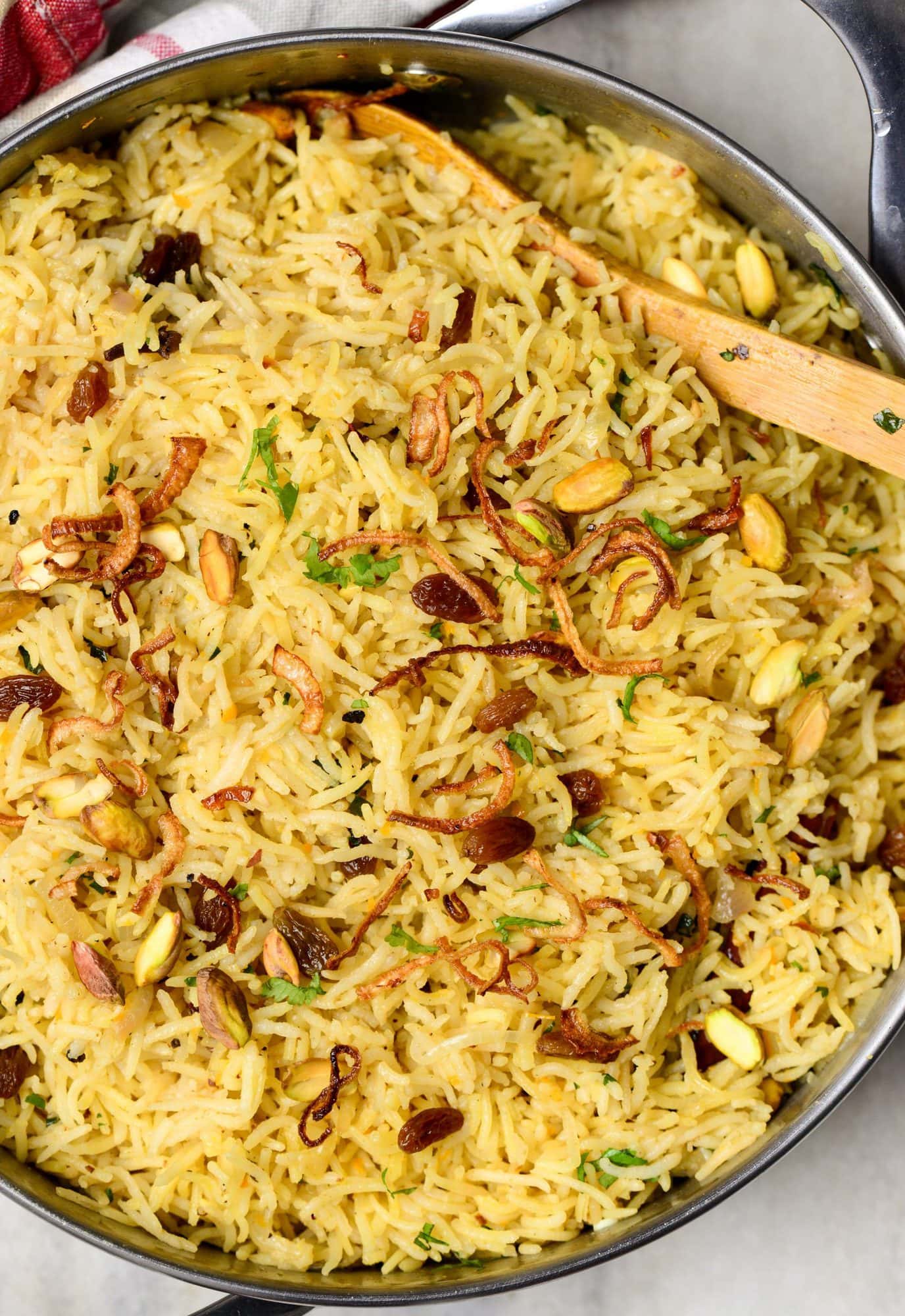 Ingredients
Long grain rice – Choose any long-grain rice with high starch content. I have used basmati as i know it well and is widely available.
Fat – Butter or ghee or just oil. I have used butter here but you can surely use ghee to up its aroma.
Stock – Chicken stock or vegetable stock for veg pilaf.
Sliced onion – Onion is sauteed in butter until slightly caramelized. There is also caremelized onion as topping. I absolutely love the hint of sweetness caremelized onion ads.
Garlic – gives a hint of savouriness.
Dry fruits – Raisins and toasted pistachio. You may also add almonds and walnuts.
Orange zest – The subtle orange flavour pairs really well with the spieces and nuts.
Turmeric – A pinch of turmeric added to give a light yellow  to the pilaf. You may also use saffron instead that gives a faint color and a different flavor too.
Spices – Cinnamon, cloves and cumin powder. You can also use cardamom instead of cloves.
How to make
Prep
Rinse rise and keep it aside. Soak raisins for 10 mins.
Cook
Sauté onion and garlic with whole spices – cinnamon and cloves until onion caramelizes and turns light brown. Add rice and sauté in butter to get a brown color and toasted flavor.
Add rest of spices, water, Orange zest cover with a lid, and allow it to simmer for 10 minutes. Switch off when the water dries up. Leave it undisturbed allowing the rice to cook a bit more in the heat.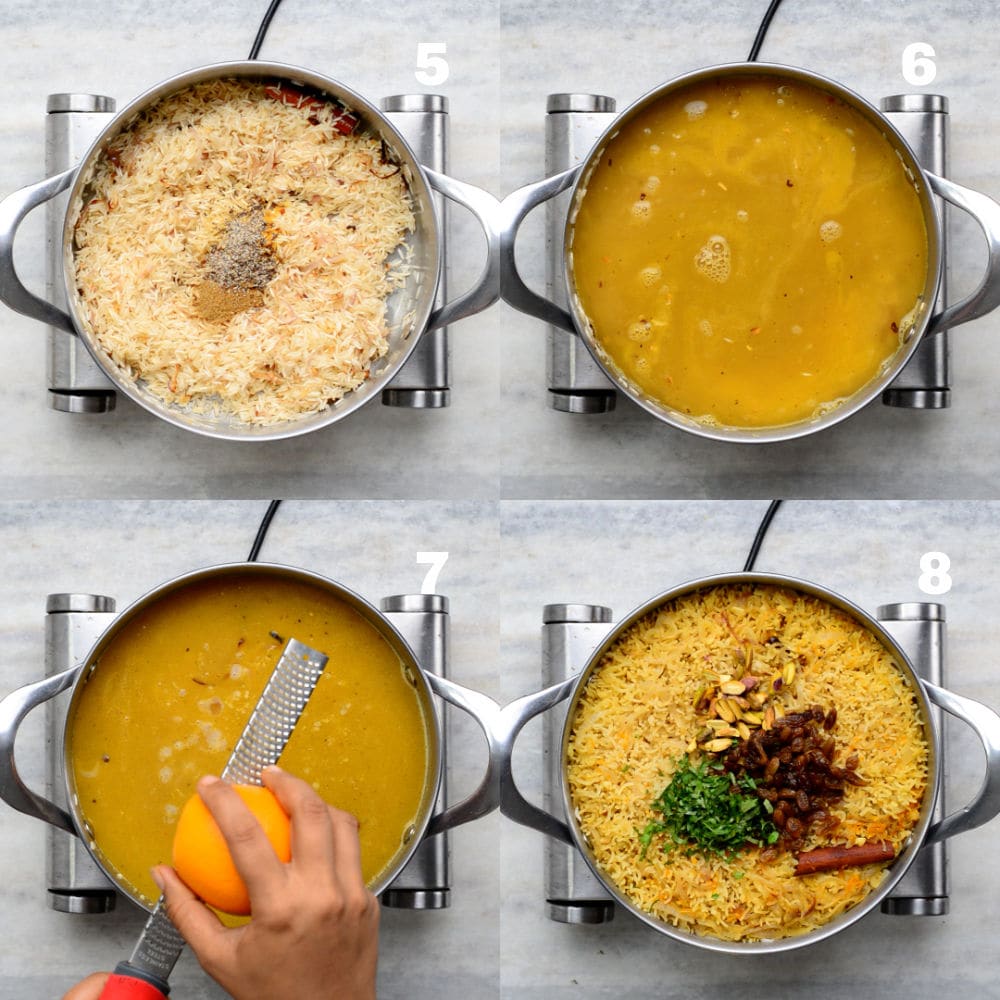 Plate
Serve pilaf on a plate and garnish with fried onions and some nuts.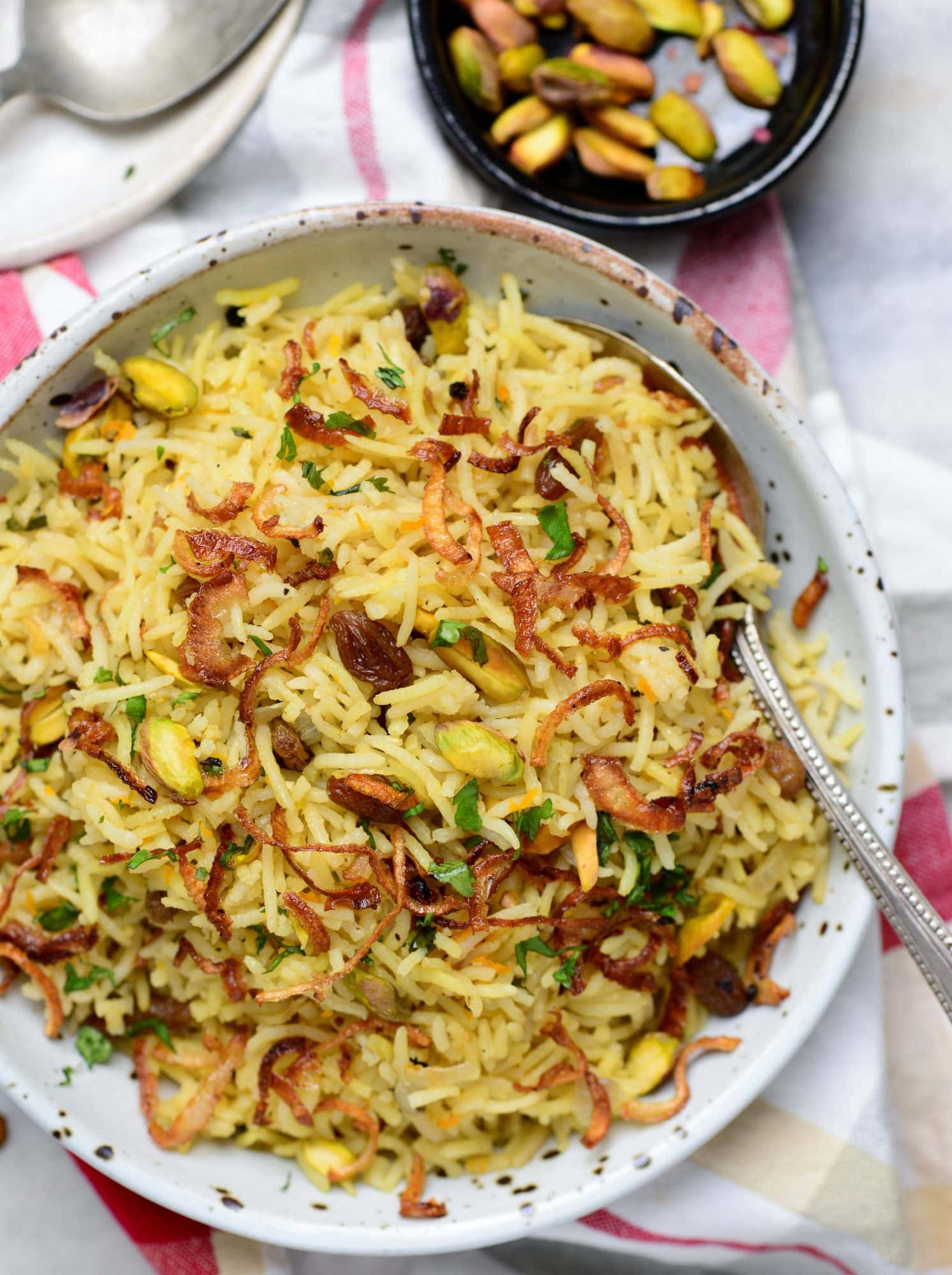 Store
You can keep it in the freezer for up to 3 months. Portion it in a container and then keep it air-tight in the freezer.
You may also refrigerate the rice pilaf for up to 4 days.
Serve with
Rice pilaf is best served with grilled chicken, kebabs, or fish. You can look at these for inspiration – Lemon & Thyme Roast Chicken, Easy Tandoori Chicken, or Tandoori gobi.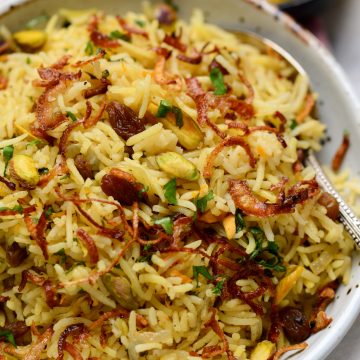 Rice pilaf with dried fruit and nuts
Ingredients
2 cups long-grain basmati rice
3.5 cup Chicken stock
4 tablespoon butter
1 small Onion. sliced
½ tablespoon Garlic
1 inch cinnamon
4 cloves
¼ teaspoon turmeric
1 teaspoon cumin powder
zest of an Orange
salt and pepper
½ cup Raisins
⅓ cup Toasted Pistachio
Instructions
Wash basmati rice under a running tap until you see clear water. Drain well and keep aside.

Soak raisins for 10 minutes in warm water.

Heat butter in a pan. Add cinnamon and clove. Cook for 30 seconds.

Add sliced onion and garlic. Saute until the onion has turned light brown.

Once the onions have caramelized, take out a third of it and keep it aside to be used later for garnishing.

Add rice. Cook for 3-4 minutes on medium heat. Toast rice until it smells slightly nutty and rice is coated with fat really well. Stir it carefully

Add turmeric, cumin powder and pepper. Mix well.

Add warm stock, salt. When it comes to a boil, simmer and cover. Cook it for 10 minutes.

When there is no liquid left at the bottom of the pan, switch off the flame. Let it rest for 10 minutes undisturbed.

Fluff rice with a fork. Stir in toasted pistachio and raisins.

While serving garnish with golden fried onions, parsley and more nuts.
Notes
You can also use ghee instead of butter.
Substitute cinnamon stick with 1/2 teaspoon of cinnamon powder for a more intense flavour. 
Basmati rice works really well. You can also substitute with long grain rice or regular white rice. 
There are plenty of options when it comes to dried fruit and nuts. You can add toasted almonds, cashews, sultanas, cranberries, apricot etc. 
Brown onion adds a hint of sweetness. 
Nutrition
Serving: 1serving | Calories: 381kcal | Carbohydrates: 64g | Protein: 6g | Fat: 11g | Saturated Fat: 5g | Polyunsaturated Fat: 1g | Monounsaturated Fat: 4g | Trans Fat: 1g | Cholesterol: 20mg | Sodium: 623mg | Potassium: 273mg | Fiber: 3g | Sugar: 2g | Vitamin A: 559IU | Vitamin C: 2mg | Calcium: 40mg | Iron: 1mg