Tandoori Chicken (Oven & Stove Top)
This post may include affiliate links that earn us a small commission.
Smoky and juicy Tandoori Chicken gets its flavour from the Yogurt, ginger garlic paste and spice marination. It can be made on the grill, oven or Stovetop.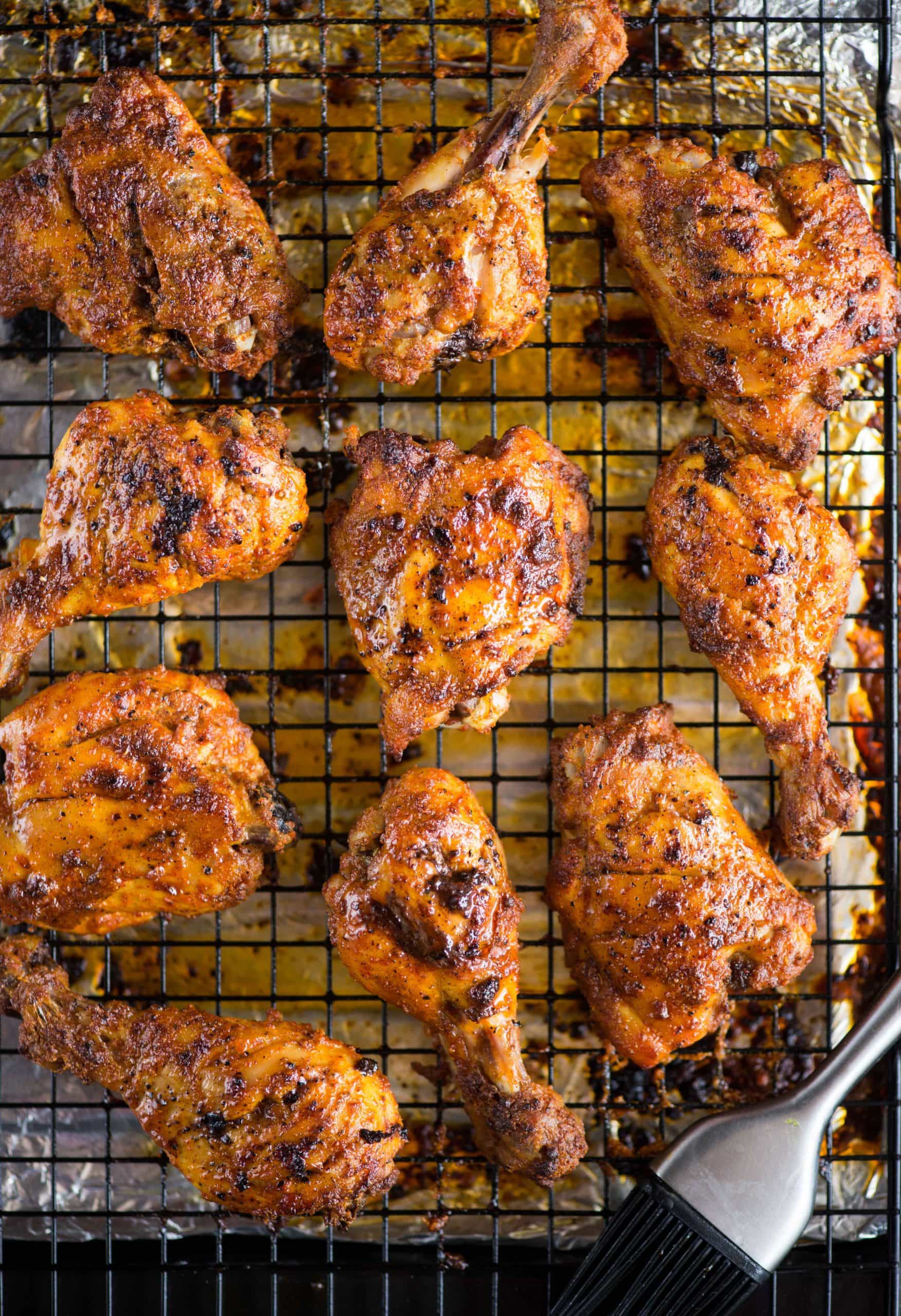 Flavours In Your Inbox
Subscribe for recipes straight to your inbox
Tandoori chicken is quite popular across the globe. It is spicy, flavourful, and has a unique smoky aroma that comes from cooking in a tandoor. While it is not easy to recreate a tandoor at home, you can still make delicious tandoori chicken at home with easy yoghurt marination.
Using freshly ground spice and long marination is the key to a delicious Tandoori Chicken. I am also going to share how to incorporate smokiness to the chicken to get that authentic favour.
What is Tandoori Chicken?
This dish got its name because it is traditionally cooked in a Tandoor. Tandoor is a clay oven which is used to cook naan, kulchas and chicken for centuries in India. Tandoor imparts a distinct smokiness to the dish. So basically, chicken is marinated in thick yoghurt, spices, lemon juice, ginger-garlic paste and then cooked in a tandoor until it has nice charred patches.
You would also find Tandoori Chicken has an unusual bright red colour. It is because of red food dye. I don't add any food colour to my recipe and prefer the colour it gets from the spices used.

What Goes into Tandoori Chicken Marinade?
Basically the marinade has Yoghurt, ginger garlic paste, lemon juice and lots of spices. Most recipes call for double marination, in this recipe I have used single marination. I tried both the variations and didn't find much difference.
To maximize the flavour here is a trick I follow and it really makes a difference. Instead of raw spices, I add warm oil to the dry spices and let it rest for 5 minutes. Adding warm oil to the dry spices sort of cooks the spices and develops flavour. After infusing the oil with spices, add yoghurt, ginger-garlic paste and lemon Juice. Here are few tips to get the maximum flavour in the marinade.
Use freshly ground spices. There is nothing like freshly ground spices. I always make a small batch of ground spices using a coffee grinder and keep it up to 10 days. Using a good quality Garam Masala ( preferably homemade).
I have used Kashmiri red chilli powder. Kashmiri red chilli powder has an intense red colour but it is very mildly spicy. If you don't have Kashmiri red chilli powder, substitute it with paprika.
I like to use mustard oil because of its pungent spicy flavour. If you are using mustard oil, then first cook it until smoking hot, let it cool down. Then again warm it and add to dry spices. If you don't have mustard oil, you can use any vegetable or canola oil.
Marination for Tandoori Chicken

Make sure the yoghurt is thick. You can also use hung curd or Greek yoghurt.
Add 2 teaspoon of crushed Kasuri methi to the marinade if you prefer.
To enhance the smoked flavour you can smoke the chicken with a piece of coal. Here is how to do it. Burn a piece of coal under the direct flame. When it is red hot, place a small metal bowl inside the bowl in which chicken is marinated. Using a kitchen tong place the hot coal inside the small bowl, pour a teaspoon of clarified butter(ghee) or oil. You would see smoke coming out, cover the bowl with a lid to trap the smoke inside the bowl.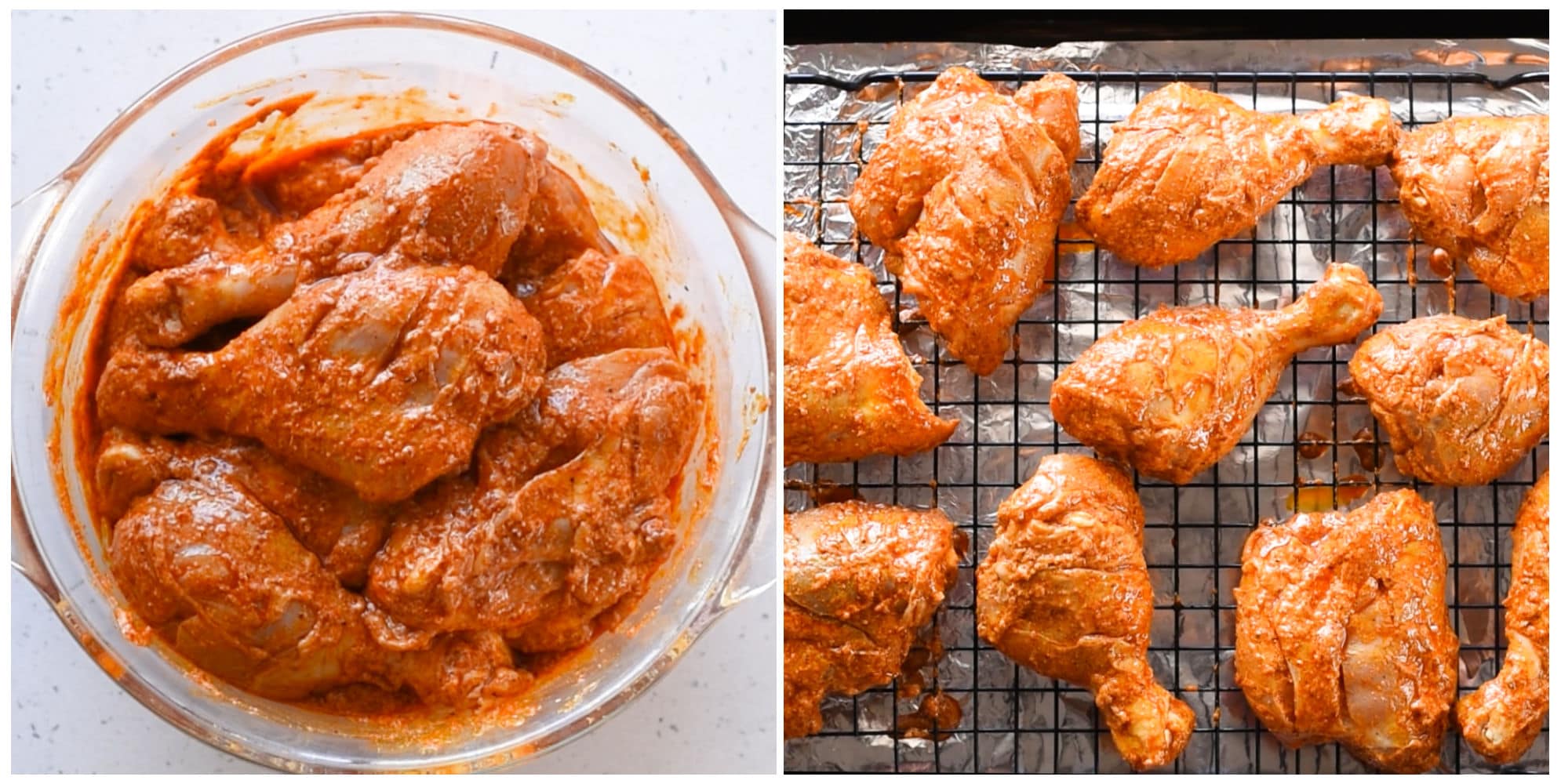 How To Make Tandoori Chicken?
While I would have loved to have a tandoor at home to make this delicious Tandoori Chicken, You can't practically have one. The next way to make is to either grill or bake it in the oven. Another way is to use a grill pan and cook it on the stovetop. So here is how to make tandoori chicken at home with a few handy tips
Chicken thighs and drumsticks work the best. Make 2-3 slits before marinating, so that the marinade gets through the meat.
A minimum of 4 hours up to 24 hours of marination is best for this recipe.
Take out the marinated chicken and keep it on the kitchen counter for it to come down to room temperature.
Now coming to the method of cooking, I cook in the oven or directly on the grill for the best result. But I have instruction to cook on the stovetop too.
If you prefer a chared look, broil it for 2-3 minutes on the top rack.

More Chicken Recipes…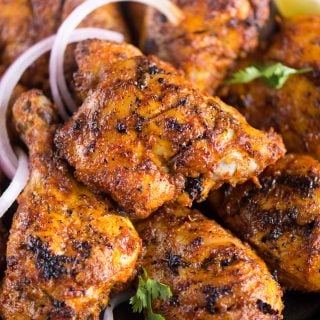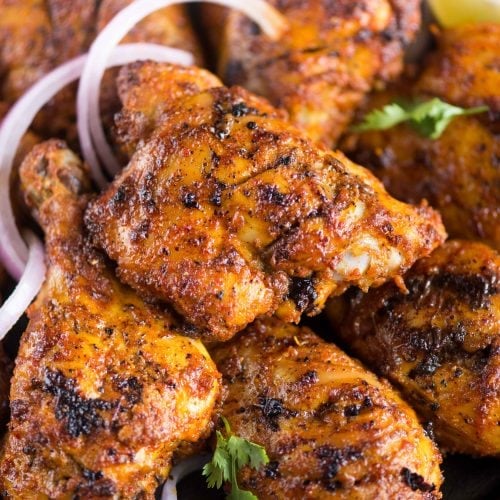 Indian Tandoori Chicken
Making restaurant-style Tandoori Chicken at home is quite easy. Spicy yogurt marination and then cooked in the oven for perfectly moist and flavourful Tandoori Chicken.
Ingredients
1 kg Chicken thighs (or a mix of thigh and leg)
3 tablespoon Kashmiri Red Chilli Powder ( For subs refer to note 1)
1.5 teaspoon Coriander powder
1.5 teaspoon Garam Masala
½ teaspoon Turmeric Powder
½ teaspoon Fresh Black pepper
Salt to taste
¼ cup Mustard oil (for subs refer to note 2)
¼ cup Thick yogurt
2 teaspoon ginger garlic paste
1 tablespoon lemon juice
2 tablespoon butter
Instructions
Using a sharp knife, make 2-3 slits.

Heat oil. It should be medium hot, not smoking hot. If the oil is too hot, it will burn the spices instantly.

In a bowl add all dry spices, stir in hot oil and mix. Let it sit for 5 mins, for the flavours to infuse.

Add yoghurt, ginger-garlic paste and lemon juice. Whisk everything well.

Add chicken pieces to the yogurt mixture, rub the marination well, cover and let it marinate for at least 4 hours or overnight in the refrigerator.

Take marinated chicken out of the refrigerator at least 1 hour before cooking it.
To make it in Oven
Pre-heat oven to 375 F (180 C).

Prepare a baking tray lined with foil. Place a grill rack on top.

Shake off extra marination from the chicken, Arrange on prepared rack.

Bake for 20-25 minutes or Until done.

After 20 minutes, take it out of the oven, brush with melted butter. Put it on the top rack and broil it for 5 minutes at 400 F or until charred mark appears.
To make it on Grill
Preheat a grill to 425 degrees. Clean grill grates.

Grill chicken for about 10-12 minutes. Flip the chicken, brush with melted butter. Cook for another 8-10 minutes or until the center of thickest part registers 165.
To make it on Stovetop
Heat a grill pan or cast iron pan on stovetop. Grease the pan lightly with a brush.

Arrange the chicken ( First topside / Skin side) down. Cook it for 10 minutes on medium heat.

Flip, brush with melted butter and cook for another 15 minutes or clear juice run down from the sides.

For a detailed step by step instructions, watch How to make tandoori chicken video at the end.
Notes
Kashmiri red chilli powder is very less spicy and has a deep red colour. It helps to give a deep red colour to the finished dish without any use of red food colour. You can substitute it with any other less spicy variety of chilli powder or paprika. 
Mustard oil has a spicy smoky taste. If you can't get hold of Mustard oil, use any other vegetable oil instead. 
Add 2 teaspoon of crushed Kasuri Methi(Dried fenugreek leaf) to the marination if you prefer. 
Nutrition
Serving: 1g | Calories: 488kcal | Carbohydrates: 1g | Protein: 28g | Fat: 41g | Saturated Fat: 11g | Cholesterol: 174mg | Sodium: 165mg | Potassium: 353mg | Fiber: 1g | Sugar: 1g | Vitamin A: 247IU | Vitamin C: 1mg | Calcium: 23mg | Iron: 1mg